Bananas and cake together make for a heavenly combination. Make this Banana Cake layered with either a cream cheese frosting or cinnamon buttercream frosting and everyone will fight over who gets the last piece!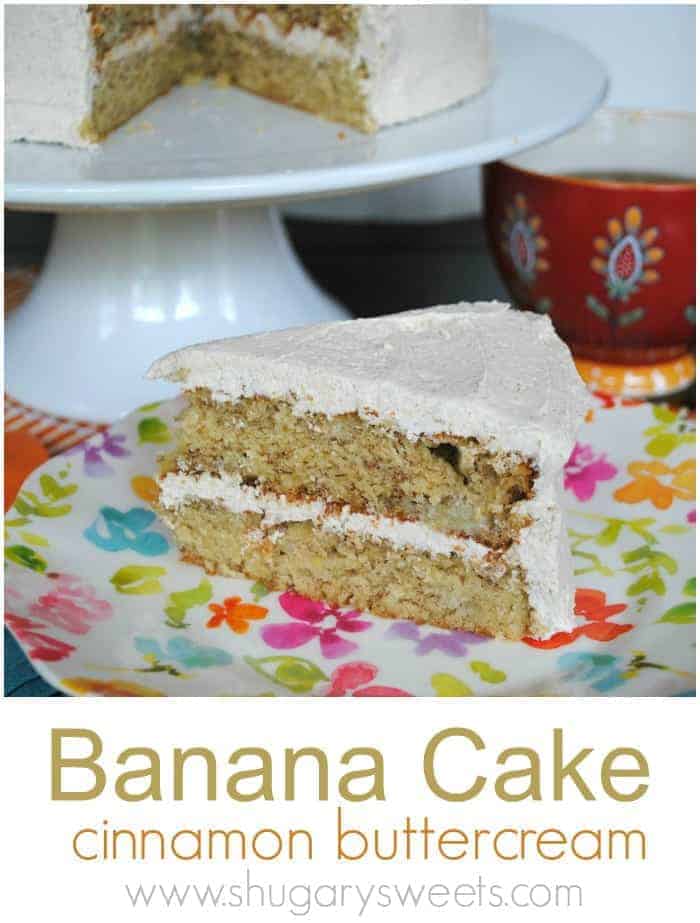 Why this Recipe is Best
As much as I love banana everything, I have a gripe with some banana cakes. Too many are just banana bread recipes baked up in a cake pan and renamed.
Don't get me wrong! I adore a good banana bread in all its variations from Classic Banana Bread to Nutella Swirled Banana Bread. A loaf never lasts long in my house!
That said, when I want cake, I want CAKE. I want it to be moist, sweet, rich and (usually) covered in frosting. A good banana cake has to be worthy of its status as "dessert."
Let me tell you, folks. This Banana Cake recipe, well, takes the cake!
Ingredient Notes
Easy Instructions
STEP 1. Make the cake batter. Beat the butter and sugar together, then add the egg, vanilla and bananas. Add the flour, baking powder, baking soda, salt and cinnamon and beat until fully blended.
STEP 2. Bake the cake. Divide the batter between two 9-inch cake pans greased with shortening and flour. Bake at 350 degrees F for 25 minutes. Let cool in the pan for 10 minutes, then turn out onto a cooling rack and let cool completely.
STEP 3. Make the frosting. Beat the butter and cream cheese together then add the vanilla, heavy cream and powdered sugar and beat until well combined. Add in the cinnamon, if using.
STEP 4. Assemble the cake. Place one layer of the cooled cake on a cake plate. Spoon frosting generously over the top. Add the second layer of cake and spread remaining frosting evenly over the top and sides of the cake. Enjoy!
Tips and Tricks
Recipe FAQs
What's the difference between banana bread and banana cake?
Banana bread is baked in a loaf pan and has a firmer, more dense texture. Banana cake has a soft crumb and is perfect topped with a sweet frosting!
Can I use store-bought frosting?
Sure, you could use store-bought cream cheese frosting to make this recipe even easier!
How do I store Banana Cake?
This cake stays moist and delicious for several days after baking! Store it covered in the fridge and enjoy cold or at room temperature.
Can I freeze banana cake?
Yes! You can wrap baked cake layers or individual cake slices in a few layers of cling wrap or in freezer safe bags and freeze them for up to 3 months. Let thaw in the fridge overnight.
When you need an easy banana flavored dessert recipe that everyone will love, look no further than Banana Cake I'd eat it every day if I could!