No Bake Chocolate Oatmeal Cookies are filled with crunchy oats, creamy peanut butter and satisfying sweetness. You don't even need to turn on the oven to make these easy homemade cookies.
Looking for a different flavor of no bake cookie? These No-Bake Oatmeal Scotchies are another reader favorite! OR give our avalanche cookies a try.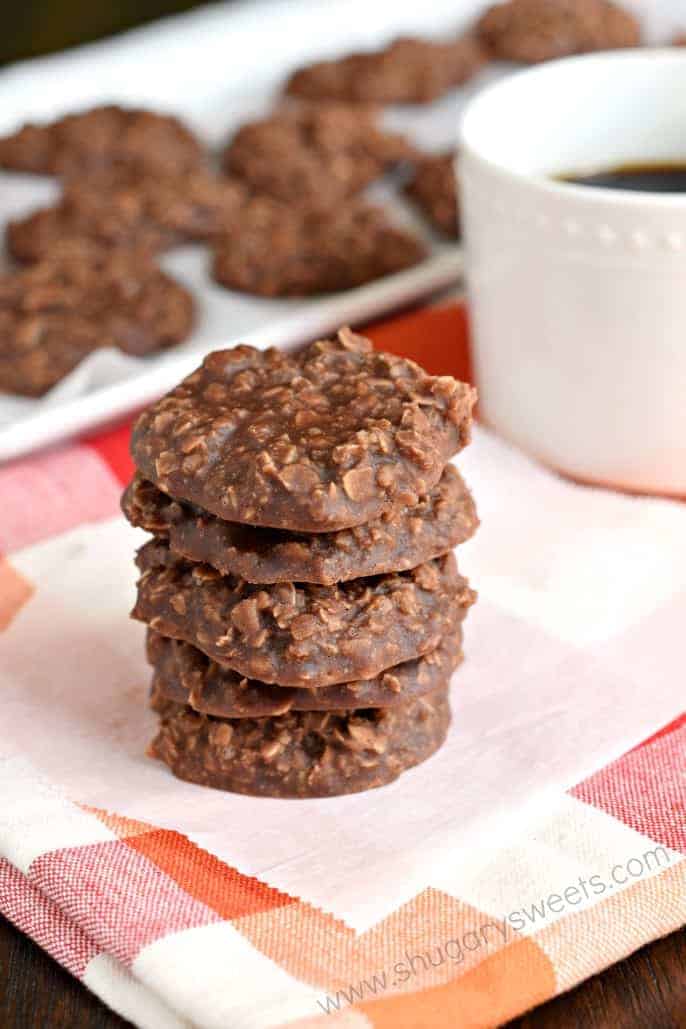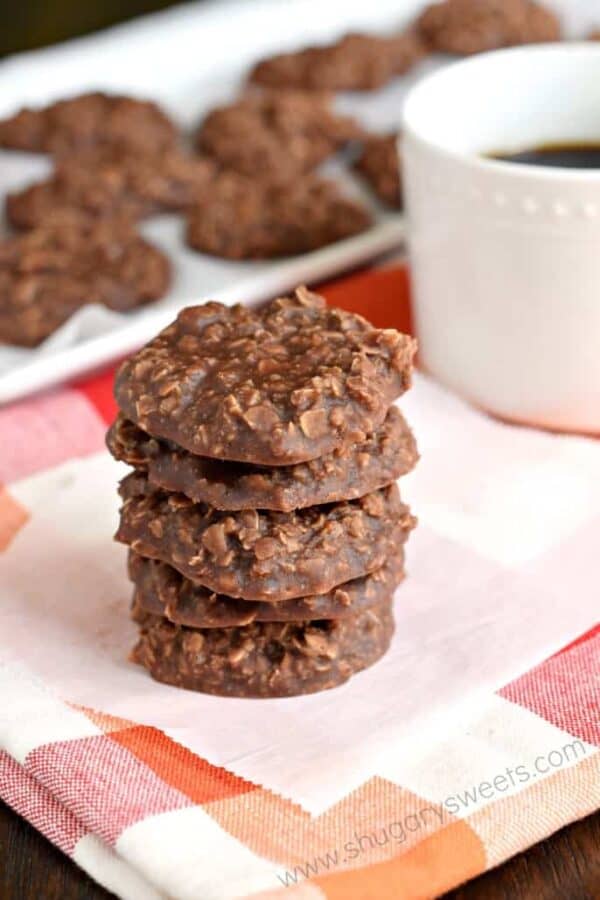 What are No Bake Cookies
No Bake Cookies are cookies that don't require any baking in the oven.
They're made with a combination of ingredients that stick together and hold their shape, without the traditional flour and egg in most baked cookies.
Today's recipe is a classic No Bake Chocolate Oatmeal Cookie, one of the most popular no-bake cookie varieties.
Delicious chocolate-peanut butter flavor
Chewy oatmeal cookie texture
No oven required
If you're looking for the perfect recipe to make with your kids, give these cookies a shot! It comes together easily and doesn't involve the hazard of a hot oven, making it a stress-free option for families to make together.
Enjoy these no bake cookies with a big glass of milk. Or be like me and pour yourself a fresh cup of coffee!
Ingredient Notes
Cocoa powder – This is the prominent flavor of these chocolate oatmeal no-bakes, so we recommend a good quality brand here.
Peanut butter – The sticky nut butter holds the ingredients together so the cookies keep their shape. We recommend creamy peanut butter over crunchy for no bake cookies.
Quick oats – These are a more finely chopped version of rolled oats. The finer texture allows them to absorb more of the liquid in this recipe and makes the cookies soft and chewy.
Unsalted Butter – You'll melt this with milk, sugar and the cocoa powder to give the cookies their richness and moisture. Salted butter can also be used, just don't skip the added salt called for in the recipe.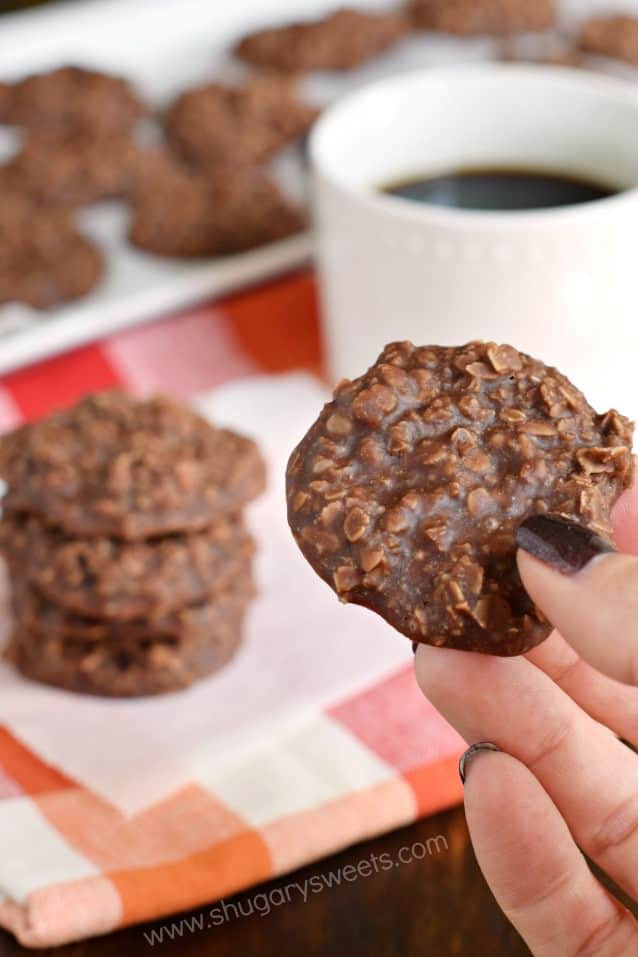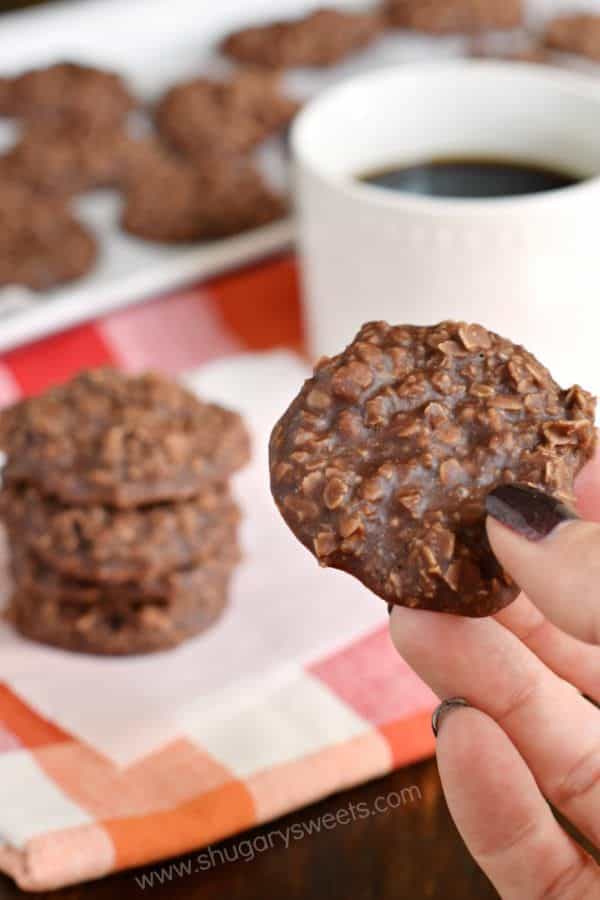 Easy Instructions
First, have all your ingredients measured and ready. This comes to a boil quickly, and sets up quickly. Also, lay out your parchment paper on your counter before beginning.
Next, over medium heat, you'll combine the sugar, cocoa, milk, and butter. You'll bring that to a full boil. Boil for only ONE MINUTE.
Immediately remove from heat and add in the vanilla extract, salt, peanut butter, and oats. Stir until combined.
Working quickly, drop by large tablespoon onto your parchment paper (I use two spoons). Allow to set, about 20 minutes. Try to not EAT it all as it sets, haha!
Store in airtight container at room temperature. ENJOY.
PRO TIP: You can even make No Bake Peanut Butter Cookies without the chocolate. They're quite tasty, especially if you toss in the Reese's Pieces!
Tips and Tricks
Enjoy chilled: Store your no bake cookies in the fridge for a refreshing chocolate treat on a hot summer day. We love the flavor even more when they're cold.
Storing: You can also store these cookies at room temperature! They keep well at room temperature for about 5 days or up to 2 weeks in the refrigerator. Mine never last that long because we eat them within a day or two!
Do not overboil. Set a timer and keep it to one minute. Over cooking the sugars results in crumbly cookies.
Recipe FAQs
Can I use rolled oats instead of quick oats?
Rolled oats can be used but the consistency of the cookies will not be the same. Because the oat grains are larger, they do not absorb the liquid as well and will not be as soft and chewy.
Why do my no bake cookies fall apart?
If your no bake cookies are consistently falling apart, you may be overboiling the sugar, milk and butter mixture. Over cooked sugar turns no bake cookies into a crumbly mess.
Why are my no bake cookies runny?
On the opposite side of the spectrum, under cooking your butter and sugar will cause the cookies to have too much liquid. Similar to making homemade fudge, the temperature has to be just right for perfect cookie texture!
Will natural peanut butter work in no-bake cookie recipes?
We have made this recipe with both natural peanut butter (the kind you have to stir) and regular peanut butter like Jif and Skippy. It works well with both kinds, so feel free to use whatever you have.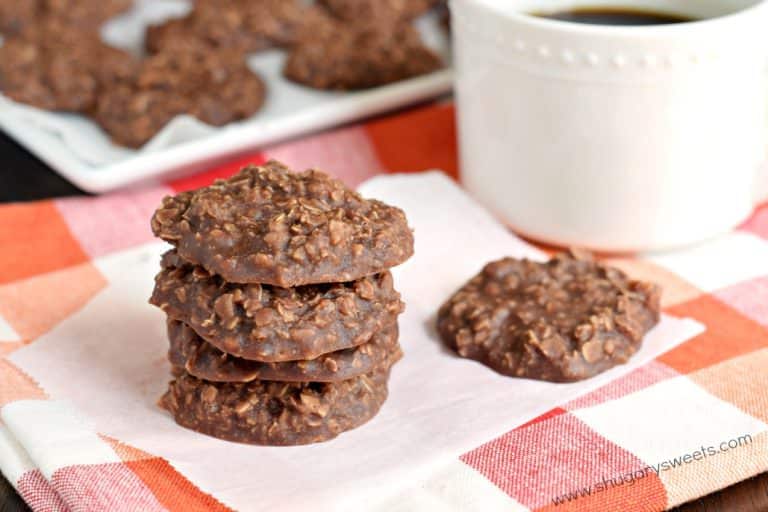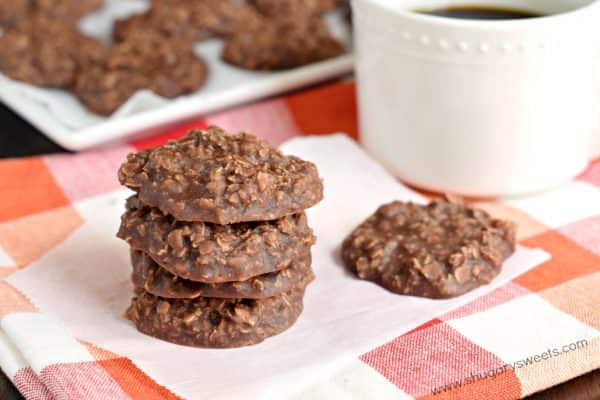 No Bake Chocolate Oatmeal Cookies are the perfect summer dessert recipe. Whip up a batch in minutes!