Peanut Butter No Bake Cookies
Delicious yet simple No Bake Cookies. These are for the true Peanut Butter Lover!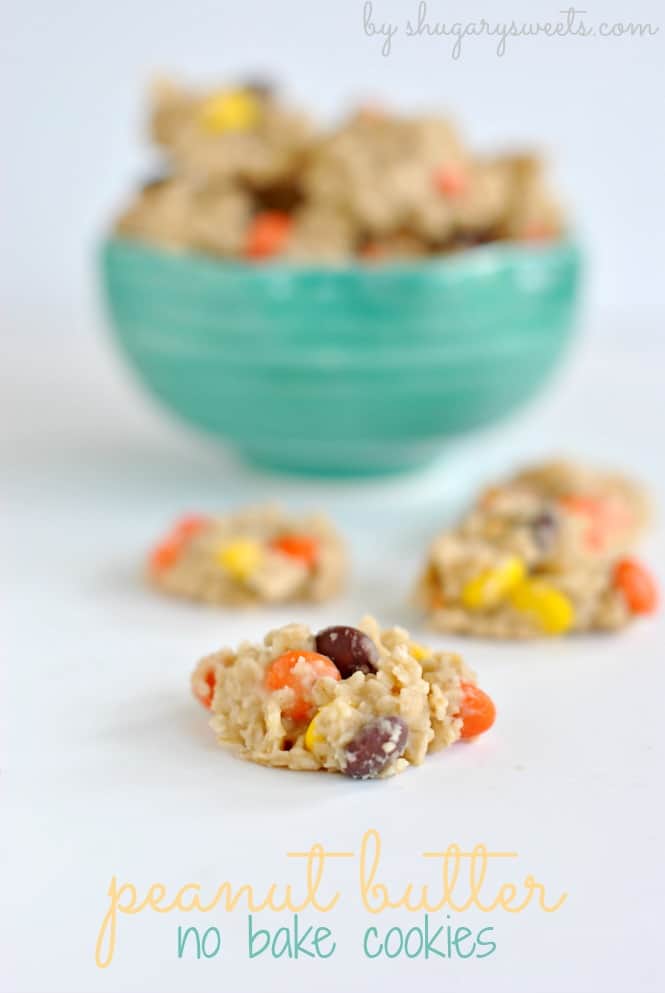 I love the simplicity of a no-bake cookie. If you follow me on Instagram you may have seen me share a photo of a big pile of mulch. We spent our weekend weeding all our gardens and laying fresh mulch. While it looks beautiful, it's exhausting work. The weather here was perfect and gorgeous. And it was a good reminder that no bake desserts are awesome to have on hand for summer. You know, when you need something sweet but don't feel like turning on your oven!
These peanut butter no bake cookies are just the thing. Unlike traditional no bakes, there is no chocolate. I have a family of peanut butter lovers and we needed full peanut butter flavor. Plus, should I remind you they have oatmeal? Peanut butter + Oatmeal = health food. Breakfast. Yeah, I know it's a stretch, but go with it.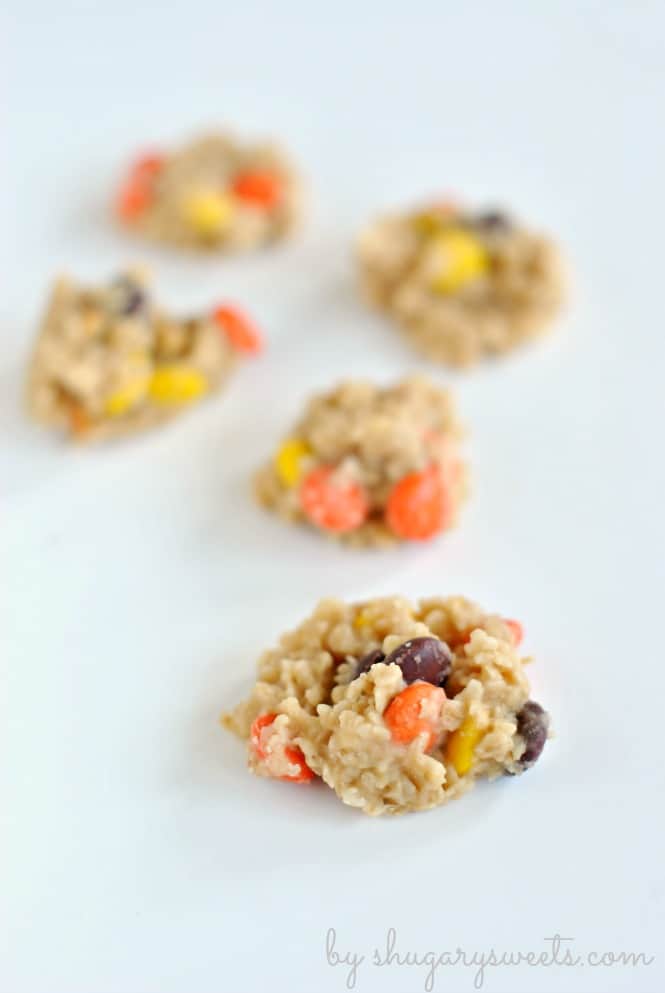 I added in some Reese's Pieces just for fun! These cookies taste like a giant Reese's Pieces! Seriously.
Speaking of Reese's Pieces…anyone else feel they get neglected sometimes? Second string behind the PB cup? I grew up in the 80's and going to the theater to see ET when it was first released. Reese's Pieces had their fame back then, time to bring it back! Right??
Connect with Shugary Sweets! I know you want to see behind the scenes…check out my instagram!
Don't miss a single recipe!
Facebook | Twitter | Google+ | Pinterest | Bloglovin'
Yield: 5 dozen cookies
Peanut Butter No Bake Cookies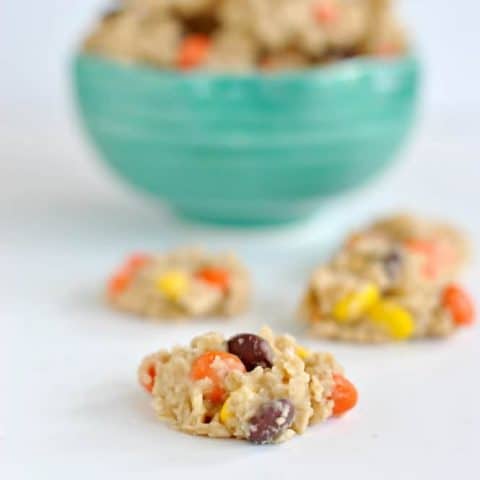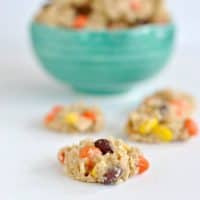 Prep Time 5 minutes

Cook Time 9 minutes

Delicious yet simple No Bake Cookies. These are for the true Peanut Butter Lover!
Ingredients
2 cup granulated sugar
1/2 cup skim milk
1/2 cup unsalted butter
1 tsp vanilla extract
pinch of salt
1/2 cup creamy peanut butter
3 cup quick cook oatmeal
1 1/2 cup Reese's Pieces
Instructions
In a large pot, add sugar, milk and butter. Bring to a boil over medium high heat. Boil for one full minute. Remove from heat. Add vanilla, salt and peanut butter. Stir until smooth. Fold in oats, stirring until completely combined. Fold in candy.
Lay out a large piece of parchment paper on counter. Using two spoons, drop cookie dough by large tablespoon onto paper. Allow to set (about 20 minutes). Store in a covered, airtight container. ENJOY!
Want more No Bake ideas? Well, you've come to the right place. Let's start with cookies…
No Bake Cookies with Double Espresso: these are filled with delicious Mocha Hazelnut Spread and espresso powder. Mom's perfect treat!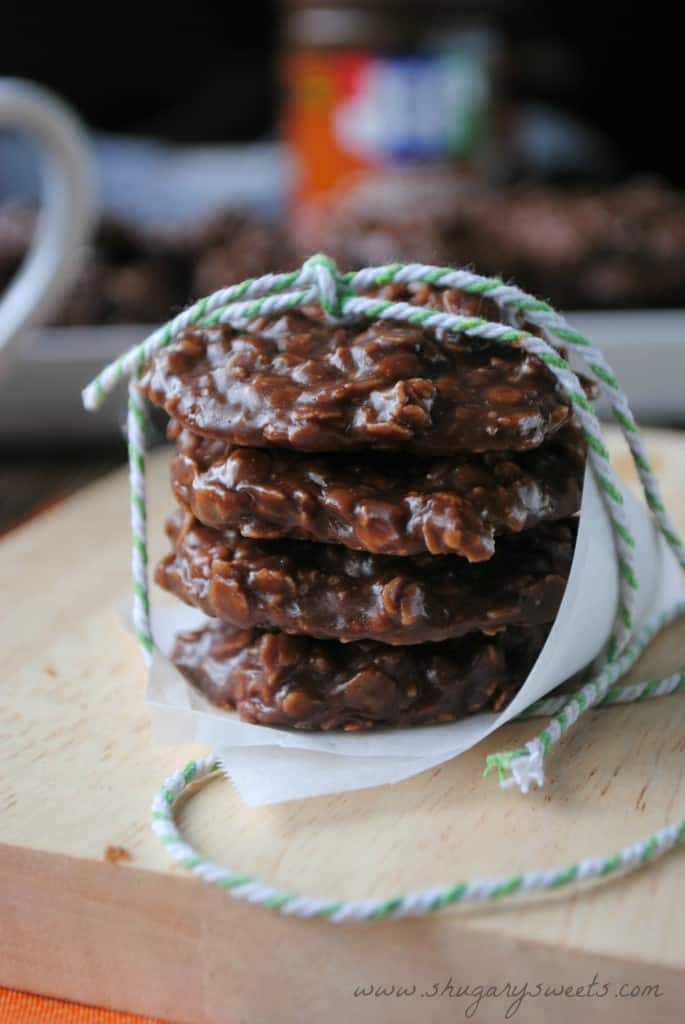 Biscoff No Bake Cookies: One of my favorite obsession (biscoff) in a No bake? Perfection!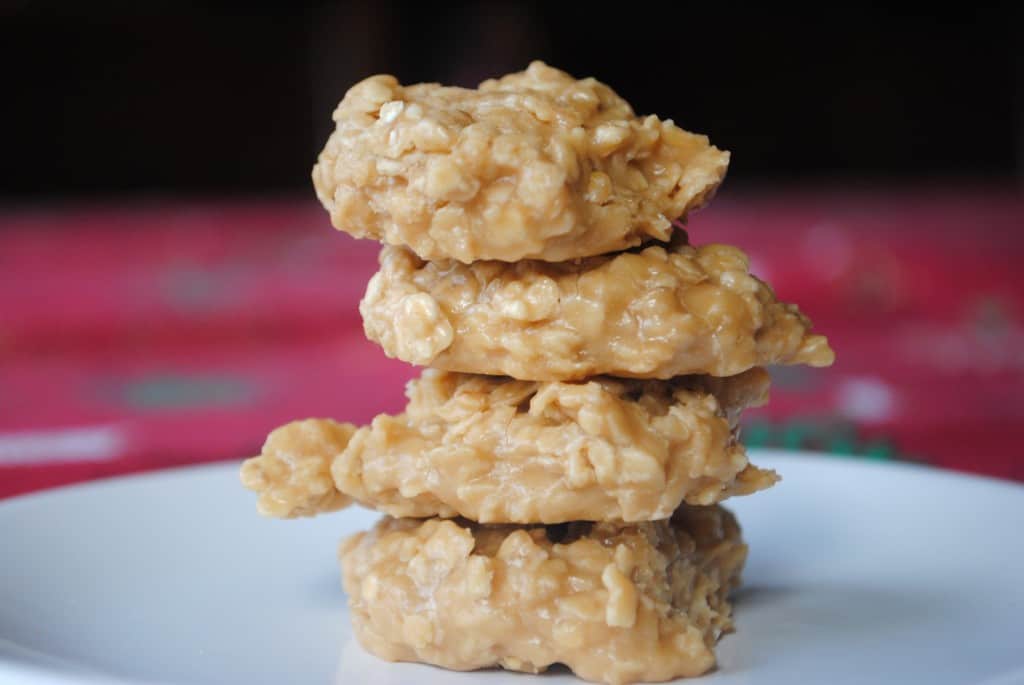 Apple Nachos (perfect summer treat, eat outside cause they are messy then hose off!): easy, no oven needed!