An Easter dessert the kids can help make! Bunny Chow Candy will brighten up your spring with sweet crunchy taste that no one can resist. This sweet and salty candy is packed with Oreos and holiday M&M's.
Love easy Easter treats? Try our delicious Easter Rice Krispie Treat recipe. Especially if you LOVE Peeps candy. Or give this Chocolate Chip Cheesecake recipe a chance, and use up some of those holiday chocolates.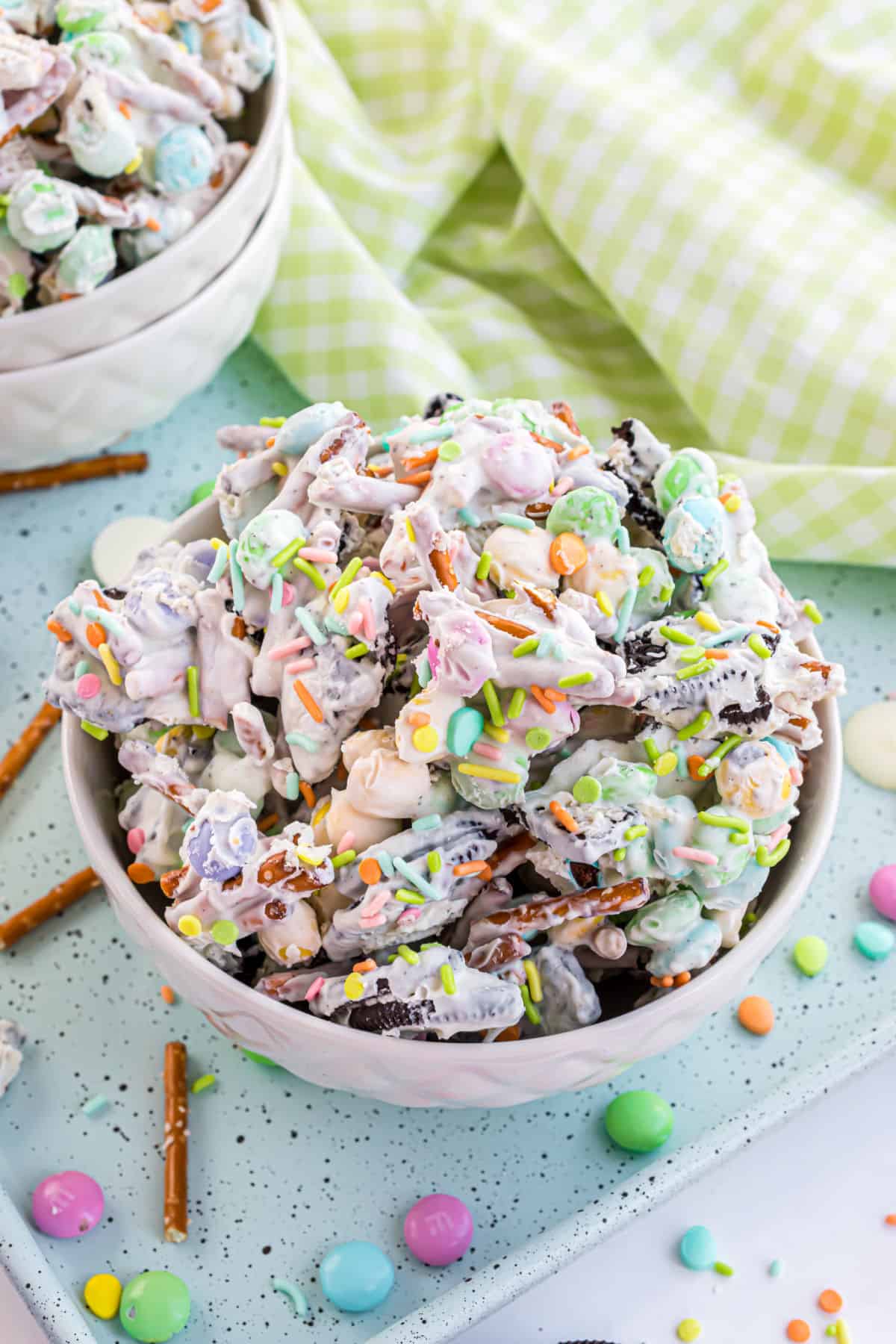 What is Bunny Chow Candy
I've got an easy sweet snack here, people. I'm talking, almost as easy as my white trash candy, except Bunny Chow has even fewer ingredients. I whipped this up in under 15 minutes!
We called this Bunny Chow because:
It's almost Easter and the sprinkles gave this candy a bright and festive spring flare
The name is adorable. Who doesn't want to be reminded of bunnies, right?
This is a perfect easy Easter dessert or snack, but you don't have to save it just for the springtime. A bowl of this on the table would steal the show at any party or family movie night, no matter the time of year.
Little kids love helping break apart the pretzels and Oreos for their Easter dessert. I mean, how often are they encouraged to smash things?
If you have little ones at home, they're going to have so much fun making Bunny Chow Candy with you!
Ingredients Notes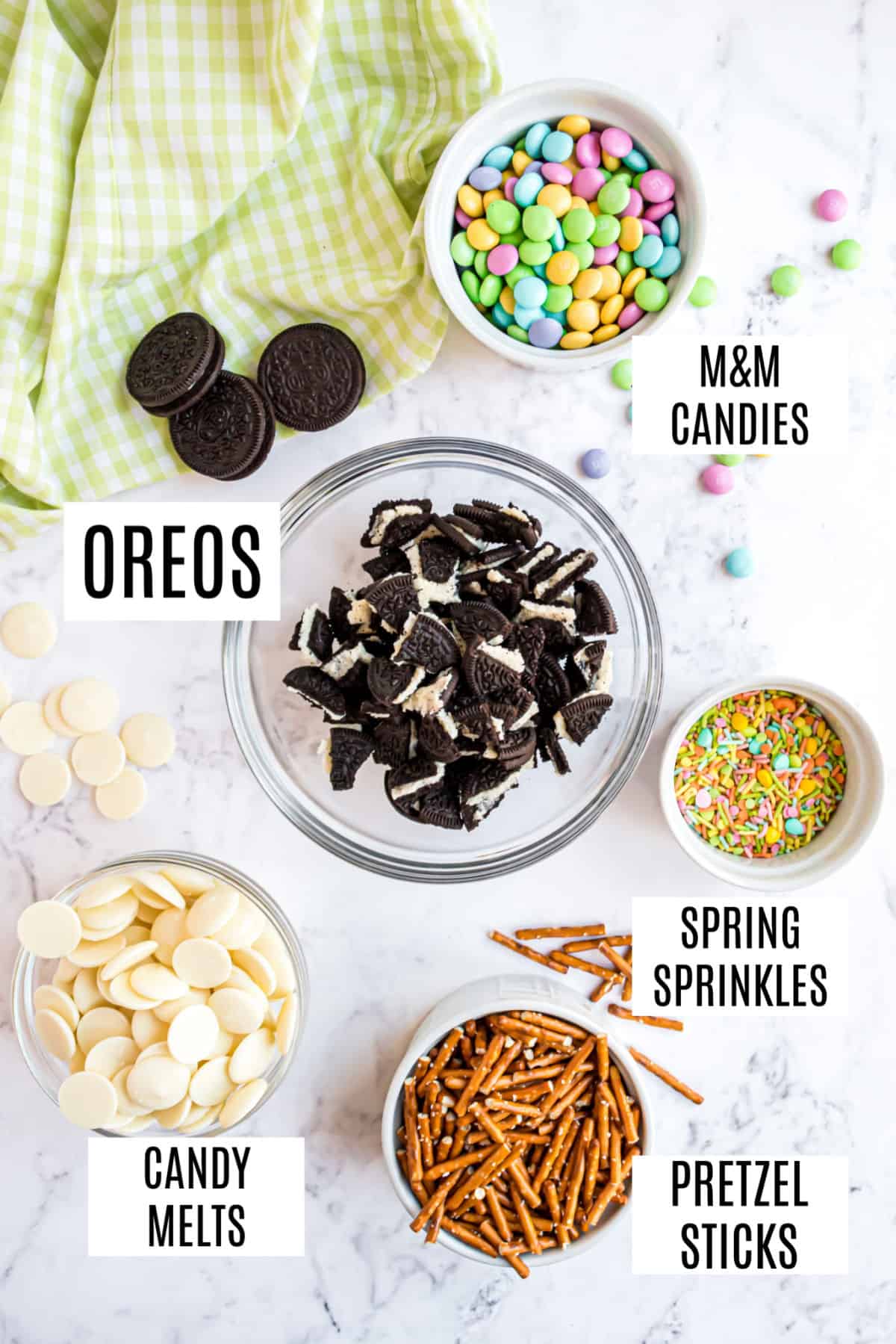 This bunny chow only has FIVE ingredients which, huge bonus, happen to include some of my favorite snack foods:
Pretzel sticks– any salty pretzel variety works great here
Oreos– swap for golden Oreos if you want to!
M&Ms
Vanilla candy coating– I use the Ghirardelli White Chocolate Wafers, they melt smooth and taste delicious
Sprinkles
Easy Instructions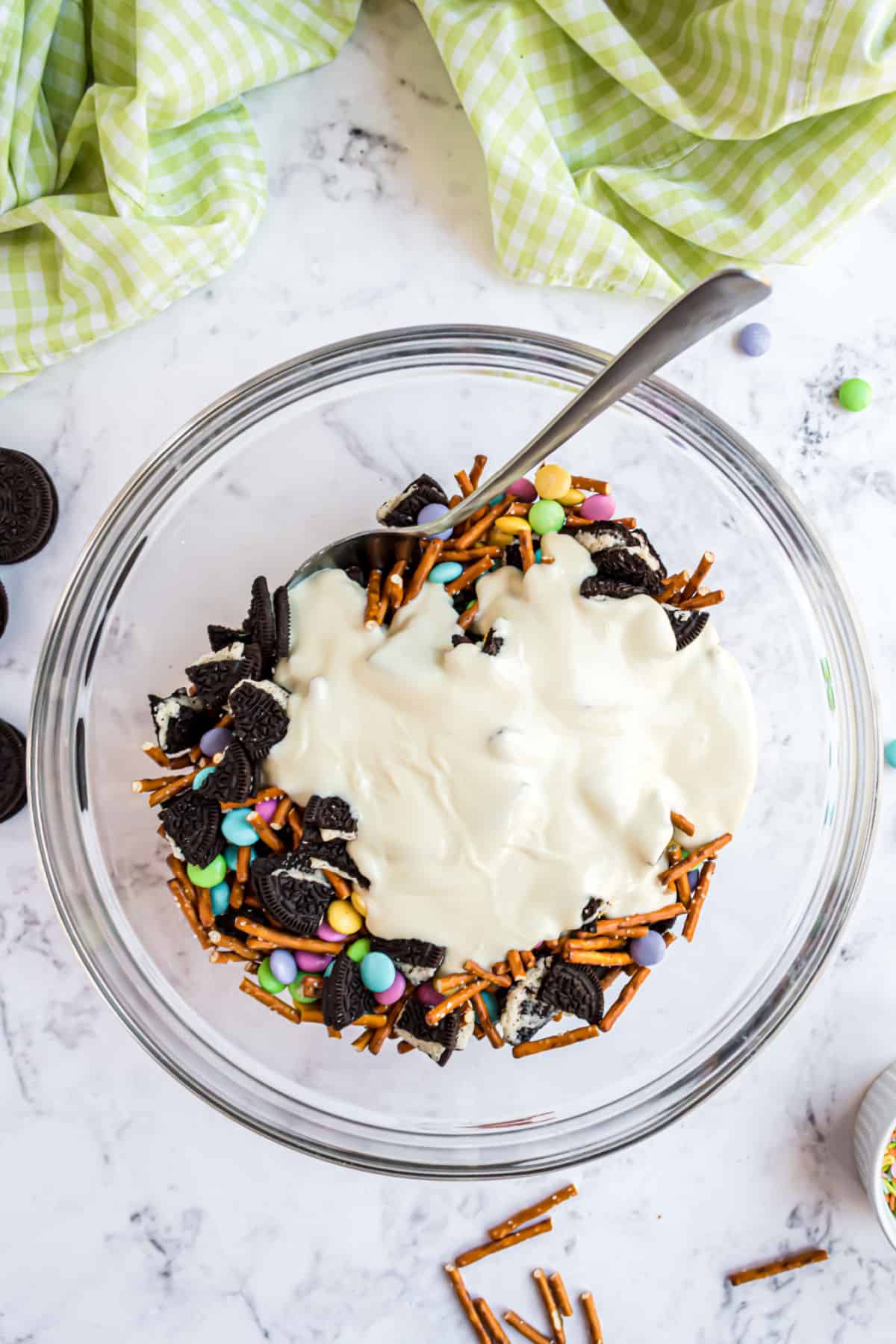 STEP 1. Break up your pretzels and Oreos. I like to keep my pretzels pretty small but leave my Oreos in larger pieces so they don't turn into crumbs.
STEP 2. In a large bowl, mix the pretzels and Oreos with the M&Ms.
STEP 3. Melt vanilla candy coating (or wafers) according to package directions. (We used a microwave). Pour melted chocolate over M&M mixture.
STEP 4. Line your counter top with parchment paper and pour the bunny chow mixture on top. Dust the bunny chow with two tablespoons of spring sprinkles. Let the candy stand for 10 minutes to harden.
STEP 5. Break the Bunny Chow candy into bite sized pieces and enjoy!
In the event you have far more self-control than I do around this Easter dessert, Bunny Chow stores easily to save for later! I store ours in a Ziploc bag. It would also keep well in an airtight container.
Tips & Tricks
PARTY FAVOR: Divide this bunny chow candy into individual portions in Ziploc sandwich bags for easy on-the-go snacking or packing in lunches.
SUBSTITUTIONS: Bunny Chow can easily be adapted to suit any holiday or occasion. For extra Easter festiveness, use the seasonal pastel M&Ms. At Christmas time, substitute red and green sprinkles and M&Ms to make this "Elf Chow" (or another fun holiday name you come up with–get creative!).
M&M Varieties: I used Milk Chocolate M&Ms here but feel free to experiment with other varieties. White chocolate, Fudge Brownie and Peanut M&Ms would also taste delicious in your Bunny Chow.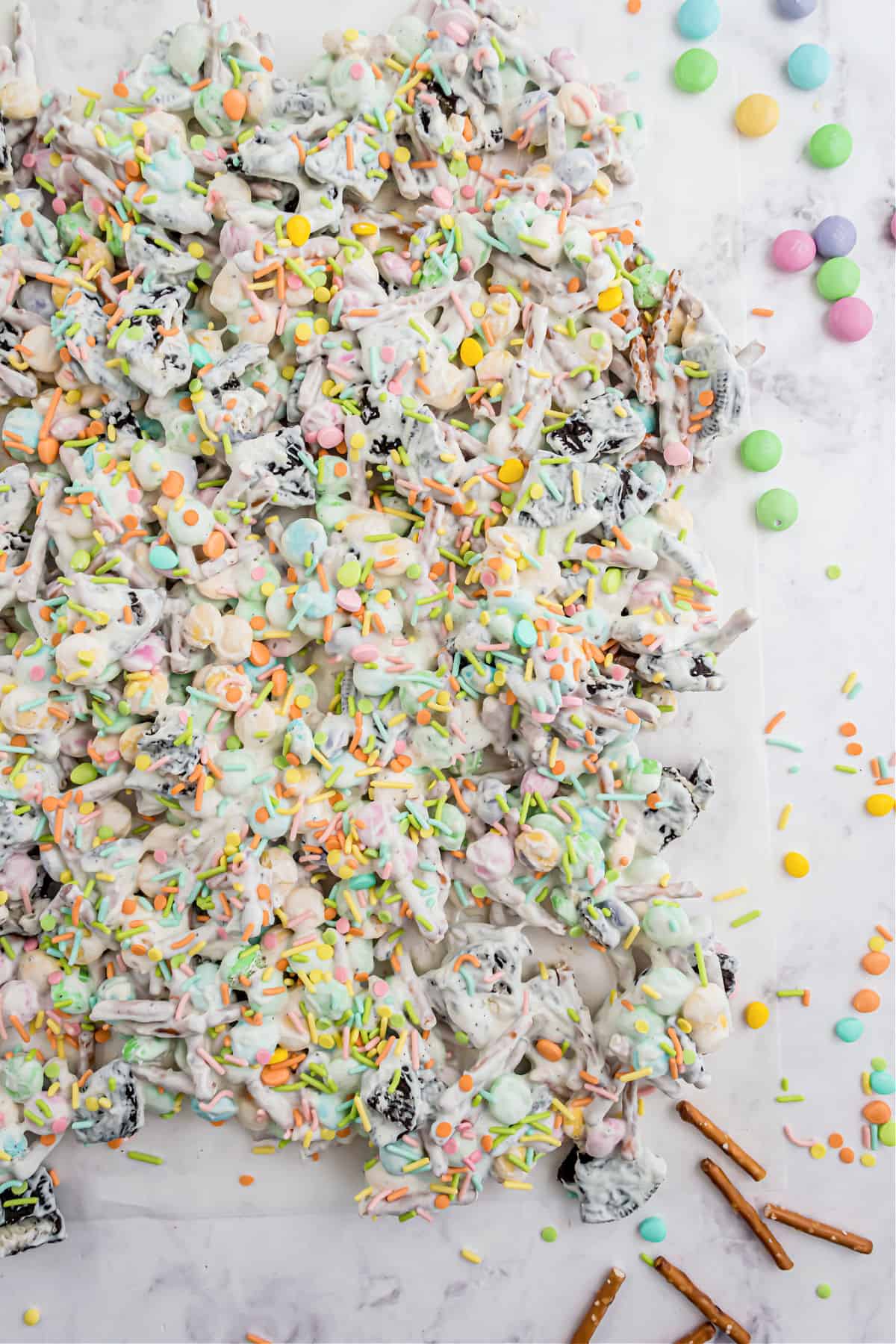 Recipe FAQs
How long does this Easter candy stay good?
The bunny chow tastes best if eaten within 3 -4 days. In my house it's gone well before then!
Can I use melted white chocolate instead of candy coating?
No, I don't recommend using white chocolate bars or chips. It does not melt as smoothly due to extra additives. Vanilla or white chocolate candy coating and melting wafers work best.
Can you make this with pretzel twists instead of sticks?
Yes, but I prefer the texture and look of the pretzel sticks! If you're using twists you may want to break them up into smaller bits first.
Bunny Chow Candy was a huge hit in our house. I hope you have fun with this kids baking recipe, too!