Chocolate Chip Cheesecake Bars
Chocolate Chip Cheesecake Bars with a graham cracker base, creamy cheesecake filling and delicious cookie crunch.
Be sure to follow me on Bloglovin'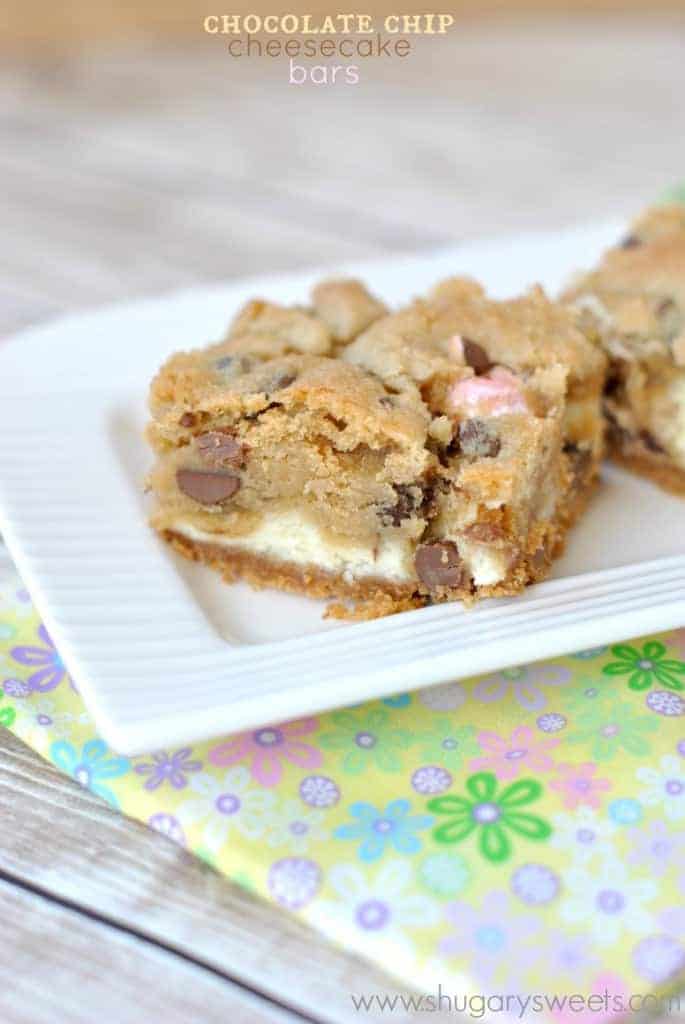 It's no secret that I am in cahoots with PHILADELPHIA Cream Cheese. Cahoots as in, I freaking love their cream cheese. I've been tempted in the past to buy the store brand cream cheese, I mean a 10 for $10 sale is sometimes hard to resist.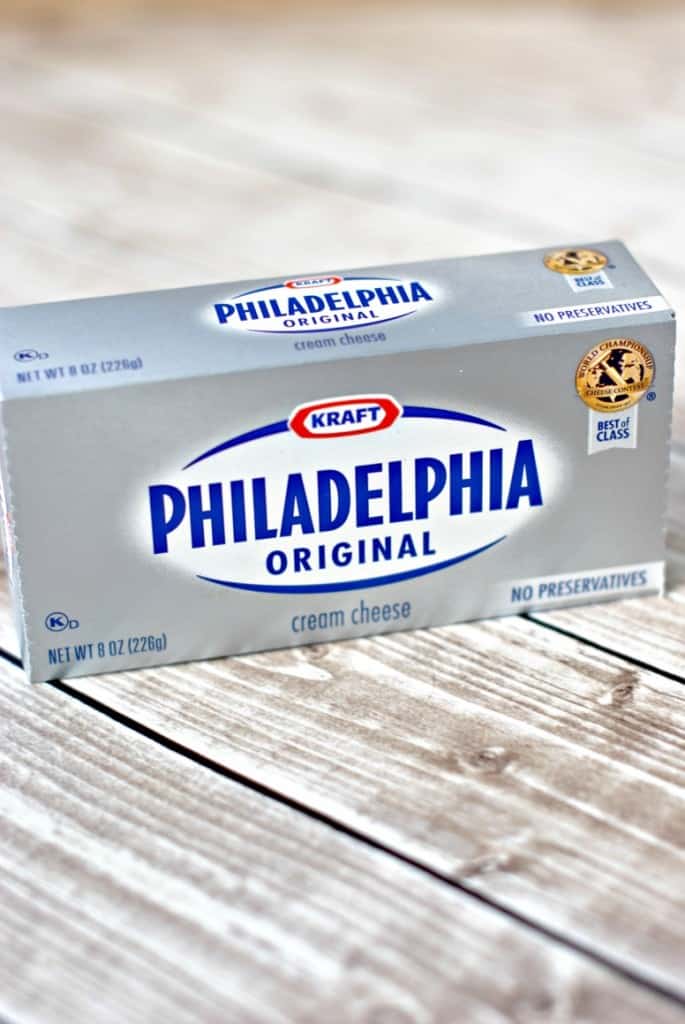 But after numerous cheesecake fails, it occurred to me, why go cheap and chance a recipe fail? Seriously. I have never had a problem when baking with PHILADELPHIA. And, it's so delicious and creamy!
So when they asked me to join forces as a brand ambassador, it should not shock you that I said yes. I take my sponsored post opportunities very seriously, I only choose to work with brands that I love and use everyday anyways.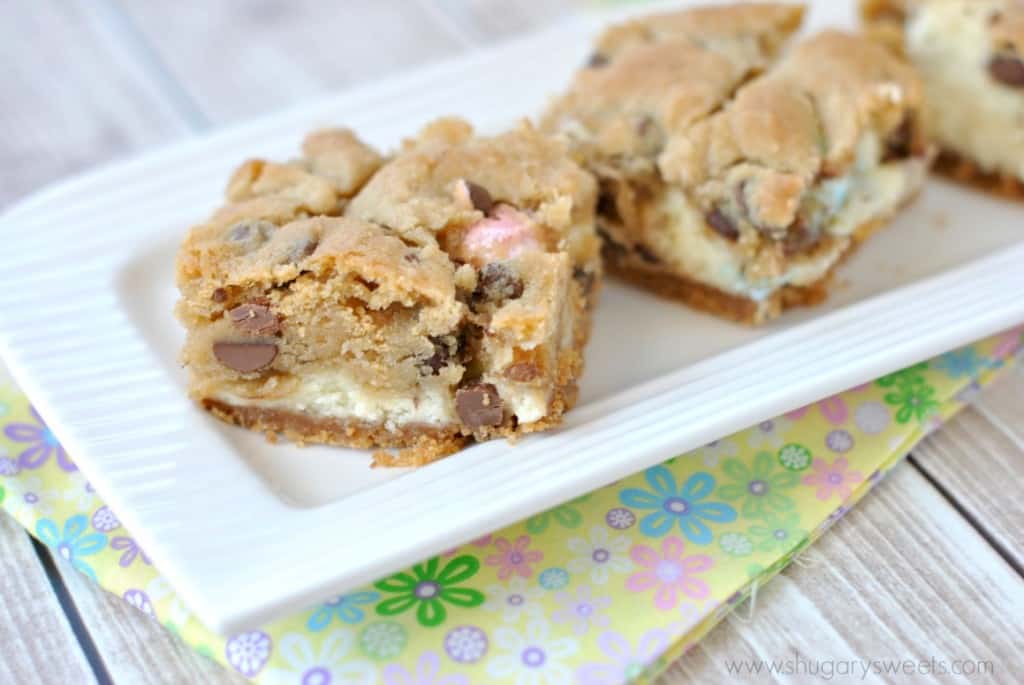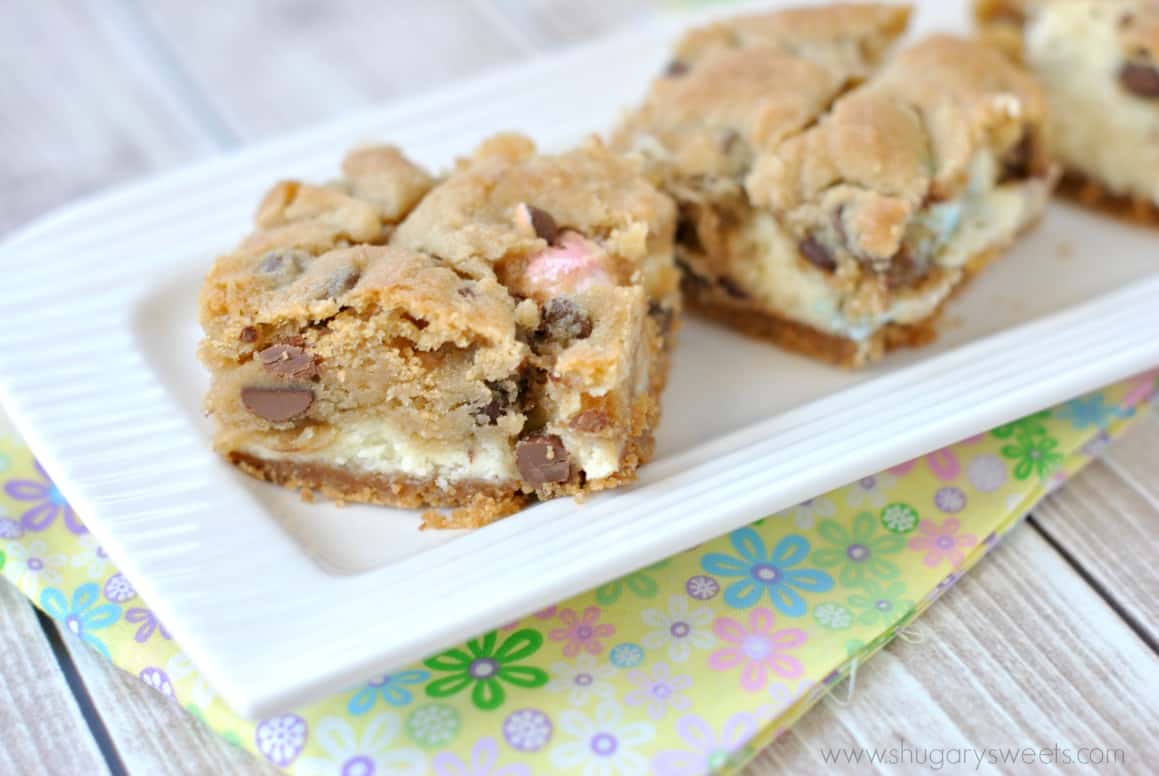 And of course, PHILADELPHIA cream cheese makes an appearance in my baking often!
Today, I'm sharing one of my absolute favorite recipes. These Cheesecake bars were so good I couldn't keep them in the house for fear of eating them all by myself! My husband's work was fortunate enough to get a big plate of dessert at their staff meeting a few weeks ago!
Using my favorite chocolate chip cookie recipe and a graham cracker base, I whipped up a delicious cheesecake filling to nestle in the center!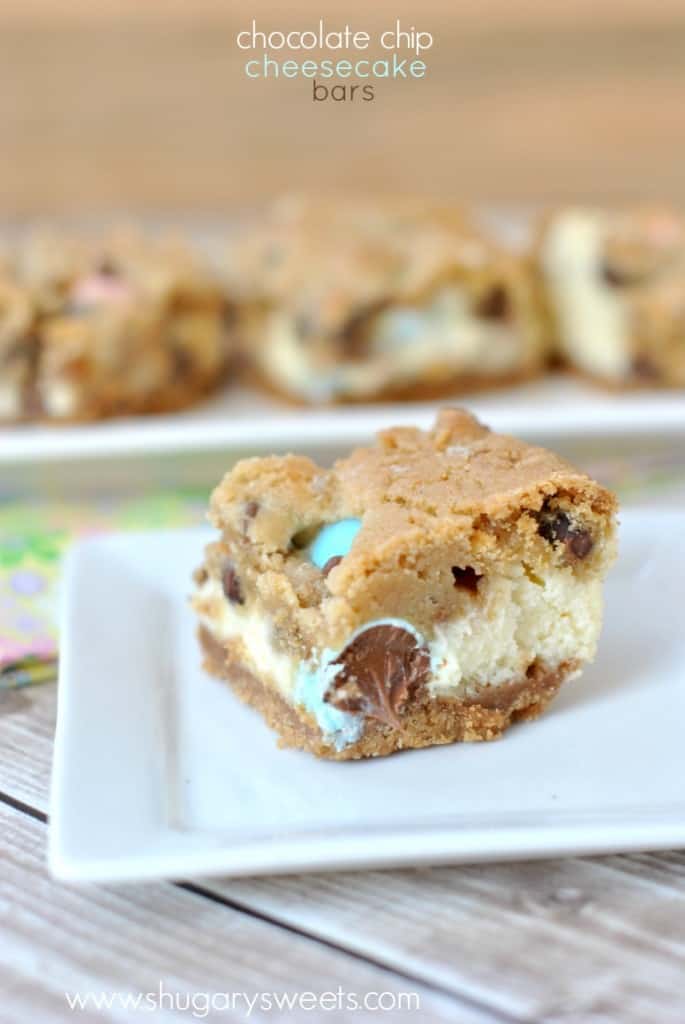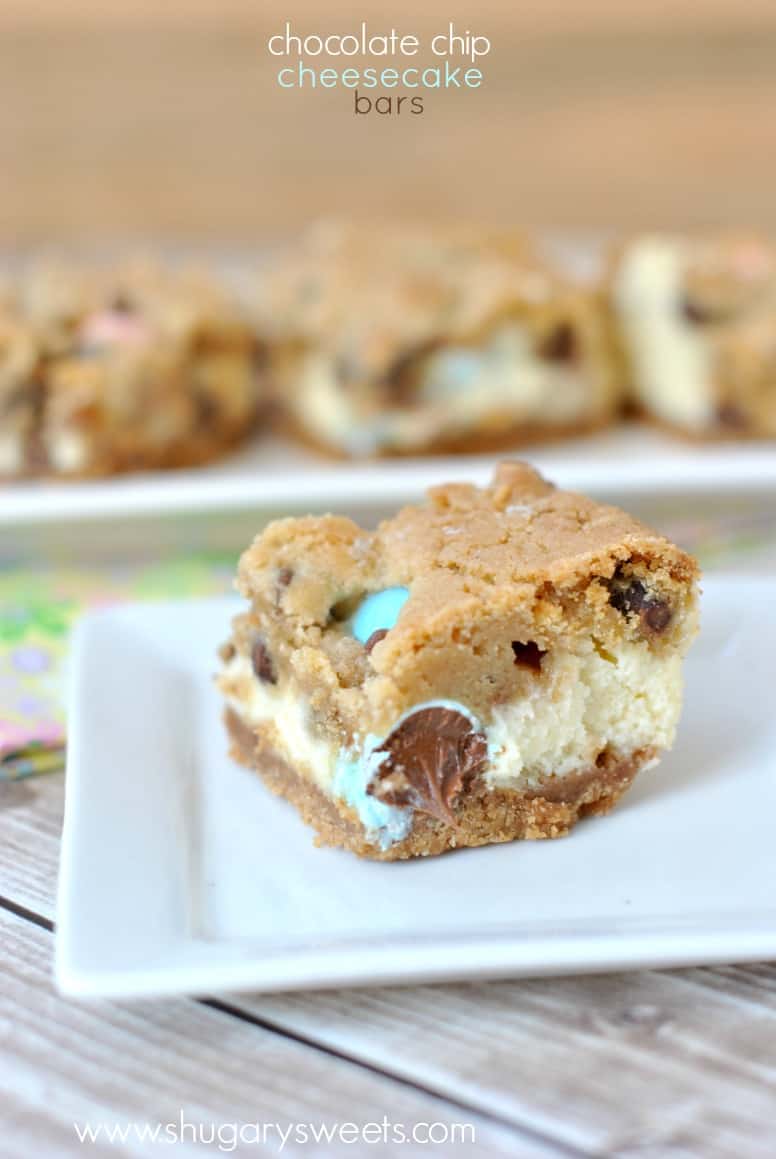 And, as I said before, PHILADELPHIA cream cheese is delicious and creamy because it is made from fresh local milk and real wholesome cream, which makes it the perfect filling for these Chocolate Chip Cheesecake bars! PHILADELPHIA set up some high standards for themselves, in addition to being made with local milk and real cream, they go from farm to fridge in 6 days. There are no preservatives in the cream cheese bricks. And they use REAL ingredients in their flavors (like real jalapenos and crunchy pecans).
I like to make these cheesecake bars the night before serving. Or first thing in the morning. I think the more time the cheesecake filling has to cool and chill the better they taste! Which makes these perfect for your brunch or family gathering. You can make them ahead of time and have no stress about dessert. And because your cheesecake is covered in cookie dough, you don't have to stress about cracks in your cheesecake!
So, have you planned your Easter or Spring brunch menu yet? Whether you are serving a traditional ham or going the vegetarian route, these Chocolate Chip Cheesecake Bars are sure to complement your main dish! I'm positive your family and friends will thank you.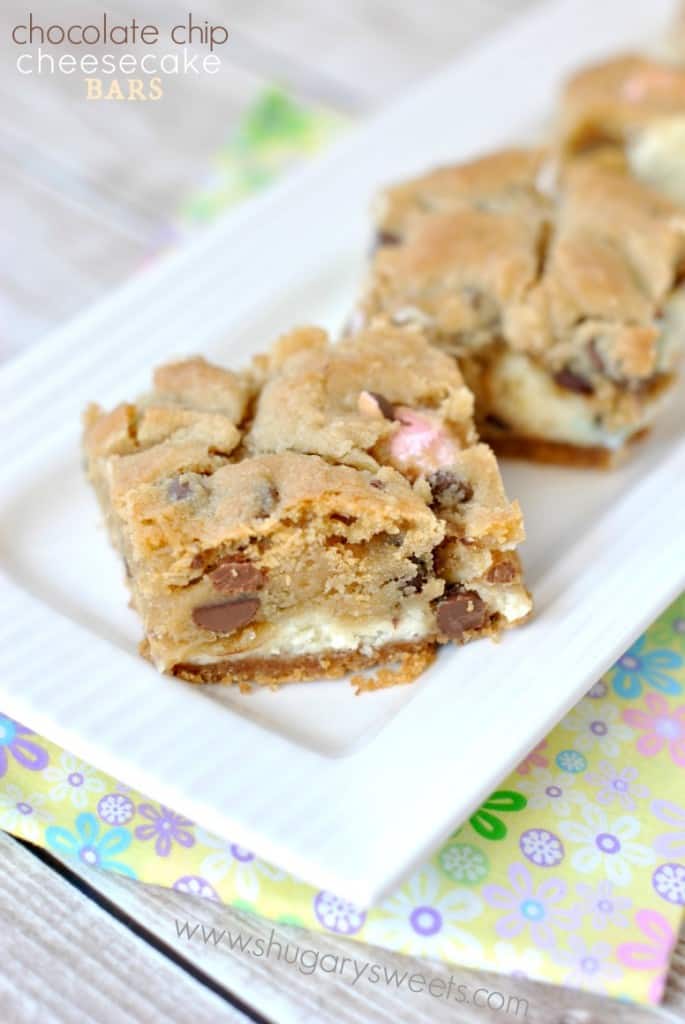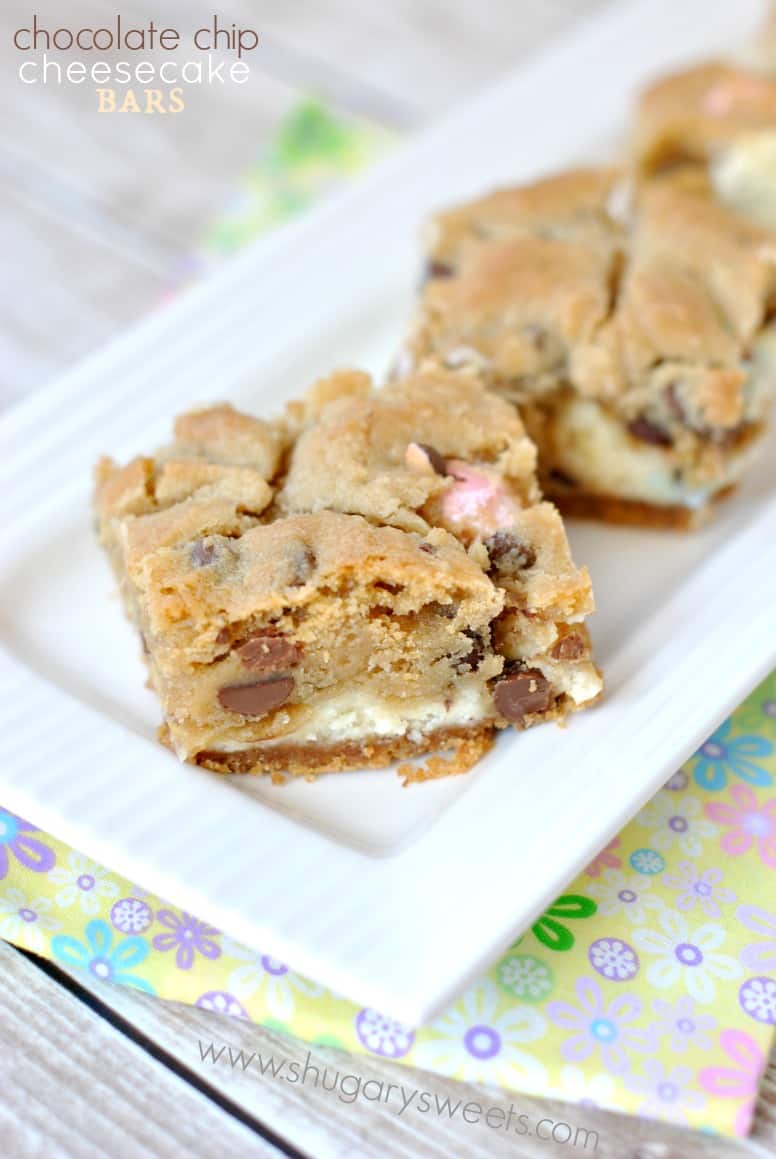 Connect with PHILADELPHIA Cream Cheese:
website | facebook | twitter | pinterest
Yield: 24 large bars
Chocolate Chip Cheesecake Bars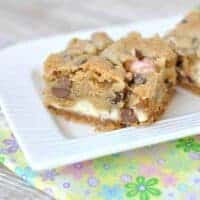 Chocolate Chip Cheesecake Bars with a graham cracker base, creamy cheesecake filling and delicious cookie crunch.

Prep Time 4 hours 30 minutes

Cook Time 30 minutes

Chocolate Chip Cheesecake Bars with a graham cracker base, creamy cheesecake filling and delicious cookie crunch.
Ingredients
For the crust:
2 1/2 cup graham cracker crumbs (about 18 full size grahams)
1/4 cup granulated sugar
1/2 cup unsalted butter, melted
For the cheesecake filling:
2 pkg (8 oz each) PHILADELPHIA cream cheese, softened
3/4 cup granulated sugar
2 large eggs
1 teaspoon vanilla extract
For the cookie dough:
3/4 cup unsalted butter, softened
1/2 cup granulated sugar
3/4 cup light brown sugar, packed
1 large egg
2 Tablespoon milk
2 teaspoon vanilla extract
1 3/4 cup all-purpose flour
1/2 teaspoon kosher salt
1 teaspoon baking soda
1 cup milk chocolate morsels
1 1/2 cup candy coated chocolate eggs (pastel chocolates)
Instructions
Line a 13x9 baking dish with parchment paper, set aside.
In a food processor, pulse graham crackers with sugar until fine crumbs. Drizzle in melted butter and pulse until combined.
Pour graham crumbs into bottom of baking dish. Using palm of your hand (or bottom of a cup) press crumbs firmly until they are combined (and slightly hardened) in bottom of pan.
For the cheesecake filling, beat cream cheese with sugar eggs and vanilla using the whisk attachment of an electric mixer. Beat until fluffy and smooth, about 3-5 minutes. Pour over graham crust.
For the cookie dough, beat butter with sugars for 2 minutes, until combined. Add milk, egg and vanilla. Beat until mixed. Add in flour, salt and baking soda and mix until fully combined. Fold in chocolate chips and candy coated eggs. Drop by large scoop onto top of cheesecake layer. Try to use your fingertips to spread gently until cheesecake is covered completely.
Bake in a 350 degree oven for 30-35 minutes. Remove and cool completely. Once cooled, cover with plastic wrap and refrigerate for 4 hours or overnight. Cut into squares and enjoy!!
LOVE Cheesecake recipes?
Check out my Cheesecake Heaven Pinterest Board for more delicious ideas!


"I have been selected by Kraft Foods to be an ambassador for PHILADELPHIA cream cheese. While I have been compensated for my time, my opinions are my own, and I have not been paid to post positive comments. Read my disclosure policy for more information!"