Chocolate Chip Cheesecake Bars with a graham cracker base, creamy cheesecake filling and delicious chocolate chip cookie crunch. These cold cookie bars are a perfect make ahead dessert!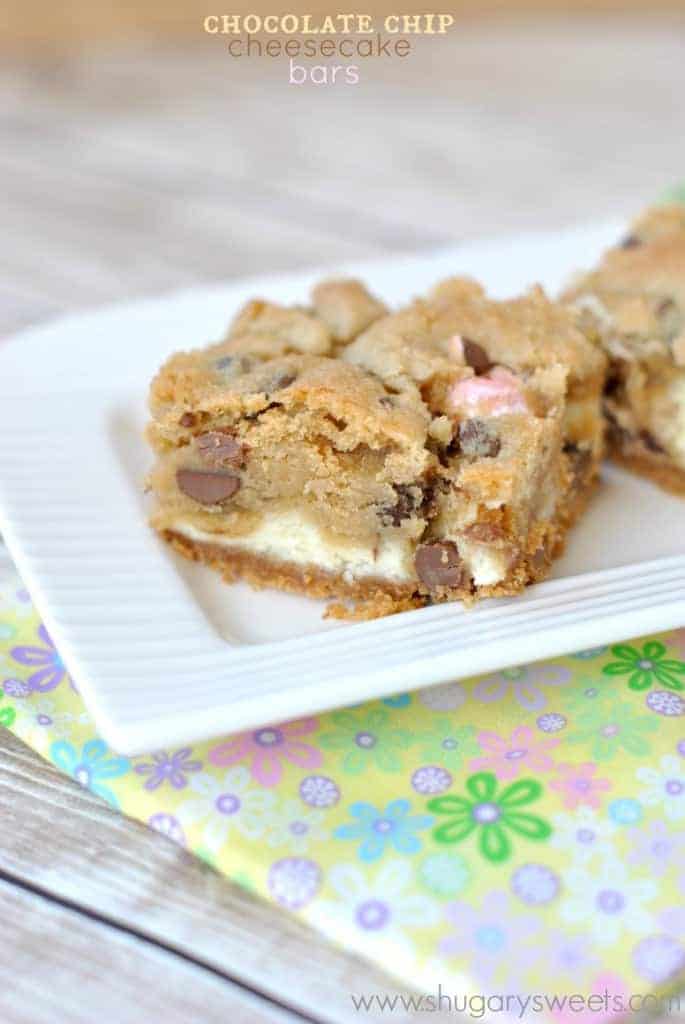 Why this Recipe Works
It's filled with sweet chocolate and creamy cheesecake flavors.
No worries about cracking cheesecake here. The cheesy layer is covered with chocolate chip cookie dough!
These bars are easy to make with no special equipment or hard-to-find ingredients necessary.
Eat them with your hands or dig in with a fork.
You can make them ahead of time and have no stress about dessert.
Using my favorite chocolate chip cookie recipe and a graham cracker base, I whipped up a delicious cheesecake filling to nestle in the center!
These Chocolate Chip Cheesecake Bars are the perfect way to use up some of that holiday candy too.
Toss in a handful of colorful M&M's candies to the cookie dough for a sweet surprise!
Ingredient Notes
Graham cracker crumbs. Make your own with full sized honey graham crackers for best taste.
Semi-sweet chocolate morsels. Substitute milk or white chocolate morsels to change up the flavor.
Cream cheese. Make sure to use full fat for richest, creamiest flavor. Let it soften for a few minutes at room temperature so it's easier to work with.
Easy Instructions
First, make the graham cracker crust.
Process graham crackers into crumbs. Combine with melted butter and press into the bottom of a baking dish.
Add cheesecake filling.
Beat together the cheesecake ingredients in your stand mixer. Pour over the crust.
Top with cookie dough.
Drop scoops of the prepared chocolate chip cookie dough over your cheesecake layer. Use your hands to spread the dough so most of the cheesecake is covered.
Bake for 30 minutes, let cool and chill covered for at least four hours before serving.
Tips and Tricks
Use a food processor (or a ziploc bag and a meat pounder) to process your graham crackers into a fine crumb. DO NOT use the store bought graham crumbs. I personally think the flavor of those is "off" and I can tell the difference in the two!
Use parchment paper to line your 13×9 baking dish. Not only does it help with clean up…but once these are complete, you can lift the whole batch out of the pan to slice them. This helps keep them looking uniform and pretty (not smashed and uneven).
Chill overnight. I like to make these cheesecake bars the night before serving. Or first thing in the morning. They taste better the longer they chill!
Candy mix ins. I love to mix-in M&Ms or other chocolate candy pieces, but it is strictly optional.
Recipe FAQs
Can you freeze these cheesecake bars?
Yes, my chocolate chip cookie cheesecake bars keep well in the freezer for about 2 months. Let thaw in the fridge overnight before enjoying.
Can I substitute store bought cookie dough for homemade?
You're more than welcome to swap my homemade dough for your favorite ready-to-bake variety from the store.
What size pan do I need to make these?
I make my chocolate chip cheesecake bars in a rimmed 13 x 9 baking dish.
You can use a different sized pan but the baking time would need to be adjusted depending on the thickness of the bars. Thicker bars will take longer to bake and set.
How long do homemade cheesecake bars keep?
These bars will keep for 3 – 5 days, if tightly covered and stored in the fridge.
Layers of graham cracker, cheesecake filling and soft chocolate chip cookie dough make these Chocolate Chip Cheesecake Bars a guaranteed hit!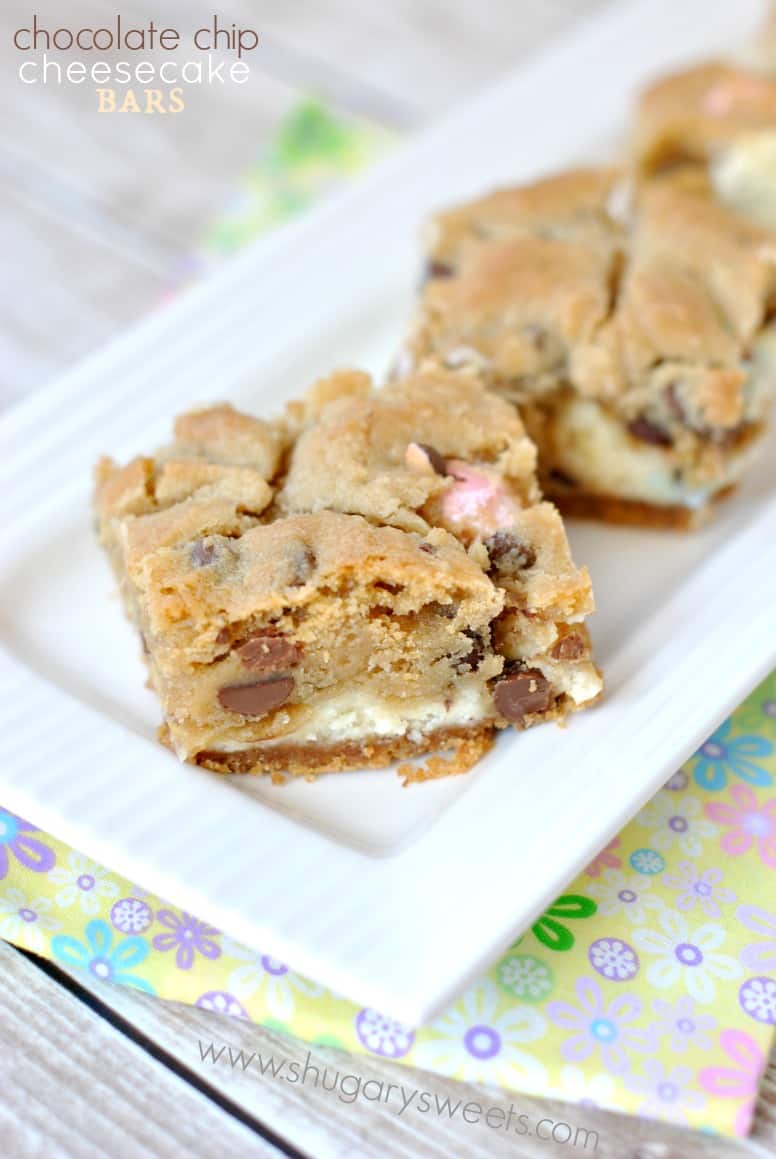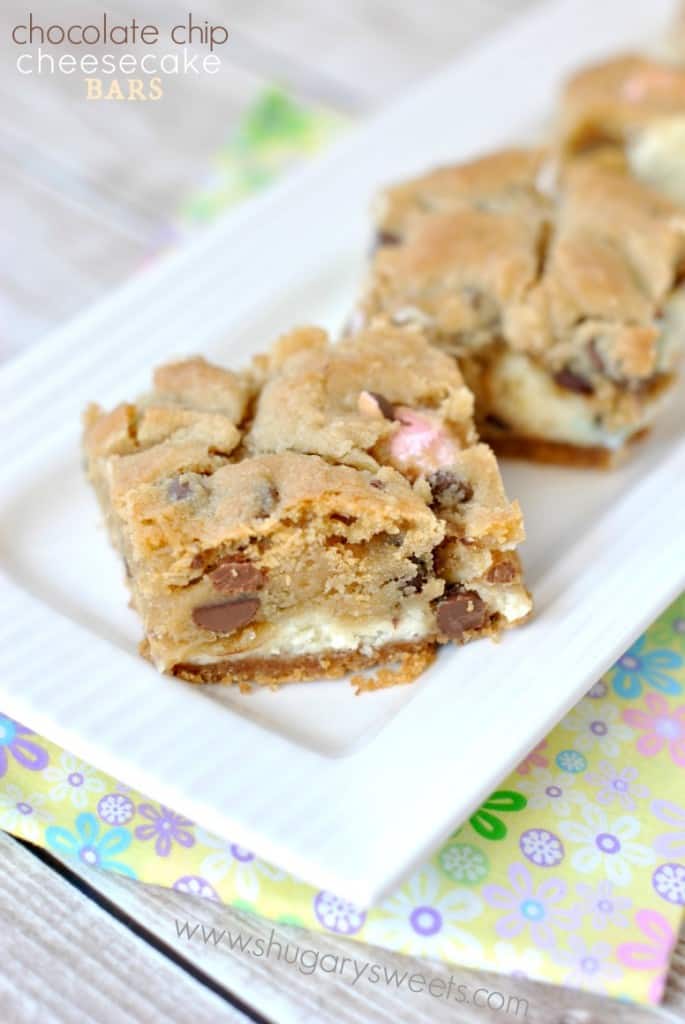 More Easy Dessert Recipes
Chocolate Chip Cheesecake Bars have a graham cracker crust, sweet cheesecake filling and topped with chocolate chip cookie dough. Baked to perfection.