You only need a handful of ingredients to make perfect Key Lime Pie Bars from scratch! These zesty bars are full of fresh lime flavor with a homemade graham cracker crust. So easy to make!
Lemon and lime desserts have my heart forever. You just can't beat a slice of Key Lime Pie in the springtime or a cold Lime Icebox Cookie in the summer heat.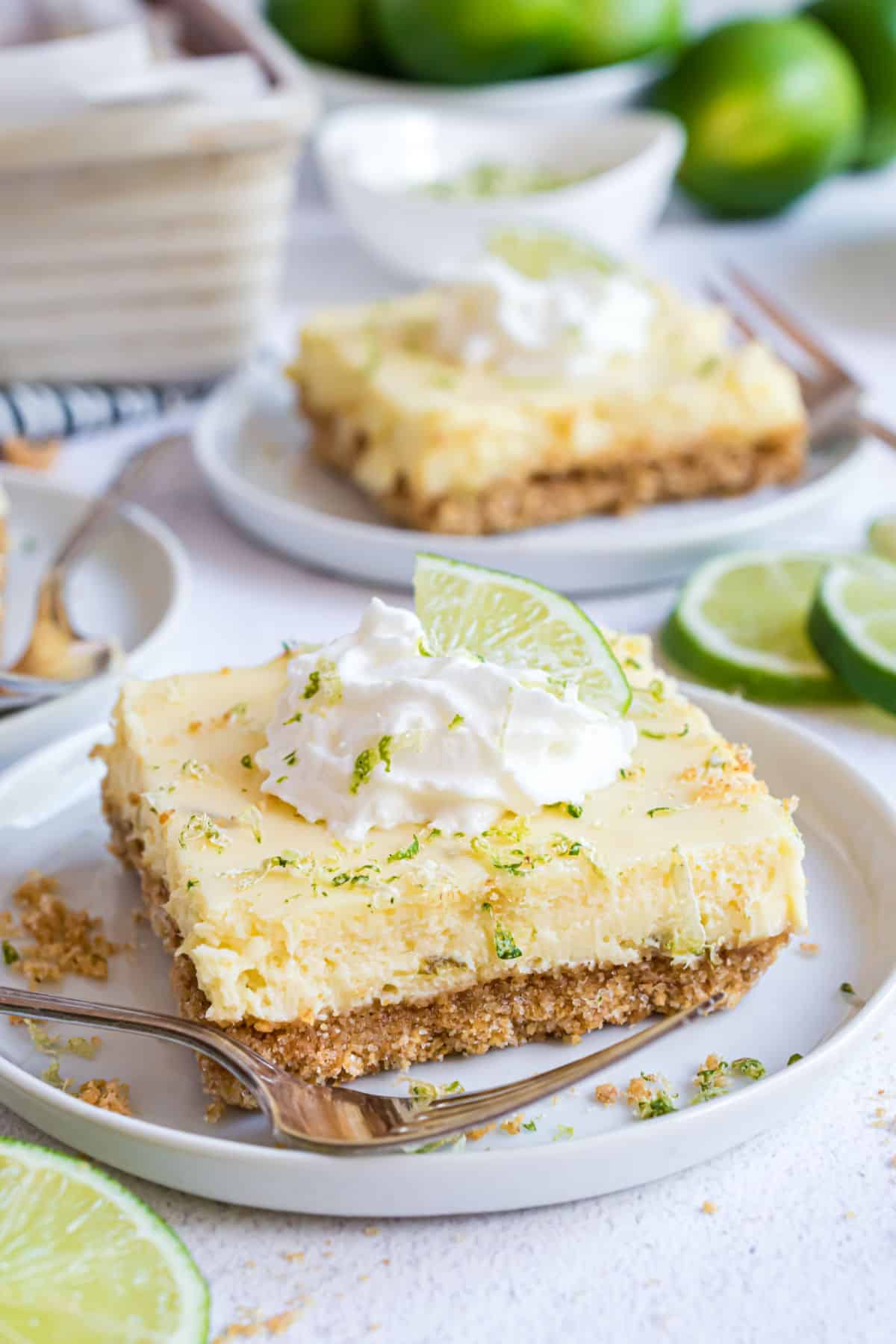 Why this Recipe Works
Now, you can enjoy all the sunny sweet taste of Key Lime Pie in an easy-to-eat bar!
Only 9 ingredients. Not counting the garnishes, that's all you need to make this Key Lime Pie Bars recipe!
Made with real juice and zest from key limes! The depth of citrus flavor is remarkable. So much better than store bought.
Hand held dessert bar. Pie bars require no utensils and are so easy to transport, serve and share with a crowd. This recipe is ideal to make for a potluck or party!
Ingredient Notes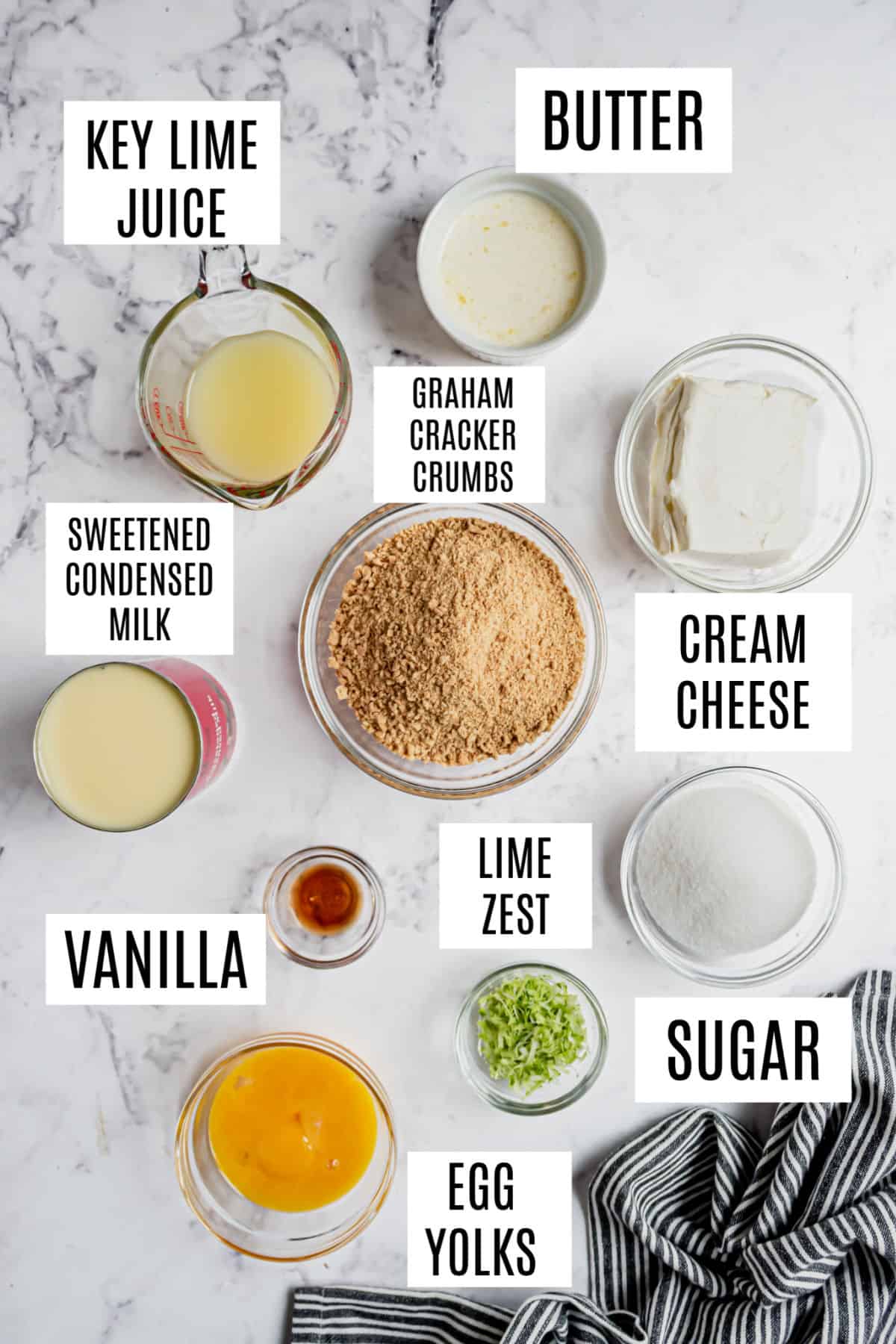 What are key limes?
You will need about 5 key limes for this recipe.
Key limes are small limes that get their name from the Florida Keys, one of the tropical environments where they grow well. These petite citrus fruits yield juice that's extra tart and fragrant.
Some say they have a "floral" aroma and taste that makes them particularly suited for using in desserts. The skin is thinner and lighter in color than the limes you use for everyday cooking. Key lime zest is also extra aromatic–a little goes a long way in your recipes!
Egg Yolks- save the whites to make our delicious vanilla sheet cake recipe!
Sweetened Condensed Milk– not to be confused with dulce de leche or evaporated milk!
Easy Instructions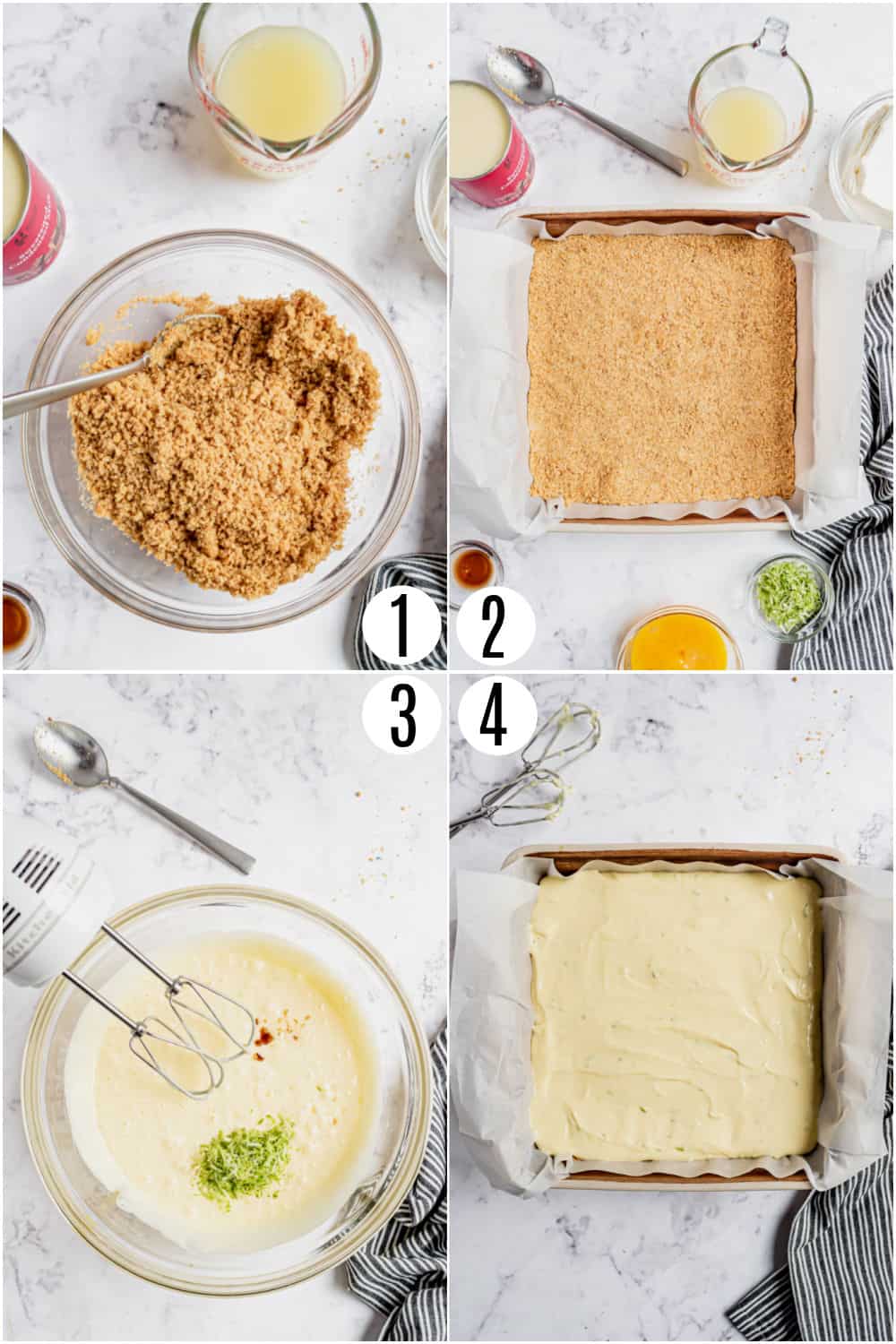 STEP 1. Graham Cracker Crust
Combine graham cracker crumbs with sugar and melted butter. Press the crust into a square 9 inch baking dish. Bake the crust for 10 minutes.
STEP 2. Key lime pie filling
While the crust is baking, beat cream cheese and condensed milk. Add remaining filling ingredients and beat well to combine.
STEP 3. Bake
Pour filling over the hot graham cracker crust. Bake the bars for another 15 to 20 minutes.
STEP 4. Chill
Cover the baked bars and chill in the refrigerator until ready to serve.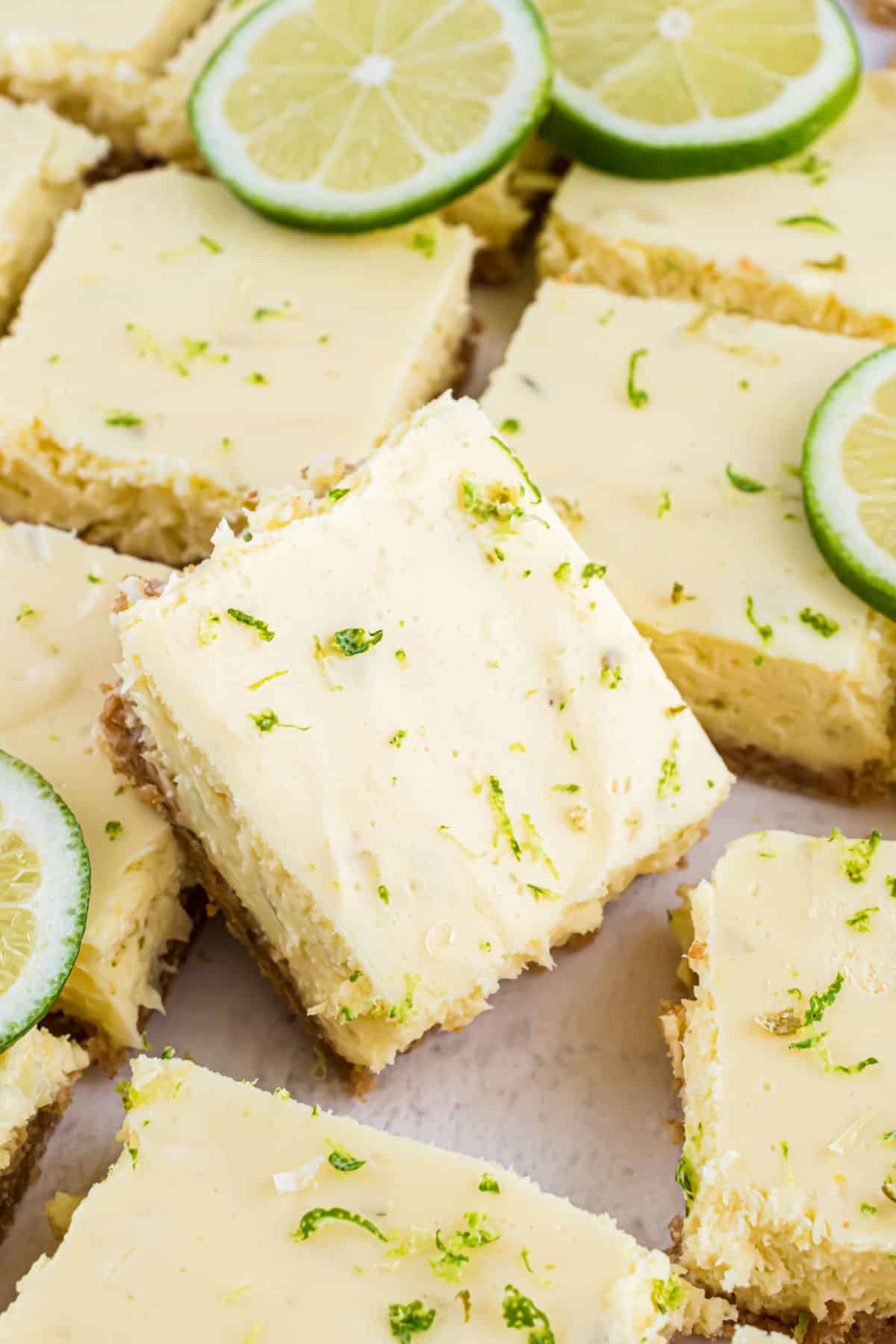 Tips and Tricks
How to garnish. Serve bars with a dollop of whipped cream and a slice of lime. Grate a bit of lime zest on top for a special touch.
Storing. These bars keep well covered and refrigerated for up to 5 days. Can also be frozen in airtight container.
Do not overbake! The center of the bars should still be a bit jiggly and not browned when you take them out of the oven. The bars will continue to set as they cool.
Recipe FAQs
Can I use regular limes to make Key Lime Pie Bars?
Key limes can be hard to find, so if you're not able to track them down you can use regular limes instead. The flavor won't be exactly the same but they'll still be tasty! Look for limes that are plump and juicy. You will need 4 to 5 limes for this recipe.
Whats the best way to juice key limes?
You can juice key limes using any regular handheld citrus juicer. If you don't have a lime squeezer, you can squeeze out the juice by hand.
Make sure the limes are room temperature before squeezing to get the most juice out of them. Discard any seeds in the juice before adding to your pie filling.
Can you freeze key lime pie bars?
Yes, you can wrap the bars in heavy duty freezer bags and store them in the freezer. They maintain freshest flavor if thawed and enjoyed within 1 -2 months.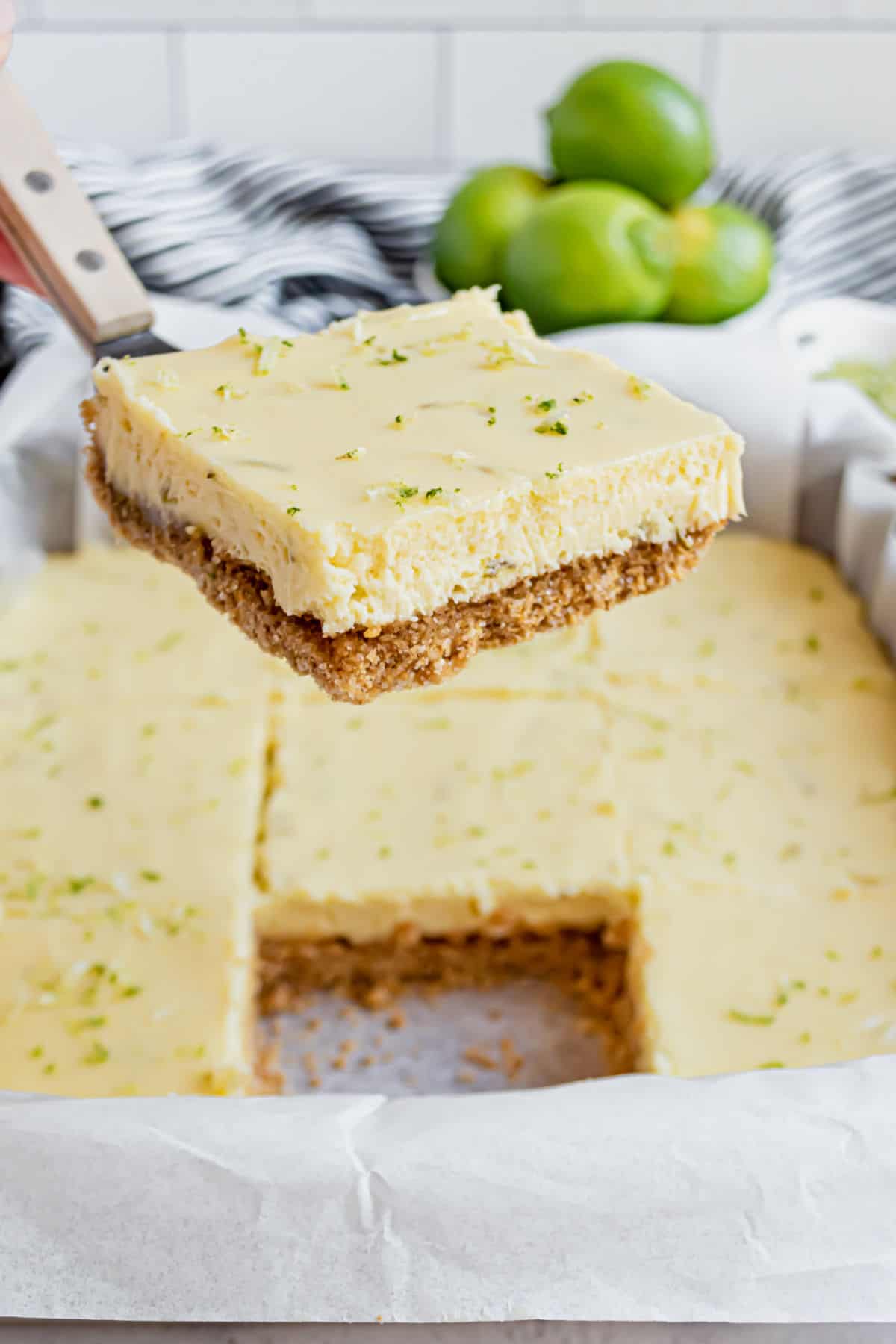 More Easy Dessert Recipes
Key Lime Pie Bars are a little taste of paradise! Garnished with whipped cream, these sweet and zesty treats are a hit with citrus lovers!