No need to turn on the oven to make this apple dessert! Instant Pot Apple Cobbler uses 4 ingredients and won't take up valuable oven space on Thanksgiving day. Best of all, it's full of that irresistible cinnamon apple flavor you crave.
Raise your hand if you love cake mix cobbler recipes! This simple and versatile method for cobbler is delicious, have you tried my favorite Cherry Cobbler recipe?! Or give this easy Blueberry Cobbler in the Instant Pot a try next!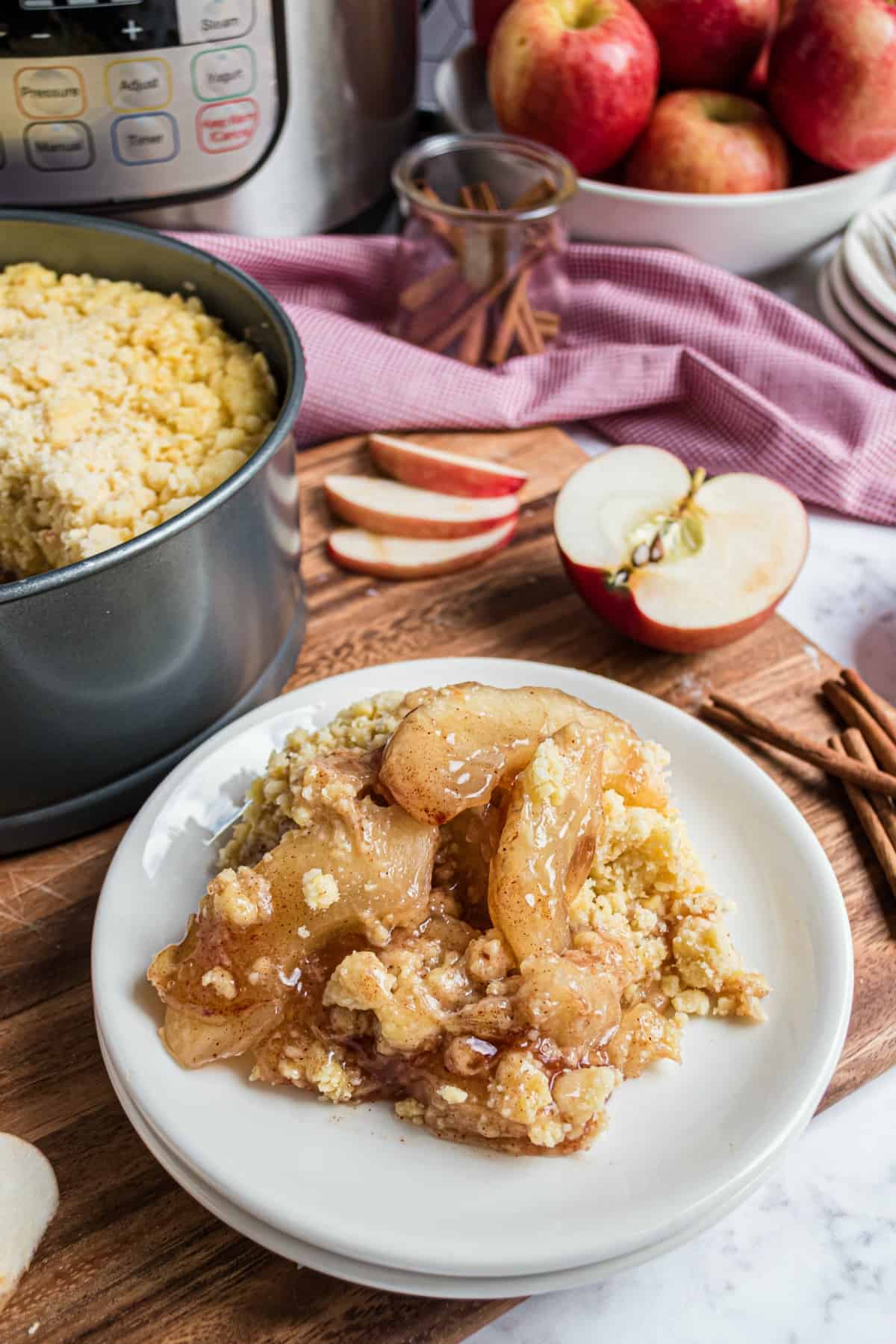 Apple Cobbler Desserts
Cobblers are such a classic dessert that every time I make one I feel like I could be tucked away in a cozy English cottage whipping up pies, jams and cobblers to share with the neighbors when I ask them over for tea.
But in THAT imaginary scenario, I probably wouldn't have an Instant Pot. So, if my oven were out of commission or already filled with a roasting turkey, I'd be out of luck.
I'll stick with my current Instant-Pot-owning reality and enjoy how easy it is to make Apple Cobbler with the pressure cooker!
Warm apples swimming in a buttery cinnamon syrup, topped with pieces of sweet dough and served with ice cold vanilla ice cream is the ideal way to end any family meal, especially this time of year!
This recipe is perfect for a Thanksgiving dessert but easy enough to make any night of the week.
Try our easy Instant Pot Peach Cobbler and Instant Pot Blueberry Cobbler for a fun flavor twist!
Ingredient Notes
You only need FOUR ingredients for this apple cobbler recipe: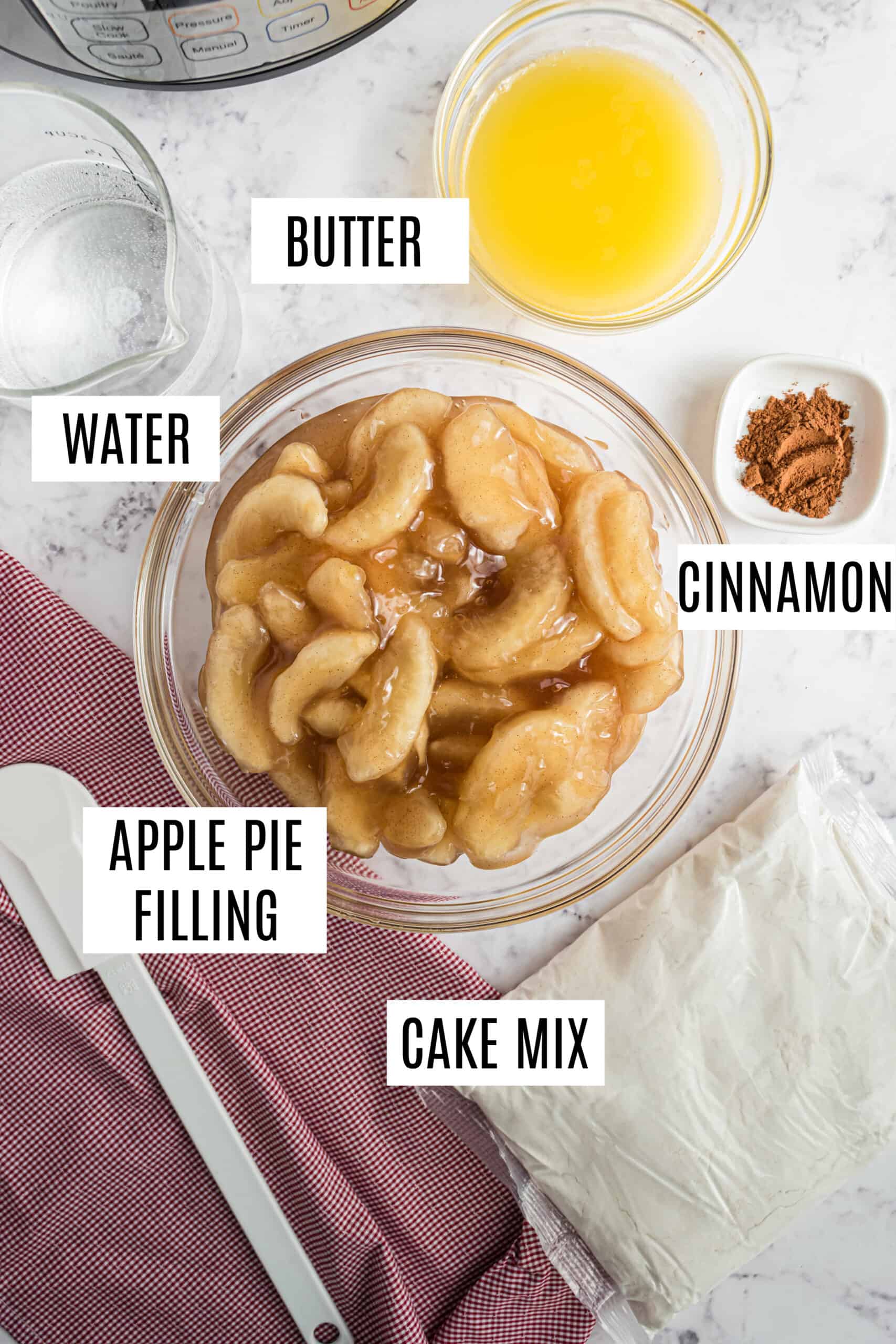 Apple pie filling – Buy your preferred brand from the grocery store OR reach for your home canned apple pie filling!
Boxed cake mix – While traditional cobbler recipes call for making a dough or pastry from scratch to plop on top of the apples, I confess that I prefer to use the boxed mixes for taste and convenience. I use yellow cake mix here but spice cake mix would be a delicious substitute.
Cinnamon – A little extra spice helps enhance the taste of the apples.
Butter – Plain, unsalted butter works best.
You'll also need some water to add to the bottom of your instant pot.
Step by Step Instructions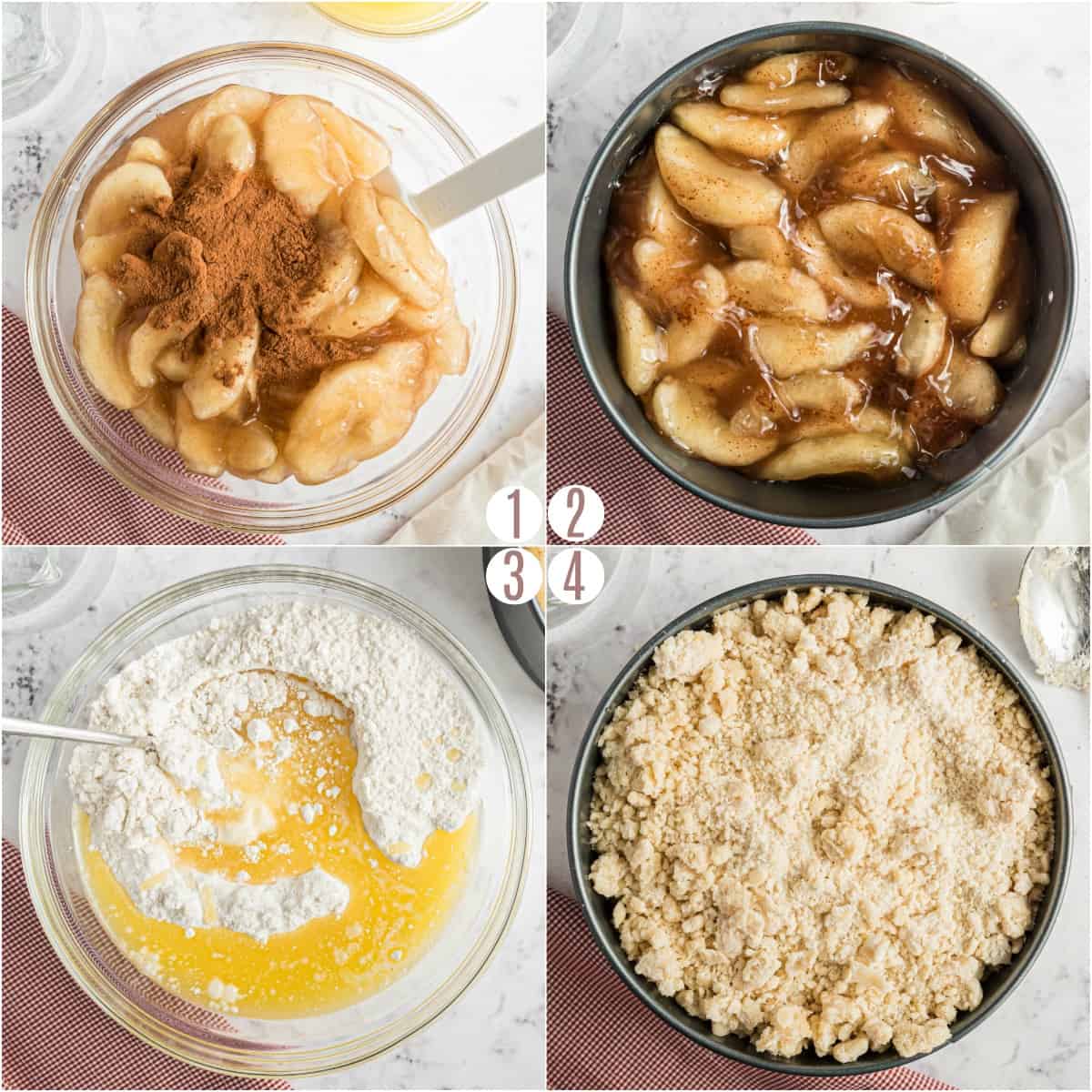 STEP 1. Filling
Open the canned filling and pour it in a mixing bowl along with the cinnamon. Mix to combine then pour it into a spring form pan.
STEP 2. Topping
Combine the cake mix with the butter to form a crumbly mix. Sprinkle on top of the apple pie mix then cover the pan with foil.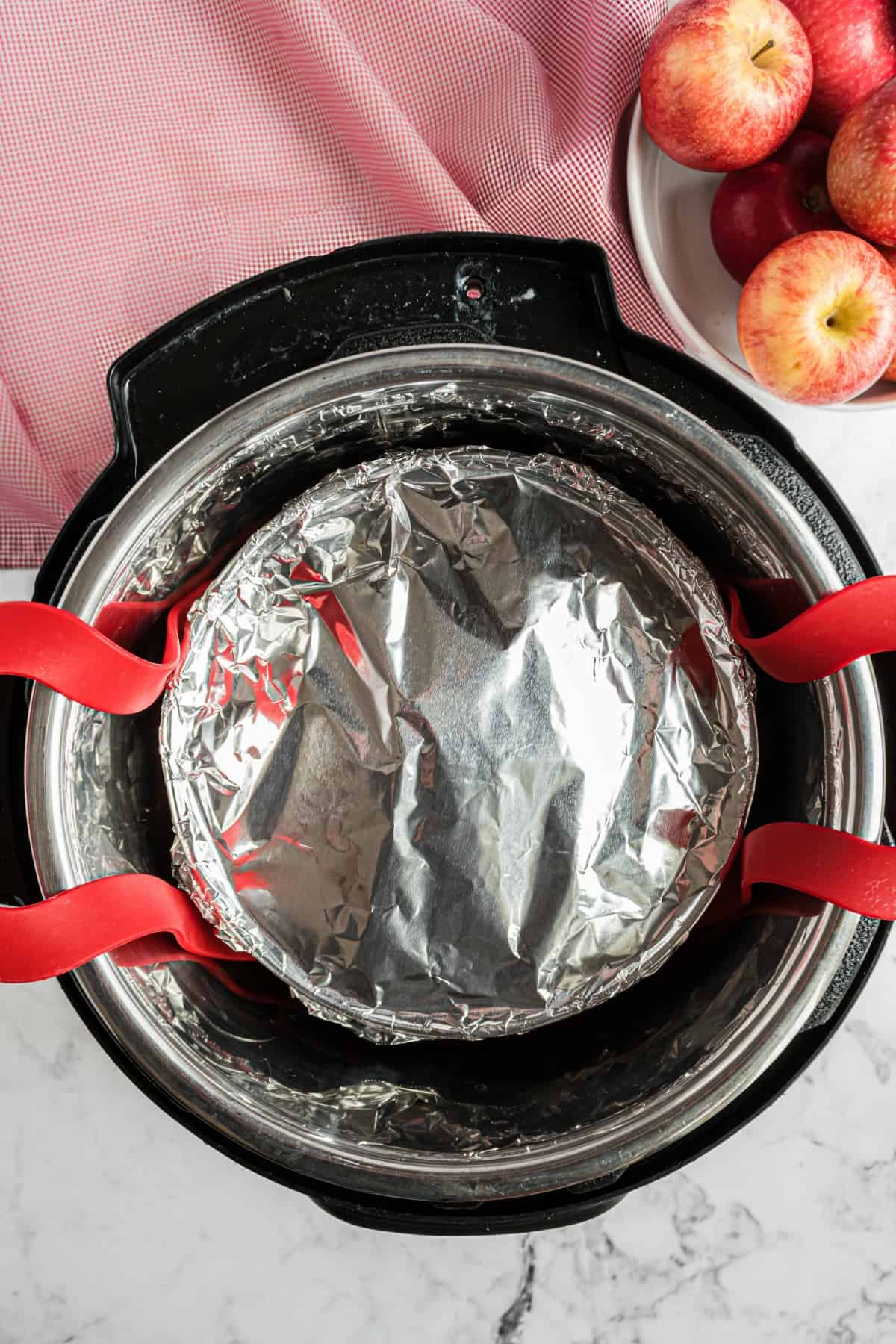 STEP 3. Pressure Cook
Add water to the bottom of the pressure cooker, then lower your pan into the pot with a sling or trivet. Attach the lid, set the pot to "sealing" and select a cook time of 25 minutes.
Allow the pressure to release naturally for around 10 minutes, then do a quick release by moving the valve to venting.
STEP 4. Serve
Carefully remove the lid of the pot (it will be HOT) and remove the pan from the pot. Let it cool for about 30 minutes before serving in bowls.
Top your apple cobbler with fresh whipped cream or vanilla ice cream! Enjoy the heavenly combination of warm apples with cold cream melting between the layers.
Be prepared to want seconds!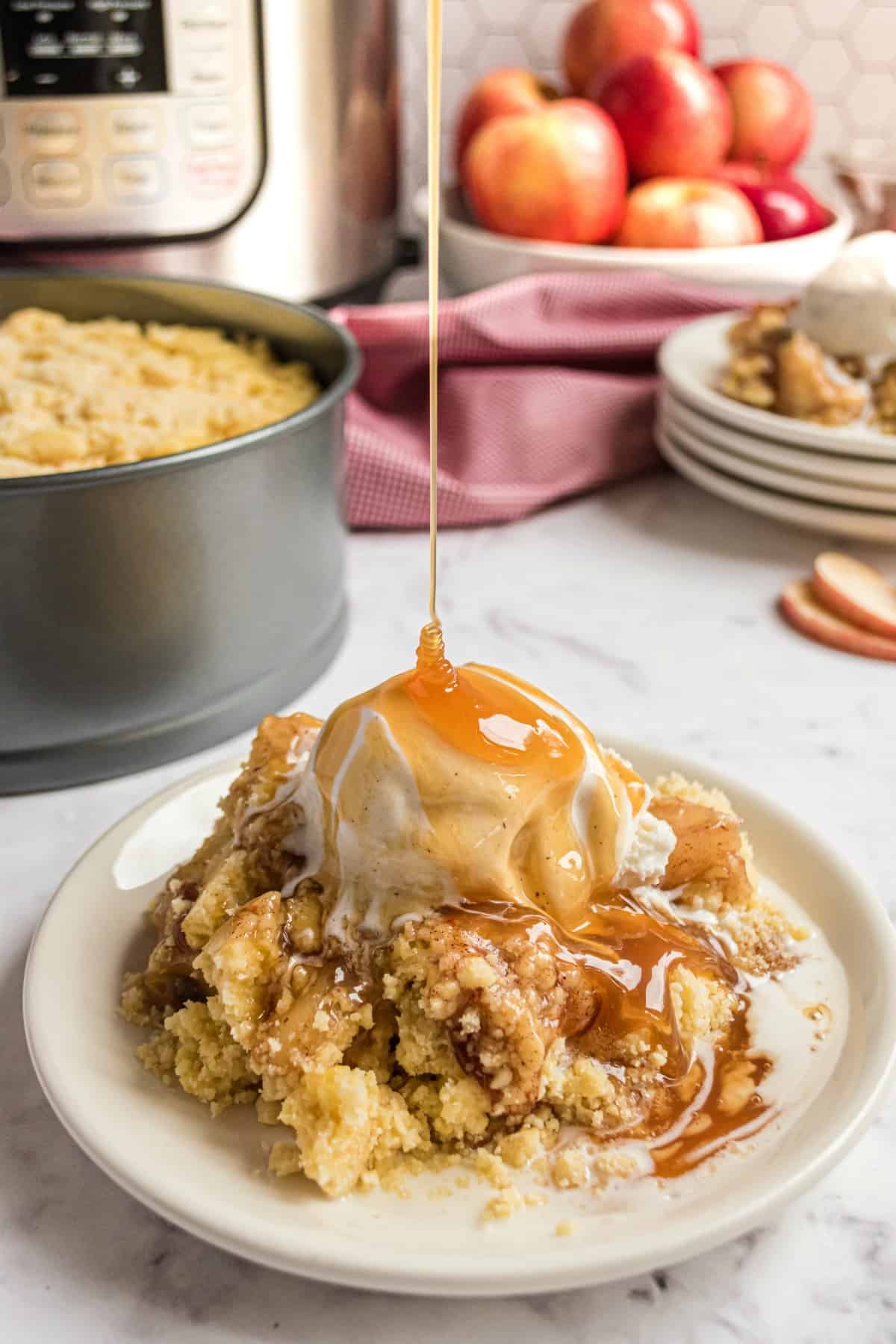 Tips and Tricks
Nutty apple cobbler – Love nuts with your apple desserts? Pecan pieces or sliced almonds add a perfect nutty crunch to this cobbler. Add them along with the cake topping before pressure cooking.
Remember that the time listed for pressure cooking doesn't include the time needed for the pot to come to pressure (at least 10 minutes). If you're trying to coordinate this to be ready at a certain time, be sure to plan accordingly.
Add vanilla ice cream and caramel sauce on top! Or a dollop of fresh whipped cream. I think our butterscotch sauce is perfect too.
Recipe FAQs
What size Instant Pot do I need for apple cobbler?
I tested this recipe in a 6 quart instant pot.
Can you use homemade apple pie filling?
Canned fillings include cooked apples with thickening agents (or gels) that help them hold up best in this cobbler recipe. I tried this with a fresh (uncooked) apple pie filling and it didn't come out the same.
What's the difference between apple crumble, apple crisp and apple cobbler?
Sometimes, I hear the names of these two desserts used interchangeably. The difference is in the topping! Apple Crumble and Apple Crisps are topped with a crumble made from flour, butter, sugar and usually oats and spices. Cobblers, on the other hand, are topped with dough that bakes into a fluffy, cake-y or biscuit-y topping!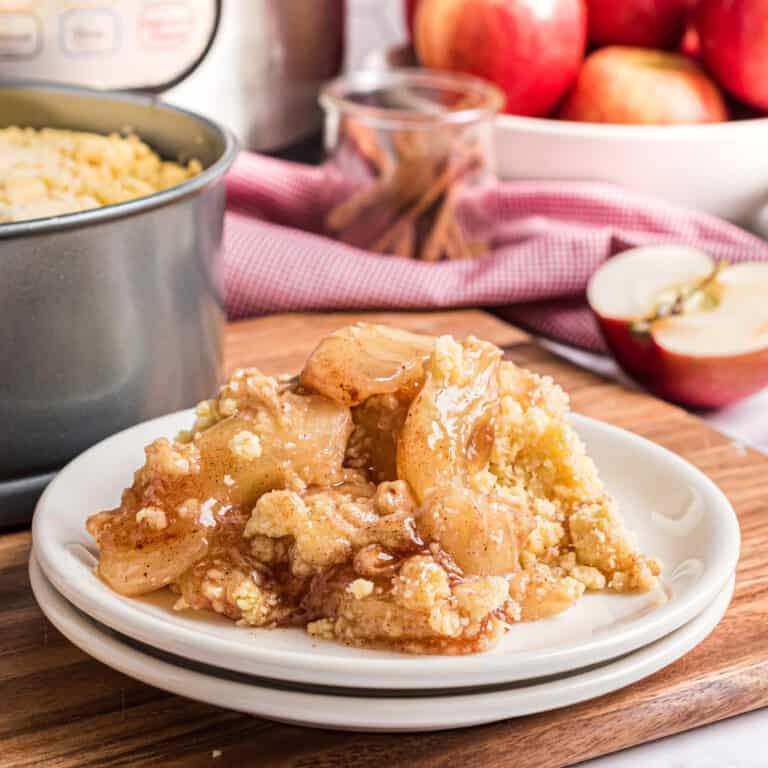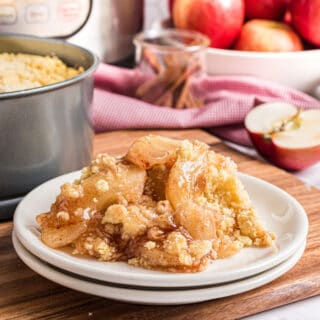 Instant Pot Apple Cobbler
No need to turn on the oven to make this apple dessert! Instant Pot Apple Cobbler uses 4 ingredients and won't take up valuable oven space on Thanksgiving day. Best of all, it's full of that irresistible cinnamon apple flavor you crave.
Ingredients
For the Filling:
2

cans

apple pie filling

20 oz each

1

teaspoon

cinnamon
For the Topping:
1

box

yellow cake mix

½

cup

unsalted butter

1 stick, melted

1 ½

cups

water

for the bottom of the Instant Pot
Instructions
In a large mixing bowl, combine apple pie filling and cinnamon. Pour into the bottom of a 7-inch springform pan that fits into your Instant Pot.

In a medium bowl, combine the cake mix and melted butter until crumbly texture forms. Sprinkle the cake mixture over the apple pie filling. Cover tightly with foil.

Add 1 ½ cups of water to the bottom of a 6 qt. Instant Pot. Place the springform pan onto a trivet or sling and lower it into the Instant Pot.

Secure the lid on top and make sure the valve is set to SEALING. Select HIGH PRESSURE for a cook time of 25 minutes.

After the cooking time has ended, allow the pressure to release for ten minutes and then do a quick release by turning the valve to VENTING.

Remove the pot by lifting out with the sling/tivet. Remove the foil and allow to cool at least 30 minutes before eating. Serve with

ice cream

or

whipped cream

if desired.
Notes
SUBSTITUTIONS: Swap the yellow cake mix for a spice cake mix instead!
Add pecans or sliced almonds to the top for a nutty crunch!
Recipe tested in a 6qt Instant Pot. Times do not include the time it takes for the IP to come to pressure (about 10-15 minutes).
Nutrition
Calories:
281
kcal
,
Carbohydrates:
43
g
,
Protein:
2
g
,
Fat:
11
g
,
Saturated Fat:
6
g
,
Polyunsaturated Fat:
4
g
,
Cholesterol:
20
mg
,
Sodium:
362
mg
,
Fiber:
1
g
,
Sugar:
22
g
Four ingredients and one pressure cooker is all you need to make the best ever Apple Cobbler! Fire up your instant pot and this delicious fall dessert is ready in no time.