Homemade Butterscotch Sauce is a quick and easy treat made in less than ten minutes. It's a silky smooth sauce with flavors of brown sugar and butter, and is delicious on ice cream, pie, and so much more.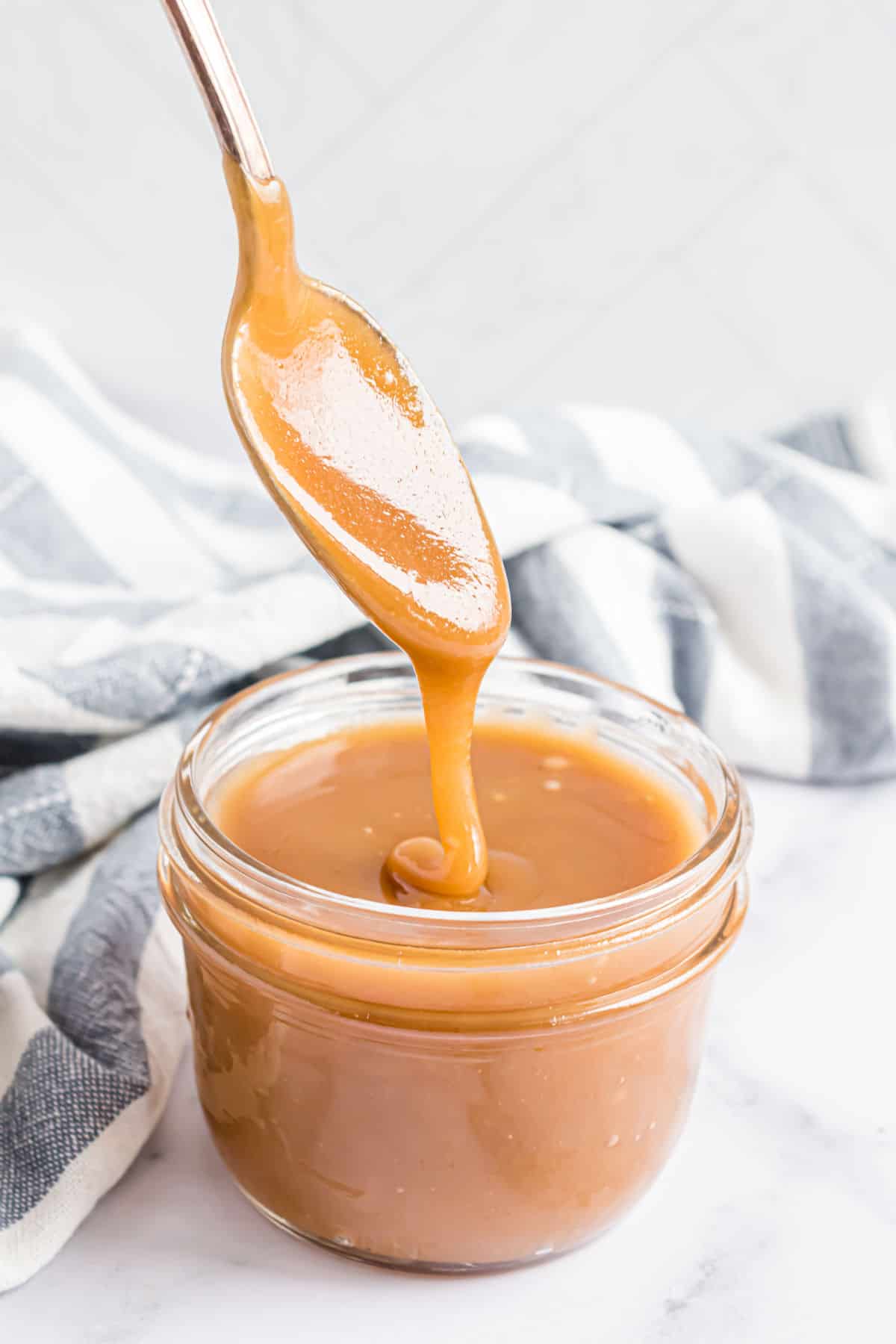 Why Butterscotch Sauce Works
Butterscotch and caramel sauce are like siblings that have entirely different personalities. Though caramel sauce gets more attention, butterscotch is the real underdog. In my view of things, it simply doesn't get the credit it deserves.
I love butterscotch sauce because it has all the goodness a caramel sauce offers, plus an extra depth of flavor. Here are a few reasons why you should try it,
It takes one pot and 10 minutes. All you have to do is put the ingredients in a pot and mix. This is a big selling point for me. I love a good no-cleanup recipe, and given the time it takes to make, it's a great last-minute add-on to any vanilla cake, vanilla ice cream sundae, or other desserts.
Made using pantry staples. A classic butterscotch sauce calls for 3 ingredients: brown sugar, butter, and cream. I've added vanilla and salt for some extra oomph. All these things are probably available in your pantry, so you can whip up a batch whenever you feel like it.
It's finger-licking good. If you've never tasted fresh butterscotch sauce, then you're in for a real treat.
If you love our homemade butterscotch syrup, you'll have to try our chocolate syrup next. Or whip up some strawberry syrup and make a sundae bar!
Ingredient Notes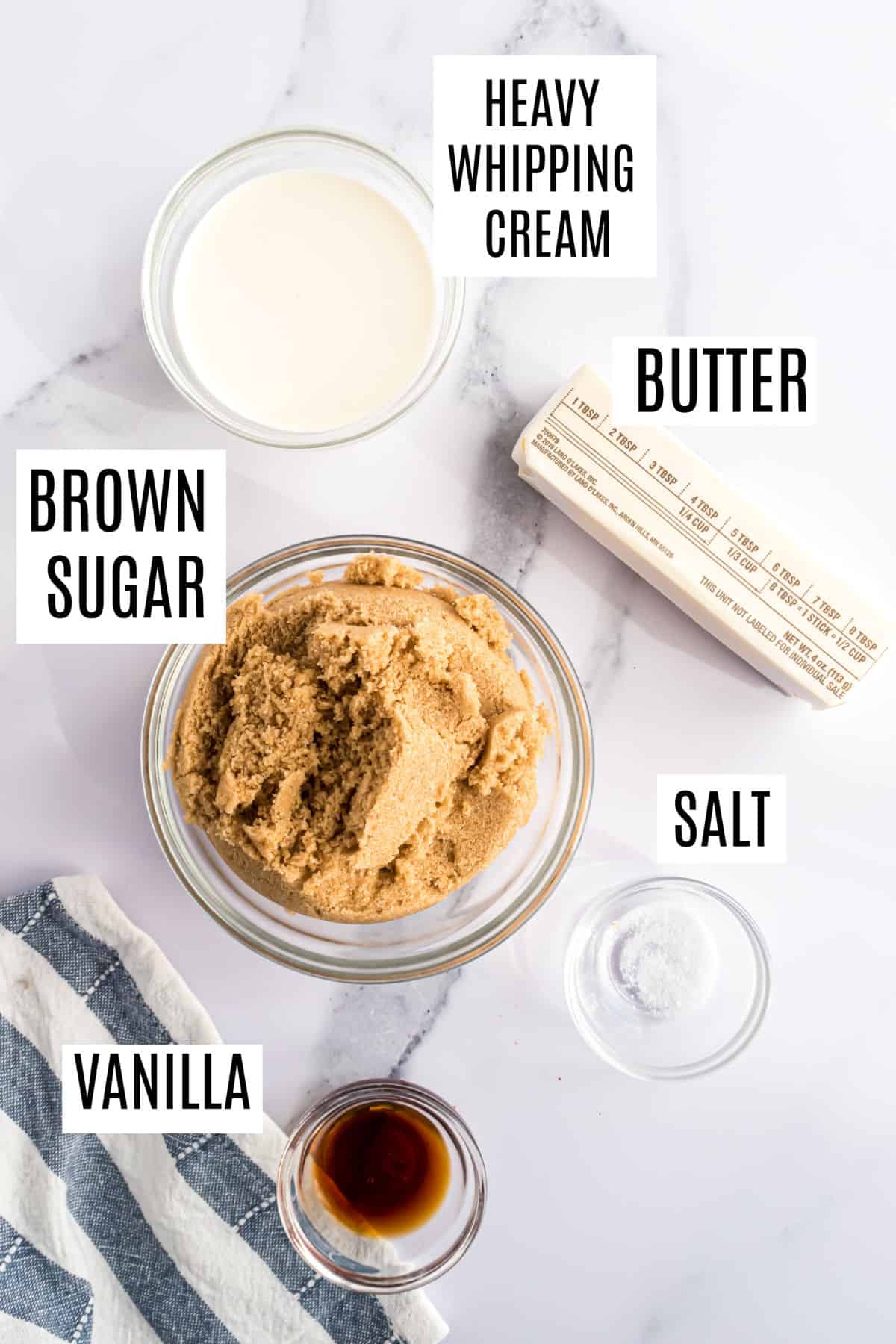 See the recipe card for full information on ingredients and quantities.
Light Brown Sugar – It gives the sauce the right amount of darkness and richness in flavor. You can use dark brown sugar if you want to make the flavor more intense.
Butter – Make sure you use unsalted butter because controlling the salt in the recipe is very important. The balance of sweet and salty makes the sauce taste so good.
Heavy Whipping Cream
Vanilla Extract
Kosher Salt – Don't skip it. The salt compliments the flavor of brown sugar and butter.
Easy Instructions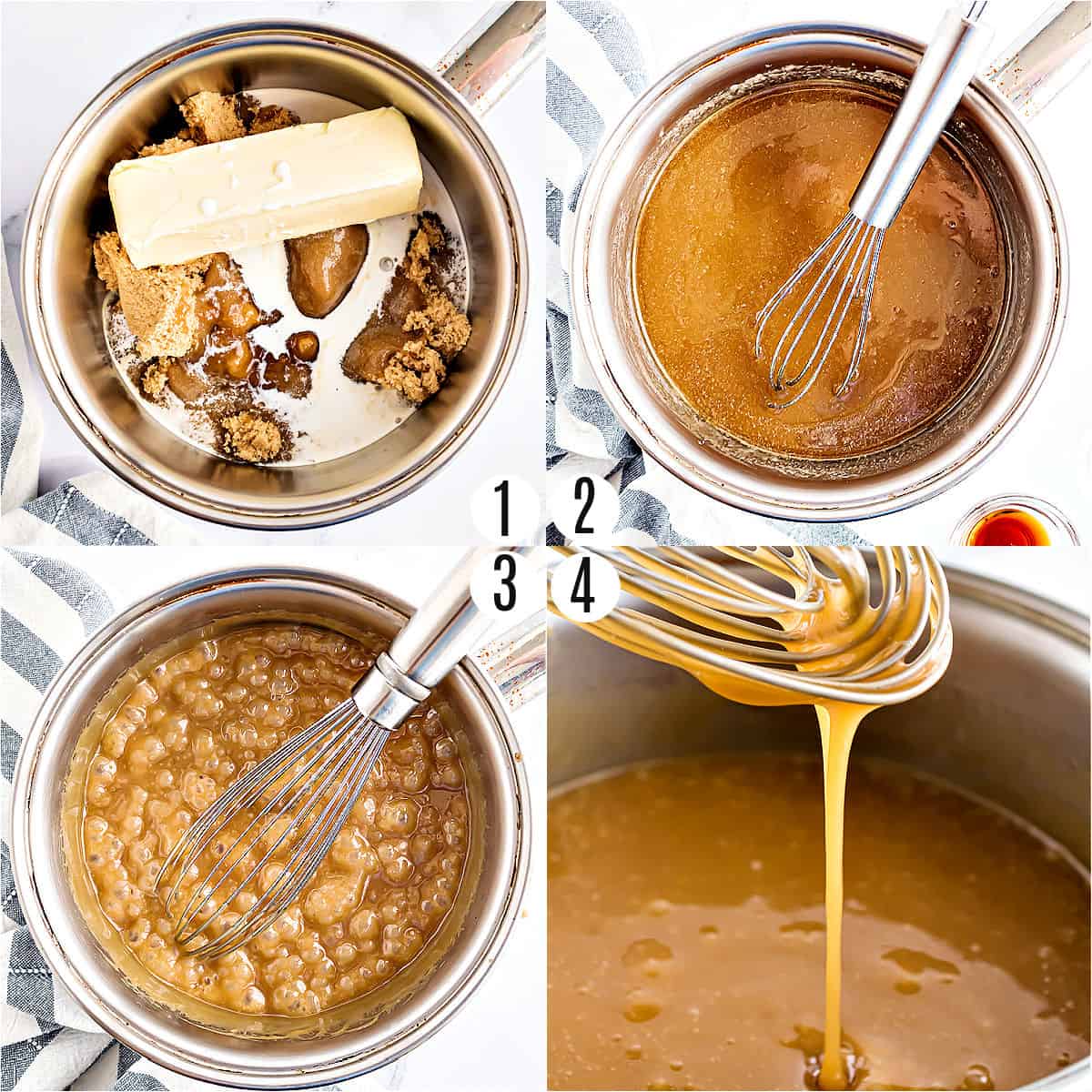 Make the Sauce. Add brown sugar, butter, and heavy whipping cream to a saucepan.
Whisk until smooth and cook for 3-4 minutes.
Finish. Remove from heat and whisk in the salt and vanilla.
Let it cool. Sauce will thicken slightly as it cools.
Tips and Tricks
Use a clean whisk for the last step. Use a clean whisk or spatula while mixing in the vanilla and salt to prevent any sugar crystals that might be there from whisking before. Adding sugar crystals back into the butterscotch sauce may create a grainy texture.
Use a heavy-bottomed pan. It ensures equal distribution of heat, allowing the sauce to cook consistently.
Don't overcook the sauce. Overcooking will make the sauce thick, like toffee, and the butter will separate from the rest of the mixture. As a result, you'll have to start again.
Be cautious with hot sugar! Working with sugar can cause burns if you're not attentive. So, be calm and careful while working with sugar.
Reheat the sauce properly. The sauce will thicken upon refrigeration. It can be reheated in the microwave at 10-second intervals, stirring in between, or on the stovetop over low heat.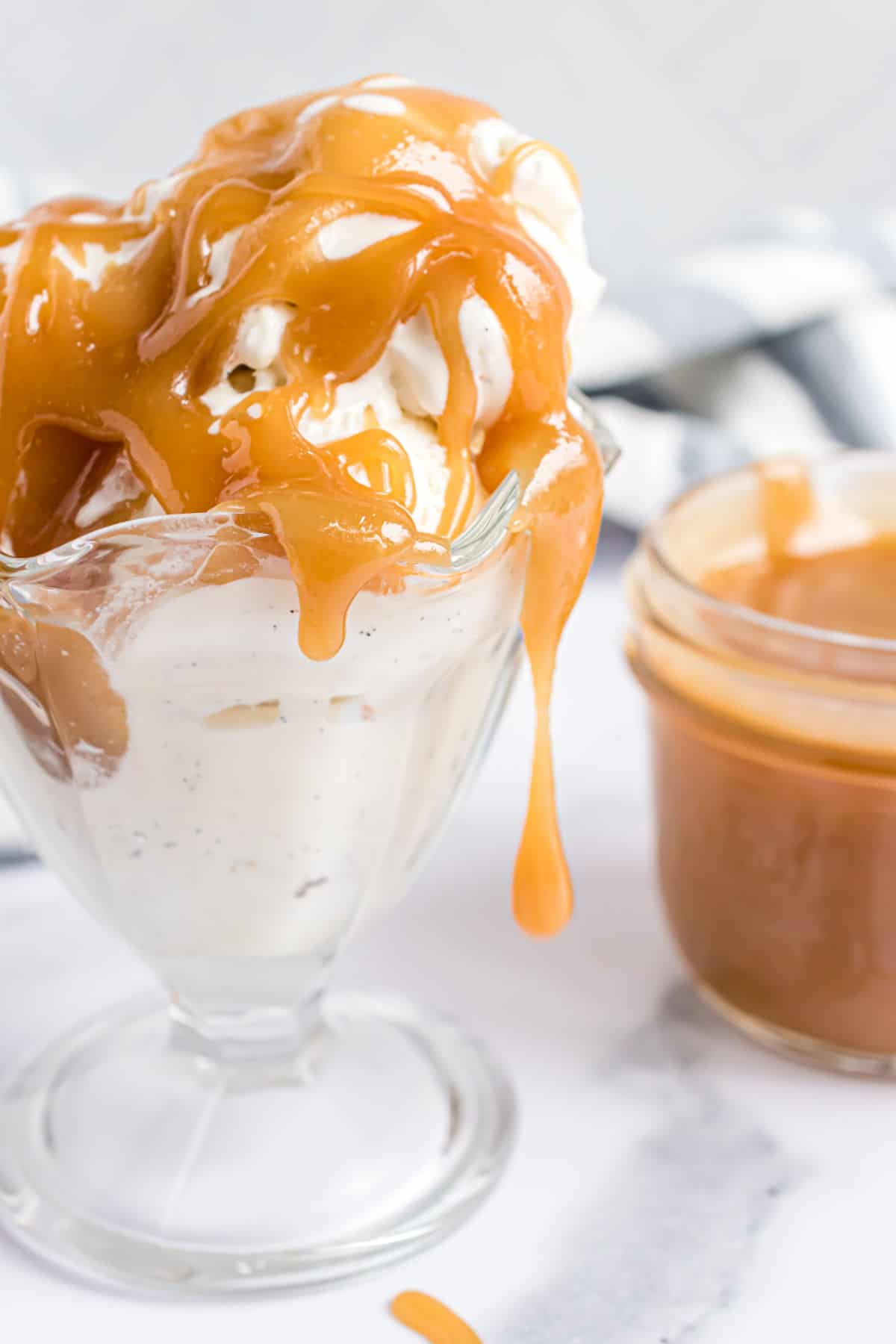 Serving Suggestions
With Butterscotch Sauce, there are a lot of possibilities. You can drizzle it on some homemade Vanilla No Churn Ice Cream or use it as icing for Zucchini Banana Bars.
If you want to keep it simple, serve it with our apple nachos or Churros.
Butterscotch Vs Caramel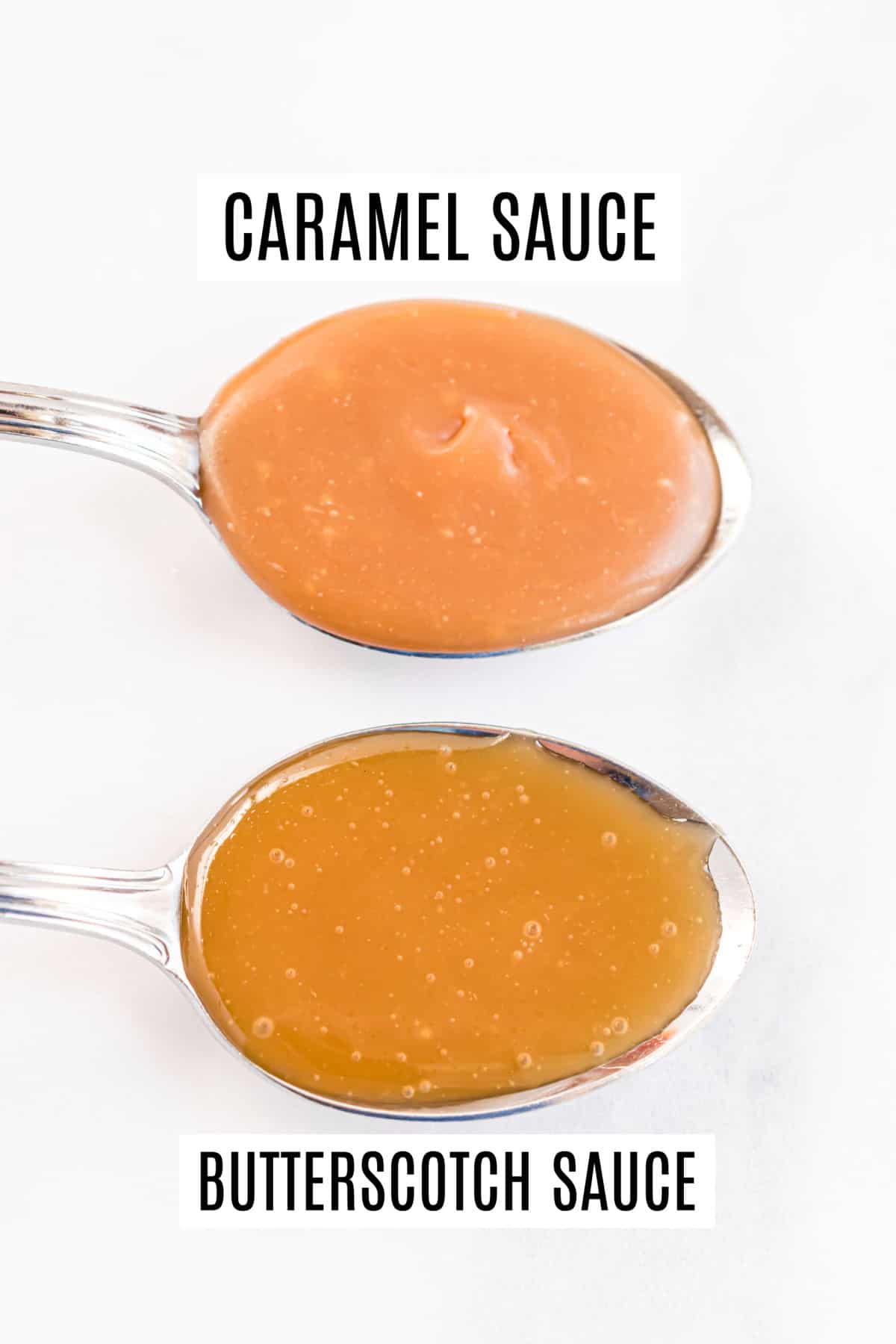 There are two major differences between Butterscotch Sauce and Caramel Sauce:
How it's made. Butterscotch is made with light or dark brown sugar, and you combine all the ingredients at once. Caramel sauce is made with white (granulated) sugar, which gets caramelized, sometimes with liquid if using the wet method, and other ingredients are added. Also, butter is added during the very last step.
How it tastes. Due to the molasses in the brown sugar, the butterscotch sauce usually has a deeper flavor than caramel sauce. It is also sweeter than caramel.
Recipe FAQs
How do I store Butterscotch Sauce?
Pour the cooled butterscotch sauce into an airtight container or jar and store it in the refrigerator for no more than 2 weeks.
Can I use dark brown sugar?
Yes. You can use dark brown sugar instead of light brown sugar. But keep in mind that the final butterscotch sauce will come out darker in color. It will also have a richer flavor of molasses, giving it a warmer mouthfeel.
Why is it important to stop stirring the mixture while boiling?
Stirring the mixture can aid in evaporation. It also allows sugar crystals to stick to the side of the pot and fall back into the pot, causing the sauce to be grainy.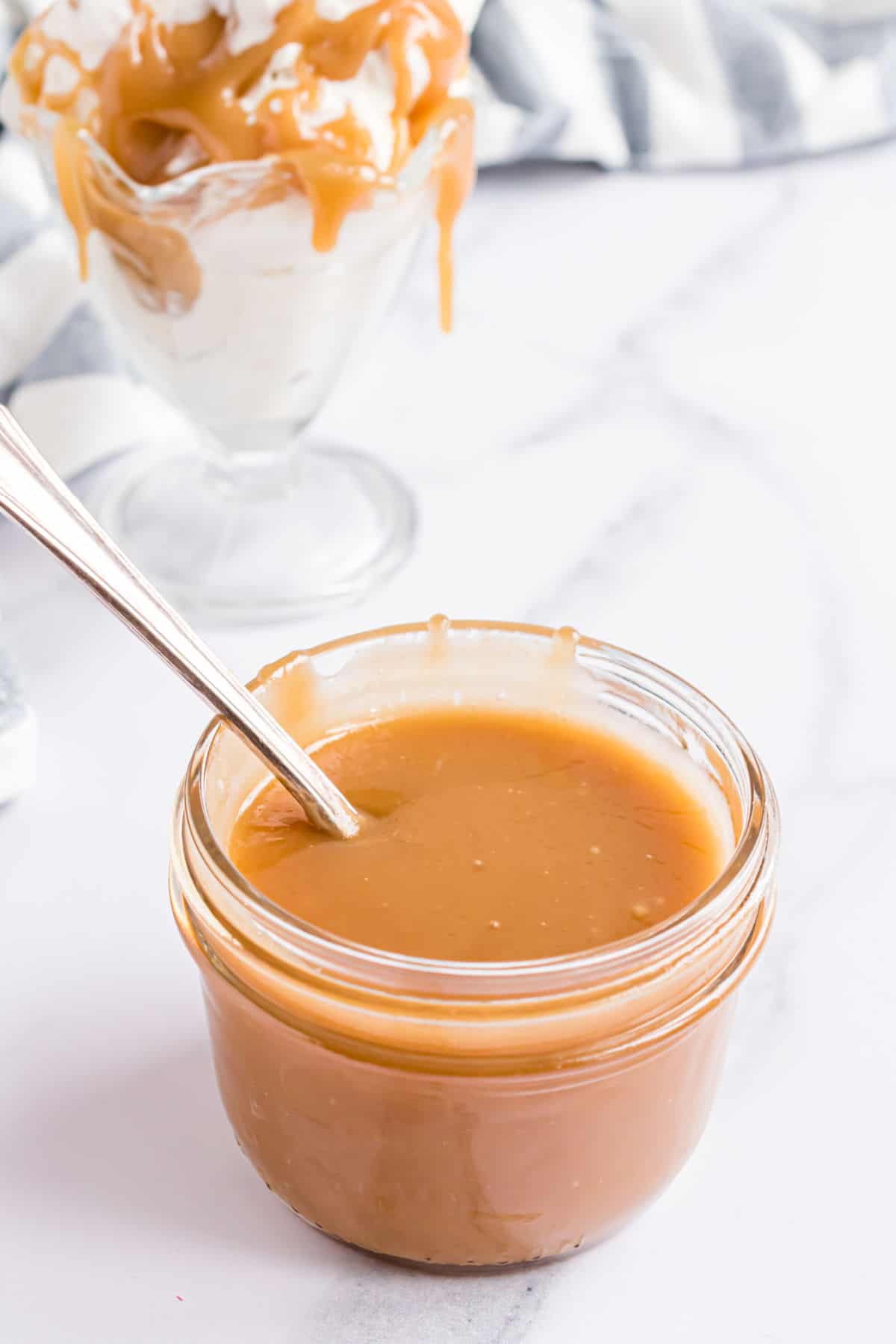 More Baking Basics