Looking for the BEST Vanilla Cake recipe? This vanilla layer cake is moist with a tender crumb and lots of vanilla flavor. Just add your favorite frosting and serve!
Learn how to make delicious vanilla cake from scratch and you'll always have a fool proof homemade dessert to share. Try my Vanilla Funfetti Cake next!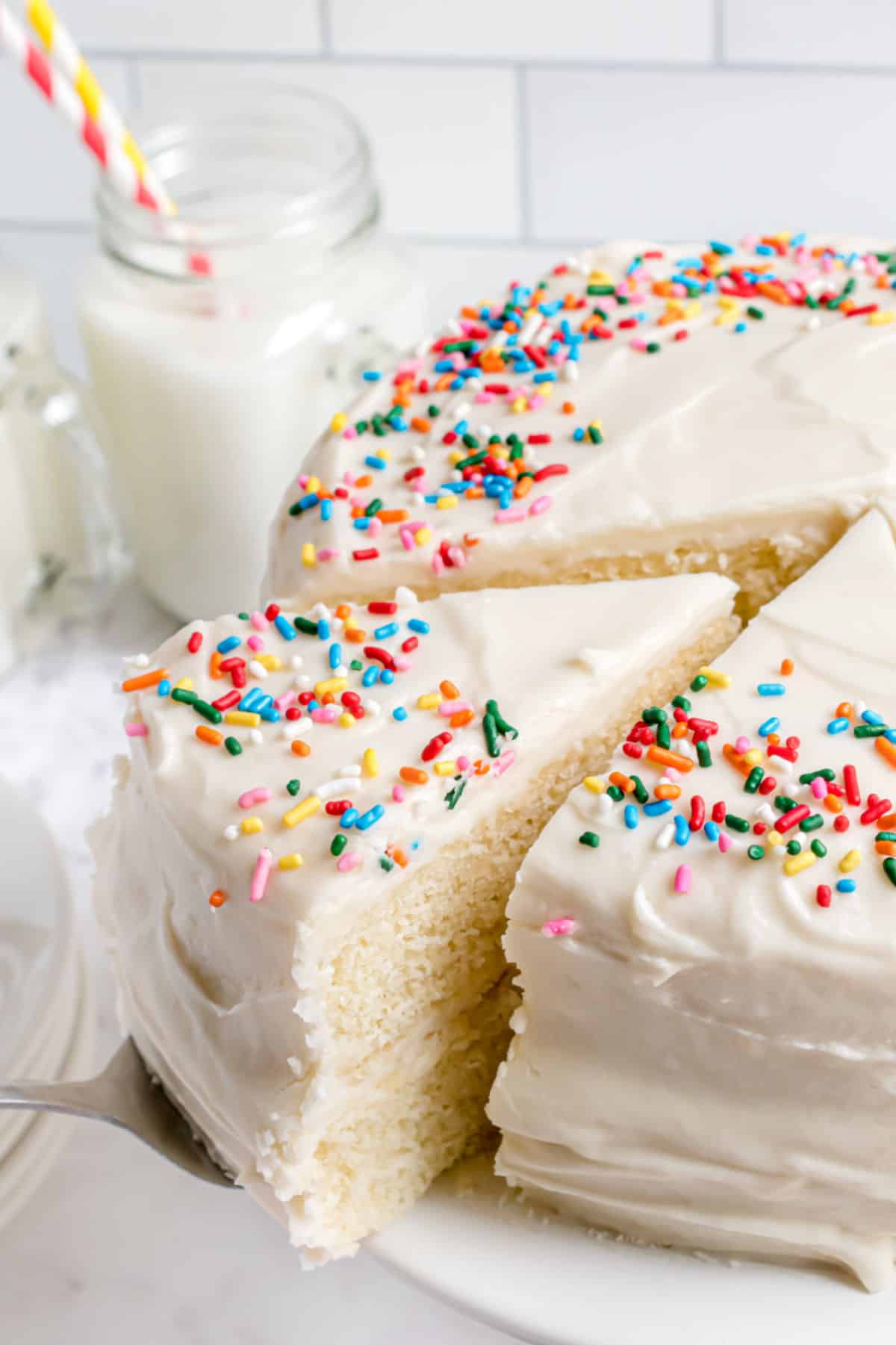 Why this Recipe Works
What's the deal with white cake vs. vanilla cake?
The answer depends on who you ask.
For my recipes, the biggest differences are the eggs, buttermilk and vanilla.
My white cake recipe is made without any egg yolks at all. Using egg whites only makes the batter ultra light and airy.
This Vanilla Cake includes both full eggs (both yolks and whites), along with extra egg whites, and buttermilk. Result is a cake that is the best of both worlds! Plush, soft and perfectly moist.
With a full tablespoon of vanilla extract, this cake does not shy away from its name! The vanilla flavor is front and center.
My vanilla cake recipe is best because:
Ingredient Notes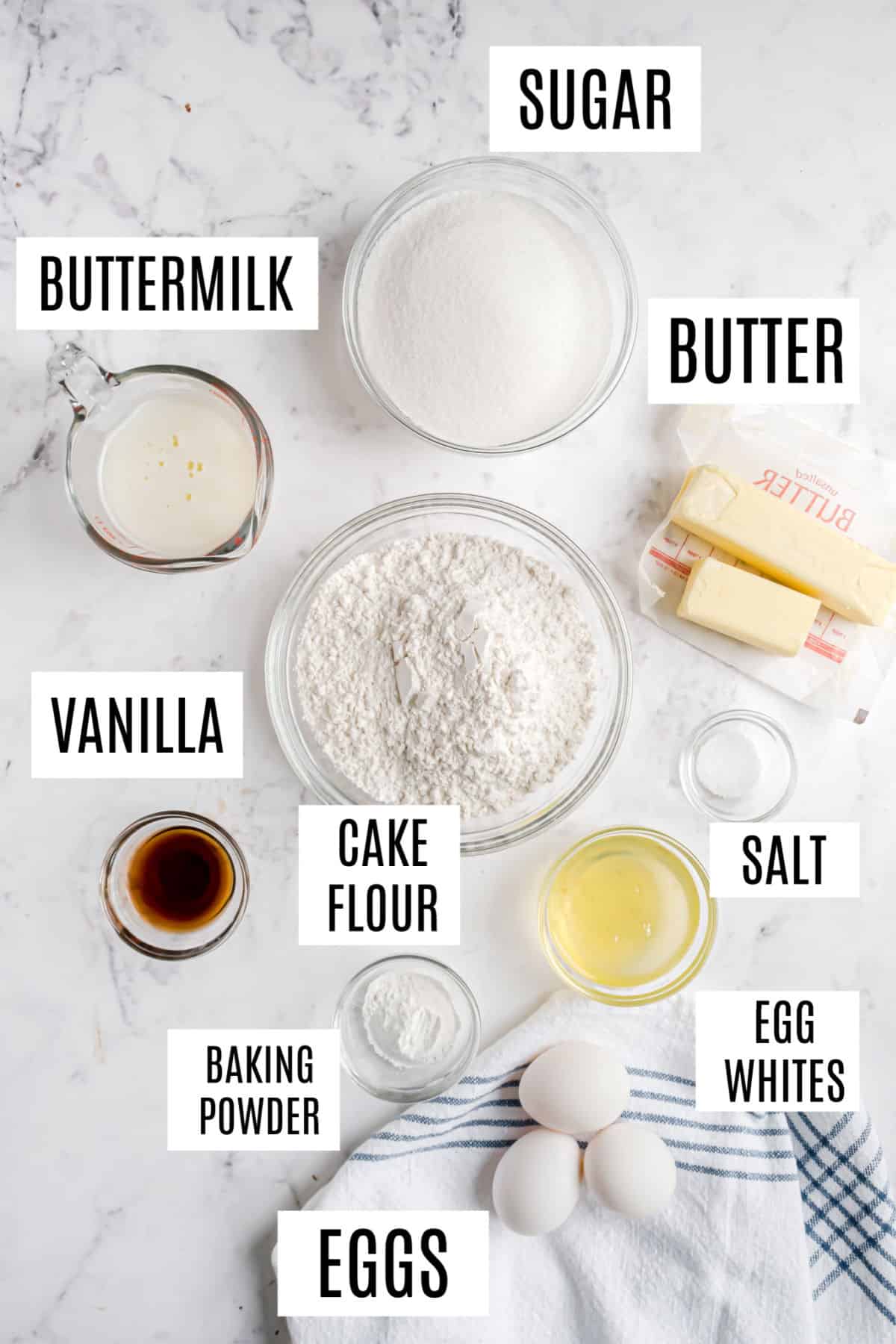 After lots of trial and error, I can tell you that this cake is one of the best there is. No need to sift flour, but be sure to learn how to measure flour correctly so that you don't have a dense cake!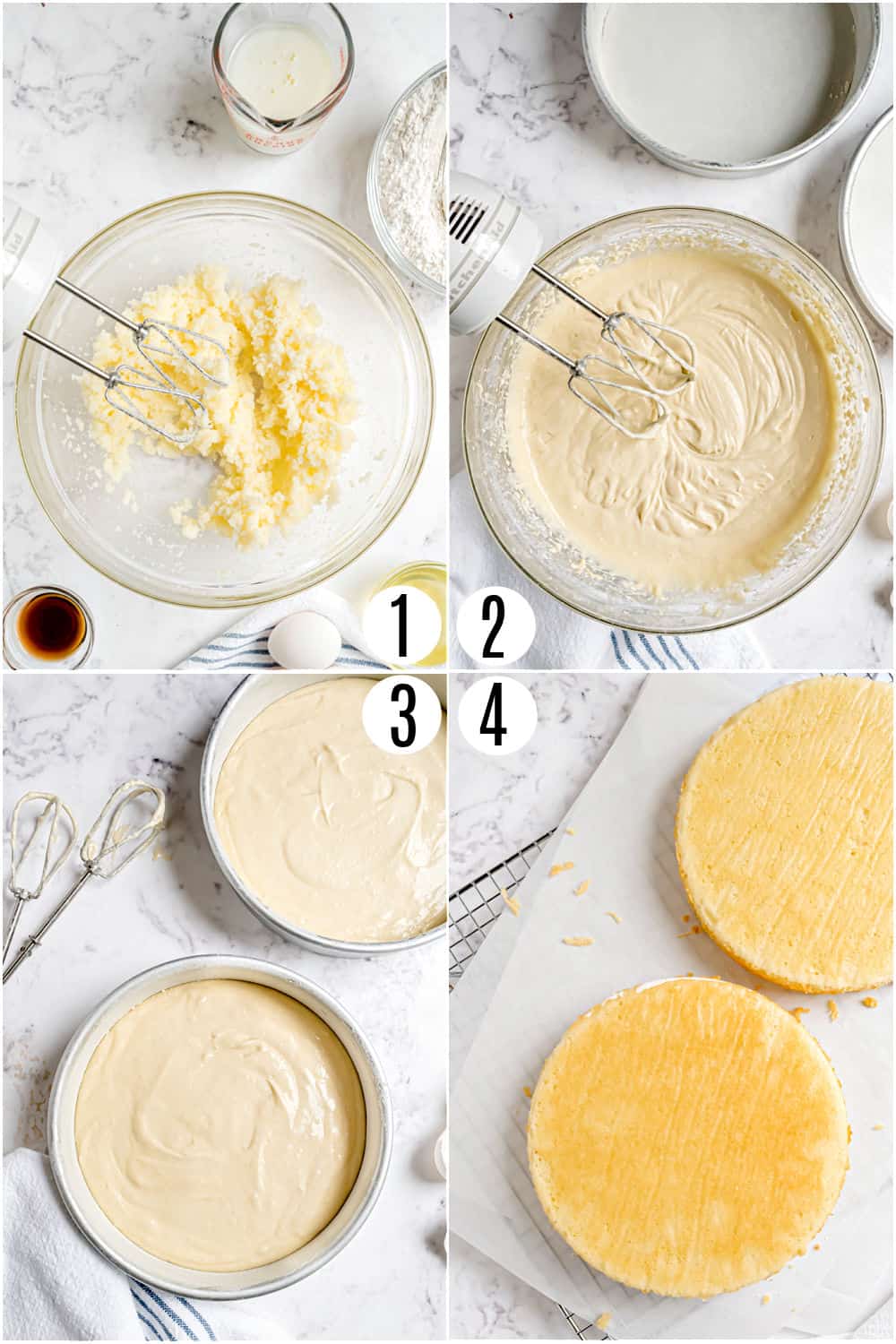 How to Frost a Cake
Frost layer cakes with a large frosting spatula for a smooth and even layer.
First, place one cake on a cake plate or flat serving platter. Cover the top with frosting. Then add the second layer on top and smooth frosting over the top and sides.
From here, you can add more frosting to piping bags and pipe onto the cake as desired, for an extra impressive touch! Or just slice and serve as is for a simple but impressive dessert.
Vanilla Birthday Cake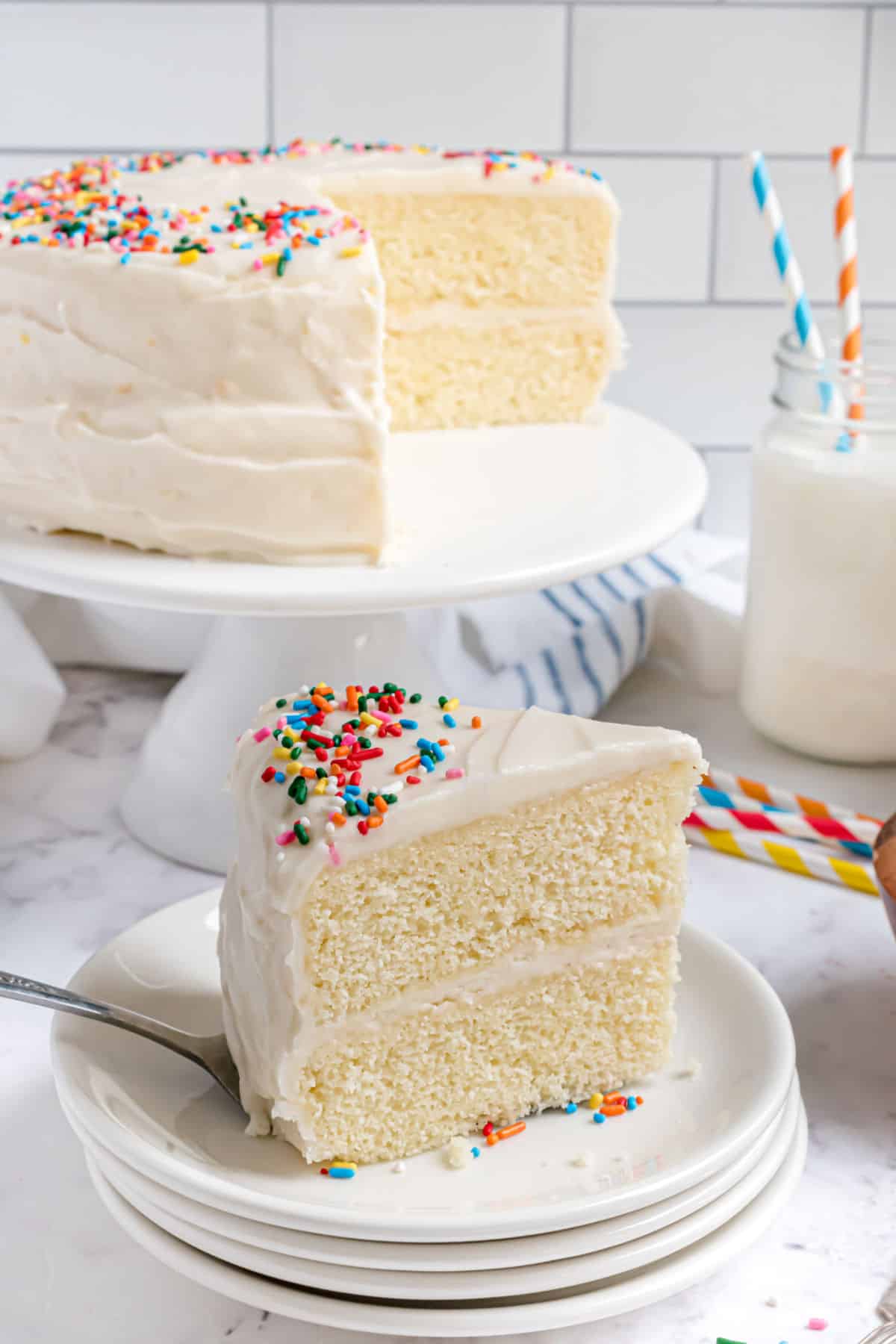 That's up to you!
Today's recipe is featured with our new vanilla sour cream frosting. It's lightly sweetened and super creamy! Our tangy chocolate sour cream frosting is also a delicious addition to this vanilla cake.
I love this with a classic vanilla buttercream and sprinkles for a birthday party, as you'll see in my vanilla sheet cake recipe!
And it's hard to beat the rich taste of vanilla cake topped with Chocolate Buttercream Frosting.
Or think outside the box with some of these delicious ideas:
Tips and Tricks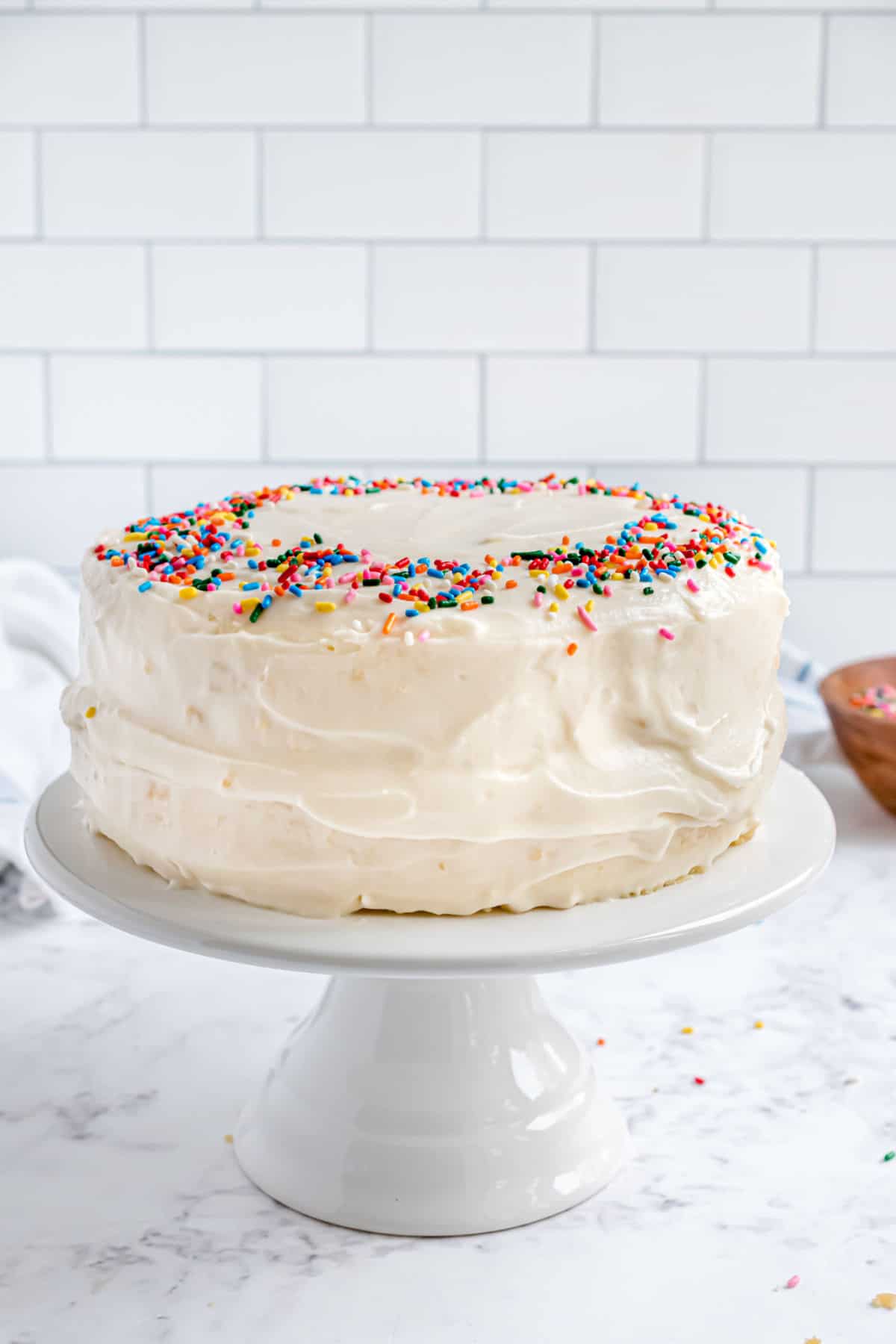 Recipe FAQs
Can I substitute all purpose flour for the cake flour?
If you don't have cake flour, make a homemade cake flour substitute for this recipe. For each cup of cake flour called for in the recipe, measure out 1 cup of all purpose flour. Remove 2 tablespoons of flour from each cup. Replace with 2 tablespoons cornstarch.
Can you freeze vanilla layer cakes?
Yes, these layers can be frozen before frosting. Once cooled, wrap cake layers in plastic wrap or foil, and then place in a large freezer bag. Thaw, frost and enjoy within 3 months.
Can this recipe be made as a sheet cake instead?
Yes, you can bake this in a 9 x 13 inch pan for a single layer sheet cake. See my full instructions for Vanilla Sheet Cake here.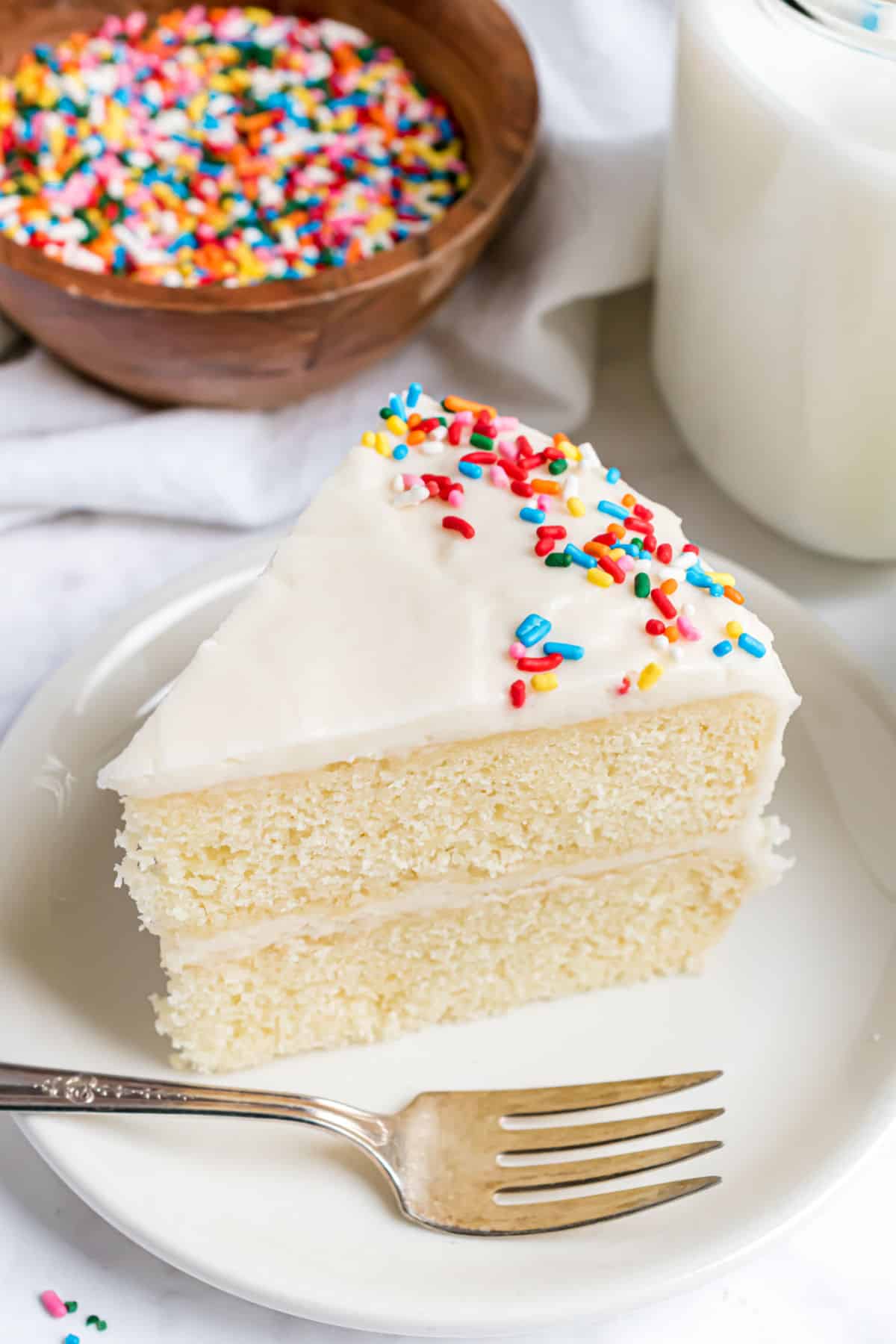 And for those of you asking, be sure to try our Wedding Cake Cupcakes recipe!
Gorgeous vanilla flavor is the star of this perfect Vanilla Cake recipe. Two layers of soft and sweet cake are the perfect vehicle for creamy sweet frosting. A slice of vanilla cake makes any day better!