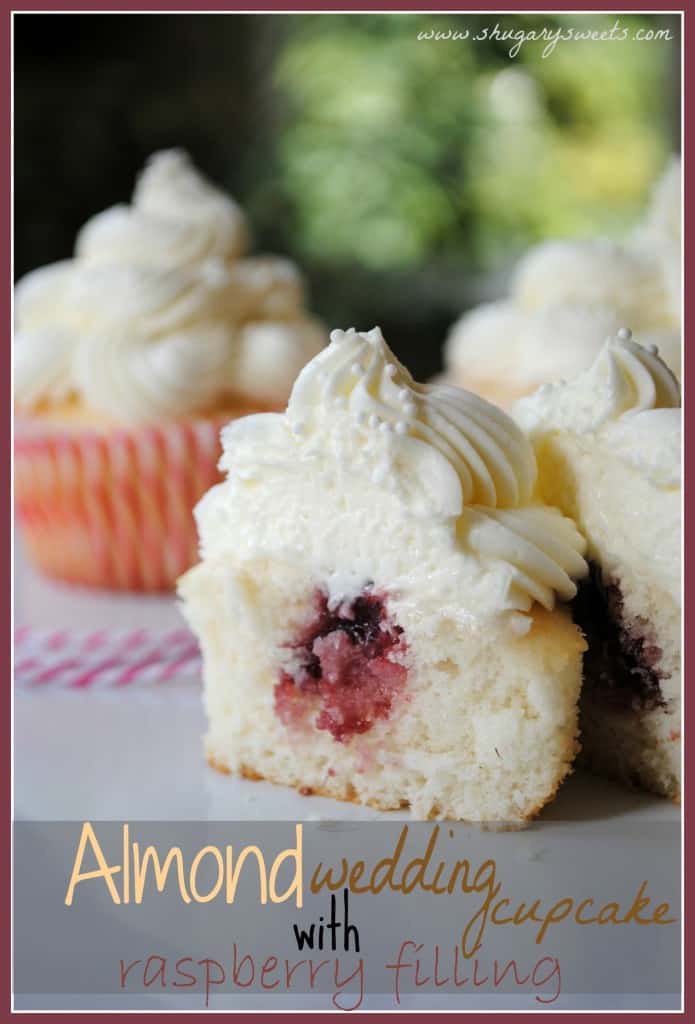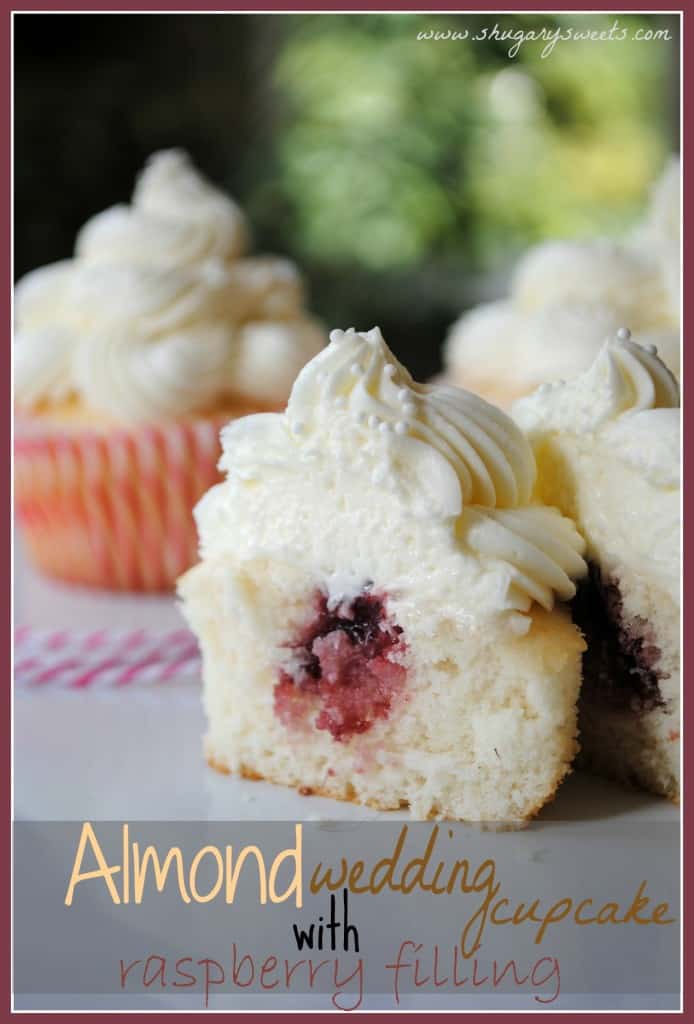 It's wedding season. Seems like everyone and their brother get married in May or October. 
And when most people think of wedding cake, they think of almond cake with raspberry filling. Traditional.
These cupcakes are so good. A moist almond flavored cupcake, filled with raspberry preserves. Then I topped them with an almond butter and cream frosting that I whipped until it was so light and airy.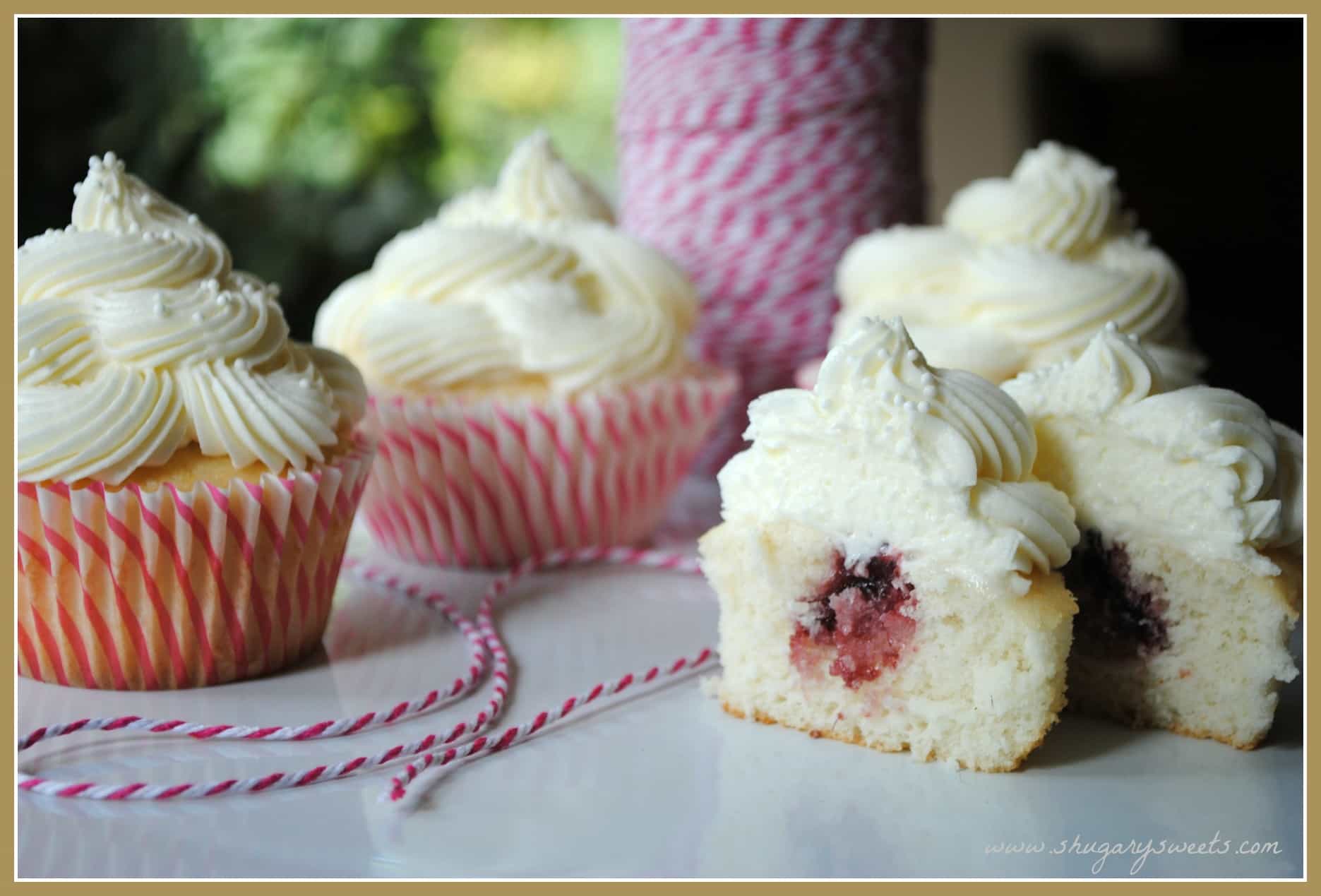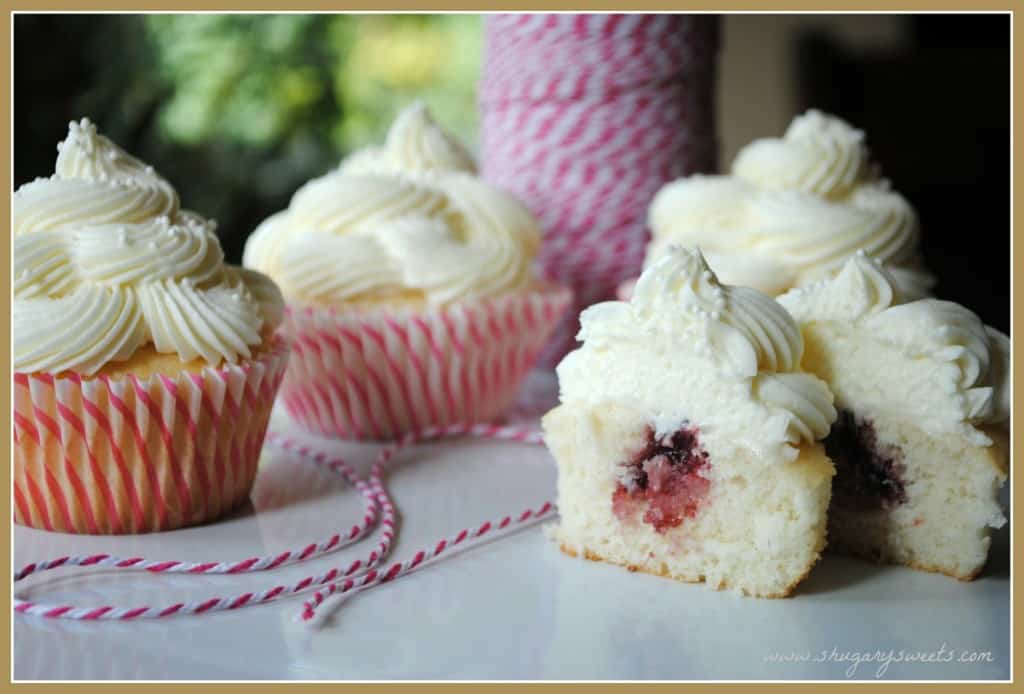 I have a friend who says this combination is her favorite. She tries a lot of my treats! 
Hey, sometimes I need a second opinion. I want you to know my food is taste tested!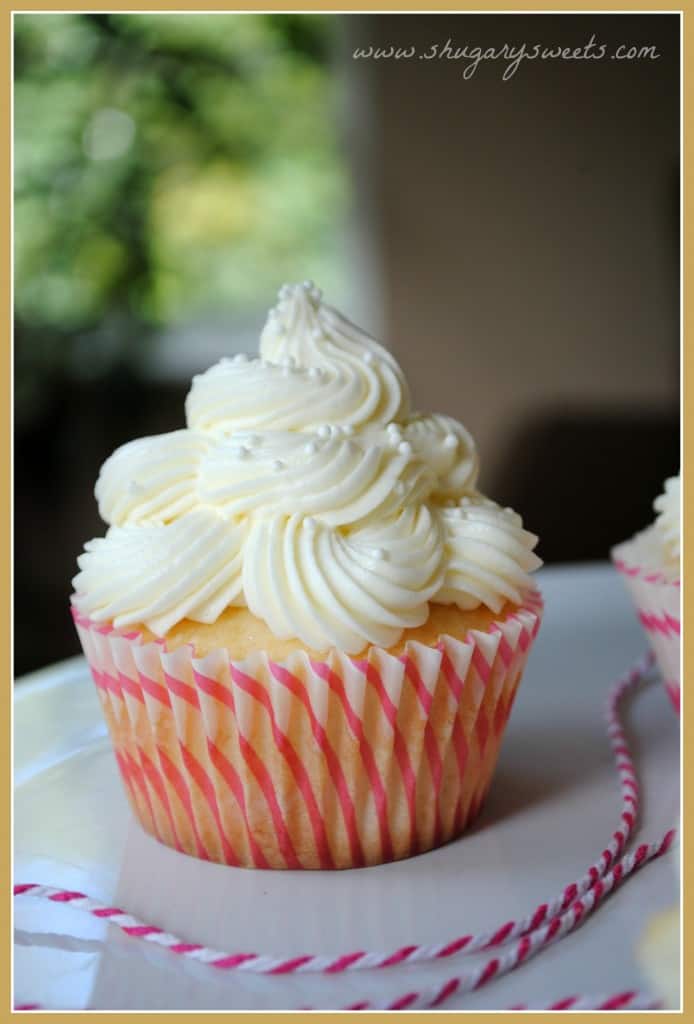 But back to weddings. Did you know one of the new trends is to have cupcakes instead of cake? I LOVE THIS TREND. I wish 17 years ago when I got married this was a normal option to choose.
I don't remember anything about my cake. I think the only bite I had was the one my husband and I fed to eachother. At least with cupcakes I could have said, "box me up a dozen for later." And I would have had one awesome treat to eat on our honeymoon drive!!!
For now, can I convince you to give these a try? You will fall in love. The moist cupcake is my favorite recipe, and you may have seen it here: Vanilla Bean Cupcakes. I added in some almond flavor and it gave them a whole new spin! ENJOY!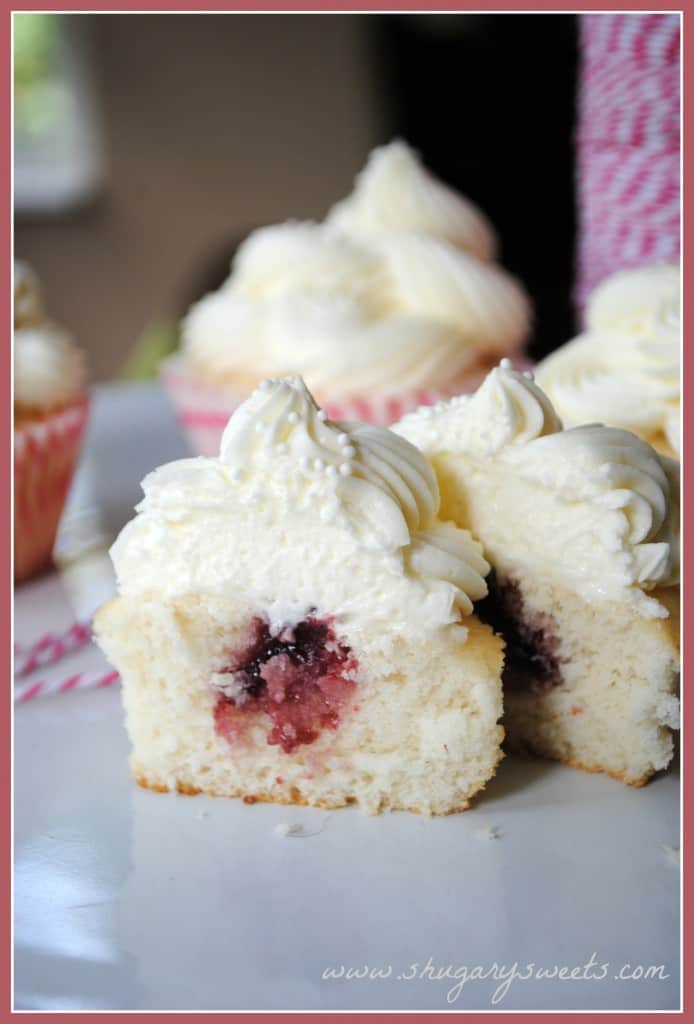 Do you like these Almond Wedding Cupcakes? Then you may also enjoy…
Cherry Almond Cupcakes: using a boxed cake mix as the base, it makes these cupcakes super easy for any home cook! Top them with a sweet buttercream flavored with maraschino cherry juice!
Almond Truffles: Milk chocolate truffles with almond flavoring, rolled in crushed almonds and coated in white chocolate. Perfect for any holiday!
Yield: 12-15 cupcakes
Almond Wedding Cake Cupcakes with Raspberry Filling
Ingredients
For the Cupcakes:
3 egg whites, room temperature
1/3 cup plus 2 Tbsp buttermilk
6 Tbsp unsalted butter, softened
3/4 cup plus 2 Tbsp granulated sugar
1 1/4 cup cake flour
1/2 Tbsp baking powder
1/4 tsp kosher salt
1 Tbsp almond extract
For the Frosting:
1/2 cup unsalted butter, softened
1/2 cup heavy cream
1 1/2 tsp almond extract
4 cup powdered sugar
For the Filling:
1/2 cup Raspberry preserves
Instructions
For the cake, whisk together the egg whites, almond extract and 2 Tbsp milk in small bowl until combined. Set aside.
In a mixing bowl, beat butter and sugar for 2-3 minutes on medium. Add in dry ingredients and mix until combined. Slowly add in egg white mixtures. Beat in remaining milk.
Fill cupcake liners half full with batter and bake in a 350 degree oven for 15-17 minutes. Remove and cool in pan 5 minutes, then transfer to a wire rack to cool completely.
Fill a pastry bag with raspberry filling. I used a small star tip and poked it into the top of each cupcake. Give a good squeeze, you will see the cupcake rise at is fills.
Remove and continue until all cupcakes are filled.
For the frosting, beat butter and heavy cream in mixer for 3 minutes. Add in almond extract and powdered sugar. Beat an additional 5 minutes until light and fluffy.
Pipe on cupcakes. ENJOY!