Say "I do!' to these Wedding Cake Cupcakes. Delicate almond cake with raspberry filling and a hint of almond flavor are the perfect dessert for any special event.
If you love cupcakes don't forget to try these delicious Vanilla Bean Cupcakes. You can top any cupcake and make it better by using my cream cheese frosting recipe too!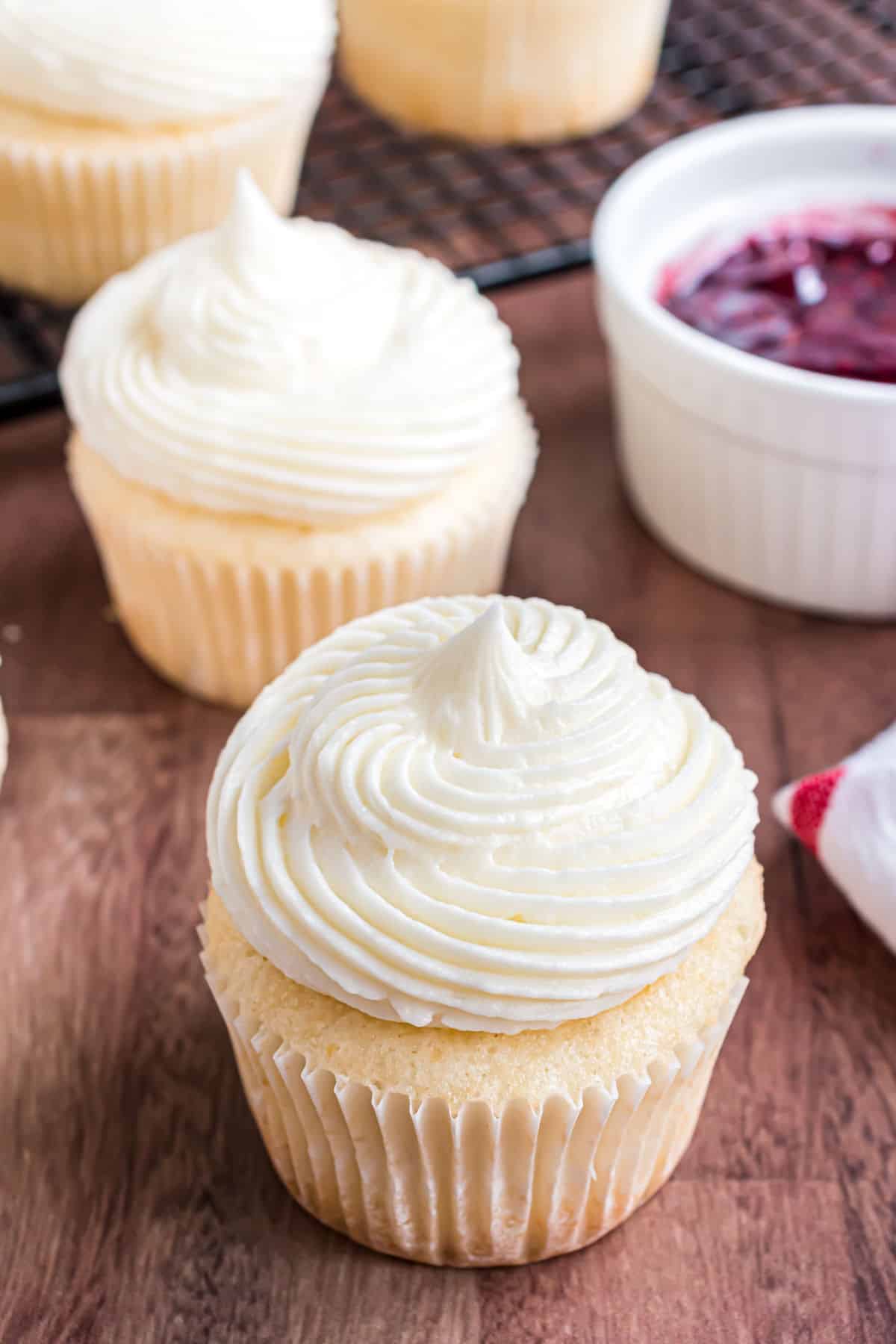 Wedding Cake Cupcakes
Can we talk about wedding cakes for a second? I'll never understand celebrating your nuptials with a dry, bland, lackluster cake, no matter how pretty it looks. If any day calls for an amazing dessert, it's your wedding day.
The BEST wedding cakes are the ones loaded with fluffy buttercream and filled with some kind of delicious fruit spread. This is the cupcake version of a classic almond wedding cake.
The cupcakes have a light crumb and almond flavor that pairs perfectly with the rich raspberry filling.
Of course–don't forget to add the buttercream.
Even though they're called "Wedding Cake Cupcakes" you can totally make these anytime! They'd be perfect for a baby shower, a birthday party or any occasion at all.
Eating these cupcakes conjures up memories of all the times I've celebrated over cake with family and friends. You'll love the simplicity of the white almond cake with the rich, creamy frosting!
Love almond desserts? Try our almond kringle for a fantastic treat!
Ingredient Notes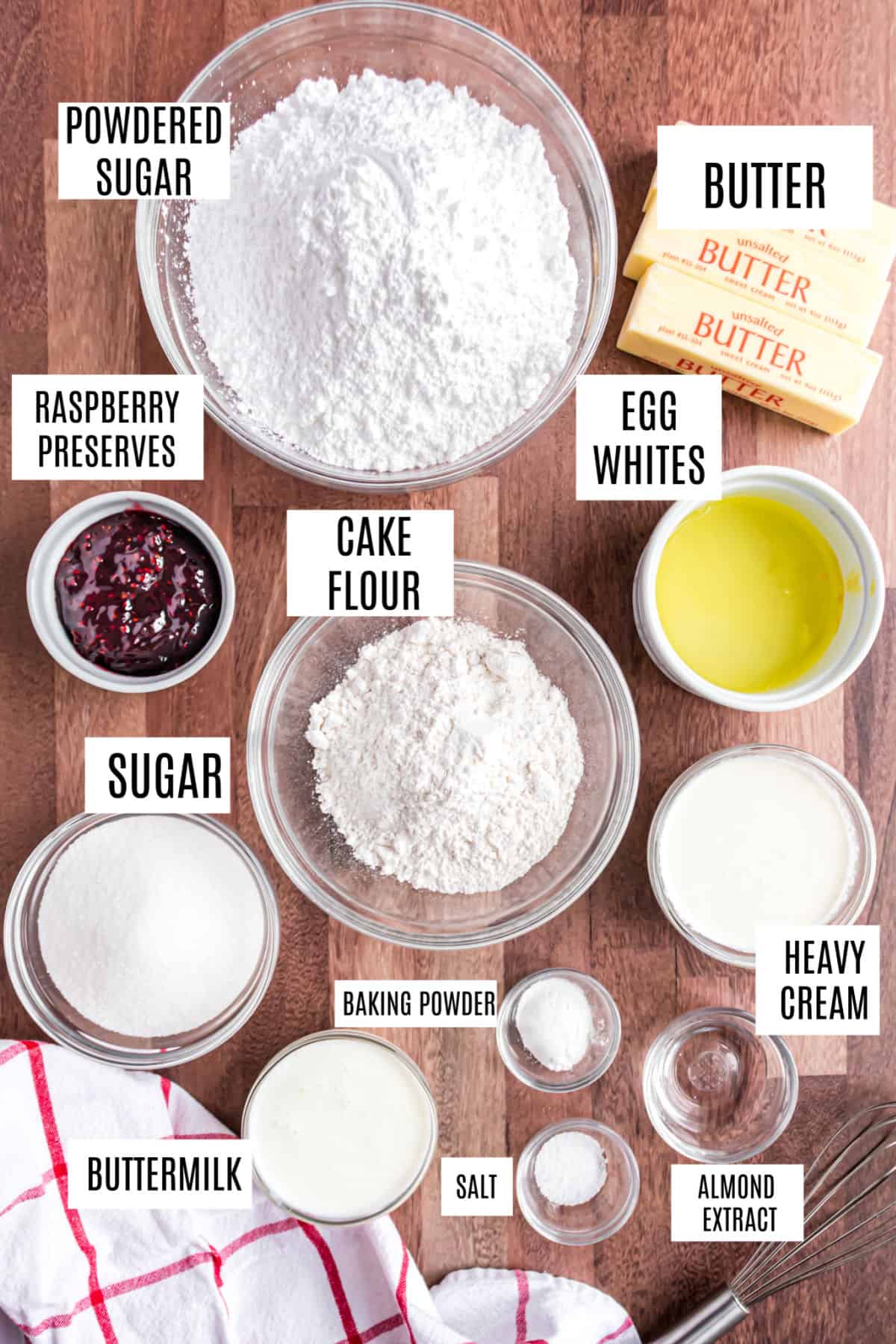 Cake flour – This finer white flour gives the almond cupcakes their delicate texture. It makes a huge difference! All purpose flour could be used, but the cupcakes will be much denser. Learn how to measure flour properly too!
Buttermilk- Store bought buttermilk or Homemade Buttermilk can be used. The acidity in the buttermilk reacts with the other ingredients to make these cupcakes so fluffy and moist!
Almond extract – Use real almond extract, not imitation flavor for best results.
Raspberry preserves – Any brand of raspberry jam or spreadable preserves will work. Cherry or strawberry jam could be substituted to mix up the flavors.
Step by Step Instructions
Make Batter. You'll whisk egg whites separately to create a light and airy texture to your cupcakes!
Bake cupcakes.
Fill and Frost the cupcakes. Fill a pastry bag with raspberry preserves. Using a knife, cut out a small cone in the top of each cupcake. Remove the piece of cupcake and fill with preserves. Place the cut piece of cupcake back (it will sit higher, that's okay because you will top it with frosting. Frost a big swirl on top of the cupcake.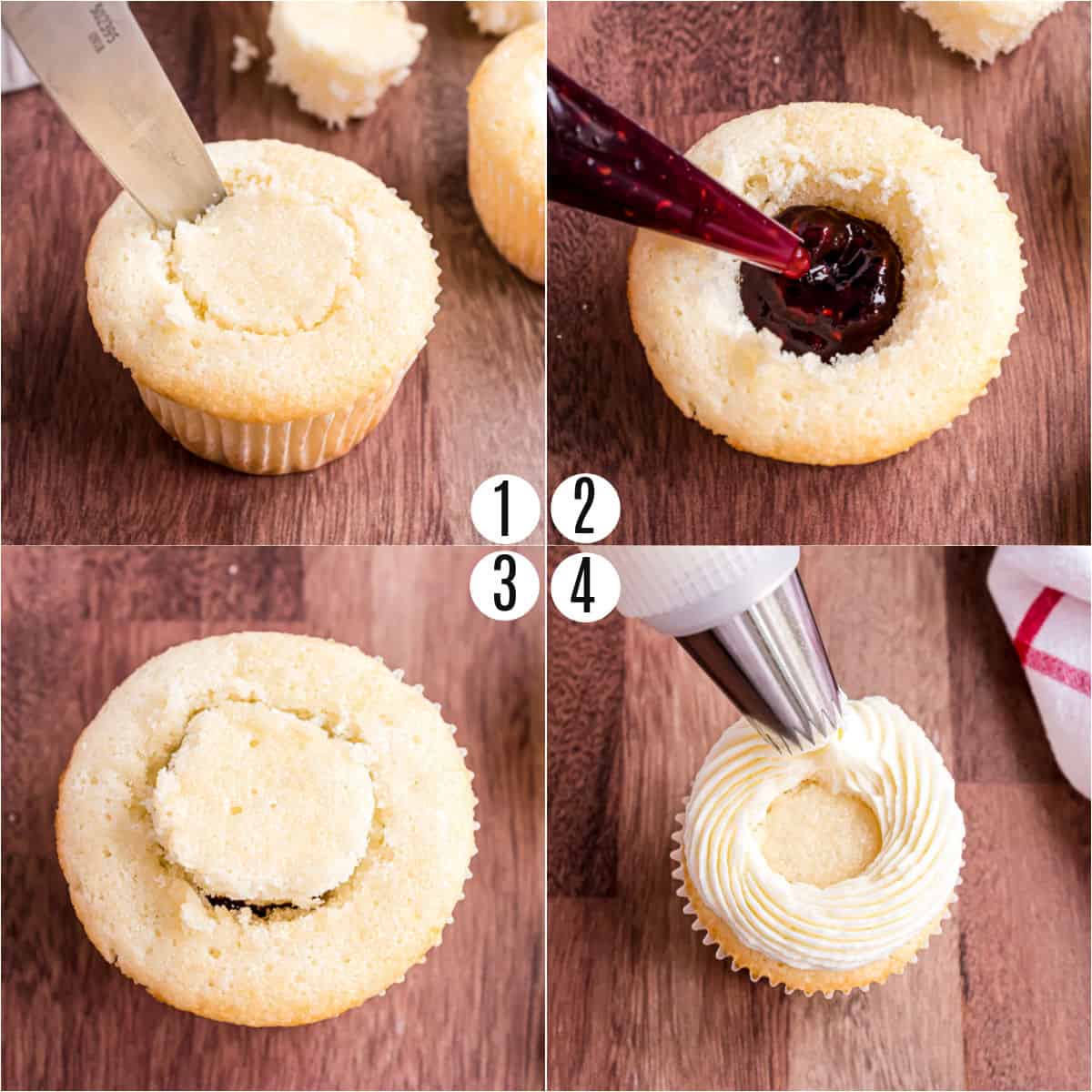 Tips & Tricks
A large star tip works perfectly for piping the filling into the cupcakes. The frosting will cover up the hole you make!
Be sure not to overfill the cupcake liners. Any more than 3/4 full and the cupcakes could "dome" on top making the frosting slide off.
Store cupcakes covered at room temperature. If your house runs hot, you can also keep them in the fridge to make sure the buttercream stays in tact.
These cupcakes are also delicious topped with vanilla sour cream frosting! Our creamy strawberry frosting would also be delicious!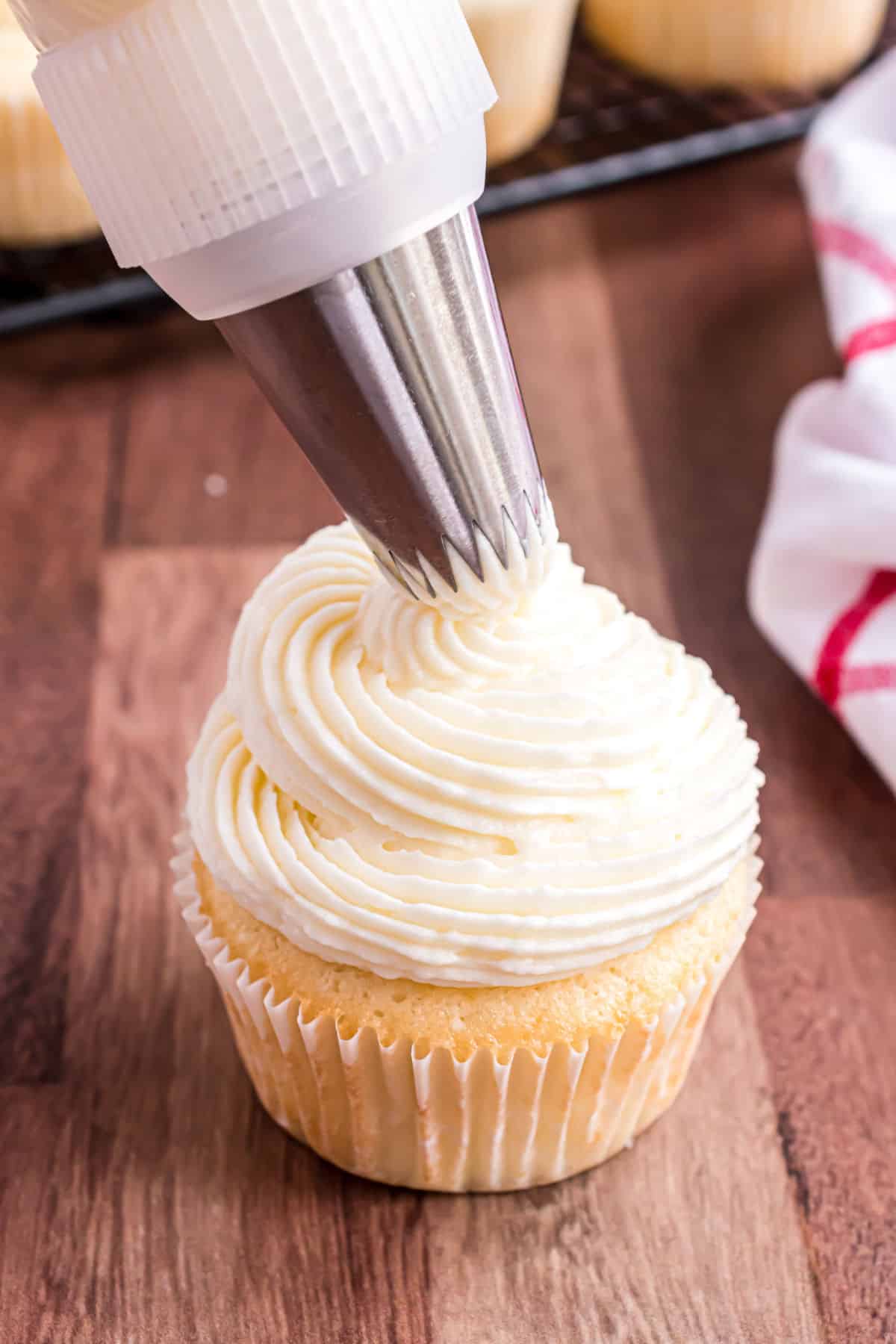 Recipe FAQs
Can you freeze wedding cake cupcakes?
Yes! For best results, freeze cupcakes after filling but before frosting. Transfer to a freezer safe container or double wrapped in freezer bags. They will keep in the freezer for about 2 months. Thaw at room temperature and top with fresh buttercream before serving.
Can wedding cake cupcakes be made with regular flour?
Technically you can make these with all purpose flour but the texture will be different and not so "wedding cake-y."
Can you make this recipe as a full size cake?
Yes, this recipe would make a single layer of a full sized cake. Double the recipe for a layer cake and adjust the baking time accordingly.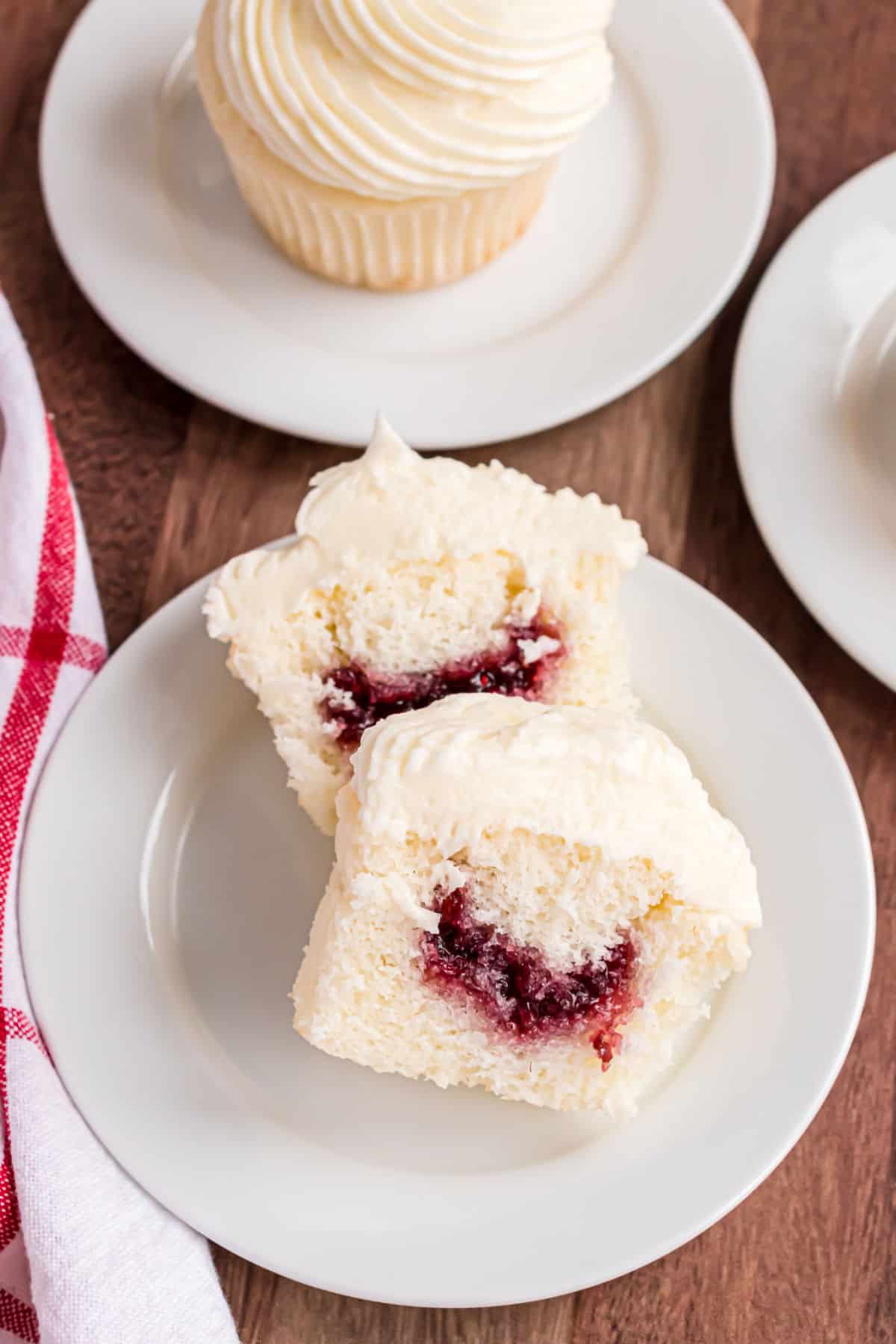 No need to go to a wedding to enjoy elegant cupcakes! Make these Almond Wedding Cake Cupcakes to celebrate at home, any day of the year!