Buttery and flaky, this Almond Kringle recipe is easier than ever. Two layers of pastry topped with a delicious almond icing. Tips and tricks included to store and freeze your delicious danish.
Love almond desserts? Our Almond Bars are a sweet cookie bar as well as a reader favorite! Perfect for sharing and freezing. Or give our wedding cake cupcakes a try soon, with their sweet almond flavor and raspberry filling!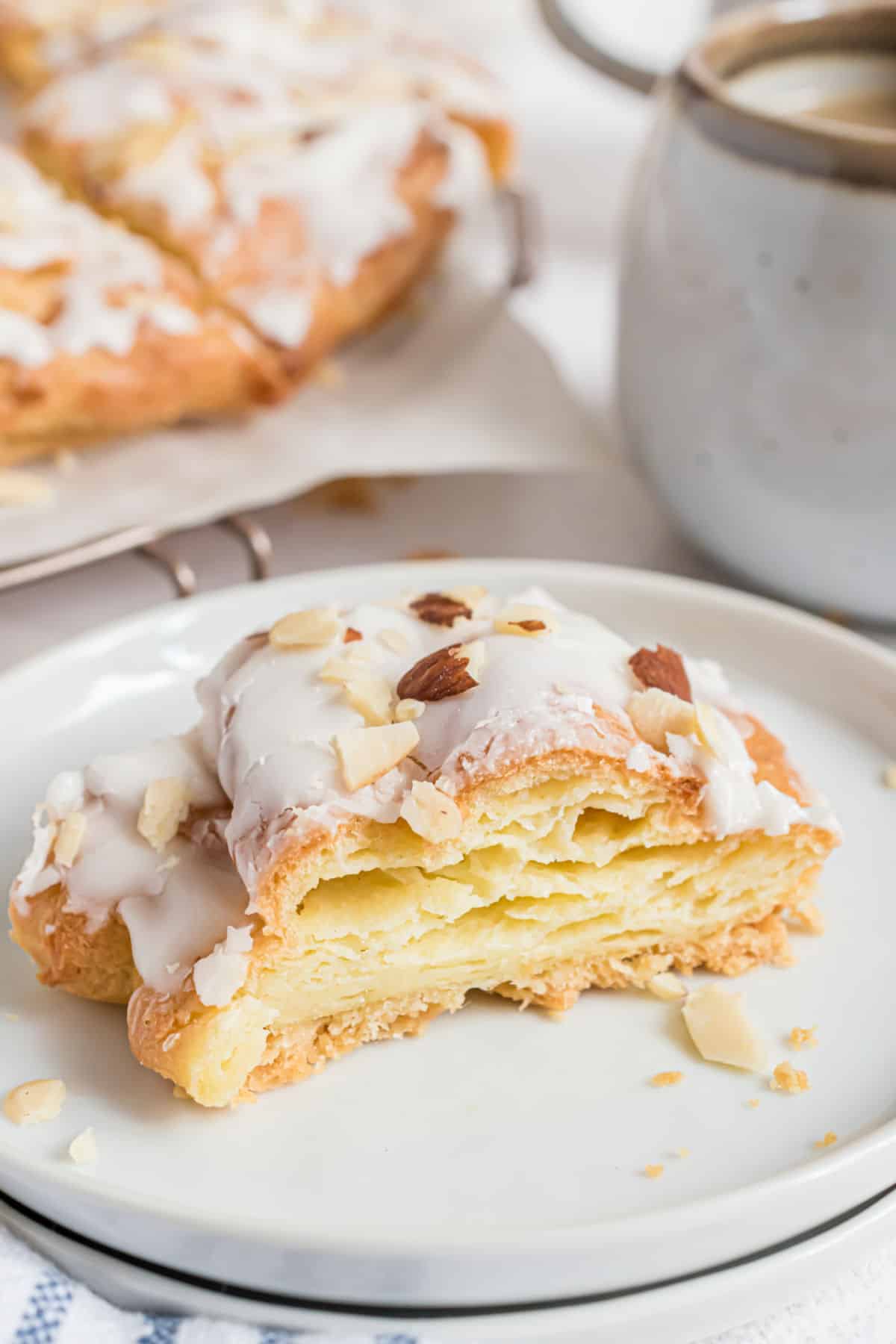 What is Almond Kringle?
If you're unfamiliar with a kringle, you're probably not from the midwest! My grandma would serve these often in my childhood. While we lived in Illinois, Wisconsin is where these are most famous.
A kringle is a sweet pastry usually stuffed with nut filling or fruit, shaped into an oval, semi-circle or log and then baked. As if that didn't already sound delicious enough, it's finished off with a layer of sweet creamy icing on top.
Kringle has Scandinavian origins and I've seen several variations on this puffed pastry dish over the years. My very favorite, though, is this Almond Kringle, just like the ones Grandma used to serve.
Layers upon layers of buttery pastry perfection, that doesn't take hours to slave over.
No yeast dough!
Makes TWO kringles…great for sharing or freezing!
If you love melt in your mouth almond treats, be sure to try our almond cookies next!
Ingredient Notes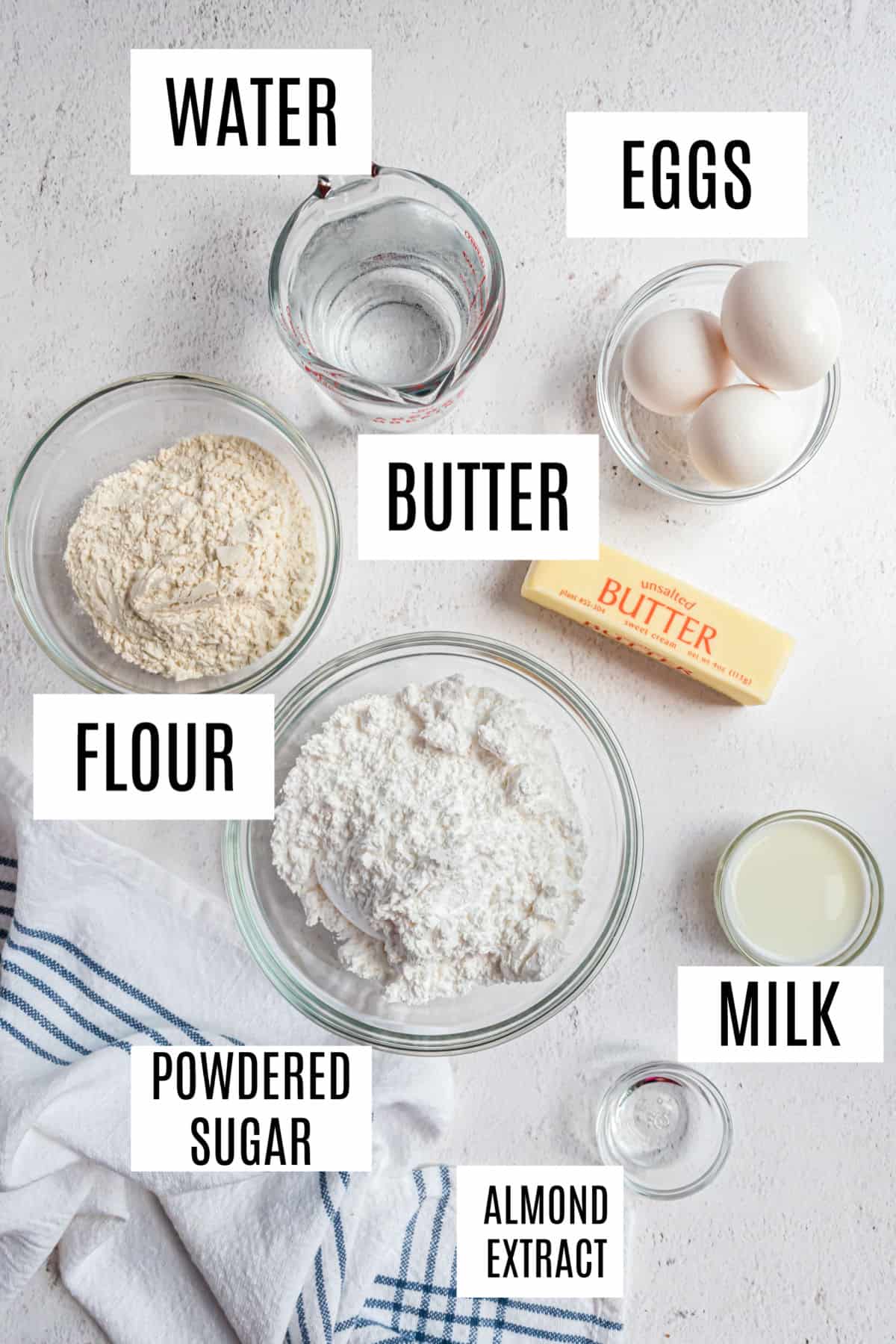 Simple pastry ingredients are all you need. You could add a layer of nut filling or thinly sliced apples (between the crust and filling layer), if desired.
My family just loves this simple, easy, basic almond version!
Flour- all-purpose flour is our choice. Make sure you measure the flour correctly!
Butter- unsalted butter is what I usually use in baking. The sliced almonds add the salt needed, however, salted butter would work fine in today's danish.
Eggs- provide structure and texture to the filling, and help the pastry create delicious layers.
Almond extract- this extract provides all the nutty flavor for today's kringle recipe. Not a fan? You can use vanilla extract instead.
Powdered sugar– just a couple Tablespoons is all you need. This dough isn't overly sweet, and the icing provides the sweetness in this recipe.
How to Make a Kringle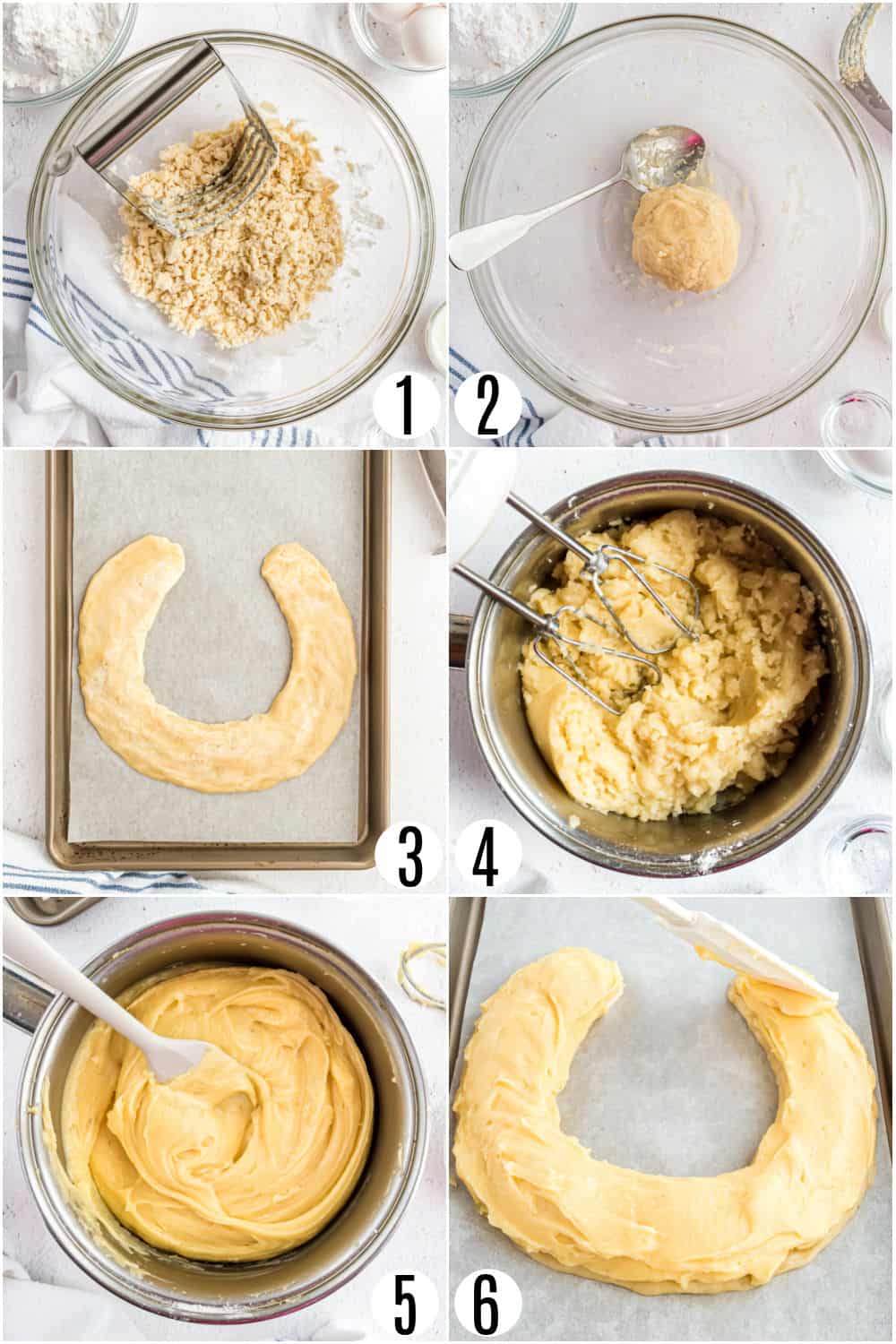 STEP 1. Make the pastry bottom layer. The "crust."
Mix crust ingredients together into a ball. Separate the dough into two small balls. On two cookie sheets, pat into two large horseshoes, about 2-3 inches wide (my baking sheet is 12 inch).
Just a note: The dough will be very sticky at this stage. You will think you are doing something wrong, just trust me, it's supposed to be gooey! Resist the urge to add more flour.
STEP 2. Make the "filling". Or second layer of pastry dough.
In a small saucepan, heat 1 cup water and ½ cup butter to boiling. Remove from heat, beat in 1 cup flour. Add eggs, one at a time. Add powdered sugar and almond extract. This will be paste-ish. It's ok.
Spread on top of crust layers. Bake for 40-45 minutes in a 375 degree oven. Cool on baking sheet for 10 minutes, then remove to a wire rack.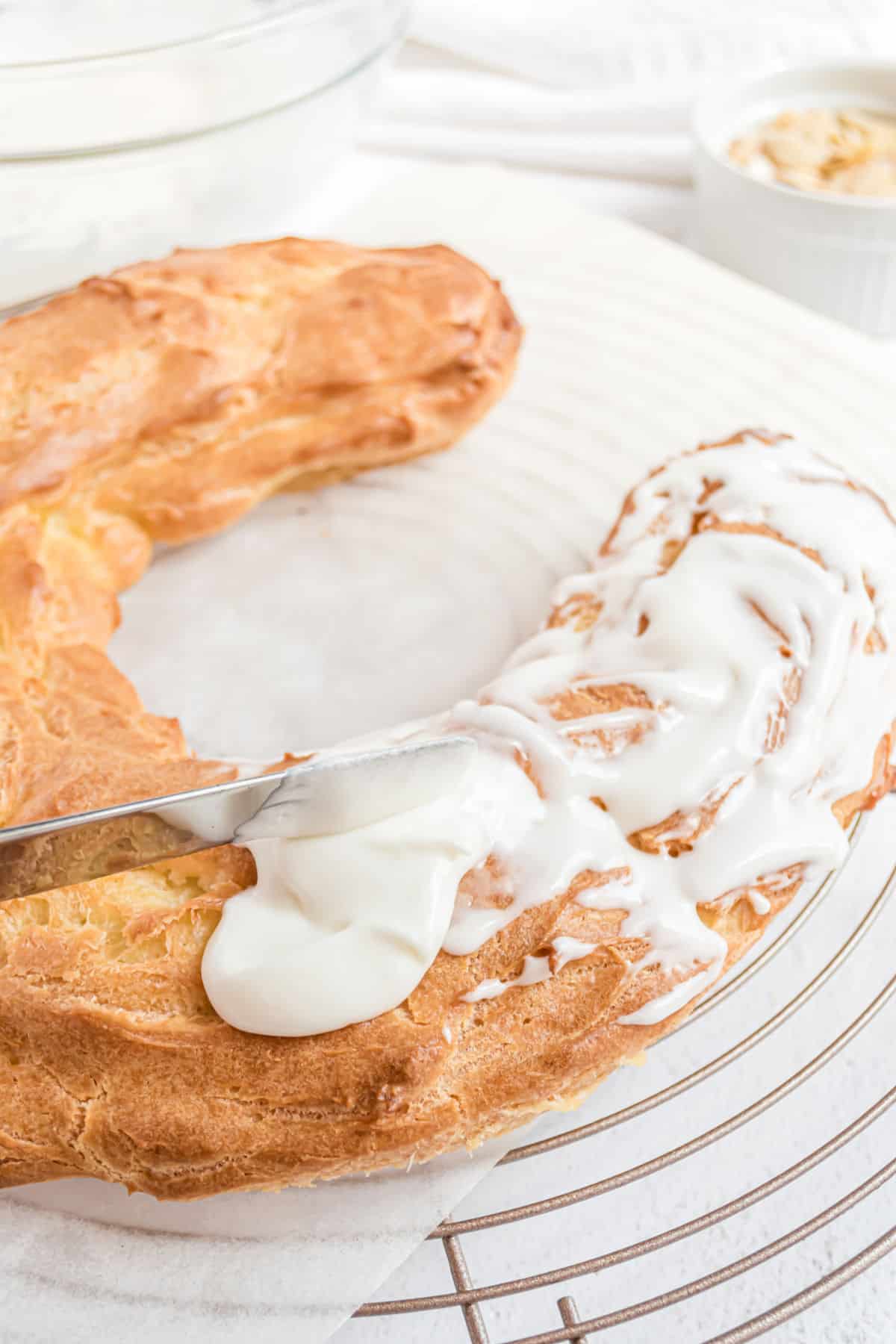 STEP 3. Make the icing.
While the Kringle is cooling in the oven prepare frosting by beating butter with powdered sugar, almond extract and milk. Continue to beat until smooth.
Frost the Kringle while warm and sprinkle with sliced almonds (optional), slice into pieces and serve.
Tips and Tricks
If desired, you can also garnish the frosted Kringle with thinly sliced almonds or chopped walnuts. It looks and tastes great either way!
I used a horseshoe shape here because it's what I'm most familiar with. Kringle is also shaped into ovals, twisted into pretzels or baked in a simple log shape. Make whatever shape Kringle recipe you like; the point is that it's DELICIOUS!
Freeze your kringle by wrapping in plastic wrap then wrapping in a double layer of foil. Or freeze slices of danish in a large ziploc freezer bag.
Store baked kringle at room temperature for up to 5 days.
Fillings: fill with almond paste or homemade lemon curd. Canned pie fillings (cherry and apple) are delicious to.
Serve your kringle with a mug of homemade hot chocolate or a steaming cup of apple crisp macchiato. A glass of pumpkin cream cold brew wouldn't be terrible either, ha!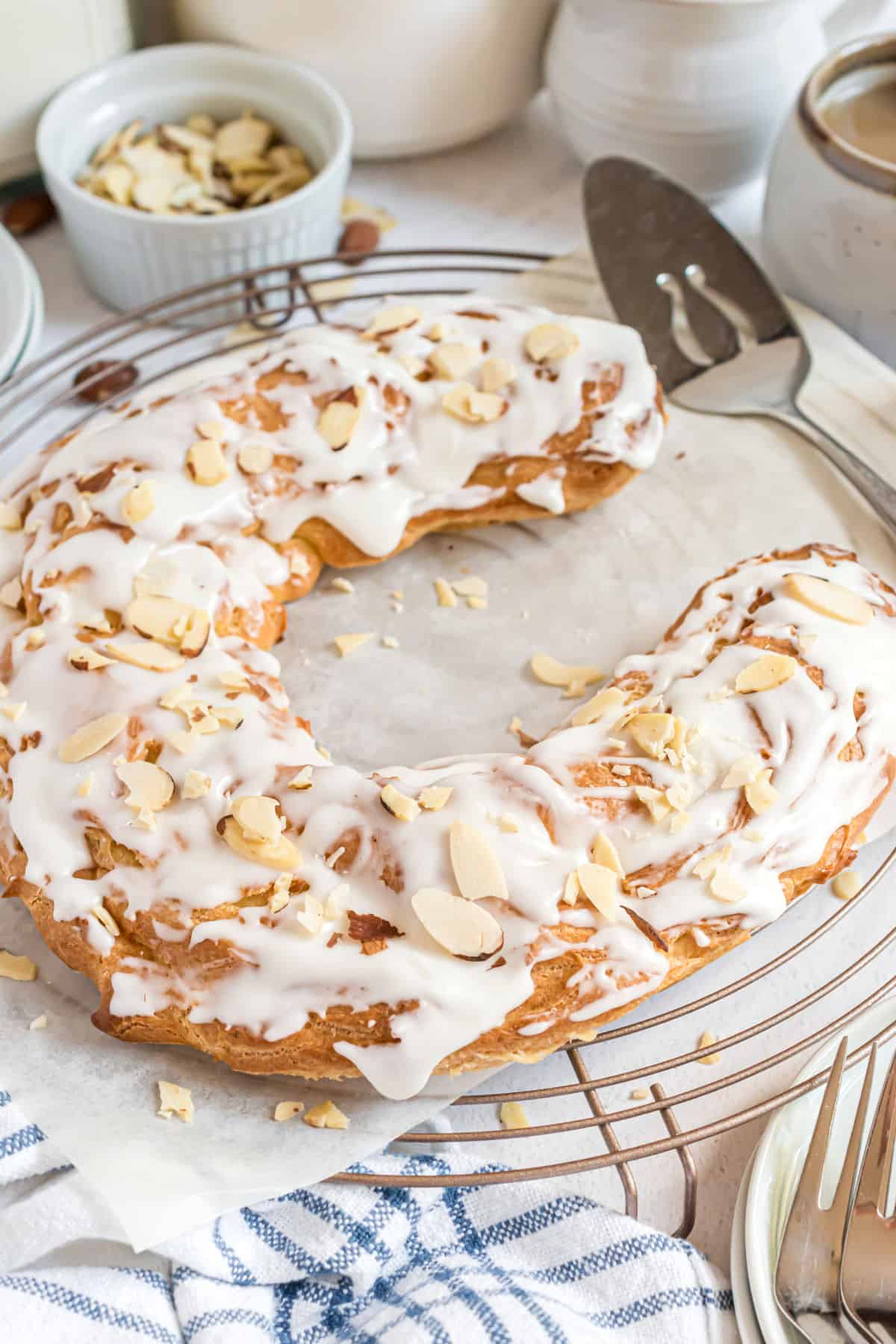 Recipe FAQs
What is Kringle made of?
Our almond kringle recipe is made with layers of buttery pastry dough, with a nutty flavor from the almond extract and sliced almonds.
Can Kringle be made in advance?
Kringles are definitely best when served the same day or within the first 24 hours however, if kept in airtight container, they last for up to 5 days.
Can you serve Kringle warm?
Most kringles are served at room temperature. However, warming up a slice is a delicious option too.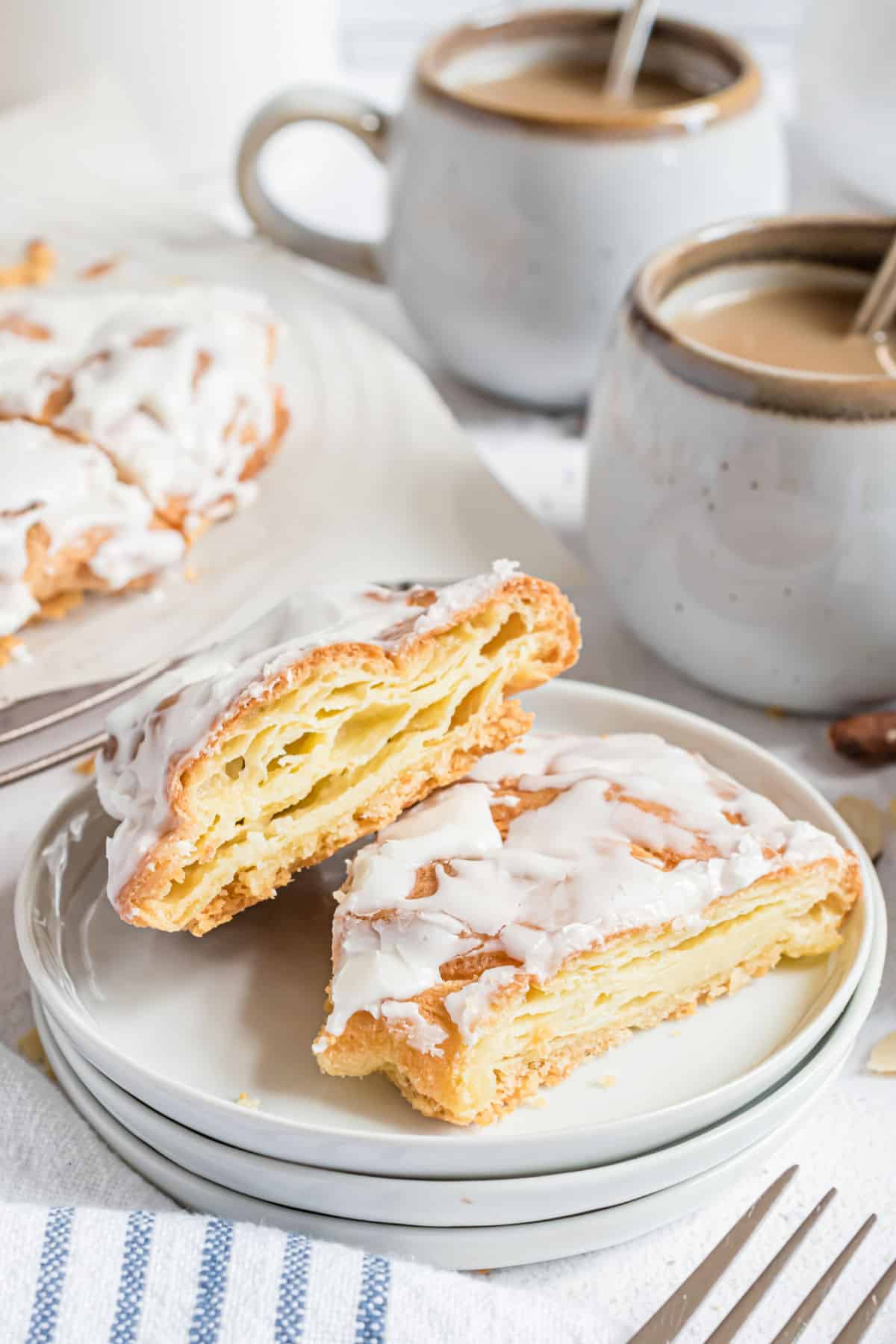 Everyone loved this Almond Kringle and I've made it a few times since that first try. Enjoyed for breakfast or as a dessert to share, a flaky Dutch Kringle is always a welcome sight!