If you love homemade quick bread, this Cranberry Almond Bread recipe is a must try. Moist, delicious, and swirls of cranberries throughout. Bake up two freezer friendly loaves–one for now and one to enjoy later!
If you love cranberries, you've got to try our Cranberry Christmas Cake. Or give our easy cranberry orange biscotti a try next!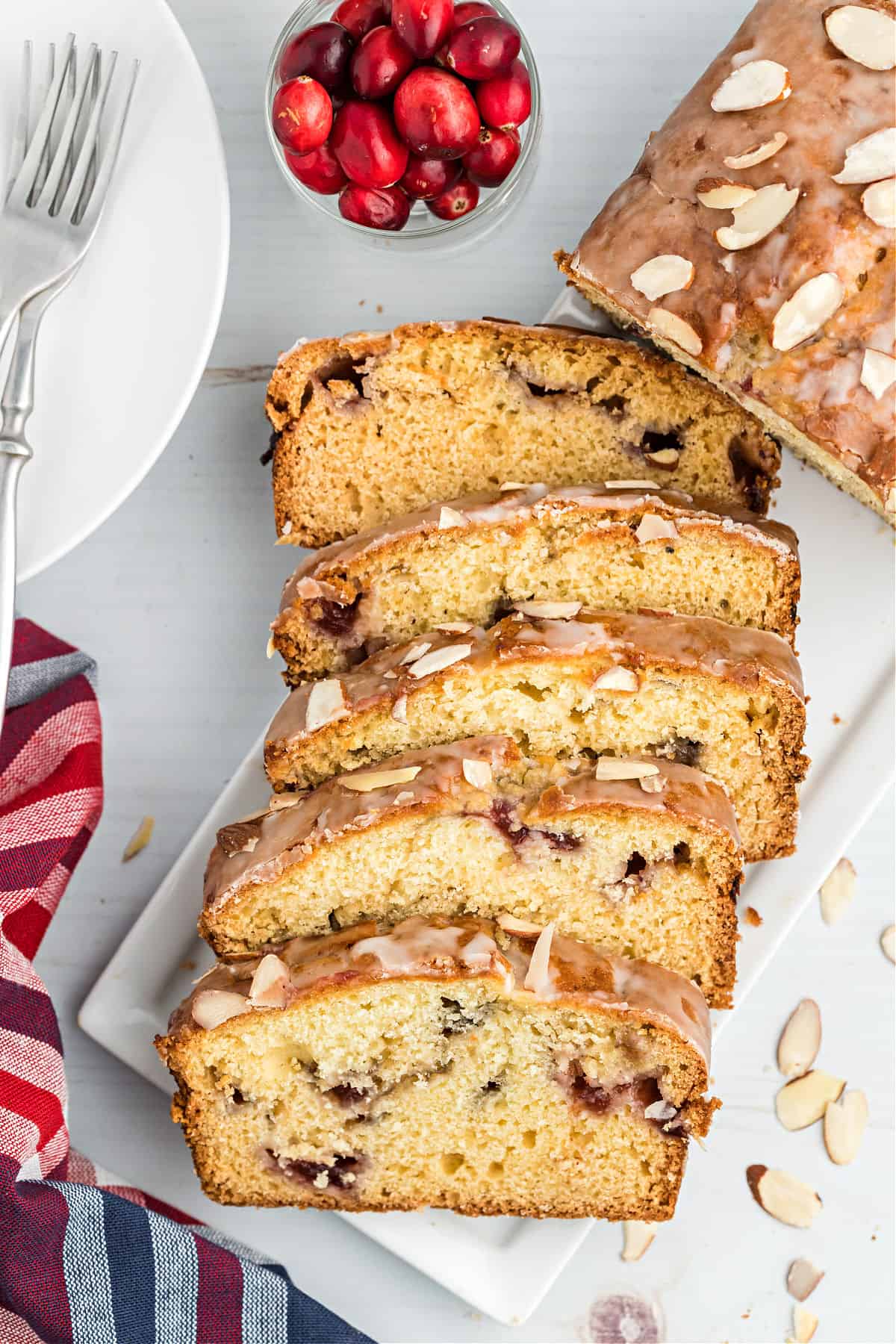 What is Quick Bread
While breads made with yeast require time for kneading and rising (sometimes even a second or third rise!) before you can bake them, quick breads are, well, quicker.
Just mix together the batter, pour it in a pan and you'll be enjoying a perfect loaf of bread in under an hour.
Classic Banana Bread might be one of the most familiar quick bread varieties. I also can't get enough Zucchini Bread when my garden is overflowing and when the autumn arrives, Pumpkin Bread can't be far behind!
This Cranberry Almond Bread might earn the top spot on my list of current quick bread obsessions.
With a swirl of tart cranberries
Sweet almond glaze
Bakes two loaves, one for now, one for later!
Just mix, bake and eat. Does it get any easier?
Ingredient Notes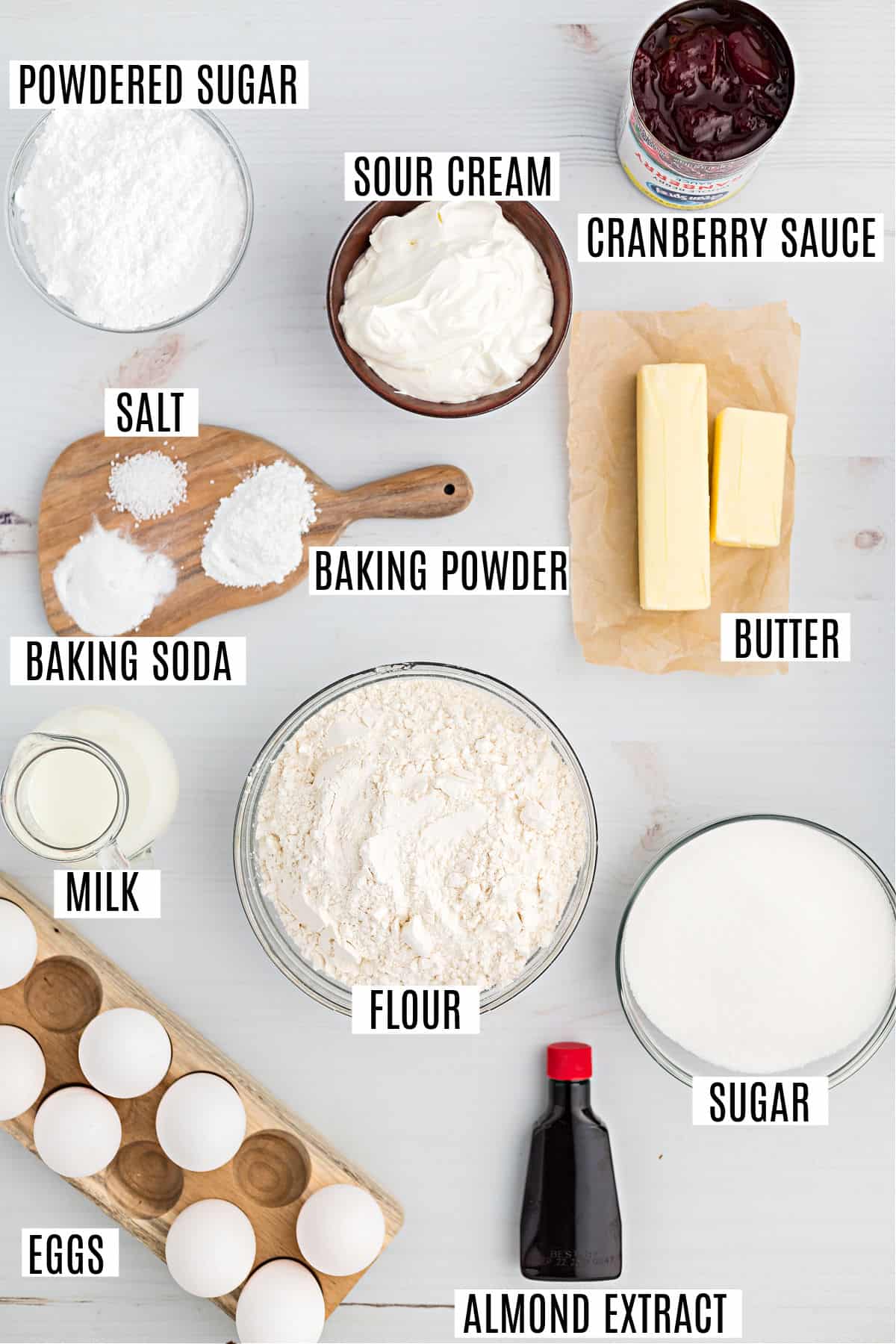 Cranberry sauce – Whether you use whole berry cranberry sauce from a can, or use homemade cranberry sauce, the choice is yours!
Almond extract – If you don't like the almond flavor (or don't have any), feel free to substitute vanilla extract to make a classic cranberry bread.
Sour cream – Plain Greek yogurt makes a wonderful substitute too.
Flour- all-purpose works great for quick breads.
Baking soda & Baking Powder- the perfect combo to help the bread rise.
Sugar- used to sweeten the cranberry bread
Eggs- help bind everything together and create a great texture!
Butter- creates delicious flavor, and paired with the sour cream results in a tangy, moist bread! We use unsalted butter and add in kosher salt.
Almond slices- toast the nuts for best flavor.
Easy Instructions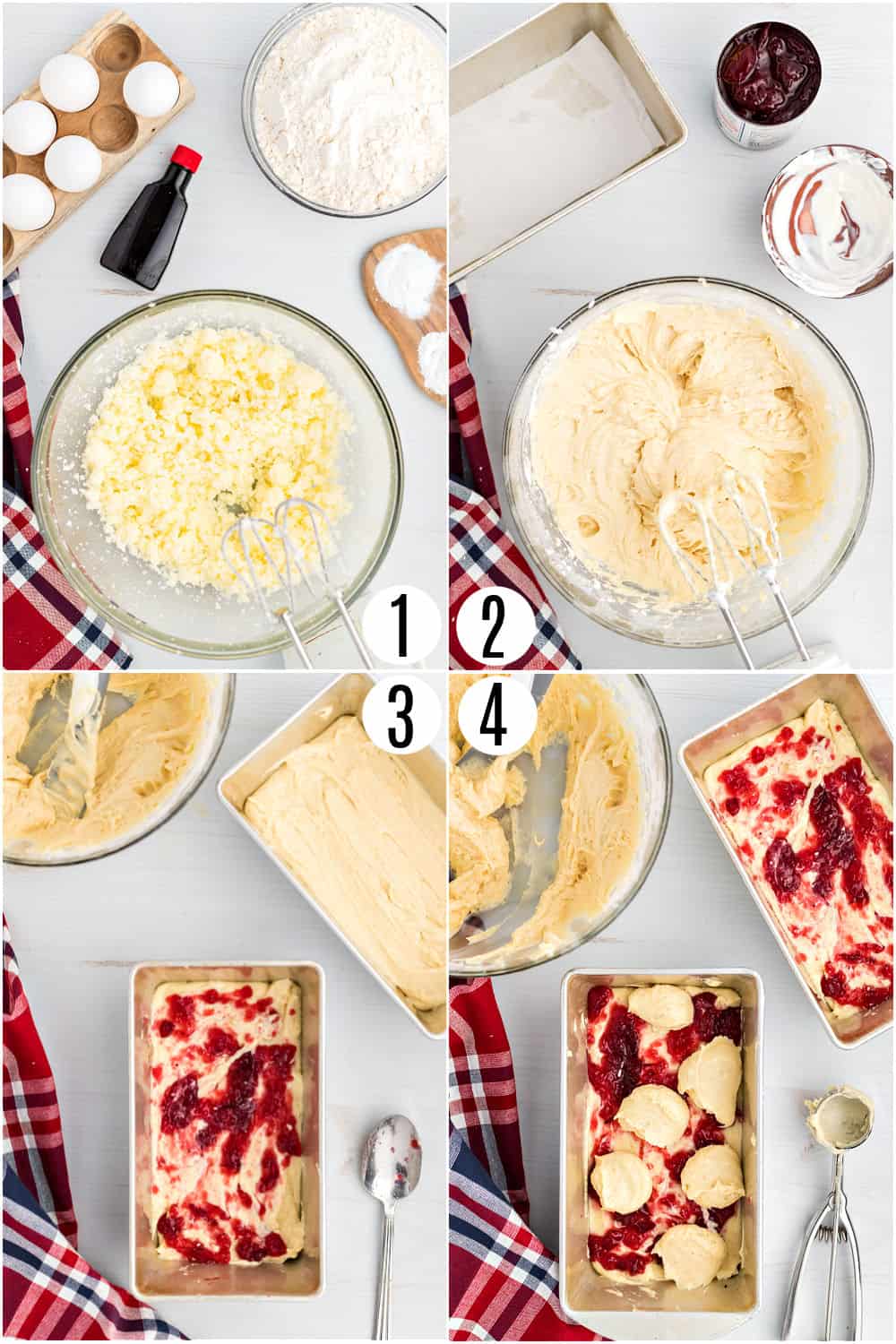 Make the batter: Combine butter and sugar, then add in the eggs and the almond extract. Mix in the dry ingredients, then fold in the sour cream.
Swirl with cranberry sauce: Pour a layer of batter into the bottom of two prepared loaf pans, then top with a layer of cranberry sauce. Swirl with a spatula, then repeat with another layer of batter and cranberry sauce. Swirl and top with the rest of the bread batter.
Bake: Bake in the oven for 60 – 70 minutes. Remove and let the bread cool while you make the glaze.
Glaze: Whisk the glaze ingredients together, then pour over the completely cooled bread.
The glaze will harden a little as it sets so it crackles just a bit when you bite into a slice of bread. Heavenly!
Tips & Tricks
Use cooled cranberry sauce. I prefer to use canned sauce because it doesn't run into the bread batter quite as much. If you use a homemade cranberry sauce, make sure it's thick (not runny) and cooled completely or chilled before using it in this bread recipe.
To avoid dense bread, be sure to follow my tips on how to measure flour!
Best glaze. The beauty of this glaze is that you can make it thicker or thinner depending on your preference. Use less milk for a thicker icing or more milk if you like it a little runnier. For best results, it should be pourable but not so runny that it won't stay on the bread.
Freezing. Wrap the baked loaves in foil, then in freezer bags to keep them fresh. You can freeze them with or without the glaze on top.
Optional toppings. Cranberry Almond is delicious served plain but it's easy to dress it up for a special occasion, too. Slivered almonds or Sugared Cranberries would make perfect garnishes! Add some toasted coconut for tasty twist!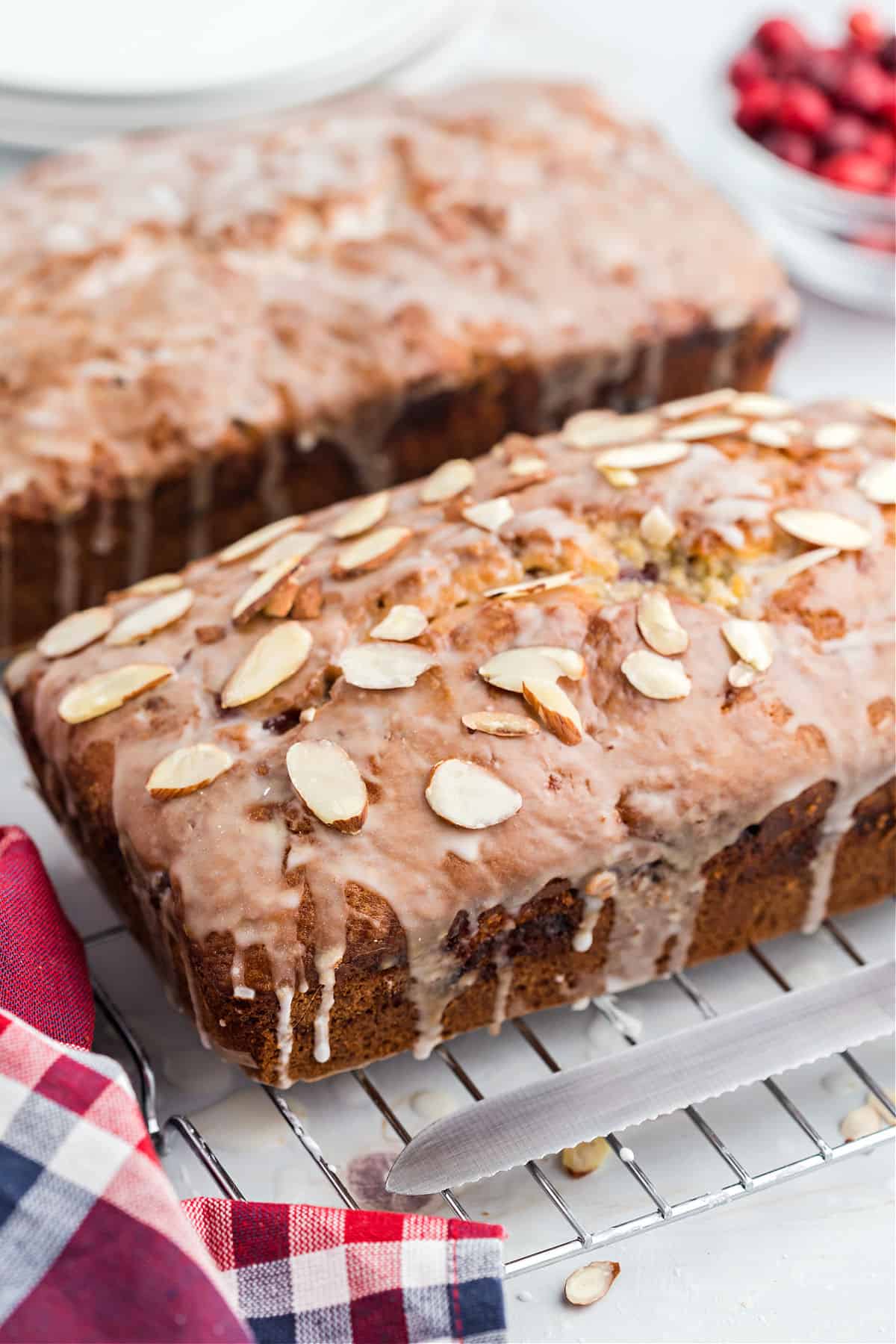 Recipe FAQs
How can you tell when quick bread is done baking?
Check for doneness by inserting a toothpick into the center of the bread. If it comes out clean, it is ready to come out of the oven.
Can you use homemade cranberry sauce instead of canned?
Yes, however it should be a thick sauce, preferably chilled so it doesn't run into the bread batter (see Tips & Tricks).
Should you freeze the bread before or after adding the glaze?
If you plan to freeze one (or both) of the loaves, you can do it either before or after the glazing step. I prefer to freeze it "naked" then add the glaze fresh once the bread is thawed.
Moist and sweet with tangy cranberries swirled into every bite, this Cranberry Almond Bread is a perfect quick bread for any occasion. Serve for breakfast, dessert or a holiday snack!