If you love homemade quick bread, this Cranberry Almond Quick Bread recipe is perfect. Bakes up two freezer friendly loaves!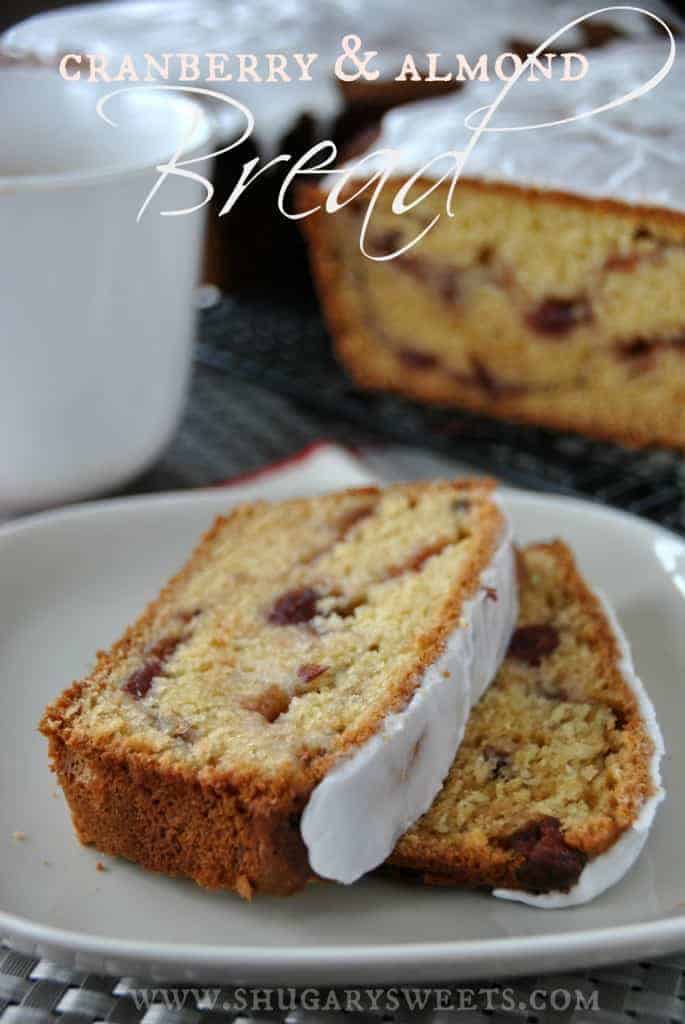 I love making quick breads.
Because they are quick. Seriously. They are easy to make, no yeast to bloom and rise. Just mix, bake and eat.
I especially love making recipes that call for TWO loaves of quick bread, like this apple bread. Once the bread has cooled and glaze has hardened, I wrap it up in a sheet of foil and slide it into a ziploc freezer bag. Label it and stick it in the freezer. When we are ready to eat it, I pull it out the night before and put it on the counter. Moist and delicious.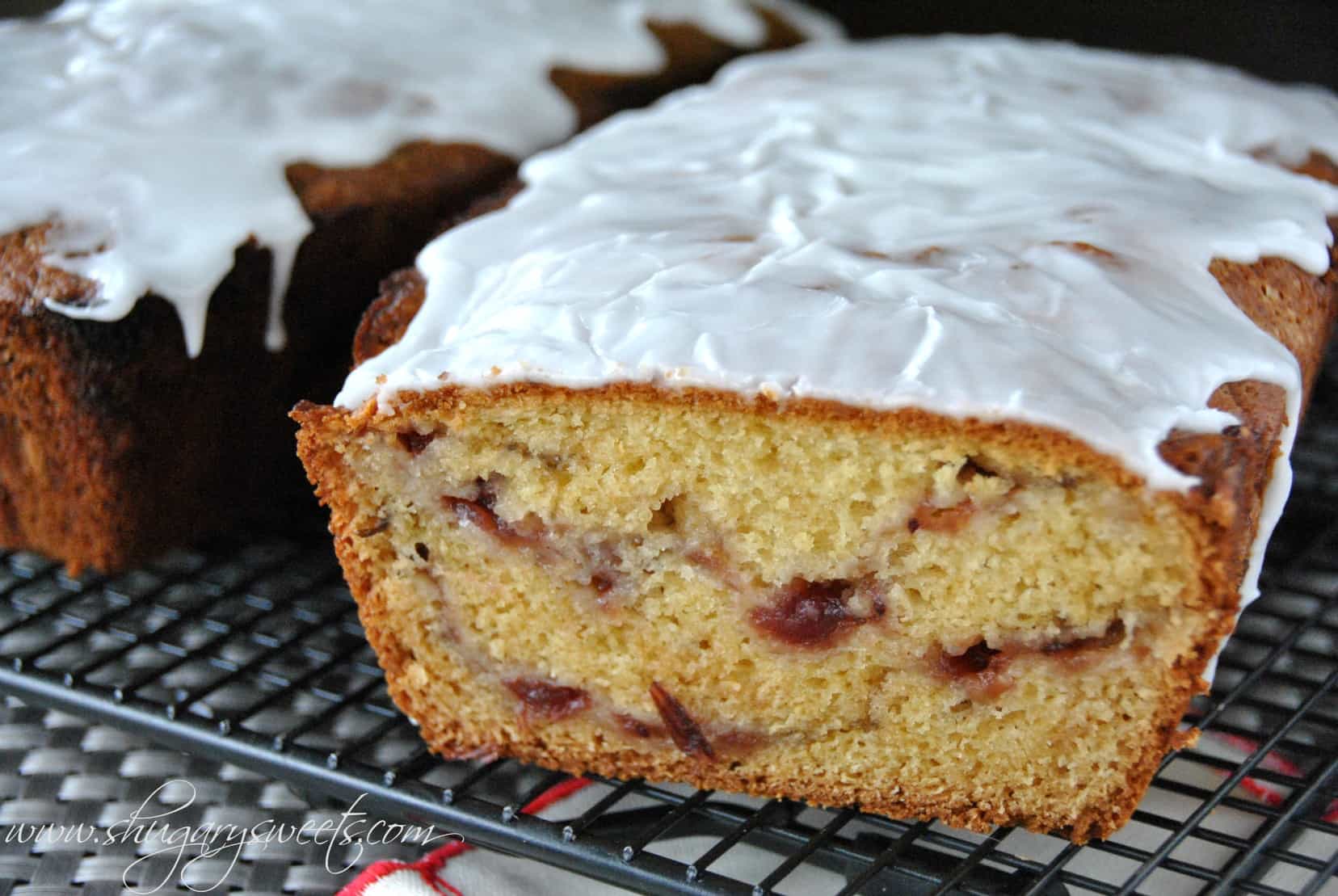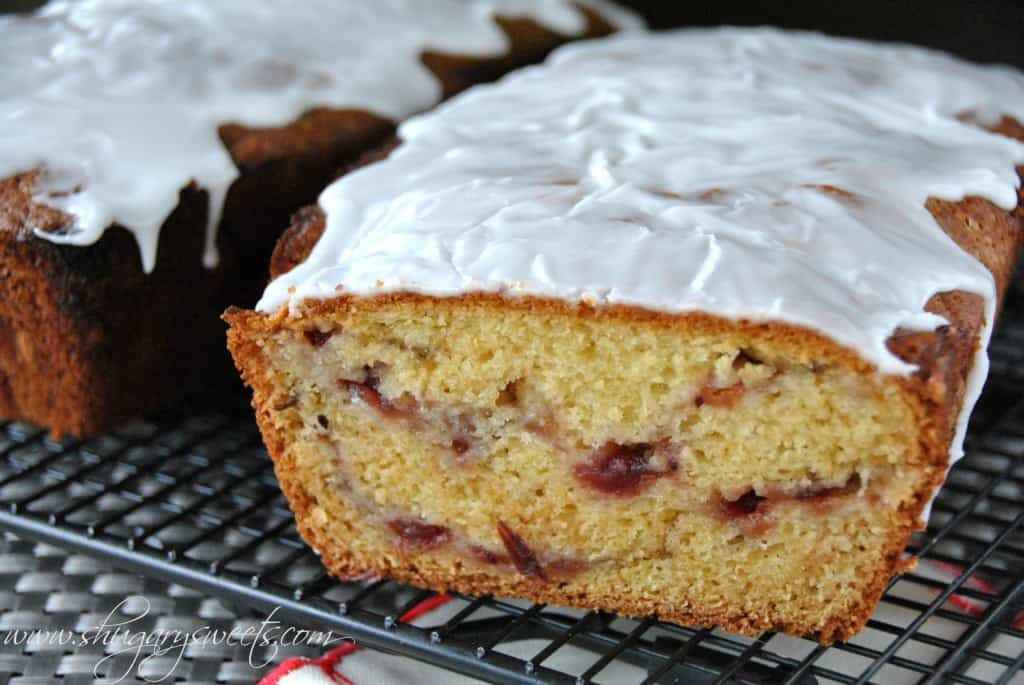 I always clean my pantry out this time of year. And I always find hidden treasures. One of those things I found was a can of whole berry cranberry sauce.
Don't judge me. I love the canned cranberry. Usually I buy the jellied stuff that comes out in one big can shape! I must have bought this one by accident, haha! But it was perfect in this quick bread. Trust me! ENJOY!
Be sure to follow me on Instagram and tag #shugarysweets so I can see all the wonderful SHUGARY SWEETS recipes YOU make!
Connect with Shugary Sweets! Be sure to follow me on my social media, so you never miss a post!
Facebook | Twitter | Pinterest | instagram
Yield: 2 loaves
Cranberry and Almond Quick Bread
Cook Time
1 hour
10 minutes
Additional Time
5 minutes
Total Time
1 hour
30 minutes
If you love homemade quick bread, this Cranberry Almond Quick Bread recipe is perfect. Bakes up two freezer friendly loaves!
Ingredients
For the Bread:
3/4 cup unsalted butter, softened
1 1/2 cup granulated sugar
3 eggs
2 tsp almond extract
3 cup all purpose flour
2 tsp baking powder
1 1/2 tsp baking soda
1/2 tsp kosher salt
1 1/2 cup sour cream
1 can (14oz) whole-berry cranberry sauce
For the Glaze:
1 cup powdered sugar
2 Tbsp milk
1 tsp almond extract
Instructions
In a large bowl, beat butter and sugar together. Add eggs, one at a time. Beat in almond extract. Add flour, baking powder, baking soda and salt. Slowly mix in sour cream.
Grease two loaf pans and line bottom with parchment paper. Spoon about 1 1/4 cup of batter into bottom of each pan, using a spatula to press it into the sides. Add a large spoonful of the cranberry sauce on top. Repeat layer of batter, pressing with fingers (it won't completely cover the cranberry). Add second layer of cranberry and top with remaining batter.
Bake loaves in a 350 degree oven for 60-70 minutes, until a toothpick comes out clean.
Remove and cool on wire rack 10 minutes. Remove from pan and cool completely before adding glaze.
For the glaze, whisk the powdered sugar with milk and almond extract until desired consistency (add more or less milk as desired). Spread on top of bread. Allow to set, about 20 minutes.
To store, wrap loaves of bread in foil, then in a ziploc bag. Store on counter or keep in freezer until ready to use. ENJOY!