A copycat Starbucks Pumpkin Bread recipe you can make at home! This moist Pumpkin Bread topped with pumpkin seeds tastes like a slice of autumn heaven, and it's so easy to make at home!
If you love pumpkin, be sure to try this Chocolate Chip Pumpkin Bread. Super moist and delicious, packed with chocolate flavor!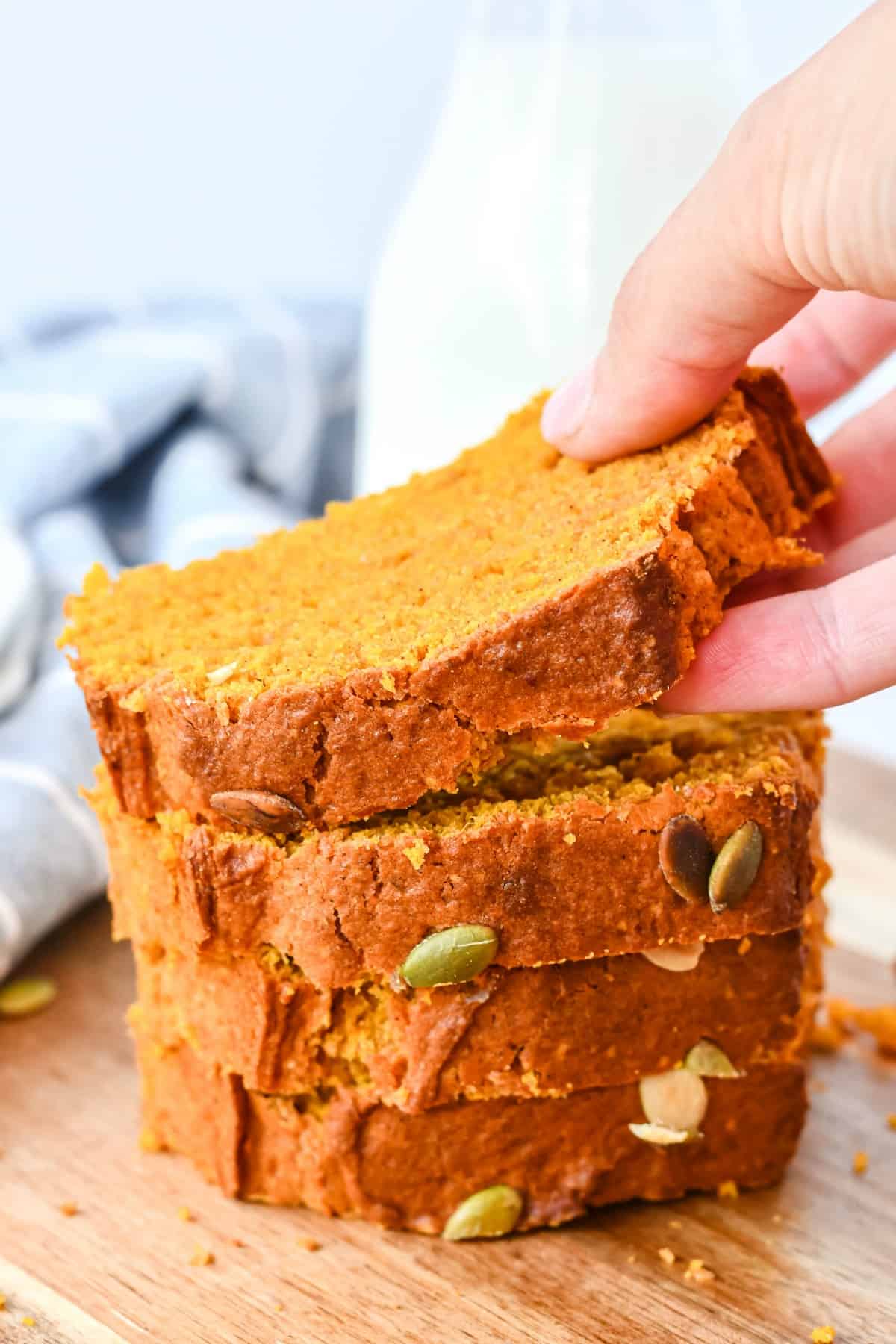 Copycat Starbucks Pumpkin Bread
I cannot get enough pumpkin bread.
When I make my (probably too frequent) stops at Starbucks, I always have the best of intentions: just one coffee, maybe a latte. Tall. No whipped cream, no pastry.
I try my hardest to avoid the classic Starbucks Lemon Loaf.
Then, I spot their pumpkin loaf in the pastry case and all my good intentions crumble. I mean, is it even FALL if you're not taking advantage of all the pumpkin goodness you can?
I couldn't stop thinking about how delicious a slice of lightly spiced pumpkin bread tastes with my morning coffee, so I went ahead and did what I always do: make a copycat Starbucks recipe!
This sweet and moist Pumpkin Bread has all the fall spices I love plus REAL pumpkin and pumpkin seeds dotted on top, just like the Starbucks version. Enjoy it with Pumpkin Cream Cold Brew for the ultimate autumn experience.
Ingredient Notes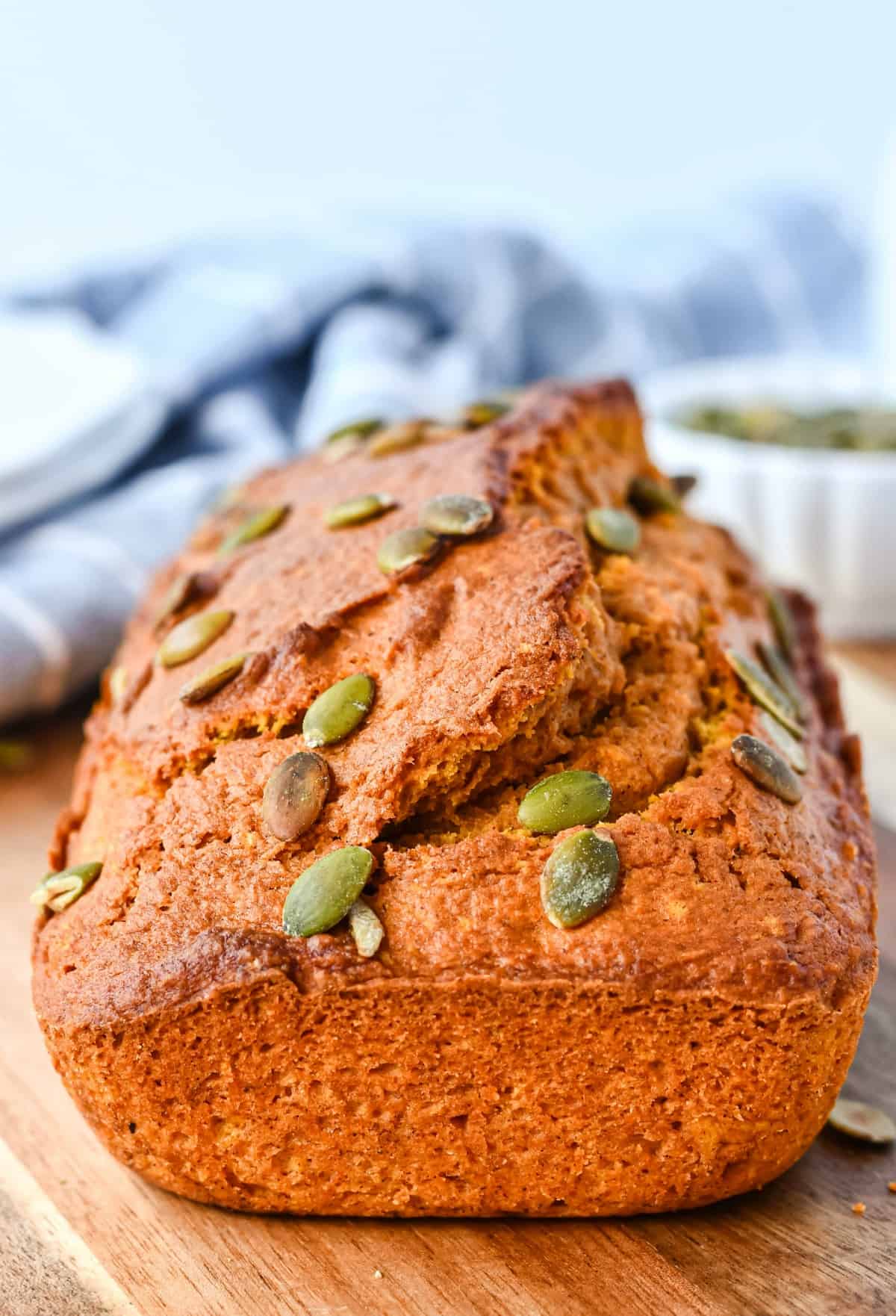 Pumpkin Puree.
Let's get one thing straight: you need real pure pumpkin puree to make good pumpkin bread. Not pumpkin pie mix, not artificial flavor but the good stuff.
Pumpkin puree gives the bread that rich orange color, a ton of moisture and, of course, authentic pumpkin flavor.
It just happens to be packed with all kinds of good-for-you vitamins, too. (More reason to eat this bread for breakfast!)
Spices.
I used pumpkin pie spice blend to flavor the bread–a little goes a long way. Store bought works great or substitute your own homemade pumpkin spice if you like!
Pepitas.
Pumpkin seeds, or pepitas, on top of this pumpkin loaf give the moist bread a satisfying crunch, but they are strictly optional. This bread still tastes amazing without the seeds.
Step by Step Instructions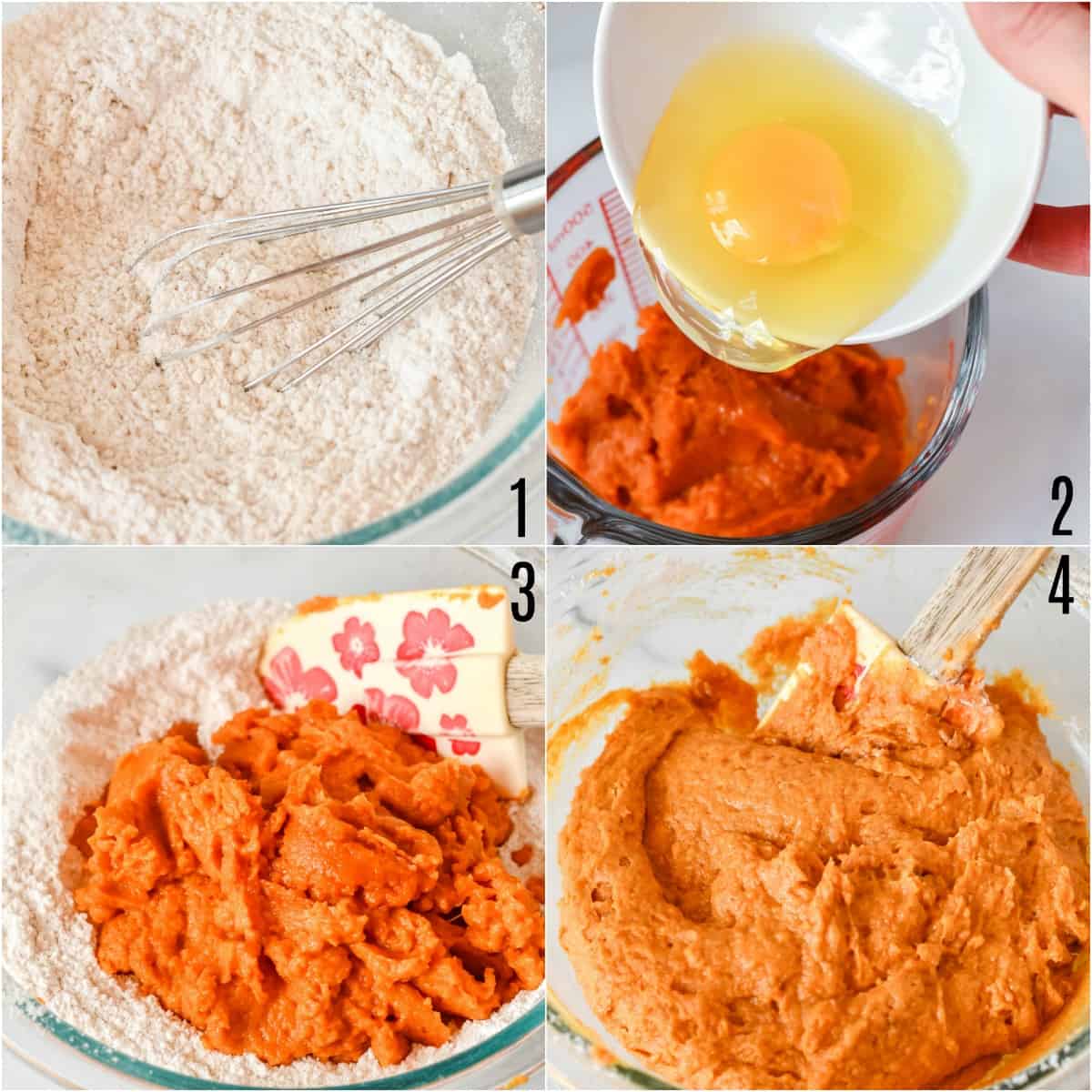 STEP 1. Mix the dry ingredients
Sift together the flour, pumpkin pie spice, baking soda, salt, and sugar. Whisk to combine.
STEP 2. Mix the wet ingredients
In a separate bowl, mix the eggs, pumpkin, milk and and melted butter.
STEP 3. Combine the batter
Add the wet ingredients into the dry and fold to incorporate just until there are no dry spots left in the batter.Pour the batter into the prepared loaf pan and sprinkle pumpkin seeds on top.
You can gently press them into the batter to make sure they stick.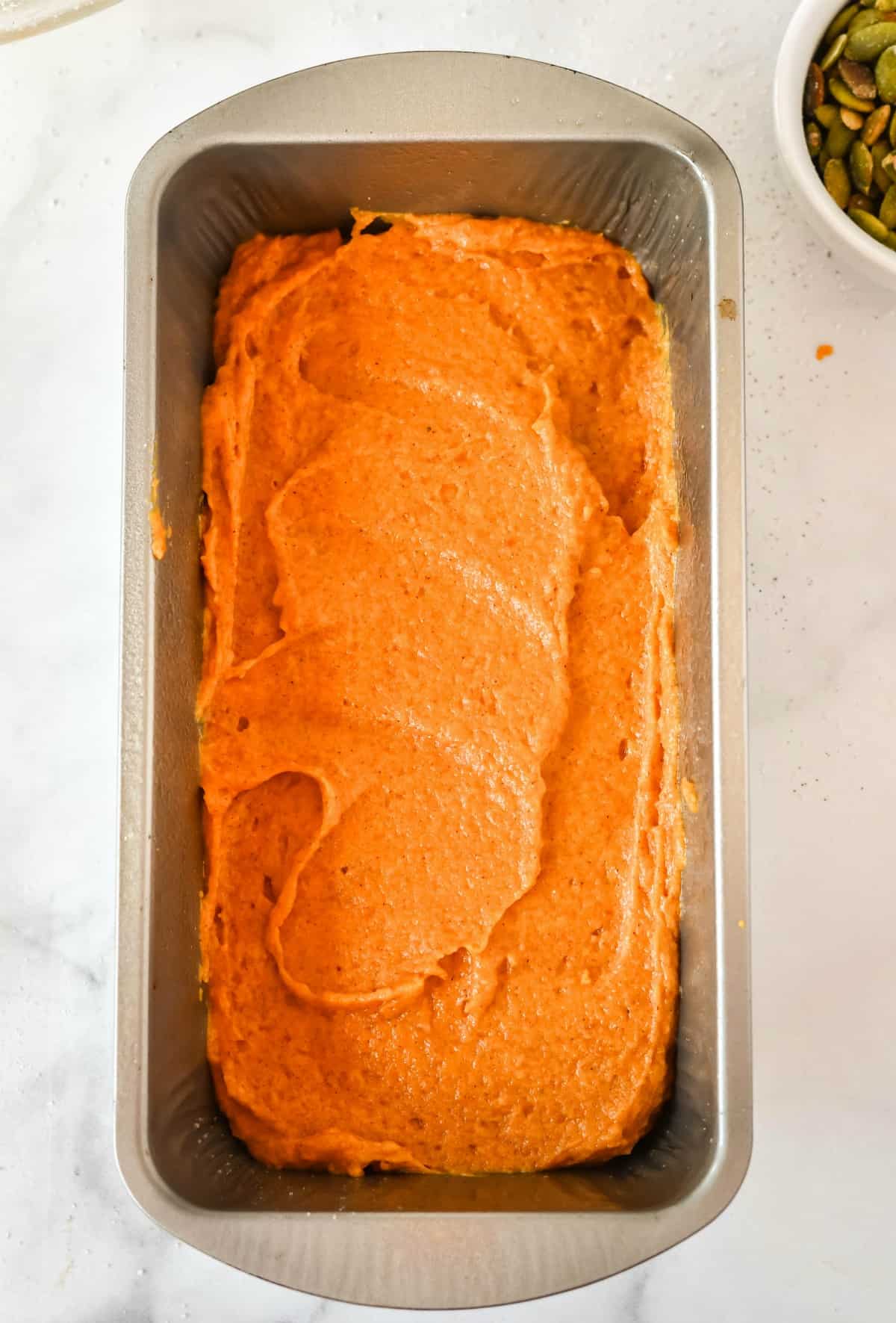 STEP 4. Bake!
Bake the pumpkin bread for 40-45 minutes or until a toothpick inserted in the center comes out clean.
Allow to cool in the pan for 10-15 minutes and then turn out onto a wire rack to finish cooling.
Once cooled completely, cut into slices and serve!
Recipe FAQs
Can I use homemade pumpkin puree instead of canned?
Yes! Just make sure that it isn't already seasoned with cinnamon and spices and has been cooked fully.
How do I store pumpkin bread after baking?
Keep your freshly baked pumpkin bread covered or wrapped tightly in plastic wrap to keep it tasting its best. Enjoy within 3 days.
Can I freeze a pumpkin loaf?
Pumpkin bread freezes beautifully. Double wrap in foil and a freezer safe bag and it'll last in the freezer for about 3 months. I also like to freeze individual portions so I can take out a single slice at a time (great for lunchboxes!).
Serve this for breakfast, as a snack during your coffee break or bring a loaf to share with friends. This makes a perfect addition to Thanksgiving breakfast or a holiday dessert tray too.
What are you waiting for? You NEED this copycat Starbucks pumpkin bread in your life now.
Skip the coffee shop run and make the tastiest ever Pumpkin Bread right in your own kitchen! Happy fall!