Pumpkin Zucchini Bread is an incredibly moist, flavorful treat topped with a cinnamon cream cheese frosting. This recipe makes two freezer friendly loves —one for now and one to save for later!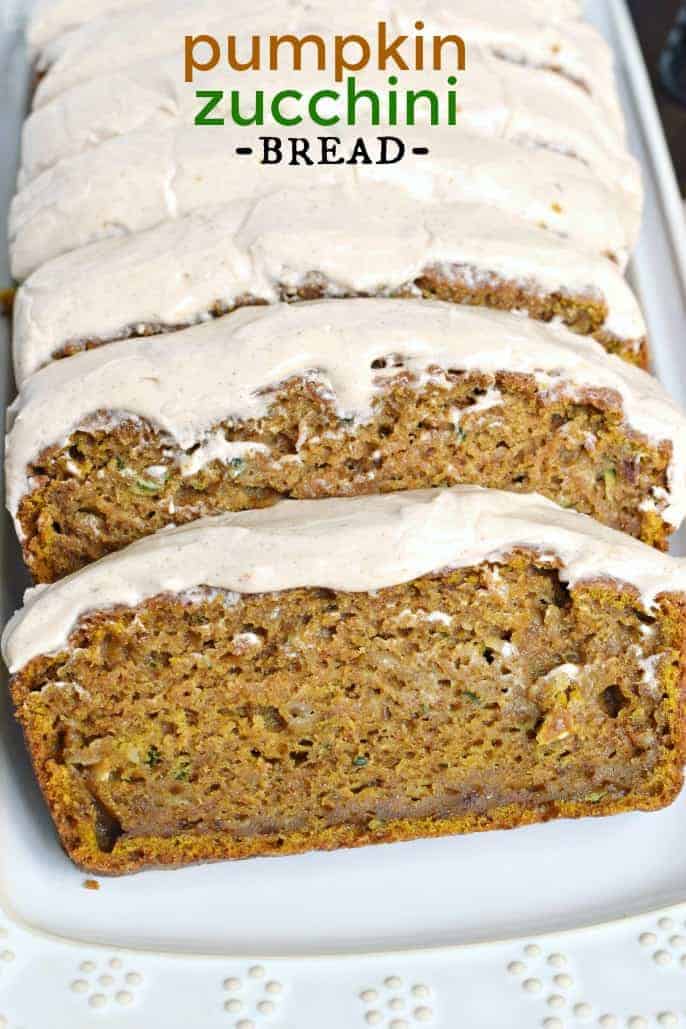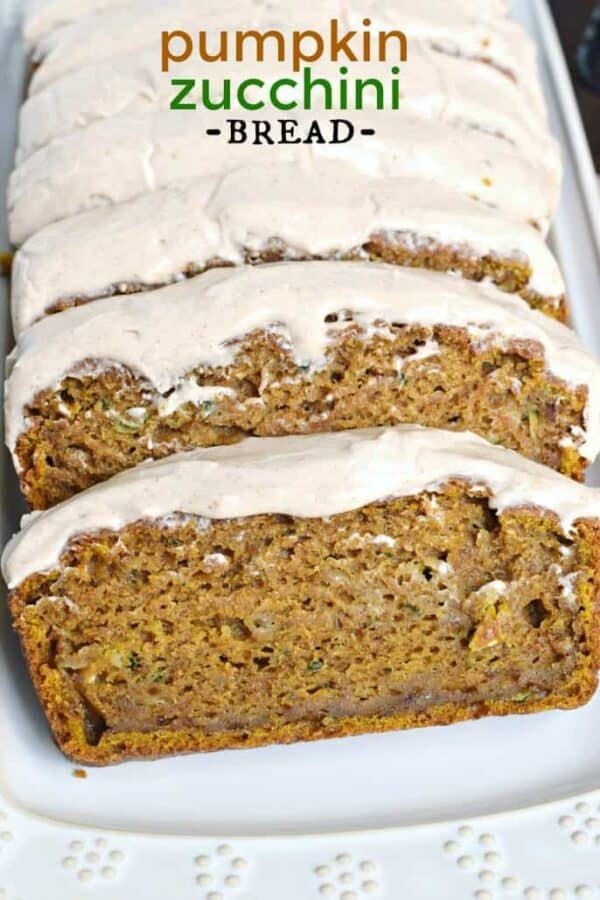 Why this Recipe is Best
Zucchini and pumpkin combine for a super moist loaf.
The batter comes together in one bowl.
It makes two loaves at once!
Freeze one to enjoy later or share with a friend.
A thick layer of cream cheese frosting adds a decadent finish to the sweet pumpkin bread.
You've had zucchini bread. You've had pumpkin bread. It was only a matter of time before we found a way to combine these two favorite quick bread flavors.
A slice of pumpkin zucchini bread with a cup of coffee is exactly how I'd prefer to start just about any day of the week. Enjoy it for breakfast, dessert or anytime of day!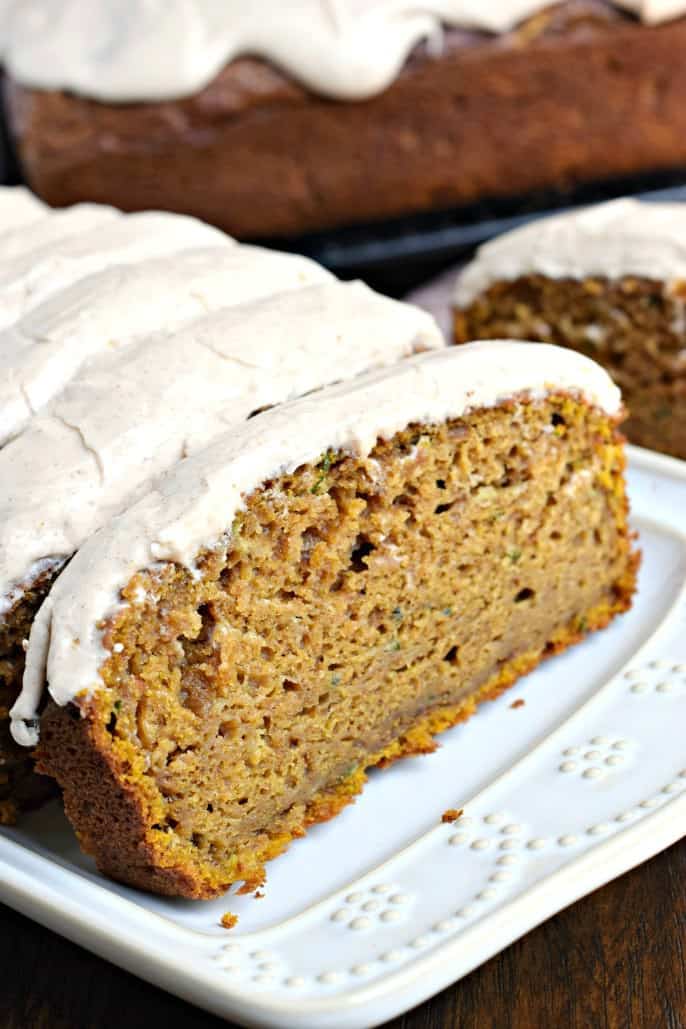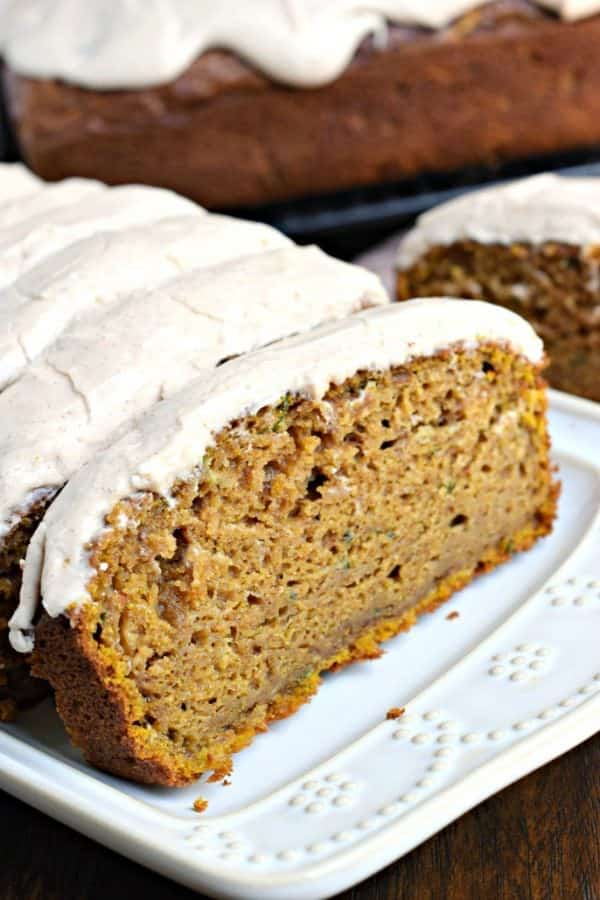 Ingredient Notes
Shredded zucchini – Here's a handy guide for how to shred zucchini for this and all of our baked goods made with zucchini.
Canned pumpkin – Make sure to use the PURE pumpkin, not pumpkin pie mix.
Spices – We use a blend of cinnamon, nutmeg, cloves and ginger. Or use this pumpkin pie spice instead of adding each spice to the batter separately.
Easy Instructions
Pumpkin Zucchini Bread is quick and easy to prepare.
Mix together the batter ingredients and divide it between two loaf pans. Bake the loaves and let them cool while you make the frosting.
Spread the frosting over the top of the cooled loaves. Slice, serve and enjoy every last bite!
If you won't be eating both loaves right away, double wrap one in foil and freezer bags and stash it in the freezer. Let pumpkin zucchini bread thaw in the refrigerator before eating.
Recipe FAQs
How long does this bread keep in the freezer?
This pumpkin zucchini loaf will stay good for about 3 months in the freezer. Make sure to double wrap it for best freshness.
Do I freeze the bread before or after frosting?
You can do it either way. Cream cheese frosting holds up well to freezing so feel free to add the frosting before putting the loaf in the freezer. You can also spread the frosting on the pumpkin bread after thawing if you prefer.
Why is my batter so watery?
The amount of water in your zucchini bread is partially determined by the water content of the zucchini you use. Using zucchini that's been frozen and thawed tends to add more water to baked goods. If you use frozen thawed zucchini, I recommend squeezing out some of the excess water with a paper towel before using it in this recipe.
What size loaf pan do I need?
We made our pumpkin zucchini bread in two 9 x 13 loaf pans. If you use a different size or shape of pan, you will need to adjust the baking time accordingly.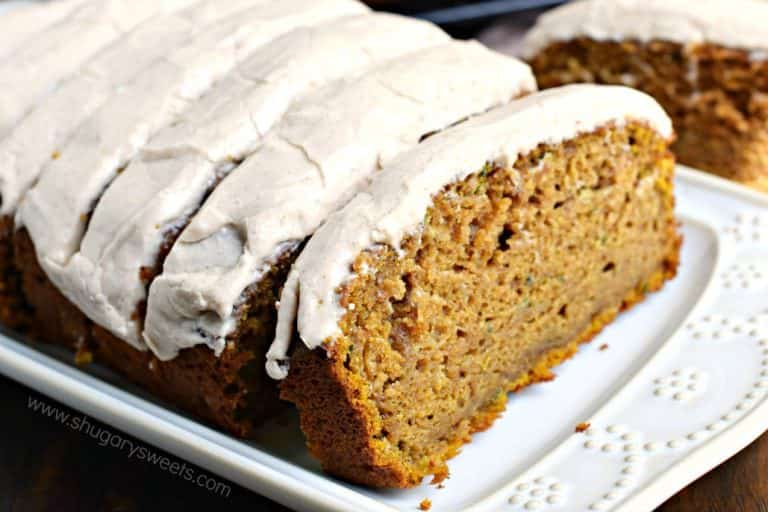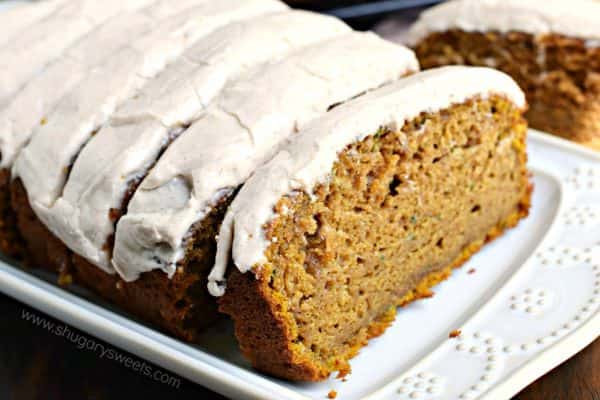 More Fall Baking Recipes