Pumpkin Cream Cheese Muffins are a copycat Starbucks treat. Packed with flavor, these muffins have a sweet cream cheese filling and spiced pumpkin seeds sprinkled on top. Easy to make and freezer friendly!
Make a batch of Pumpkin Cream Cold Brew to serve with these Starbucks inspired muffins. Total autumn heaven! Or try the new Apple Crisp Macchiato recipe to pair with these muffins.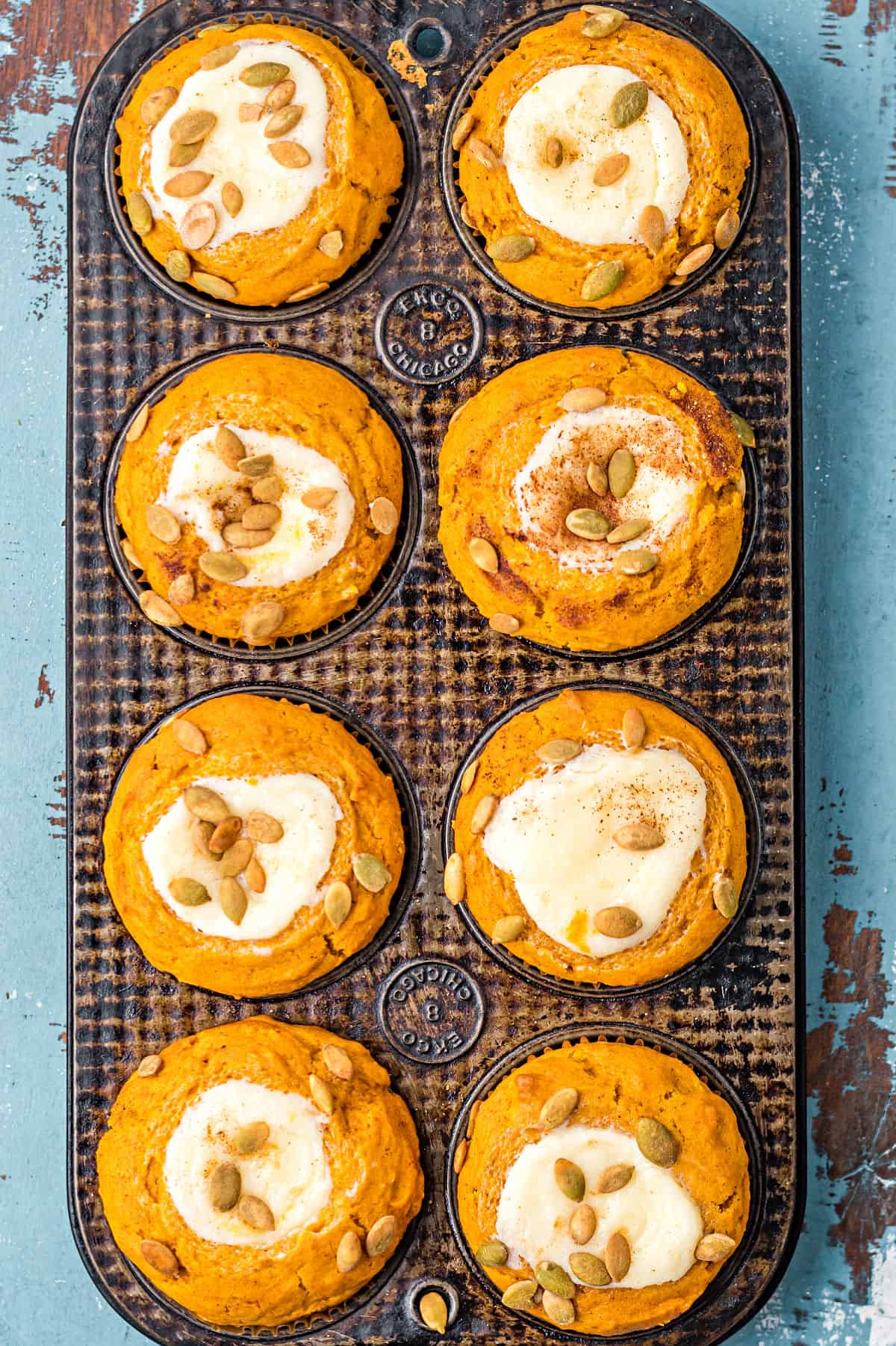 Why this Muffin Recipe is Best
My friends know I love a Starbucks run from time to time. Especially when all the seasonal drinks and pastries start to come out in the fall.
What I love even more? Learning how to make my own versions of those tasty treats at home.
I'm always ready to invite a friend over to share a Mocha Latte or a plate of Cranberry Bliss Bars. And who can resist a slice of Starbucks Lemon Loaf?
After tasting one of the Starbucks pumpkin muffins filled with cream cheese last year, I knew I had to add them to my list of recipes to replicate.
If you love all things pumpkin (like me), I know you'll fall in love with these muffins!
These taste just like Starbucks Pumpkin Cream Cheese Muffins but at a fraction of the cost.
The moist pumpkin muffins have a sweet cream cheese center baked right in.
A dusting of pumpkin spice and a few pumpkin seeds on top makes them look as amazing as they taste!
Ingredient Notes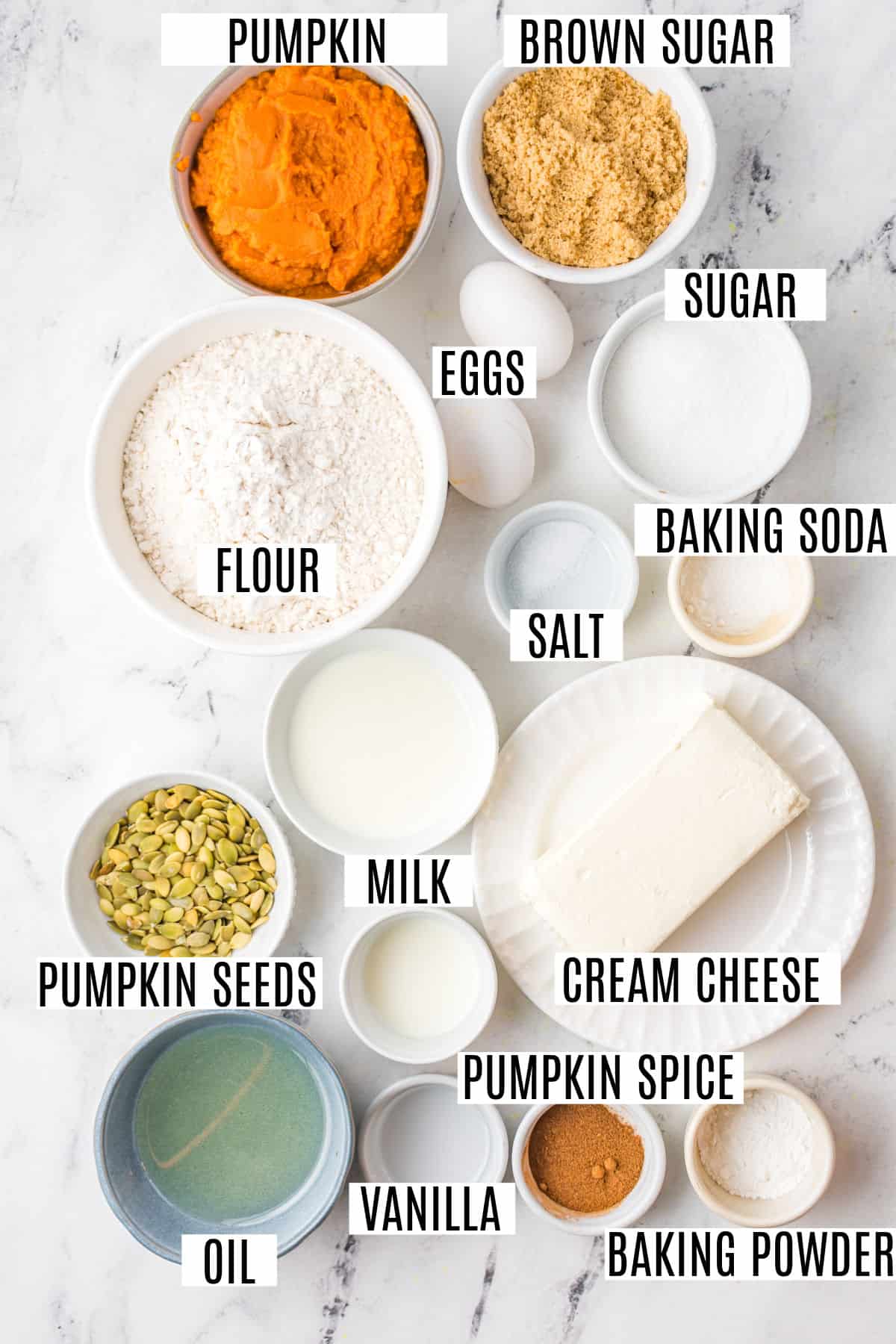 Canned pumpkin. Make sure to use pure pumpkin puree–not pie filling–in today's recipe.
Sugars. A combination of granulated sugar and brown sugar in the muffins creates a soft, yet moist texture.
Oil & Milk. Both are needed to add fat (which creates the delicious texture and flavor) without creating a dense muffin.
Vanilla extract. Use a pure vanilla extract or try our homemade vanilla extract recipe!
Pumpkin pie spice. Our Homemade Pumpkin Pie Spice is perfect here.
Cream cheese. Use full fat, unflavored cream cheese. Let it soften on the counter for a few minutes before making the filling.
Easy Instructions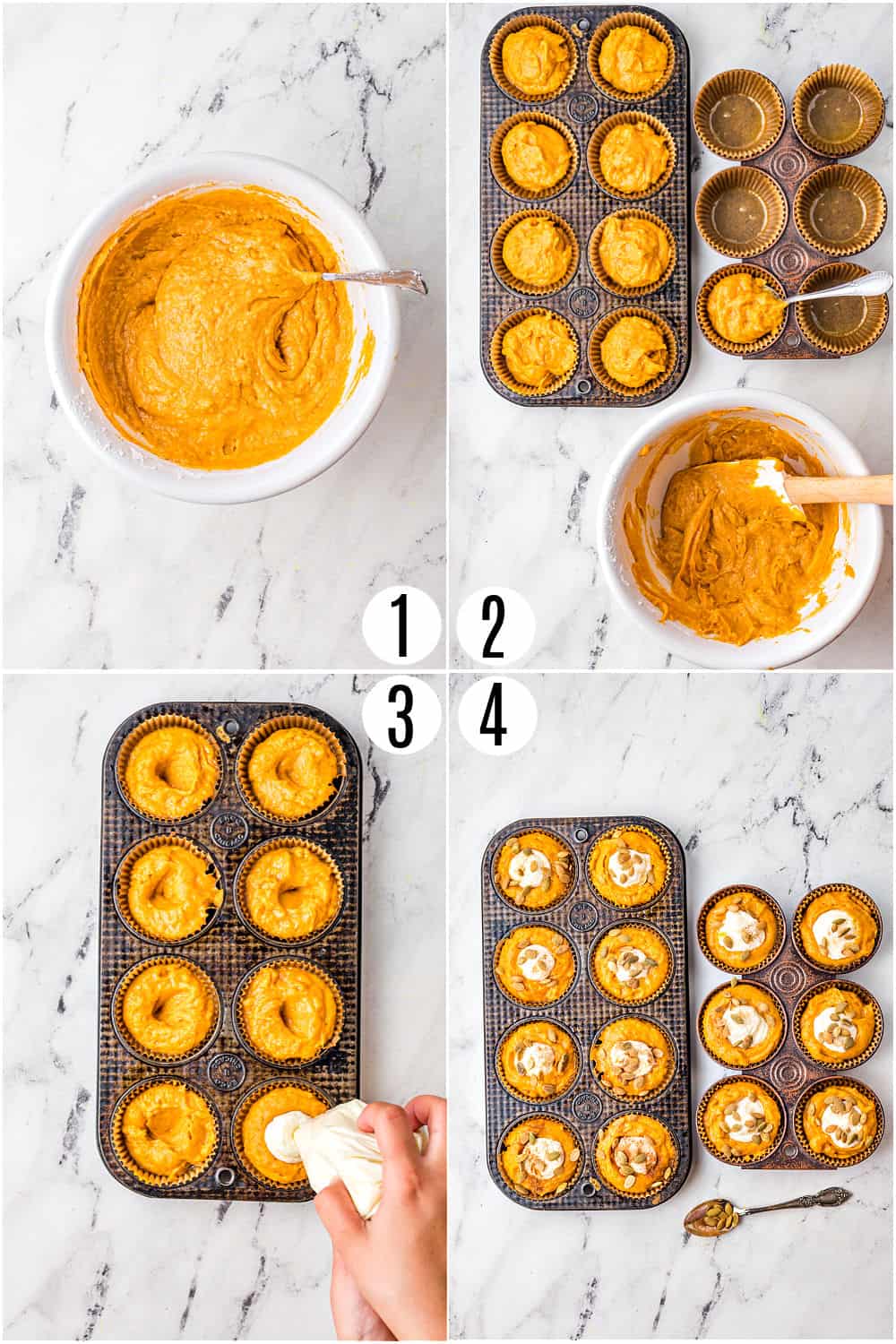 To make pumpkin cream cheese muffins, start by mixing together the ingredients for the batter.
Spoon the batter into prepared muffin tins. Then, beat together the cream cheese filling.
To fill the muffins, add the filling to a ziploc bag. Snip of the corner and insert it into the center of each unbaked muffin. Pipe in the filling until you see a bit of it sticking out the top.
Sprinkle pumpkin seeds and pumpkin spice over the muffins before baking.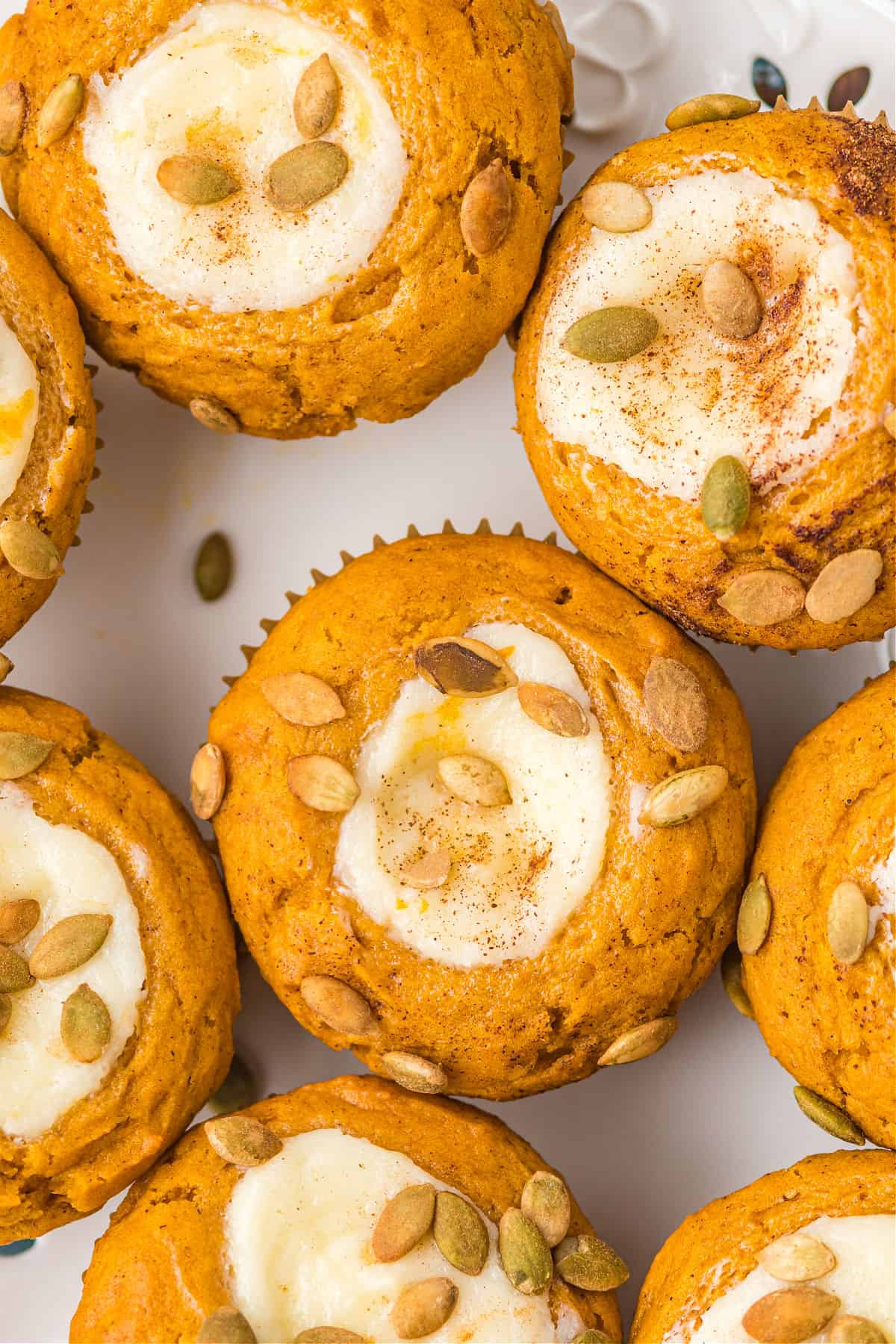 Tips & Tricks
Be careful not to overmix the batter. After adding the dry ingredients, mix just until combined. Otherwise the muffins will be tough.
Use the back of a greased wooden spoon (or metal spoon) to make indentations in the top of each muffin before adding filling.
Toss the pumpkin seeds with the pie spice to get maximum pumpkin spice flavor!
The center of the muffins may look a little jiggly when these come out of the oven. That's okay–the center will firm up as the muffins cool.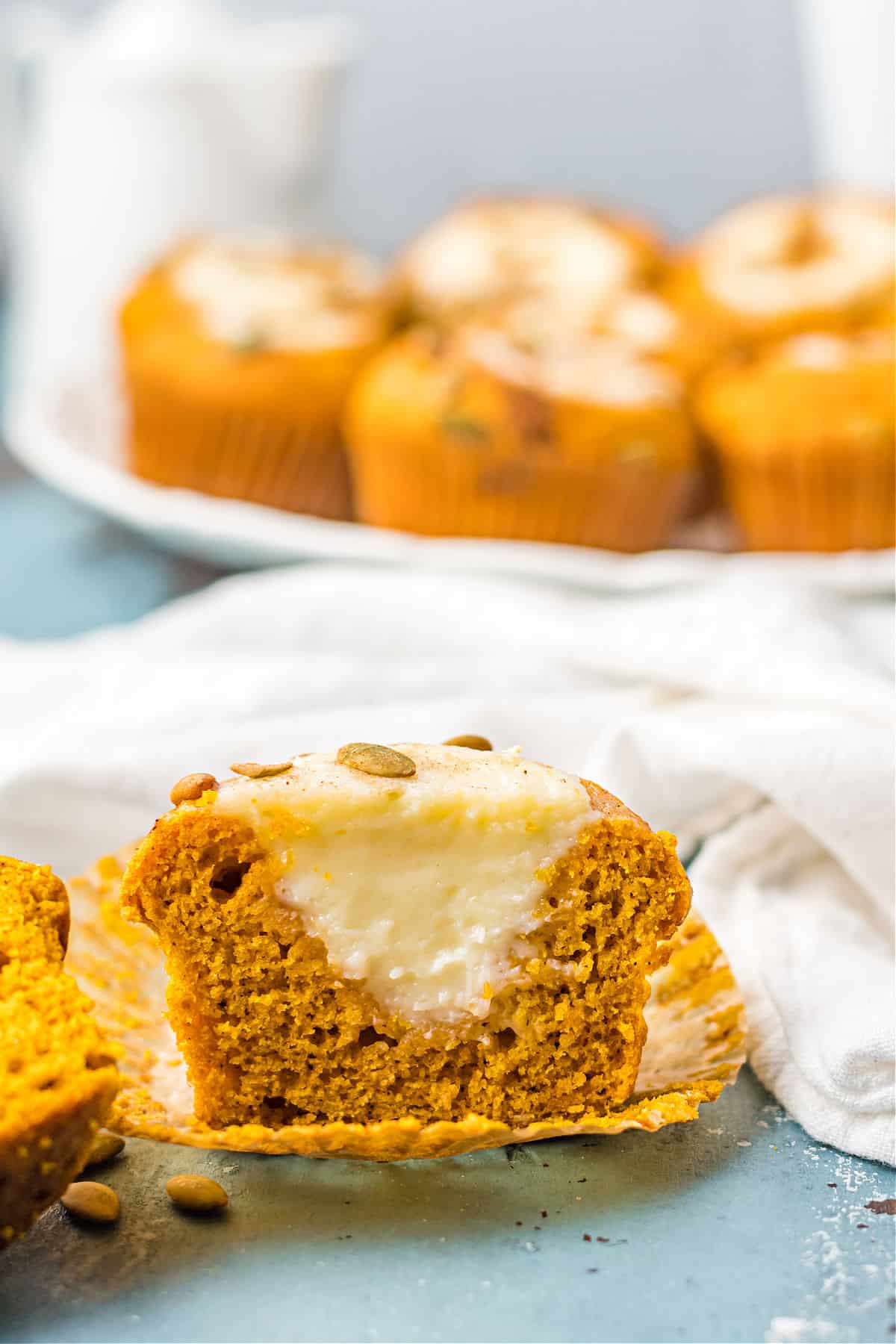 Recipe FAQs
How do you store these muffins? How long do they keep?
You can store baked Pumpkin Cream Cheese Muffins in the refrigerator for up to 7 days.
Can I freeze these muffins with cream cheese filling?
Yes, these muffins hold up well to freezing! Double wrap in freezer bags to keep them fresh. They'll keep well for up to 3 months. Let frozen pumpkin muffins thaw in the refrigerator overnight before serving.
Will the recipe work for mini muffins?
I haven't tested this recipe in a mini muffin pan, but I expect it would work just fine. Small muffins will bake more quickly than regular sized muffins, so check on them frequently to avoid overcooking.
More Fall Recipes
Welcome fall with these delicious Pumpkin Cream Cheese Muffins. Served with coffee, tea or a hot cup of cider, they're a seasonal treat everyone will love.