Do you love a hot, creamy Mocha Latte? Make your favorite Starbucks drink at home–no espresso machine needed!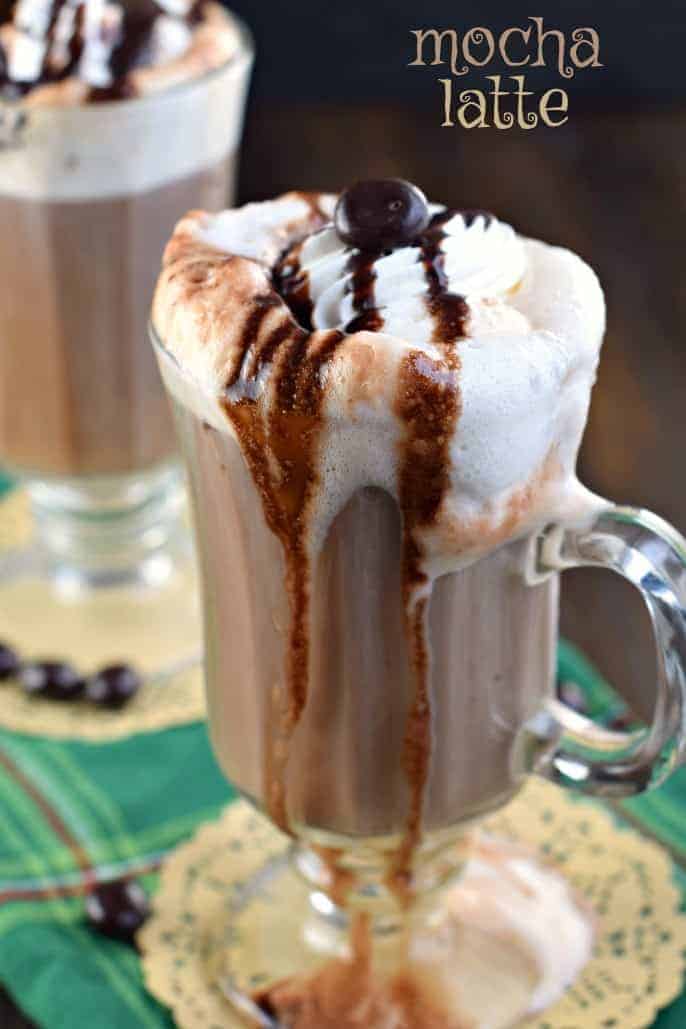 So I'm hoping all of you regular Shugary Sweets followers know about my thing with coffee? Yes?
If not, let me fill you in: I LOVE COFFEE!
I also love chocolate. So chocolate and coffee together is a bit of an obsession.There. Now we're all on the same page and we can talk about this Mocha Latte recipe!
Starbucks Drinks
It's not just the flavor of coffee that makes me happy, but the ritual of it, too. From picking out my mug for the day, to smelling the aroma of the coffee as it brews…to adding in my favorite flavor creamer.
Another thing I love? Recreating Starbucks drinks at home. Because I don't know about you, but I do NOT want to pay $6 for a drink that I can easily make at home.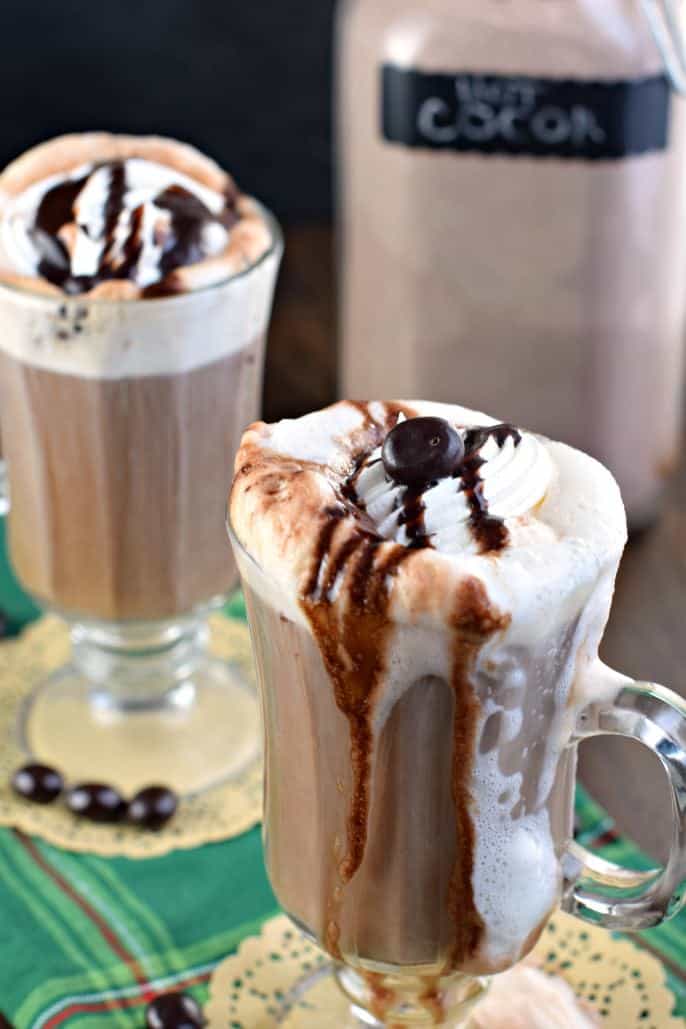 Mocha Latte Recipe
A traditional mocha latte has a shot of espresso mixed with chocolate syrup, covered in hot steamed milk and topped with a teensy bit of foam. If you're like me, you won't turn down a dollop of whipped cream on top either.
But you don't need an espresso machine or a milk frother to make this copycat Starbucks mocha!
My Mocha Latte recipe requires ZERO special equipment. I use a mason jar and lid and SHAKE SHAKE SHAKE. If you have an aerator that you can froth your milk, that works (I have this handheld one). But, seriously, just a mason jar works too!
How to Make a Mocha Latte
Here's everything you need to make your own homemade mochas:
Coffee – If you don't have espresso, make sure your coffee is STRONG! I make mine double strength for this recipe.
Milk – Starbucks uses 2% as the standard for their menu drinks, but whole milk, skim and your favorite nondairy milk are all good choices too.
Hot cocoa mix – The sweetened kind, not cocoa powder
Whipped cream and chocolate syrup for garnish – Optional but highly encouraged
To make the mocha latte: In a mason jar, or glass pitcher, heat milk in the microwave for 30 seconds. Screw lid on tight and shake jar vigorously for a minute or until frothy.
Repeat two more times for a total of 90 seconds of heating and 3 minutes of shaking.
Now, add hot cocoa mix to two mugs. Pour hot coffee into mugs, and stir until the hot cocoa is blended. Slowly pour frothy milk over coffee.
Add whipped cream and chocolate syrup, if desired. This recipe makes enough mocha latte to fill two standard sized coffee mugs.
Tips and Tricks
Start with double strength coffee. I brew my coffee extra strong when I know I'm going to be making a latte. You'll dial down the coffee flavor as soon as you add the milk, so you want to be sure that your coffee is strong enough to taste!
Use coffee with a bold flavor. Lots of coffee brands have an "espresso roast" variety. Those are my favorite for making lattes with a strong taste, even if you're not using them for actual espresso.
Be careful when you shake the jar of milk–the jar gets hot!
Use any type of hot cocoa mix for making the mocha. There are some great "flavored" cocoas that would be yummy, like peppermint cocoa! Add it to your coffee mug before the coffee. Give it a good stir with the hot coffee before adding your frothy milk!
Doubling the recipe: It's easy to double or triple the recipe if you have a large enough mason jar to shake up the milk. You will need to heat the milk for another 30 – 60 seconds to get it to the right temperature. It needs to be hot enough to dissolve the cocoa mix.
Go the extra mile and add some whipped cream and chocolate syrup. Just do it–you deserve it! You could also get extra fancy and add a chocolate covered espresso bean or some chocolate shavings to your mocha.
Recipe FAQ
What's the difference between a mocha and a latte?
A latte is a drink made by adding steamed milk to a shot of espresso. A mocha is simply a latte with the addition of chocolate! By adding cocoa mix to frothy milk, you turn an ordinary latte into a creamy mocha.
Can I make a mocha latte without espresso?
Yes–I use regular brewed coffee made at double strength for this recipe. The key is making sure your coffee is strong enough to stand up to the sweetness of the cocoa mix.
You can also use a moka pot or an aeropress to get an exceptionally strong coffee. These are close to perfect copycats of true pulled espresso.
Can I make this mocha latte recipe with almond milk?
This mocha recipe works beautifully with just about any kind of milk! I've made it with 2% milk, whole milk, soy milk and almond milk with delicious results. Oat milk and coconut milk (from a carton) are other great choices.
Skip the line at the coffee shop and make a creamy delicious mocha latte at home for a fraction of the cost with this copycat Starbucks recipe.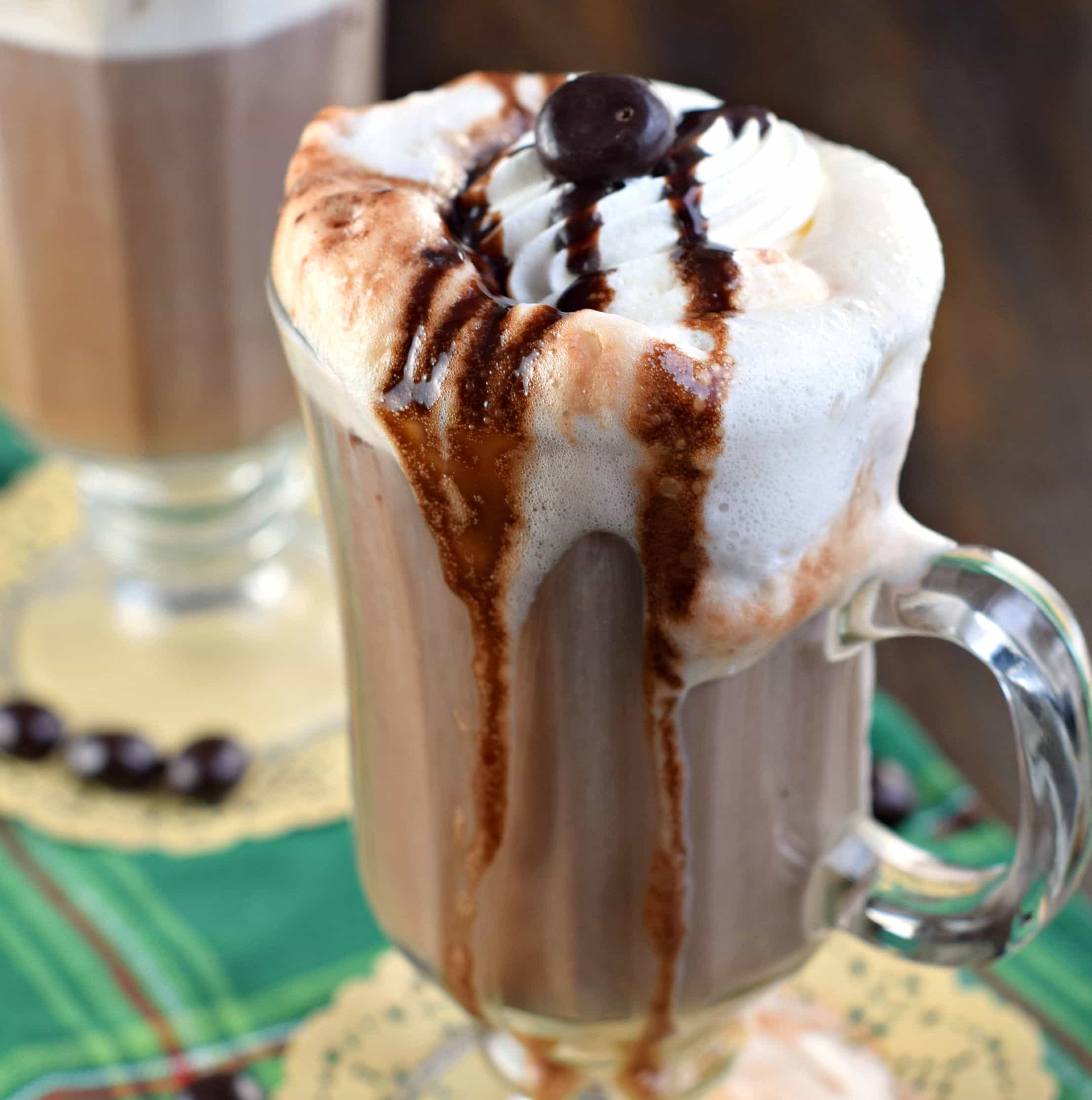 More drink recipes