This Skinny Caramel Mocha Recipe offers a lighter twist on the coffee shop favorite. Skip the drive thru line and make this easy coffee drink at home!
You can save time, money (and even calories) with copycat Starbucks recipes. Once you try it, you'll become addicted to homemade Mocha Lattes and Flavored Coffee Creamers too. Or give our apple crisp macchiato recipe a try next!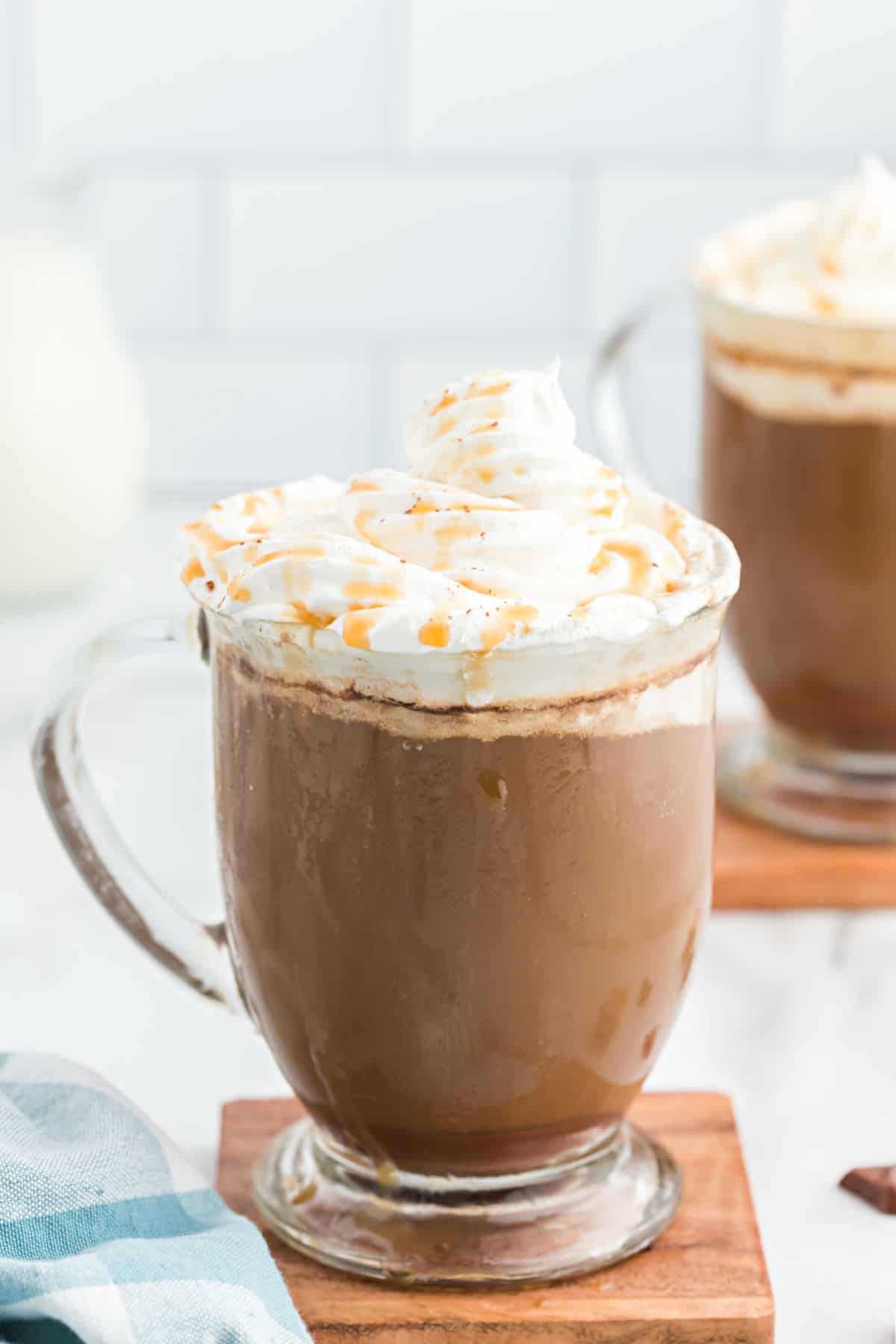 Why this Recipe Works
I normally drink my coffee with a small splash of heavy cream. Or homemade french vanilla coffee creamer!
Sometimes though, a mocha is what I crave! And if it has caramel? More power to it!
Today, I am sharing this easy to make, caramel mocha recipe, that's been "lightened up."
No espresso machine necessary.
Less sugar than the coffee house version .
Customize sweetness based on your preference.
Rich caramel and chocolate flavor.
Decadent taste that's low in calories and fat
Ingredient Notes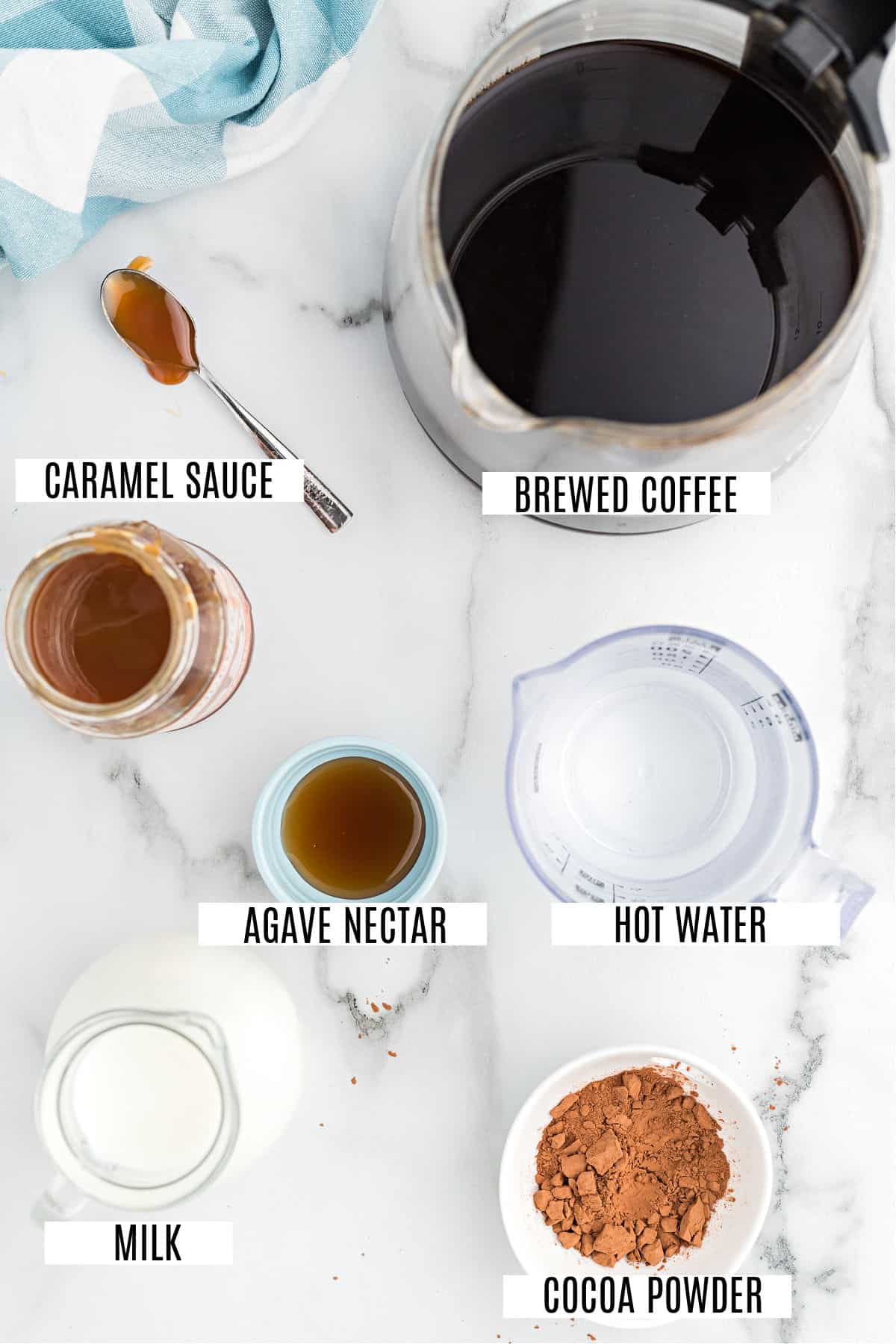 The ingredients you use will determine the total calorie content of your Caramel Mocha.
Here is a breakdown of the calorie count, using the brands of products I use for my recipe (calories may vary depending on brands):
20 calories: Kroger Caramel ice cream topping
30 calories: Rodelle gourmet cocoa powder
20 calories: Domino organic light agave nectar
5 calories: strong brewed coffee
40 calories: Kroger Fat Free organic milk
OPTIONAL: 35 calories: extra caramel topping and 2 Tbsp Kroger extra creamy whipped cream
That's a grand total of 115 calories per large mug or 150 calories per large mug with whipped cream and extra caramel sauce (YUM).
Easy Instructions
STEP 1. Combine cocoa, caramel sauce and agave nectar in a mug. Add hot water.
STEP 2. Pour hot brewed coffee over the contents of the mug and stir to combine.
STEP 3. Add hot milk to the coffee mix and stir.
Garnish with whipped cream and caramel sauce if desired. Sip and savor!
Tips and Tricks
Foam the milk. If you want more of a barista touch to your skinny caramel mocha, shake the hot milk in a mason jar first. It incorporates more air into the milk adding a layer of foam to the top of your mocha.
Use double strength coffee. I brew my coffee at twice the ratio of beans to water when I'm making my homemade lattes.
Use a "bold" or "espresso" roast. Choose a strong, dark roast for a more pronounced coffee flavor in this caramel mocha.
Top this sweet drink with some toasted coconut for a delicious crunch!
This mocha isn't as sweet as a coffee house mocha, but the extra whipped cream and caramel do add a bit more sweetness! You can also add more agave nectar to sweeten if you like!!
Recipe FAQs
Can I make this recipe as an Iced Skinny Caramel Mocha?
Yes, but it will be more difficult to dissolve all of the cocoa and caramel if you don't use any hot ingredients. I would add hot coffee to the caramel as directed, stir to fully combine, then let it cool . Add cold milk and coffee ice cubes to serve.
What kind of milk is best for this recipe?
For a "skinny" caramel mocha latte, you should use nonfat or lowfat milk. Unsweetened almond, soy or oat milk are tasty choices for a nondairy mocha. This recipe will also work with whole milk if you prefer. The calorie content will just be higher.
What kind of caramel sauce should I use?
Any kind of caramel topping or syrup you enjoy on your ice cream will work perfectly here. You can also use the caramel syrups made specifically for flavoring coffee, like Torani brand.
More Easy Coffee Recipes