You've seen it all over the Internet–now try it yourself! Dalgona Coffee is the light-as-air instant whipped coffee treat you can make at home. No special equipment needed.
Looking for more TikTok recipes? This Tortilla Hack is our dessert version of that viral trend! Or whip up a batch of delicious Hot Cocoa Bombs!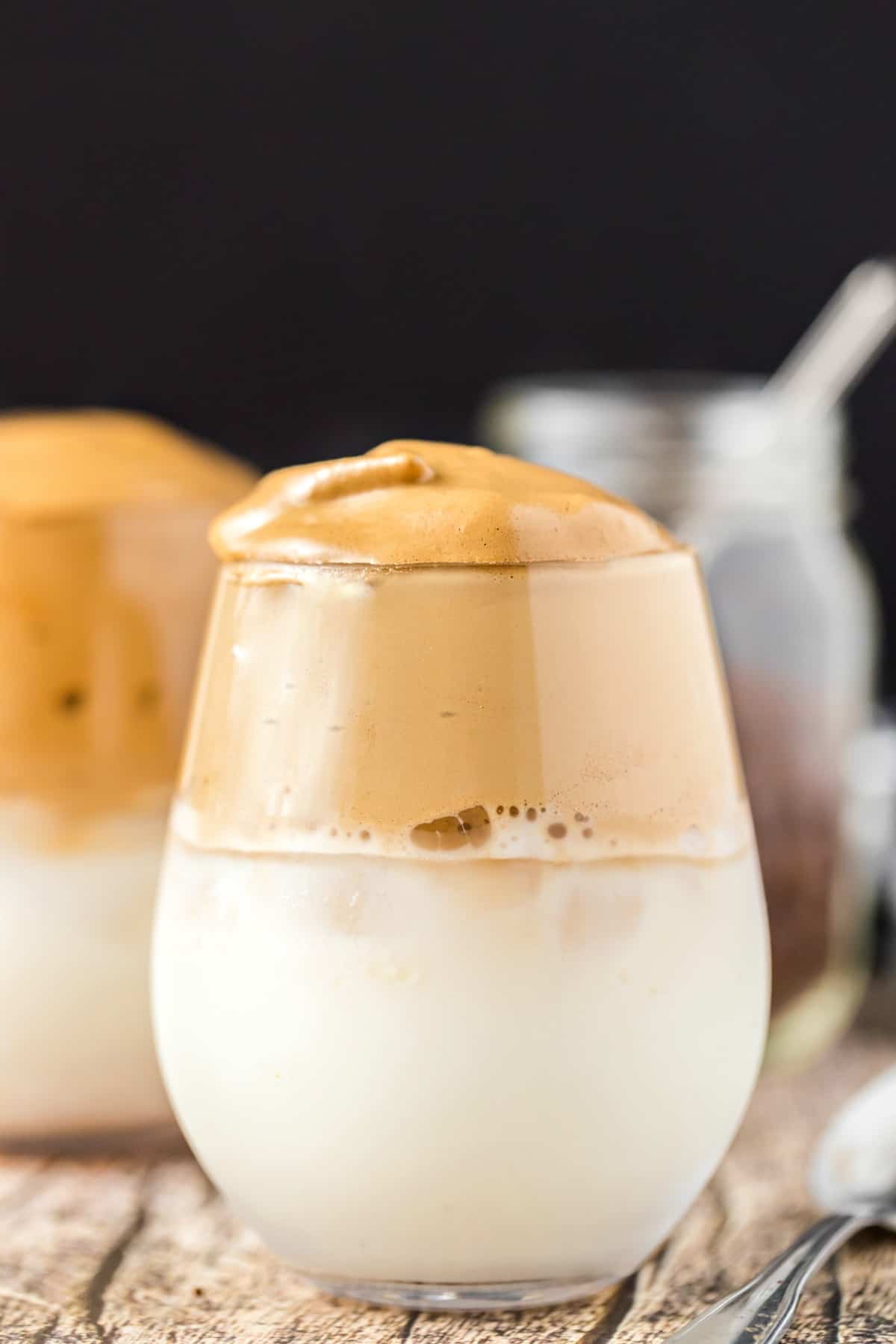 What is Dalgona Coffee?
Some food trends I've seen on social media over the years I just don't get. (Remember when everyone was suddenly making fancy Spam recipes a couple of years ago? No, thank you.)
The whipped coffee trend? This one I get. Dalgona Coffee is well worth the hype!
If you've somehow managed to escape the wave of Dalgona drinking sweeping the world, I'm happy to introduce you!
This sweet caffeinated treat is made from instant coffee, sugar and water beaten together until whipped.
The final product resembles a cross between a mousse and a foam. Served over a glass of milk, whipped coffee is a delicious way to get your caffeine fix!
When Dalgona Coffee first came on my radar, I was surprised. Not because it didn't sound good, but because it was a coffee drink I'd somehow never tried.
For those who are new around here, I LOVE my coffee. I love the taste, the smell, the ritual of making it every morning. And, naturally, I love the boost of energy it gives me to start my day.
Most days, I drink my coffee without a ton of bells and whistles.
But sometimes a girl's gotta have a little something special with her daily java. Instead of spending all my money on a trip to the coffee bar for a specialty latte, I tend toward making my own versions at home.
From Mocha Latte to Eggnog Lattes, I've created plenty of copycats of my favorite cafe beverages at home.
Dalgona coffee? This was new to me!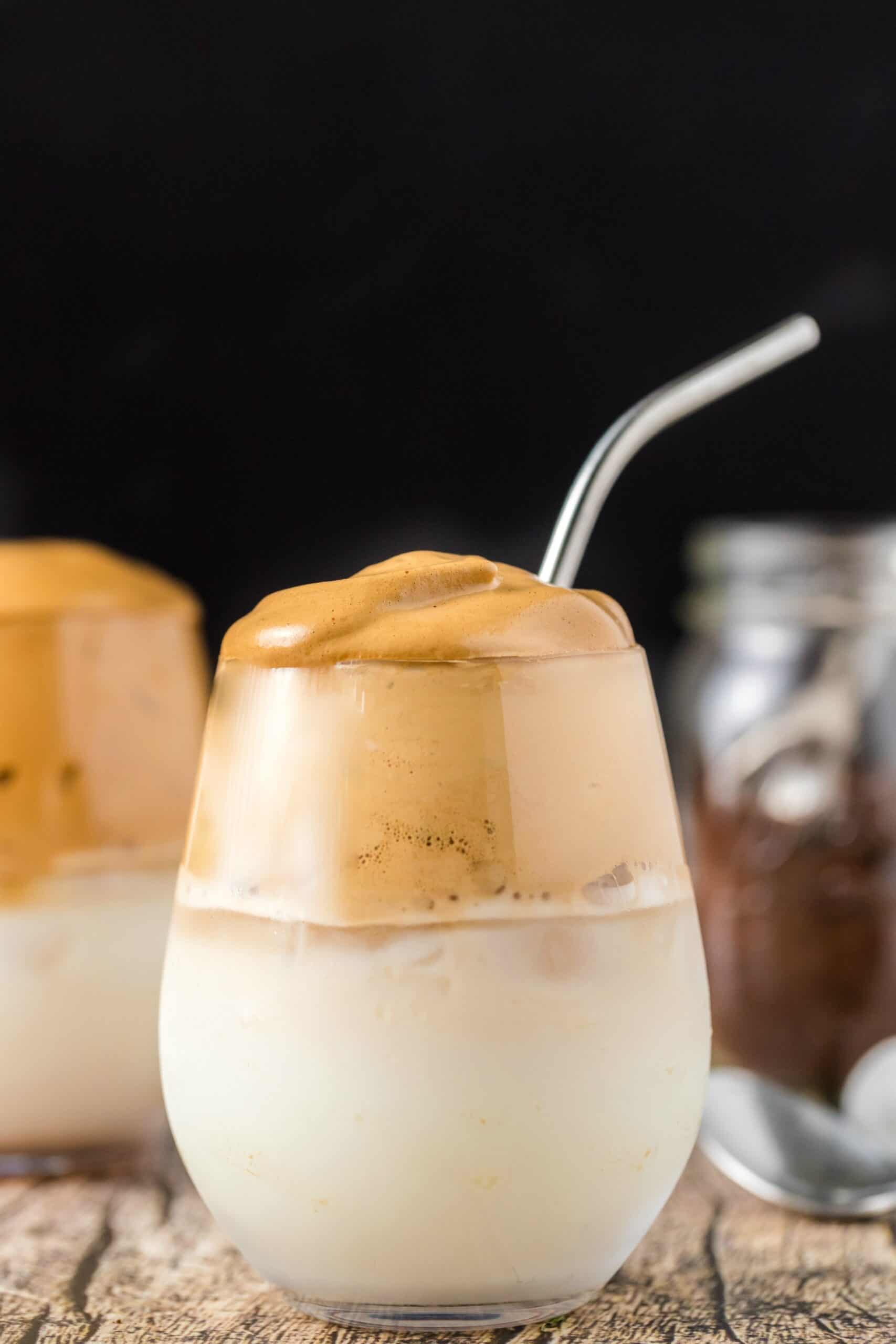 History of Dalgona Coffee
Before giving this pretty looking whipped coffee drink a try, I did a little investigating into the history of Dalgona Coffee.
Whipped or beaten coffee has been a popular specialty drink in the middle east for generations. While Americans tend to shy away from instant coffee, in many countries its the go-to way of making your daily cup.
What better way to enjoy instant coffee than whipping it with sugar and pouring it over milk?
We owe the name "Dalgona coffee" to a Korean TV star who compared its flavor to a popular sponge candy called dalgona. The name stuck and all of a sudden whipped coffee was everywhere!
You might have heard this drink referred to as TikTok coffee but it's also been ALL over Instagram, YouTube and Facebook. I couldn't resist giving it a try.
How to Make Dalgona Coffee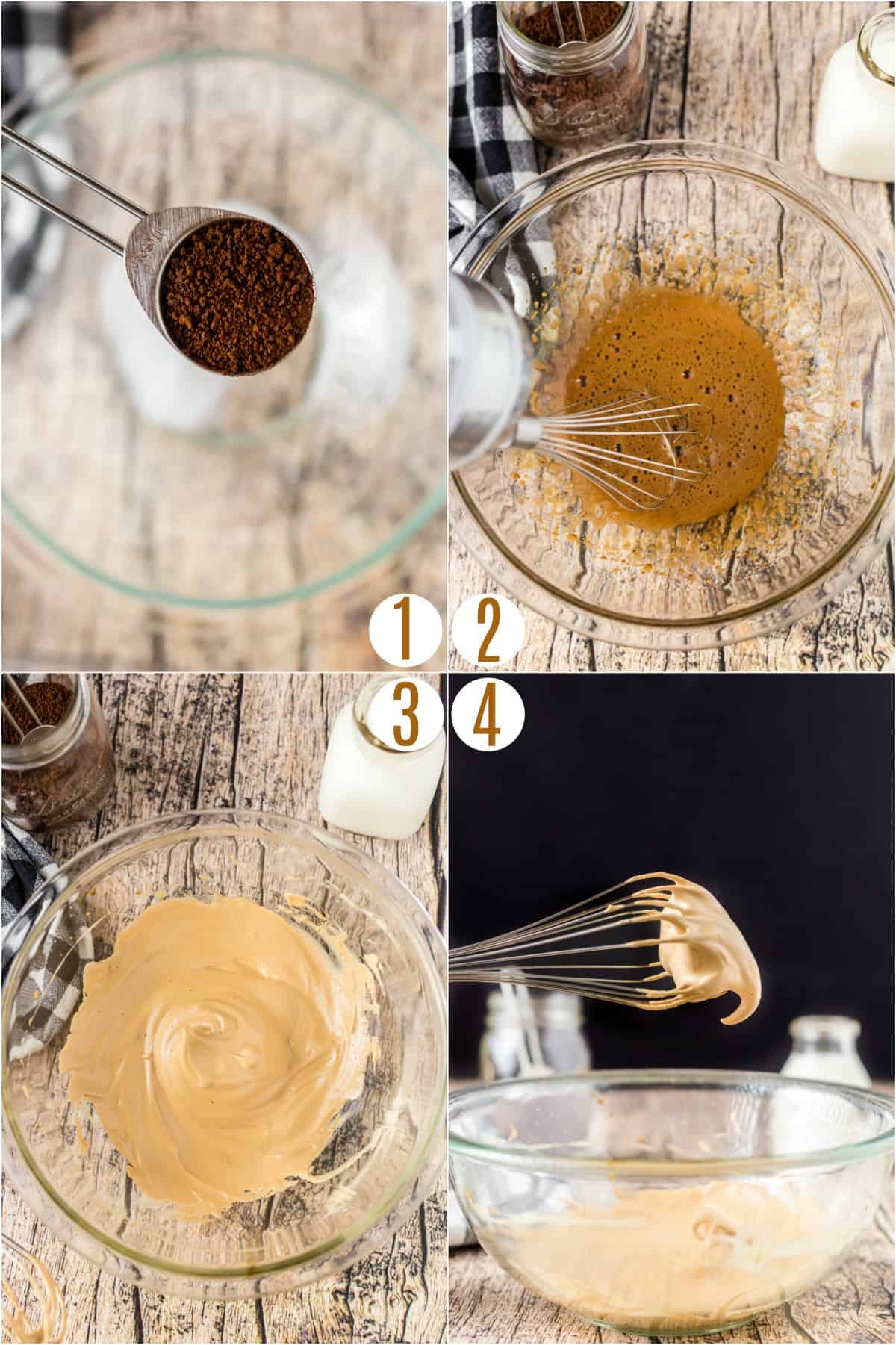 Whipped coffee looks impressive, but you don't need any special equipment or weird ingredients to make this drink.
In fact, the ingredients couldn't be simpler:
Instant coffee granules
Sugar – you can also use monkfruit sweetener!
Hot water
Milk (for serving)
STEP 1. Combine equal parts water, sugar, and coffee in a large mixing bowl.
STEP 2. Whisk with an electric mixer on high speed until the mixture becomes thick and fluffy, 5-7 minutes. It will be a light caramel color and should form soft peaks. It should be similar in consistency to whipped cream.
STEP 3. Pour your milk in a glass. Top with whipped coffee. Stir to combine whipped coffee and milk.
Don't forget to snap a picture of the pretty caramel colored coffee whip on top of your milk before stirring it! Or make a TikTok coffee video.
Or just send pics of your perfect whipped coffee to all your friends and family to make them jealous. (Be sure to tag #shugarysweets so I can see them too)!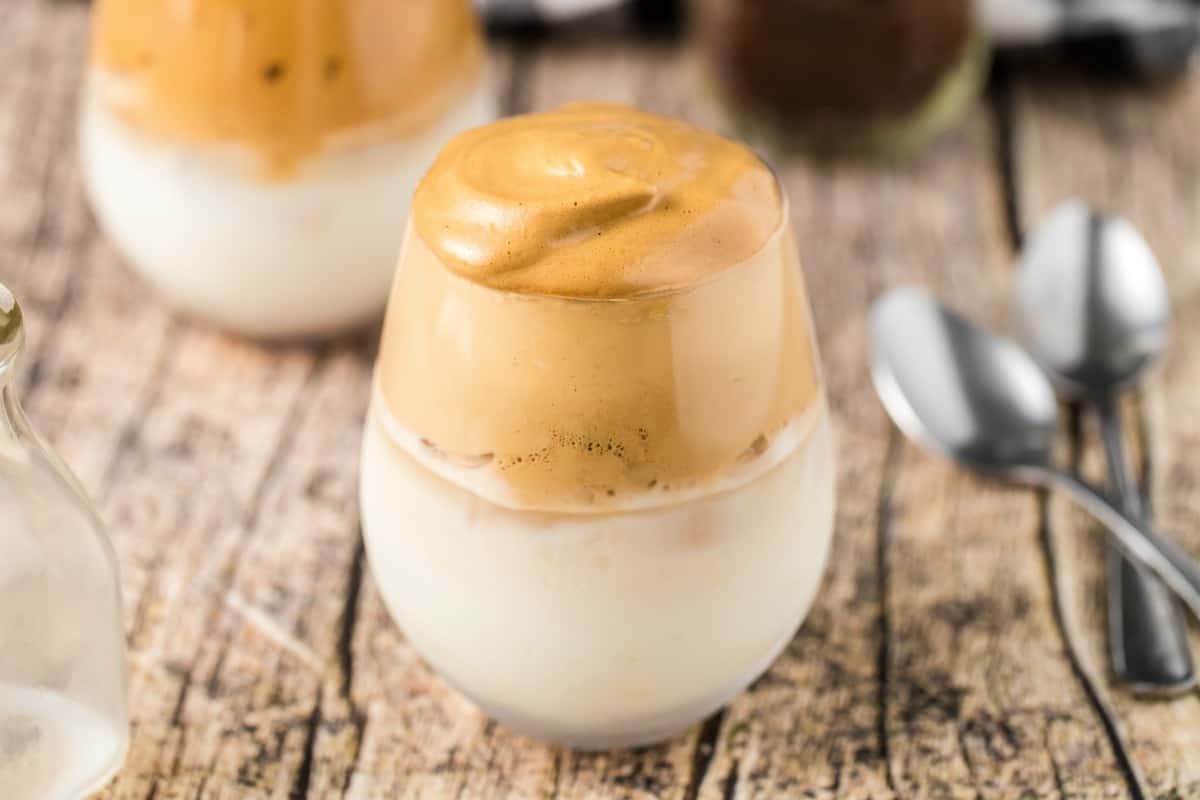 More Flavor Ideas
After you try the classic Dalgona Coffee recipe, have fun mixing it up with some different additions!
Serve the whipped coffee over chocolate milk for an instant mocha, or beat a tablespoon of cocoa powder in with the sugar and water.
My favorite variation is to add a splash of vanilla extract! It tastes like a whipped vanilla cappuccino!
A dash of cinnamon would be delicious as well.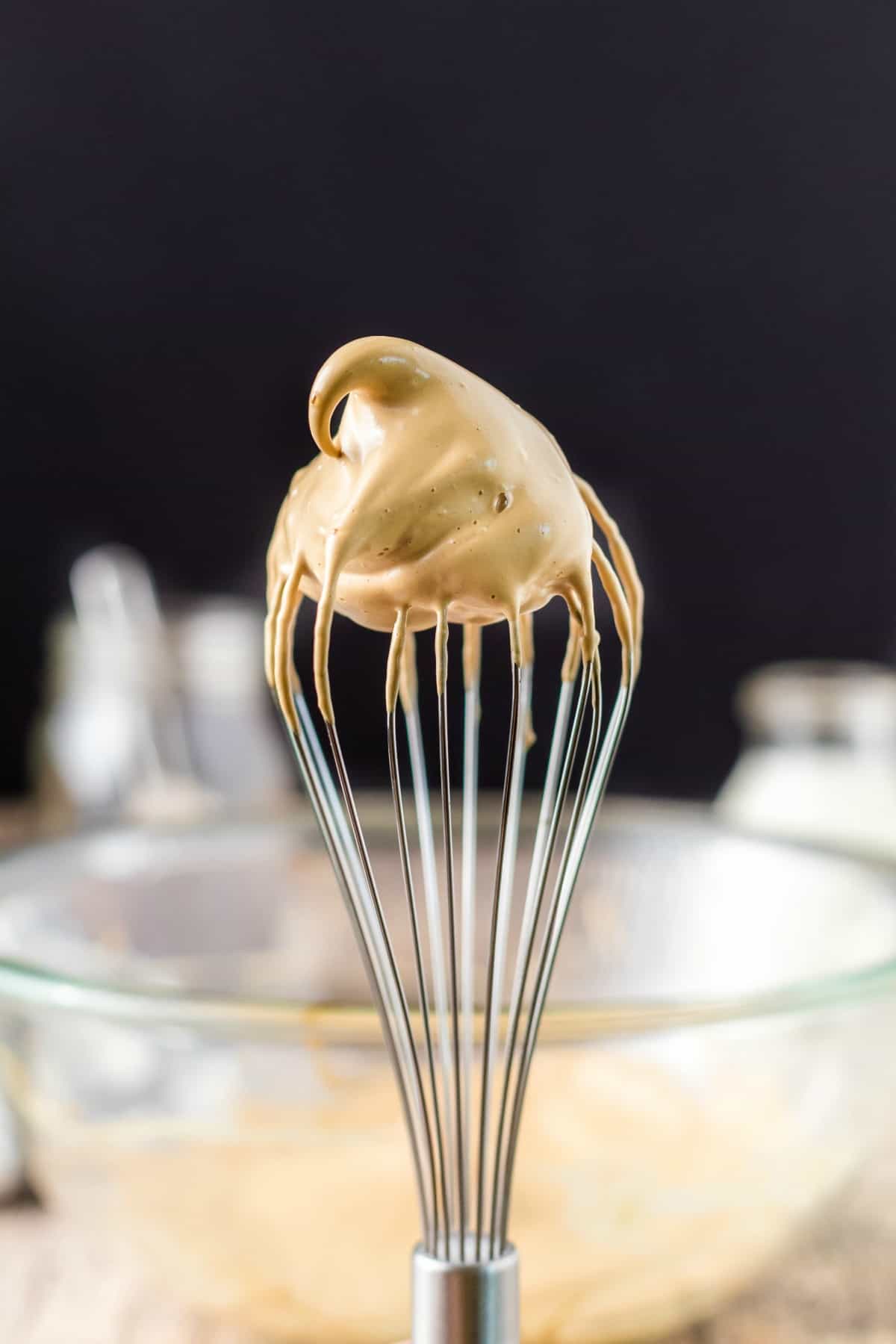 Tips for Making Whipped Coffee
You can serve Dalgona Coffee over cold milk or hot milk. It's delicious both ways! Non dairy milk works well for this recipe, too, if you're avoiding dairy.
If it seems like the mixture will never "whip", don't give up! It takes a few minutes of constant beating. I promise you the time is worth it.
Use a large mixing bowl to prevent splattering. I started with the mixer on low speed and gradually increased it as it thickened to keep splattering to a minimum.
No electric mixer? You can also make this by hand with a whisk. Just be prepared for a major arm workout! It'll also take much longer to achieve the desired texture.
Make ahead Dalgona coffee: Save time by preparing your coffee for the week all at once. This coffee keeps in the fridge for a week in a tupperware container or in the freezer for up to a month. If separation occurs, just give it a quick stir and it'll be ready to drink!
More Coffee Shop Recipes
I'm so happy to have Dalgona Coffee in my rotation of sweet caffeinated drinks to pep up my days. Give it a try and see for yourself what all the fuss is about!