Everyone is talking about the TikTok Tortilla Dessert Wrap. This viral trend is an easy hack for making a layered tortilla dessert in no time. Filled with marshmallow fluff, peanut butter, nutella, berries, Oreos and more!
Are you on TikTok? I was surprised to find some great recipe ideas there, like Dalgona Coffee, Hot Cocoa Bombs, and now, this tortilla wrap!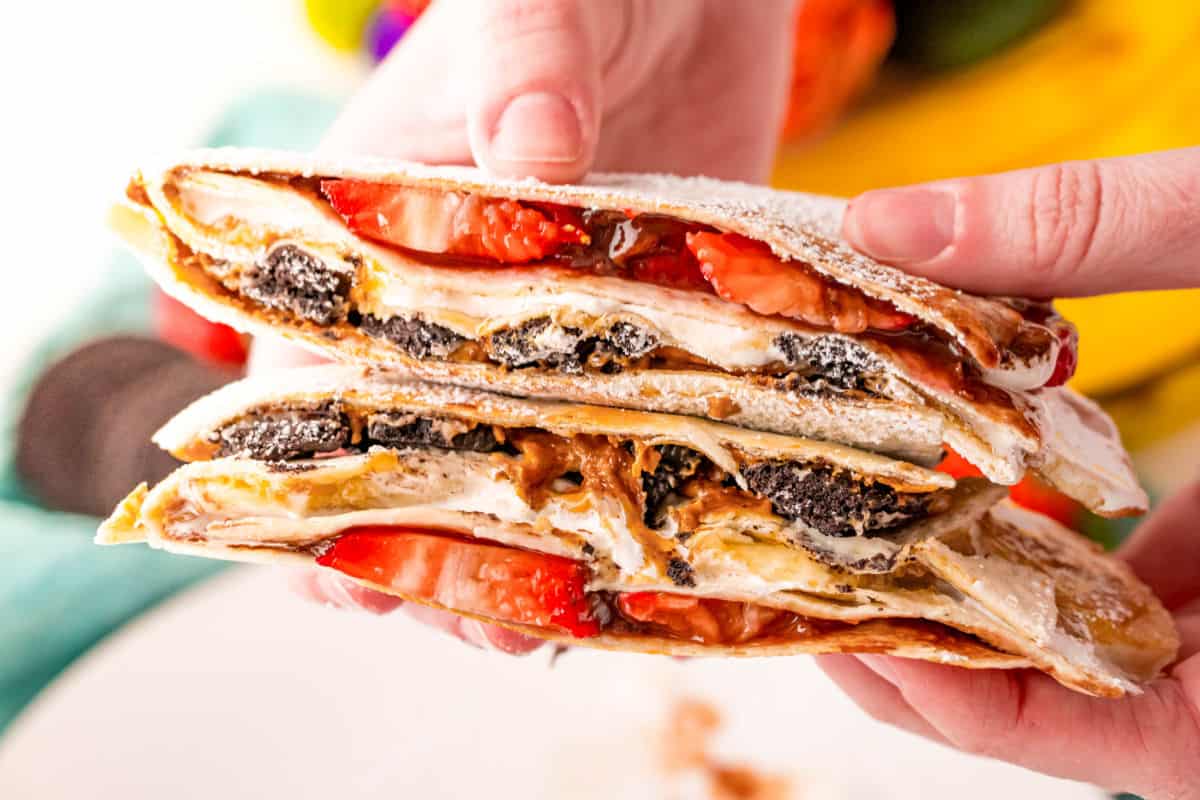 Tik Tok Tortilla Hack
When I first saw this tortilla dessert wrap, I had only one thought: I must try this immediately!
What is the Tik Tok Tortilla hack?
The basic concept is this: Cover each of the four quadrants of a flour tortilla with various spreads and toppings. Then, fold the tortilla up to make layers.
The original version included chicken and other savory wrap fillings. Now, we're giving that tortilla hack the dessert treatment with chocolate spread and peanut butter.
Heat the tortilla in a frying pan until golden brown and dig in! The result is layers upon layers of decadent, sweet melty goodness.
Once you learn how to make the Tik Tok Tortilla Dessert Wrap you can have fun customizing it with all your favorite fillings.
Ingredient Notes
Here's what I used for my tortilla dessert wrap.
Bananas and strawberries. Sliced thin.
Strawberries.
Oreo Cookies. Chop them into bite size pieces.
Peanut butter.
Marshmallow fluff.
Nutella.
Cookie butter. Also known as speculoos or biscoff spread.
Easy Instructions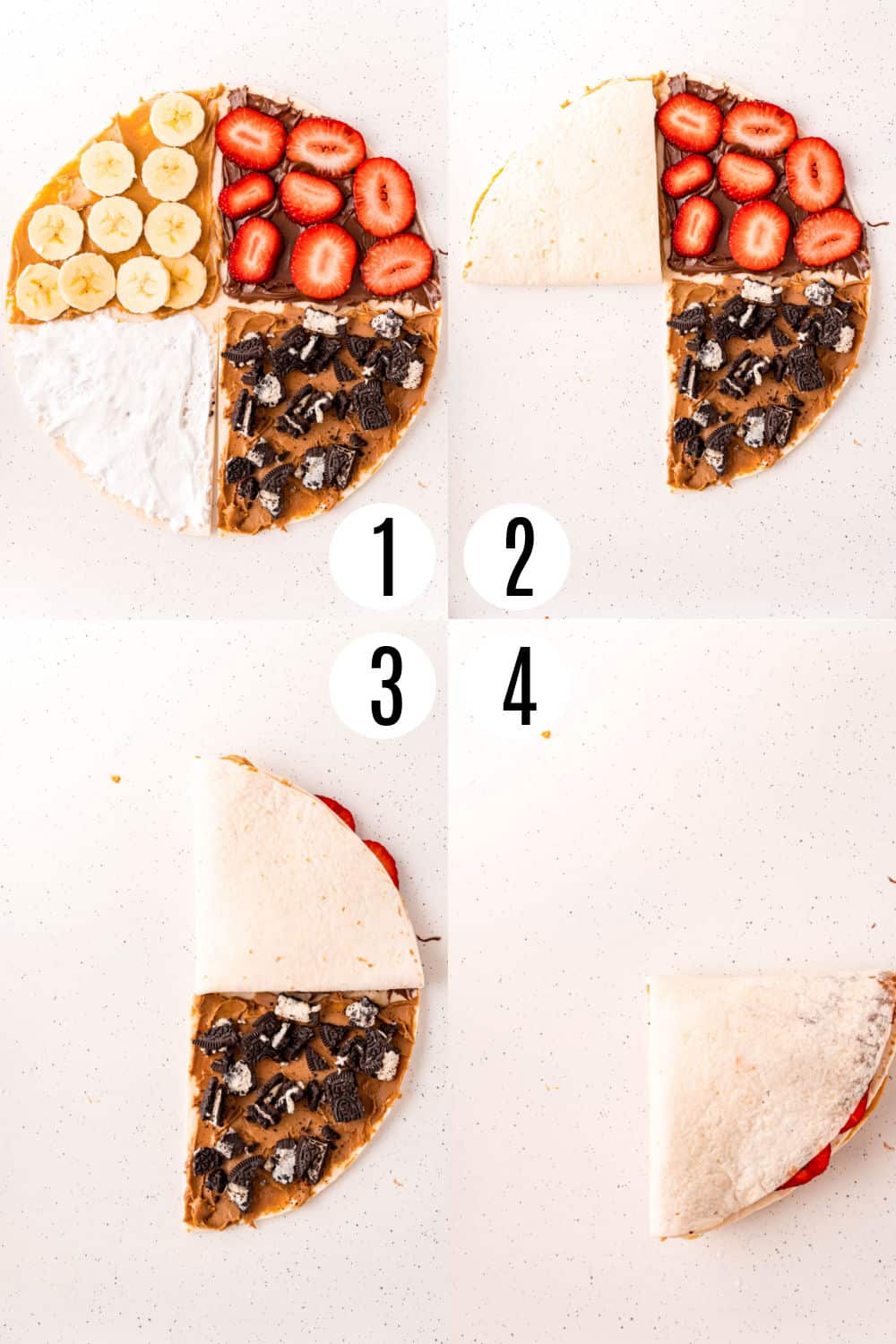 First, make one slice across the center of your tortilla. To do this, take a sharp knife and make a slit from one edge to the center only. Now envision your tortilla as four quadrants (see photo above).
Spread peanut butter in one quadrant. Top the peanut butter with banana slices.
Spread nutella in another quadrant and top with strawberries.
Cover the third quadrant with cookie butter and Oreos.
In the final section, you'll add the marshmallow fluff. Fold the quadrant with the fluff directly up. Then fold to the right and down again to form the wrap.
Heat the wrap in a frying pan on low eat on both sides until golden brown. Enjoy!
Tips and Tricks
Dust the tiktok dessert wrap with powdered sugar for a pretty finishing touch!
Make sure to cook the wrap on low heat. This gives the internal layers a chance to get soft and melty while the tortilla browns.
Feel free to mix up the recipe with different nut butters or dessert spreads. Just do not place any extra toppings over the marshmallow fluff. You don't want anything to get in the way of the sticky marshmallow that holds the wrap together.
It's easy to double or triple (or quadruple) the recipe to feed as many people as you need.
This would be a fun one to make with the family, letting every kid customize their own toppings!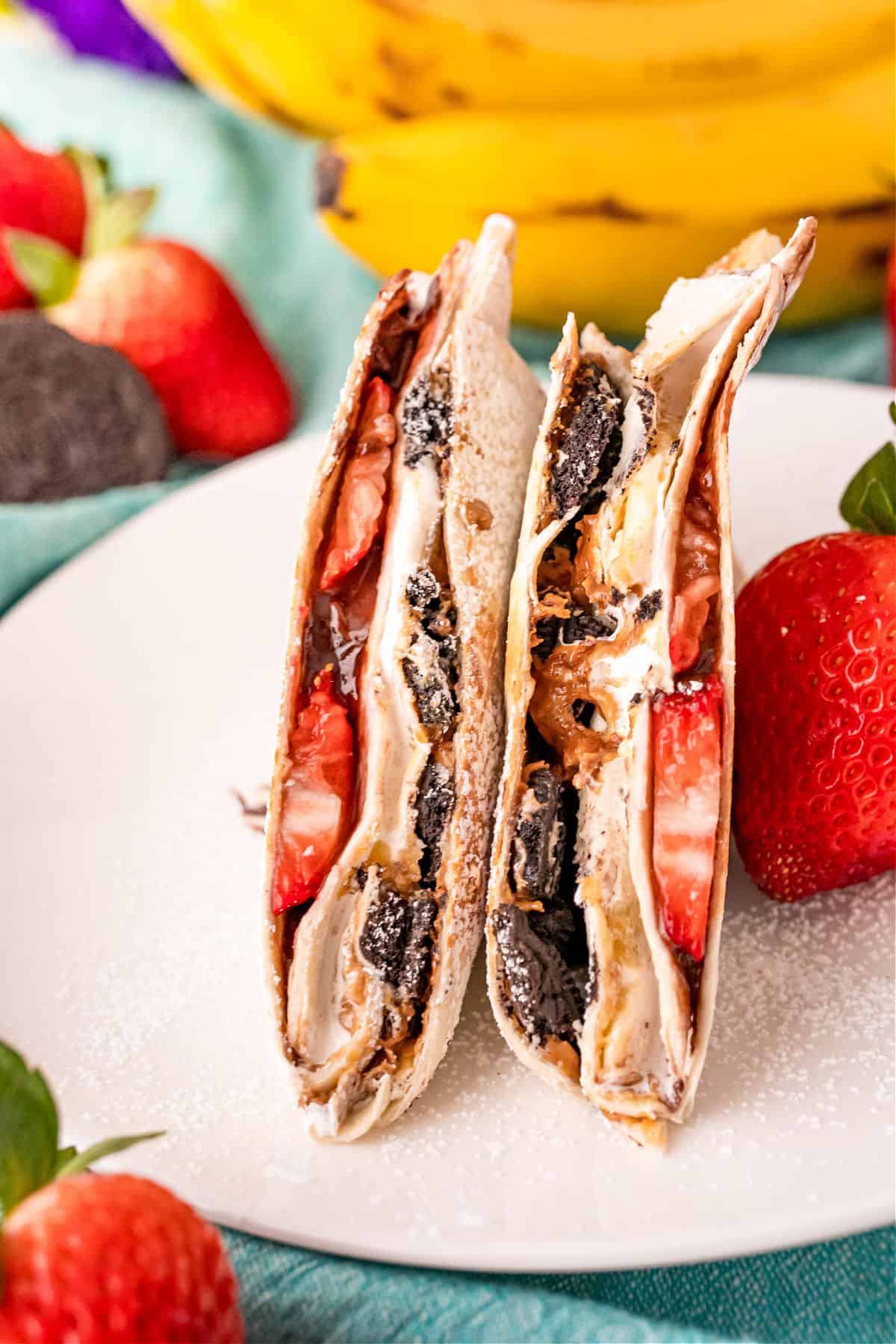 Recipe FAQs
Can you make the TikTok Tortilla Wrap in the toaster oven?
Yes, you can also heat this wrap in the toaster oven to melt the layers. I would use a low to medium heat setting and toast for several minutes until golden brown.
Can I use different kinds of fruit in this tortilla dessert wrap?
Yes, other sliced fruit would be delicious! Just make sure the flavors go together. Raspberries are also a tasty substitute for the strawberries.
Can you use corn tortillas for the TikTok tortilla hack?
I wouldn't use corn tortillas. Corn tortillas tend to be more fragile with a bolder flavor. Stick with flour for this recipe!
Why isn't the center layer of my wrap melting?
If the center layers of your wrap aren't getting soft and melting, you may be cooking it on too high of a heat setting. I find cooking the wrap for longer at a lower temperature yields best results.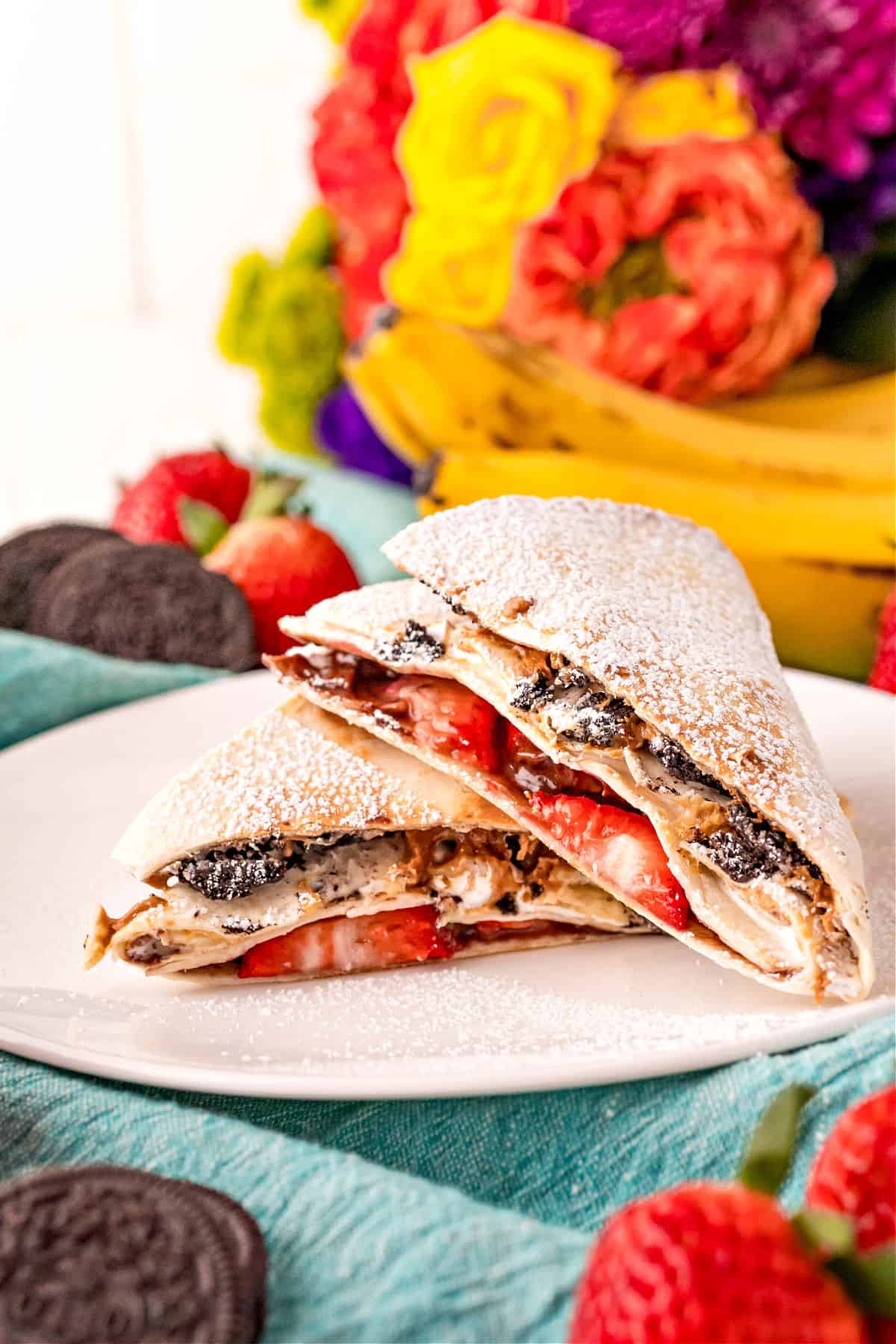 Gooey layers of chocolate, peanut butter and cookie butter make this version of a TikTok Tortilla Dessert Wrap incredible!
A decadent and over-the-top dessert that's ready to eat in minutes? Yes, please!