Buttermilk Brownies – Rich, fudgy, decadent and pure chocolate bliss. There is no doubt in my mind, these are the best brownies ever!!
Love buttermilk desserts? This decadent Kentucky Butter Cake is amazing, with it's delicious glaze!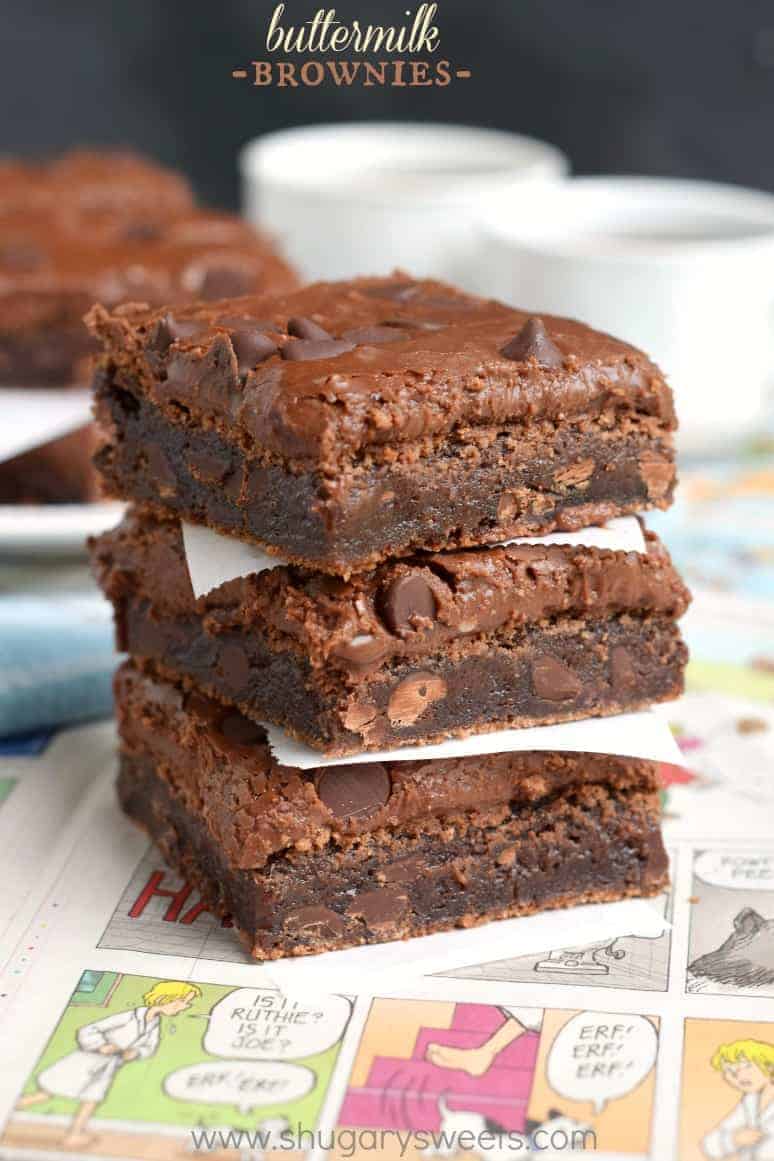 Why this Recipe Works
When I say Buttermilk Brownies are the best, you better believe me. Because I'm picky about my brownies!
Don't put a piece of dense chocolate cake on my plate and call it a brownie. I love Chocolate Cake but brownies are a completely different animal. I need them to be fudgey, thick and ultra moist without being totally gooey.
Then, there's frosting. I know people have different opinions on whether or not brownies need frosting. I'm firmly in the pro frosted brownies group.
Brownies might not NEED frosting to taste good. But if you CAN put frosting on a dessert, why wouldn't you?
These are thick and decadent, but they don't fall apart when you pick them up. And the ratio of brownie to frosting is SPOT ON. These are definitely going to be my new "go to" brownie recipe.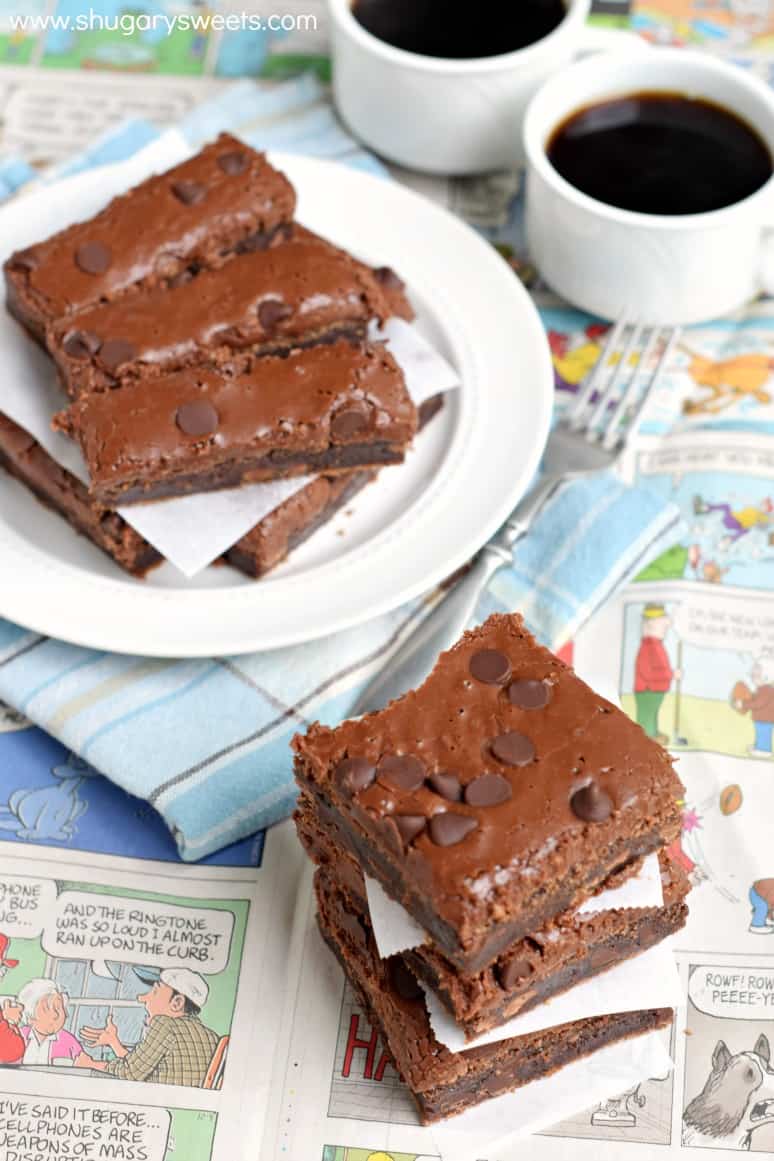 How to make Brownies
With both chocolate chips and dark chocolate cocoa powder in the brownie batter, these are a chocolate lover's dream.
To make the brownies:
Combine butter, cocoa powder and oil in a sauce pan over medium-high heat. Bring to a boil and remove from the stove.
In a large mixing bowl, combine granulated sugar, eggs, buttermilk and vanilla extract. Slowly whisk in the butter mixture. Add in flour, baking soda and kosher salt, and stir just until combined.
Fold in chocolate chips. Pour into a 13×9-inch baking dish lined with parchment paper and bake for 20 minutes.
Remove from oven and cool. While the brownies are cooling, make the frosting.
Frosted Brownies
To make the frosting: In a small saucepan, combine butter, buttermilk and cocoa powder. Whisk over medium heat until mixture begins to boil. Remove from heat.
Next, combine powdered sugar with the butter mixture in a mixing bowl. Beat for several minutes until smooth. Pour over brownies and sprinkle immediately with chocolate chips.
Refrigerate for two hours, until set. Cut and enjoy!
Tips and Tricks
Can you use buttermilk substitute? For the buttermilk, you can use store bought from a carton or made from buttermilk powdered. You can also make a buttermilk substitute using my recipe!
How to store: I store these in an airtight container in the refrigerator. I find them to taste best chilled. The frosting stays set in place and won't run all over your hands!
Cutting brownies: Make sure the brownies are completely cooled and set before you slice them into bars. Do NOT skip the chilling step or they will fall apart and be gooey. ALWAYS use a plastic knife.
Decorating: To add some color to your brownies, decorate with sprinkles along with or instead of the chocolate chips on top. Sprinkles make anything more festive!
Freezing Brownies
These brownies will keep well in the fridge for about a week. For longer storage, store them in the freezer.
To keep the frosting in place and prevent it from turning runny when it thaws, I put a piece of wax paper over the top of the brownies first.
Then transfer them to a freezer safe container and freeze flat. Once frozen, transfer to a ziploc bag if you prefer to save space!
More Brownie Recipes
These are all but guaranteed to become your new favorite rich chocolate brownies! But there's room in our lives for more than ONE amazing brownie recipe, right?
Try these Bakery Style Brownies that perfectly replicate the bakery brownies I love with the crinkly top and fudgey interior.
For all you peanut butter fans out there, these Buckeye Brownies are guaranteed to make you happy.
Did you know you can make brownies in the instant pot too? When the oven goes out, Instant Pot Brownies Recipe to the rescue.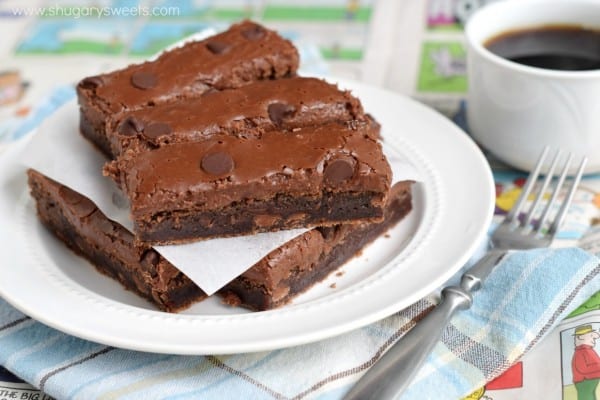 Make a batch of these decadent, thick, oh-so-rich buttermilk brownies for dessert tonight! Don't forget a cup of coffee or a glass of milk to go with them.