Fudgy, chocolate Brownies in the Instant Pot. You'll love this easy recipe for moist and chewy chocolate brownies!
We love desserts in the Instant Pot. This Instant Pot Bread Pudding is crazy delicious, and top it off with some homemade buttermilk syrup!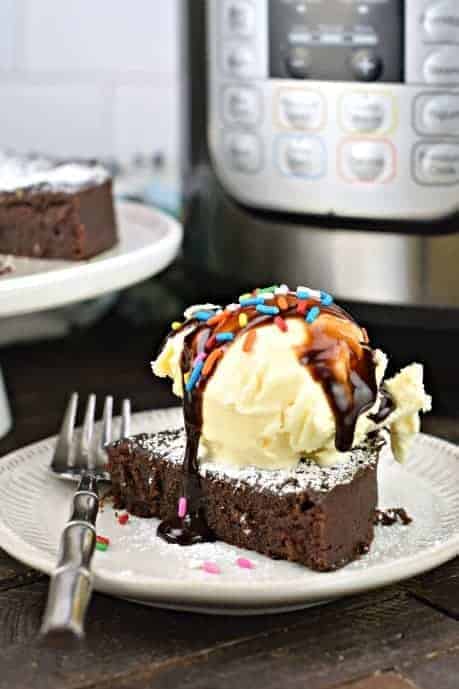 Brownies in the Instant Pot? Yes, you read that right.
It's no secret that I've been making tons of Instant Pot Recipes these days. Everything from Beef Stroganoff to Pumpkin Cheesecake.
But it was the chocolate bundt cake recipe that I made in the Instant Pot that sent a jolt of excitement through my kitchen.
I mean, if you can make a moist, fudgy chocolate cake in the pressure cooker…surely chocolate brownies would work too, right?
The answer is yes. Chocolate Brownies turn out amazing in the Instant Pot. Especially if you prefer the fudgy Bakery Style Brownies like we do (non cake-like texture).
Why are these Instant Pot Brownies the best?
Easy, no oven needed dessert.
Rich and fudgy thanks to all the moisture from pressure cooking.
Versatile recipe! Top with powdered sugar..or go all out with the ice cream and hot fudge!
How to Make Brownies in the Instant Pot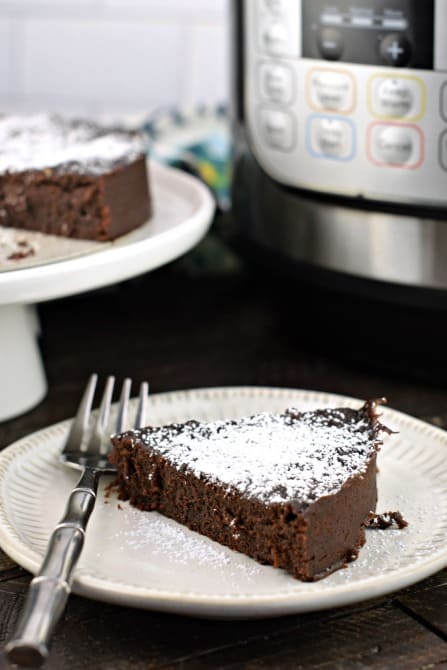 I used my favorite Bakery Style Brownie recipe as the base for today's pressure cooker brownies. I halved the recipe so that it would fit in my Fat Daddio 7×3-inch push pan. They turned out perfect.
STEP 1. Make the brownie batter.
This can be done on the stove top (like I show here), or you can use the "SAUTE" function in your Instant Pot. You'll have to clean the pot however before pressure cooking. Great option though if you don't have a stove!
In a medium saucepan, melt butter over medium high heat. Once melted, remove from heat and add in chocolate chips and sugar.
Stir until the chocolate is completely melted. Add in eggs, one at a time, stirring well after each addition. Add vanilla extract.
Finally, add in the cocoa powder, flour, salt, and baking powder. Using big strokes, stir JUST until combined. Do NOT overmix.
STEP 2. Pressure cook.
Spray a 7×3-inch push pan (or cheesecake pan) with baking spray. Pour batter into pan.
Add 1 1/2 cup water to the Instant Pot. Place brownie pan on a trivet and lower into the instant pot.
Secure the lid and make sure the pressure valve on top is set to sealing.
Select "HIGH PRESSURE" for a cook time of 45 minutes.
When cook time ends, allow to naturally release for 10 minutes.
Lift trivet out of the Instant Pot and cool brownies. OR enjoy warm with a scoop of ice cream!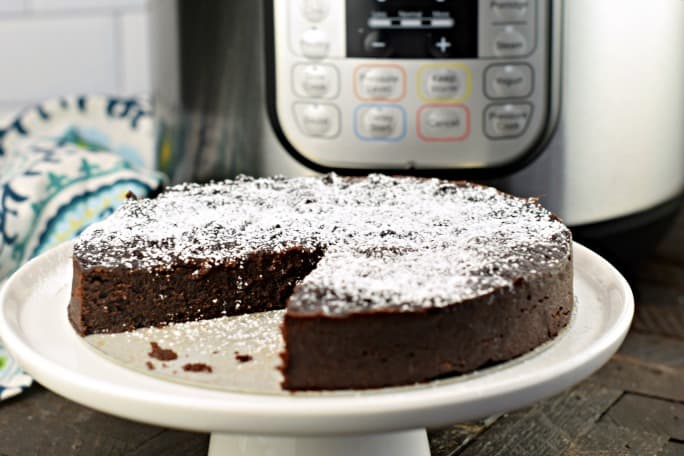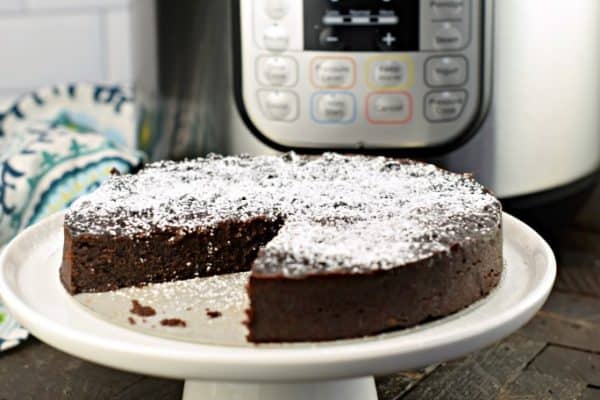 Tips and Tricks
I use this Fat Daddio 7×3-inch push pan. It also works great for making instant pot cheesecakes in the 6qt! Be sure to check out my other favorite IP accessories!
Do no over mix the batter. This will result in a horrible texture!
To remove brownies from pan, allow to cool first. Then place push pan onto a mug (or canned good). Holding the sides of the push pan, push down as the brownies come UP. Grab the plate of brownies and enjoy.
For best results, use GOOD quality chocolate. I prefer using Ghirardelli semi sweet chocolate chips AND Ghirardelli unsweetened cocoa powder. Both have great results in delicious flavor.
More Instant Pot Desserts
Fudgy, chocolate Brownies in the Instant Pot. You'll love this easy recipe for moist and chewy chocolate brownies!