This Instant Pot Peanut Butter Cup Cheesecake recipe is all the rage in our home. Oreo crust, creamy peanut butter cheesecake filling, topped with dark chocolate ganache and Peanut Butter Cups!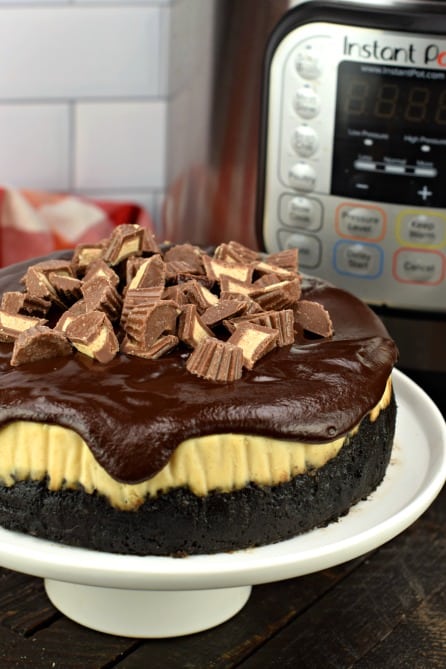 Why this Cheesecake is Best
Making a cheesecake in the Instant Pot has become one of my favorite things to do on weekends.
If you follow me on Instagram, you've probably seen some behind the scenes baking that I do!
This creamy peanut butter cheesecake recipe topped with Reese's is seriously one of the best cheesecakes yet!
If you love the chocolate and peanut butter combo, today's cheesecake recipe is for YOU!
It took me awhile to jump on the Instant Pot bandwagon, but I am all in you guys. Aside from making the best Fettuccine Alfredo and Pot Roast, the Instant Pot makes delicious desserts too (like this chocolate cake)!
No need to turn on the oven
No worries about cracks on top of the cheesecake…it just doesn't happen
Cheesecake turns out moist and perfect…every single time
Easy. I promise.
Topped with creamy chocolate ganache
What you'll need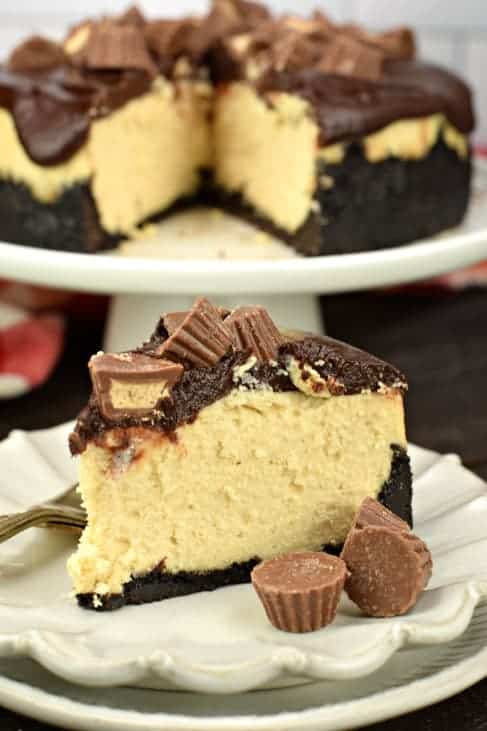 I get it. If you haven't made a cheesecake yet in your instant pot you may be nervous. You don't want to waste ingredients. So here are my tools that I use for a perfect cheesecake every time!
As an Amazon Associate I earn from qualifying purchases.
I use my Instant Pot 6qt Duo.
This Fat Daddio's 7-inch cheesecake pan is my favorite!
Trivet. The trivet that came with my Instant Pot is the one I use…but you can also use a sling trivet if you prefer.
Aluminum Foil. Wrapping the cheesecake keeps it moist and prevents cracking.
How to Make an Instant Pot Peanut Butter Cheesecake
STEP 1: The Crust.
I love using an Oreo cookie crust with today's peanut butter cheesecake recipe. However, you could use graham crackers or Nutter Butters if you prefer!
Process cookies until a fine crumb (using a food processor works best, but you could use a rolling pin in a pinch if you need to).
Add melted butter to cookie crumbs and mix completely.
Press into bottom of a 7-inch springform pan or cheesecake pan, pressing the crumbs up the sides just a little bit.
Place crust in freezer until ready to fill with cheesecake.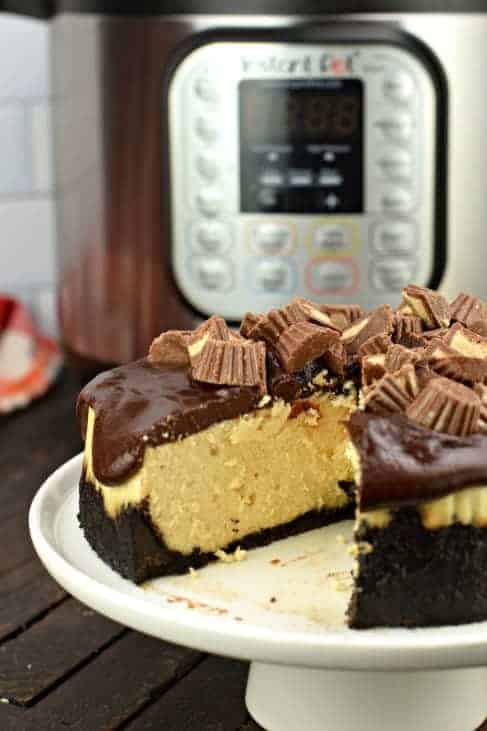 STEP 2. Cheesecake Filling.
In a large bowl, combine cream cheese with sugar and peanut butter. Blend until smooth (this may take a few minutes, scraping down the sides of the bowl as needed).
Beat in heavy whipping cream, vanilla extract, and flour. Add eggs one at a time.
Pour cheesecake into prepared crust.
Cover top of cheesecake pan with foil. Then lay a long piece of foil on counter. Place cheesecake pan in the center and wrap up the sides.
Place cheesecake on trivet that came with the Instant Pot or use a sling if you prefer.
STEP 3. Pressure Cook.
Pour one cup of water into the bottom of the instant pot. Lower trivet with cheesecake into the pressure cooker.
Secure the lid and move valve to "SEALING."
Select "HIGH PRESSURE" and cook time of 50 minutes.
Once time is complete, allow to release pressure naturally, for about 20 minutes. Remove the lid and allow cheesecake to cool to room temperature.
Place cooked cheesecake in refrigerator for at least 4 hours, or overnight.
STEP 4: Ganache.
For the ganache, add chocolate chips and heavy whipping cream to a microwave safe glass bowl.
Microwave for 30 seconds, stir until smooth.
Pour over cooled cheesecake and top with Reese's peanut butter cups.
Allow to set or enjoy immediately.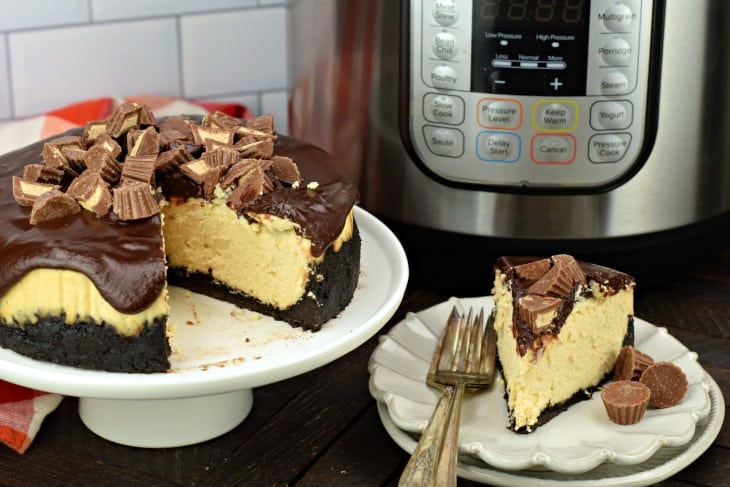 Can you freeze Peanut Butter Cheesecake?
Yes!
Before adding the ganache, but after you have chilled the cheesecake, wrap it completely in plastic wrap, then a layer of foil.
Freeze for up to 30 days for best flavor.
Thaw in refrigerator overnight, then add ganache and Reese's. ENJOY.
Tips for Peanut Butter Cheesecake in Instant Pot
Allow cream cheese to soften to room temperature. This allows for a creamier result!
Do NOT over beat when adding the eggs. The more air you add, the greater chance for cracking.
I use Jif or Skippy for the peanut butter. Avoid "natural" peanut butters as they tend to contain too much oil.
For a more chocolate flavor, add mini chocolate chips to the cheesecake filling.
Serve this sweet chocolate cheesecake for Valentine's Day or any weeknight dessert. It's impressive enough for guests!
Today's recipe was tested in a 6qt Instant Pot. Prep time does not include time it takes to come to pressure (about 12 minutes).
More Easy Desserts
Perfect Instant Pot Peanut Butter Cup Cheesecake Recipe for any time of year. This easy dessert is impressive enough for guests for a holiday or simple enough for a weeknight treat.