Easy and delicious, this addictive, sweet Puppy Chow recipe is perfect for all holidays! The classic Muddy Buddies…with the option to add in holiday colored candies!
Everyone loves easy desserts. Whip up some fancy Chocolate Dipped Oreos in minutes. Or dunk your grahams and make these delicious Chocolate Peanut Butter Graham Crackers!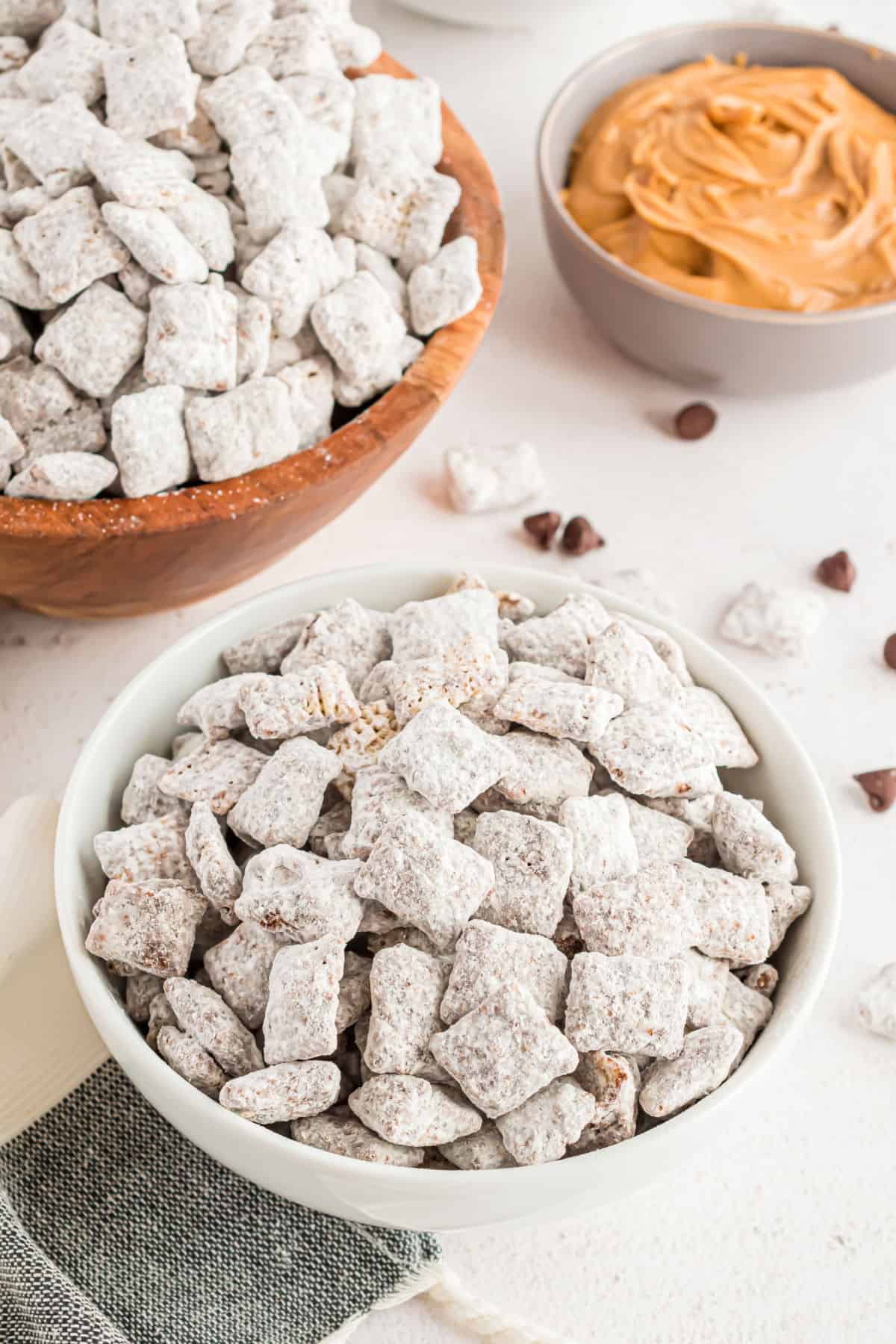 What is Puppy Chow?
I believe it truly depends on the region you live, but in some areas people call this recipe Muddy Buddies…however I grew up calling it Puppy Chow!
Regardless of the name, it's an addictive sweet treat, for adults and children. NOT FOR PETS. I have to put that disclaimer because if you follow me on social media you will see inevitably there is one person who says I'm a terrible person for feeding chocolate to dogs.
Perfect for parties, you can change up the color and flavor of this Puppy Chow Recipe with just a few simple swaps!
Easy, no bake treat.
Serves a crowd, or bag it up for goodie bags.
Stays fresh for up to one week, can be made in advance for parties!
Add festive candies for the holidays!
If you love today's recipe you've got to try our Snickerdoodle puppy chow and our peppermint puppy chow too!
How to Make Puppy Chow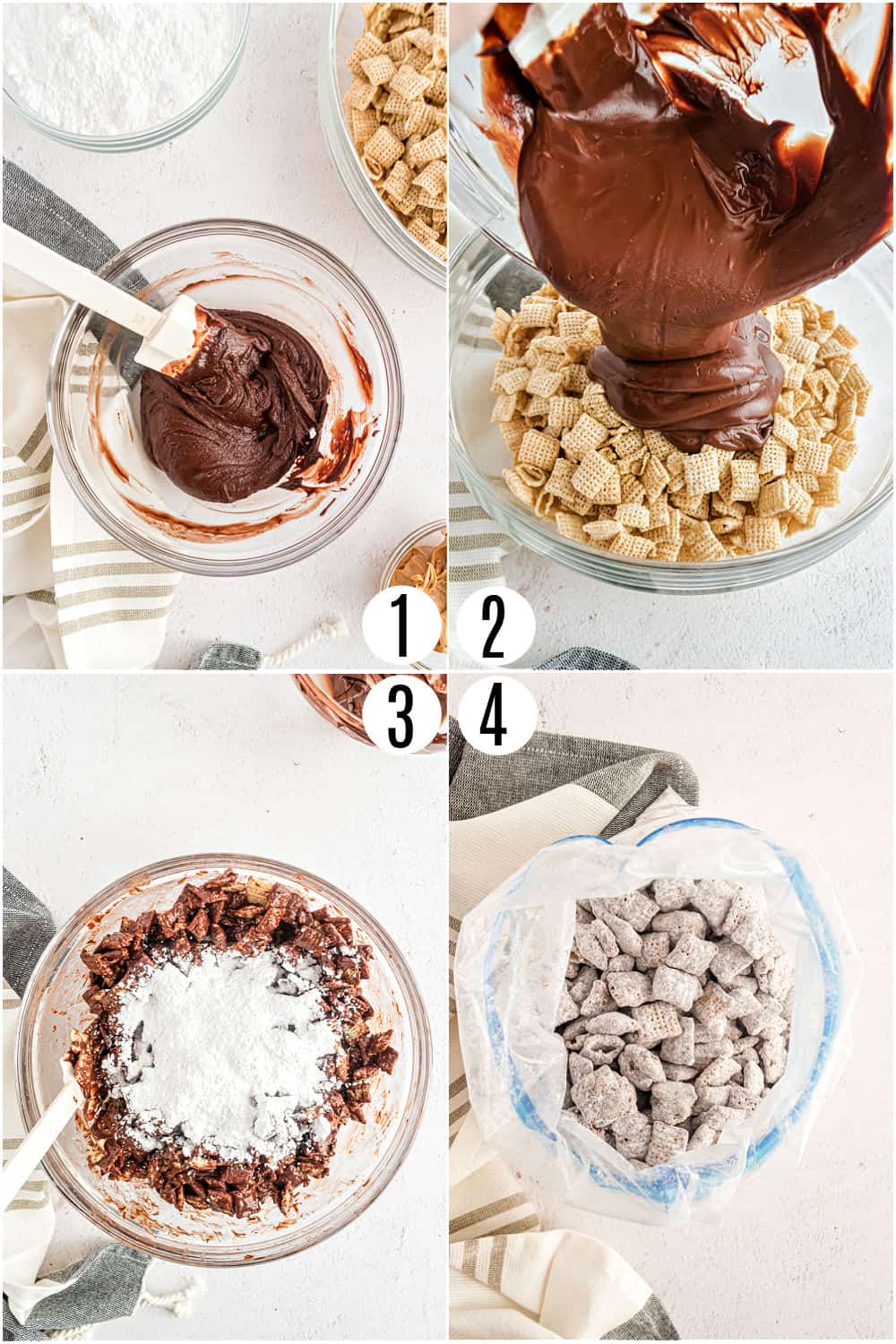 In a double boiler, or microwave, melt chocolate chips with butter. When melted, mix in peanut butter.
Measure out the rice Chex cereal into a large bowl. Pour melted chocolate mixture over the cereal and stir until evenly coated.
Sprinkle with powdered sugar and mix until combined and cereal is coated evenly.
PRO TIP: You can also add the cereal to a ziploc bag after adding the chocolate peanut butter. Add the powdered sugar to the bag, zip closed, and shake!
Once fully coated, add in any festive touches, if desired. Mini marshmallows, marshmallow bits, and chocolate candies. Add sprinkles for a festive touch of color.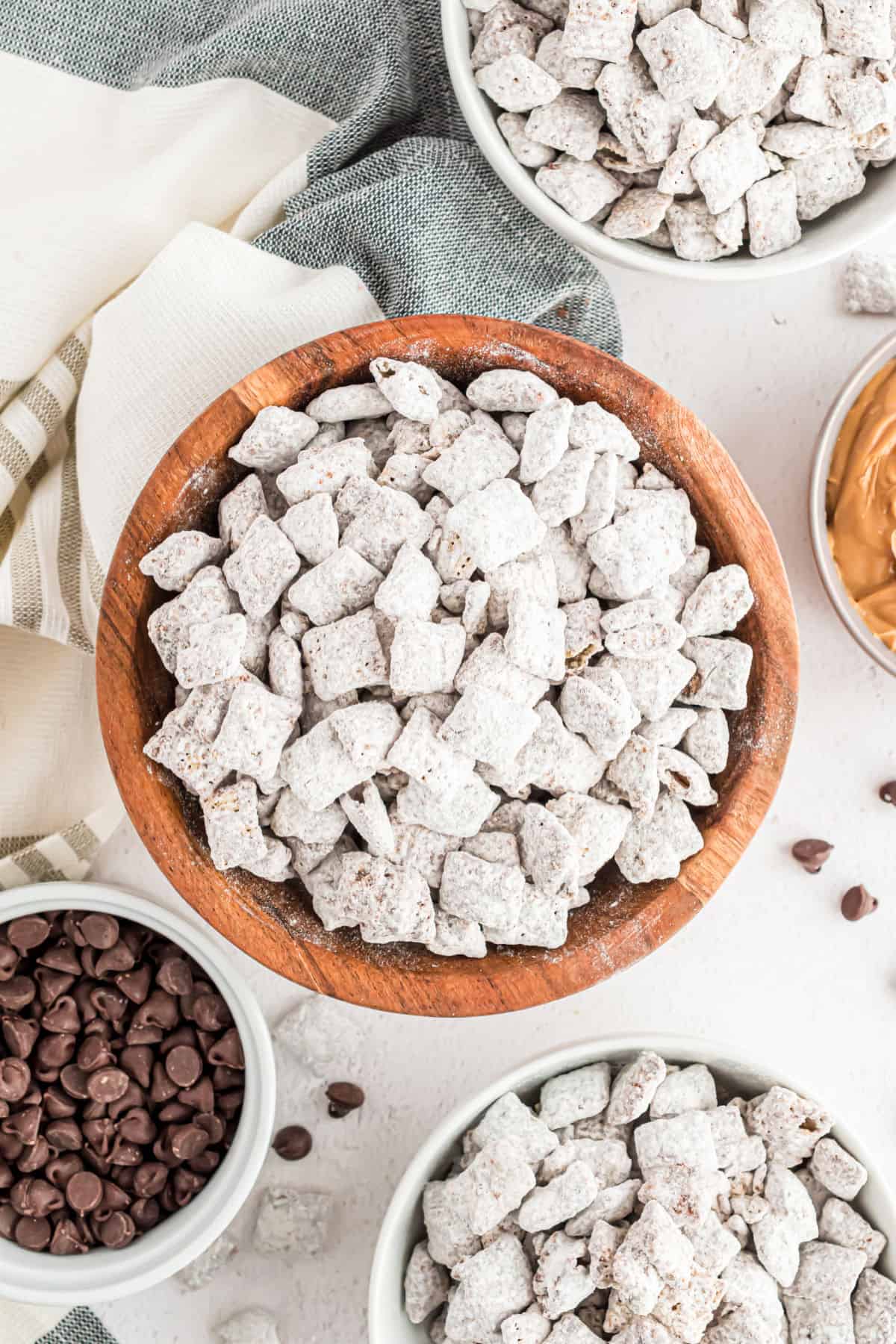 Recipe FAQs
Can I use a double boiler to melt chocolate?
Yes. To use a double boiler, add about an inch of water to the bottom. Set over high until until it comes to a boil, the turn heat down to medium-low. Set a metal mixing bowl on top of the sauce pan and add in chocolate and butter (to the empty pan on top). Stir until completely melted and smooth, this takes a couple minutes. Remove from heat.
How long does puppy chow last?
Puppy Chow stays fresh for up to one week when stored in an airtight container at room temperature.
I'm allergic to peanuts, what can I use instead in puppy chow?
You can substitute other seed butters, nut butters, etc for the peanut butter. You can also use Biscoff, which is nut free too!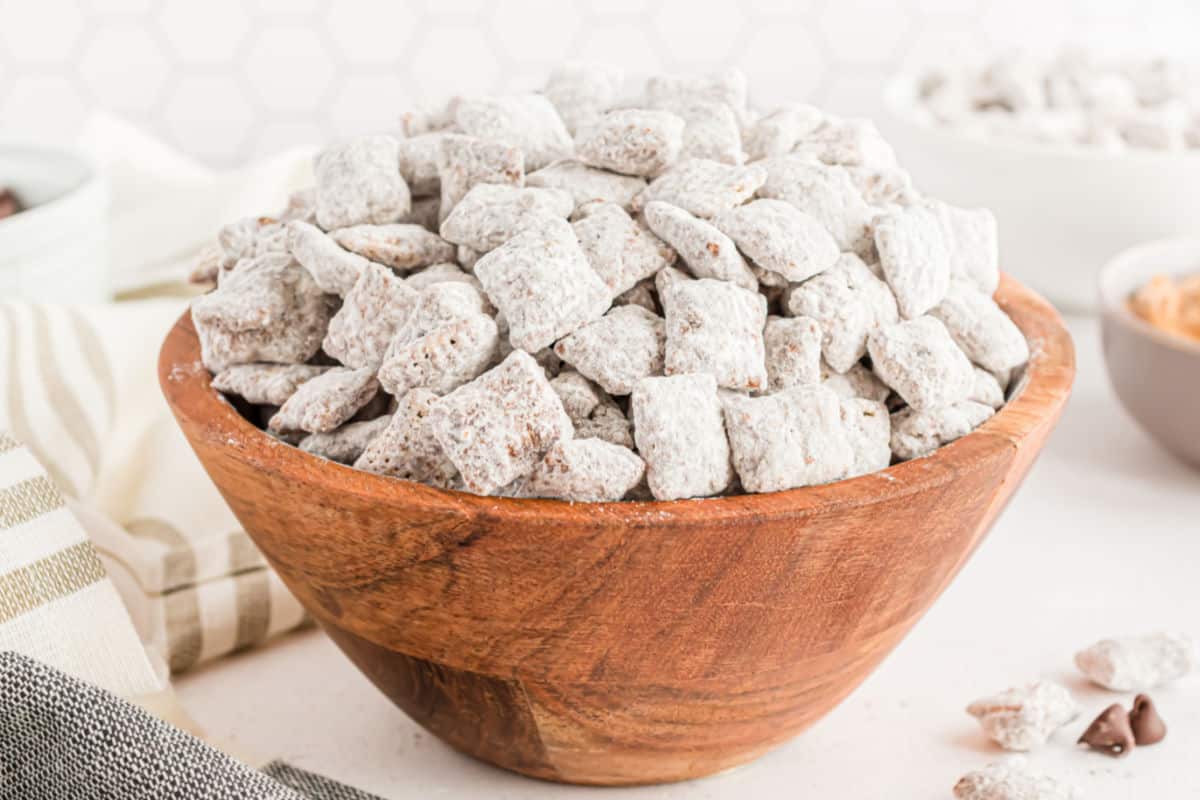 Substitutions
Original Muddy Buddies. 1 cup of milk chocolate chips (or semi-sweet or dark chocolate) and 1/2 cup of creamy peanut butter. Melt smooth and continue directions.
Peanut Butter Puppy Chow. Swap out the chocolate morsels for peanut butter morsels. Fold in 1/2 cup of creamy peanut butter.
Candies. Use any color or variety of flavored M&M'S for a unique treat. Add holiday sprinkles!
Peppermint Puppy Chow. Uses Andes Mints and candy canes!
Thin Mint Puppy Chow. No Girl Scout cookies needed for this recipe!
Can I use a different cereal? Absolutely! Crispex, Golden Grahams and Cinnamon Toast Crunch all work great. Chex is unique though in it's ability to "house" the chocolate filling inside!
What kind of chocolate is best? We love using semi-sweet chocolate, but milk and dark chocolate work great too! Use a quality brand for best results. And always buy fresh!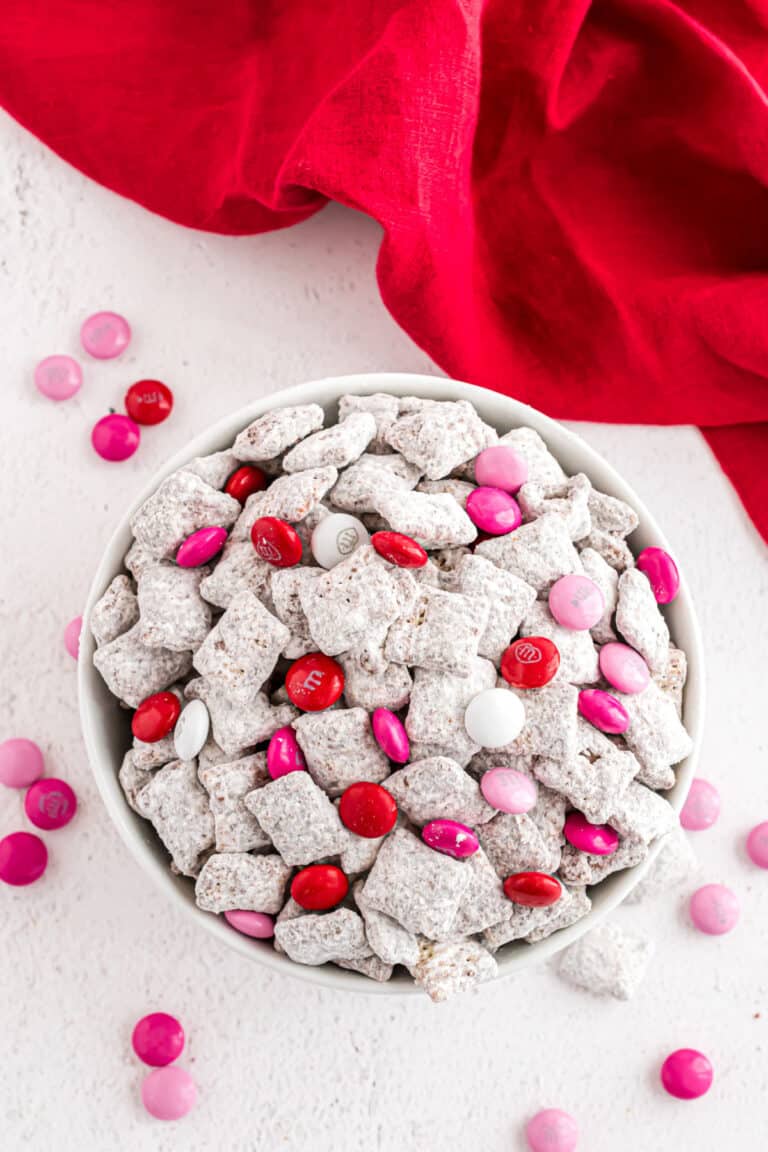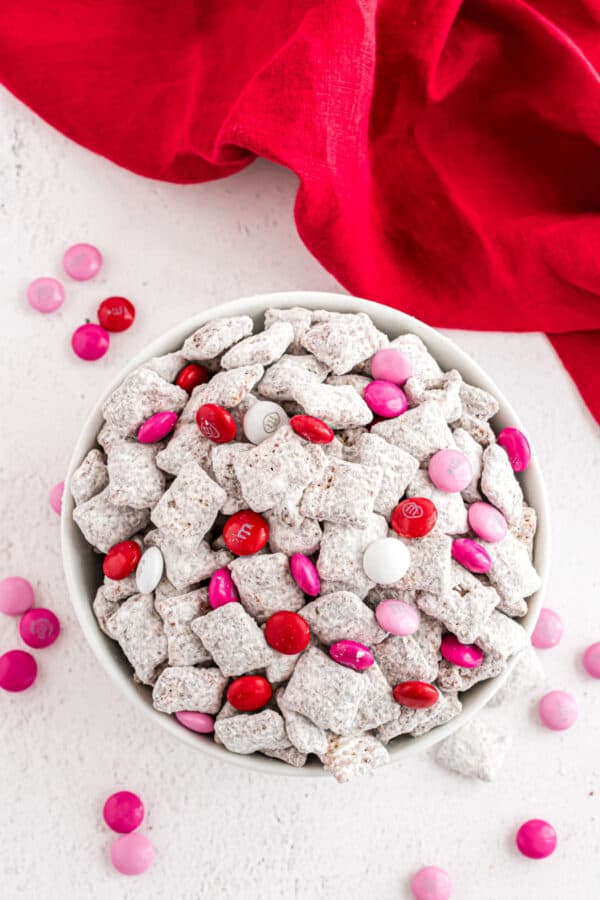 More Easy Dessert Recipes
Sweet, addicting Puppy Chow or Muddy Buddies Recipe.