Looking for an easy, no bake treat idea? How about whipping up some Chocolate Peanut Butter Grahams?
For more easy treats, be sure to try delicious Chocolate Dipped Oreos. Add colorful or holiday sprinkles and suddenly milk's favorite cookie got a makeover! Or give our chocolate peppermint grahams a try!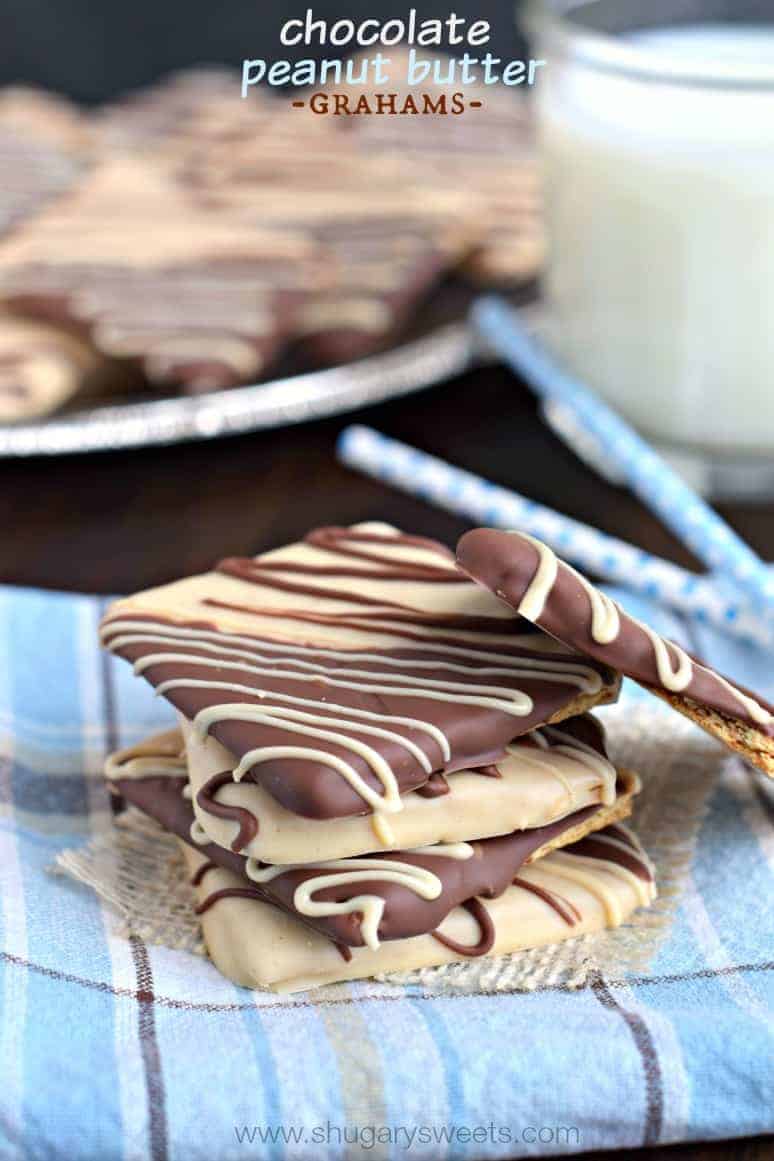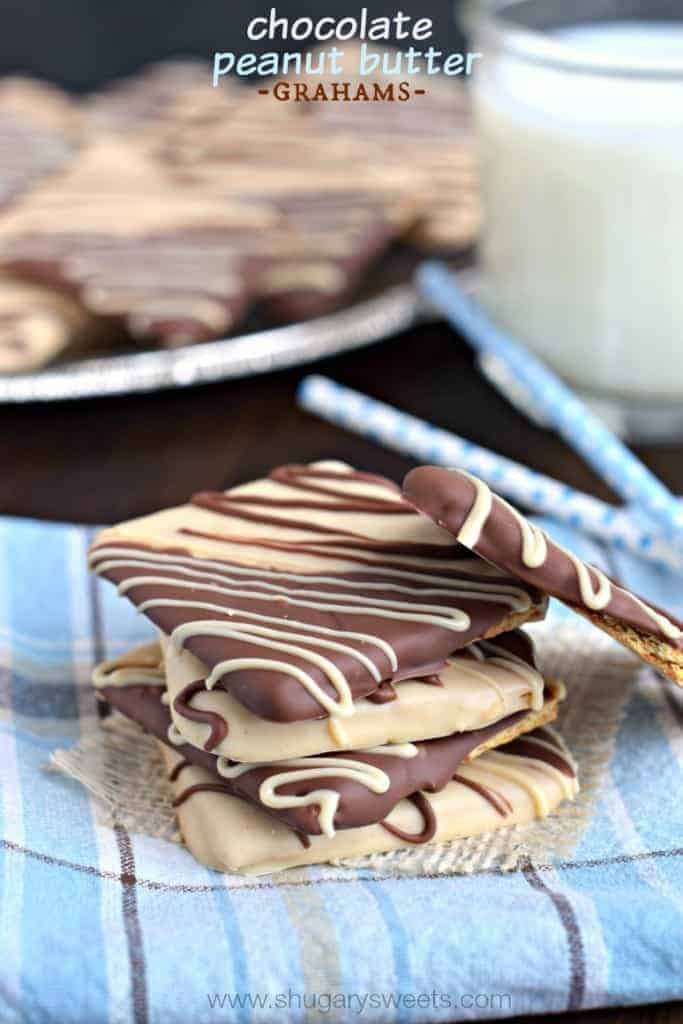 Easy Graham Cracker Treat
Creating special desserts that everyone loves doesn't have to mean hours spent in the kitchen!
When you're short on time (or, let's face it, energy!) you can turn an ordinary box of graham crackers into a chocolate lover's delight!
These Chocolate Peanut Butter Graham Crackers only take a few minutes to make and they taste amazing! If you love chocolate and peanut butter together, you're going to love these.
Ingredient Notes
Graham Crackers – I used 2 sleeves of original grahams. You could swap chocolate graham crackers if you want a double-chocolate cookie!
Milk and White Chocolate Chips – I prefer Ghirardelli brand.
Creamy Peanut Butter – The regular shelf stable peanut butter (like Jif or Skippy) works best.
Easy Instructions
I melted my white chocolate chips and peanut butter together in the microwave in 30 second increments. Make sure to stir between rounds in the microwave and continue until the chocolate is smooth and fully incorporated with the peanut butter.
Dip one half of a graham crackers in the peanut butter mixture, then place them on a piece of parchment paper to set and repeat with remaining crackers. Meanwhile, melt the milk chocolate in a separate bowl.
Dip the bare side of the graham crackers into the melted chocolate and return to the parchment paper to set.
Serve and eat them as they are or you can decorate the treats with a drizzle of more melted chocolate if you like!
Recipe FAQs
Can this be made gluten free?
If you have a gluten free graham cracker you love, feel free to use it here! Of course, check labels on your chocolate chips and peanut butter to be sure they don't contain gluten, especially if you are making these for someone with an allergy.
How do you store chocolate covered graham crackers?
Keep these in an airtight container at room temperature. Place a sheet of wax paper between layers to keep the chocolate from getting misshapen.
What kind of peanut butter is best for this recipe?
Use the regular old sweetened shelf stable peanut butter for best results! While I love the natural kind (that you refrigerate) the oil will separate and alter the texture of the dipped graham crackers.
Favorite Chocolate Peanut Butter Treats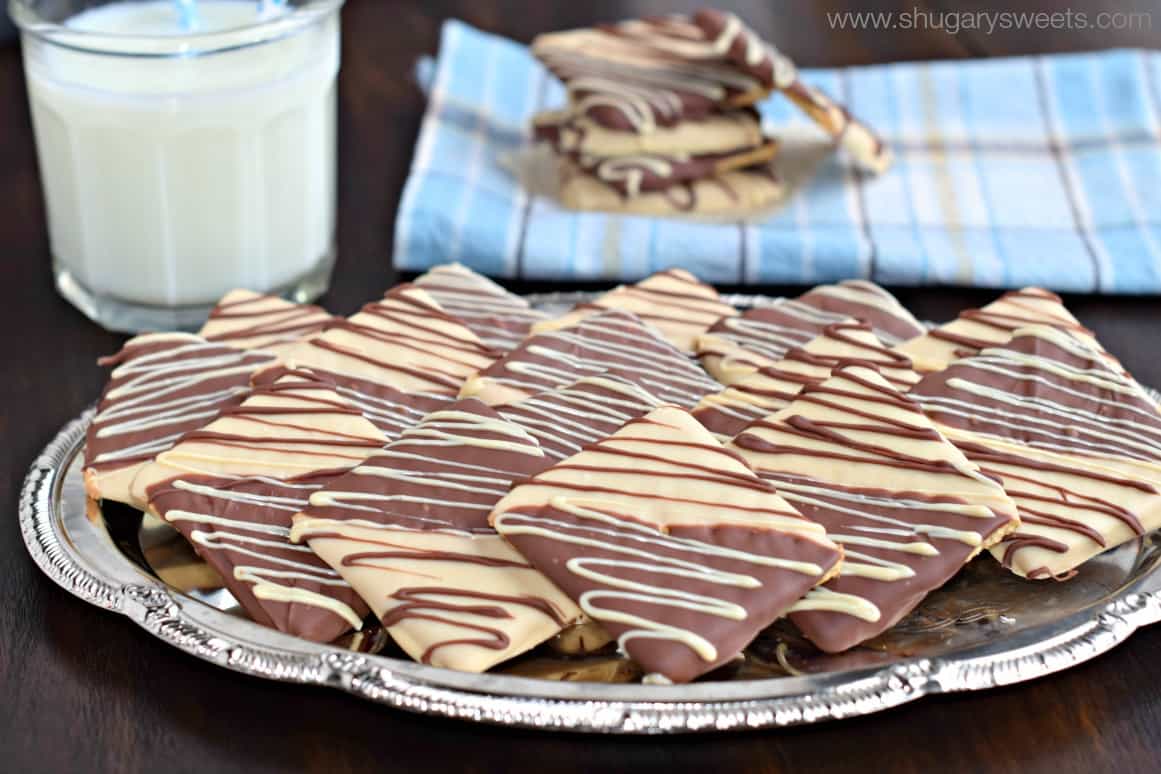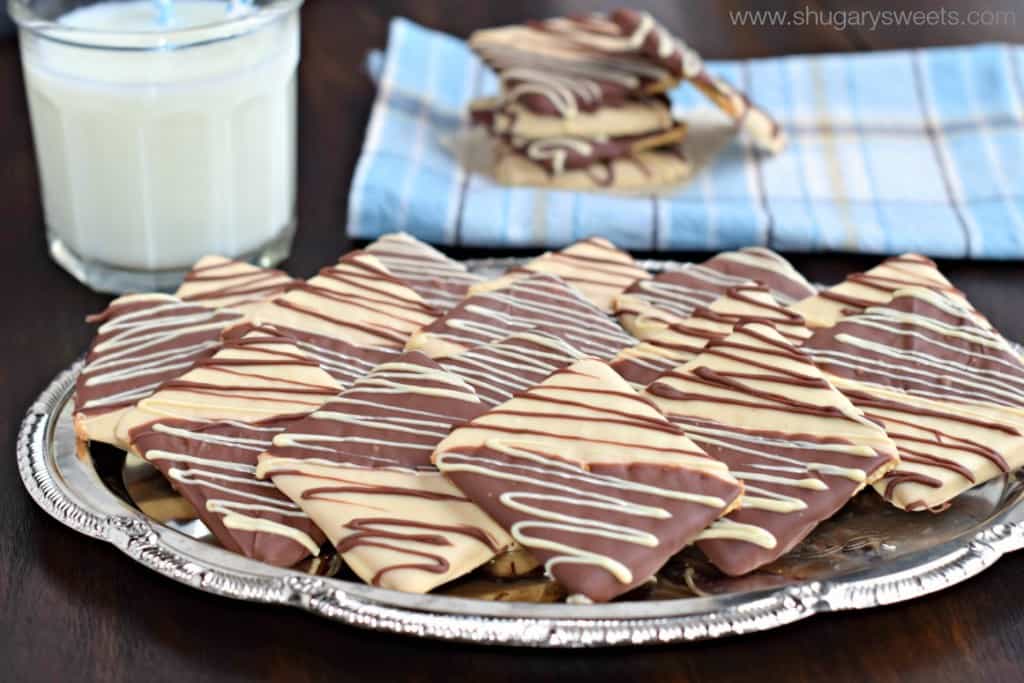 We could all use a few ideas easy everyday desserts and snacks! These Chocolate Peanut Butter Graham Crackers are so addictively delicious, you'll want to make them all the time.