Fluffernutter Rice Krispie Treats
Peanut Butter Rice Krispie Treats topped with melted Reese's PB morsels and mini Reese's PB cups. A delicious twist on a childhood favorite!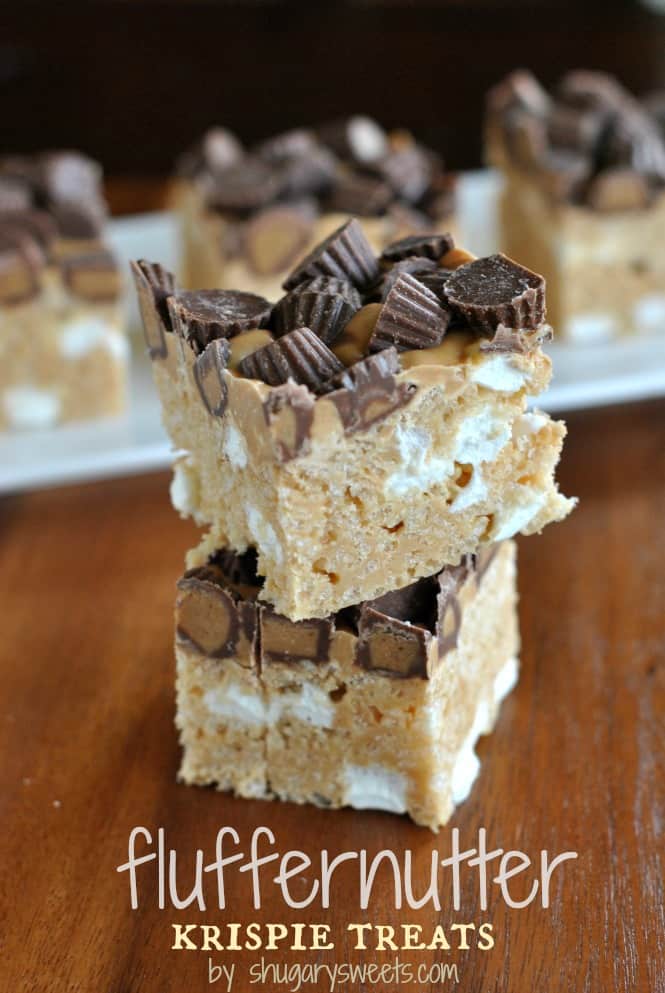 Click HERE to save recipe to pinterest!
So my schedule is quite overwhelming right now. I'm not even going to describe or complain because I'm sure you all have had times in your life when things were so busy you couldn't even look at the calendar without throwing a tantrum. Right?
Then I realized it has been MONTHS since I shared a Rice Krispie treat recipe on the blog. And that, my friends, is unacceptable. I apologize.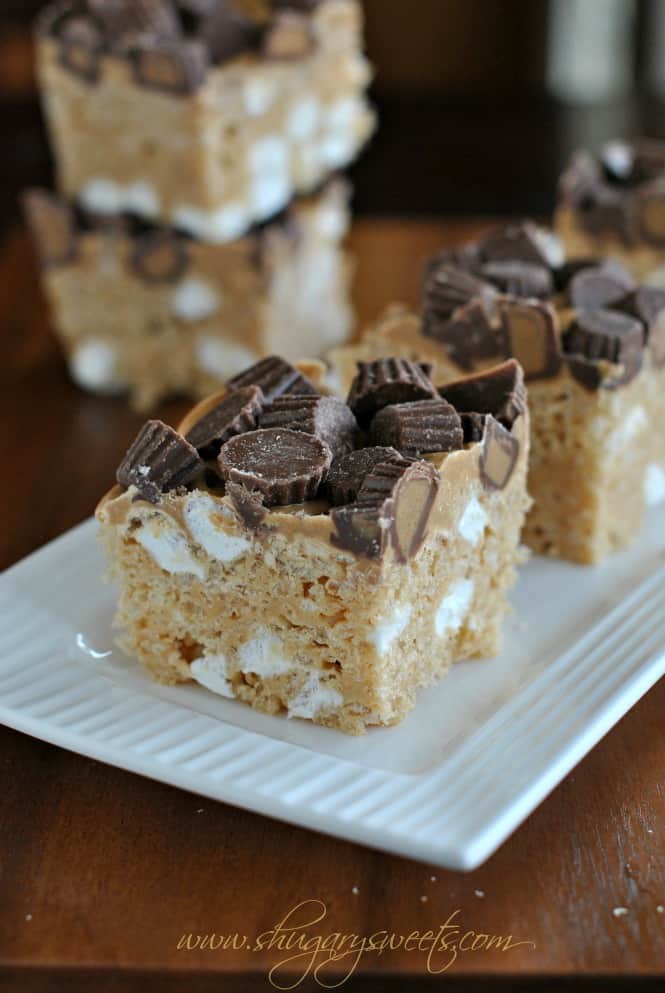 My apologies for eating way more than my share of these treats. I started out by making peanut butter flavored krispie treats. Then added some extra marshmallows to give them a true fluffernutter feeling.
But they looked naked. And I don't mind eating naked rice krispie treats…but when life is overwhelming you need more. So I topped them with some melted Reese's peanut butter morsels and some mini Reese's peanut butter cups.
Life is good.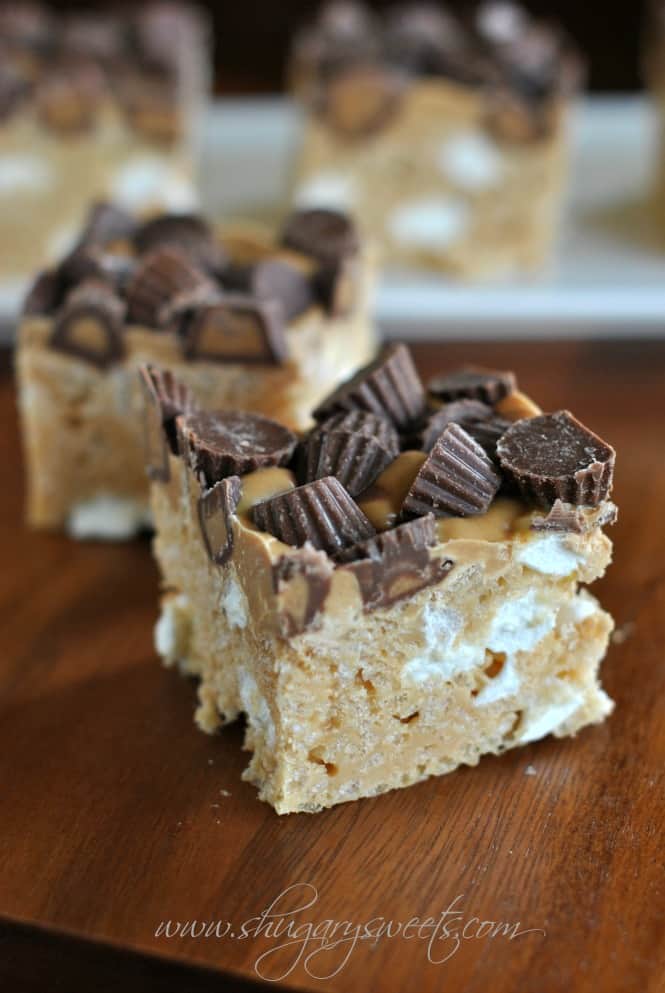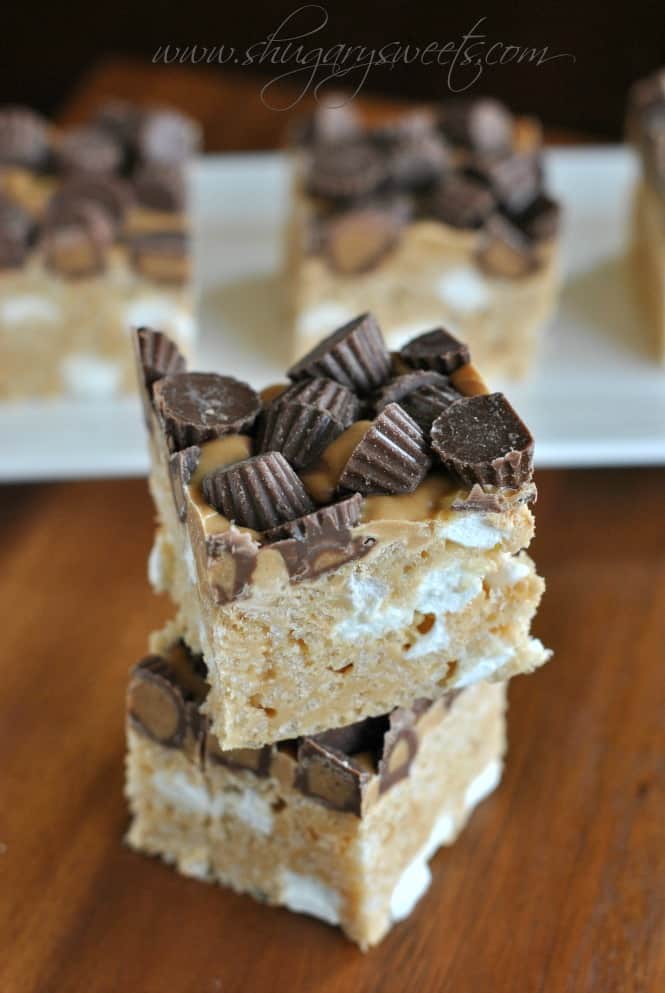 If you're looking how to make rice krispie treats, I've got you covered with the perfect rice krispie treats! <——that recipe is amazing. You'll never use the one on the box or bag of marshmallows again. But, if you want to change up that perfect krispy treat, today's recipe is the one for you.
Want more Krispie Treat recipes?
I created a fun little group on facebook and I'd love for you to join in! It's a place where you can share YOUR favorite recipes, ask questions, and see what's new with Shugary Sweets (so that you never miss a new recipe)! If you'd like to check it out, you can request to join HERE.
Connect with Shugary Sweets! I know you want to see behind the scenes…check out my instagram!
Facebook | Twitter | Google+ | Pinterest
This delicious krispie treat recipe was inspired by one of my favorite fudge recipes. Fluffernutter Fudge!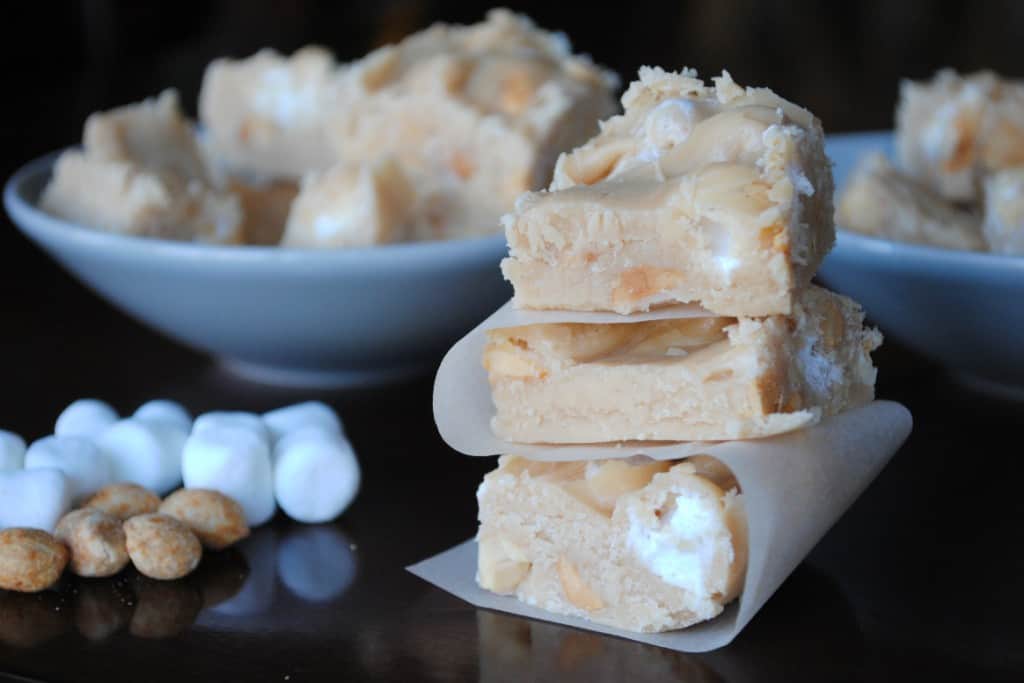 Just craving Reese's peanut butter cups? I've got ya covered with these Reese's Peanut Butter Bars.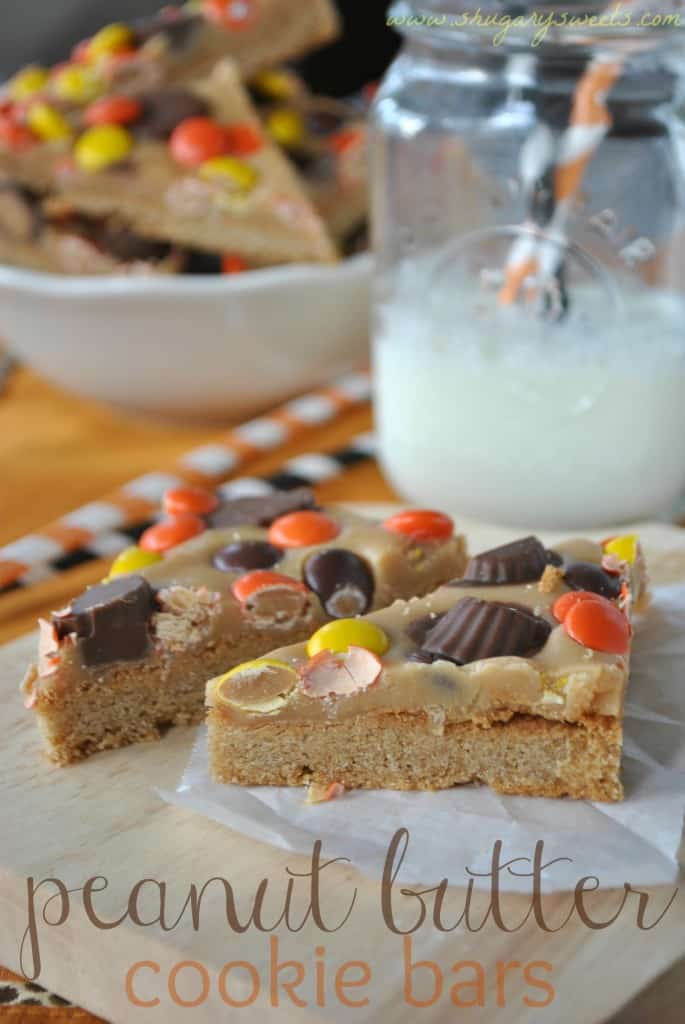 More fun Reese's recipes from the blogging world…
Chocolate Reese's Cheesecakes from Inside Brucrew Life
Reese's Peanut Butter Dip from Crazy for Crust
Reese's Cup Poke Cake from Something Swanky
Fluffernutter Krispie Treat recipe:
Yield: 32
Fluffernutter Krispie Treats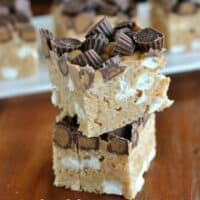 Peanut Butter Rice Krispie Treats topped with melted Reese's PB morsels and mini Reese's PB cups. A delicious twist on a childhood favorite!
Ingredients
10oz bag regular sized marshmallows
1/4 cup unsalted butter
1/2 cup creamy peanut butter
5 cup Rice Krispies cereal
1 1/4 cup mini marshmallows
1 bag (10oz) Reese's peanut butter morsels, melted
2 bags (8oz each) Reese's Mini Peanut Butter Cups
Instructions
In a large pot, melt butter over medium heat. Add marshmallows and turn heat to low. Stir until completely smooth. Remove from heat and quickly stir in peanut butter. Add cereal.
Fold in the mini marshmallows. Pour Krispies treats into a 9inch square baking dish lined with parchment paper (or buttered foil). DO NOT PRESS them in tightly. Just very gently even the top of the treats (I use the butter wrapper or marshmallow bag wrapper to press it in). Spread melted peanut butter morsels over the top.
Top the melted peanut butter morsels with the peanut butter cups. Press those in so they stick! Allow to set, about one hour. Cut into squares and store in an airtight container. ENJOY.

*Today's recipe for Fluffernutter Krispie Treats was originally published on Shugary Sweets on April 10, 2013 and has been edited and republished in April 2018.