Peanut Butter Rice Krispie Treats topped with melted Reese's PB morsels and mini Reese's PB cups. A delicious twist on a childhood favorite!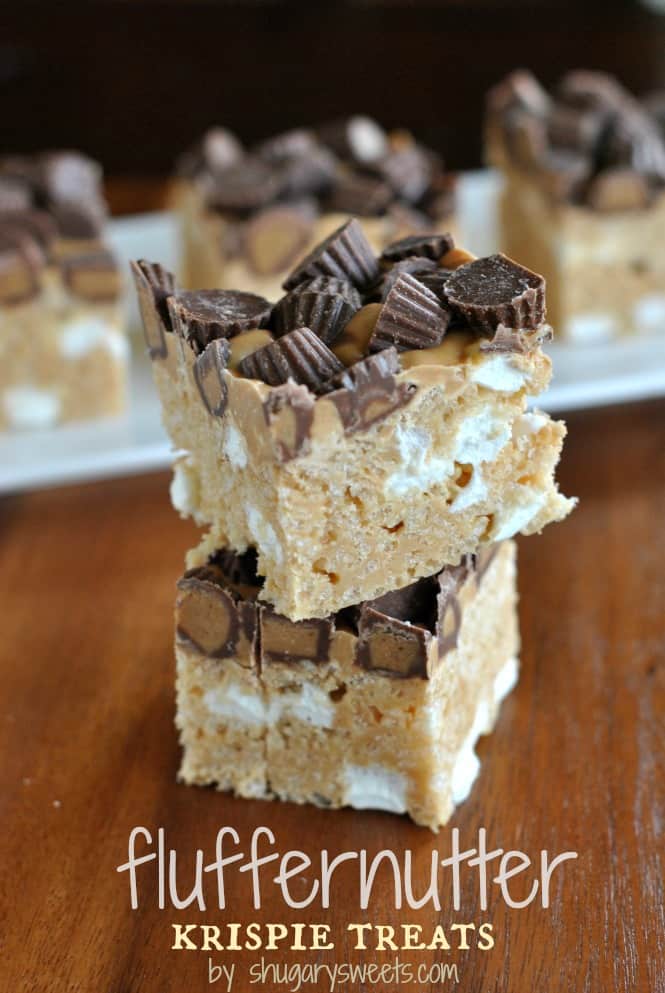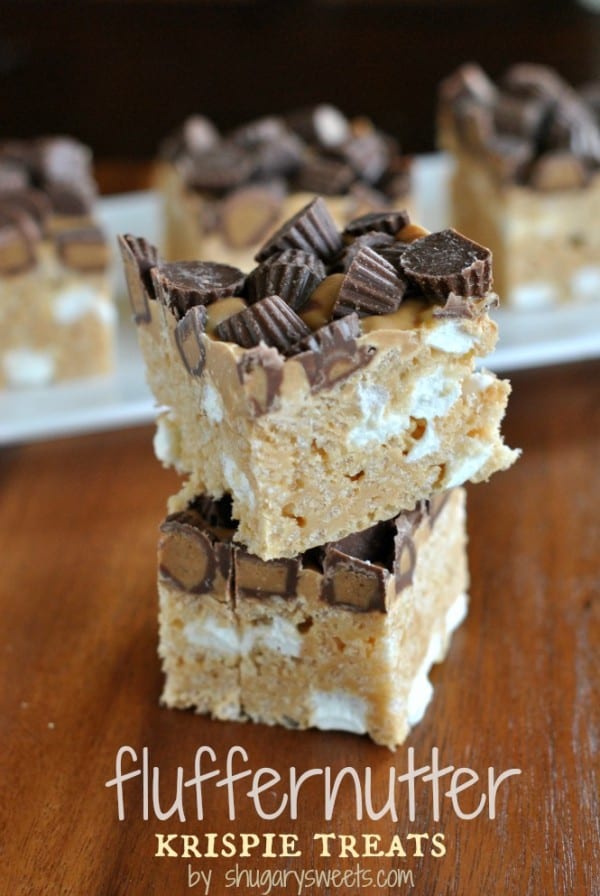 So my schedule is quite overwhelming right now. I'm not even going to describe or complain because I'm sure you all have had times in your life when things were so busy you couldn't even look at the calendar without throwing a tantrum. Right?
Then I realized it has been MONTHS since I shared a Rice Krispie treat recipe on the blog. And that, my friends, is unacceptable. I apologize.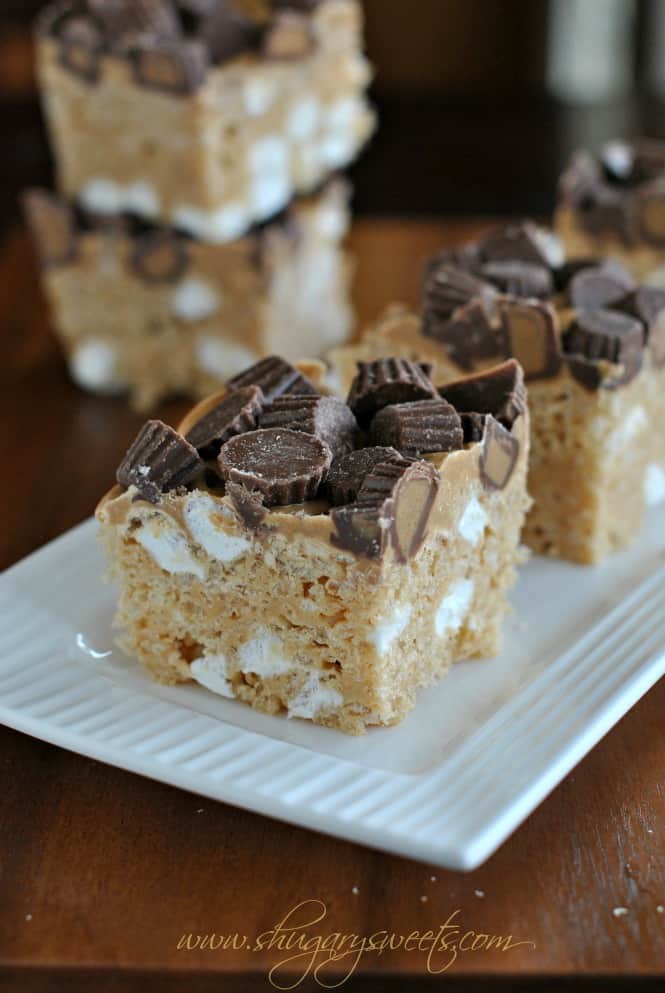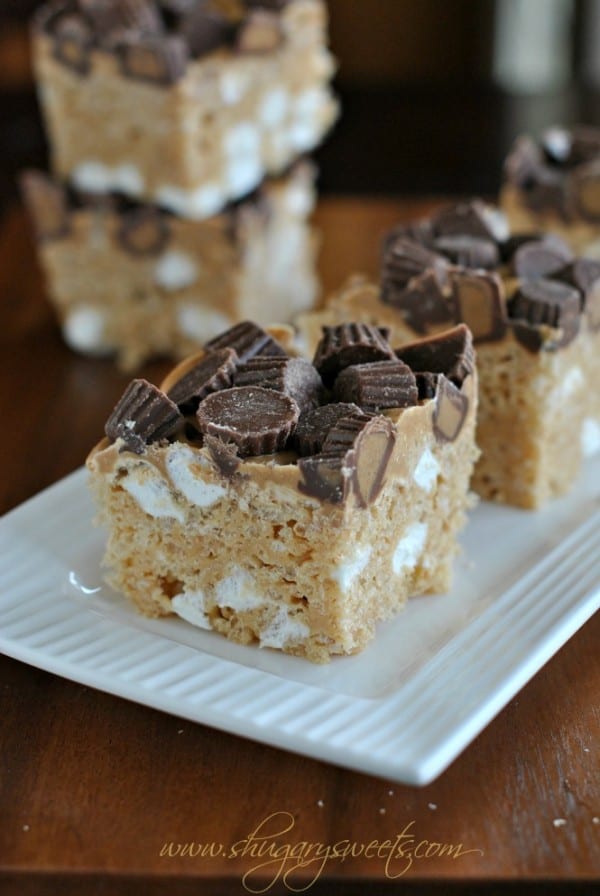 Line a 9-inch square baking dish with parchment paper.
PRO TIP: Use binder clips or mini clothespins to secure the parchment paper to the pan.
In a large pot melt butter over medium heat. Add marshmallows and turn heat to low.
Stir until completely smooth, remove from heat.
Quickly stir in peanut butter and fold in cereal gently.
Fold in mini marshmallows and pour into prepared baking dish. DO NOT PRESS HARD.
PRO TIP: To keep from sticking, rinse hands in cold water, shake off excess and press gently on krispie treats.
Spread melted peanut butter morsels over the top and immediately add the peanut butter cups on top.
Allow to set one hour. Cut into squares and enjoy.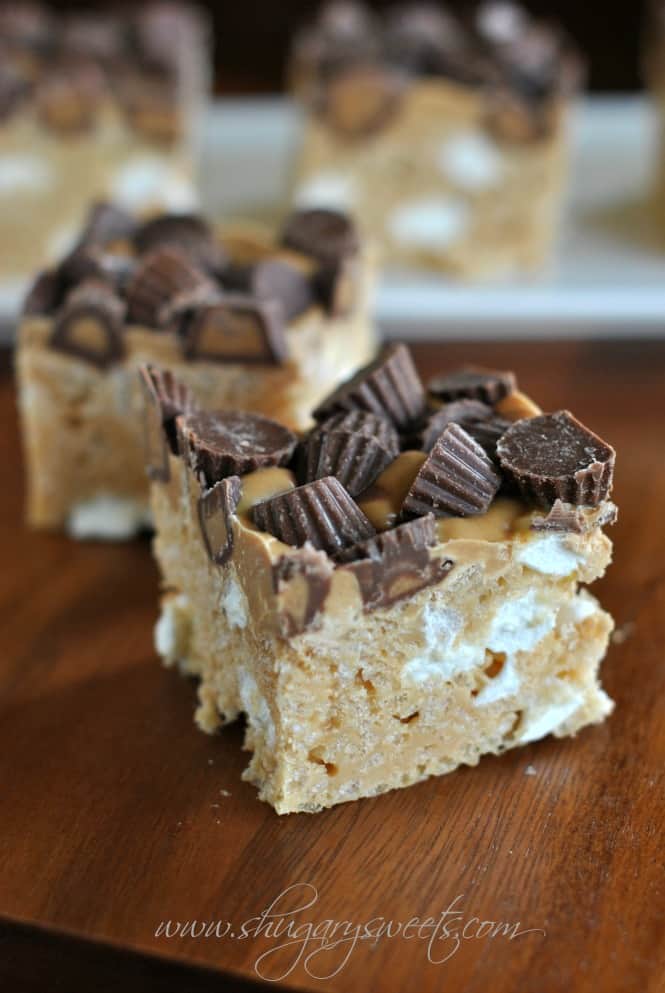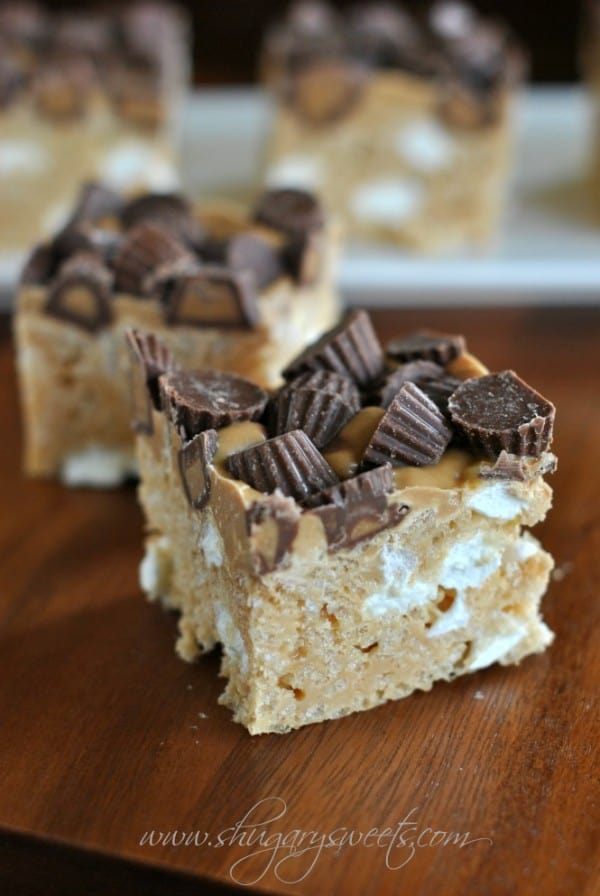 If you're looking how to make rice krispie treats, I've got you covered with the perfect rice krispie treats! <——that recipe is amazing. You'll never use the one on the box or bag of marshmallows again.
But, if you want to change up that perfect krispy treat, today's recipe is the one for you.
Want more Krispie Treat recipes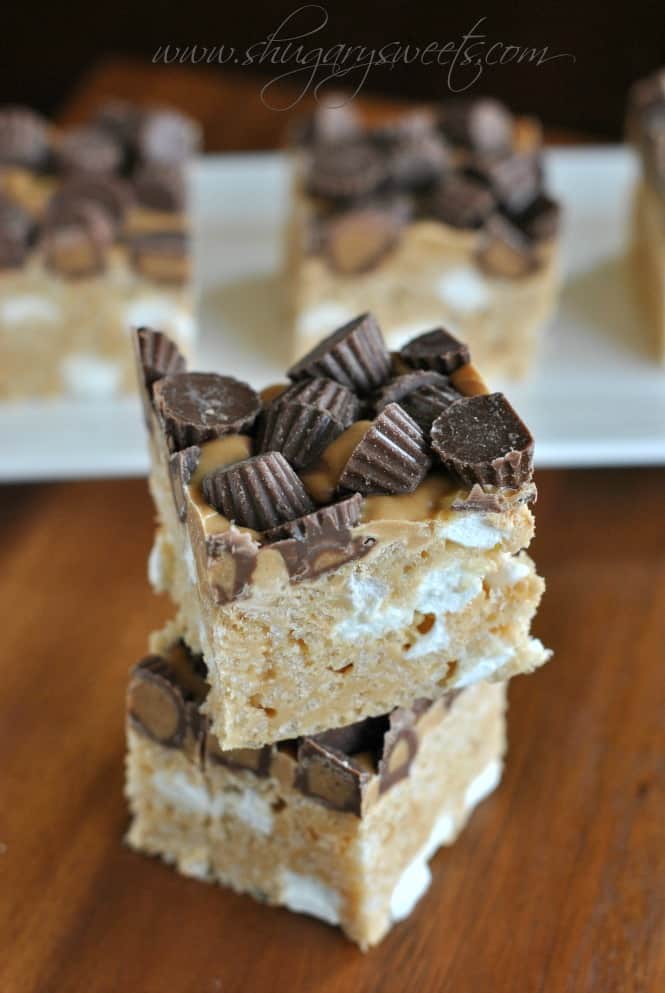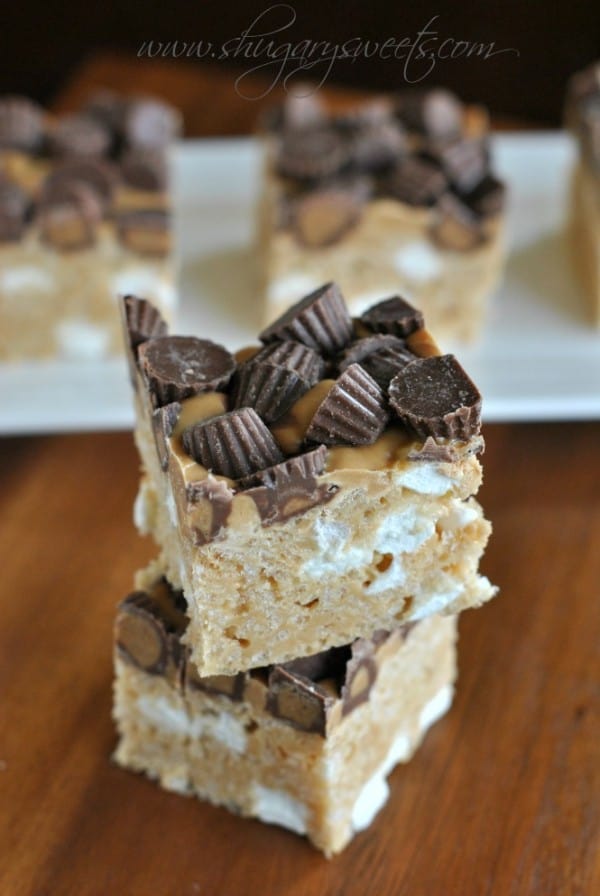 This delicious krispie treat recipe was inspired by one of my favorite fudge recipes. Fluffernutter Fudge!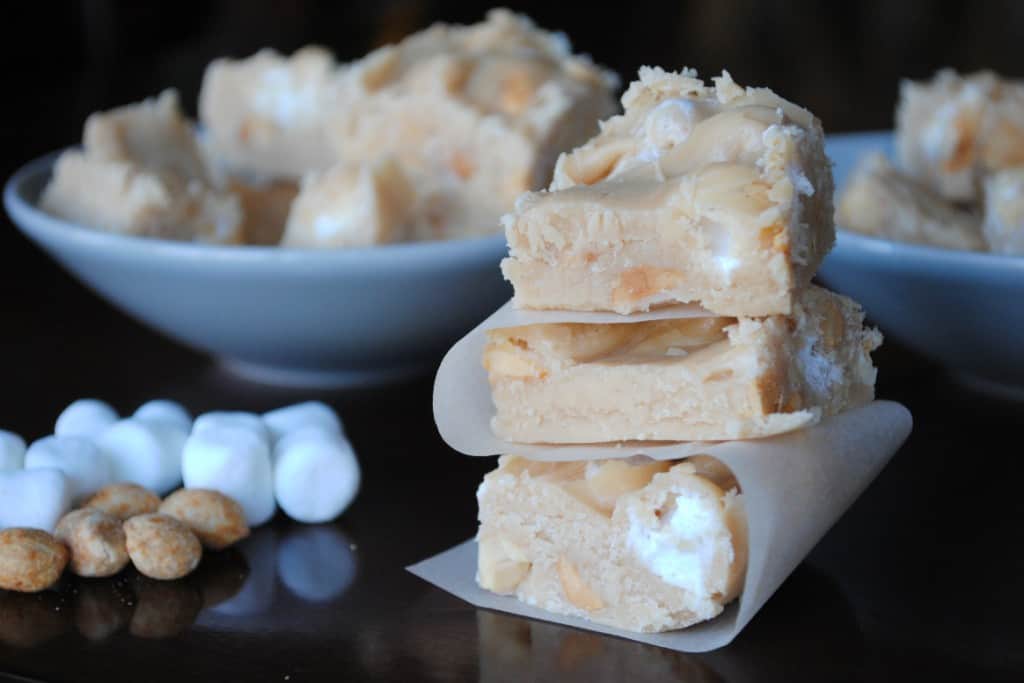 Just craving Reese's peanut butter cups? I've got ya covered with these Reese's Peanut Butter Bars.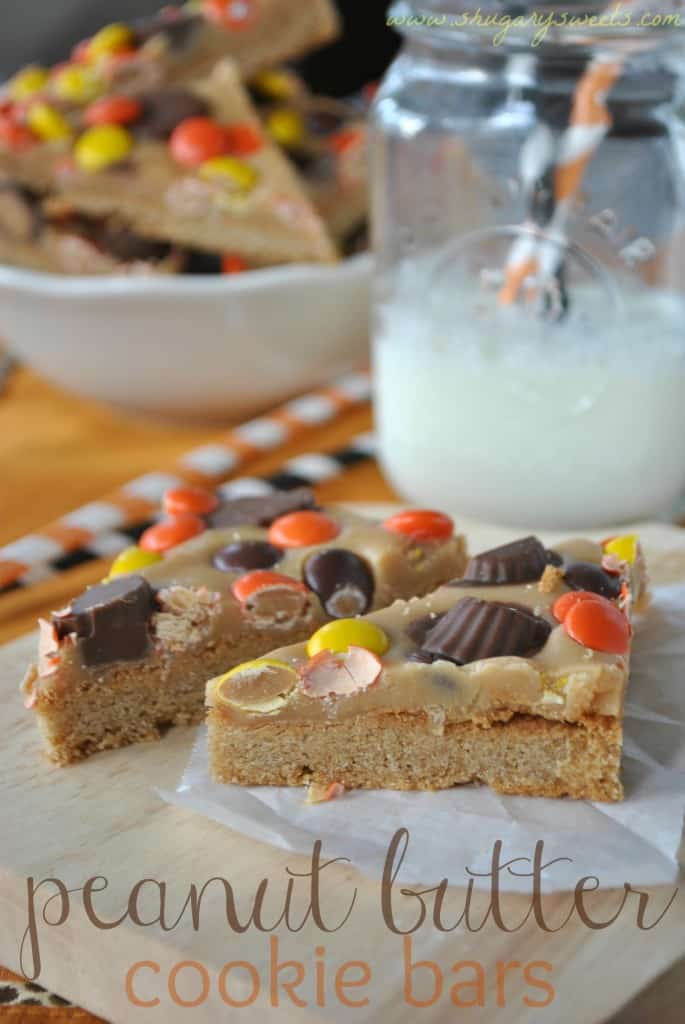 *Today's recipe for Fluffernutter Krispie Treats was originally published on Shugary Sweets on April 10, 2013 and has been edited and republished in April 2018.