Fluffernutter Fudge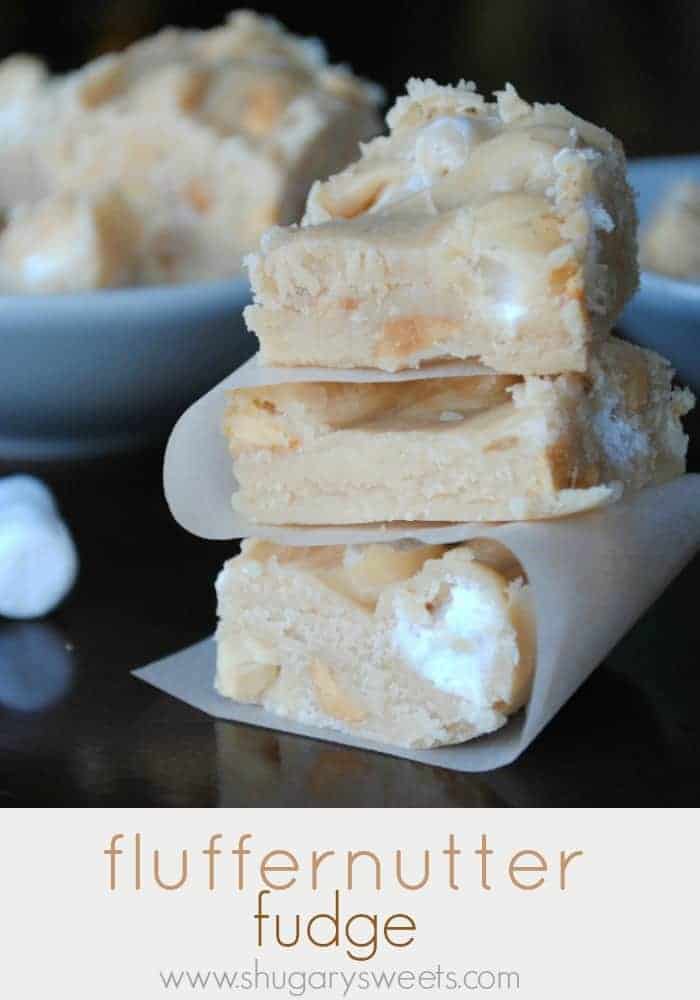 I don't know if I've ever confessed this before, but peanut butter isn't my favorite ingredient. I enjoy an occasional peanut butter treat, but it wouldn't be my first choice.
This fudge though, definitely changed my opinion on peanut butter desserts. The creamy fudge combined with an occasional chewy marshmallow and crunch peanut…oh my! Plus, it's so easy to make. Don't be scared of the candy thermometer. Stick it in the pan, and boil boil boil until soft ball stage (I think I took it out a few degrees before because I was impatient, and it turned out JUST PERFECT).
Make this for yourself, or that special someone in your life!
Yield: 2 dozen
Fluffernutter Fudge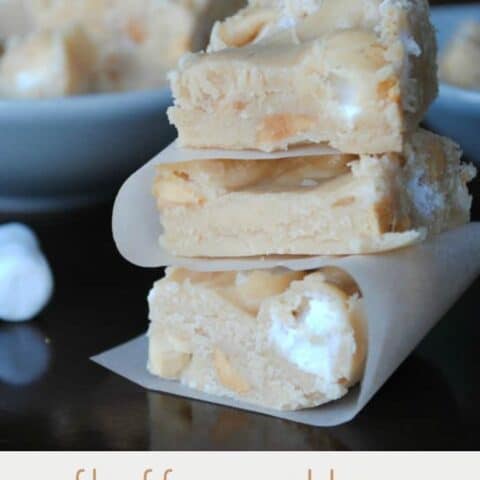 Ingredients
3 cup granulated sugar
3/4 cup unsalted butter
pinch of kosher salt
1 cup heavy cream
2 cup white chocolate morsels
3/4 cup peanut butter
7oz jar marshmallow cream
1 cup mini marshmallows
1/2 cup lightly salted roasted peanuts
Instructions
Line a 8x8 baking dish with parchment paper or foil. Set aside.
In a large mixing bowl, add white chocolate morsels, peanut butter, and marshmallow cream. Set aside.
In a large saucepan, heat granulated sugar, butter, salt and heavy cream until combined. Bring to a ROLLING boil and stir continuously for 4 minutes (set your timer)!
Remove from heat. Quickly pour hot mixture into the large mixing bowl with the other ingredients. Mix for one minutes, until smooth.
Fold in mini marshmallows and peanuts. Pour fudge into prepared pan and refrigerate for 3 hours, until hardened.
Remove from pan, remove lining. Cut into bite sized pieces.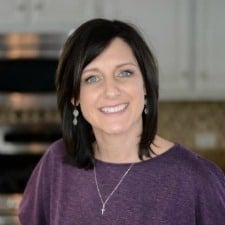 Aimee is a dessert lover (specifically rice krispie treats), workout enthusiast, self-taught foodie, and recipe creator. Her recipes have been featured in over 15 magazines, and her passion is to share her love of cooking with the everyday home cook! Learn more about Aimee.