These fun Pumpkin Pie Rice Krispie Treats are perfect for fall and the holiday season! They are thick and chewy, with the just-right balance of cereal and marshmallows, plus a few tips and tricks to make them extra delicious!
Holidays are so fun if you make one of our favorite Thanksgiving desserts! Our Pumpkin Waffles are a great way to start off the day, while our pumpkin whoopie pies are the perfect finisher.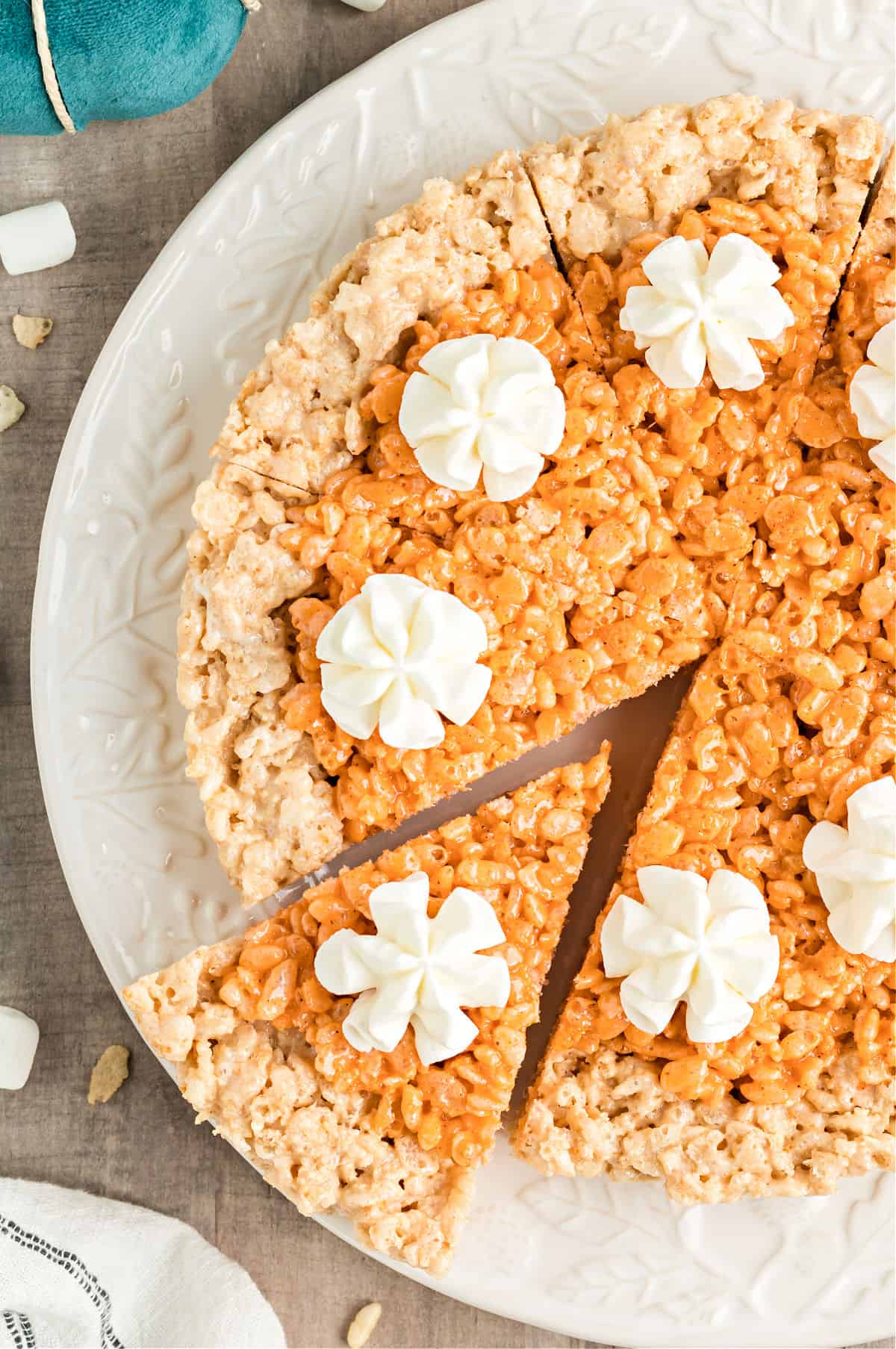 Why this Recipe is Best
Rice Krispie treats are sort-of my thing. This dessert has always been the key to my heart. Knowing how to make rice krispie treats has gotten me far in life.
And I make tons of different flavor variations, from Fluffernutter Krispie Treats to Cinnamon Roll Krispie Treats to Turkey Krispie Treats for Thanksgiving.
These Pumpkin Pie Rice Krispie Treats are so fun for fall and would also be a great addition to your Thanksgiving table.
The rice Krispies have a pie "crust," with an orange-colored Rice Krispy filling to make a pie look.
Each slice is thick and chewy.
These treats have the perfect ratio of cereal to marshmallows.
They've got pumpkin pie spice mixed in and are served with a garnish of whipped cream for a true pie-like effect.
If you love serving pumpkin pie for the holidays, try this treat for the kids. Although truth be told, adults love it too!
Ingredient Notes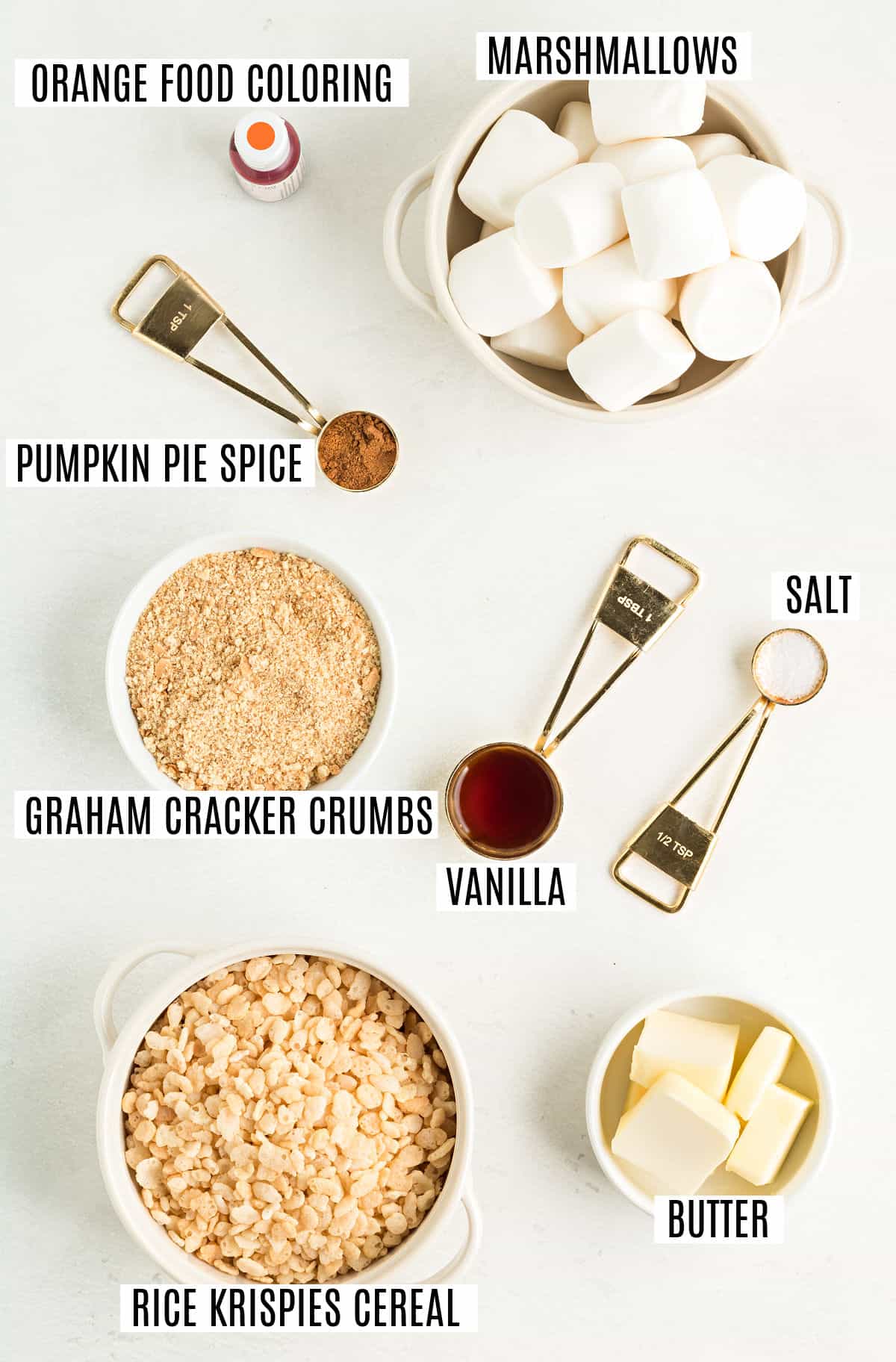 My traditional rice krispie treat recipe has extra butter and marshmallows to make them super gooey and soft. Today though we want them to hold their shape a little bit more, so we are skipping the extra marshmallows! I promise they are still delicious!
Marshmallows – You'll need a 10-ounce bag of regular marshmallows for this recipe. Fresh marshmallows are best (not that months old bag that's been in the back of your pantry).
Rice Krispies Cereal- Any brand of crispy rice cereal will work, just make sure it's FRESH.
Vanilla Extract – I love using homemade vanilla extract for all my recipes, but store-bought is fine, too. Just be sure to use PURE vanilla, not imitation.
Orange Coloring – Gel food coloring provides a more vibrant color. Add more or less to achieve desired color.
Pumpkin Pie Spice – Use our homemade pumpkin pie spice mix for the best flavor!
Easy Instructions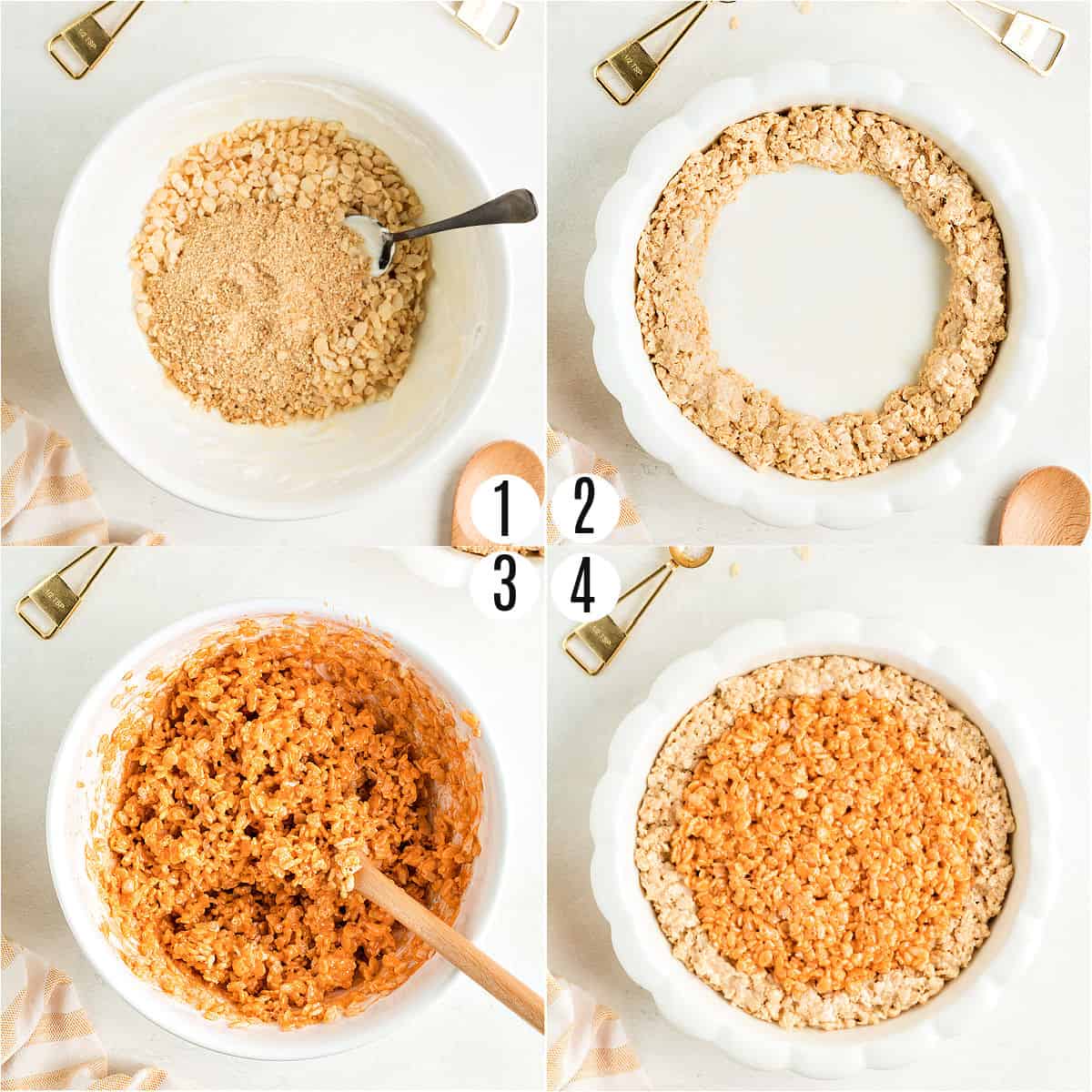 Make the "pie crust". Melt marshmallows and butter, then stir in vanilla extract, cereal and graham cracker crumbs. Press lightly into a 9-inch round pie plate.
Make the "filling". Melt the remaining marshmallows and butter together, then stir in remaining vanilla, orange food coloring and pumpkin pie spice.
Set and garnish. Allow the krispie treats to set up for about 30 minutes. Then slice into pie pieces, garnish with whipped cream and serve!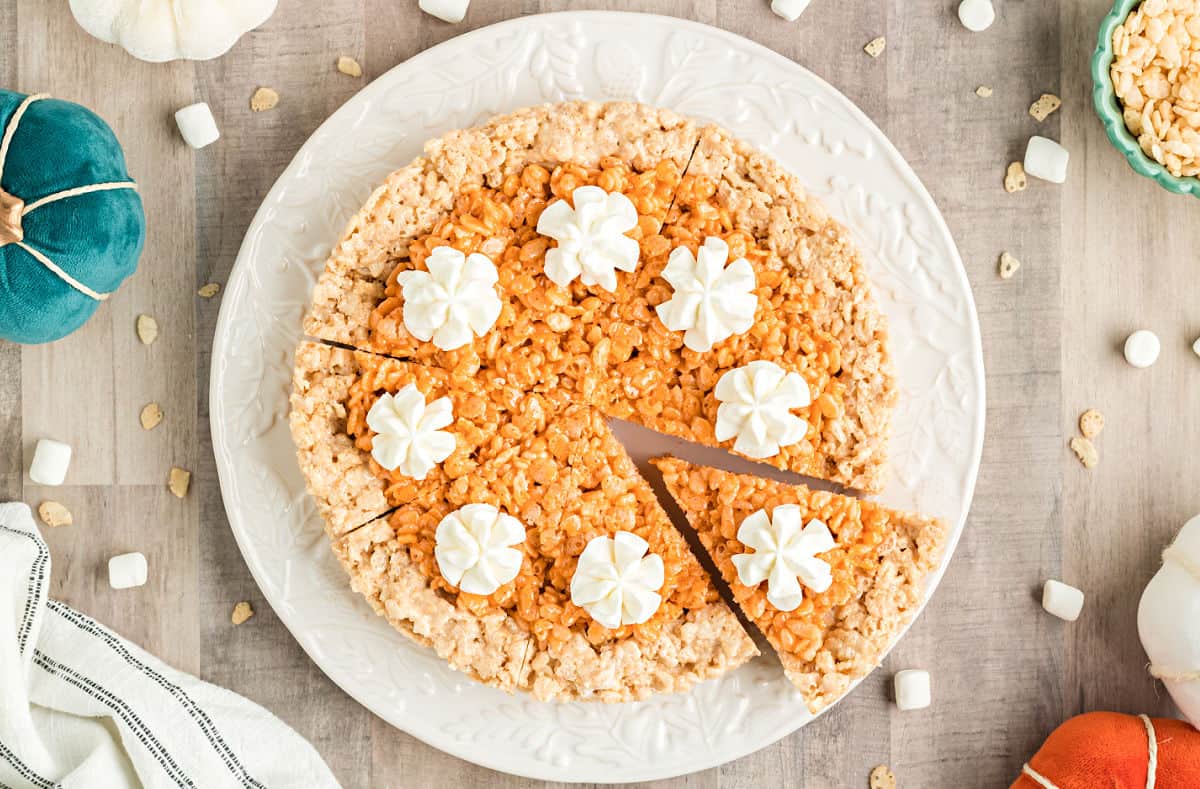 Tips and Tricks
Use fresh marshmallows. They make a BIG difference. Toss the bag that's been in your pantry for months and months and buy a fresh bag. It's worth it.
Add my secret ingredient. VANILLA EXTRACT. Not imitation vanilla, but PURE VANILLA extract. It makes a difference in creating the illusion that you're using homemade marshmallows.
DO NOT press the crust or filling into your pan firmly. Using your fingertips, GENTLY press them in just until they are spread out. The harder you pack them in, the more dense and hard they are when it's time to eat them.
Use a little water on your finger tips to help press the crispy rice mixture into the pan without it sticking to you.
Marshmallows and butter can also be heated in a large pan on the stovetop (instead of in the microwave).
Only garnish with whipped cream when ready to serve; otherwise it will make the krispie treats soggy.
Pumpkin. Love today's holiday treat? Try our pumpkin spice krispie treats next! Or give our delicious pumpkin latte treats a try!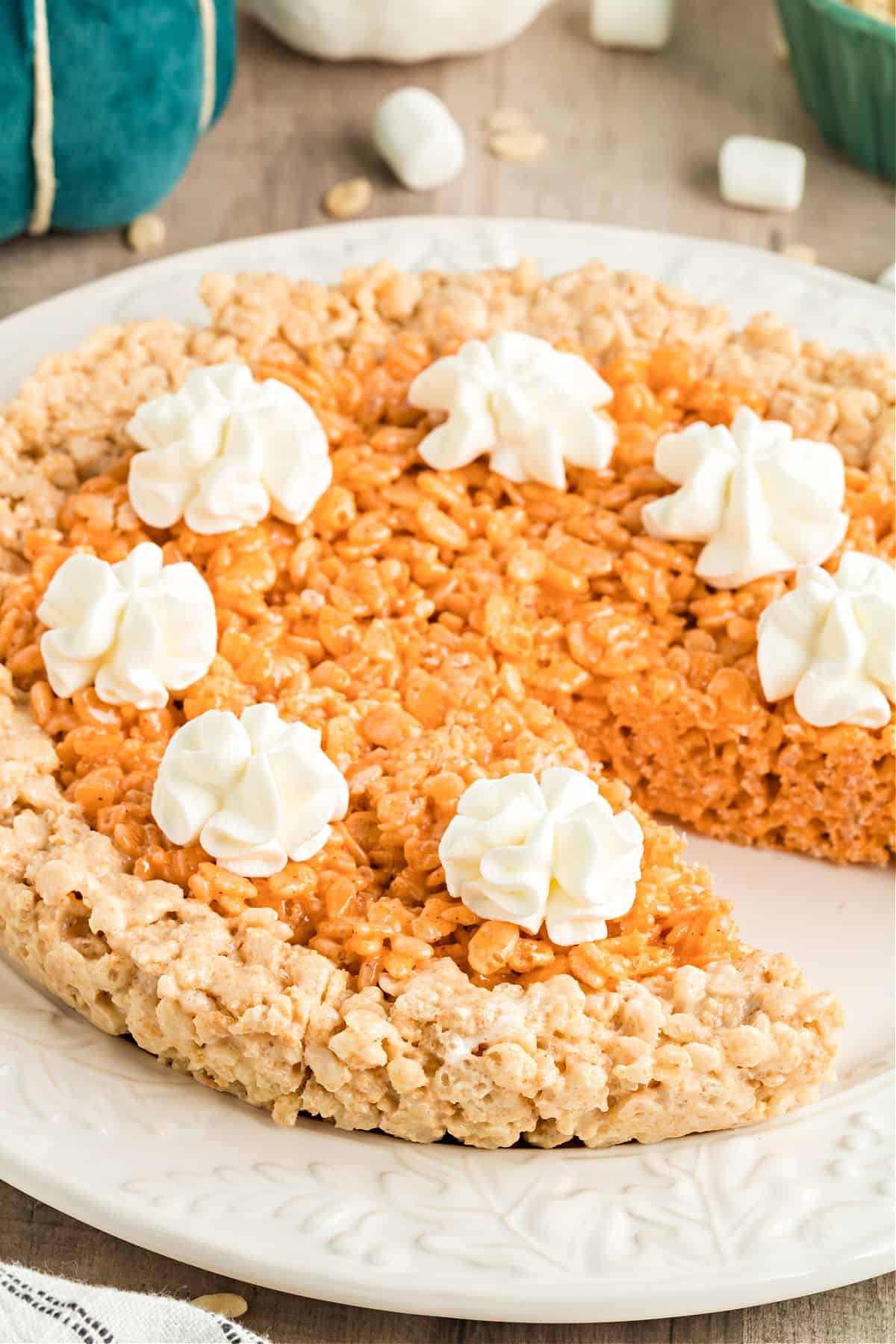 Recipe FAQs
What kind of cereal should I use for krispy treats?
Any brand of crispy rice cereal will work, just make sure it's fresh for the best results.
Can I use regular food coloring in this recipe?
The orange gel food coloring provides a more vibrant color and is preferred. You can adjust the amount – using more or less – to achieve your desired color. Regular orange food coloring can also be substituted. A mix of yellow and red can be carefully and slowly added to try and get to the right orange color as well.
Can I make these rice krispies gluten-free?
Yes. Choose a crispy rice cereal and graham crackers that are labeled gluten free. Also, check your marshmallow labels and gel food coloring, too, just in case.
Why do my Rice Krispie Treats get hard?
Your krispies treats could be getting hard if you press the treats too firmly into the pan, which makes them more dense and tough. Also, be sure to start with fresh marshmallows and fresh cereal.
How do I store leftover Pumpkin Pie Rice Krispie treats?
The leftover pie pieces can be wrapped in plastic wrap and stored at room temperature for up to 3 days. Just wait until serving to add the whipped cream.
More Holiday Favorites