This five-ingredient Caramel Sauce recipe comes together in a matter of minutes. It tastes phenomenal with almost every dessert. Drizzle it over some ice cream, add some to your morning coffee, swirl it into cheesecakes, or dip some apples in it.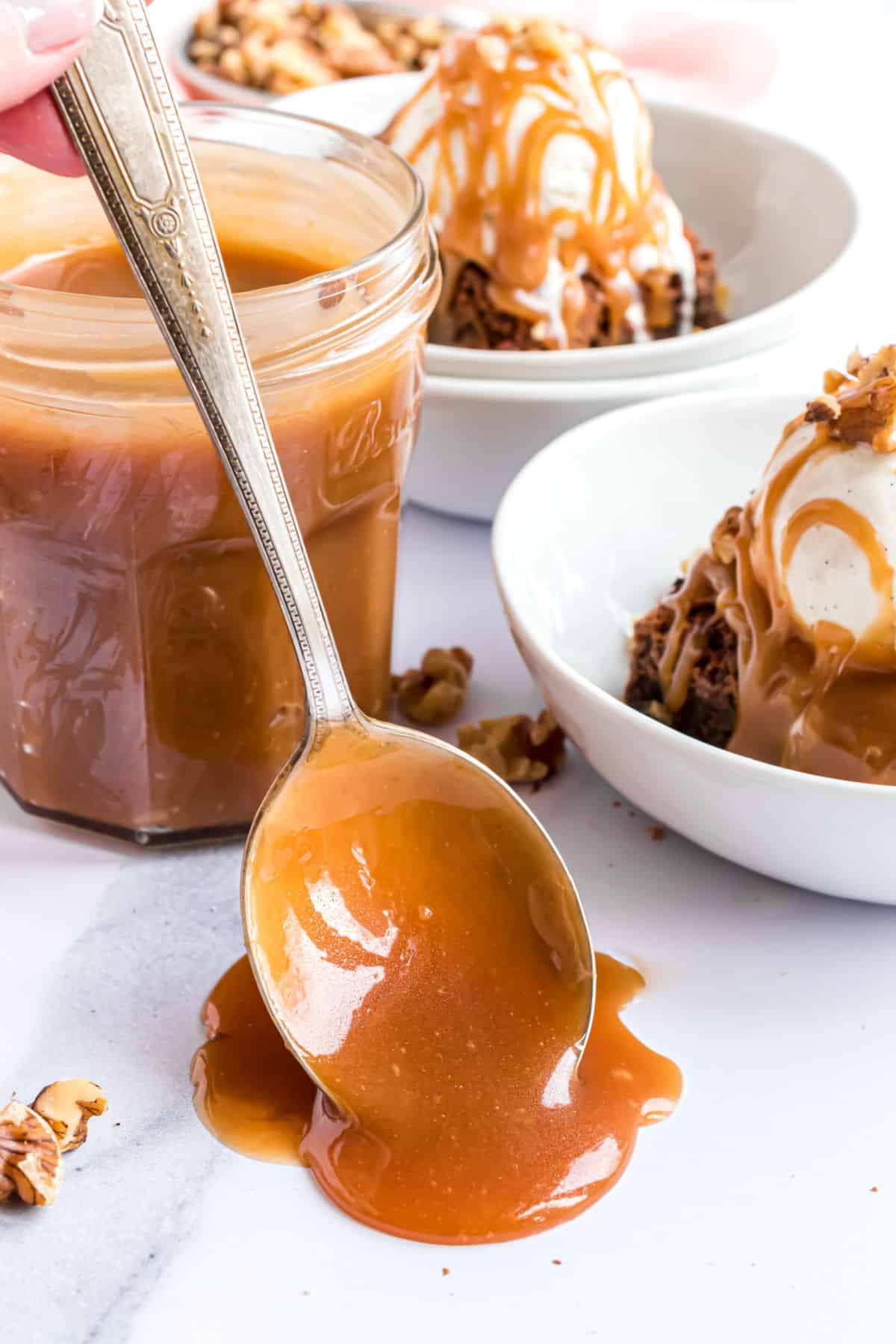 Why Caramel Sauce Works
I've often been disappointed when looking for caramel sauce that doesn't have artificial flavors and colors. To make things more complicated, the bottle labels are full of obscure ingredient names.
That's why I've gone to great lengths to create my homemade version. A recipe with which I can nail the flavor every time using simple ingredients.
Here are a few reasons why you'll love it,
It's liquid gold in a jar. This Caramel Sauce is deliciously sweet, slightly salty, buttery rich, and silky smooth. It's a lot of things in one small jar.
Quick and simple. Making caramel sauce at home is much easier than you'd expect, and you'll never want store bought again once you try it. Even at your slowest, this recipe comes together in 15 minutes.
It's universal. Although you may make the sauce for a specific dessert recipe, the leftovers won't go to waste. You can have it with some apple slices or keep it in the refrigerator for up to 4 weeks. But I'm sure you'll find an excuse to use it because it's just that yummy.
If you love our homemade caramel, be sure to try our homemade chocolate syrup next. Your ice cream sundaes will thank you!
Ingredient Notes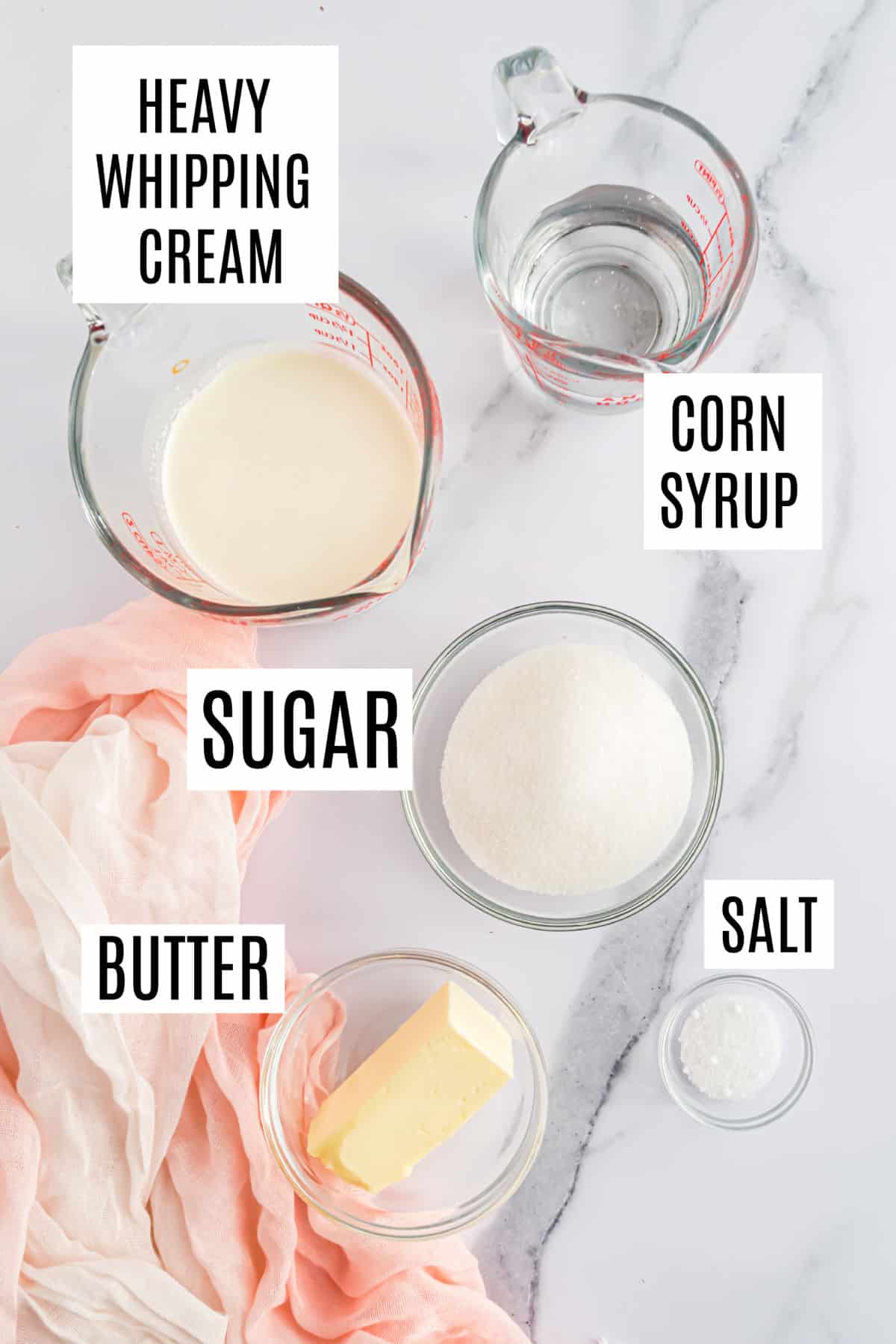 Just 5 simple ingredients needed to make the best caramel sauce ever! Be sure to scroll down all the way for exact measurements.
Heavy Whipping Cream
Granulated Sugar – White sugar gives the sauce its beautiful amber color when it caramelizes.
Light Corn Syrup – It helps you caramelize the sugar more evenly and slowly.
Butter – Make sure you use unsalted butter because being able to control the salt in the recipe is very important. The balance of sweet and salty is what makes the sauce taste so good.
Kosher Salt – Don't skip it. The salt perfectly balances the intense sweetness of the caramelized sugar.
Easy Instructions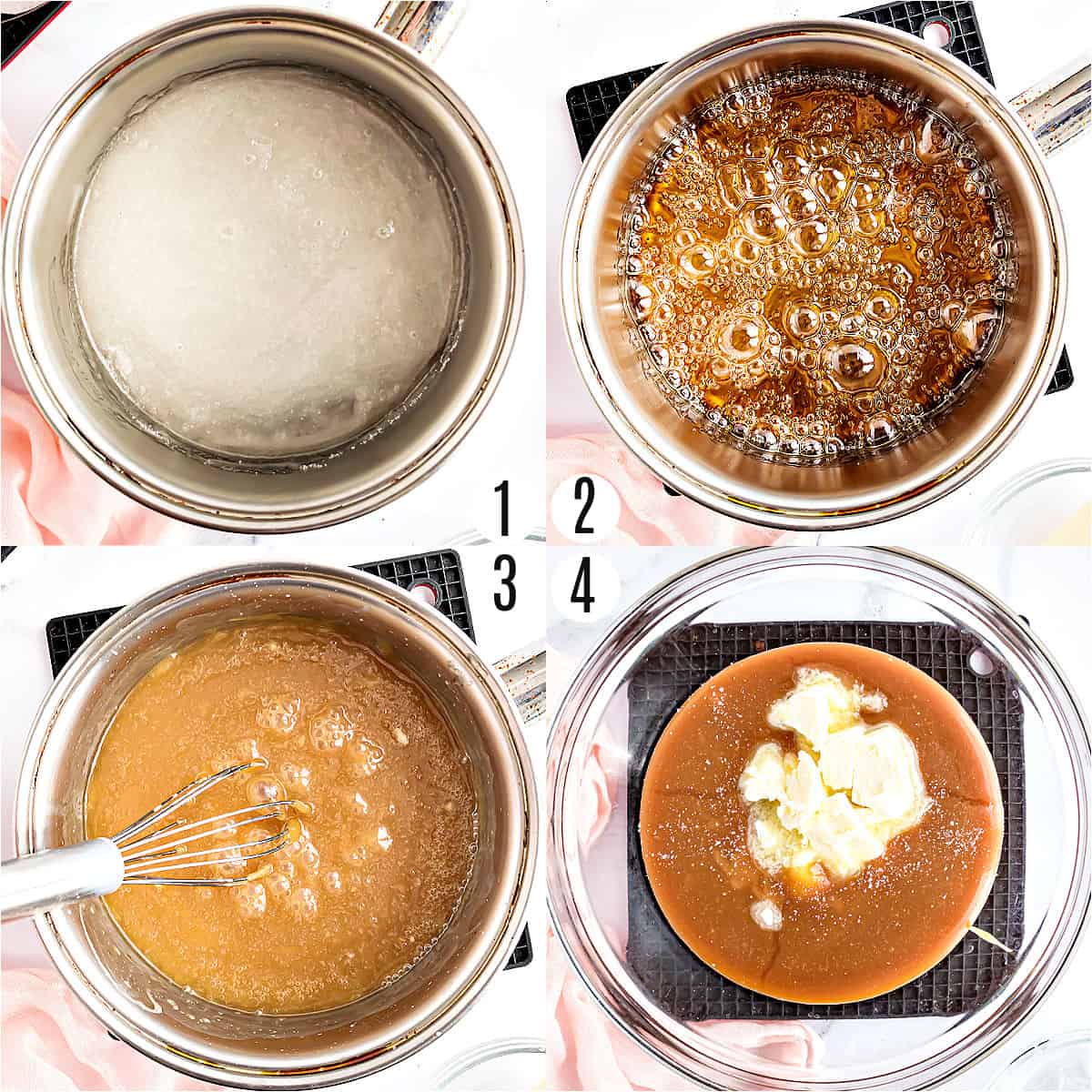 Caramelize the sugar mixture. Boil the cream and keep it aside. Then in a heavy-bottomed pan, add sugar and corn syrup.
Boil. Heat it until the mixture starts to turn light brown.
Add Cream. Mix in the cream and cook for 2 minutes.
Let it cool. Let the caramel cool for 15 minutes. Then mix in the butter and salt until completely combined.
Tips and Tricks
Keep an eye on the sauce. This recipe requires constant supervision as the mixture can easily go from a beautiful amber to deep brown to burnt. Also, if the sauce gets overcooked, it will be rock hard like candy, and you'll have to start over. When you start cooking the sugar mixture, it will have a slight yellow hue, and then it will start to deepen. Don't get distracted when you're working on this recipe!
Use a heavy-bottomed pan. It helps the sugar cook evenly as there is equal distribution of heat. An aluminum pan may heat quickly, but even heat retention is most important for this sauce.
Heat the whipping cream. Hot cream prevents splashing when it is added to the hot sugar mixture. When cold cream is added, it splashes all over, which can cause burns.
Resist the urge to stir. If you stir the sugar mixture, it can splash up the sides of the saucepan resulting in the evaporation of the moisture and the sugar crystallizing. This will cause the sauce to be grainy. I would recommend gently swirling the mixture periodically while heating.
Fix grainy Caramel Sauce. Pour the grainy sauce into a clean saucepan with 2-3 tbsp of water. Stir and bring it to a boil until all the sugar crystals dissolve. Once it's smooth, remove it from the heat.
Be very careful. Working with sugar can cause burns if you're not attentive. So, be calm and cautious while working with sugar.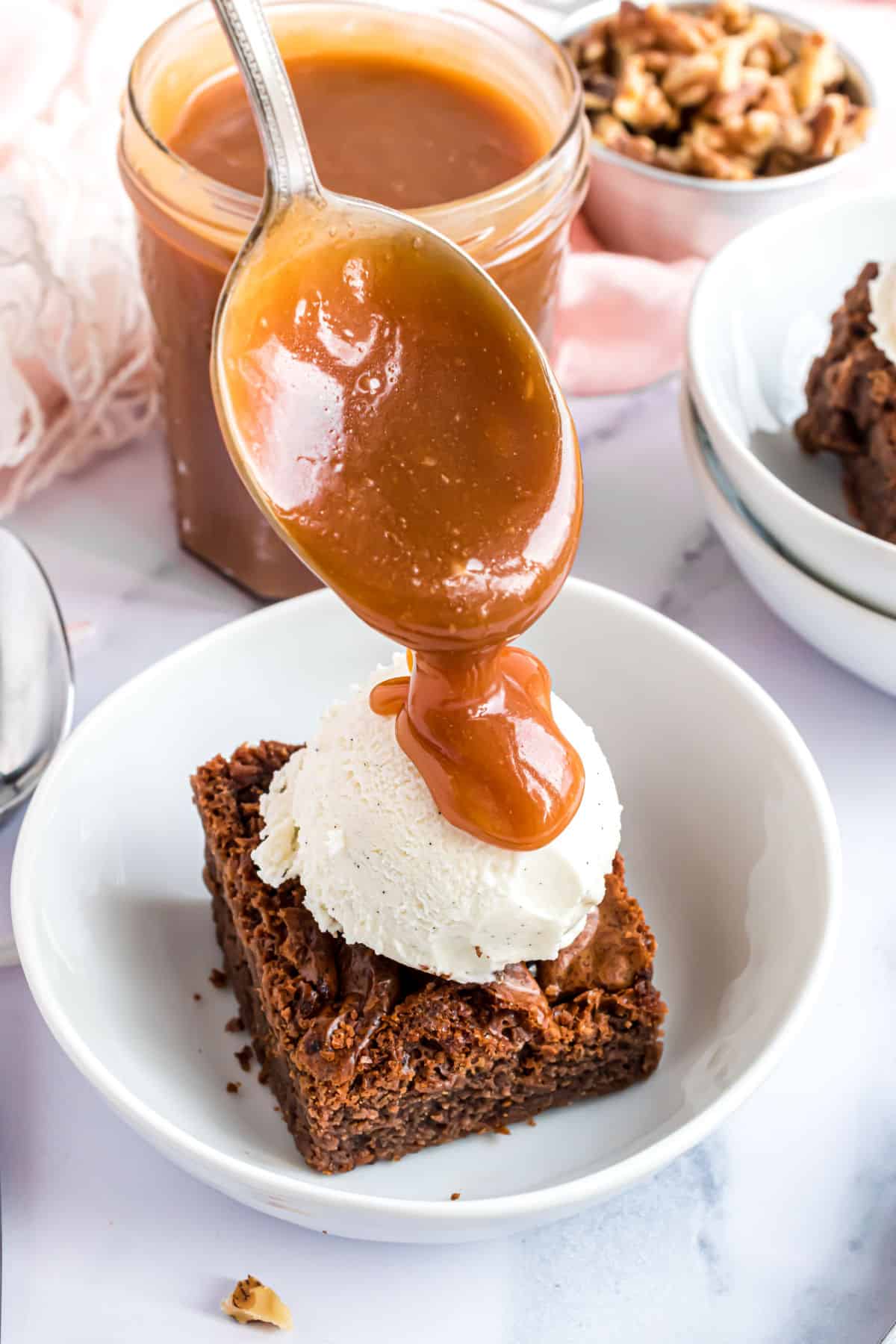 Serving Suggestions
With this Caramel Sauce, the possibilities are endless. Of course it's wonderful on vanilla ice cream (and our easy no churn vanilla ice cream).
It's also delicious for dipping homemade churros or drizzling over desserts like Instant Pot apple cheesecake, apple pie, brownies, and carrot cake.
Add a big spoonful to the tops of our caramel apple cheesecakes and our churro cupcakes.
Butterscotch Vs Caramel Sauce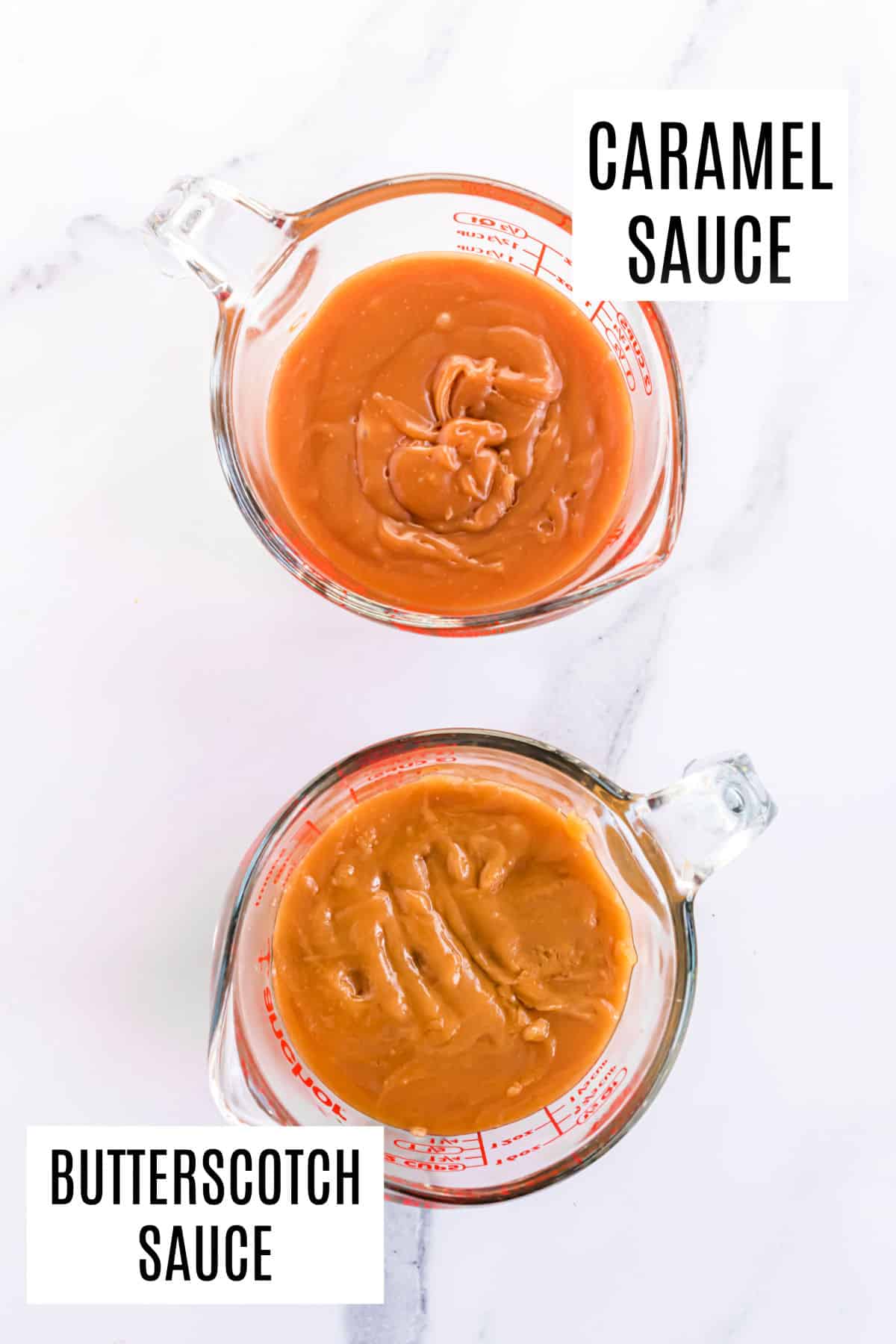 You may be wondering, what is the difference between caramel vs butterscotch?
There are two major differences between Caramel Sauce and Butterscotch Sauce:
Cooking: Caramel sauce is made with white (granulated) sugar and gets caramelized, sometimes with liquid if using the wet method, and then other ingredients are added in. In addition, the butter is added during the last step in my recipe. Butterscotch is made with brown sugar, and you combine/cook all the ingredients together.
Flavor: The butterscotch usually has a deeper flavor than the caramel sauce due to the molasses in the brown sugar. It is usually sweeter than caramel as well.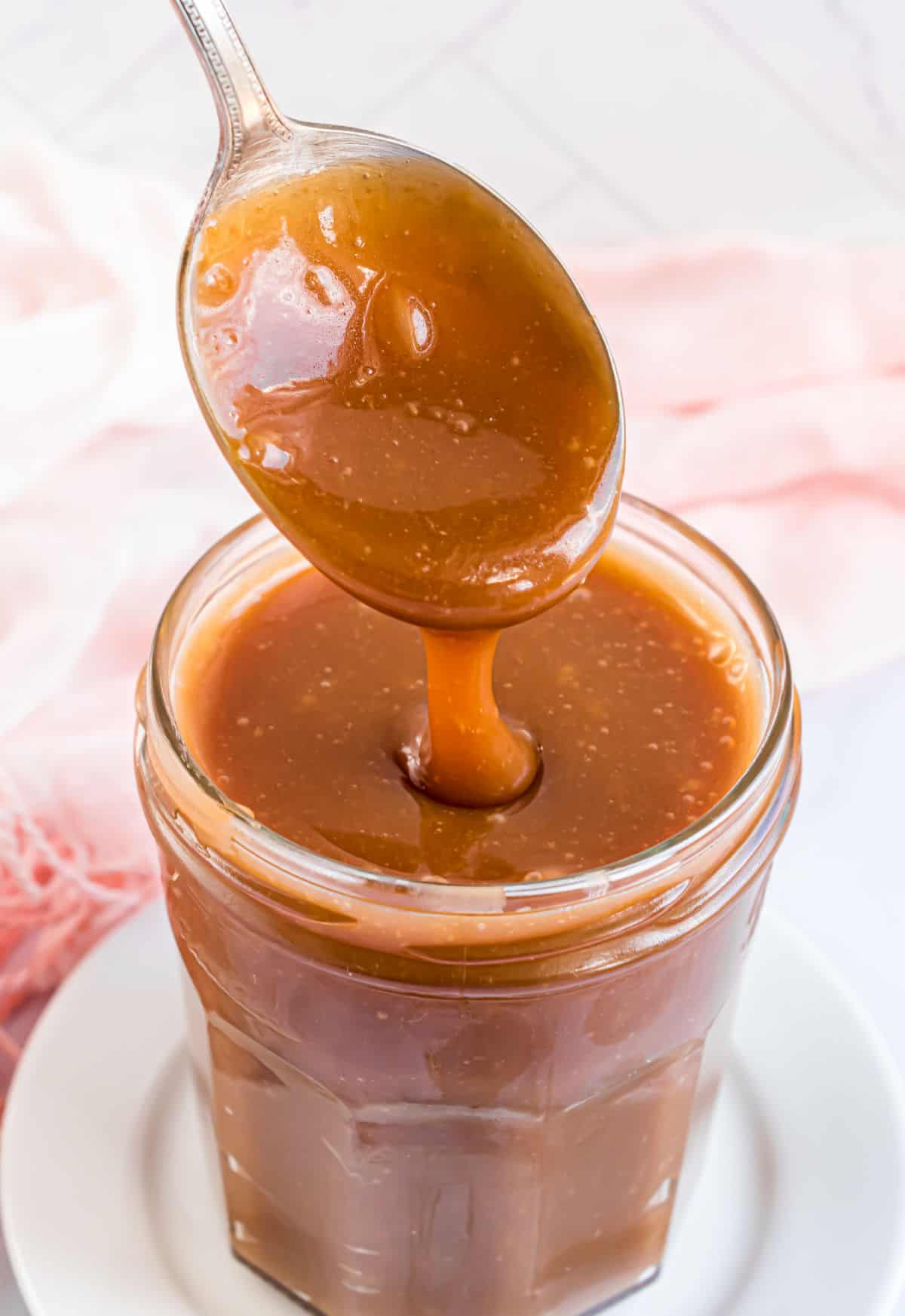 Recipe FAQs
Can I make Caramel Sauce in advance?
Yes. You can absolutely make it ahead and store the Caramel Sauce in an airtight container or jar in the refrigerator for up to 4 weeks. Make sure the sauce has completely cooled down before storing it.
What is the purpose of corn syrup?
Corn syrup prevents the caramelized sugar from turning into hard candy. It keeps the caramel from turning grainy while cooking. It also prevents the caramel from turning hard in the refrigerator.
The Caramel Sauce has become too thick in the refrigerator. What do I do?
That's completely fine. It will be thick after refrigeration. To reheat the caramel sauce, place the desired amount in a microwave-safe dish and reheat while stirring at 10-second intervals in between. The sauce can also be reheated on the stovetop over low heat while constantly stirring.
More Easy Dessert Recipes