What's homier than an apple pie made from scratch? Just like mom used to make, this homemade Apple Pie recipe is a classic you need to have in your baking repertoire.
And if you love a pie topped with streusel, be sure to try my homemade Dutch Apple Pie recipe! Or give our easy apple dump cake a try, perfect when you're craving pie but not the work!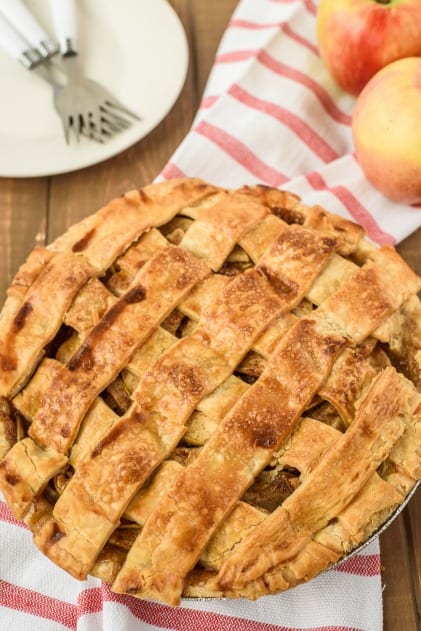 Easy as Pie
If it were possible for a warm hug to become a dessert, I think it would be Apple Pie.
Spiced apple slices baked in a flaky crust, served on its own or with a dollop of whipped cream makes for a pie that's stood the test of time.
Best of all, apple pie is one of the easiest homemade pies out there!
I'm a big fan of pie in general, as you may have gathered by the abundance of pie recipes on this site. When you put sweetened fruit together with pastry, how can you go wrong? I mean, really.
As much as I love all kinds of fancy pies, there's something unbeatable about a simple Apple Pie.
No frills. No gimmicks. Just buttery cinnamon apples bubbling beneath a layer of perfect pastry crust.
Make our easy apple slab pie if serving a crowd! Or give these mini apple pies a try for an individual serving!
After we visit the apple orchard early in the autumn, I almost immediately whip up a batch of Apple Hand Pies or Apple Dumplings along with apple cider and a whole Apple Pie or two.
The scent that fills your kitchen when a homemade Apple Pie is baking is intoxicating. It's nostalgia, comfort and happiness all in one. Even if I didn't enjoy eating apple pie, I'd probably keep making it just to fill my kitchen with that aroma.
Apple Pie is the most popular pie and an American classic for a reason. People love apple pie. I doubt I will ever get sick of it!
The recipe I'm sharing today will teach you how to make the best apple pie. It's just like the one your mother probably made–along with her mother and, probably, her mother.
There's just no need to mess with perfection, folks.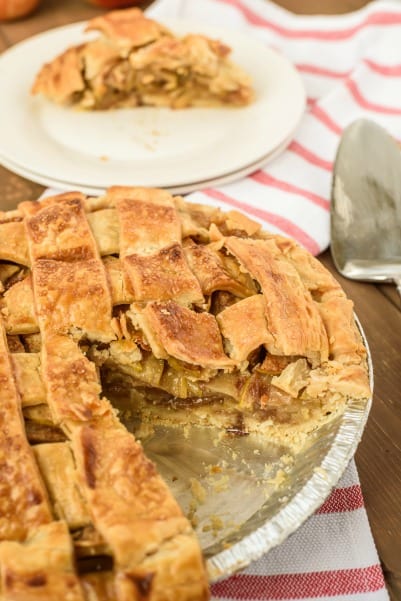 What Makes This Pie the Best?
A good crust is key for making the best apple pie. Truth be told, I often use a refrigerated pie crust to make my homemade pies. They taste just as good as a homemade pie crust and make it extra easy to make this apple pie.
If you do want to make you own pie crust, you're welcome to! But certainly don't be afraid to take advantage of the ease and convenience of the crusts you can find ready made at the store.
What's the other key to making the very best apple pie? Choosing the right apples.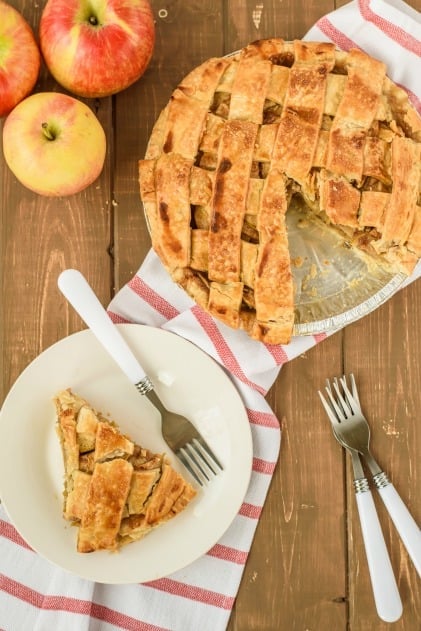 What Apples to use?
The best apples for apple pie are crisp, firm and tart. I prefer Granny Smith apples. Pink lady, golden delicious and honey crisp apples are other great options for your pie.
Time saving tip: Don't peel your apples!
Unless a little bit of apple skin really bugs you, I've found that it's just not necessary to spend all that extra time messing with the peeler. The skin is thin enough that as it bakes it gets soft and soaks up some of those good spiced apple juices.
Plus, less time peeling = more time eating pie!
Ingredient Notes
Here's all you need to make a perfect apple pie, along with your prepared pie crusts:
Apples
White and brown sugar
Flour
Lemon juice
Cinnamon and nutmeg
Unsalted butter
Egg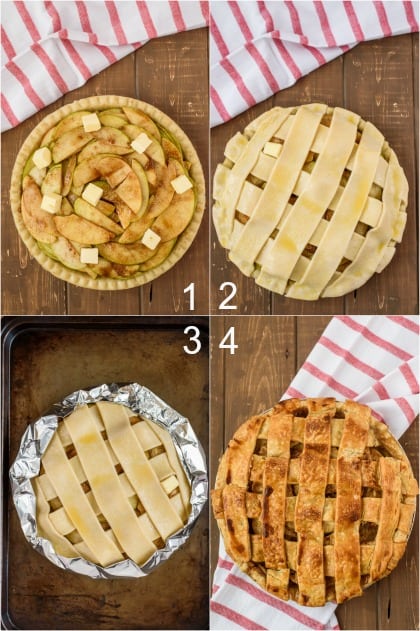 How to Make Apple Pie
First, you're going to core and thinly slice your apples. I like my apples sliced very thin for pie; about 1/4 inch thick. Toss the apples with flour, sugars, spices and lemon juice and let them sit for a few minutes to "marinate."
Pour the apple mixture over your uncooked pie shells (pressed into a pie plate). Dab butter all over the top of the apples. Top with a second pie crust and pinch the ends together to seal.
Brush the top of the pie with an egg wash and, if you like, a little bit more coarse sugar. Bake at 450 degrees for 15 minutes. Then reduce the heat to 350 degrees and bake for another 45 minutes.
Remove from the oven and let cool before serving.
Tips and Tricks
Let the pie cool entirely before slicing! I know it's hard to resist sticking your knife and fork into that fresh-from-the-oven pie, but if you slice too soon the filling will ooze everywhere!
Use a standard sized pie plate rather than a deep dish for this recipe.
Burning edges? Pie crust shields can help eliminate that. If you don't have pie crust shields, try wrapping the edges of the crust in foil during the second stage of baking .
If you prefer, feel free to substitute Apple Pie Spice for the cinnamon and nutmeg.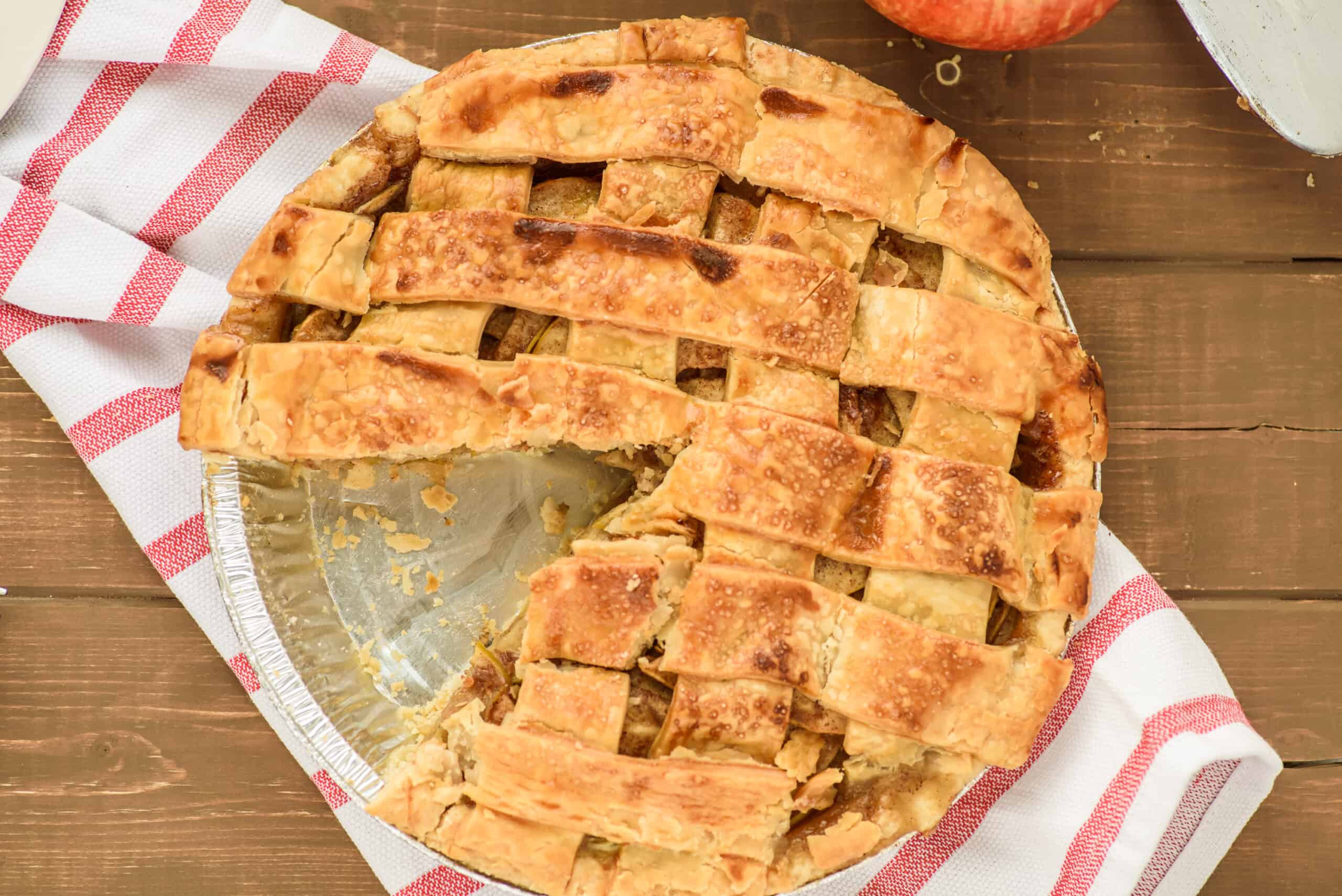 This apple pie is delicious all on its own. Of course, no one can resist a slice of warm apple pie served with a scoop of vanilla ice cream or whipped cream either!
Recipe FAQs
Do you cook apples before putting them in pie?
You don't have to with my recipe. Some people do it so there is no gap between the top crust and the apples.
How do you keep the bottom crust of apple pie from being soggy?
Brush the bottom crust with an egg white wash before placing the apple slices in the pie. This creates a seal and allows the crust to crisp.
How do you know when apple pie is done baking?
Let the filling bubble around the edges, and the top crust will be golden brown.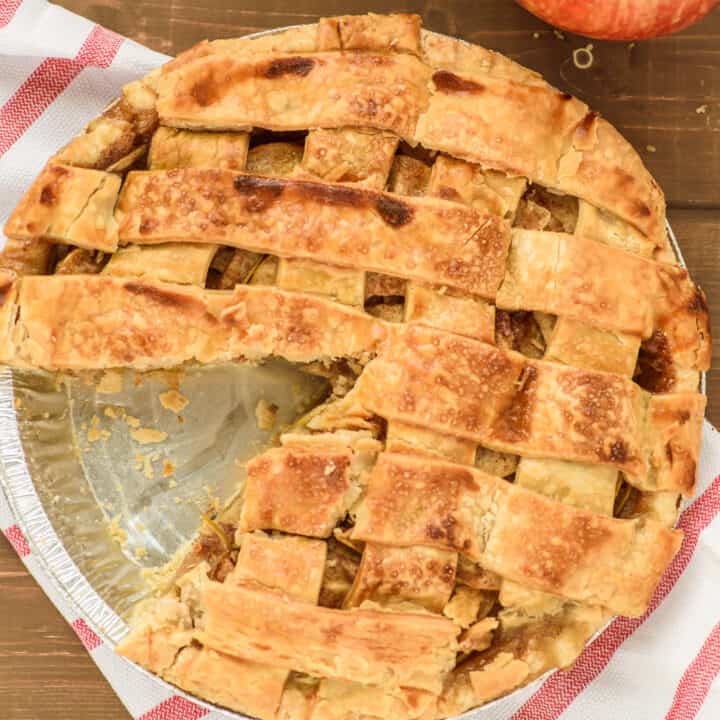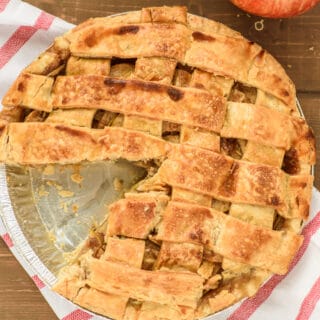 Apple Pie
Flaky pie crust filled with delicious apples. This classic Apple Pie recipe is a family favorite!
Ingredients
2

pie crusts

homemade or store-bought

4-5

medium apples

cored and sliced thin

¼

cup

granulated sugar

¼

cup

light brown sugar

packed

3

Tablespoons

all-purpose flour

1

Tablespoon

lemon juice

2

teaspoons

ground cinnamon

⅛

teaspoon

nutmeg

2

Tablespoons

unsalted butter

cut into small pieces

1

large egg

for egg wash

1

Tablespoon

water

for egg wash

1

Tablespoon

coarse sugar

optional, for topping
Instructions
Preheat oven to 450 degrees F.

Place sliced apples into a large bowl. Add sugars, flour, lemon juice, cinnamon, and nutmeg. Toss well to combine. Set aside for a few minutes.

Make the egg wash in a small bowl by whisking the egg with water. Set aside.

Roll out pie crust dough and place in a pie plate, trim edges if desired. Carefully pour the apple mixture into the uncooked pie shell.

Place dabs of butter around the top of the apples.

Place the second pie crust over the top and trim edges, crimping first to seal them together.

Brush the top of the pie crust with the egg wash and sprinkle with coarse sugar.

Place pie on a baking sheet and bake at 450 degrees for 15 minutes. Then reduce heat to 350 degrees and continue to bake for 35-40 minutes more.

Allow pie to cool before slicing.
Notes
To prevent over baking or burning of crust, wrap edge of crust in foil for second part of baking (or use pie crust shields).
I use a standard size pie plate (not deep dish) for this recipe.
The best apples for apple pie are firm and tart- like Granny Smith
I don't peel my apples, it's an extra step I don't find necessary. You can certainly peel if you prefer.
Allow pie to cool before slicing, this will ensure the filling doesn't ooze.
Nutrition
Calories:
350
kcal
,
Carbohydrates:
53
g
,
Protein:
4
g
,
Fat:
15
g
,
Saturated Fat:
6
g
,
Polyunsaturated Fat:
8
g
,
Cholesterol:
31
mg
,
Sodium:
193
mg
,
Fiber:
4
g
,
Sugar:
26
g
Flaky pie crust filled with delicious apples. This classic Apple Pie recipe is a family favorite!