These mini apple pies are perfect for fall gatherings! Baked in muffin tins with a homemade pie filling, this an easy dessert you can take anywhere.
It's time to fill your kitchen with the flavors and aromas of fall. Brew an Apple Crisp Macchiato to go with all your apple desserts! And don't forget the vanilla ice cream!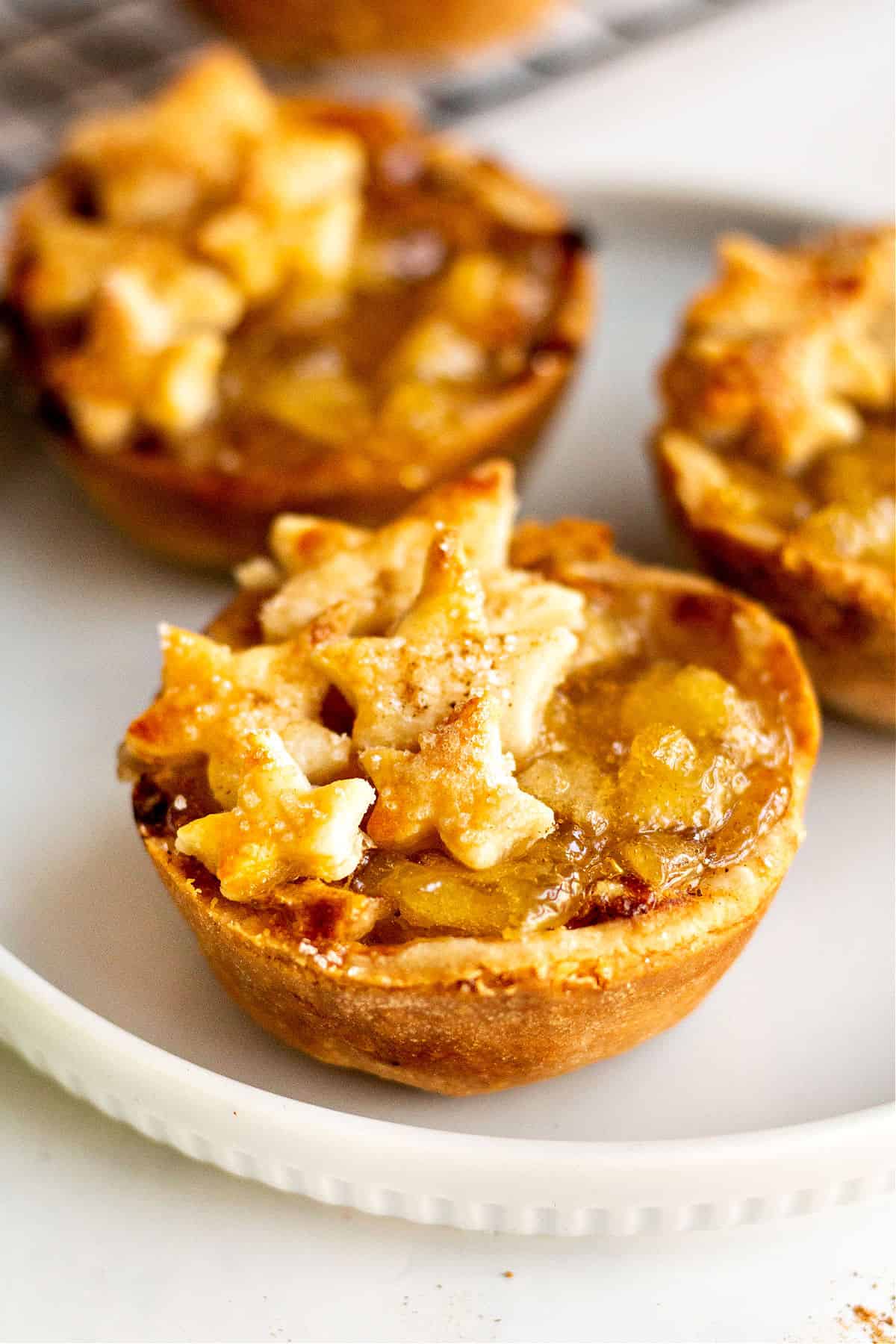 Why this Recipe Works
No holiday table is complete without a warm apple pie. These mini apple pies have all the old-fashioned taste you love.
Classic apple pie is baked into single servings.
Works with homemade crust or store bought pie crust.
Sweet apple pie filling with only 6 ingredients.
Great way to use up leftover pie crusts after the holidays!
They're baked into individual miniature pies in a muffin tin (much like our mini key lime pies)! Skip the hassle of slicing a big pie and bring these to your family gathering instead.
If you love these, you may also love our delicious apple hand pies too!
Ingredient Notes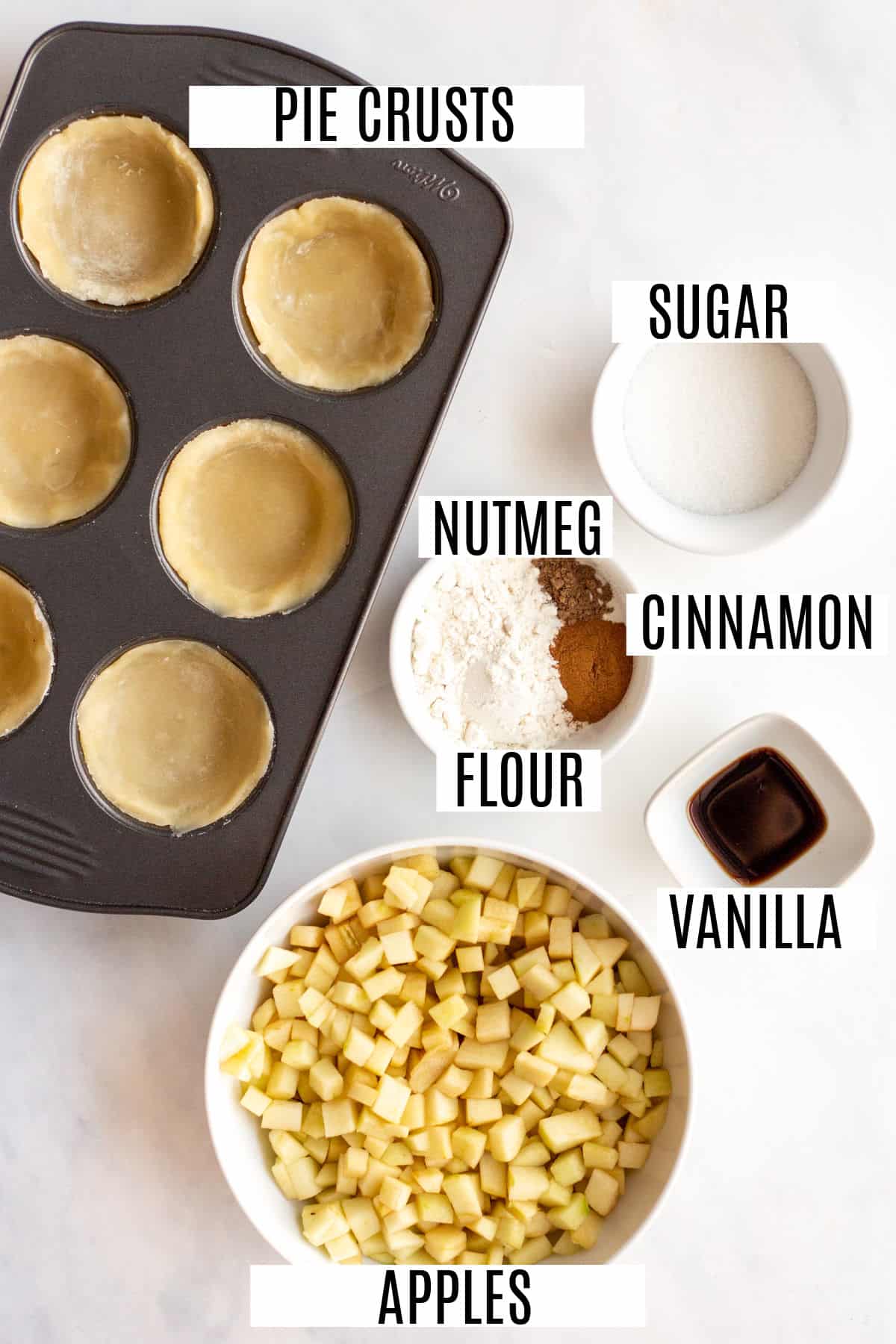 Apples. Any baking apple will do. I like a combination of sweet and tart apples for apple pie.
Pie crust. Use refrigerated crusts or my Homemade Pie Crust. You'll need two standard size crusts (unbaked) for this recipe.
Sugar. Used to sweeten the apples. You could also use brown sugar if preferred!
Vanilla Extract. Enhance the flavor by using a pure vanilla extract. Or try making our homemade vanilla extract recipe this holiday (makes a great gift too)!
Cinnamon & Nutmeg. Swap these out if you prefer to use an apple pie spice mix instead.
Flour. Used to keep the apple pie filling thick.
Easy Instructions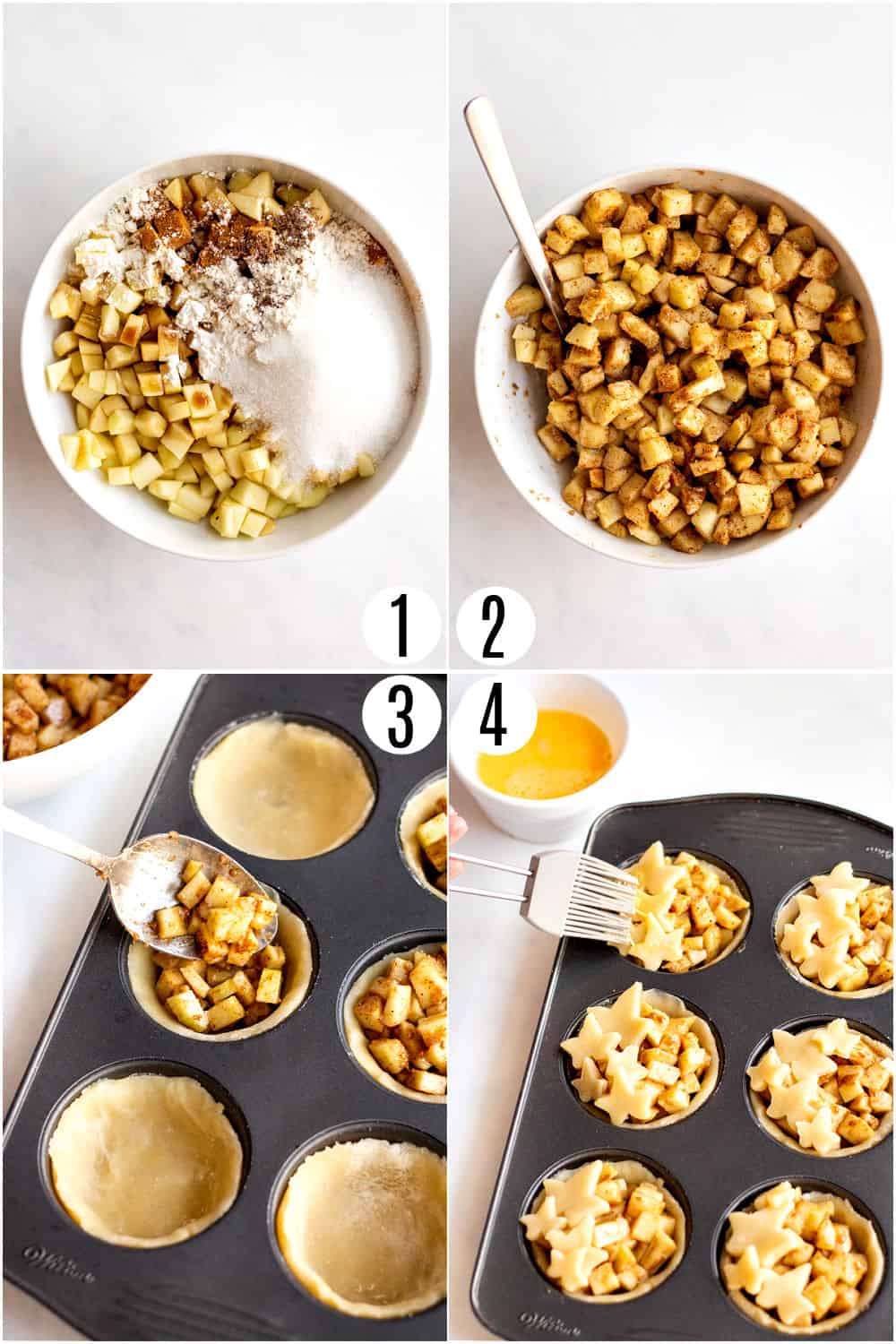 To make mini apple pies, start by rolling out the crusts. Use a cookie cutter to cut them into 3.5 inch rounds.
You should end up with 12 circles of crust. Press each one into the hole of a muffin pan.
Combine all the filling ingredients in a large bowl. Toss until the apples are evenly coated with the flour, sugar and spices.
Distribute equal portions of filling into the pie crusts. Bake mini pies for 25 minutes or until the crust is golden brown.
Remove from the oven and place pies on a rack to cool.
Tips and Tricks
GARNISH. Use excess pieces of dough to decorate the tops of the pies. Reroll and cut into shapes. Place the shapes on top of the filling. Brush with a beaten egg yolk and sprinkle with sugar before baking.
After cutting up your apples, keep them submerged in cold water with a squeeze of lemon juice. This keeps them from turning brown until you're ready to assemble the pies.
Store any leftover mini apple pies in the refrigerator for up to 4 days. Reheat in the microwave before serving.
Swap out the filling and use our fried apples instead!
Give them a crumble topping like we do on our Dutch apple pie!
Top the warm pies with no churn vanilla ice cream or homemade whipped cream if desired.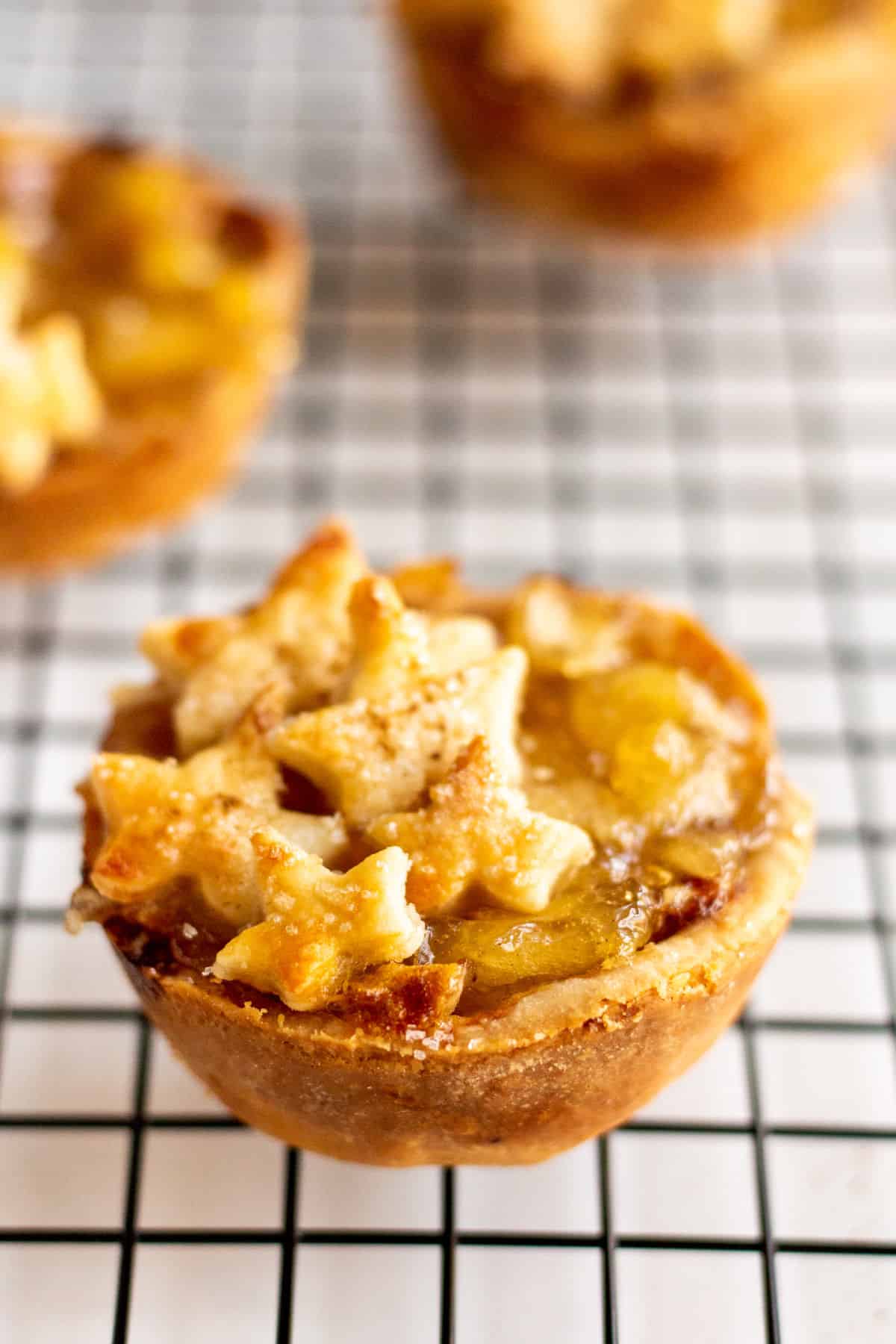 Recipe FAQs
What kind of apples are best for this recipe?
This mini apple pie recipe works with any kind of apple you like. If you like a tarter apple flavor, varieties like Honeycrisp or Granny Smiths are a great choice. For sweeter pies, gala apples are a perfect choice. I like to combine a couple of different kinds together for a balance of sweetness and tartness.
Can I make these in a mini muffin pan?
This recipe was only tested using a standard sized muffin tins. Make sure to use two 6 muffin pans or one larger 12 muffin pan.
Do you cook apples before putting them in pies?
There's no need to cook raw apples before assembling the pie. The pie filling will cook in the oven as the pies bake. You can swap out the homemade pie filling for a ready made apple pie filling if preferred. Then, all you have to do is assemble the pies and bake.
Can I freeze mini apple pies?
For best results, freeze the pies after baking. First bake the pie and then place it uncovered in the freezer. Once it's frozen solid, wrap the pie tightly or place in a plastic freezer bag and place back in the freezer. Frozen, baked fruit pies will last up to 4 months. Let thaw and reheat in the microwave before serving.
More Apple Recipes
Get ready to fall in love with these mini apple pies. With simple ingredients, this recipe is easy enough for anyone to make!