These old fashioned Apple Fritters are skillet fried and covered in an irresistible vanilla glaze. You'll love nibbling on these homemade donuts while sipping coffee or cider with friends!
Looking for a donut that's baked instead of fried? Apple Cider Donuts are always a good idea! This recipe for Chai Donuts is perfect donut for fall, too.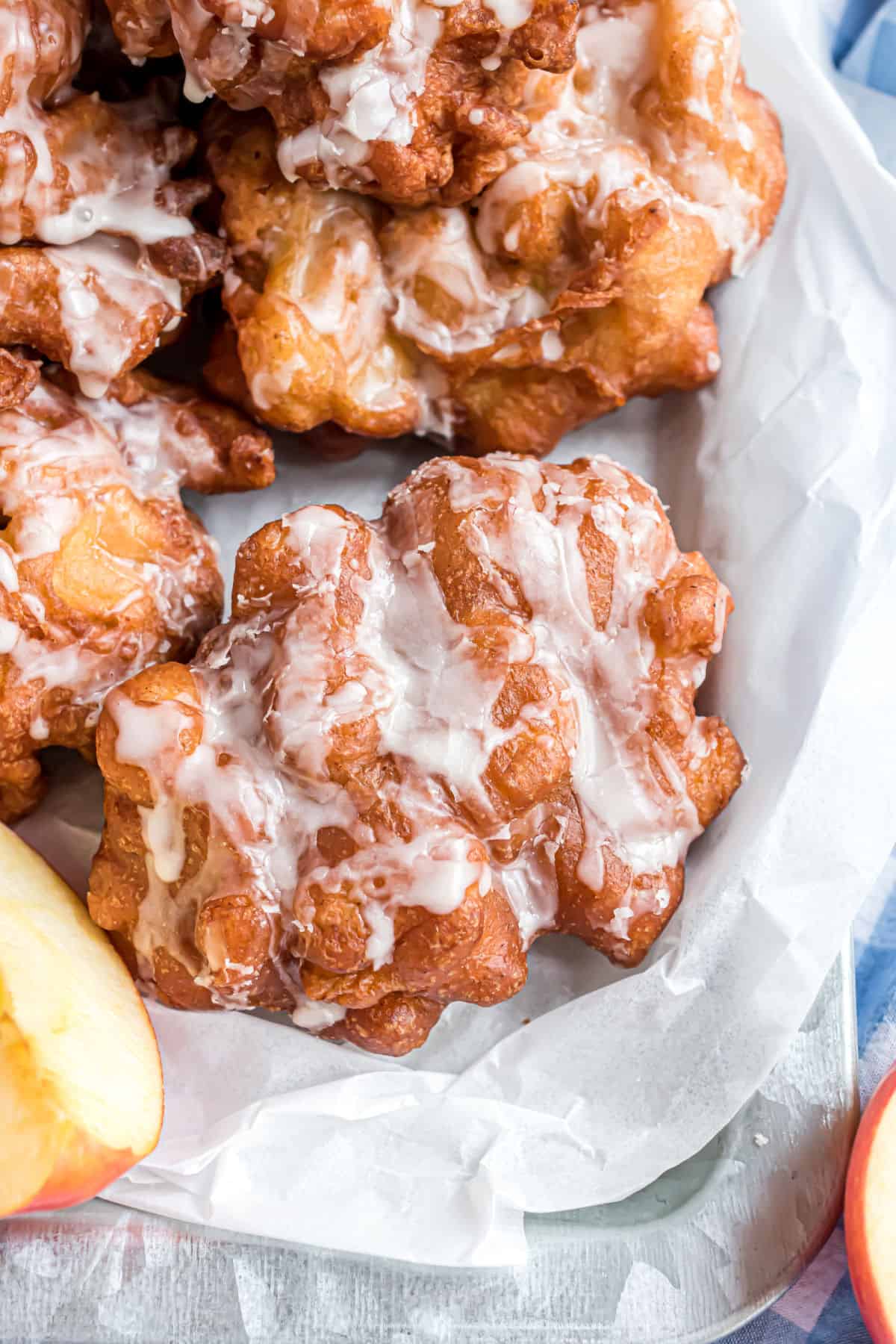 What are Apple Fritters
Apple Fritters are fried donuts with apples folded into the batter. Cooked in oil until golden brown, the crisp exterior yields to a fluffy inside filled with real apple pieces.
As much as I love the convenience of baked donuts, these apple fritters are well worth the effort.
You don't need a deep fryer, either! I'll show you how to fry apple fritters on the stove top with delicious results.
Once you've tried these fritters, you'll need to whip up a batch of our favorite pumpkin french toast for breakfast!
Ingredient Notes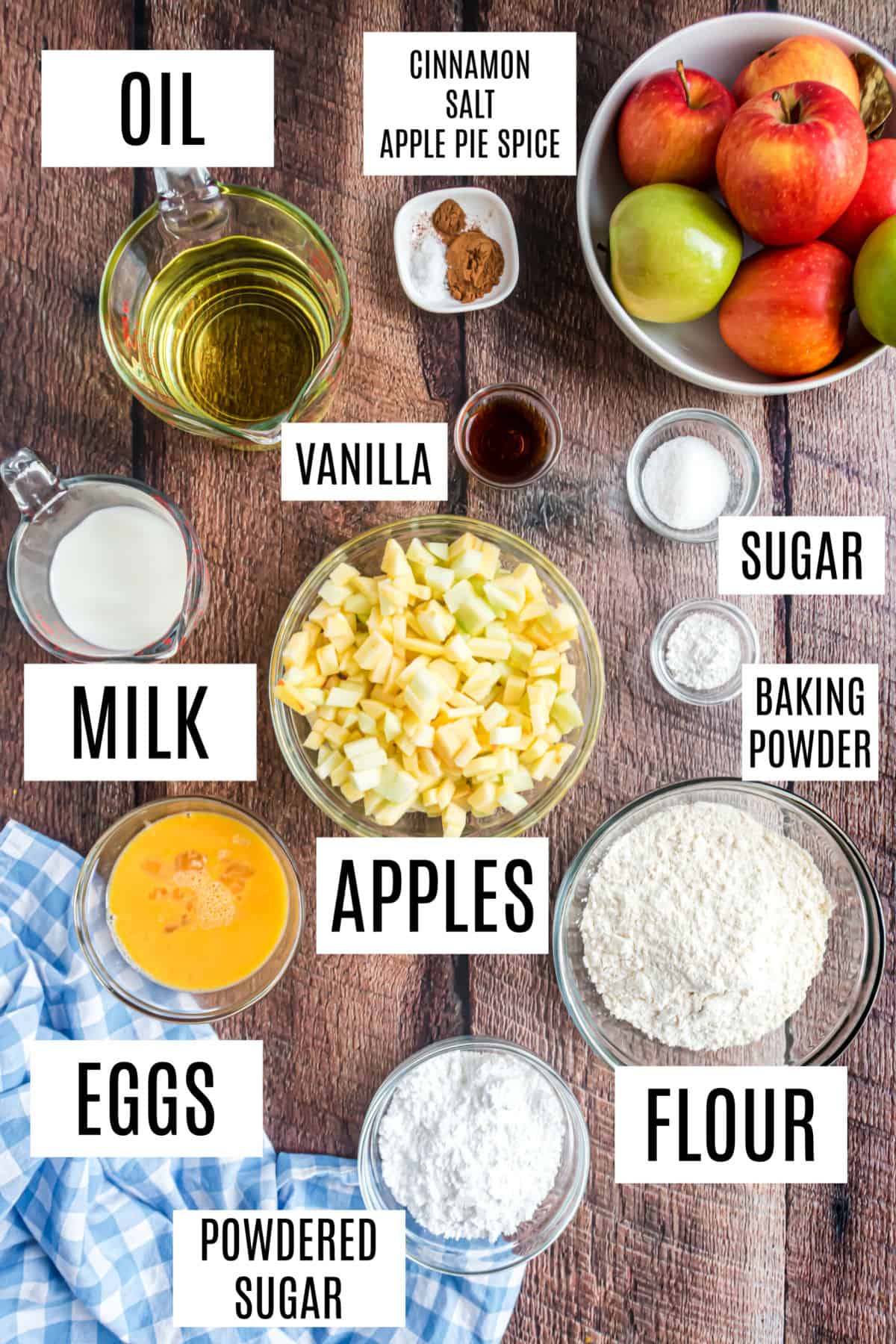 Apples – They need to be peeled, cored and finely diced before adding to the batter. Aim to make your apple pieces smaller than 1/4 inch.
Apple Pie Spice – Use your favorite homemade spice mix or any store bought version you like.
Vegetable oil – This is for frying the donuts. Any standard vegetable oil blend or canola oil is perfect. The amount you need will vary depending on the size of your skillet.
Easy Instructions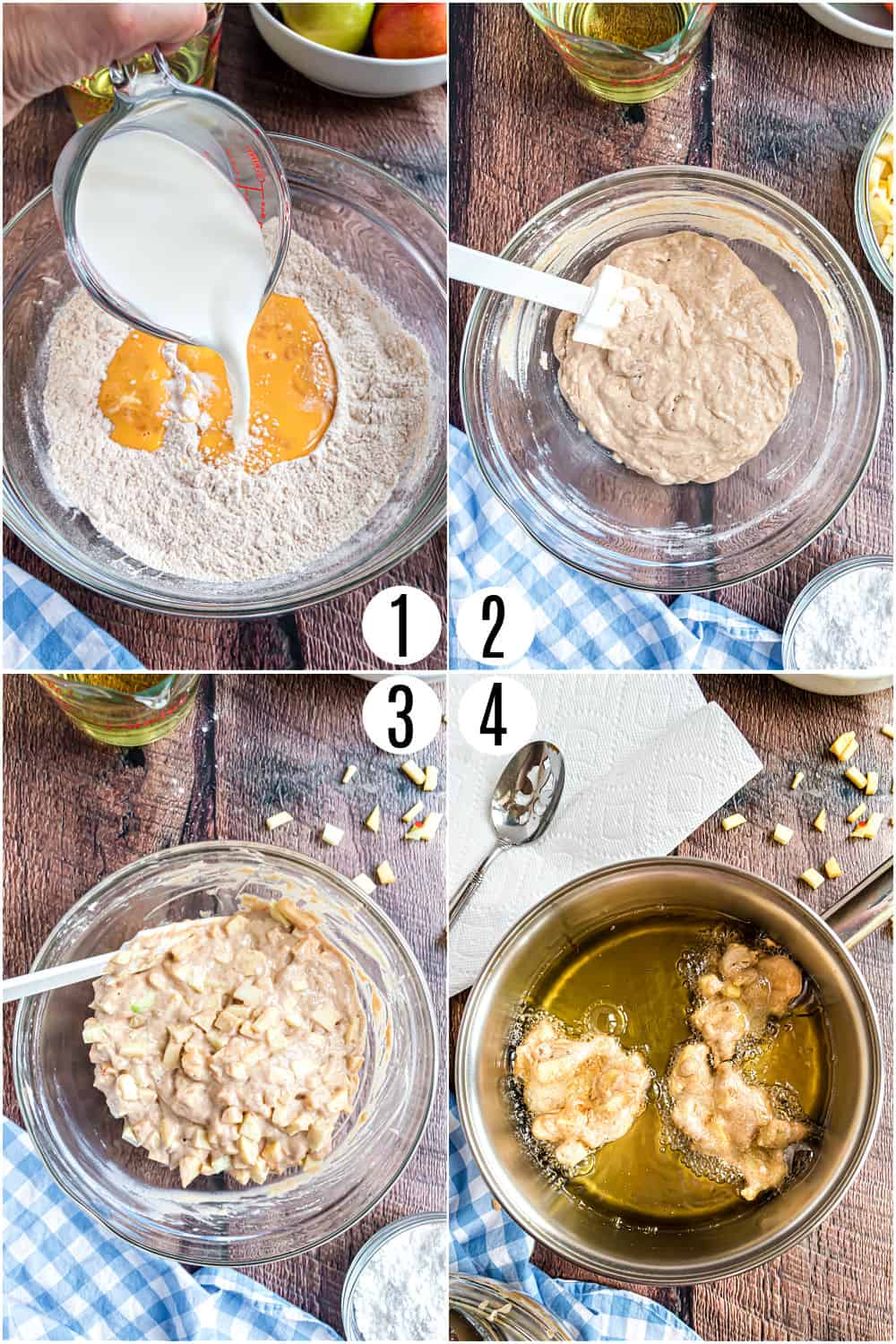 Heat the oil first:
Add oil to a large pan or skillet. Let it heat up on medium-high while you make the batter.
Make the batter:
Whisk the dry ingredients together. Stir in milk and eggs. Now, fold in the apples.
Frying:
Add about 1/4 cup of batter to the preheated oil. Fry until golden brown on one side. Flip the fritter and fry until both sides are browned.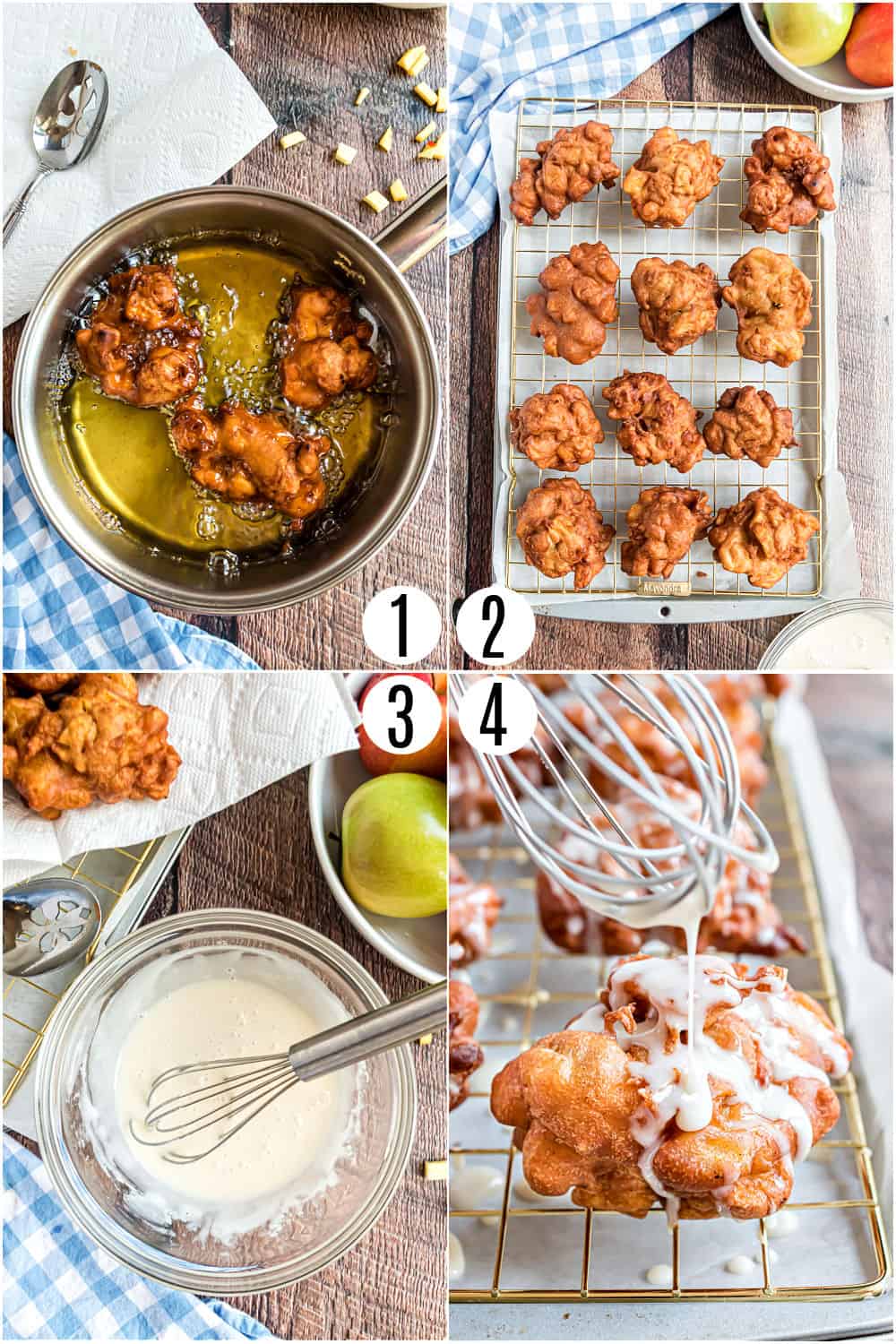 Check that the fritters are done by inserting a knife into the center. It should come out clean when fully cooked.
Use a slotted spoon to remove the fritters from the pan. Place them on a paper towel to drain excess grease.
Repeat until all the fritter batter has been fried!
Apple fritter glaze:
Whisk together the icing ingredients. Drizzle over apple fritters while they're still warm. Enjoy right away!
Tips and Tricks
Oil should be kept at 350 degrees F throughout the frying process. Use a thermometer to check the temperature frequently and adjust your stove settings as needed.
Use two spoons to drop the batter into the oil. This allows you to spread the batter out for a flatter fritter that's easier to cook evenly.
Not in the mood for glaze? Toss apple fritters in cinnamon sugar or dust them with powdered sugar instead!
I find sweeter apples, such as Gala, taste best in apple fritters.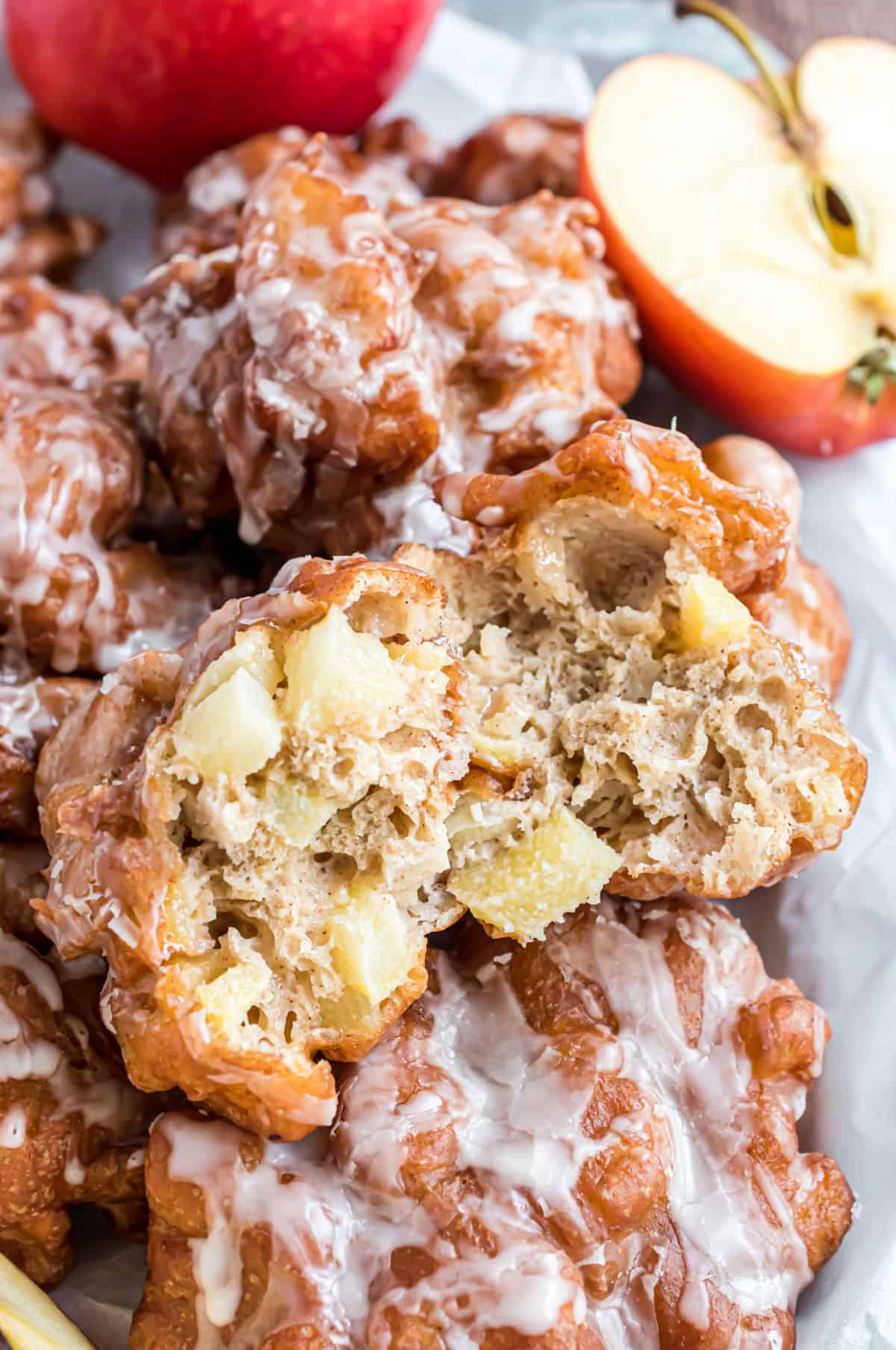 Recipe FAQs
How can I keep the outside of the apple fritters from getting overdone before the inside is cooked?
If the inside of your donuts are consistently undercooked while the outside is nearly burnt, your oil is probably too hot. Turn down the heat a little and don't forget to use that thermometer!
Making the fritter flatter and less condensed also helps the inside cook through more quickly.
Can I make these apple fritters ahead of time?
This is one recipe I don't recommend preparing in advance. Apple fritters don't reheat well. Plan to enjoy them right away while they're still warm!
How much oil will I need?
You need enough oil to allow the fritters to float without touching the bottom of the pan. The amount of oil needed will vary based on your pan size.
How many fritters do you fry per batch?
This depends on your pan size. My 12 inch skillet could fry up to 5 fritters at once. Be careful not to overcrowd the pan–the fritters should have room to float without touching each other.
More Fall Baking
Impress your friends with homemade Apple Fritters. These sweet fry cakes make a delicious addition to your weekend breakfast!