The best homemade Vanilla Ice Cream for making sundaes, scooping on top of pie or enjoying with a slice of birthday cake. It doesn't get any better than the simple joy of a rich, creamy vanilla ice cream!
Don't forget to add a scoop on top of Apple Crumble, Cherry Cobbler, and of course in a Root Beer Float!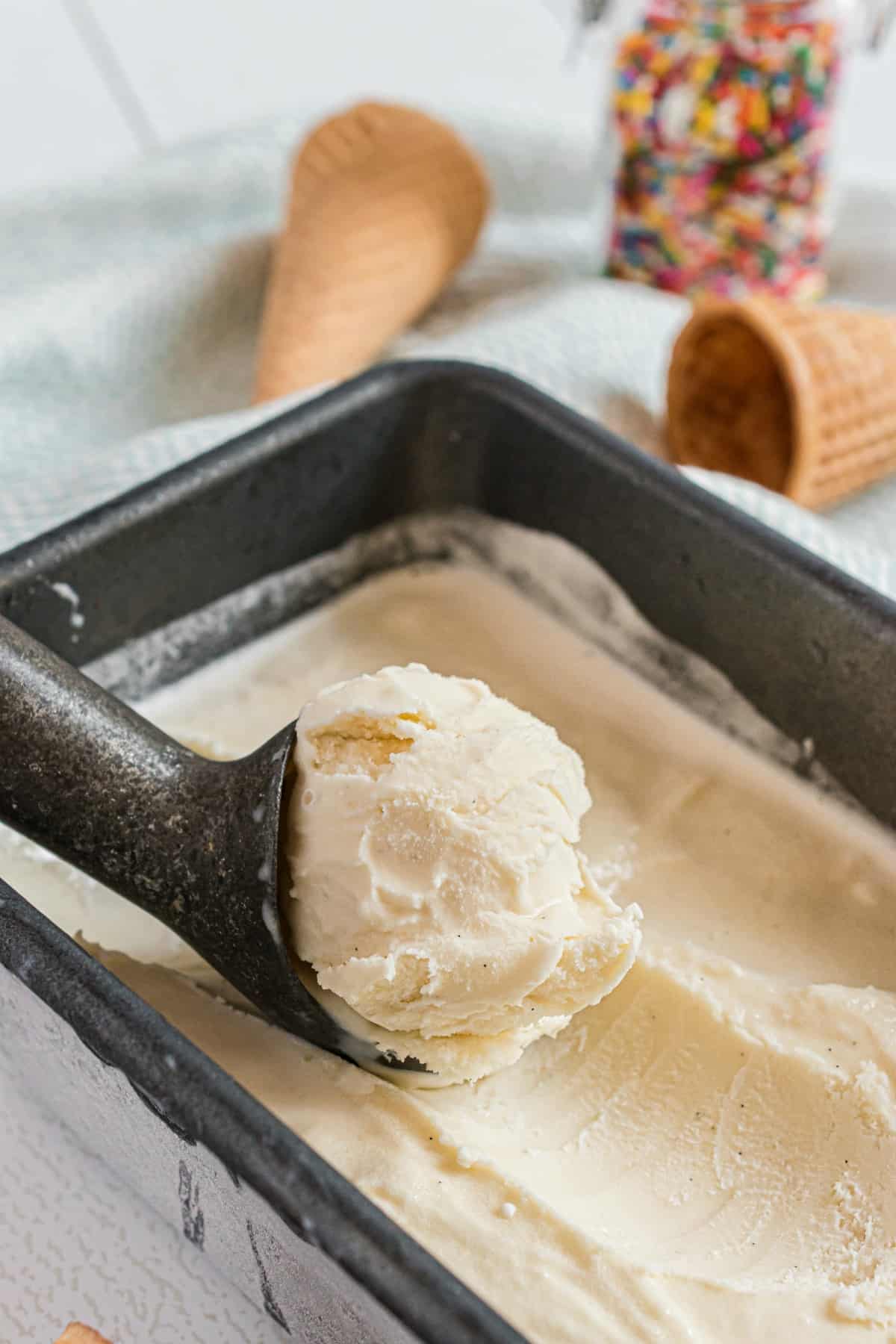 Homemade Ice Cream
Owning an ice cream maker might sound a little . . . unnecessary to some. I mean, why go through the effort of making homemade ice cream with so many different kinds of ice cream available at stores these days?
The answer? The taste.
There's nothing like the taste of freshly churned homemade ice cream. You can adjust the flavor and consistency based on your preferences and experiment with tons of adds-ins and variations to your heart's content.
But before you do that, let's start with the basics: Vanilla Ice Cream.
My friend Mary at Barefeet in the Kitchen is the Queen of homemade ice creams. (I'd call her the dairy queen but that name is taken.)
She shared this vanilla ice cream recipe years ago and now I'm passing the joy along to you. This is the only homemade ice cream recipe I use, and the only one you'll ever need!
It creates a creamy cold treat that's robust with vanilla flavor. With only a few ingredients, I love how simple it is to make, too!
With pie season approaching, I can't wait to make this to serve with my Pumpkin Pie and Dutch Apple Pie!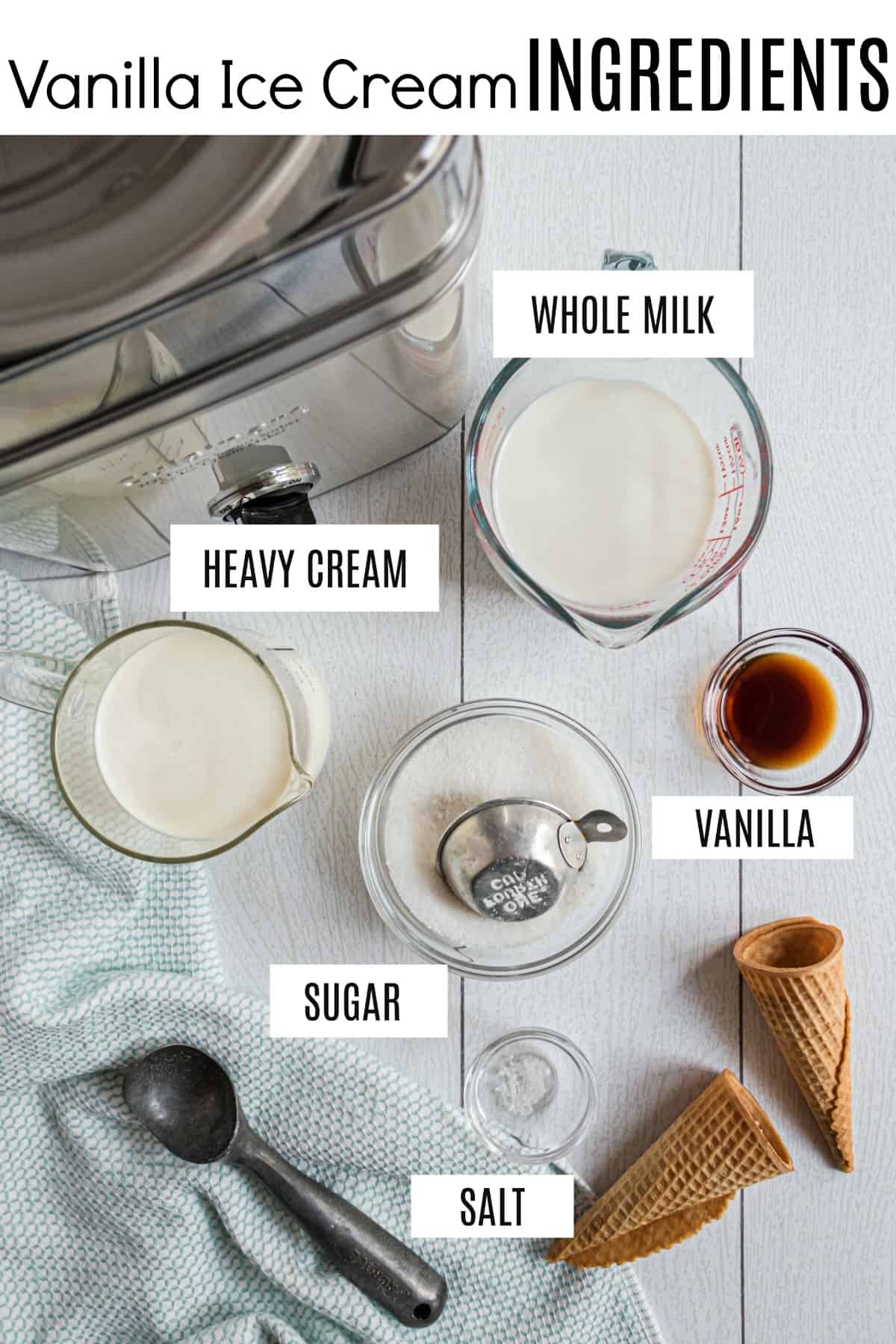 Ingredient Notes
No eggs.
I love that this recipe uses zero eggs! There's no need to cook anything, just whisk and churn. (AKA Philadelphia style ice cream)
What vanilla to use:
I've had success making this ice cream with both real vanilla extract and vanilla bean pods. If using vanilla extract, make sure it's real vanilla extract and not imitation flavor.
Using real vanilla bean pods gives the ice cream a richer vanilla flavor. Split the pod in half and scoop out the seeds. Use the seeds of one whole vanilla pod in place of the tablespoon of extract.
PRO TIP: I order my vanilla bean pods on Amazon! You get more for your money!
To add even more vanilla taste, use Vanilla Sugar in place of the granulated sugar in the original recipe.
Step by Step Instructions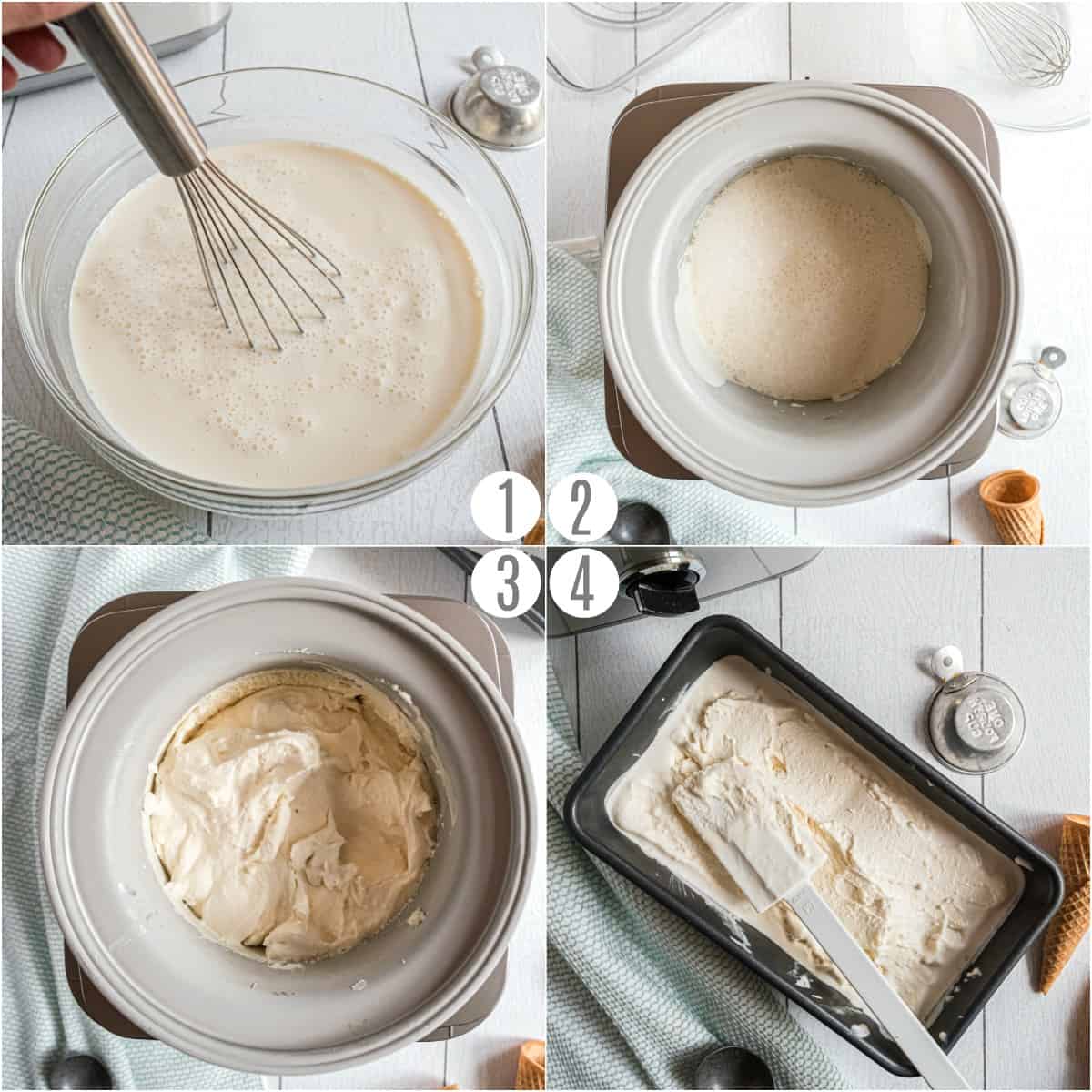 STEP 1. Combine ingredients
Mix the heavy cream, milk, vanilla, salt and sugar in a large bowl until combined.
STEP 2. Churn
Pour into your ice cream maker. Follow the manufacturer's directions for churning. Mine took about 20 – 25 minutes to create a soft ice cream.
STEP 3. Freeze
Pour directly into an airtight freezer safe container. Freeze for 12 hours or until hard or for less time if you want more of a soft serve consistency.
How to Serve
When the ice cream is set to your desired hardness, use an ice cream scoop to serve. You can enjoy it just as is or top with all your favorite ice cream toppings!
Go the traditional route with chocolate syrup, strawberry syrup, caramel sauce, whipped cream, sprinkles, and a cherry on top!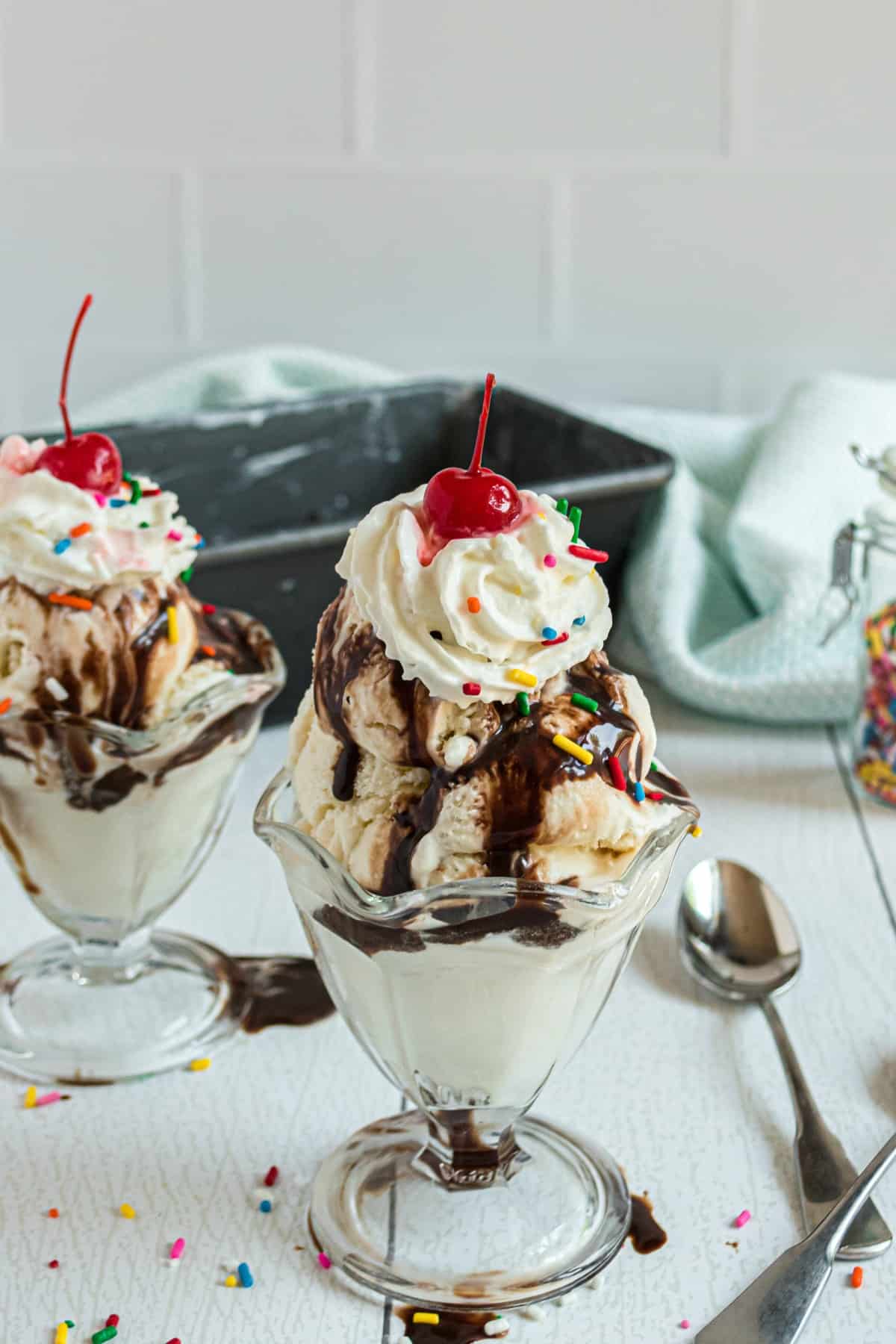 This ice cream is divine with Pumpkin Waffles for a fun special occasion breakfast or "breakfast for dessert" night.
It would be wonderful on Skillet Apple Cobbler and Apple Cranberry Crumble and basically anything with the word "crumble" or "crisp" in the name.
Don't forget to add a scoop on your apple pie, cherry pie, or blueberry pie!
Have you ever put ice cream in your coffee? It's so delicious in Caramel Coffee Shakes!
Mix Ins:
If you want to add some of the following mix-ins, I suggest you do fold them in after it's done churning, and before you freeze the ice cream.
These are some of our favorites: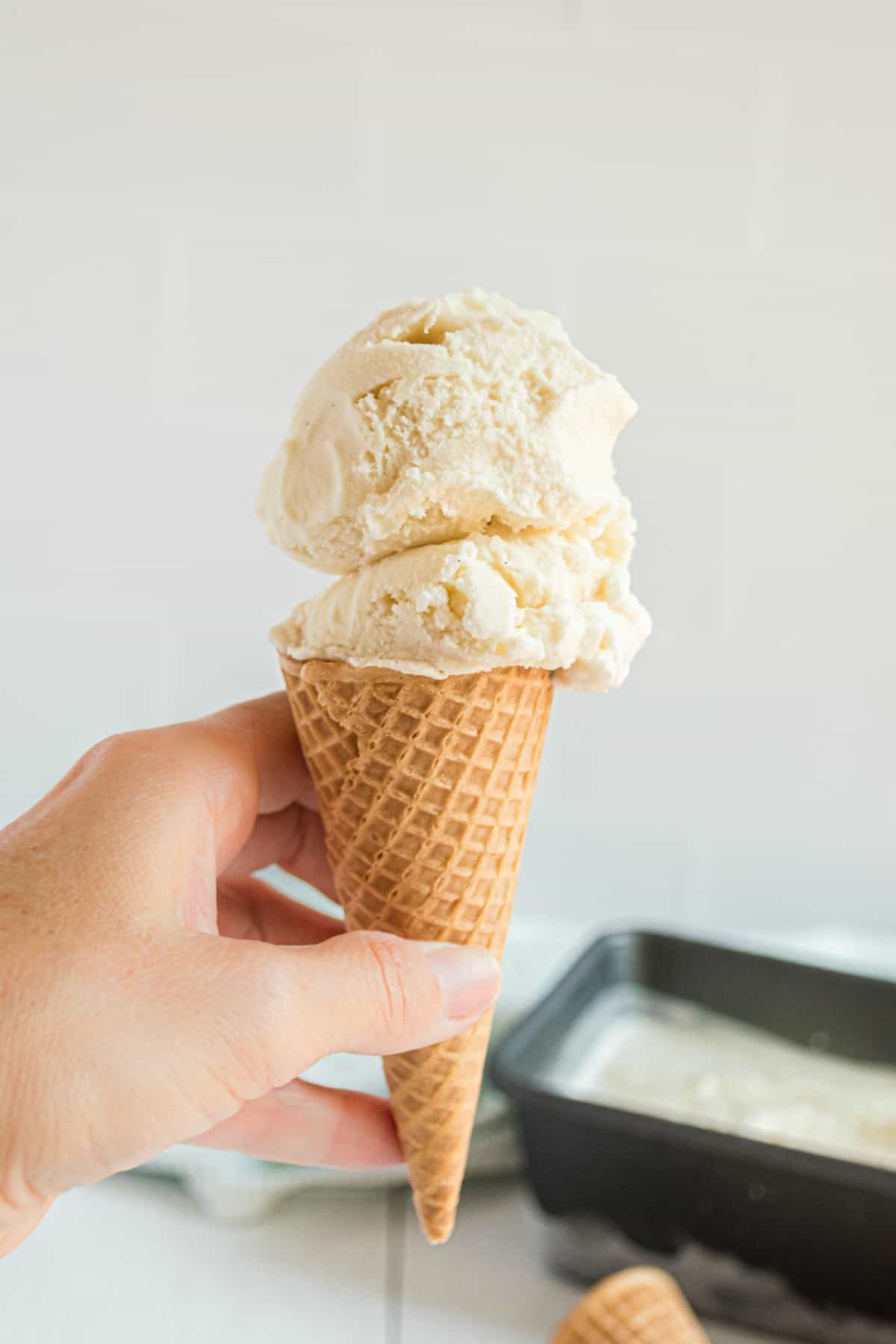 Tips and Tricks
A metal loaf pan is perfect for freezing the ice cream. I covered it with a layer of plastic wrap and then a layer of foil to prevent freezer burn and keep the ice cream tasting fresh.
If possible, use a deep freezer to harden your ice cream for best results. Due to the frequent opening and closing of a traditional refrigerator/freezer, it may take longer for the ice cream to be solid. Try to avoid opening and closing your freezer while the ice cream is freezing to ensure it reaches a scoopable texture.
I used a Cuisinart Ice Cream Maker (on Amazon!) and found that the ice cream was very soft when churning was done, perfect for a soft serve cone.
Skip the ice cream. I know, I know. But how cute are these ice cream cone cupcakes instead? No melting!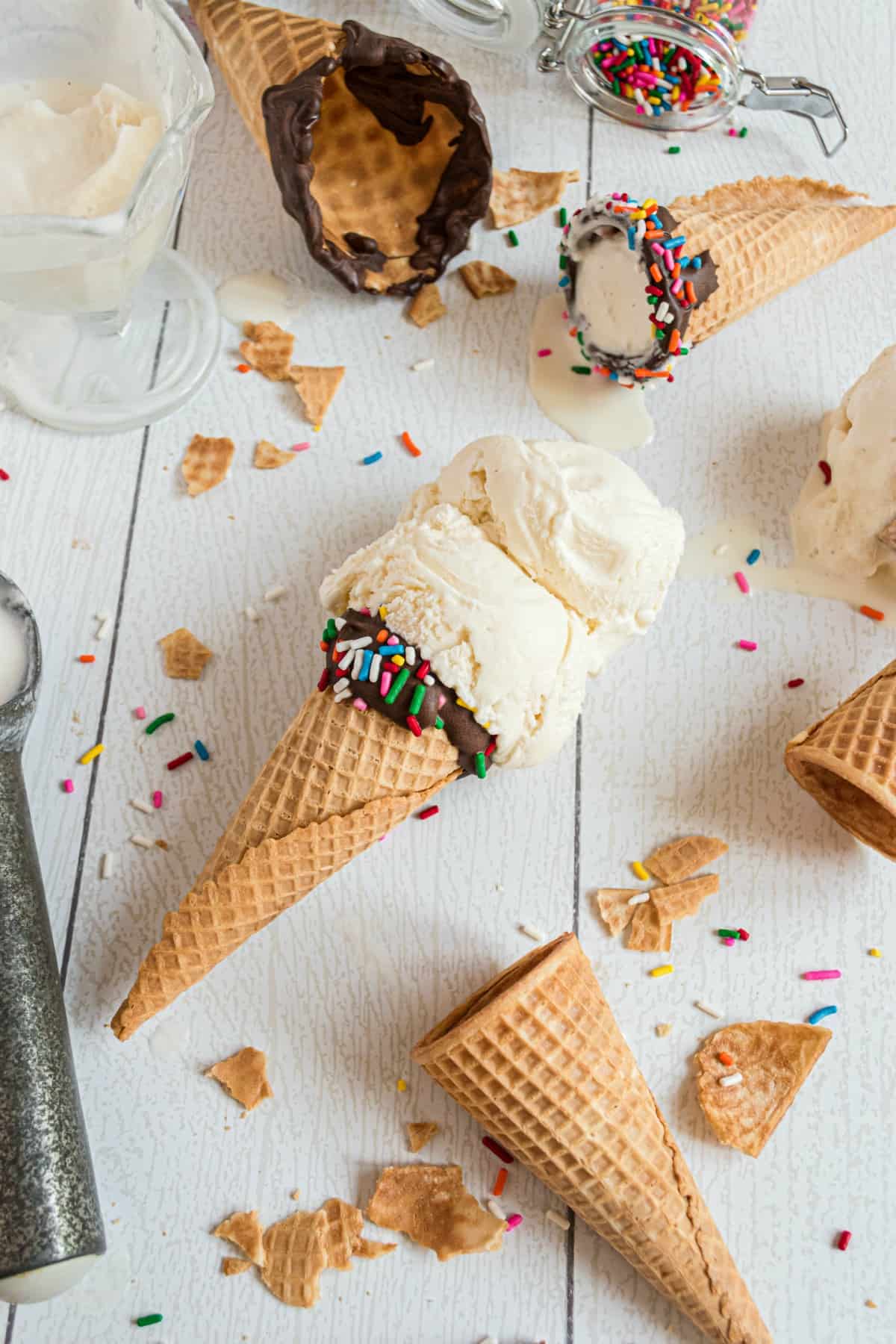 Recipe FAQs
How do you keep the ice cream soft in the freezer?
Adding alcohol to the ice cream after churning will keep this softer. However, if it's for children, you may need to just let it sit on the counter for a little while first.
Can I use homemade ice cream to make blizzards?
Yes! Put the frozen ice cream in a blender or electric mixer. Blend until smooth and creamy and fold in your favorite candies.
What milk is best for homemade ice cream?
I prefer higher fat milks, like whole milk and heavy cream for the rich smooth flavor and texture!
More Ice Cream Desserts
Everyone should know how to make Homemade Vanilla Ice Cream! This easy recipe is the perfect place to start.