Homemade, soft and chewy, Copycat Little Debbie Oatmeal Cream Pie recipe. This classic childhood treat is chock full of flavor and filled with a delicious creamy center!
Love oatmeal cookies? Be sure to try our reader favorite Iced Oatmeal Cookie recipe! Or give these chewy Revel Bars a try for dessert.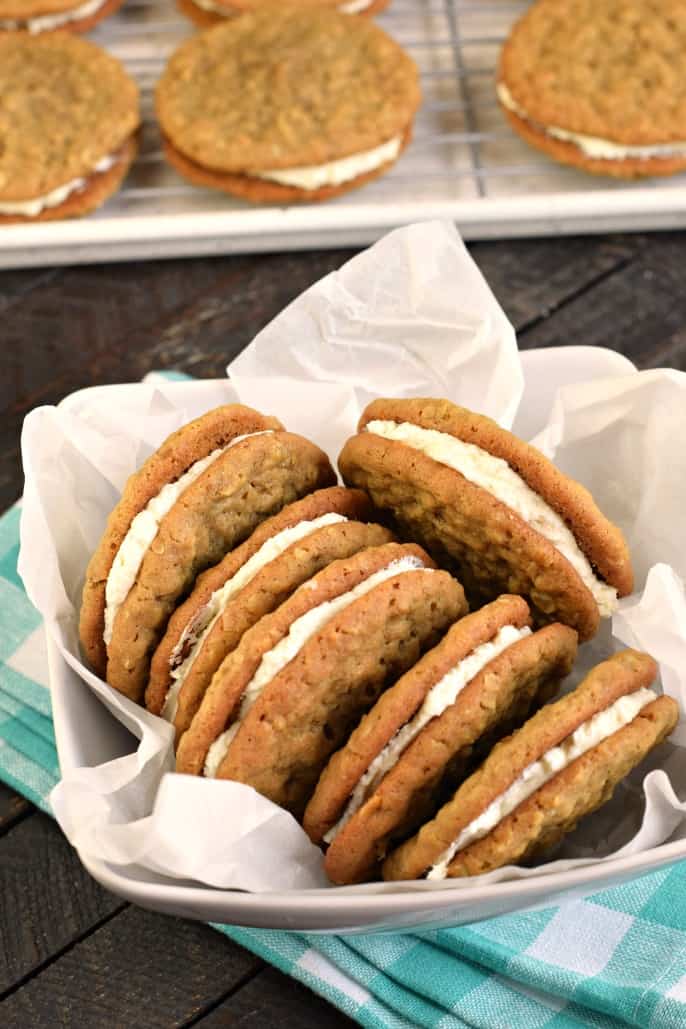 Copycat Little Debbie Dessert
Do you remember eating Little Debbie's Oatmeal Cream Pies as a kid? I sure do!
If you've never had one—and for that I apologize for your childhood—it's two soft oatmeal molasses cookies sandwiched around a layer of sweet and gooey vanilla cream filling.
It's definitely one of the best oatmeal cookie recipes there is!
Fun fact for you. The Little Debbie Oatmeal Cream Pies were the very first snack baked under the Little Debbie name.
These yummy oatmeal cream pies have been around for a long time and are loved by many!
My kids and husband also love Little Debbie's oatmeal cream pies so I wanted to try my own homemade version.
These homemade oatmeal cream pies are a great copycat recipe and taste even better than the store bought kind! Sorry Little Debbie, but you've had a good run!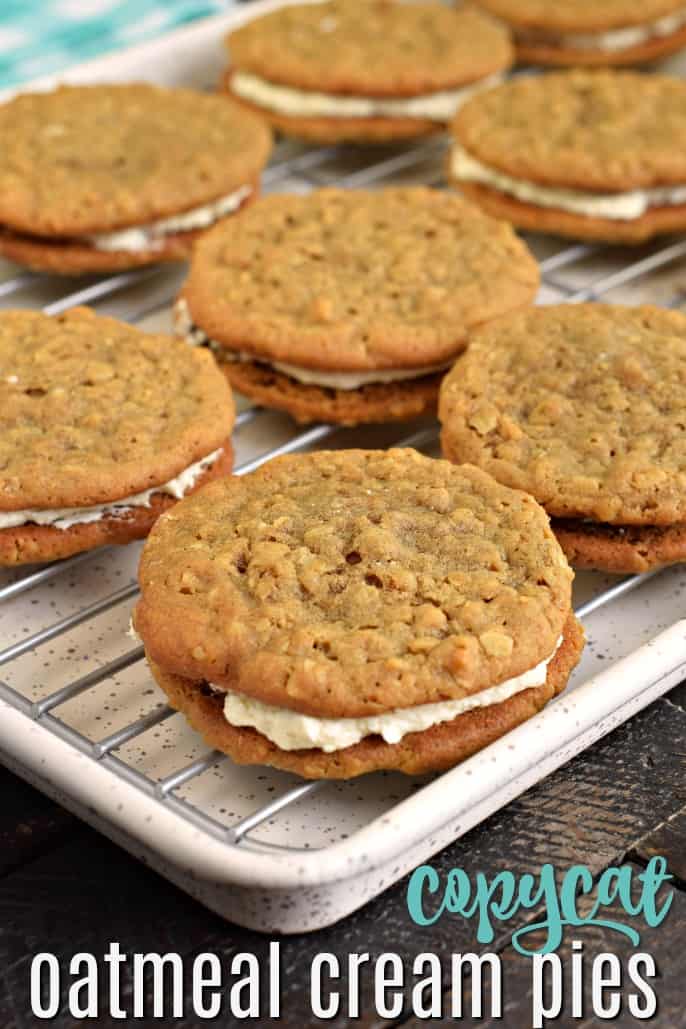 Easy Instructions
Step 1: In a large bowl beat together the margarine, brown sugar, granulated sugar, molasses, vanilla extract, and eggs.
Step 2: Add in the rest of your dry ingredients: flour, salt, baking soda, and cinnamon. Mix in the oats well.
PRO TIP: Use a food processor to process the oatmeal into smaller pieces. I usually give it a few pulses (you don't want fine crumbs).
Step 3: Drop by tablespoon size onto a parchment lined cookie sheet. Bake for 8-10 minutes in a 350 degree oven, until the cookies are just starting to brown around the edges.
Make sure to keep an eye on them so they don't get overcooked.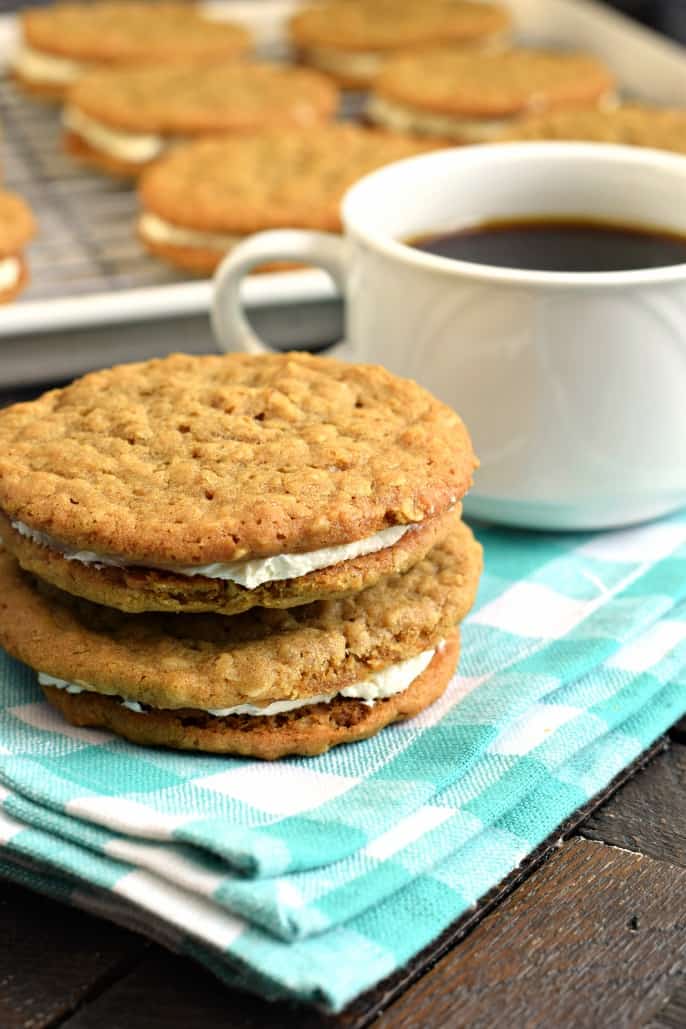 How to Make Oatmeal Creme Pie Filling
Step 1: After the cookies have cooled, combine hot water with salt and mix until the salt is dissolved.
Step 2: In a large bowl, mix the marshmallow fluff with the Crisco, powdered sugar, and vanilla. Beat on high until fluffy. Add in salt water and mix until well combined.
PRO TIP: Using a KitchenAid mixer with the paddle attachment will help everything stir together well and make the cream filling extra fluffy.
Step 3: Using an ice cream scoop or a piping bag, spread the cream filling on the bottom side of one cookie and press a second cookie on top to sandwich the cream between the two delicious oatmeal cookies. Enjoy!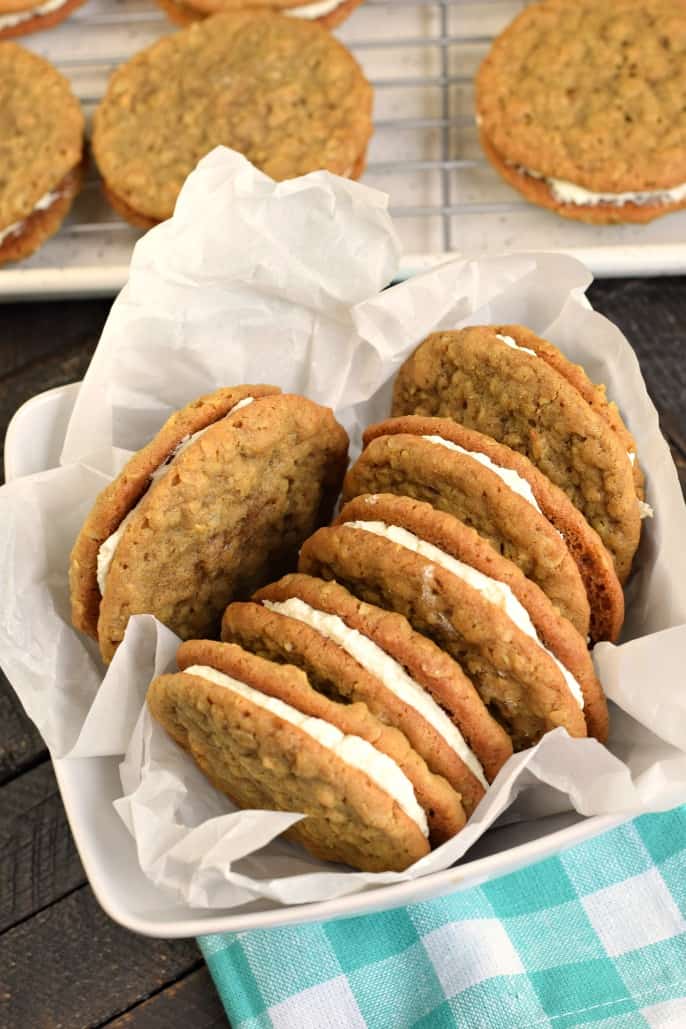 Tips and Tricks
Use a piping bag or ice cream scoop to evenly add the cream filling to the cookies. Tip: make an easy piping bag by snipping off the end of a ziploc bag and then putting the cream filling through it.
Pair similar-sized cookies together. These will be much harder to eat if you have a small cookie on the bottom and a big one on top, or vice versa.
Watch the cookies closely while they bake so they don't get overcooked.
Use quick oats for the best taste and texture with this recipe. Old fashioned or steel cut oats will change the texture of the oatmeal cookie and affect baking time.
Use a food processor to process the oatmeal into smaller pieces. I usually give it a few pulses (you don't want fine crumbs).
Allow the oatmeal cookies to cool completely before adding the cream filling. If they aren't completely cooled, the cream pie filling will melt and you'll have a sticky mess!
Use margarine or butter-flavored Crisco for the best texture.
How to Store Oatmeal Cream Pies
These homemade oatmeal cream pies won't store as long as Little Debbie's do, and I think that's a good thing!
If you have any leftover cream pies (I usually don't at my house), you can store this great recipe in the refrigerator for up to five days.
Just make sure to store them in an airtight container and then bring them to room temperature before serving.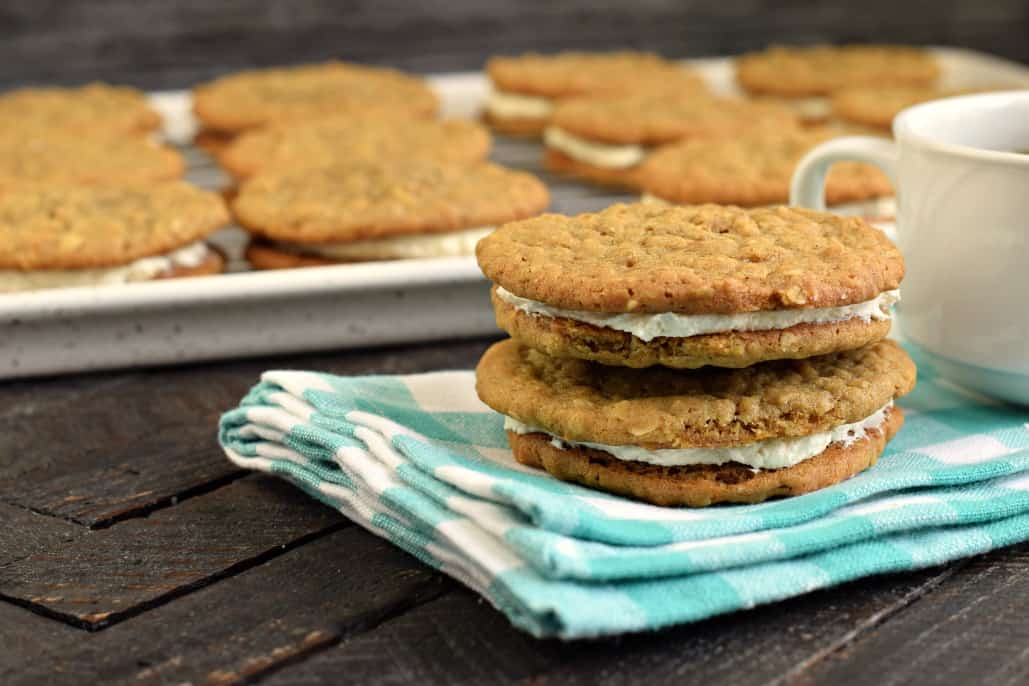 Can You Freeze Oatmeal Cream Pies?
Yes!
You can freeze these yummy oatmeal cream pies for about three months.
To freeze oatmeal creme pies, after baking and cooling, wrap each individual cream pie in plastic wrap and then slide them into a freezer safe ziploc plastic bag.
When you're ready to enjoy them, remove them from the freezer bag and allow them to thaw at room temperature for about 20 minutes.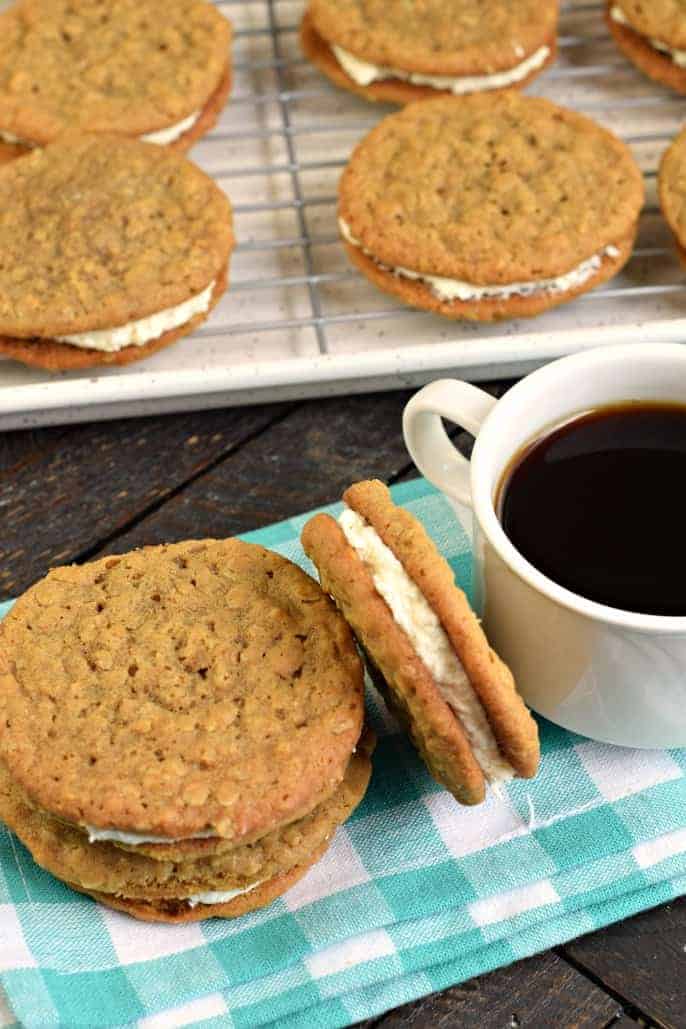 Copycat Little Debbie Oatmeal Cream Pie recipe. This childhood treat is the perfect soft and chewy cookie!