Carrot Cake Whoopie Pies are like portable carrot cakes with cream cheese icing. These soft and cakey cookies are made with shredded carrots, walnuts, and spices. Ready in about 30 minutes, they'll be your new favorite grab-and-go treat.
Do you love whoopie pies? Our pumpkin whoopie pie recipe is flavorful and moist, and also filled with dreamy cream cheese icing. Or give our unique lemon poppy seed whoopie pies a try next, perfect for breakfast or dessert!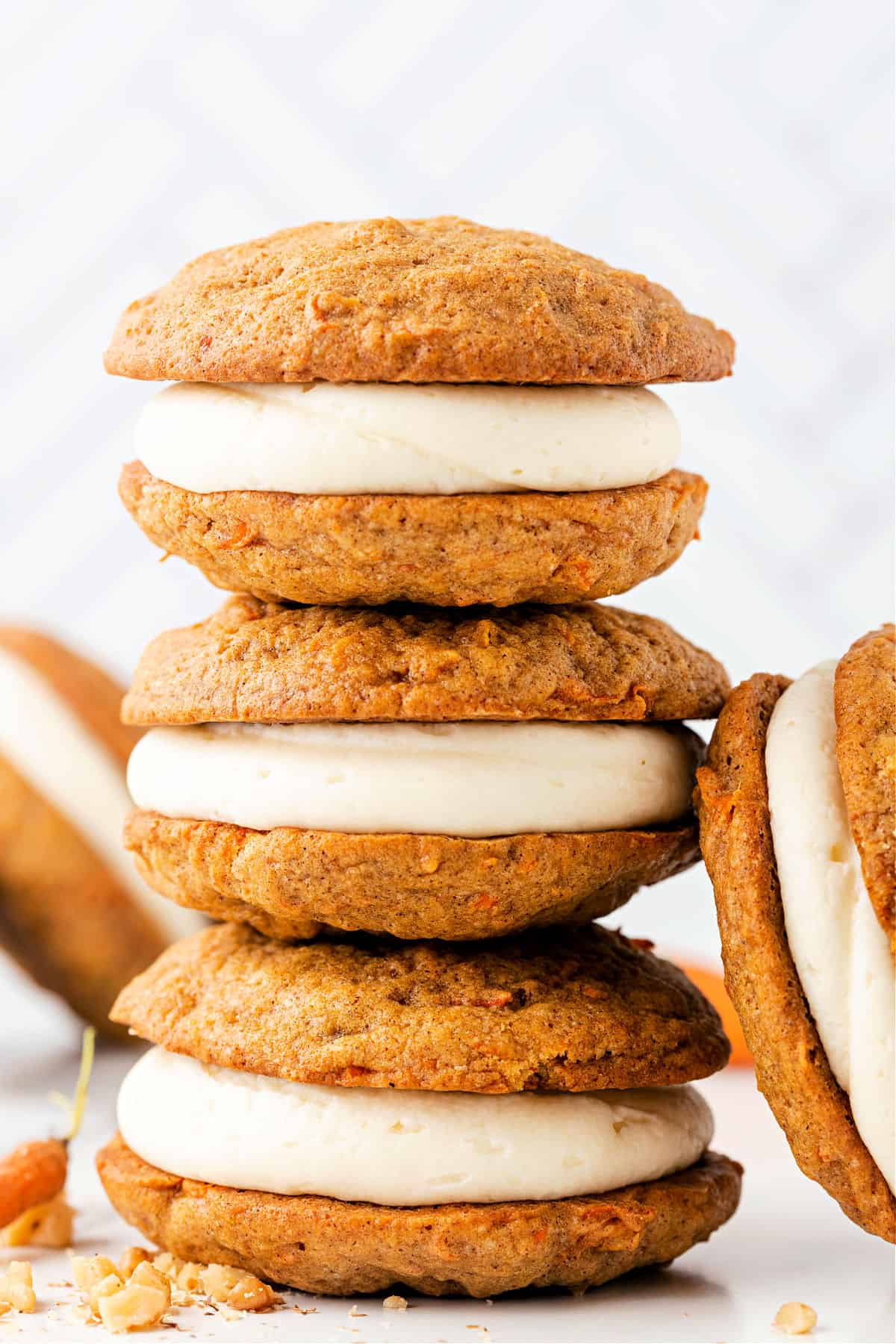 Why this Recipe is Best
I find these little carrot cake sandwich cookies both adorable and irresistible, while also being perfect for Easter.
Combining the familiar flavors of carrot cake with cream cheese frosting is always a winner! On top of that, they're surprisingly low-fuss to make.
Here are a few reasons you'll love them,
Easy to make. With an easy cookie base and a simple frosting, these can be ready in about half an hour.
Great for kids. Whoopie pies are soft, sweet, and perfect for little hands to grab and enjoy. These also have some added nutrition from the carrots and walnuts–bonus!
No special pan. You may (or may not) realize that most whoopie pie recipes require a special pan! Fortunately for both of us, that's not a prerequisite of mine. I use a cookie scoop instead to get uniformly shaped cookies.
For a chewier twist, try our classic carrot cake cookie recipe instead!
Ingredient Notes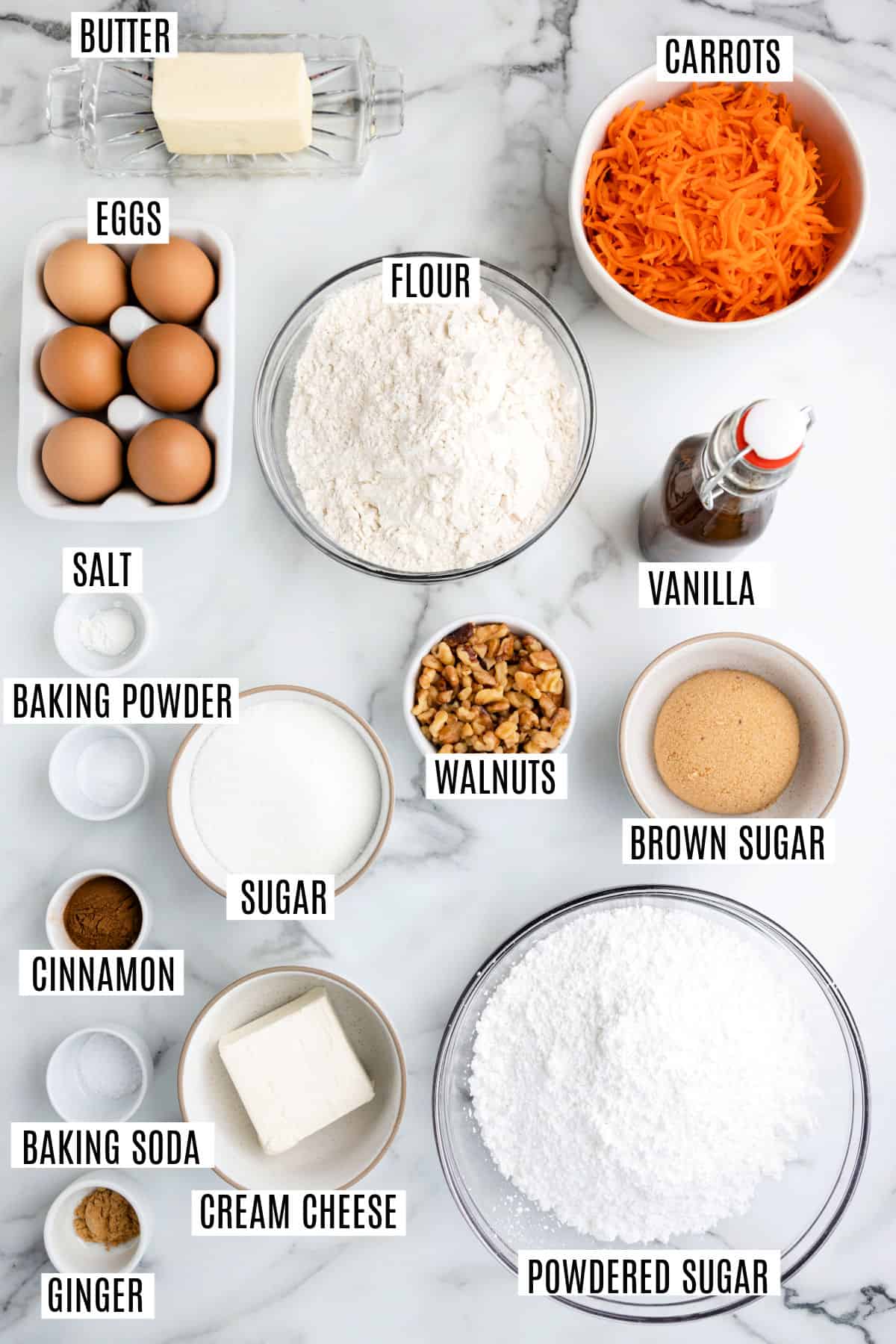 For the Cookies:
Grated carrots – Feel free to buy pre-shredded carrots to save time.
Toasted walnuts – Walnuts add a bit of crunch and nutty flavor. Use our tips on how to toast nuts for best results.
Cinnamon – Adds a touch of warming spice and sweetness. Use Ceylon cinnamon if possible.
Ground ginger – Adds a hint of spice and rounds out the cinnamon.
Butter – Soft butter ensures a rich, fluffy cookie. Use unsalted butter. Forget to soften it? We've got easy ways to soften butter quickly!
White granulated sugar and light brown sugar – Using both of these sugars creates a tender, sweet cookie with a hint of molasses flavor.
Eggs – Egg binds the ingredients together and adds moisture.
Vanilla extract – Include this for maximum cookie flavor. Be sure to choose a pure vanilla, or use our homemade vanilla extract for delicious results.
All-purpose flour – This type of flour delivers a soft cookie with a good structure.
Baking soda – This helps the cookies to rise and spread out.
Baking powder – Gives the cookies a fluffy texture.
Kosher salt
For the Filling:
Butter – Unsalted butter is crucial to add richness and a buttery taste.
Cream cheese – Cream cheese adds a delicious tangy flavor. Use full-fat cream cheese for the best results.
Powdered sugar – Helps give the frosting structure and sweetness.
Vanilla extract – Essential for the best flavor. Use pure vanilla extract.
See the recipe card for full information on ingredients and quantities.
Easy Instructions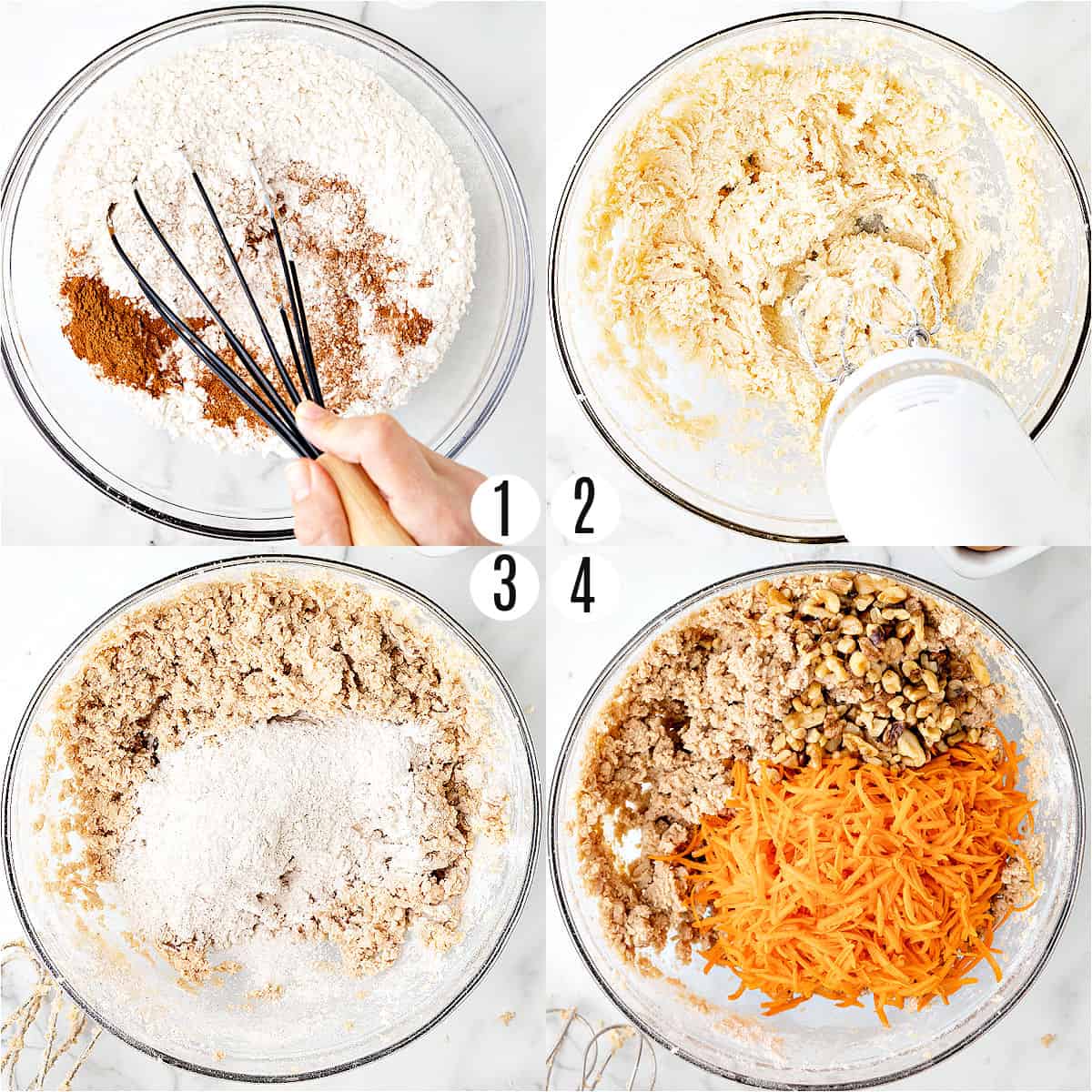 If you've never made whoopie pies, these are quite simple!
Combine the wet ingredients. Cream the butter and sugars until light and fluffy. Then beat in the eggs and vanilla until smooth and creamy (Photos #1 & #2).
Add the dries. Slowly add in your dry ingredients, mixing just until combined. Then fold in the carrots and walnuts (Photos #3 & #4).
Shape and Bake. Scoop and drop the cookie dough 2 inches apart on a parchment paper lined cookie sheet. Bake for 13-15 minutes until the edges of the cookies are golden brown. Allow the cookies to cool on a wire rack when they're done (Photo #5).
Mix and Fill. Beat the butter and cream cheese together until smooth. Add in the powdered sugar and vanilla and beat until creamy. To fill the pies, transfer the frosting to a piping bag or Ziploc bag. Pipe frosting onto half of the cookies. Top each with a second cookie to make sandwiches (Photos #6-8).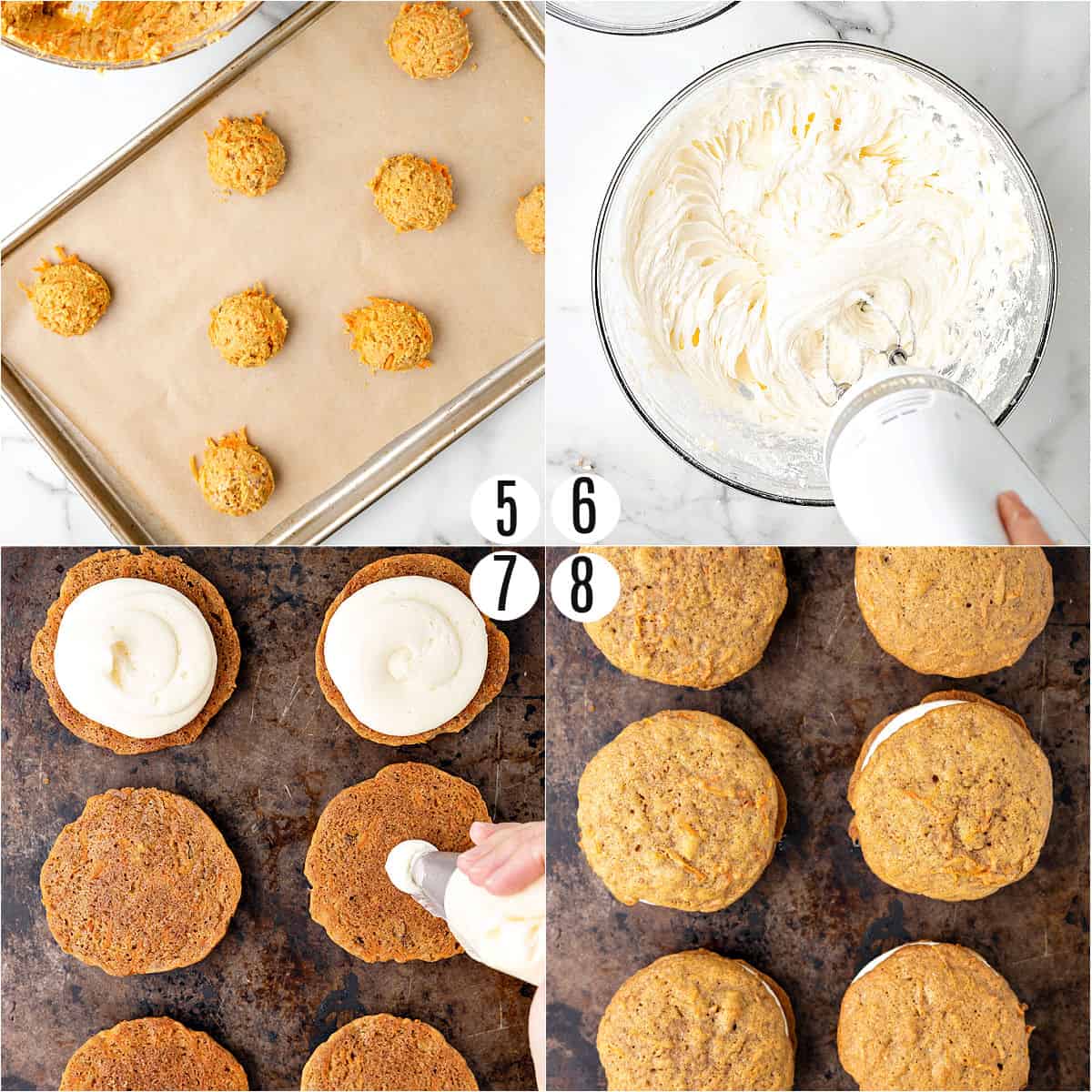 Tips and Tricks
Don't overmix the dough. This can make your cookies turn out tough and dense. Mix just until all the flour is absorbed.
Don't overbake the cookies. Bake them just until the edges are firm to keep them pillowy-soft. The cookies will continue to cook on the baking sheet once they're pulled out of the oven.
Scoop evenly. Try your best to make each cookie the same size. You can do this by scooping and leveling the batter in the same way for each cookie.
Let them cool completely. Allow the cookies to cool all the way before piping on the frosting. This is because piping the frosting onto a warm cookie will cause it to melt.
Serving Suggestions
A Carrot Cake Whoopie Pie begs to be enjoyed with a coffee drink. Keep it sweet with a drizzle of caramel over a warm Brown Sugar Latte.
For more coffee drinks with fall flavors, try an Apple Crisp Macchiato. If you prefer yours iced, you will love a rich Pumpkin Cream Cold Brew.
Recipe FAQs
What other nuts can I use instead of walnuts?
If you don't have walnuts on hand, pecans or macadamia nuts would be excellent replacements. Or keep the nuts out completely for a nut-free treat.
How do you store Carrot Cake Whoopie Pies?
Store whoopie pies in an airtight container in the fridge. They're delicious cold! They will keep in the refrigerator for up to 5 days.
Can I freeze whoopie pies?
Assembled whoopie pies hold up well in the freezer for about 2 months. For maximum freshness, double-wrap them in freezer bags.
Can I make the frosting ahead of time?
Yes. If you make the frosting ahead of time, store it in an airtight container in the fridge. Use it within 3 days. It may be easier to use if you let it come to room temperature before using, then give it a good stir.
More Carrot Cake Recipes
Love this recipe? Please leave a 5-star 🌟🌟🌟🌟🌟rating in the recipe card below & a review in the comments section below!