This Carrot Cake Cheesecake Cake is a showstopper! Layers of homemade carrot cake, a cheesecake center and it's all topped with a delicious cream cheese frosting!
Love carrot cake? Our carrot cake cupcakes are ALWAYS a huge hit at the holidays. Or try our easy carrot cake muffins for a sweet breakfast treat.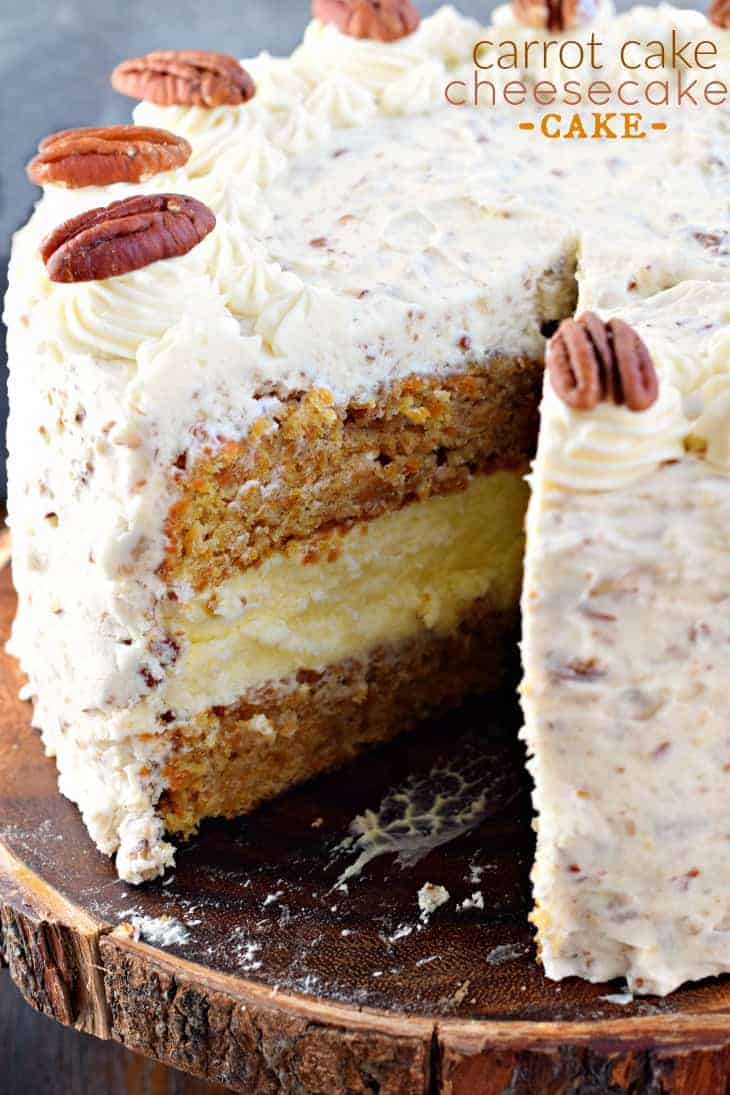 Why this Recipe Works
I have a rough job. Making cakes. Eating cakes. Making more cakes so they are just perfect for you.
Today's recipe for Carrot Cake Cheesecake Cake had to be just right. I've got a reputation on the line here, haha, and I want you ALL to make this as your Easter dessert!
It's a show stopper of a cake, but so worth it.
Let me tell you a few tricks to this recipe. It's not easy. It's not hard. It's one of those, "read the directions before you begin" type of recipes. But I'm going to highlight a few things.
Ingredient Notes
A few notes about some of the ingredients you'll need for today's recipe:
Flour- you'll see today's cake uses all-purpose instead of cake flour (like some of my white cakes would use). This is because you'll need a heavier flour to hold the weight of the carrots, cheesecake, and ten pounds of frosting we've covered this beauty in!
Oil- this is key to adding moisture to the carrot cake!
Sugar- I'm often told this dessert has a lot of it. Which is true. But in the cake, it's essential to providing that tender crumb you love about carrot cake!
Shredded Carrots- Peel and shred your carrots using a food processor with the "shred" attachment. This gives thin pieces of carrots. Do NOT use matchstick carrots from the grocery store, as they are still too large and thick.
Cream Cheese- when making cheesecake, make sure to choose full fat, brick style cream cheese (not the tubs of spreadable).
Pecans- whether you add them to the frosting, or add them on top of the cake, they pair perfectly with today's carrot cake dessert.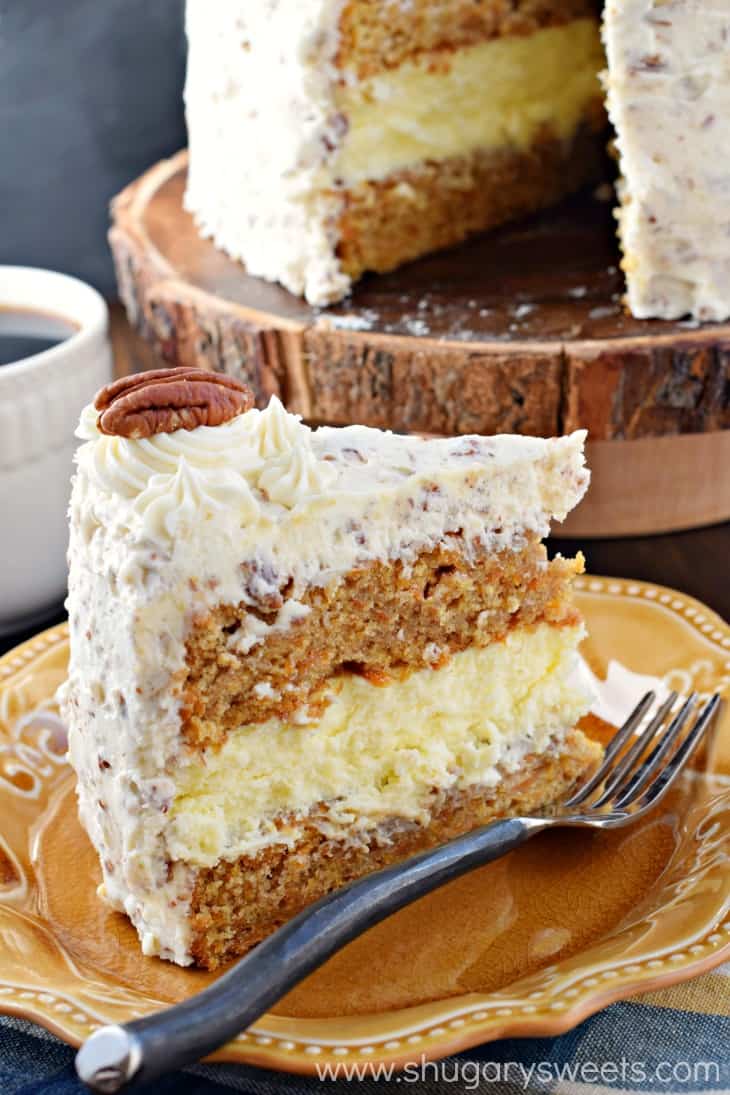 How to Assemble a Cheesecake Cake
First you need to have everything baked and ready.
Cheesecake Layer- I usually make this a day or two in advance, and freeze until ready to layer.
Carrot Cake- Bake this in the morning you want to serve the dessert for freshest flavor.
Assemble-
Carrot Cake Layer
Cheesecake Layer
Carrot Cake Layer
A gallon of cream cheese frosting with pecans!
Tips and Tricks
Plan Ahead. Plan making this cake a day in advance. I made the cheesecake one night, then the next morning I baked the cake layers. In the afternoon I whipped up the frosting and assembled the cake.
Water Bath. The added moisture from the water bath helps to keep this cheesecake super soft and delicious!
Freeze the Cheesecake Layer. You can make the cheesecake layer further in advance by wrapping tightly and storing in the freezer until ready to use. I've made it up to a week in advance and kept it frozen until ready to use.
Carrot Cake. I used my favorite carrot cake recipe, from scratch. But if you want, feel free to use a carrot cake mix or even a spice cake mix. I'll never know!
Frosting. I love adding chopped pecans to my cream cheese frosting. If you prefer a smooth frosting, just sprinkle them on the cake after frosting it. OR, add the chopped pecans to your carrot cake before baking.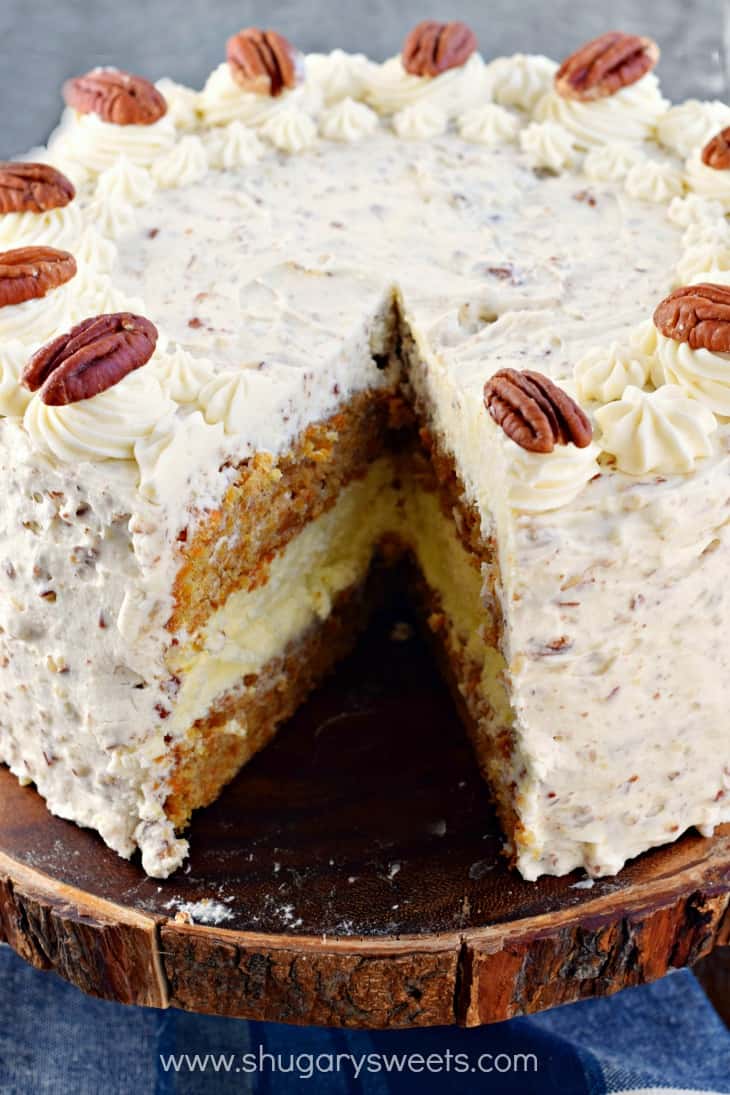 Cheesecake Cake Ideas
My love for cheesecake cakes began with this Pumpkin Cheesecake Cake recipe. It's perfect for fall baking, but really, you can enjoy it any time of year!
Neapolitan Cheesecake Cake. Can't decide on what to make? This sweet cake has lots of flavor!
Lemon Cheesecake Cake. Moist, tender lemon cake layers with a creamy cheesecake filling and topped with lemon buttercream frosting bursting with citrus flavor!
Don't worry chocolate fans, I've got you covered with this Salted Caramel Chocolate Cheesecake Cake recipe. Not for the faint of heart, this one is decadent!
The BEST Red Velvet Cheesecake Cake recipe starts with two layers of homemade red velvet cake with a layer of cheesecake in the middle. Topped with delicious cream cheese frosting and white chocolate curls!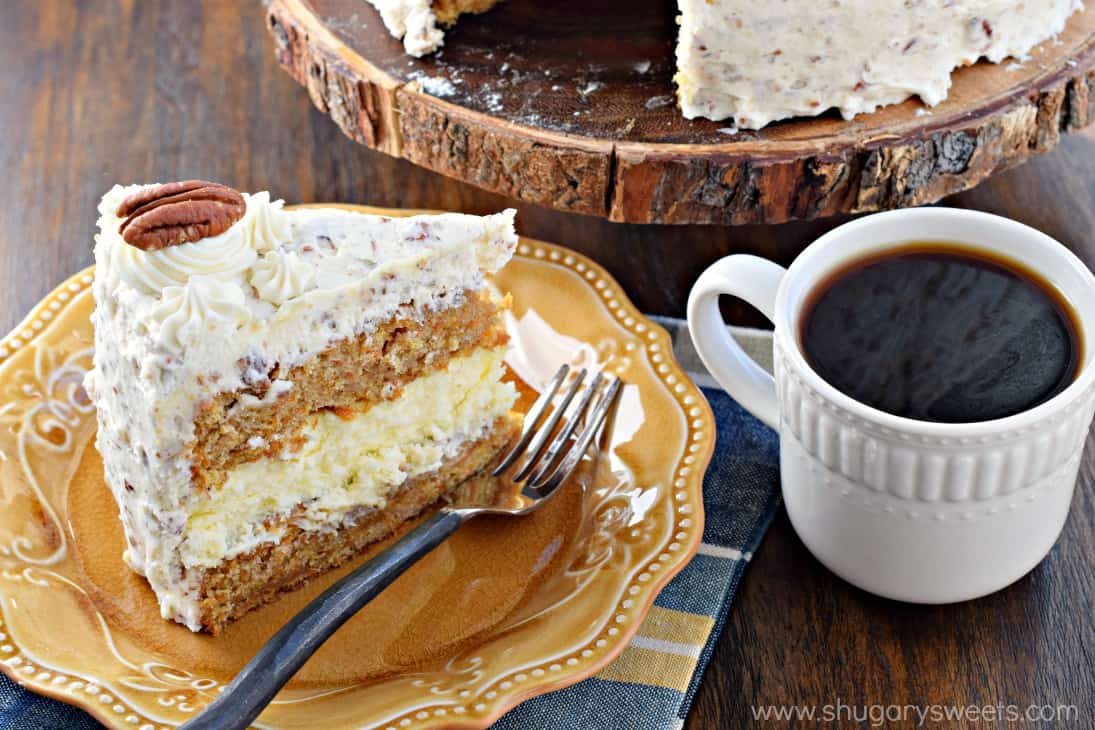 This Carrot Cake Cheesecake Cake is a showstopper! Layers of homemade carrot cake, a cheesecake center and it's all topped with a delicious cream cheese frosting!