Moist and delicious, these Chocolate Pudding Cupcakes are unbelievably easy to make! Instant pudding mix and cake mix come together for the perfect handheld chocolate dessert.
Love adding pudding to desserts? Give our Lemon Pudding Cupcakes a try. Or for a fun twist, bake a batch of Banana Pudding Cupcakes instead!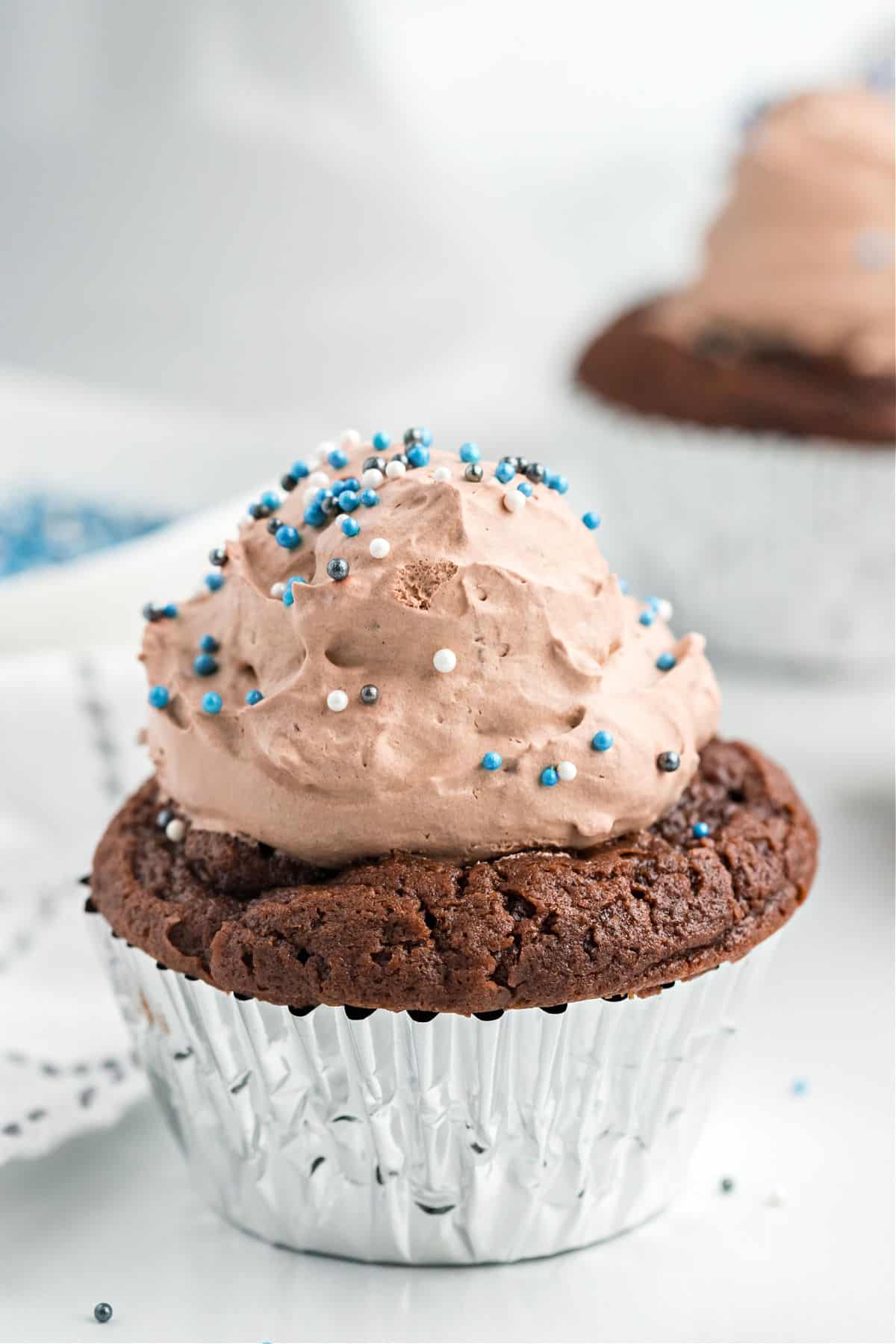 Why this Recipe Works
I typically make my cakes and cupcakes from scratch.
Why then do I seem to have no less than 10 boxes of cake mix in my pantry at any given time? Blame it on my weakness for a good sale.
How can I resist a 2 for 1 deal on baking ingredients?
Thankfully, cake mixes can be doctored up to create incredible recipes, including cake mix cookies!
Personally, I find most cake mixes to be quite dry. So adding ingredients to create a more moist cake is beneficial. Today's secret ingredient is chocolate pudding mix!
Not only do I add it to the cupcake, but the frosting is created using pudding as well.
I love the pillowy mound of whipped pudding frosting on top of each of these. Such a "light" texture instead of frosting.
Took my love of pudding cake and turned it into these easy cupcakes instead!
If you're thinking, "gosh this seems familiar", it's because I made these Watergate cupcakes and these Banana Pudding Cupcakes in the past. And I'm addicted.
Ingredient Notes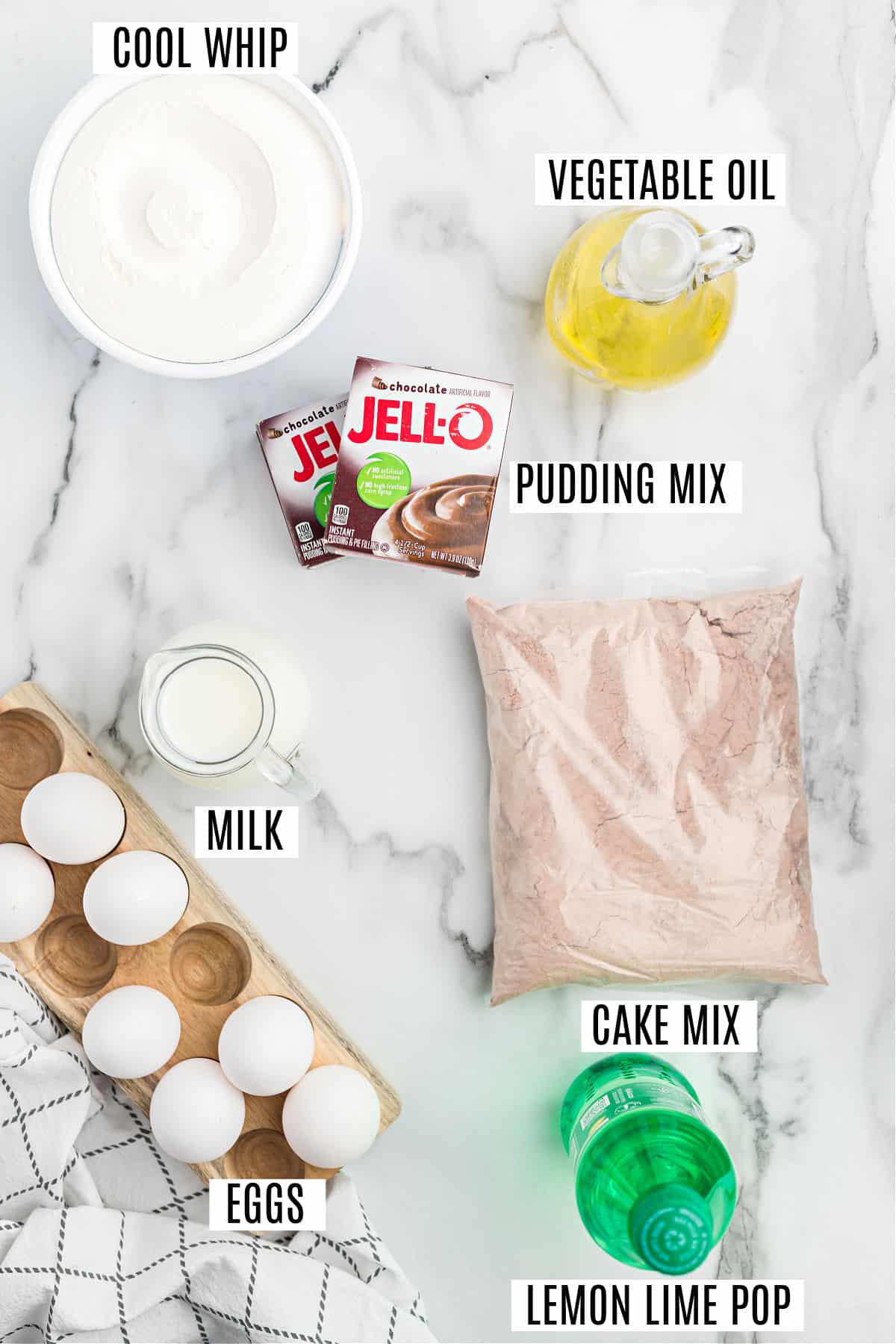 Chocolate cake mix. Any brand will do! You can use traditional chocolate, Devil's Food mix or dark chocolate fudge in this Chocolate Pudding Cupcakes recipe.
Instant chocolate pudding mix. Double check that it's instant mix and not the kind your have to cook.
Lemon lime soda. Or "pop" for those of us in the midwest! Sprite, Sierra Mist or your go-to store brand soda are all great choices. It doesn't make the cake taste lemony. The carbonation of the soda leavens the cake (similar to using baking soda in from-scratch recipes).
Cool whip. Thaw the cool whip in the fridge. Classic cool whip or chocolate cool whip can be used in the frosting. Of course you can always make homemade whipped cream too.
Easy Instructions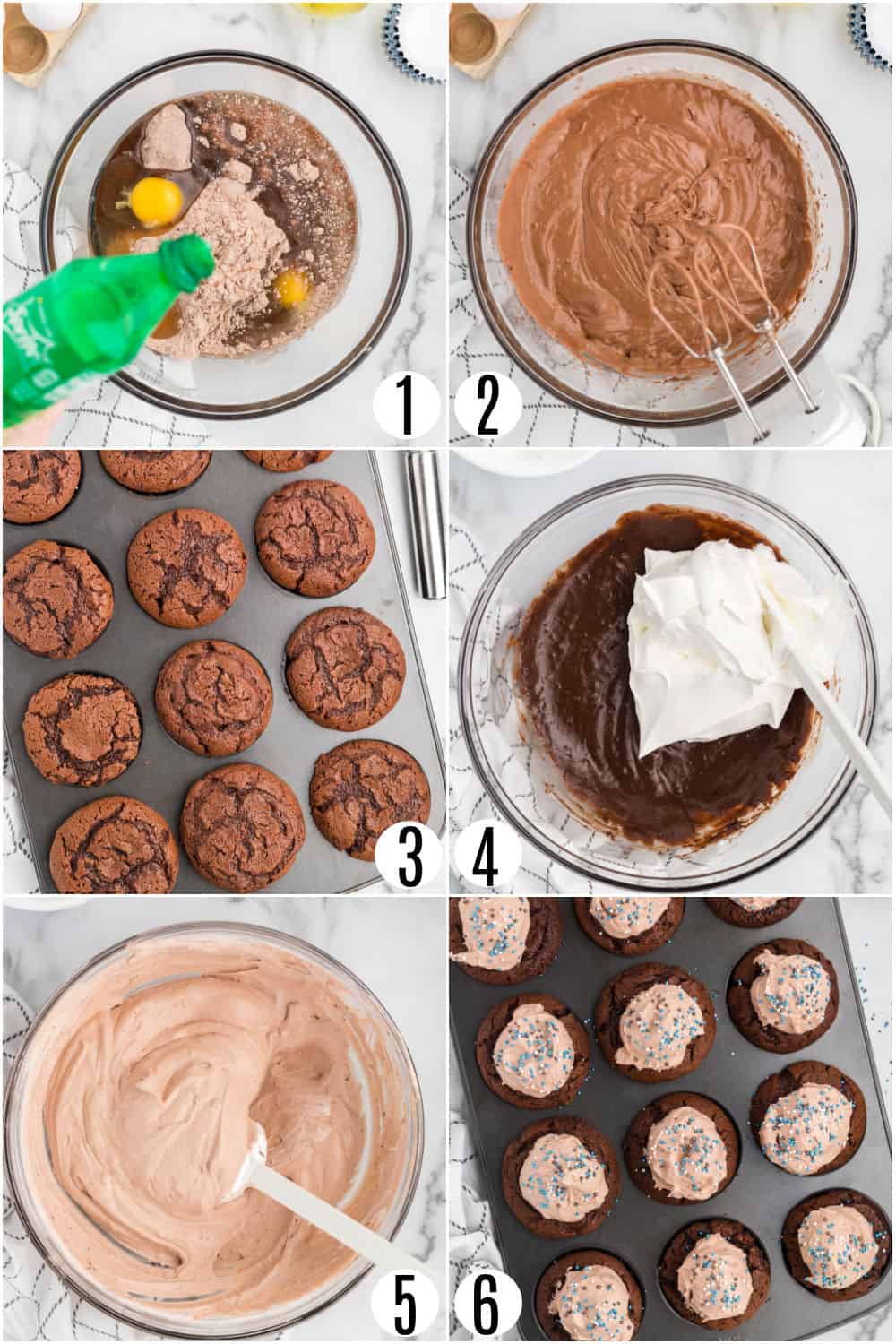 For the cupcakes:
Combine all the ingredients in a large bowl. Beat until smooth and fluffy.
Line a cupcake tin with cupcake liners. Fill liners with batter about 2/3 of the way full. Bake for 20 minutes.
For the frosting:
Stir pudding mix into milk to form a thick pudding. Fold in the cool whip. Refrigerate the frosting while the cupcakes finish cooling.
Use a cookie or ice cream scoop to dollop the frosting onto each cooled cupcake.
Tips and Tricks
Because of the cool whip in the frosting, these cupcakes need to be stored in the refrigerator. Keep covered and chilled. Eat within 3 days.
Garnish Chocolate Pudding Cupcakes with any kind of sprinkles you like for a pretty presentation.
Remove the cupcakes from the pan as soon as they are done baking to prevent overcooking.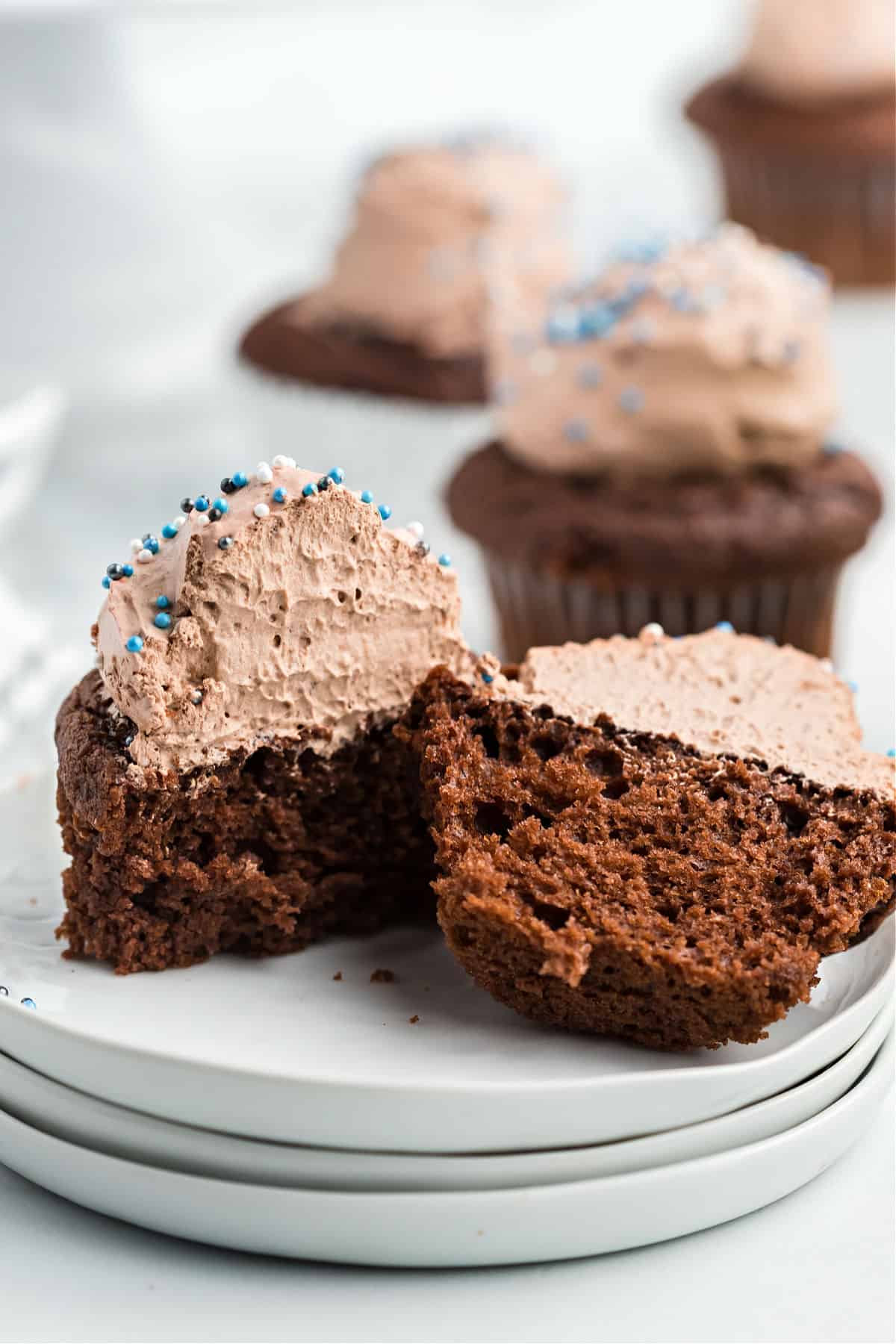 Recipe FAQs
Can I make pudding cupcakes with vanilla cake mix and pudding mix instead?
Yes, you sure can! That's an easy way to turn this Chocolate Pudding Cupcakes recipe into Vanilla Pudding Cupcakes! Other flavor combinations will work as well. Think lemon cake mix with lemon pudding, pumpkin pudding with spice cake mix etc. The options are endless.
How long can I keep these cupcakes at room temperature before refrigerating?
The frosting will begin to soften and melt fairly quickly at room temperature. I'd recommend keeping cupcakes with cool whip frosting at room temperature for no more than 30 minutes.
Can I use regular whipped cream instead of cool whip?
You can, but the frosting won't hold up as well. Any brand of stabilized whipped topping can be used. It doesn't need to be cool whip brand.
Make perfect chocolate cupcakes with just a handful of ingredients! These pudding cupcakes are easy to make, taste better than store bought and delicious for any occasion.