Boston Cream Cupcakes are a picture-perfect dessert with an extra dose of decadence. Moist cupcakes are filled with vanilla cream and topped with milk chocolate frosting in this easy recipe!
Love all things boston cream? Try my recipes for Boston Cream Pie and Boston Cream Donuts next!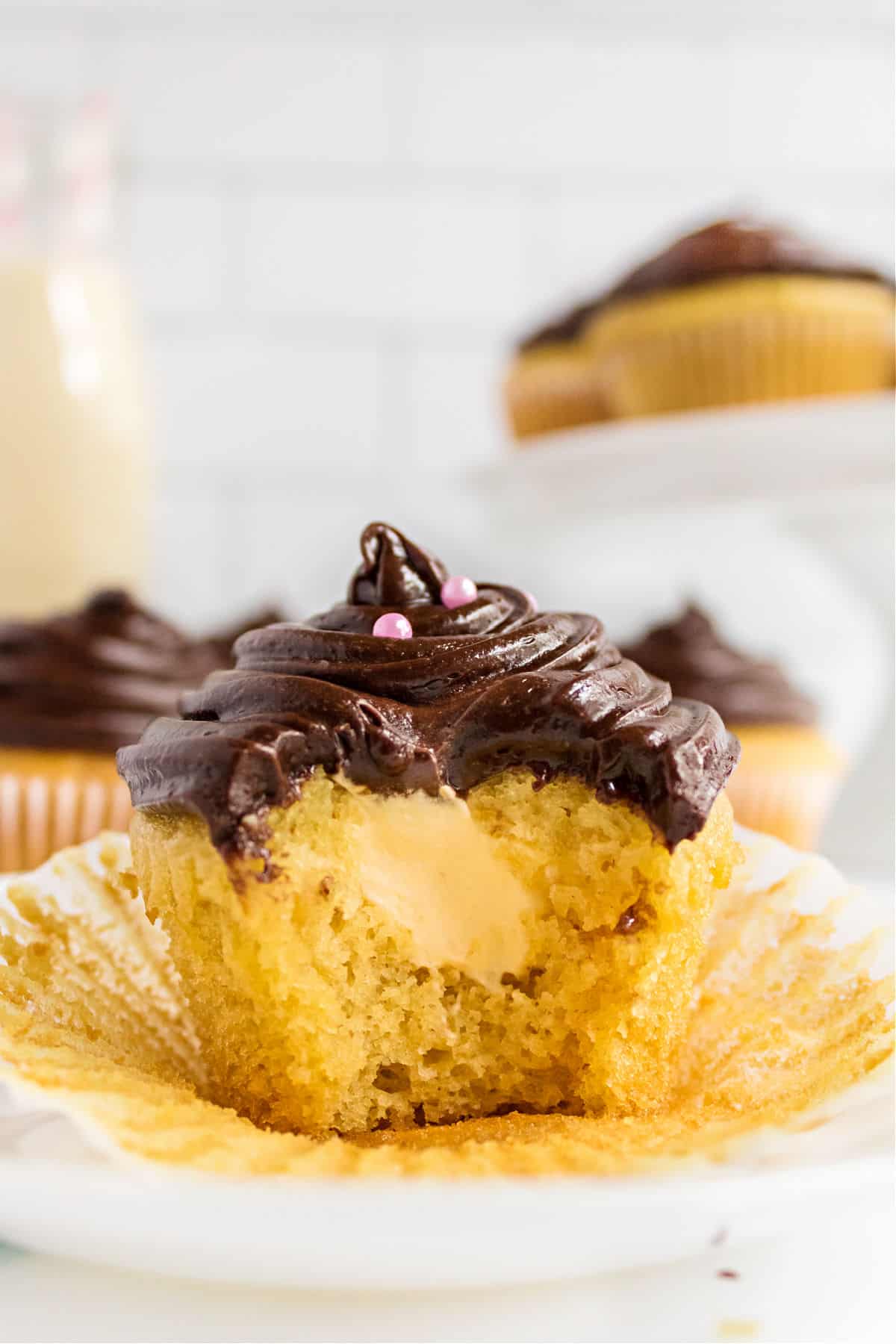 Why These Cupcakes are Best
I love these Boston Cream Cupcakes because at first glance they look like ordinary yellow cupcakes with chocolate frosting.
Since yellow cake with fudge frosting is one of my favorite simple nostalgic desserts, that would be enough of a reason to rush to the dessert table!
Then you take a big bite of that perfect frosted cupcake and discover a glorious surprise: the perfect dollop of vanilla cream at the center.
This recipe starts with the tastiest homemade vanilla cupcakes.
Cupcakes are filled with an easy pudding-based pastry cream.
No pastry bag required to fill these cupcakes!
Finished with a silky layer of milk chocolate frosting.
Most Boston Cream Pie recipes require making a traditional custard filling from scratch with egg yolks. I found that you can get results that are just as delicious with a box of instant pudding mix and Cool Whip, with even less work!
Ingredient Notes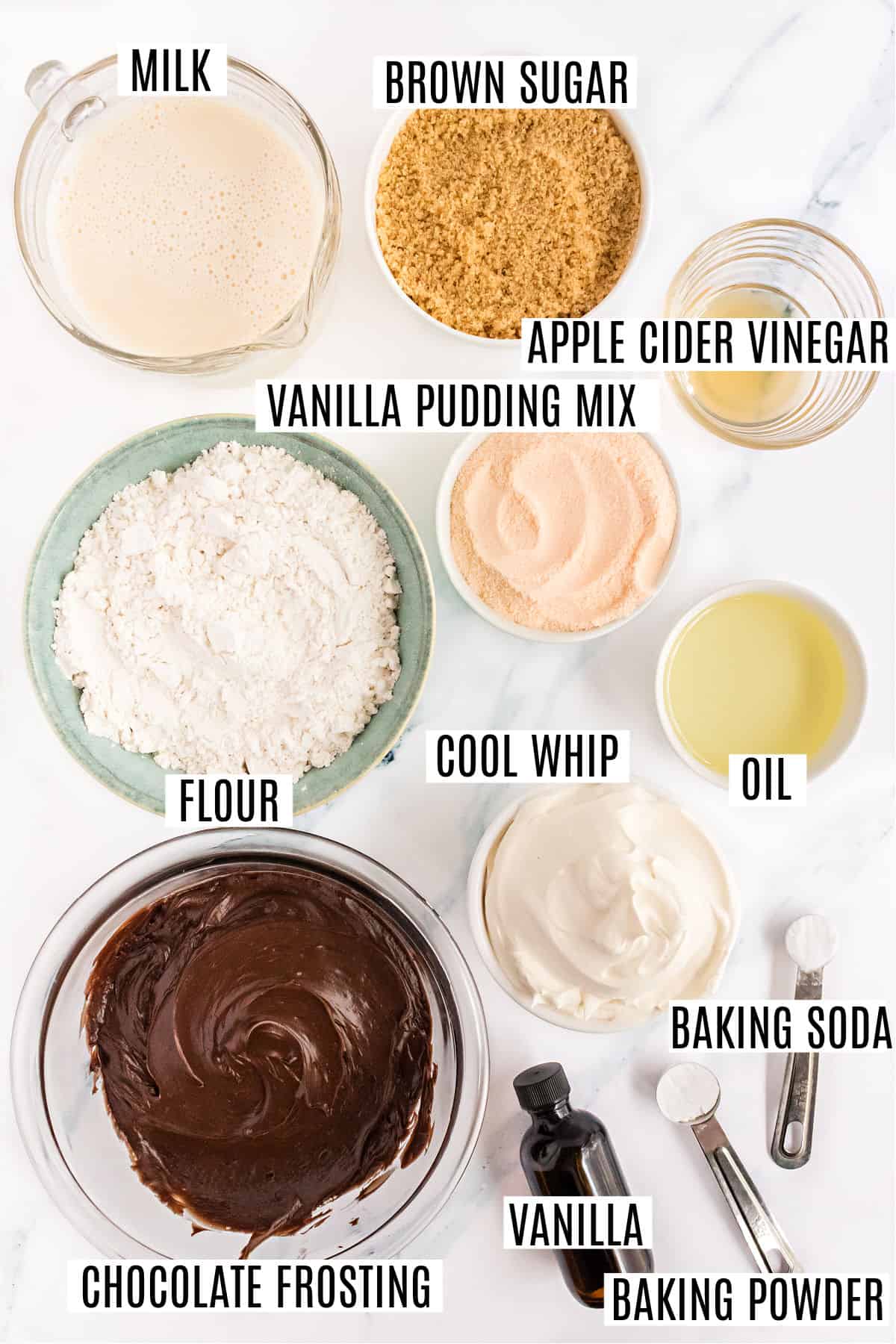 Whole milk and apple cider vinegar – The vinegar curdles the milk producing a product that works just like buttermilk, resulting in moist and fluffy cupcakes.
Baking soda and baking powder – We use both of these leaving agents to help the cupcakes rise to perfect heights when they bake.
Light brown sugar – Sweetens the cupcakes while adding more moisture and a golden color.
Vanilla extract – I always use a pure vanilla extract in my baking for best flavor. Our homemade vanilla extract recipe works perfectly.
Instant vanilla pudding mix – Whisked with milk to provide the base and flavor of the Boston cream cupcake filling. Use French Vanilla pudding mix for an even richer custard-like flavor!
Cool Whip – The stabilizers give the cream filling some structure so it stays soft but doesn't ooze out of the cupcakes when you take a bite. If you like you can use my homemade stabilized whipped cream instead of the stuff that comes frozen in a tub.
Milk chocolate frosting – You can use any brand of canned frosting for topping these Boston Cream Cupcakes. Or make our chocolate ganache frosting instead.
How to Assemble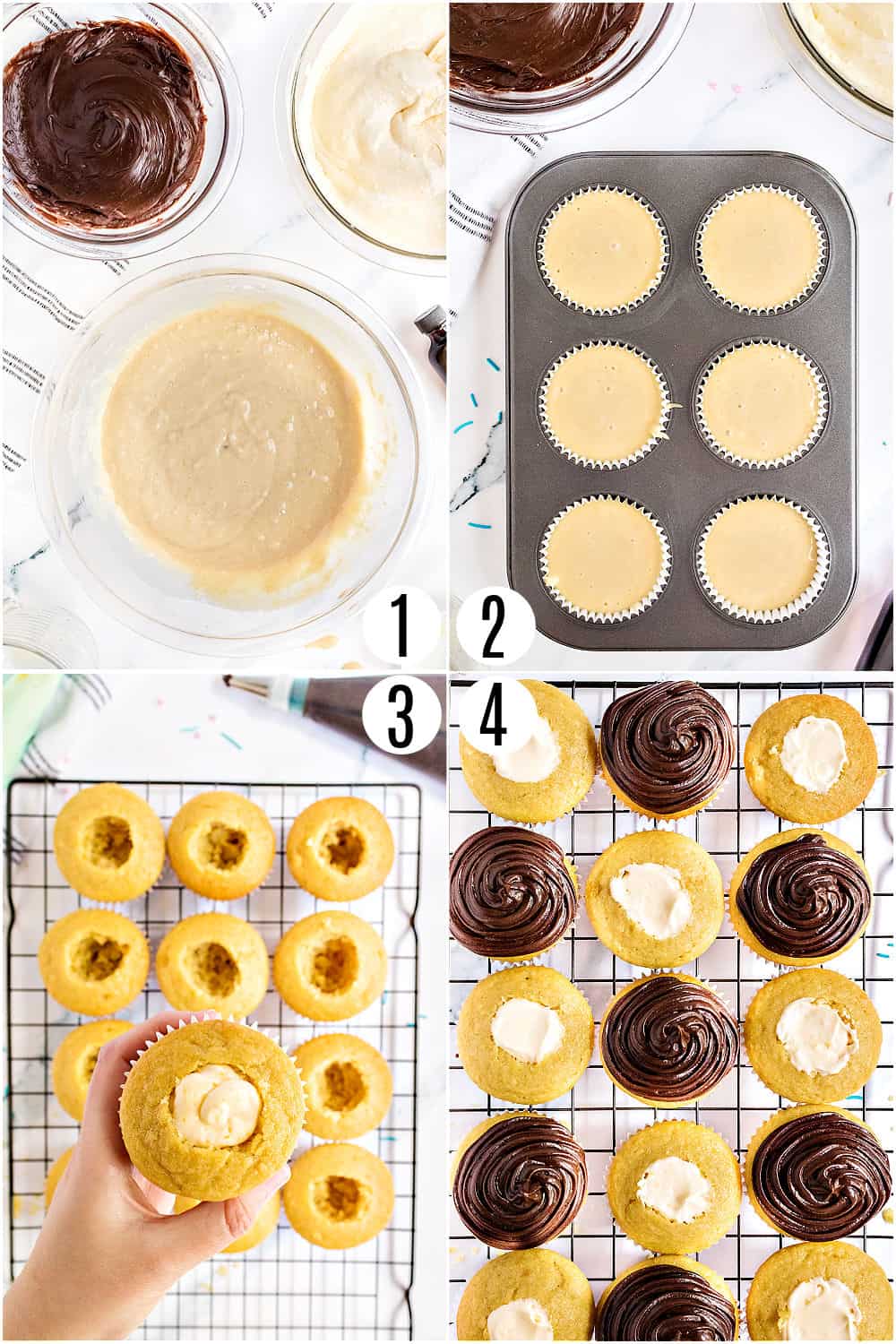 Boston Cream Cupcakes look and taste impressive, but making them is easier than you think. The trickiest part is the assembly!
Start with baked, cooled cupcakes.
Use a knife to scoop out a dome from the top of each cupcake.
Spoon the vanilla cream into the cavity of the cupcake.
Spread frosting over the filled Boston Cream Cupcakes. Serve and enjoy!
Tips and Tricks
Make sure the cupcakes are completely cooled before adding the cream filling!
Chill the cream filling for several minutes before using. I usually make the filling while the cupcakes are in the oven, then let it chill until the cupcakes have cooled completely.
Use a clean, dry knife for scooping out the tops of the cupcakes. Wipe off any crumbs on the knife before cutting into each cupcake for a smoother, cleaner cut.
Keep chilled. Homemade Boston Cream Donuts should be stored covered in the refrigerator and enjoyed within 3 days for best taste.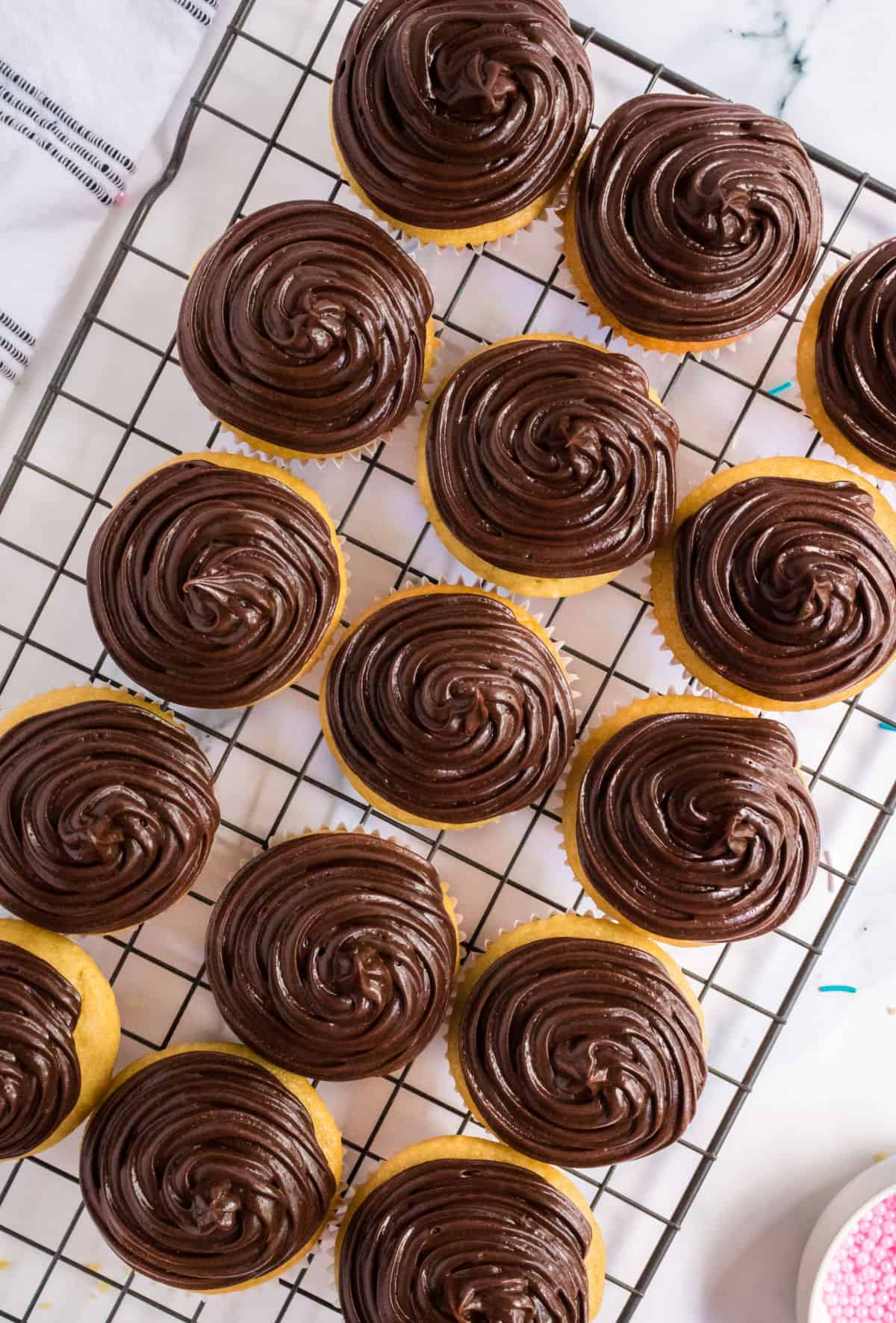 Recipe FAQs
Can I just use buttermilk instead of milk and vinegar?
Yes, buttermilk from a carton will work just as well! If using buttermilk instead of whole milk, no need to add the apple cider vinegar.
Why is it called Boston Cream?
Boston cream recipes like this one are named for the Boston Cream Pie—a vanilla cake with a custard filling and chocolate frosting first sold in Boston! These cupcakes are like a mini version of that classic dessert.
Can Boston Cream Cupcakes be frozen?
You can freeze the vanilla cupcakes before adding the filling, but I don't recommend freezing the assembled cupcakes.
If you do bake and freeze the cupcakes in advance, make sure to store them in a freezer safe container and let them thaw on the countertop before adding the pastry cream.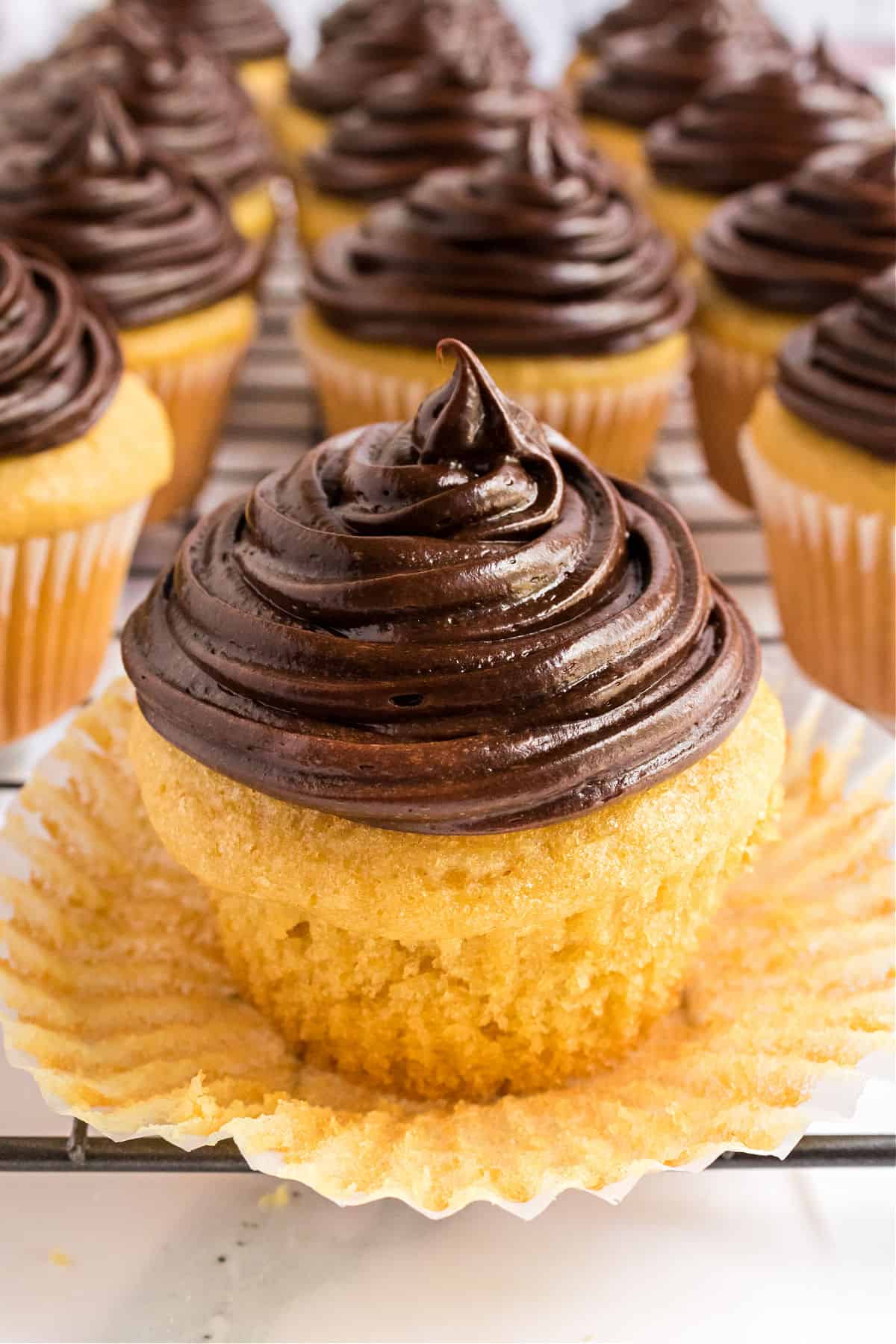 More Easy Dessert Recipes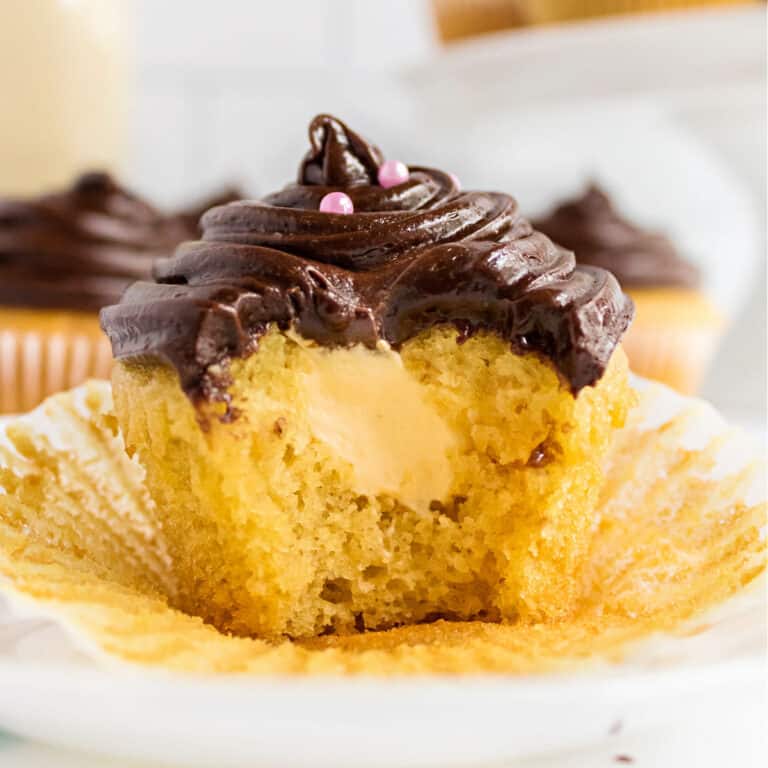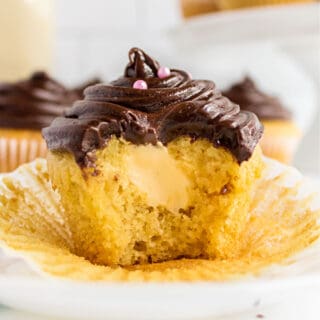 Boston Cream Cupcakes
Boston Cream Cupcakes are a picture-perfect dessert with an extra dose of decadence. Moist cupcakes are filled with vanilla cream and topped with milk chocolate frosting in this easy recipe!
Ingredients
For the Cupcakes
1

cup

whole milk

1

Tablespoons

apple cider vinegar

1 ¾

cup

all-purpose flour

1

cup

light brown sugar

1 ½

Tablespoons

baking powder

½

teaspoon

baking soda

1

Tablespoon

vanilla extract

⅓

cup

vegetable oil
For the Filling & Frosting
1

package

Instant Vanilla Pudding Mix

3.4 ounce

2

cups

whole milk

4

ounce

Cool Whip

thawed

1

can

Milk Chocolate frosting

16 ounce
Instructions
Preheat oven to 350 degrees F. Line a muffin tin with paper cupcake liners. Set aside.

In a small bowl, whisk together the whole milk and apple cider vinegar. Set aside.

In a large mixing bowl, combine flour, brown sugar, baking powder, and baking soda. Add in the milk mixture with vanilla and oil, mixing just until combined.

Spoon the cake batter into the cupcake liners about 2/3 way up.

Bake for 18 minutes, or until the tops are slightly golden and a toothpick comes out clean. Cool completely.

While the cupcakes cool, combine the pudding mix with milk using a whisk. Once the pudding thickens slightly (about 2-3 minutes whisking), fold in Cool Whip. Refrigerate until cupcakes are cool.

Using a sharp knife, scoop out a dome on the top of each cupcake. Spoon pudding mixture into hole.

Frost cupcakes with chocolate frosting and enjoy.
Notes
Buttermilk can be substituted in place of the whole milk and vinegar.
Swap out the Instant Vanilla Pudding mix for Instant French Vanilla Pudding. Gives a deeper vanilla flavor similar to custard.
Store cupcakes in airtight container in refrigerator for up to 3 days.
Nutrition
Calories:
229
kcal
,
Carbohydrates:
35
g
,
Protein:
3
g
,
Fat:
9
g
,
Saturated Fat:
3
g
,
Polyunsaturated Fat:
5
g
,
Cholesterol:
5
mg
,
Sodium:
313
mg
,
Sugar:
23
g