Rich and fudgy Frosted Brownies are a chocolate lovers' dream come true. Made-from-scratch brownies topped with a layer of our favorite chocolate buttercream frosting is the perfect dessert.
We might have a bit of a brownie obsession. From M&M's Brownies to Buttermilk Brownies, we can't get enough!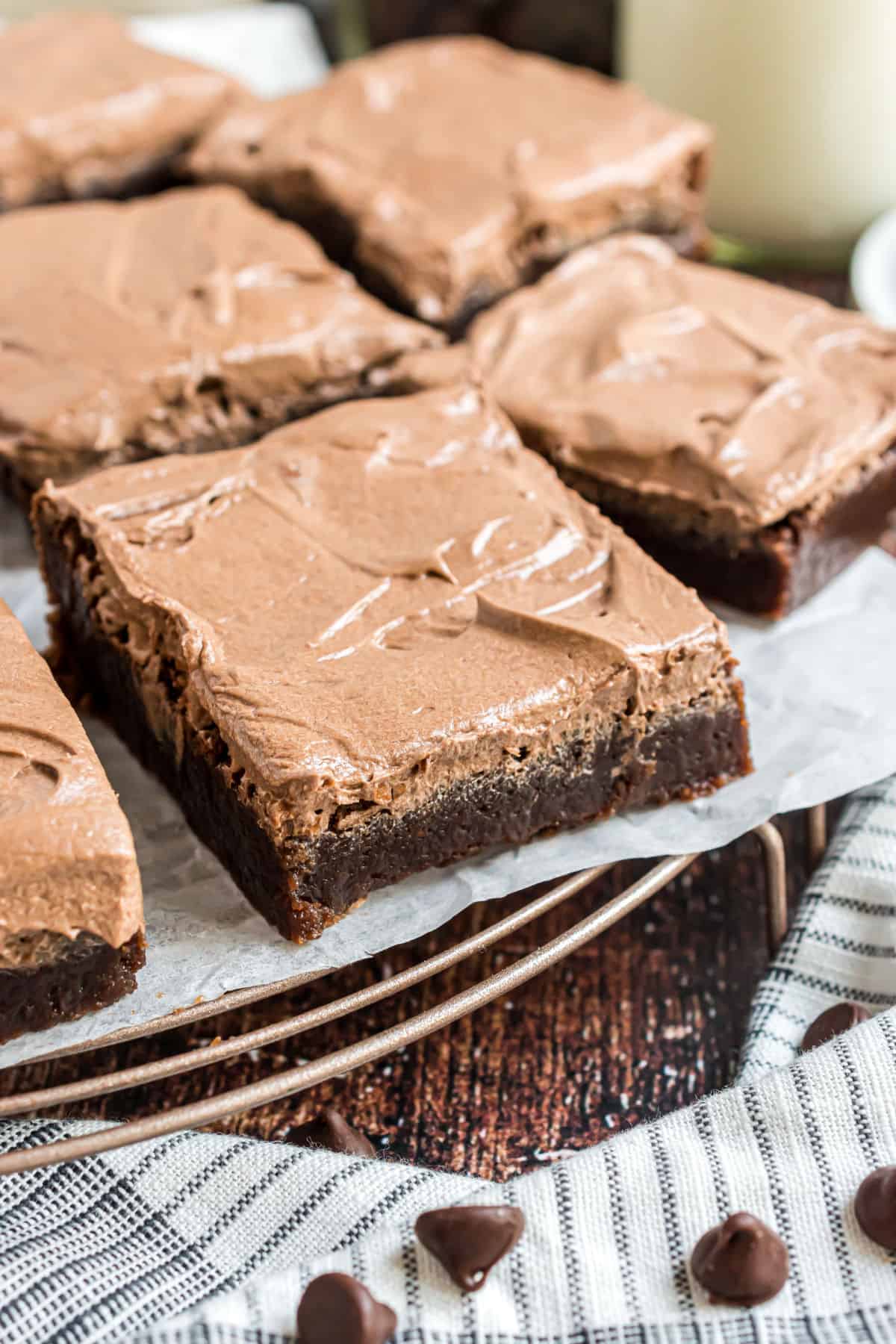 Why this Recipe Works
We're talking brownies. Covered in a velvety smooth, chocolate buttercream frosting. What's not to love?
Moist brownies. The brownies themselves are moist even without the frosting.
Made with melted butter. This is the secret to brownies with the perfect fudgy texture!
Everything is better with frosting. It sets these brownies apart from the crowd.
Double the chocolate. Made with cocoa powder AND chocolate chips for more rich chocolate goodness.
Easy to make. You don't need any special ingredients or baking expertise to make these amazing fudgy brownies from scratch, all in one bowl.
I could sing the praises of these frosted brownies all day long and into tomorrow. That is, if I could stop eating them long enough! You just need to try them yourself!
Ingredient Notes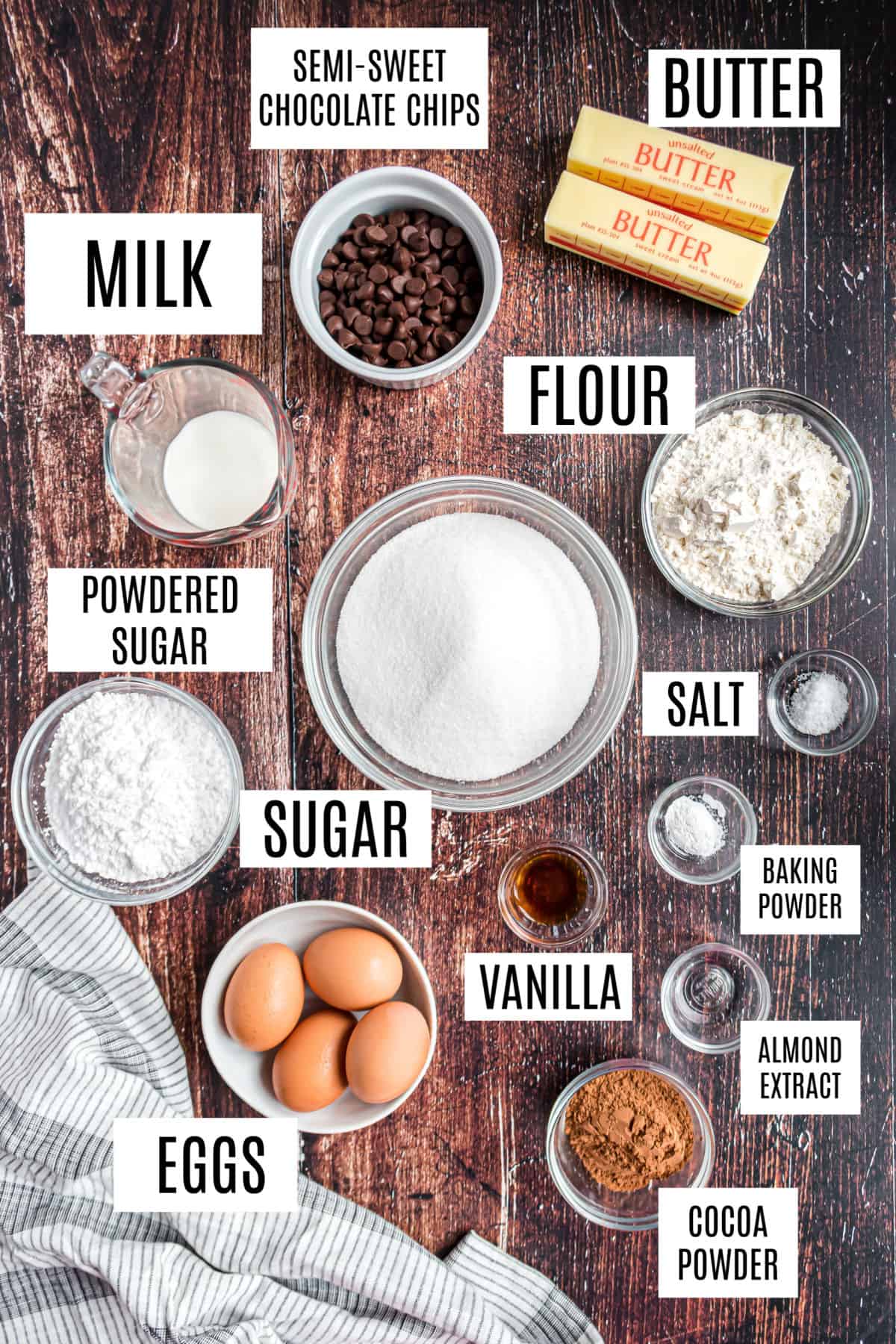 Unsalted butter. Using unsalted butter helps control the taste of your finished brownies. Salted butters all contain different levels of salt, making results less consistent.
Semi sweet chocolate chips. Chocolate chunks can also be used.
Almond extract. This is my handy trick for adding more depth of flavor to the chocolate frosting! Not a fan? Just use vanilla extract.
Kosher salt. I use kosher salt in all my cooking and baking. Find out why.
Easy Instructions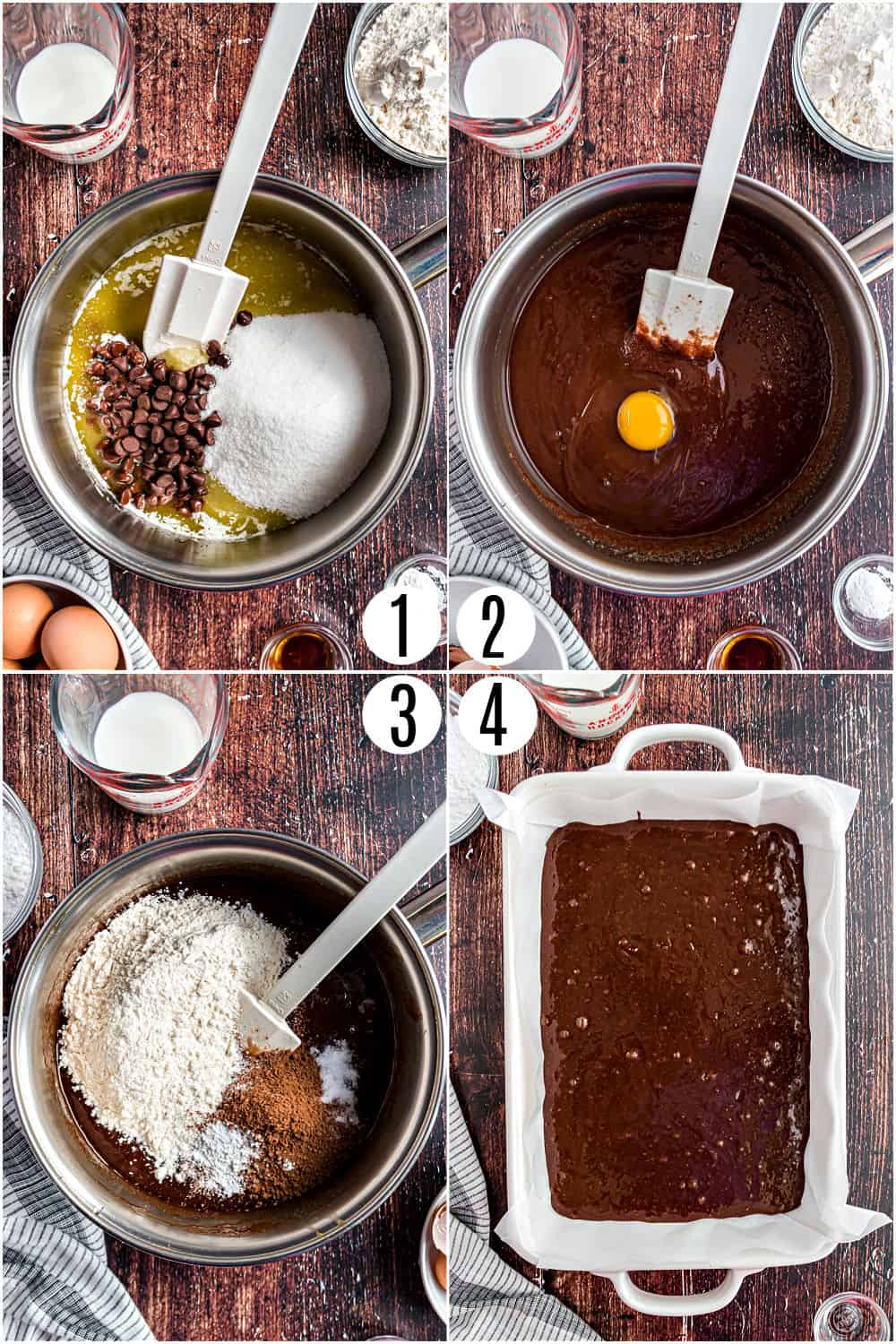 It's easier than you think to make frosted brownies from scratch!
Melt butter and chocolate. Stir chocolate chips and sugar into warm melted butter until the chocolate is fully melted. Add in eggs and vanilla.
Stir in dry ingredients. Mix flour, cocoa powder, salt and baking powder into the wet ingredients. Use big strokes to mix lightly until everything is just barely combined.
Bake. Pour the brownie batter into a parchment lined baking dish. Bake for 22 – 24 minutes.
Frost. Once the brownies are cool, beat together the frosting ingredients. Spread evenly over the brownies.
Slice, serve and EAT!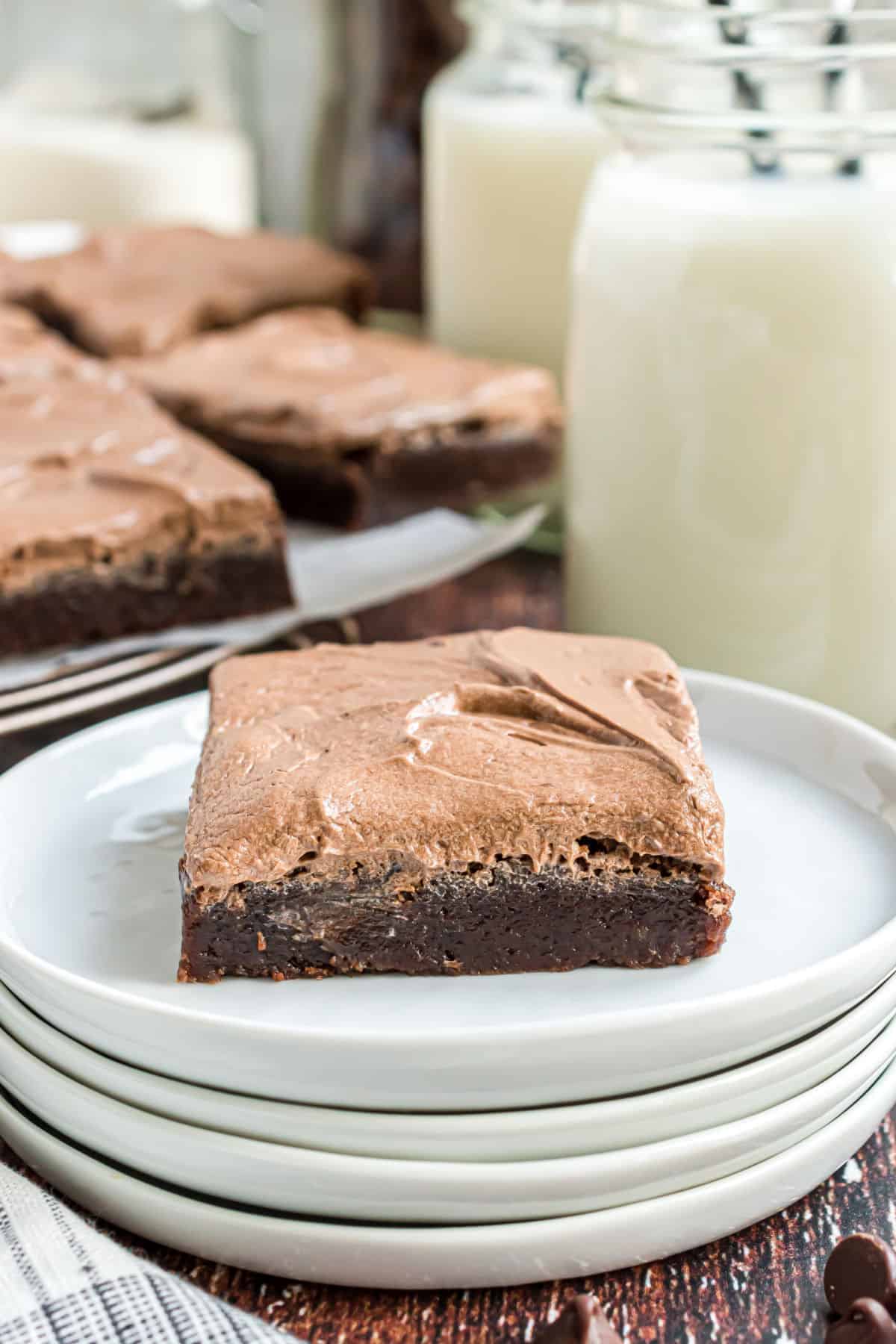 Tips and Tricks
Do not over mix. For best brownie texture, mix the flour into the wet ingredients using as few strokes as possible. Stop mixing when the dry mixture is no longer visible. Overmixing activates the proteins in the flour and incorporates more air, creating cakey brownies.
Use parchment paper. When the brownies are done cooling, you can lift them right out of the pan by holding the sides of the parchment paper. Easier cutting and no mess!
Use a plastic knife. Plastic knives help cut brownies without pulling, creating clean cuts.
Add sprinkles. For a fun and festive twist, add your favorite sprinkles to the frosted brownies before serving.
Add nuts. A handful of chopped walnuts or pecans are another delicious topping option for frosted brownies. (You'll also love my Walnut Brownies recipe if you love nuts in your brownies!)
Try different frosting flavors. Use our vanilla frosting for a classic touch. Or our chocolate sour cream frosting for a more tangy, less sweet topping.
Want thicker brownies? Using our classic brownie recipe, I made these to fit a 13×9 dish. With the frosting these are very rich. However, if you love thick brownies, feel free to use a 9-inch square dish and bake for about 35 minutes.
Skip the frosting, add melted chocolate and sprinkles like we did with these festive Valentine Brownies!
Take it a step further and add marshmallows like we did in this marshmallow brownies recipe!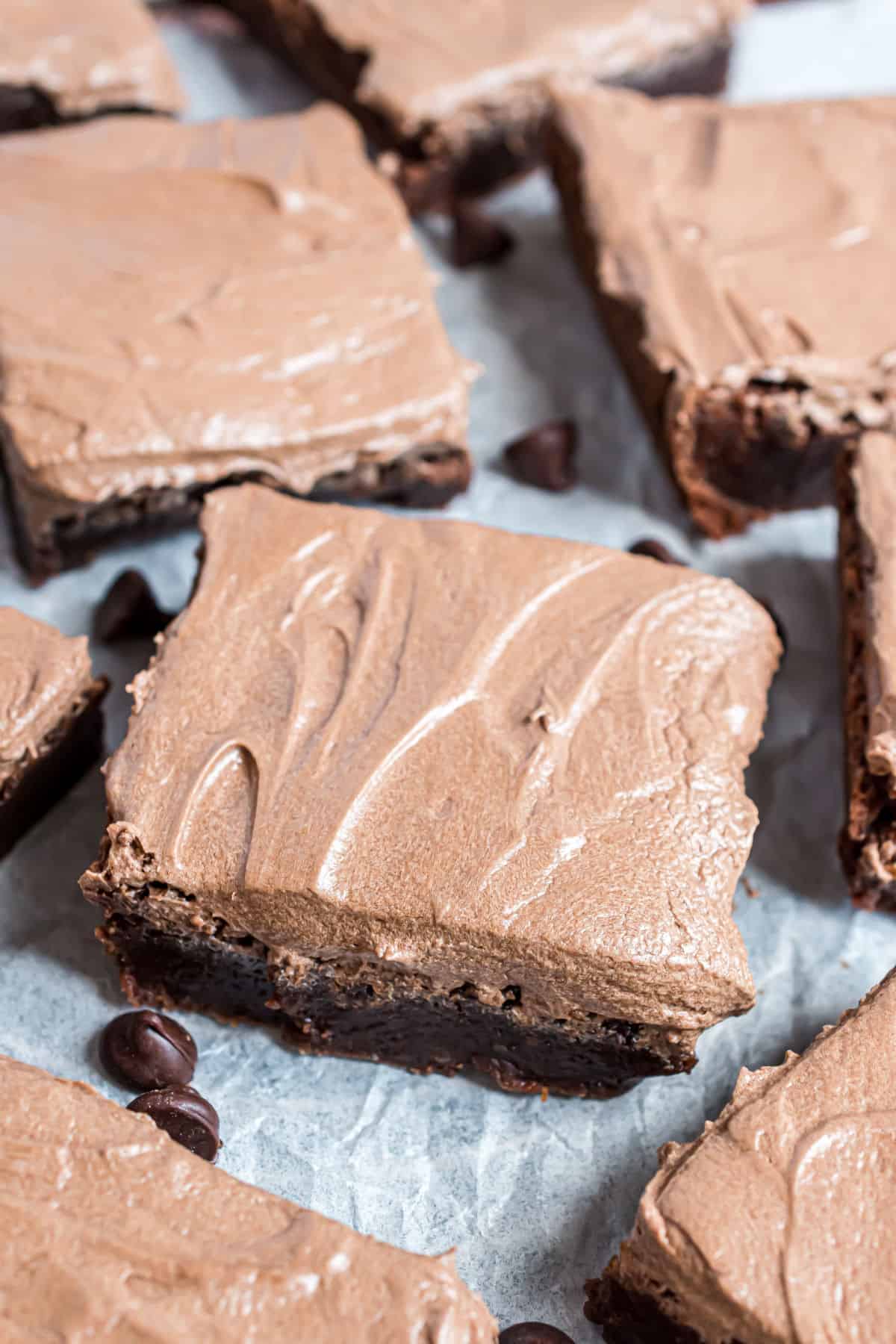 Recipe FAQs
How do you cut frosted brownies?
Use a plastic knife to cut brownies evenly and smoothly every time. The weight and texture of the plastic knife helps the brownies separate into squares without tearing or crumbling.
Should frosted brownies be refrigerated?
You don't have to refrigerate frosted brownies unless you want to. I think they taste great chilled! Refrigerating will also keep them fresher a bit longer. You can store them in an airtight container at room temperature or in the fridge.They'll keep well for 3 – 4 days.
Can you freeze frosted brownies?
I recommend freezing these brownies before frosting. When ready to eat, let the brownies thaw and add the frosting before serving. However, you CAN free them with the frosting if you prefer.
What kind of pan do I need for brownies?
I tested this recipe in a 13 x 9 inch baking dish.
More Brownie Recipes
Chewy fudgy frosted brownies make any day sweeter! Skip the bakery and the box, and make these brownies from scratch instead.