Easy, chewy, Nutella Swirled Blondies. Topped with ice cream, melted Nutella and sprinkles! Perfect way to celebrate that special occasion!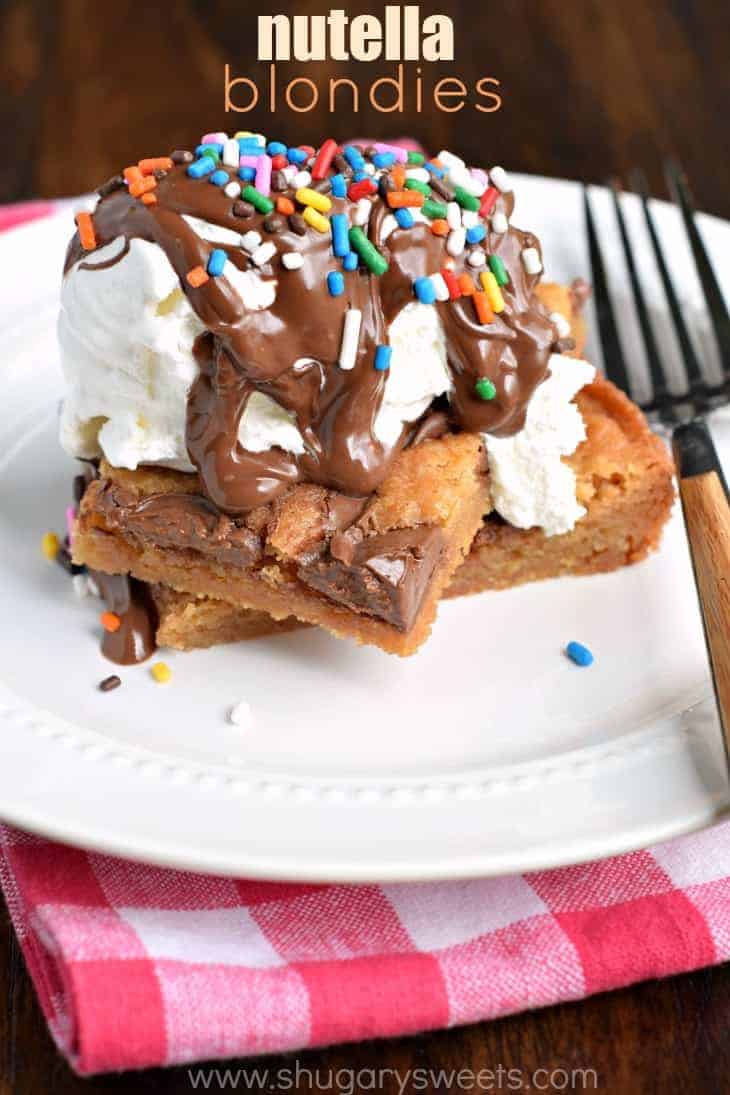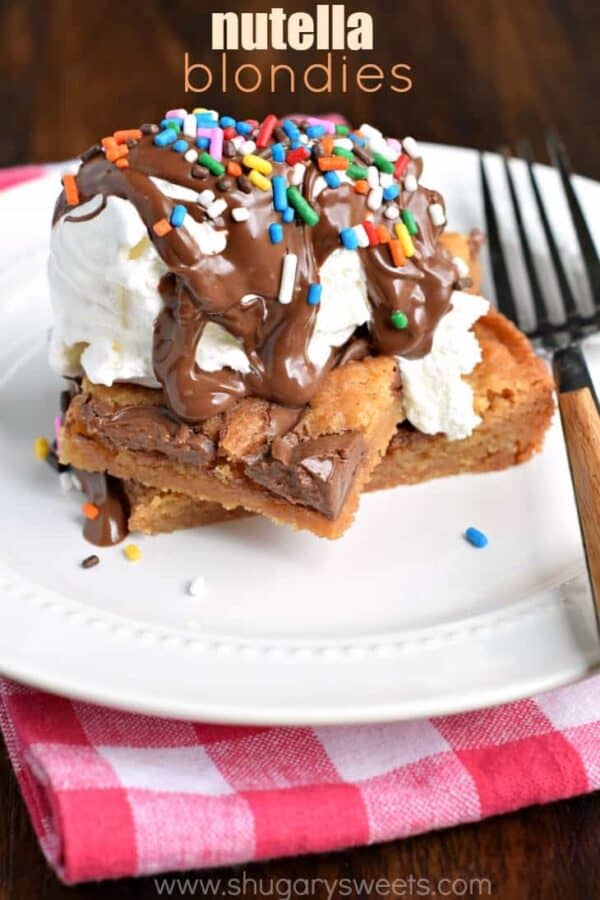 Today's a big day here on Shugary Sweets! This little piece of the internet turns 5 this week!!
For five years I've been coming here to share recipes. And while I won't scare you with photos from the early days, I will say I think I've come a long way.
And it's because of readers (LIKE YOU!). I wouldn't be here if there was nobody reading and visiting me. So THANK YOU.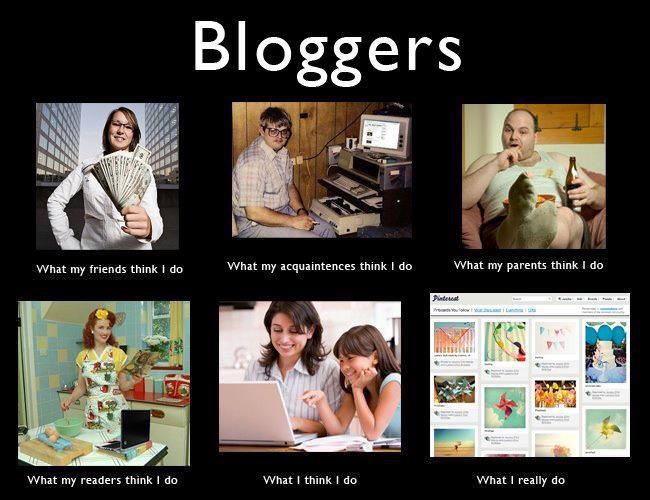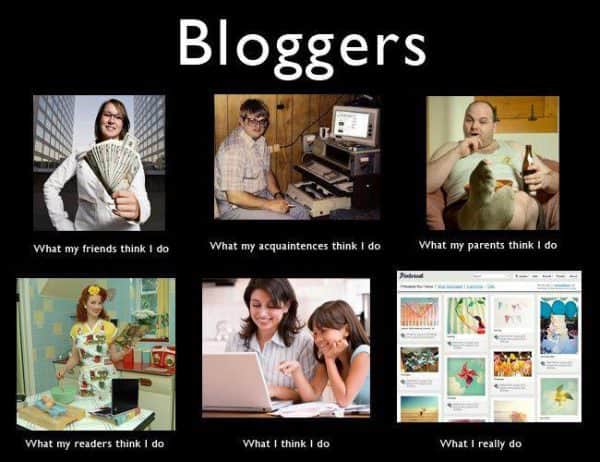 However, I thought it would be fun to give a little whimsy to today's post and let you know what my "real life" is like. I'm often asked "what is food blogging??" Do I own a bakery? Do I do catering? How do I make money?
And if you've had any of those same questions, don't worry. Some of my close family and friends don't really understand what I do, so you're not alone. Basically, I create recipes, photograph them myself and share them here on my blog. I then use social media (FOLLOW ME!! Pinterest | Instagram | Twitter | Facebook) to promote those recipes to get traffic (that's you!) back here on my website. WHY? Because the more people who visit my website, the more money I can earn (through advertising…sorry about those annoying ads, but they help pay the costs of running a website). I also work directly with brands (DOVE Chocolate, Fisher Nuts, Crunch Pak Apples, etc) to create recipes and share their products with you.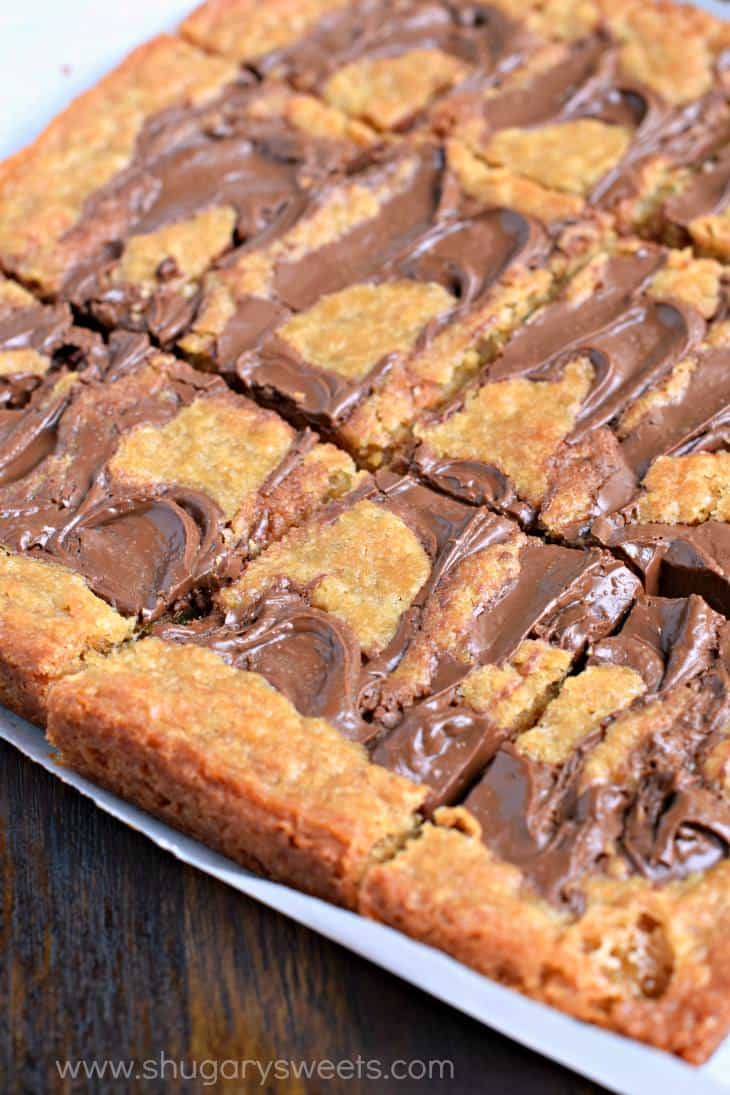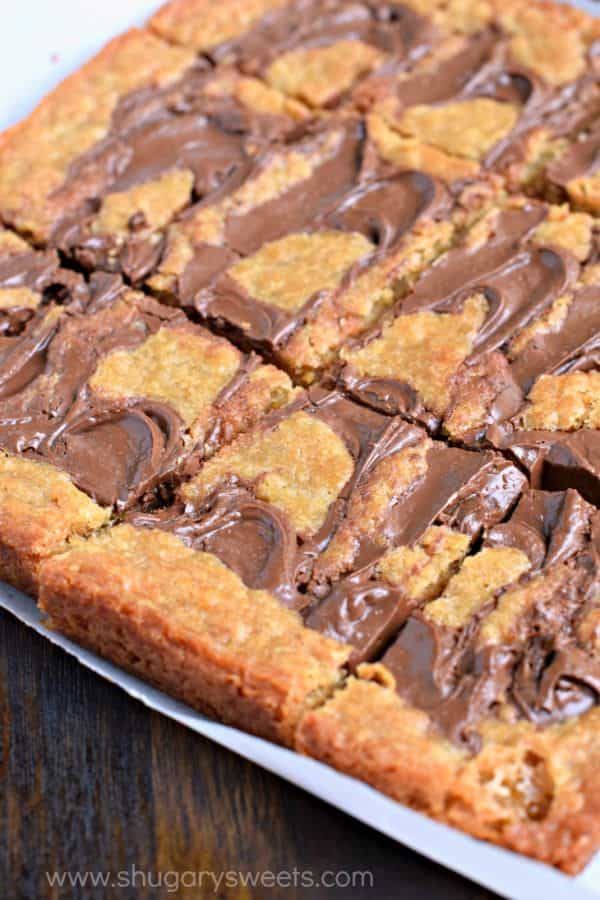 No, I don't cater or own a bakery. But if you're my friend and you live near me, you'll be blessed with some goodies dropped off at your doorstep from time to time.
So now, the fun part. I asked a bunch of my food blogging friends to answer a simple question for me (yes, I have more online friends than real life friends, we're like a big dysfunctional family, us food bloggers!).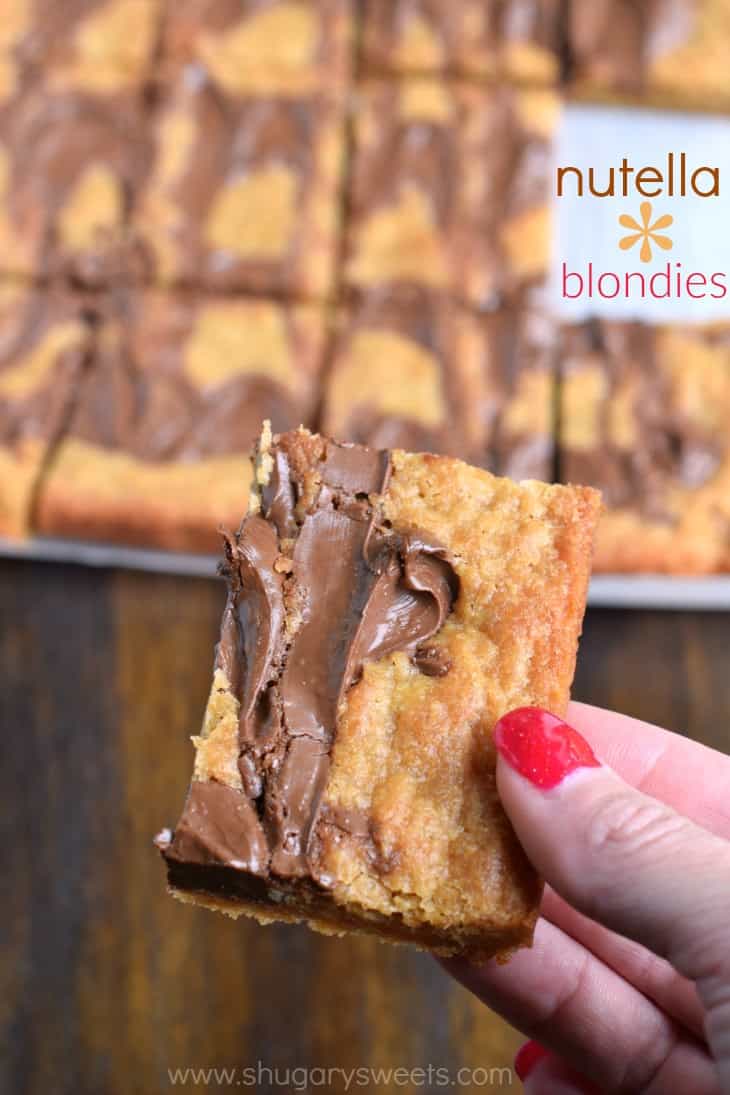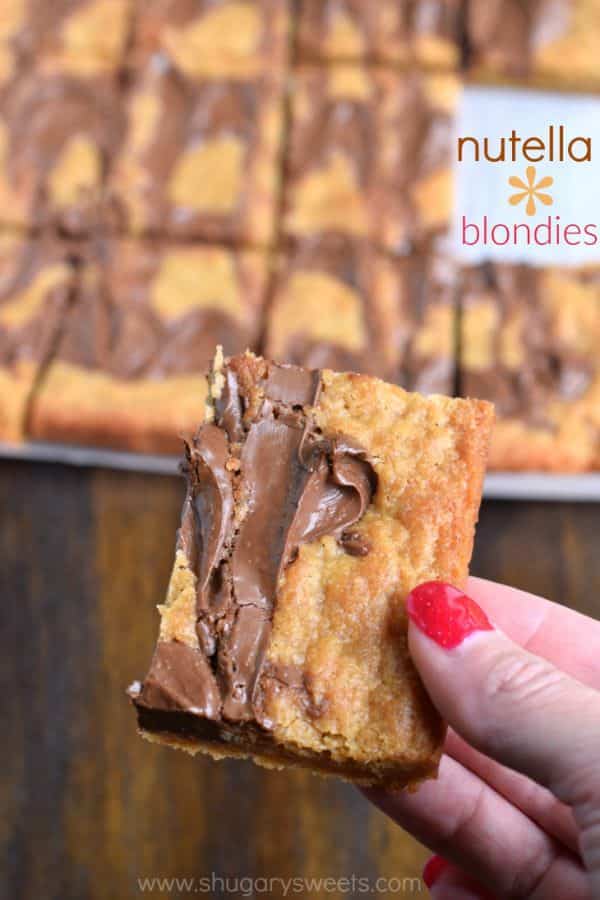 "You might be a food blogger if…….."
your husband asks permission to eat food from the refrigerator, in case it's for a blog post -Kristy
you have 30 plates and napkins and not one matching set -Kathy
you spend all day cooking, baking, and photographing delicious food…and then eat cereal for dinner (TRUTH!!!!!) -Heather
your favorite souvenir from every vacation is always a cookbook. That you never actually use -Amber
your first thought when it starts raining is "crap, there goes my light." -Stephie
you follow the price of limes closer than the price of gas -Anetta
you've used food glue to attach sesame seeds to buns -Sabrina
your husband only eats leftovers because you have to shoot your recipes in the middle of the day -Jennifer
your house is a mess but you have dessert for 3 days -Dorothy
you hardly ever make the same meal twice -Jocelyn
you wash more dishes that nobody has eaten off of than dishes that were actually used at meals -Brianne
you have a cocktail at 10AM because you had to photograph it then for perfect light and you couldn't let it go to waste -Marcie
you have more pictures of food than your kids -Lisa
you can be counted on to show up at potlucks and get togethers with a piece of cake missing -Karen
you go to the grocery store every.single.day. -Averie
you dream of recipes in your sleep -Tanya
your camera is smeared with butter. And chocolate. -Jennifer
I can relate to nearly every one of those mentioned above. Delivering cakes with slices missing? TOTALLY. More photos of food than family? Sadly, yes. Messy house? No dinner? Mismatched dishes? Yes. Yes. Yes.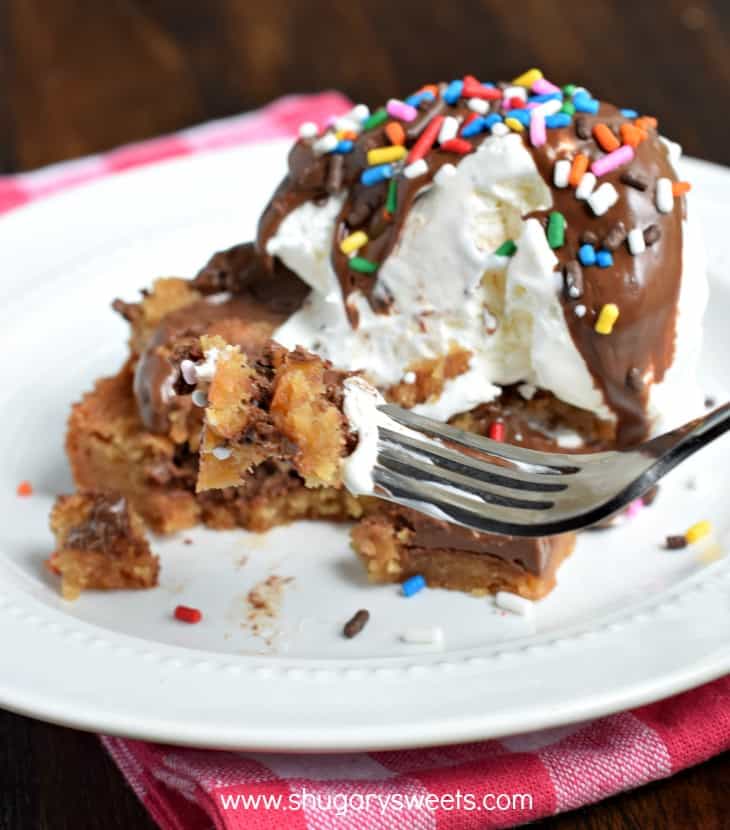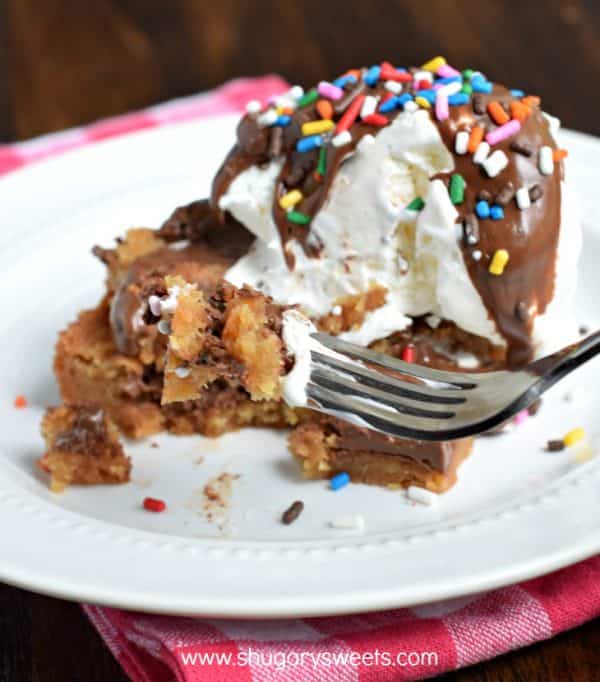 But, let's talk about today's celebratory recipe! I took my favorite, easy, one bowl blondie recipe and added in some swirls of Nutella. Because, duh, I love Nutella, and it adds the perfect nutty, sweetness to this recipe. And, it's not a party until it's topped with ice cream, melted Nutella, and sprinkles! Am I right? I find these blondies taste best the second day. Warm it up in the microwave for a couple seconds before adding your ice cream.
Oh wait. Confession. You might be a food blogger if…..you find out you have no ice cream in the freezer so you take a scoop of frozen Cool Whip for the photo shoot, nobody can tell the difference!
I created a fun little group on facebook and I'd love for you to join in! It's a place where you can share YOUR favorite recipes, ask questions, and see what's new with Shugary Sweets (so that you never miss a new recipe)! If you'd like to check it out, you can request to join HERE.
Be sure to follow me on Instagram and tag #shugarysweets so I can see all the wonderful SHUGARY SWEETS recipes YOU make!
Connect with Shugary Sweets! Be sure to follow me on my social media, so you never miss a post!
Facebook | Twitter | Pinterest | instagram