A classic Carrot Cake with Cream Cheese Frosting that's easy to bake and decorate. The addition of pecans in the frosting and cake makes this carrot cake recipe extra delicious!
Love carrot cake? Give our favorite carrot cake cookie recipe a try this holiday. Topped with cream cheese frosting and pecans, it's the perfect holiday treat.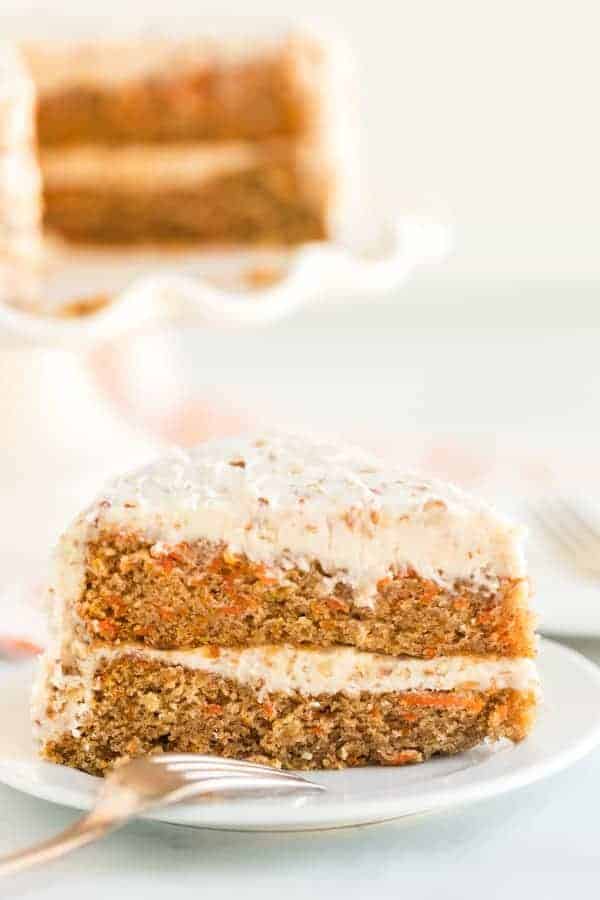 Why this Recipe is Best
Made with fresh grated carrots and spiced with cinnamon, this carrot cake recipe also includes pecans folded into the frosting.
The nutty flavor and crunch are a perfect fit for carrot cake. I love biting into a slice of moist cake and getting a delightful bite of pecan, too.
That said, if you're not a fan of pecans or prefer your cake without them, simply omit the nuts. The cake tastes amazing either way!
This recipe works beautifully in a 9 x 13 cake pan but my personal favorite way to bake it is as a double layer cake!
Layered cake means more frosting per bite and, trust me, you're going to want to enjoy AS MUCH of this tasty cream cheese frosting as possible.
NEW AND IMPROVED: I've updated this recipe to be even better than before!!
New Ingredient Changes:
More Oil- we increased the oil in this recipe from our old version. This keeps it extra moist for DAYS.
More Carrots- I mean, it's nearly a pound of shredded carrots (3 cups) in this delicious cake, you HAVE to have the carrots for flavor.
More Seasonings- while the old recipe was great, the additional vanilla, cloves, and nutmeg take this cake to the next level!
More Flour- you need all-purpose flour to hold up to the weight of the carrots. And because we increased the oil, I added an additional 1/4 cup of flour to our old recipe.
Nuts- In my old recipe I added nuts to the frosting. Now I decided it was time to add them to the cake. Delicious decision!
Tangier Frosting- I doubled the cream cheese in the frosting to give it more tang!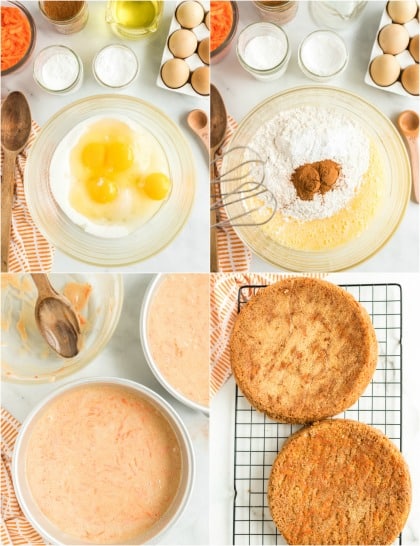 How to Make Carrot Cake
Carrot cake is an easy enough recipe for even beginning bakers!
STEP 1. Make a Cake Batter.
Mix the sugar, oil, vanilla extract and eggs in a large bowl or stand mixer. Add the flour, baking soda, baking powder, kosher salt, ginger, cloves, nutmeg, and cinnamon.
Beat for 2 minutes until fully combined and fluffy.
STEP 2. Add carrots and nuts. 
Fold shredded carrots and nuts into the cake batter. (the batter will be thick!)
STEP 3. Bake.
Pour the batter into two well-greased and floured 9-inch cake pans (homemade cake release can also be used instead of baking spray).
Bake for 38-42 minutes in a 350 degree oven. Let cool.
When the cake is fully cooled, prepare the frosting.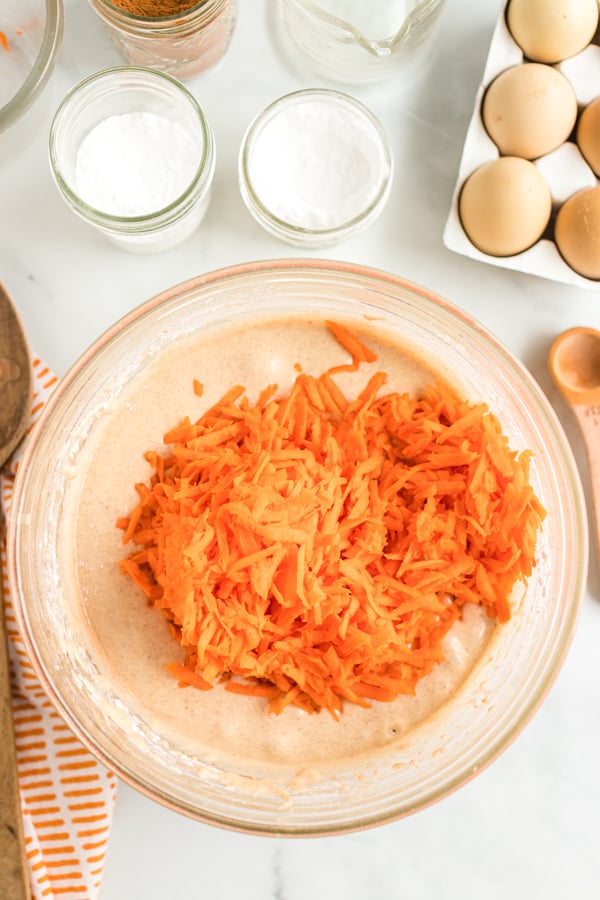 How do you grate carrots for carrot cake?
You can grate carrots for carrot cake using either a box grater or a food processor. Make sure to start with washed, peeled carrots.
If using a box grater, place the carrot against the side of the grater and run the carrot downward to grate.
When you use a food processor, use the grating attachment. You want the pieces very fine without turning into a puree.
Can you make carrot cake ahead of time?
This moist cake can be made up to two days in advance of serving if stored properly in an airtight container.
For best taste, bake the cake and store it (un-frosted) wrapped tightly in plastic wrap. Frost the cake when you're ready to serve.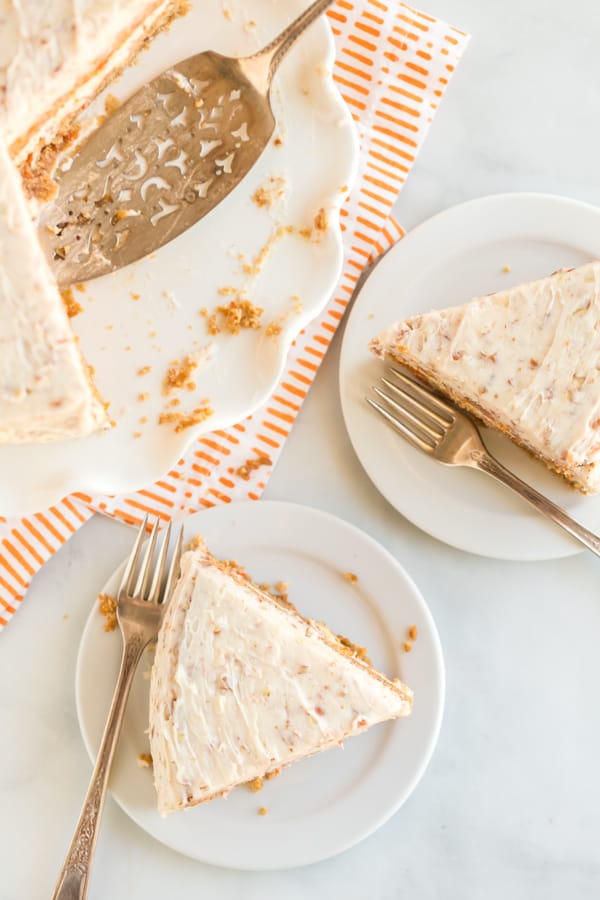 Can you freeze carrot cake?
If you need to make your cake more than a day or two ahead of serving it freezes wonderfully–with or without the cream cheese frosting on top.
Cut the cake into slices and store in freezer bags or airtight containers. Let thaw completely in the fridge or at room temperature before serving.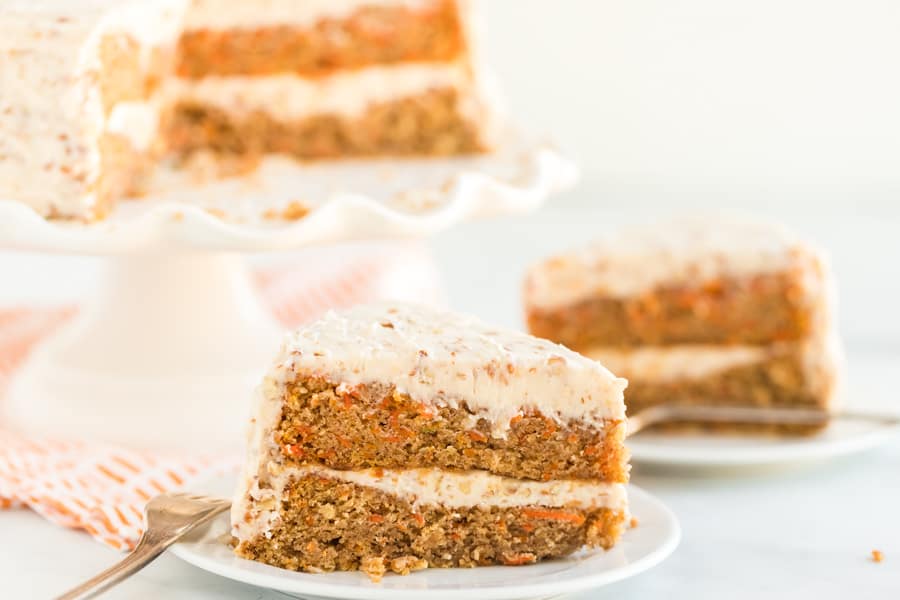 How to Make Cream Cheese Frosting
STEP 1. Combine the Butter and Cream Cheese.
Use a hand mixer or the whisk attachment on a stand mixer to cream together the butter and cream cheese. Beat until well combined, about 3 minutes.
STEP 2. Add Powdered Sugar.
Beat in the powdered sugar along with the vanilla extract and milk. The frosting will be very creamy.
STEP 3. Frost the Cake!
To make a layer cake: Spread frosting over the flat side of one of the layers. Place the other layer on top then spread icing evenly over the whole cake.
To make a sheet cake: Spread frosting evenly over the entire cake.
Decorate your cake with more icing or pecans, or serve it just as is! Either way, everyone loves this recipe.
This frosting recipe uses twice the amount of cream cheese as my regular cream cheese frosting recipe. This results in an ultra creamy topping. However, it's very thin and does NOT pipe and hold it's shape. I HIGHLY suggest making a crumb coat, refrigerate for 30 minutes, then spread the remaining frosting on the cake.
Can you make cream cheese frosting ahead of time?
Yes, cream cheese frosting can be made in advance. Store it covered in an airtight container in the fridge for up to a week.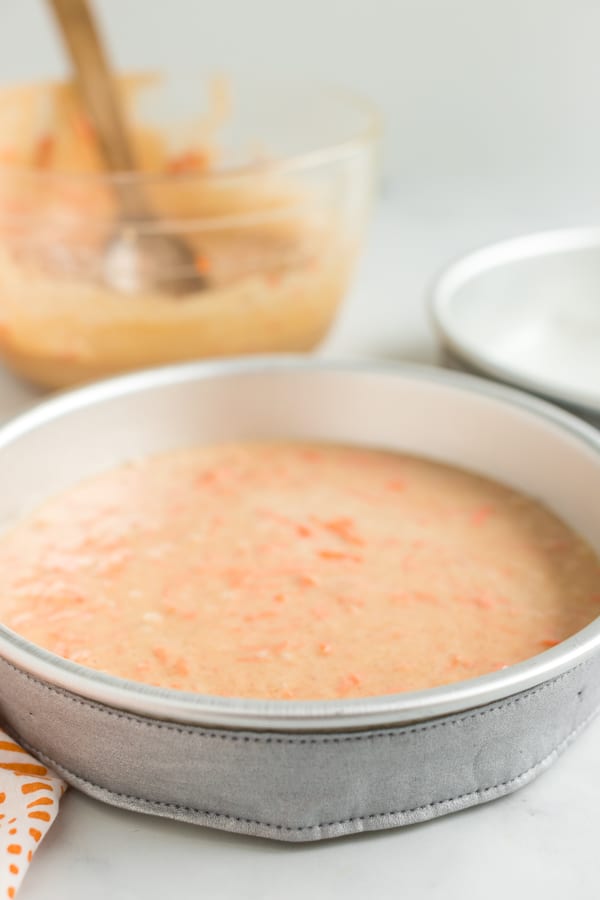 Tips and Tricks
Let your cake cool for about 10 minutes in the pan after baking before removing them. This helps keep the cake from sticking and falling apart as you try to take it out of the pan!
I like to use Bake Even Strips in my layer cakes. These handy little tools help the layers stay even while baking which makes for an ideal taste and appearance.
Make sure the cake is completely cool before you add the frosting. Patience is a virtue here; even a slightly warm cake will make your frosting runny.
MORE Carrot Cake Recipes
Try these delicious spins on moist and flavorful carrot cake.
PS. If you try this recipe, please leave a STAR rating in the recipe card below. I love your feedback! Connect with me on social media by following me on Instagram, Facebook, or Pinterest.
Spread with rich and sweet cream cheese frosting, this classic carrot cake recipe is as easy as it is delicious.