Hummingbird Cake is a moist layer cake filled with pineapple, pecans and coconut. Perfectly sweet and spiced with cinnamon, this classic southern dessert keeps everyone coming back for another slice!
If you like Hummingbird Cake, this Italian Cream Cake Recipe is another southern tradition you'll love! Our Kentucky Butter Cake is another easy recipe filled with down-home goodness.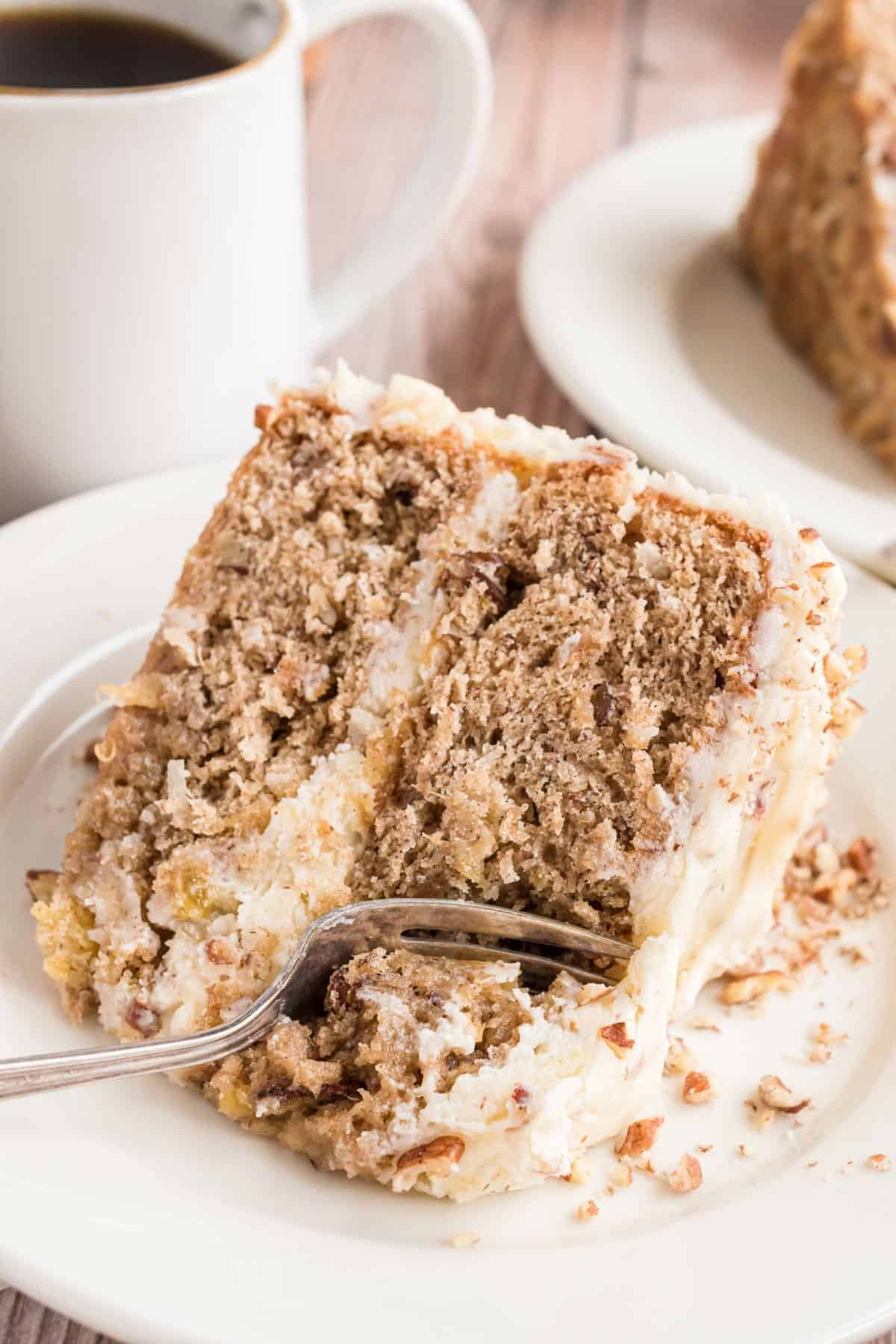 Why this Recipe is Best
This Hummingbird Cake might just be the ultimate dessert for people who love fruit in their cake.
Pineapple, banana and coconut are baked into every bite, and the whole thing is covered with a rich pineapple cream cheese frosting.
Bananas make this cake super moist.
It's made with both butter AND oil for a tender crumb.
Pecans give a hint of nutty flavor and perfect crunch.
Delicious with or without coconut.
Pineapple in the cake AND the frosting!
With a consistency similar to carrot cake and a flavor that marries pineapple cake and banana bread, Hummingbird Cake is a guaranteed crowd pleaser.
Ingredient Notes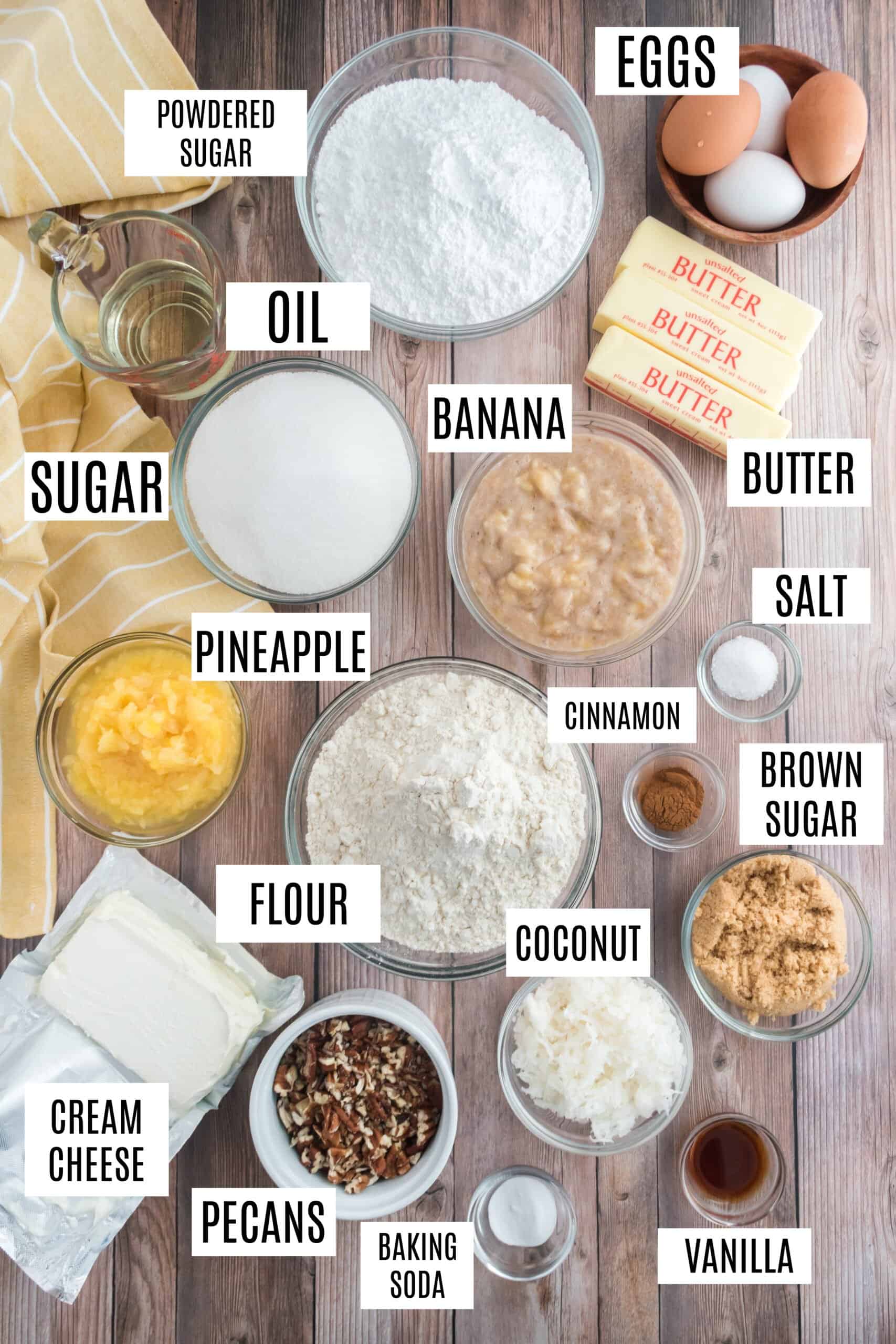 Don't let the long list of ingredients scare you from making this delicious cake. One mixing bowl is all you need!
Bananas – Use very ripe or even overripened bananas in this cake. The riper they are the more sugary juices they bring to the Hummingbird Cake. Use our guide on how to ripen bananas in minutes!
Crushed pineapple – This recipe uses canned pineapple (including the juices) in both the batter and the cream cheese frosting. You will need one 8 ounce can in total.
Shredded coconut – This is a delicious addition to Hummingbird Cake but if you're not a fan of coconut, feel free to simply leave it out.
Vegetable oil – Combined with butter, it makes the cake dense (like carrot cake) and moist, but not tough. You can use any mild vegetable oil blend or canola oil.
Cream cheese – For best results, use the full fat regular cream cheese that comes in blocks. The rich flavor and light tanginess make it a perfect base for the sweet frosting.
How to Make Hummingbird Cake
Hummingbird Cake looks as impressive as it tastes. You'll be happy to find that it's no more difficult than making any typical layer cake. Just mix, bake, assemble and frost!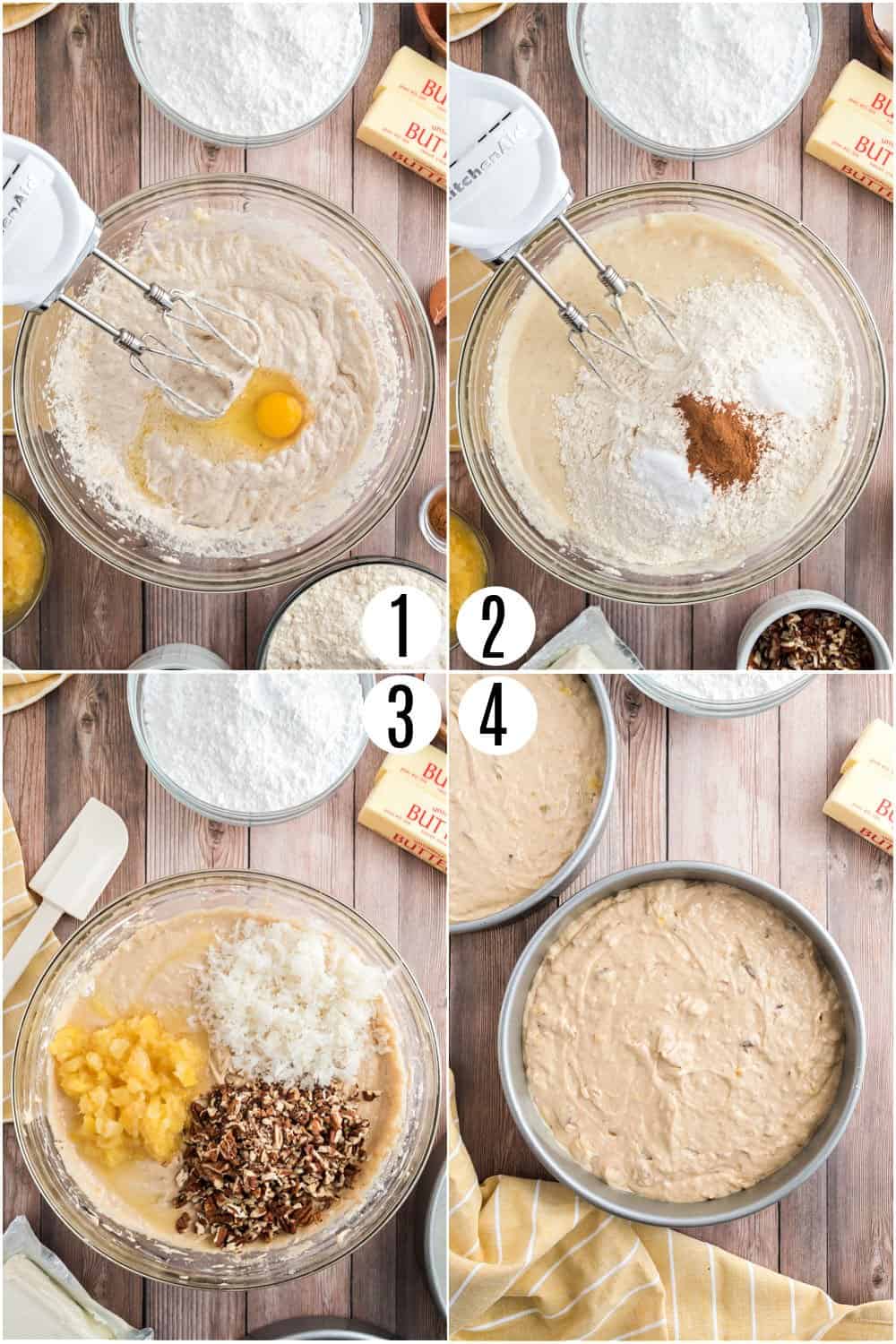 STEP 1. Make the cake batter
First you'll beat together the oil, butter and sugars. Then add eggs, mashed banana, and vanilla extract followed by the dry ingredients. Fold pecans, coconut and pineapple into the batter last.
STEP 2. Bake
Divide the batter into round cake layer pans. Bake until the cakes spring back to the touch, then remove and let the layers cool completely.
STEP 3. Assemble and frost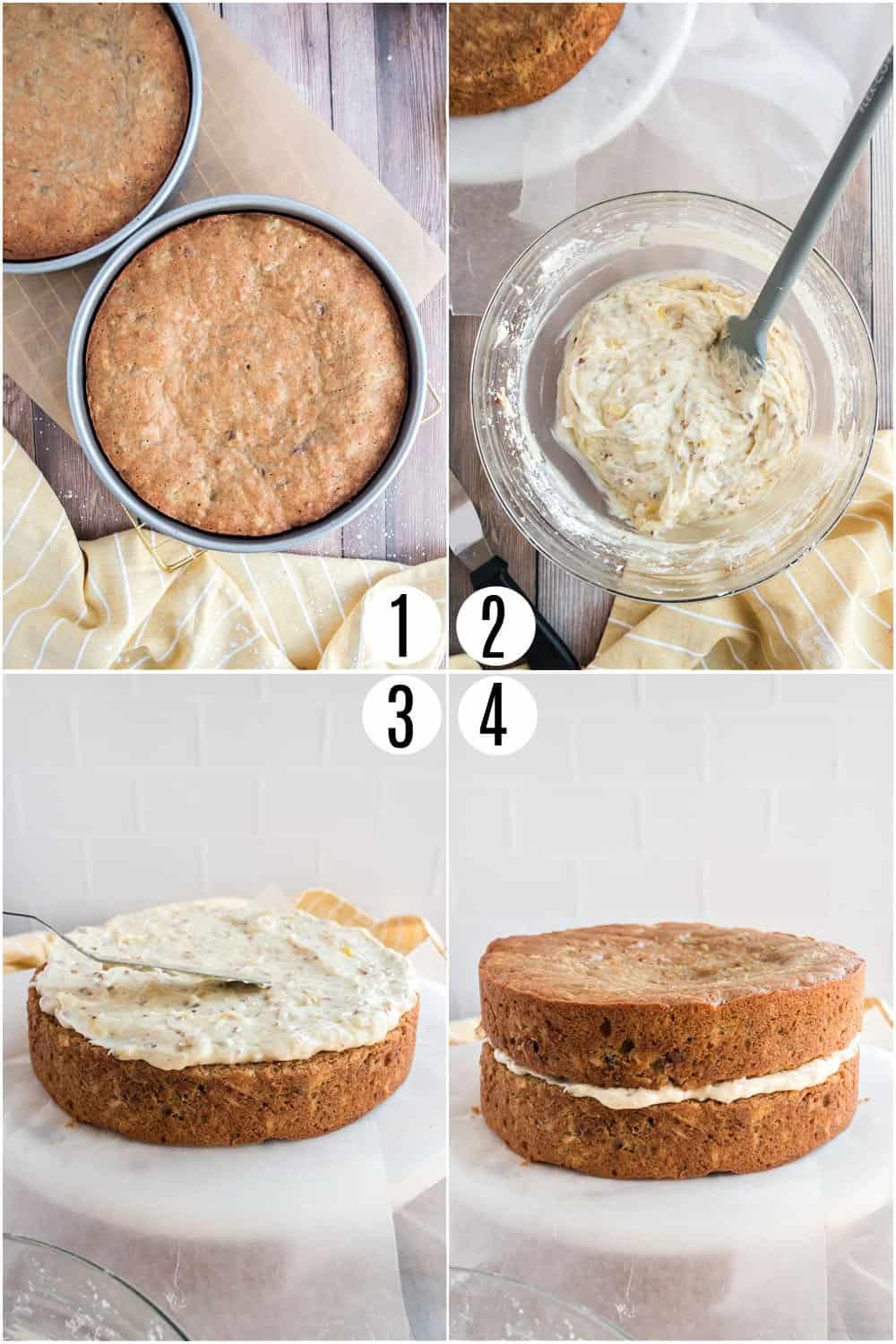 Mix together the frosting ingredients. Spread frosting over first layer of the cake, then top with the second layer. Cover the top and sides with a thick layer of frosting before serving!
PRO TIP: Unlike most cake recipes, ours has pineapple added to the cream cheese frosting! You'll love this tangy addition!
Tips and Tricks
Keep chilled. After frosting, store Hummingbird Cake in the refrigerator until you're ready to serve it. It tastes amazing cold straight from the fridge.
Use room temperature ingredients. Let chilled items like the butter, cream cheese and eggs sit on the counter for a few minutes before using them in this cake recipe. Room temperature ingredients are much easier to mix for a smooth batter (or frosting).
Measure ingredients correctly. Often people scoop their flour directly out of the bag, resulting in TOO much flour. Check out our tips on how to measure flour correctly (and make substitutions too).
Be generous with the frosting. I like to put about 2 cups of Hummingbird Cake icing on the first layer of the cake alone. A bite of this sweet cake is even more satisfying when you get a mouthful of rich pineapple frosting along with it!
Love coconut and pecans? Try our watergate cake recipe next! Paired with pistachio, it's a delicious combo!
Hummingbird Sheet Cake (13×9)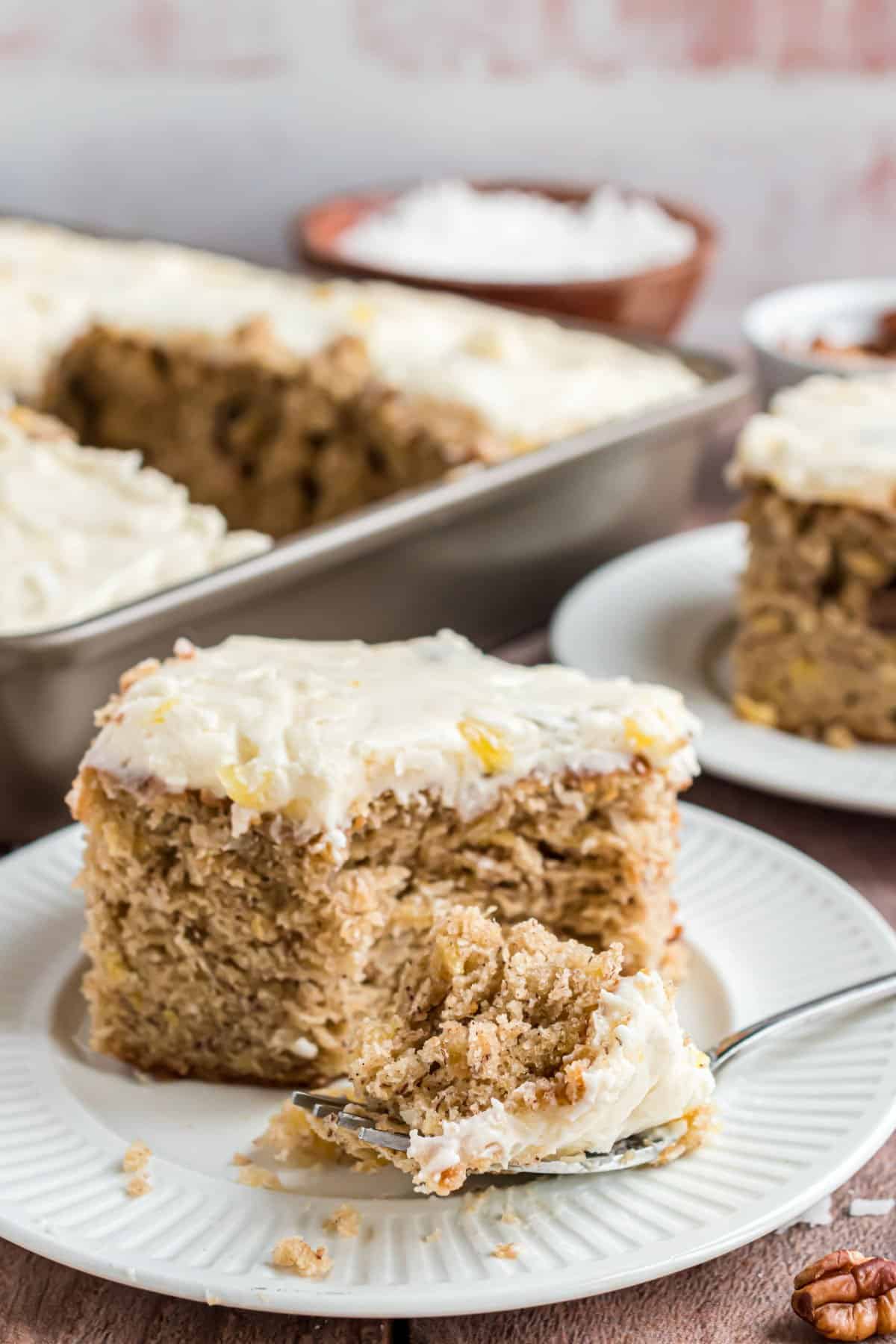 Sometimes you may be looking for something easier. Instead of making a layer cake, how about a 13×9 cake instead!
13×9 Recipe-
Prepare cake batter as directed.
Grease and flour 13×9 baking dish.
Add all the batter and bake for 48-53 minutes, until toothpick inserted in the center comes out clean.
You'll only need 1/2 of the frosting recipe.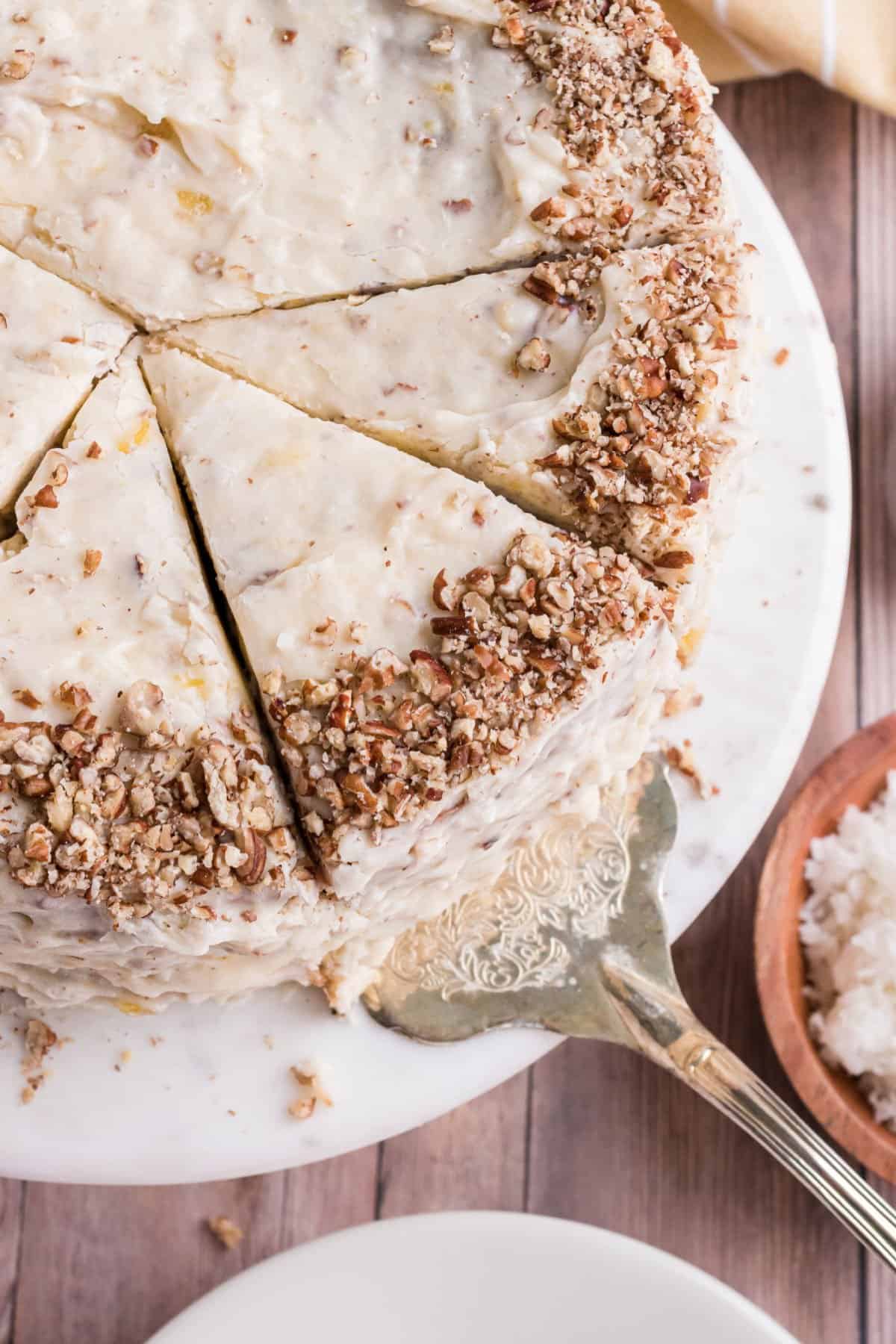 Recipe FAQs
Can I freeze hummingbird cake?
Yes, the individual layers of Hummingbird Cake can be frozen without frosting. Wrap them tightly in foil, then place in freezer bags. They stay good frozen for 2-3 months. When ready to eat, let the layers thaw then assemble and add frosting before serving. You can also freeze the entire cake. Wrap in plastic wrap, then foil. Freeze for up to 30 days.
Can I make Hummingbird cake without nuts?
You sure can. This recipe tastes delicious without the pecans, if you need it to be nut free.
Do I need to drain the pineapple first?
No, you should use both the pineapple and the juices in the can to make this recipe. The juices add necessary liquid to both the cake and frosting.
Old fashioned Hummingbird Cake has everyone (not just hummingbirds) flocking to the dessert table! This impressive pineapple-banana cake is flecked with coconut and pecans for even more irresistible flavor.