Sweet coconut and nutty cream cheese frosting combine to make this mouth watering classic Southern Italian Cream Cake recipe!
Love easy cake recipes? Be sure to try our delicious Vanilla Sheet cake, made in a 13×9 baking dish. Topped with vanilla buttercream frosting, it's the perfect dessert.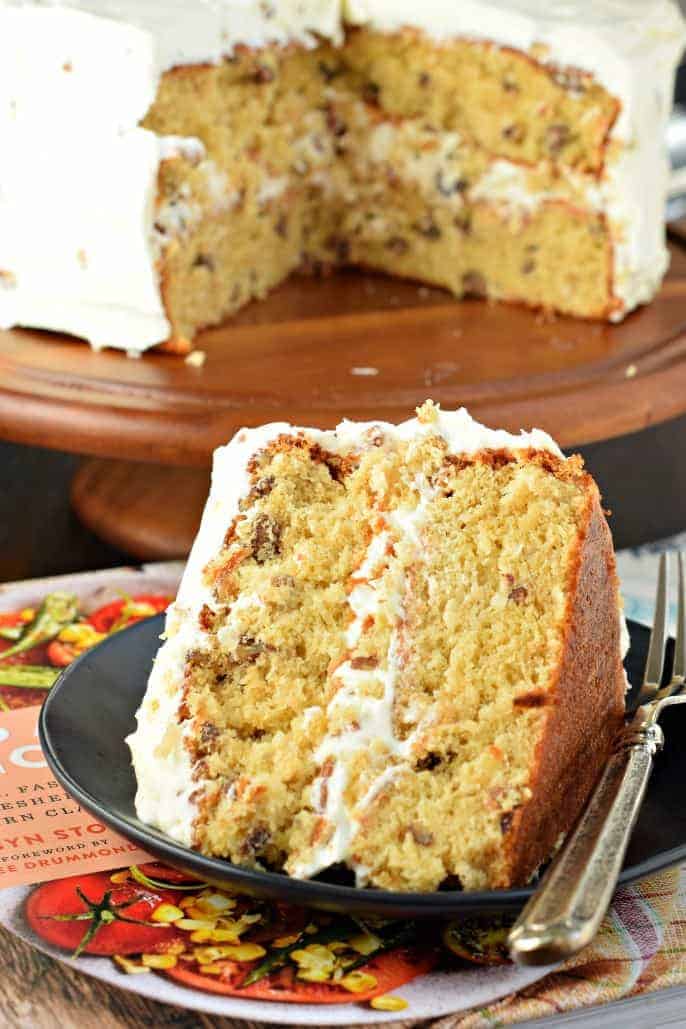 Why this Recipe Works
When it comes to making an Italian Cream Cake, it takes a true southerner to know how to make it right. Thank goodness my friend Robyn from Add a Pinch put out a cookbook to help out northern gals like me.
The layers of airy sponge cake surrounded by a generous spread of creamy butter frosting won me over in one bite.
I'm no stranger to baking cakes, but this cake has a few special instructions that are different from the norm.
To give the cake a light and airy texture, Robyn instructs you to beat the egg whites for the cake by themselves until they form stiff peaks. This took about about 7 minutes but . . . whoa!
It really does make a difference. I'll be trying this technique in my favorite white cake recipe next!
Coconut in the batter creates a fabulous crumb and texture for the cream cake. It reminded me of the texture of my favorite watergate cake recipe. Give our Hummingbird cake recipe a try next for a delicious twist!
Ingredient Notes
Eggs – Be sure to separate your eggs. We are whipping the egg whites until stiff peaks form, and using the egg yolks separately in the batter.
Buttermilk – You can use a carton from the store or try our homemade buttermilk substitute.
Vanilla – Be sure to use PURE vanilla extract, not the imitation kind. You can also make homemade vanilla for an extra flavor boost.
Coconut – Get the sweetened kind of coconut. You can use either flakes or shredded coconut for this recipe.
Pecans – You will need 2 full cups of pecans for this recipe, as we're using them in the cake batter as well as in the frosting. Toast the pecans for best nutty flavor.
Cream cheese – For best results, use the full fat regular cream cheese that comes in blocks. Also, be sure to let it sit out for a bit at room temperature to soften.
Easy Instructions
Make the cake batter. Whisk the egg whites into stiff peaks. Separately, cream the butter and sugar, then add in the egg yolks, one at a time. Whisk together the flour and baking soda then add, alternating with the buttermilk, to the butter and sugar mixture. Stir in the vanilla, coconut and pecans. Fold in the whipped egg whites.
Bake the cakes. Divide the cake batter between two 9-inch cake pans sprayed with baking spray. Bake for about 35-40 minutes. Let cool in the pans for a few minutes then turn out onto a cooking rack until completely cooled.
Make the frosting. Beat the butter and cream cheese until light and fluffy, then add the sugar and beat until fluffy. Stir in the vanilla and pecans.
Frost the cake. Spread frosting on top of one of the cooled cake layers. Add the second layer of cake and add frosting to the top and sides. Serve and enjoy!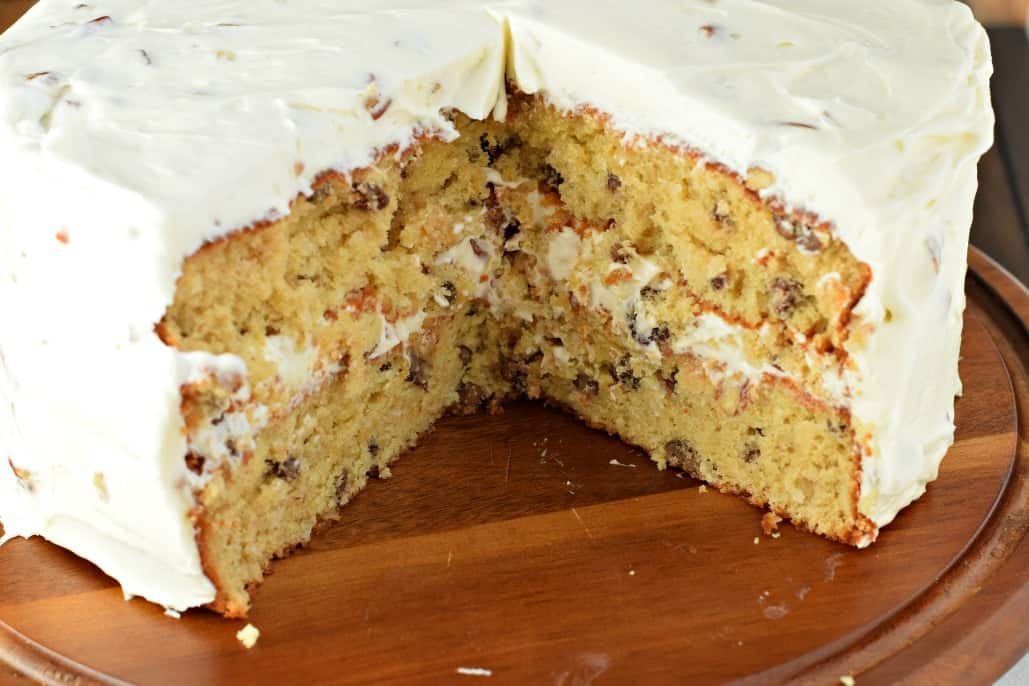 Tips and Tricks
Start with room temperature butter, egg whites and cream cheese. The eggs are easier to separate when they are cold, then let your egg whites come to room temperature with the butter and cream cheese.
If you don't have a stand mixer, electric beaters will also work for beating the egg whites. You can beat the egg whites by hand with a strong wire whisk, too, but be warned it will take much longer and requires serious elbow grease!
Be generous with the frosting. I like to put about 2 cups of icing on the first layer of the cake alone. A bite of this cake is even more satisfying when you get a mouthful of that sweet frosting!
For more coconut flavor and texture, sprinkle some toasted coconut flakes on top of the cake for serving.
Recipe FAQs
Can I make this without pecans?
Yes, if you need this recipe to be nut-free, you can omit the pecans. It changes the cake flavor a bit, but it still tastes delicious!
Can I make this cake ahead?
Yes, you can make the layers and the frosting ahead and store separately in the refrigerator for 2-3 days until you're ready to assemble and frost the cake.
How do I store Italian Cream Cake?
This cake needs to be stored in the fridge because of the cream cheese frosting. Bonus: The cold temperature makes the cake taste even better! When ready to serve you can cut and slice it right away, no need to wait for it to come to room temperature.
Can I freeze this cake?
Yes! You can freeze the layers, without frosting for up to 3 months. Let it thaw in the fridge for several hours or overnight. Then, when you're ready to serve, make the frosting and assemble the layers.
OR you can freeze this cake after it's assembled and frosted. Wrap in plastic wrap then foil and freeze for up to 3 months.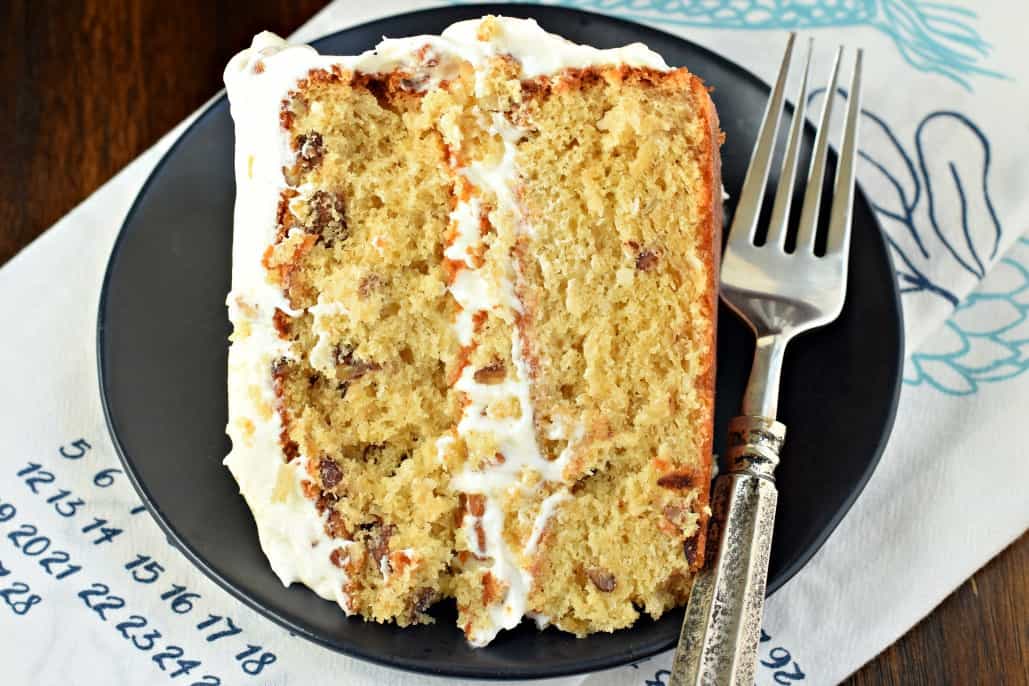 More cake recipes
The Best Cream Puff Cake recipe featuring a fluffy crust, easy vanilla filling, and of course, chocolate. You'll love this homemade version of a cream puff!
Whether you grew up eating southern style Italian Cream Cake or this is your first time trying it, I know you're going to fall in love with it as much as I did. Nothing says "Southern Hospitality" like a slice of classic cream cake for dessert!