The search is over for the perfect classic cake recipe to add to your repertoire. This White Cake is impossible to beat since it's simple, versatile, and oh-so-delectable.
If you love delicious and easy cake recipes, our chocolate cake is reader approved. Rich and moist and topped with a delicious chocolate frosting recipe.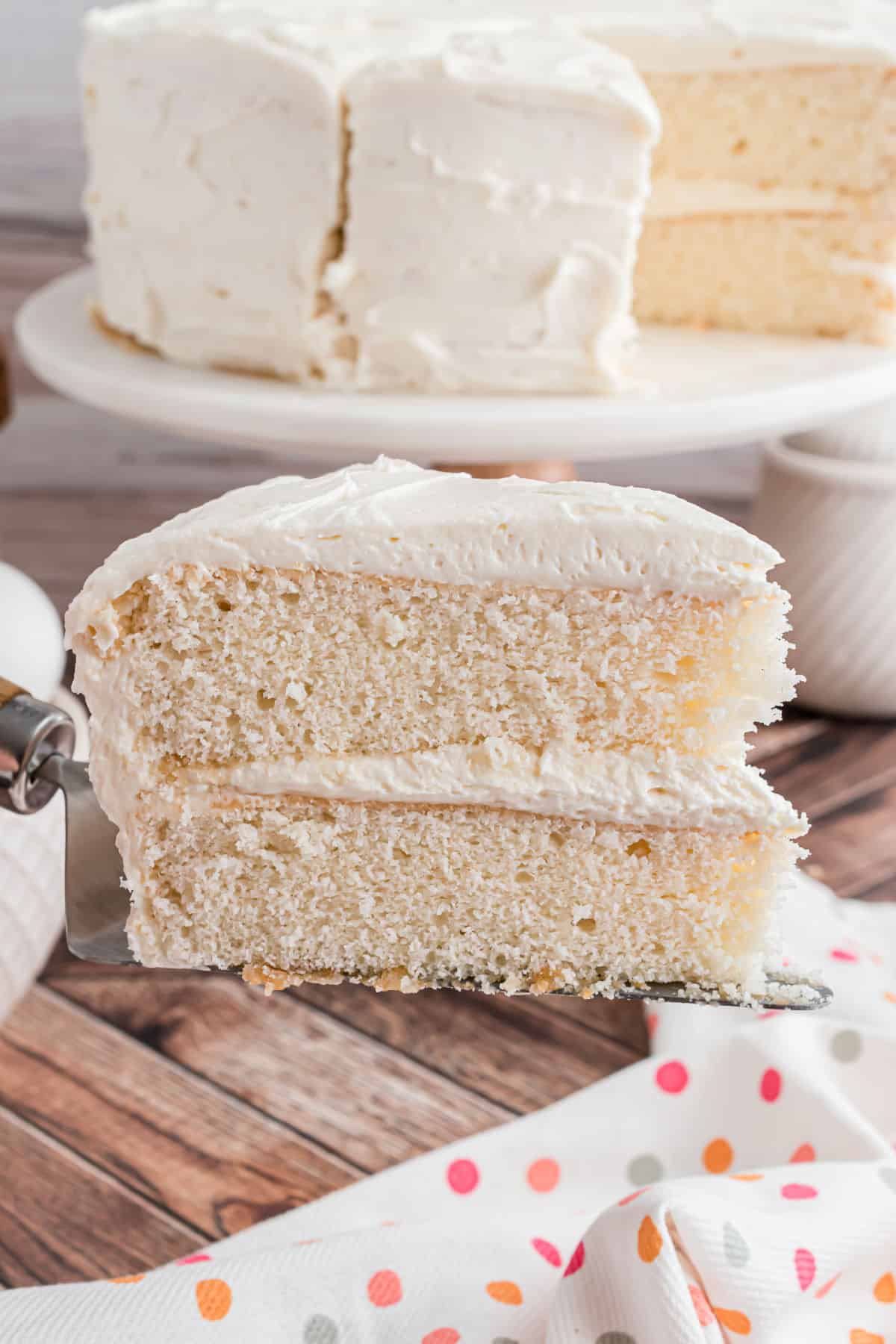 Why This White Cake Is The Best
This cake recipe is one that you'll want to dog-ear, bookmark, or hang right on the fridge. It's versatile and easily customizable but also delicious as is. You'll want to keep this White Cake recipe on hand as the basis for every cake-worthy occasion.
Light, moist, and airy, the texture of this White Cake isn't as chewy as Angel Food but still tastes heaven-sent.
Egg whites, buttermilk, and cake flour are simple but effective ingredients that help this White Cake stand out above all the rest.
Embrace the subtle vanilla flavor, or switch it up depending on your preferences.
We use this base cake to make our famous coconut cake recipe. It gets wonderful reviews!
Ingredient Notes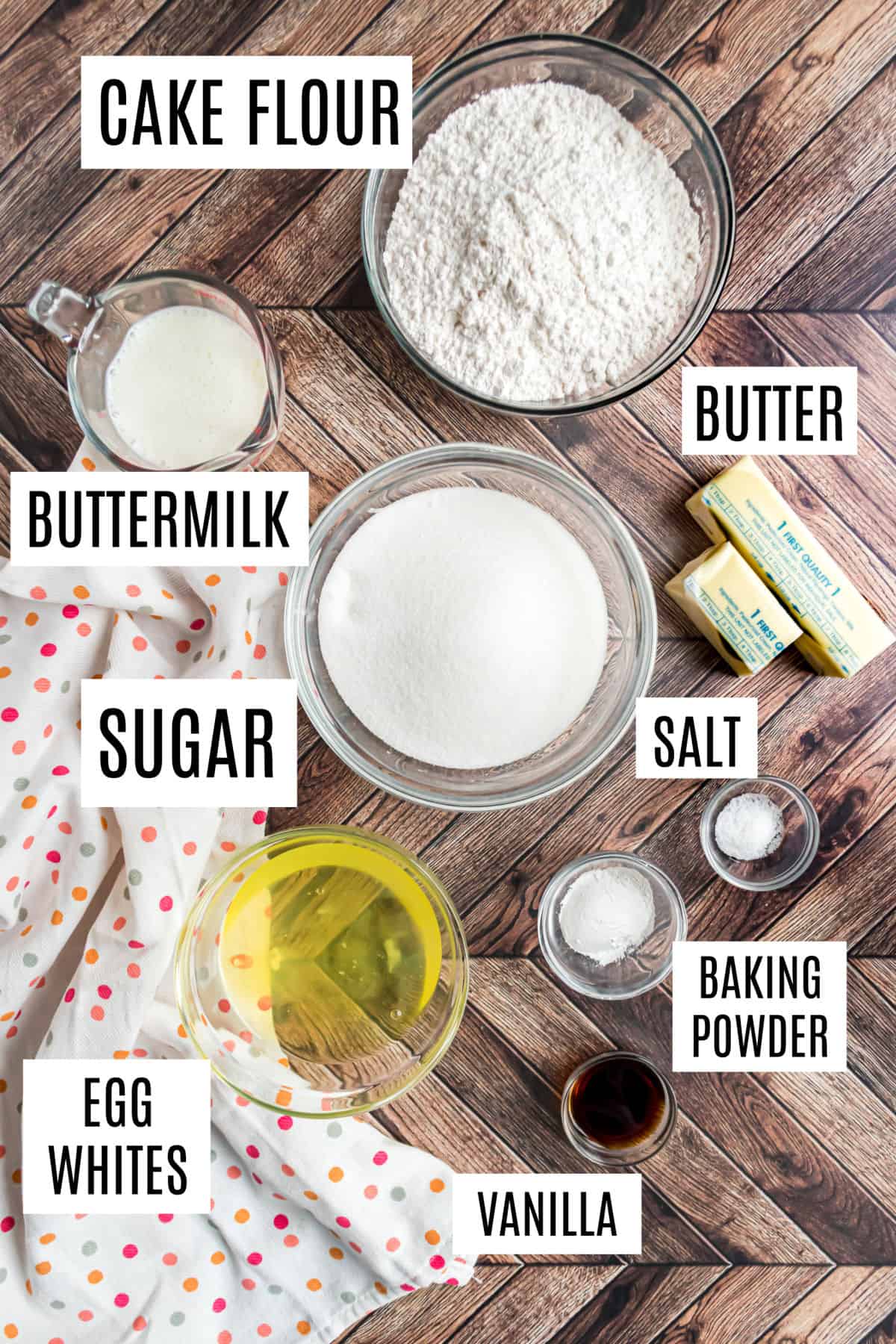 For the Cake:
Egg Whites – Use room temperature egg whites to achieve the best volume as you mix them. This way, you'll get the perfect crumb in your cake.
Buttermilk – Our buttermilk substitute will work great here.
Butter – Softened, unsalted butter works best for this batter. Use our tips on how to soften butter.
Vanilla Extract
Granulated Sugar
Flour – This recipe calls for cake flour since its low-protein content gives the finished cake a delicate and fine texture. Be sure to use our guide on how to measure flour properly.
Baking Powder – Don't swap this rising agent for an alternative. Otherwise, it'll mess with the baking chemistry at play.
Kosher Salt – Omit if you're using salted butter. We've got lots of tips and tricks on why we use kosher salt in baking.
For the Frosting:
Butter – Use room-temperature unsalted butter for a subtly sweet flavor.
Powdered Sugar
Vanilla Extract – When possible, use pure vanilla extract. To be labeled 'pure,' it must contain real vanilla beans. This purity of flavor is noticeable in delicately flavored icings where vanilla is the star of the show. Our homemade vanilla extract is perfect.
Milk – Any kind of milk will work to thin the frosting to the perfect consistency. Choose lesser-fat milk, like 2%, to make the icing lighter, or use cream for a richer, fluffier texture.
Easy Instructions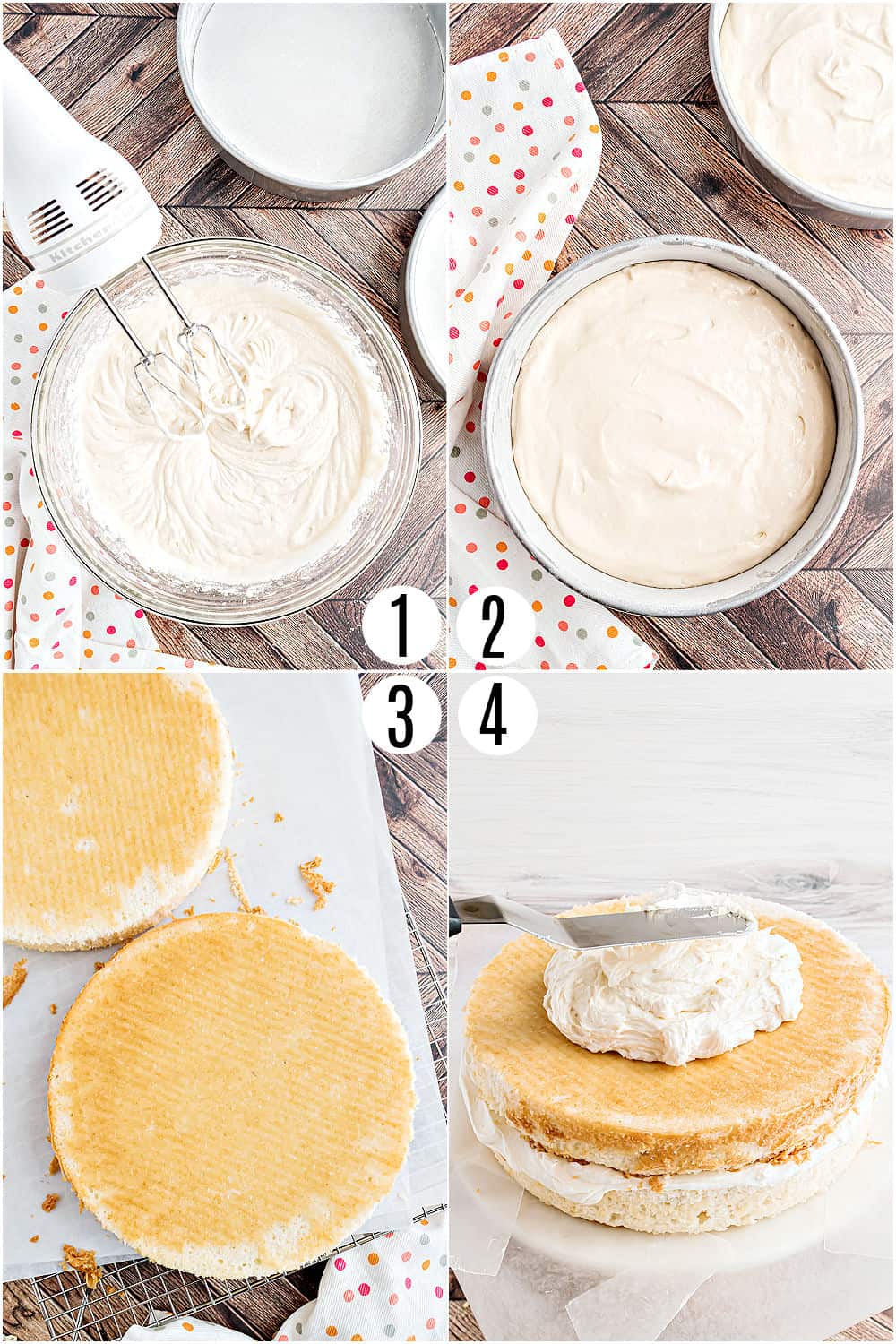 For the Cake:
Create Egg White Mixture – Mix ¼ cup of buttermilk and egg whites, and set aside.
Beat Butter & Sugar – Cream butter and sugar with a stand or hand mixer. Whip the mixture for 2-3 minutes until it is a lighter color and doubled in volume.
Incorporate Vanilla & Dry Ingredients – Add vanilla extract to the butter and sugar mixture. Then turn down the speed and add the dry ingredients in additions until thoroughly combined.
Stream in Egg White Mixture & Remaining Buttermilk – Slowly stream in the egg white mixture and remaining buttermilk. Beat the batter for 1-2 minutes until it's fluffy.
Bake & Cool – Divide the batter evenly between two greased and floured 9" round cake pans. Bake for 25-28 minutes at 350°F until a toothpick inserted in the center of the cake comes out clean. Let the finished cake cool in the pan for 5 minutes before tipping it out onto a wire rack to finish cooling.
For the Frosting:
Cream Butter – With a stand or hand mixer, beat the butter for about 3-4 minutes until it's a pale yellow, light, and fluffy.
Incorporate Vanilla, Milk, & Sugar in Increments – Mix in the vanilla and milk. Then turn down the speed and add the powdered sugar in additions until fully incorporated.
Assemble & Frost Layers – Finally, place a cake layer on a plate or stand and add frosting across the top. Place the second cake layer on top of the frosting. Then frost the sides and top of the cake with the remaining frosting.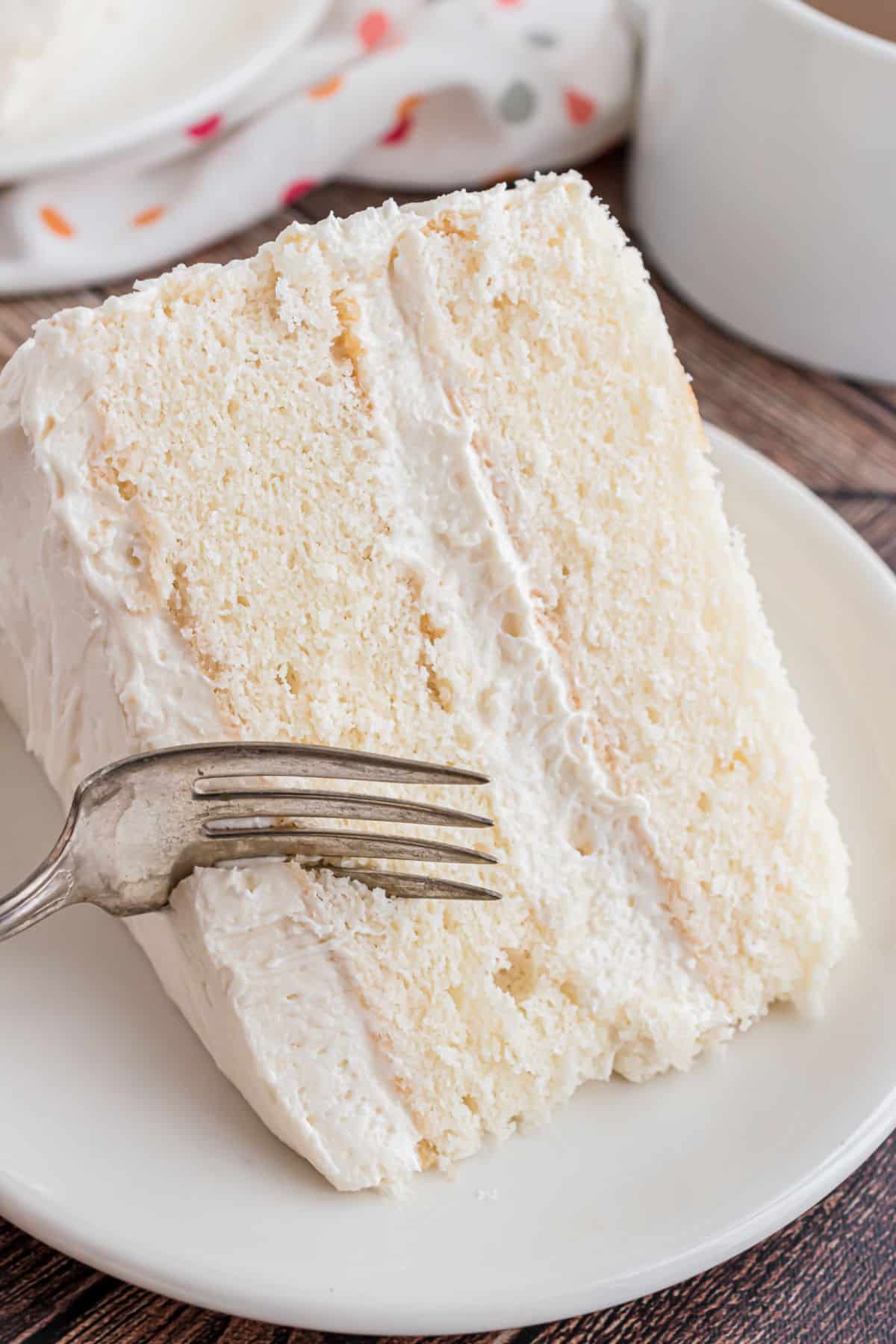 Tips and Tricks
Cut out parchment paper circles to line the cake pan bottoms. This way, you'll avoid the dreadful cake-stuck-in-pan situation. We buy precut rounds on Amazon!
Customize this recipe by switching up the extract you add to the frosting. Try almond, raspberry, or orange extracts for a new and delicious take on this versatile White Cake. 
Add a tiny bit of purple food dye gel to your buttercream frosting to counteract the yellow undertones in the butter. You'll end up with the brightest white frosting you've ever seen!
Make Cupcakes. Try our delicious recipe for white cupcakes next!
Add a filling. Add some chocolate ganache or lemon curd filling to this delicious, moist cake.
Swap the vanilla buttercream frosting for a tangy vanilla sour cream frosting. You'll love the flavor!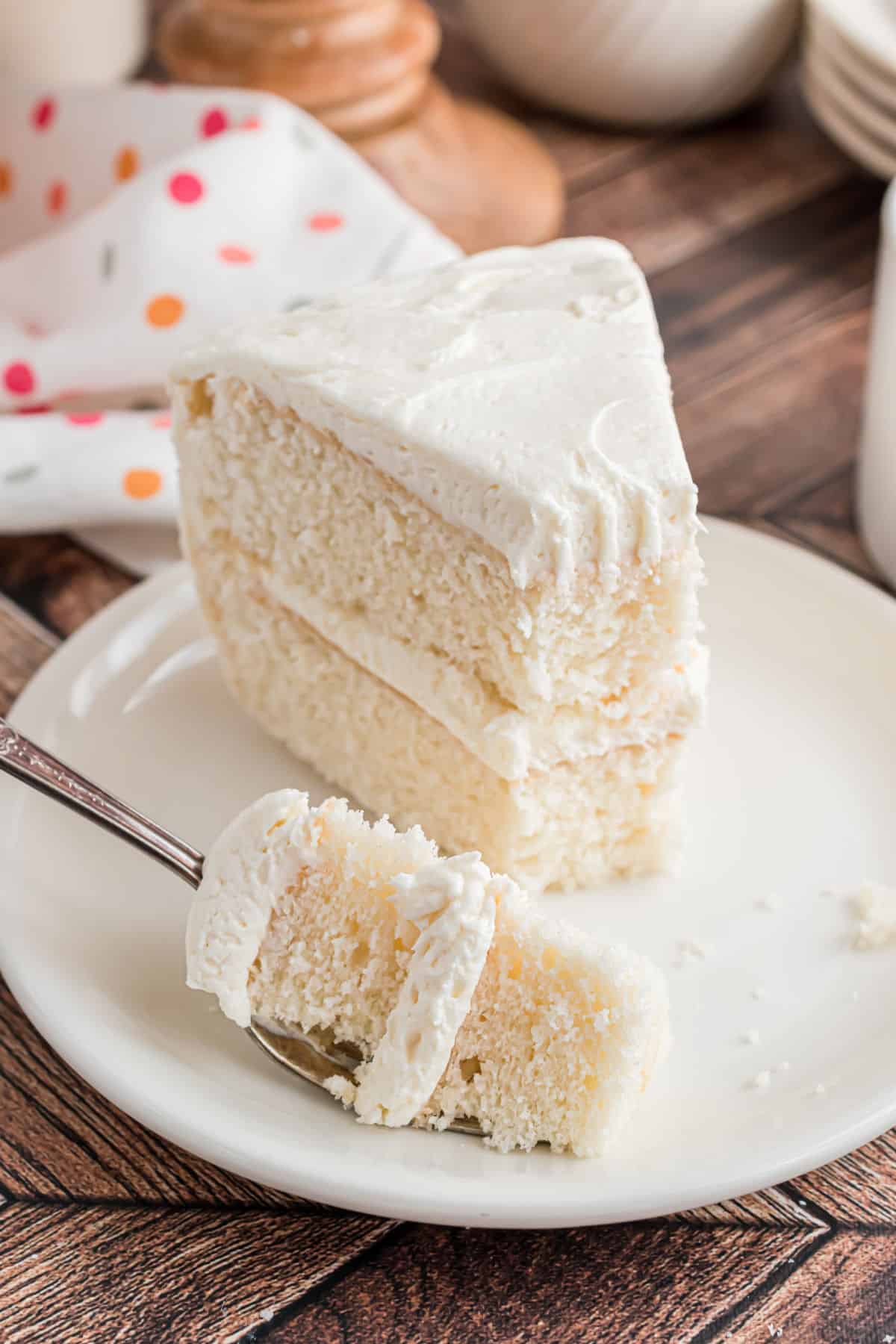 Recipe FAQs
How should I store white cake?
You can keep the white layer cake covered at room temperature for 2-3 days. Or, cut it into slices and freeze them in a resealable bag or airtight container for up to 3 months.
Can I make the cake ahead of time and store it in the freezer?
You can wrap baked cake layers in a few layers of cling wrap and freeze them for up to 3 months. I like to scale up the recipe and stock my freezer with delicious home-baked cake layers to decorate and serve in a pinch.
What other variations are possible with this recipe?
Aside from swapping out the extract flavor in the frosting, you can also change the extract in the cake batter. Swirl jam into the cake batter before putting the layers in the oven, or arrange sliced berries and frosting in the middle of the cake layers. You could even stuff the center of the cake with a mousse or pudding filling.
More Easy Dessert Recipes