Chocolate Ganache is a rich fudgy topping made with equal parts chocolate and cream. Add the perfect decadent finish to your favorite homemade desserts with this easy chocolate ganache recipe!
We use it in all kinds of desserts like this Peanut Butter Pie and this Chocolate Mint Cake. A little touch of ganache elevates a simple Vanilla Cheesecake or bowl of vanilla ice cream.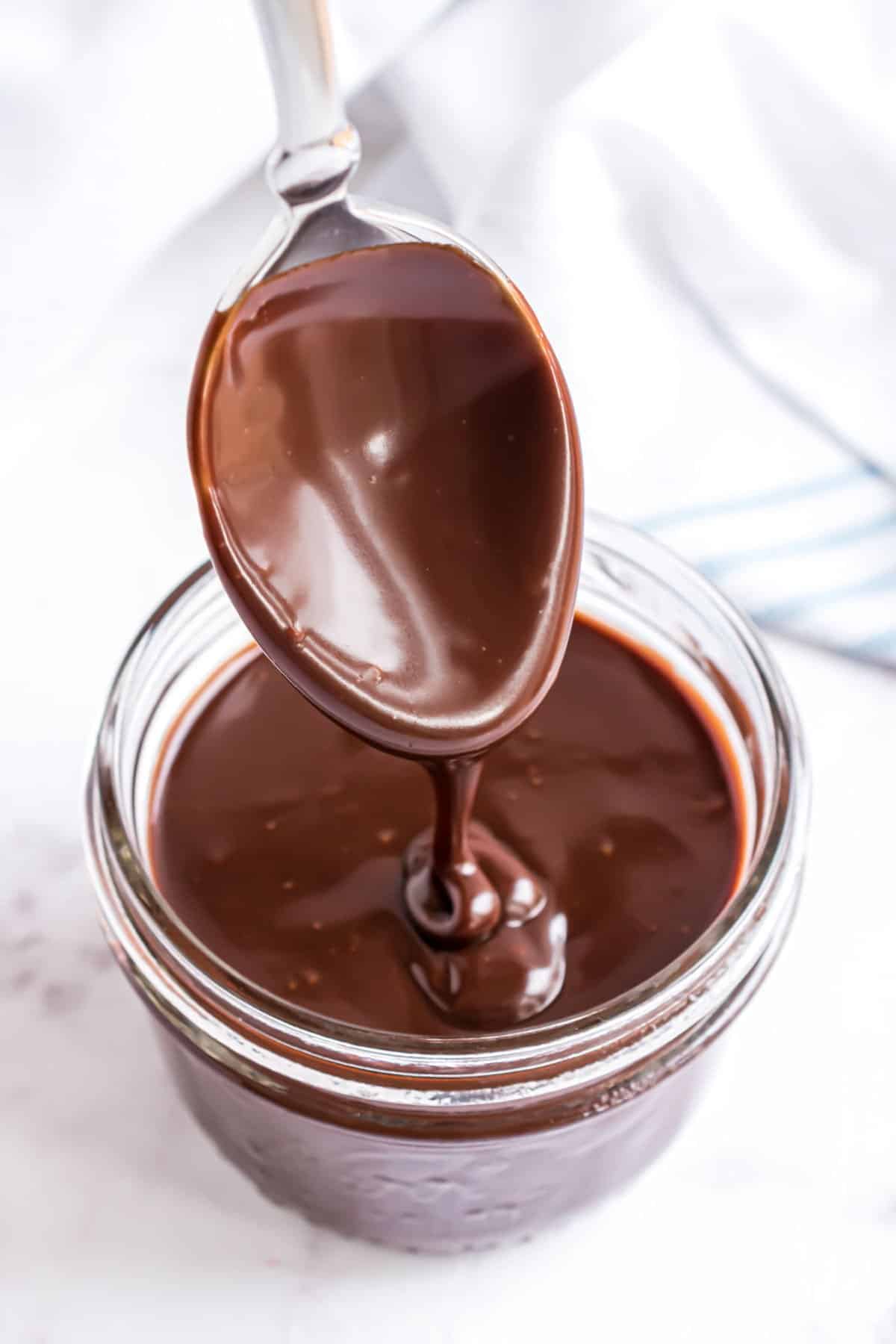 Best Ways to Use Ganache
There's no chocolate frosting or glaze quite like chocolate ganache. Velvety smooth and rich, ganache is pure chocolate bliss.
Once you learn how to make ganache, you'll want to pour it on anything and everything.
Ganache is best known as the creamy melted chocolate drizzled on top of cakes or between cake layers.
It's also amazing whipped into a spreadable Chocolate Ganache Frosting for cakes and cupcakes.
Chocolate ganache isn't just delicious as a topping either. You can use it as a base for truffles or as a filling in pastries and donuts.
Only 2 Ingredients
Easy to make on stove top or microwave
Perfect addition to any dessert
Today, I'll walk you through everything you need to know to make smooth ganache at home!
Ingredient Notes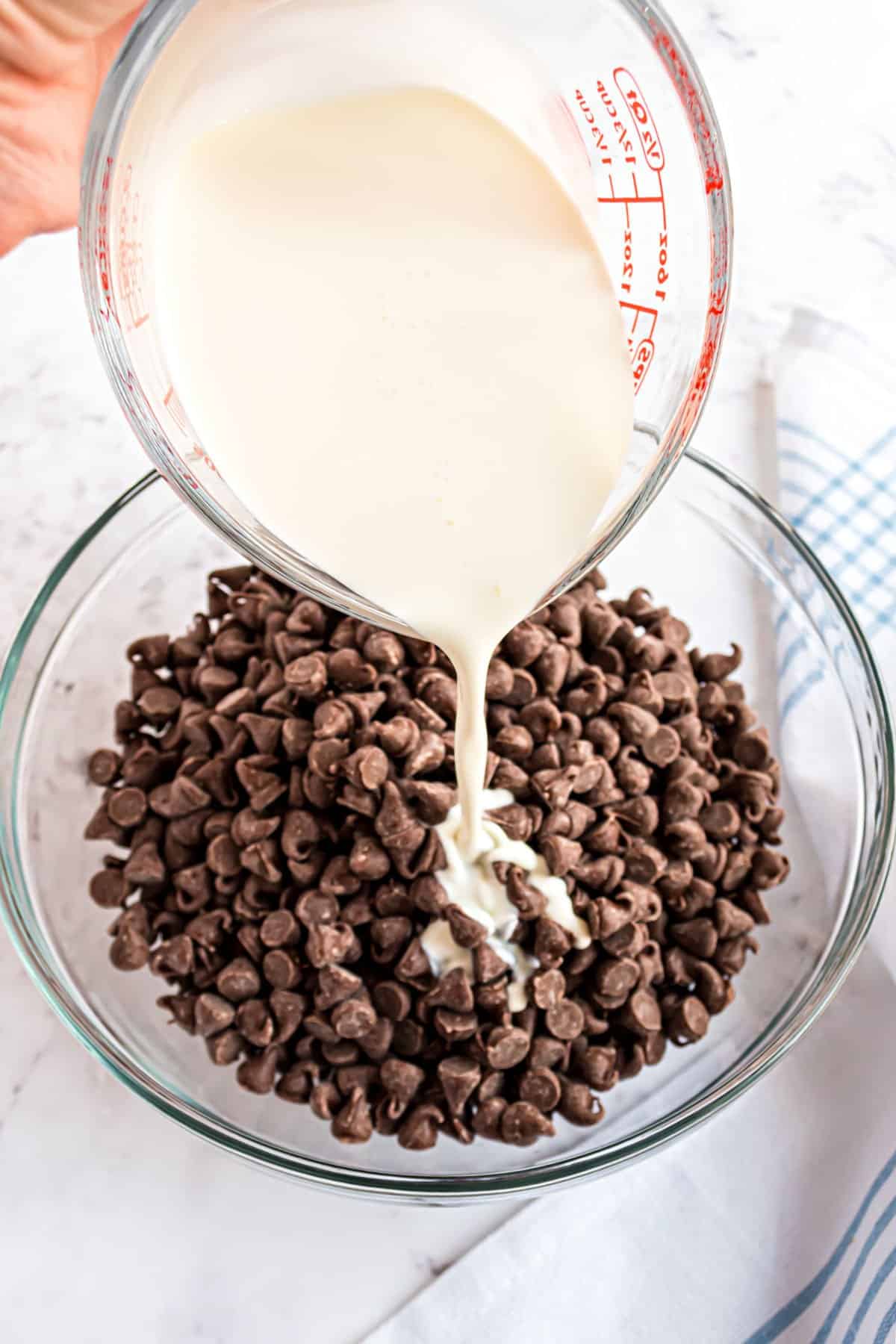 True chocolate ganache is made with just two ingredients.
Milk chocolate – Good quality chocolate is best. We use morsels in this recipe, but bars can also be used; just chop the into small pieces first.
Heavy cream – Real cream is necessary for rich ganache with a thick but pourable consistency. Do NOT make substitutions for the heavy cream or the ganache will not set properly.
Tips for Chocolate Ganache Frosting
There are two good methods for making chocolate ganache: in the microwave or on the stove top.
To make ganache in the microwave:
Add the ingredients to a glass microwave safe bowl. Heat for 1 minute, then stir.
Continue heating the chocolate and cream in 15 second increments, stirring after each time, until the ganache is smooth and combined.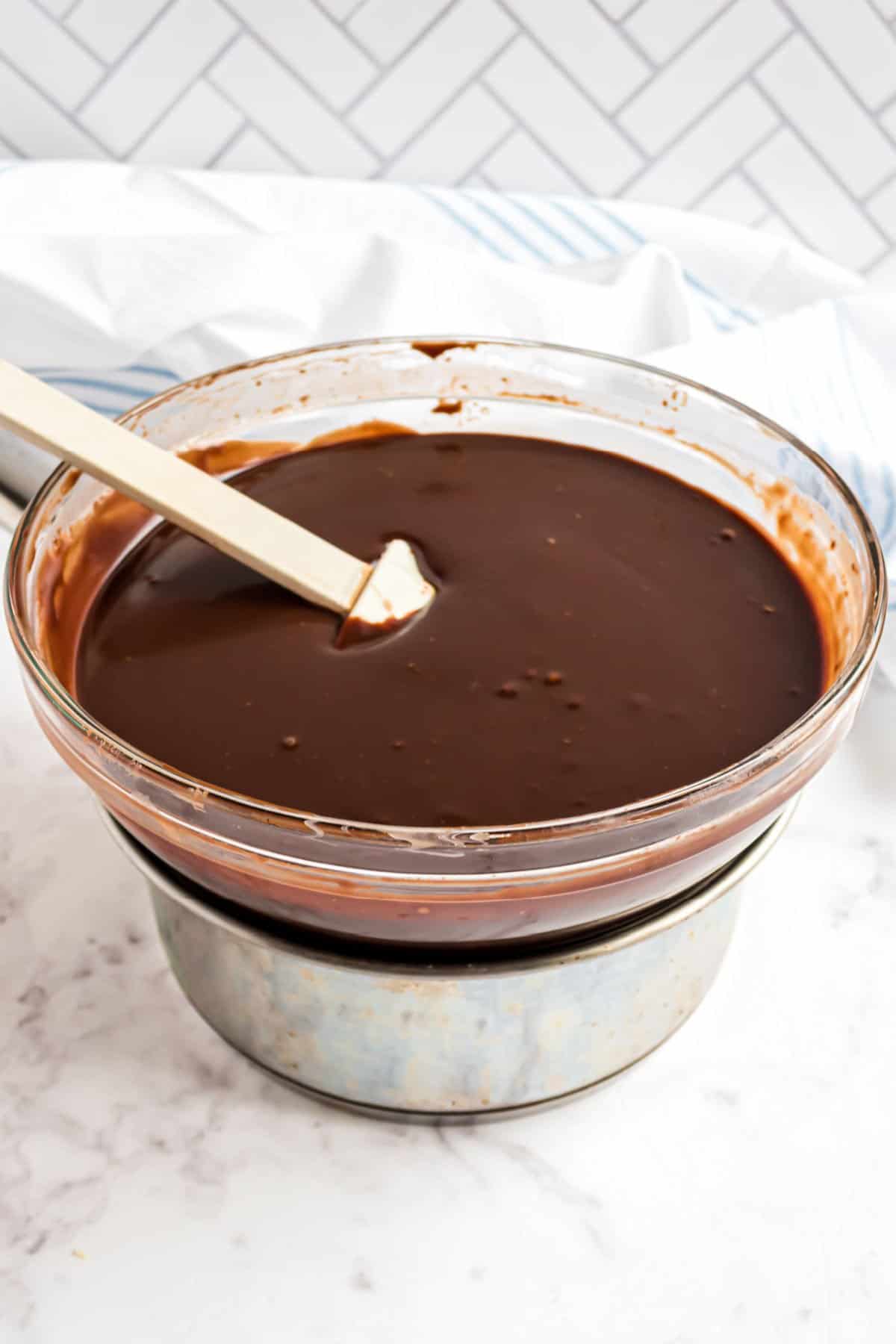 To make chocolate ganache on the stove:
Fill the bottom of a double boiler with about two inches of water.
Place the chocolate chips and cream in the top segment of the double boiler. Heat on medium-high, stirring continuously until the chocolate is melted and fully combined with the cream.
Do not remove the chocolate from the double boiler until it's smooth and creamy. Otherwise you risk moisture entering the chocolate which will cause it to seize.
Reminder: Always use the double boiling method if you're making ganache on the stove! Chocolate scorches quickly if applied to direct heat, ruining its taste and appearance.
Try to keep an equal ratio of chocolate to cream in this recipe. That said, if you want to make the ganache thinner, you can add a tiny bit more cream to get the consistency you want. Likewise, you can add a little more chocolate for a thicker ganache.
We dipped our chocolate cupcakes in melted ganache and topped with a marshmallow frosting and graham cracker crumbs to make these easy s'mores cupcakes.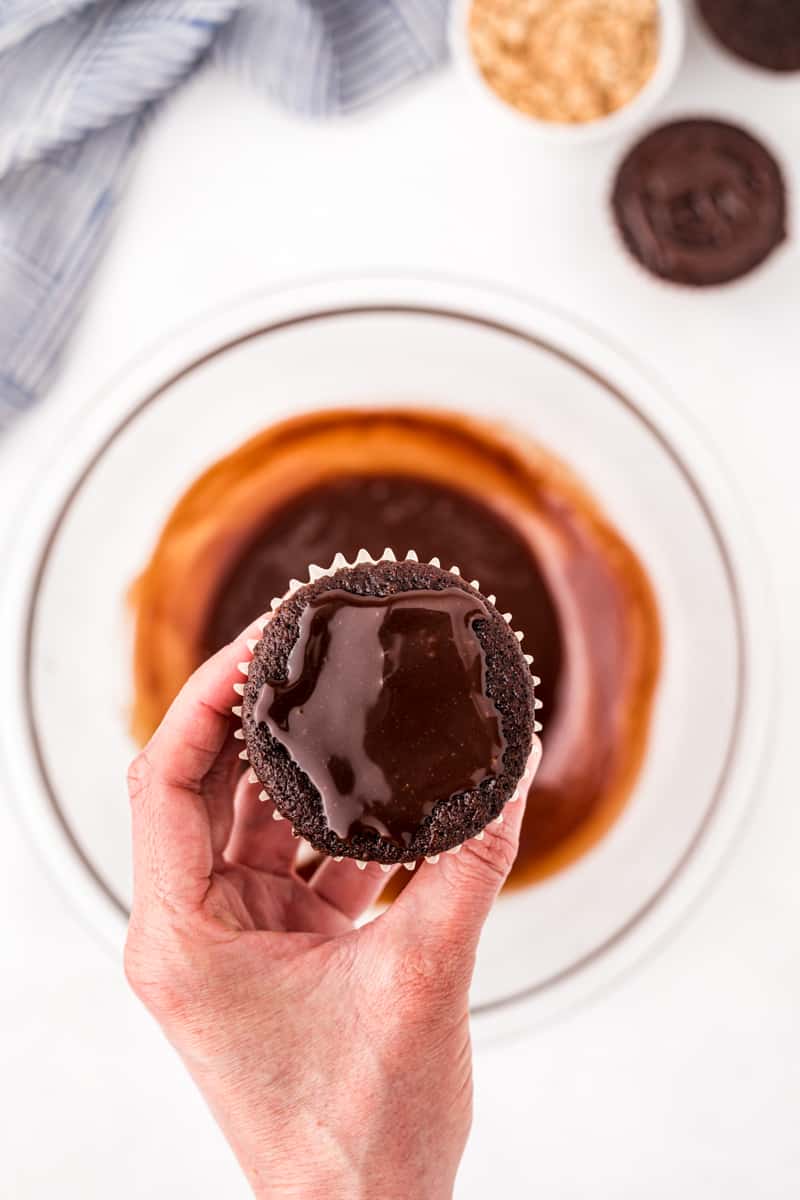 Recipe FAQs
Can I make ganache on the stove without a double boiler?
Yes, you can makeshift your own double boiler with a sauce pan and heat-safe glass bowl.
Fill the sauce pan with an inch or two of water and sit the glass bowl on top. The chocolate and cream can go right into the bowl.
How should ganache be stored?
Chocolate ganache should be stored in the refrigerator in a sealed container. It stays good for about two weeks in the refrigerator.
Can I freeze ganache?
Chocolate Ganache can also be frozen for longer storage (up to 3 months) Thaw frozen ganache in the refrigerator overnight, then let it sit at room temperature until you're ready to use it.
What chocolate is best in this ganache recipe?
We recommend high quality milk chocolate. You can also use semi-sweet chocolate for a more bold cocoa taste with less sweetness. Dark chocolate isn't recommended here. It makes ganache taste bitter because it lacks the added sugars of other chocolate varieties.
How do I soften hardened ganache?
As ganache cools, it firms up into a soft fudge-like texture. To soften ganache, let it come to room temperature before using. If it stays hard, heat it in the microwave for 10 seconds at a time until it softens to the desired consistency.
Everyone should know how to make chocolate ganache! This easy 2-ingredient recipe creates rich, smooth ganache perfect for topping any cake, cupcake or cheesecake.