Sweet and nutty homemade truffles are as easy as can be with this Chocolate Almond Truffle recipe! Learn how to make truffles at home and impress everyone with these delicious candies.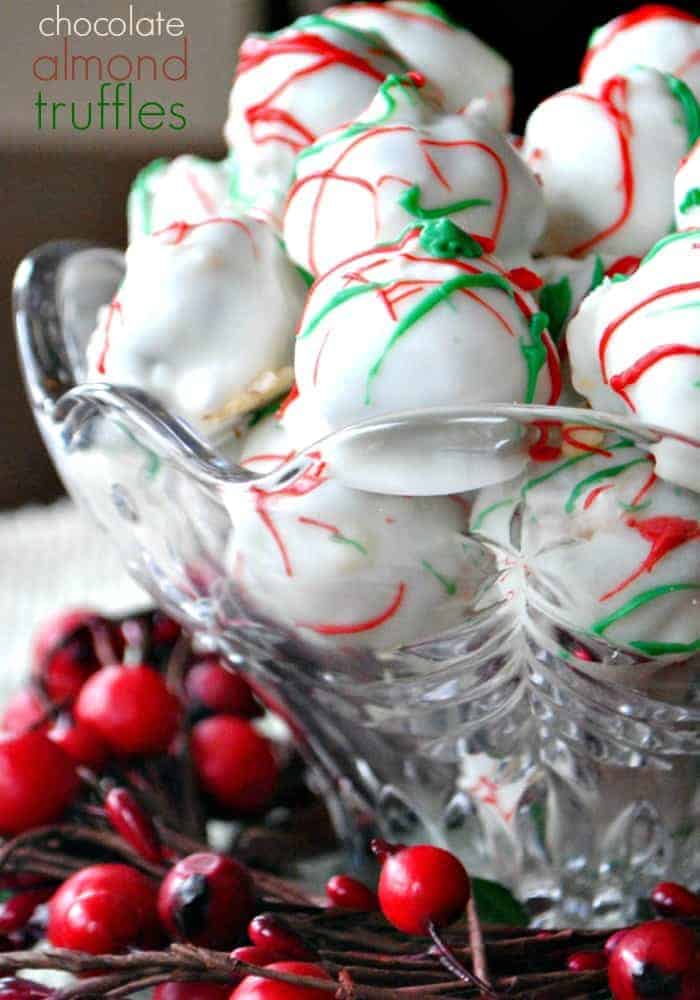 I've been obsessed with chocolate truffles every time the holiday season rolls around. Almond truffles are no exception!
I can't help it. They are beautiful. Delicious. And easy to eat! Plus, there are so many flavor possibilities!
These almond truffles are one of my absolute favorites.
Rich chocolate almond center, surrounded by crunchy almonds then dipped for a crunchy white chocolate coating.
How to Make Truffles
You'll be surprised how easy it is to make truffles at home! It required no special candy making skills or equipment.
With this method, you melt and cool milk chocolate, roll it into balls with chopped almonds and dip into melted white chocolate.
To make these festive for the holidays, I also drizzled the chocolate almond truffles with melted red and green candy. You could leave them step out or substitute other colors for different occasions.
FAVORITE TRUFFLES: Buttercream Truffles | Cookie Dough Truffles
A batch of homemade almond truffles makes a wonderful gift, party favor or addition to your dessert table. They're just fancy enough for a special occasion but easy enough to make anytime you have a chocolate craving!
These truffles use just a few ingredients, including milk and white chocolate and chocolate almonds, so there's no need to run all over the grocery store either.
One thing to note about how to make truffles: This recipe is EASY but isn't quick. Between each step there's a bit of wait time while you let the ingredients cool and while you let the finished truffles set.
The good news is that most of that time is hands off! Make this recipe on a weekend when you have a few hours to be in and out of the kitchen.
If you have kids around, this is a fun one to let them help with. They'll have fun rolling the chocolate into the nuts and adding the colors!
Chocolate Almond Truffles Recipe
Here's how I make my homemade chocolate truffles:
MELT THE CHOCOLATE:
Combine milk chocolate and heavy cream in a sauce pan and melt until smooth. Then you pour the melted chocolate into a separate bowl, add almond extract and beat everything together.
CHILL:
Pour the melted chocolate into a mixing bowl and add almond extract. Beat on low until smooth. This takes about 1 to 2 minutes depending on the strength of your mixer.
Now, cover and refrigerate the whole mixture for 2 hours. This helps the chocolate firm up enough to form into the truffle shape!
FORM TRUFFLES:
Scoop mixture into small 3/4 inch balls. A measuring spoon is great for this! Roll those balls in the chopped almonds then place on a cookie sheet to freeze.
DIP IN CHOCOLATE:
Melt the white chocolate in the microwave or double boiler. Using a toothpick, dip each truffle in the white chocolate, tapping the side of the bowl to remove the excess.
Allow the truffles to set on cookie sheet before drizzling with candy melts for that pop of color! Let them sit for 15 minutes before eating.
How to Store Homemade Truffles
If you'll be eating these within a couple of days, you can keep them in an airtight container at room temperature.
Depending on the temperature of your house, you may want to keep the container in the fridge so they don't get too softy and melty.
Then again, they're pretty delicious when they're soft and melty!
Almond truffles are a great candy to freeze! If you're making these in advance, store them in a ziploc bag in the freezer for up to a month.
Make sure the truffles don't touch when you put them in the bag! 
Let them thaw for a bit at room temperature before eating. Or, if you're a person who loves frozen candy bars, go right ahead and pop one of these chocolate almond truffles into your mouth while it's still frozen!
I, however, like my truffles best when they're firm enough to hold their shape but melt in your mouth. The velvety white chocolate, sweet milk chocolate and crunchy almonds are an absolutely perfect combo.
Tips and Tricks
Keep mess to a minimum by lining your cookie sheet with parchment paper before placing the truffles on them. That way, there will be no melted chocolate to scrub off the pan and you can spend more time eating truffles!
This recipe will work with other kinds of nuts too like walnuts, pecans or peanuts. I happen to love almonds and chocolate together the very best.
The candy melt drizzle is optional and mostly for aesthetic purposes. If you don't have candy melt or prefer not to use it, you can still make these truffles without.
Yield: 48 truffles
Almond Truffles
Total Time
3 hours
45 minutes
Sweet and nutty homemade truffles are as easy as can be with this Chocolate Almond Truffle recipe! Learn how to make truffles at home and impress everyone with these delicious candies.
Ingredients
12 oz milk chocolate
1/3 cup heavy cream
3/4 tsp almond extract
1/3 cup almonds, chopped
16 oz white chocolate, melted
1/4 cup red/green candy melts
Instructions
In a saucepan, melt milk chocolate with heavy cream until smooth. Remove and cool about 15 minutes.
Pour into a mixing bowl and add almond extract. Beat on low until smooth (about 1-2 minutes). Cover and refrigerate about 2 hours.
Scoop mixture into small 3/4 inch balls, roll in chopped almonds and freeze on parchment lined cookie sheet for about one hour.
Using a toothpick, dip each truffle in melted white chocolate. Tap side of bowl to remove excess. Allow to set on cookie sheet for 30 minutes. Drizzle with melted red and green chocolate candy melts. Set 15 minutes and enjoy. Store in airtight container or freeze in ziploc for future use.
Nutrition Information:
Yield:
48
Serving Size:
1
Amount Per Serving:
Calories:

104
Total Fat:

6g
Saturated Fat:

4g
Trans Fat:

0g
Unsaturated Fat:

2g
Cholesterol:

5mg
Sodium:

19mg
Carbohydrates:

11g
Fiber:

0g
Sugar:

10g
Protein:

1g
*Nutrition facts are an estimate and not guaranteed to be accurate. Please see a registered dietitian for special diet advice.
Why buy truffles when you can make them at home? Double Chocolate Almond Truffles are an easy homemade candy that no one can turn down.