Make this impressive homemade candy with just three ingredients! With milk chocolate and a fluffy center, Cool Whip Candy tastes like a Three Musketeers bar but even better.
Love easy candy recipes? My Crock Pot candy recipe is also just three ingredients. Perfect all year long. Or give this easy Microwave Peanut Brittle a chance!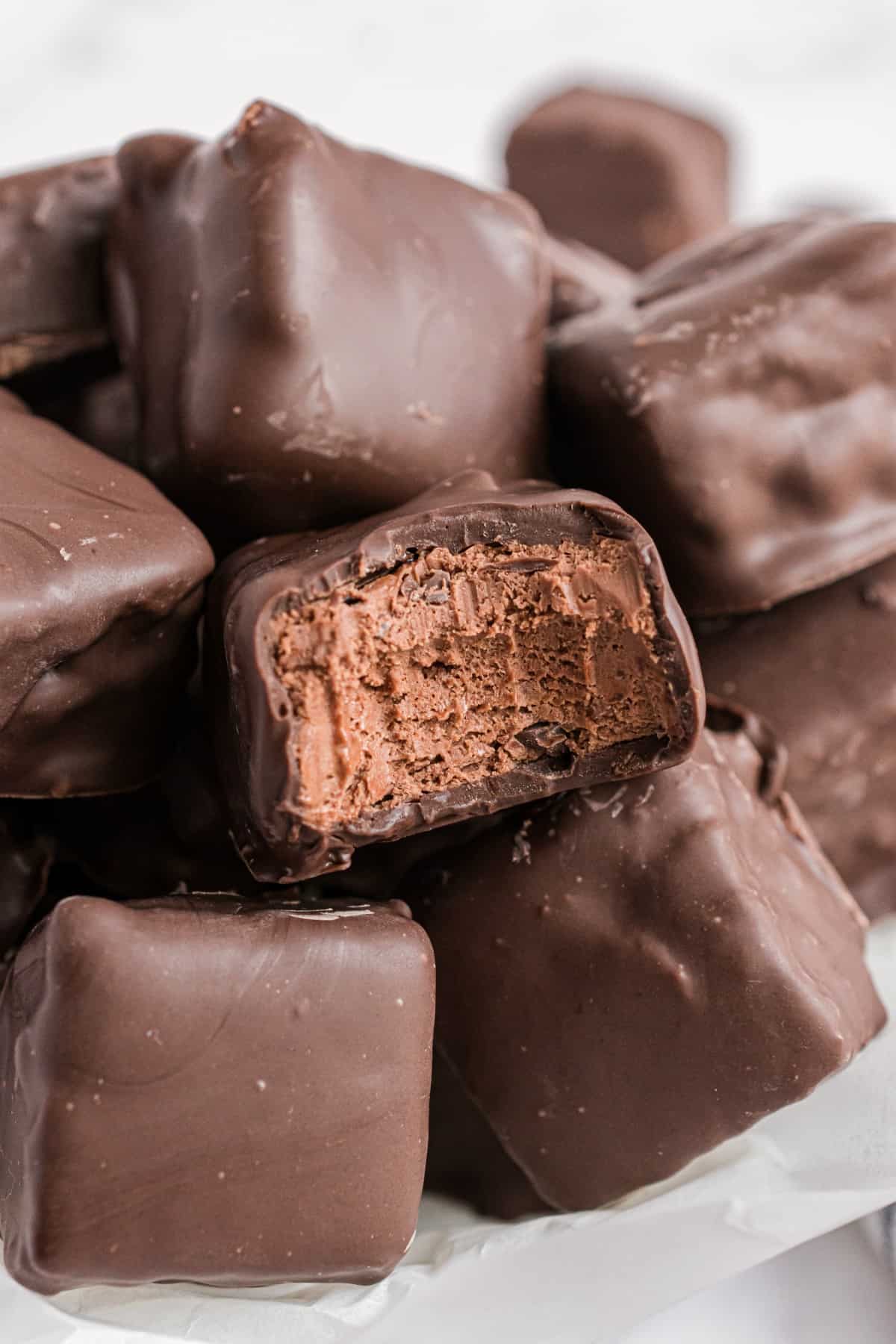 Three Ingredient Candy Recipe
I love making homemade candy to give as gifts or even just to enjoy with my family at home.
Contrary to popular belief, you do NOT need a candy thermometer, special equipment or a long list of ingredients to make candy.
My Easy Chocolate Truffles and Saltine Toffee Recipe are proof that anyone can make their own sweet confections at home, even if you're brand new to candy-making.
Now, I have Cool Whip Candy to add to that list too!
I even used the microwave to melt everything for this recipe so you don't even need to fire up your stove.
With just three ingredients you can create perfect bite sized chocolate treats to share with a crowd. (Or keep them all to yourself. I won't tell!)
If you love Three Musketeers Bars, you're going to go nuts for Cool Whip Candy. The texture of the cool whip center reminds me of fluffy nougat!
Ingredient Notes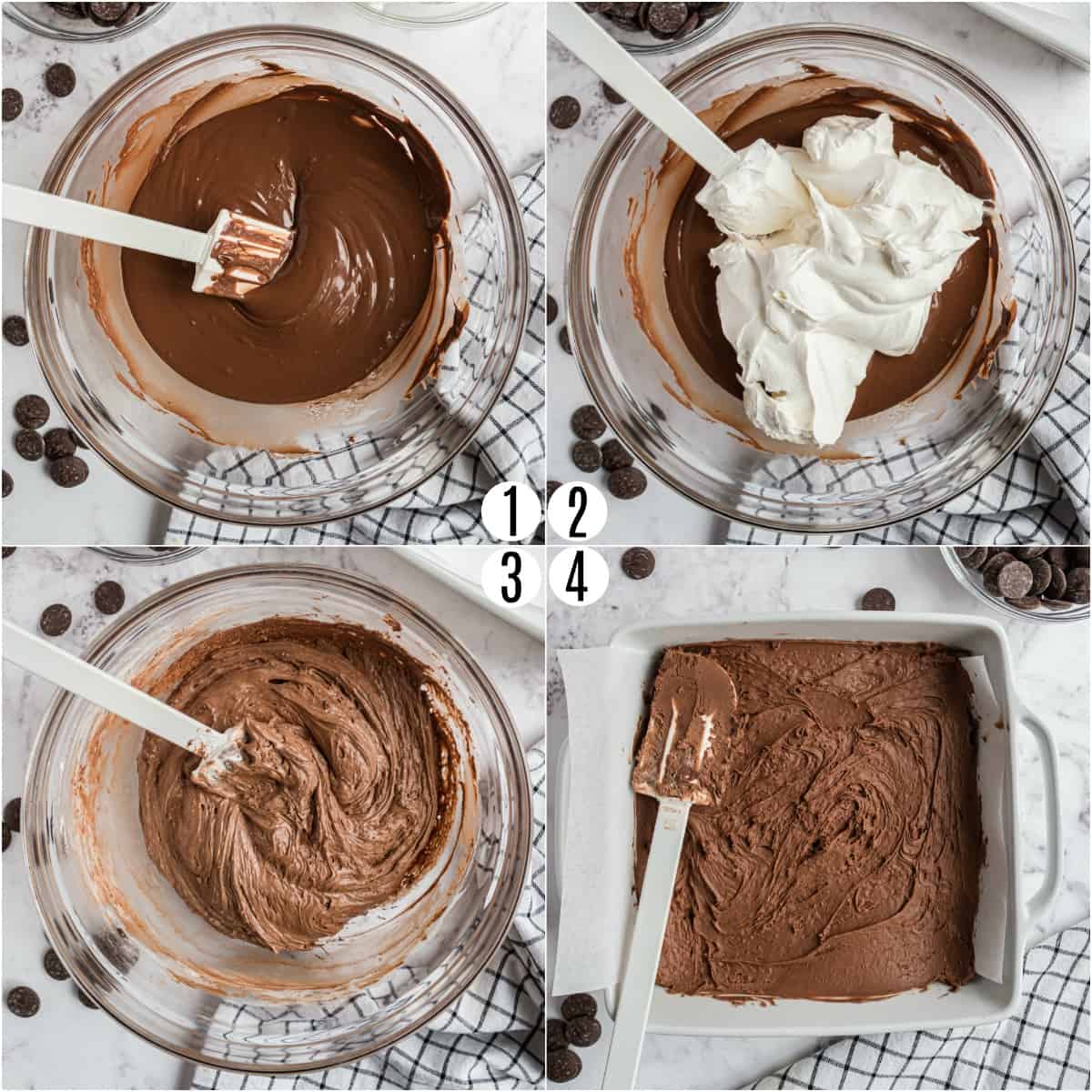 Cool Whip – You'll need an 8 oz tub for this recipe. Let it thaw in the fridge before making the candy.
Milk Chocolate Morsels – Use a good quality such as Ghirardelli for best taste and a smooth texture when melted.
Dark chocolate melting wafers – Again, I recommend the Ghirardelli brand. It melts very smooth and sets well.
Easy Instructions
To make the Cool Whip Candy, start by melting chocolate chips in the microwave. Fold it into the Cool Whip until well combined.
Freeze this mixture in a baking dish for about 30 minutes, cut it into squares, then freeze again.
Dip the frozen cool whip squares into the melted dark chocolate then place them on a sheet or parchment paper to allow the chocolate to set.
Store in the freezer and enjoy cold!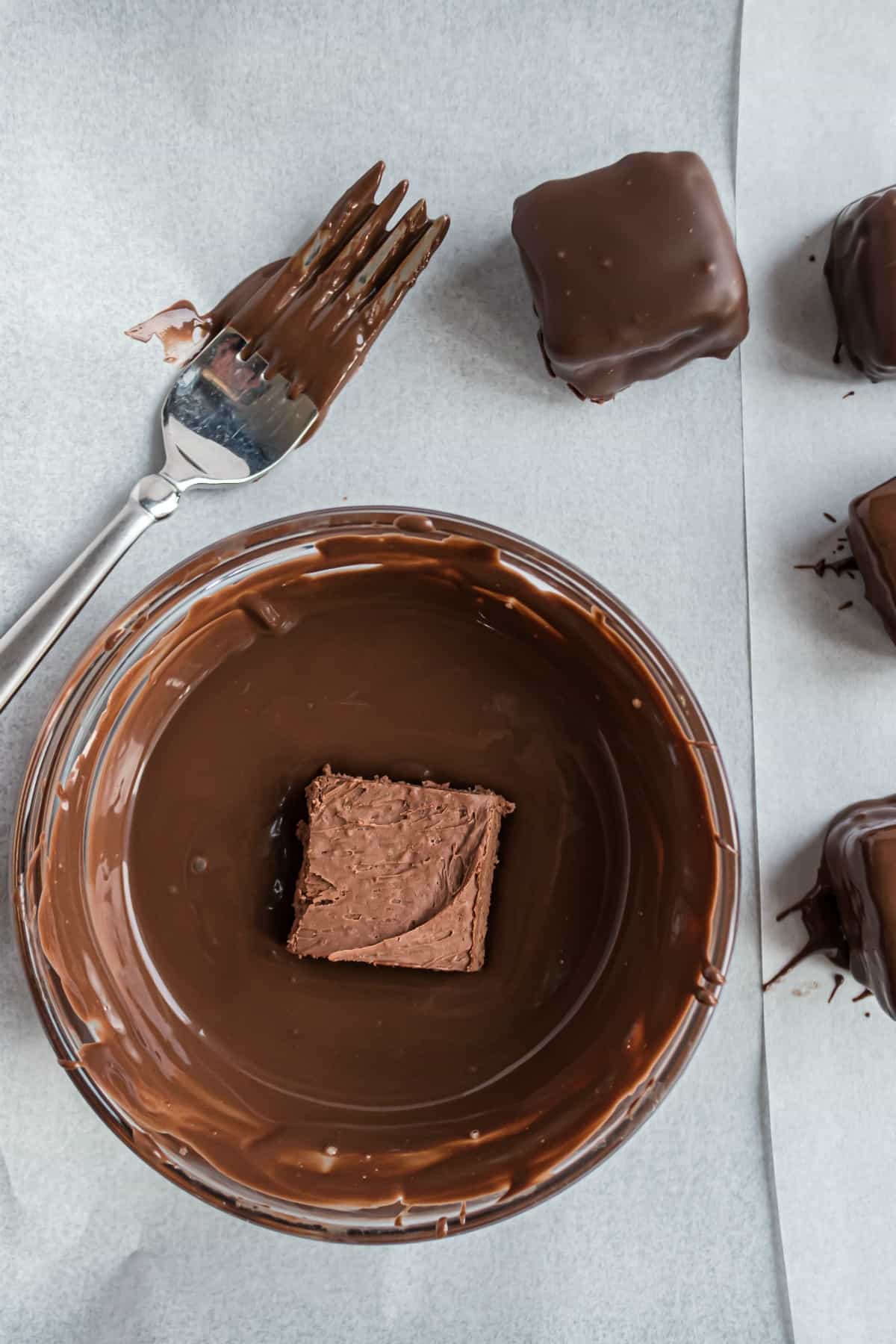 Tips and Tricks
Keep folding: It's okay if the melted chocolate chips start to harden into flakes as you fold them into the cool whip. Just keep gently folding until all the chocolate and cool whip have been combined.
Use good chocolate: Cool Whip Candy tastes best when you use a good quality, premium chocolate. The chocolate chips provide most of the flavor for this candy! I also find the higher quality chocolate melts smoother and doesn't get chalky like some of the cheaper brands.
Truffles: This recipe works for making truffles too. Drop by the tablespoon full on a piece of parchment paper before freezing, then dip into the melted wafers. I love this candy both ways.
Love Cookies? Stock up on Cool Whip and give our easy 4 ingredient Cool Whip Cookies a try next.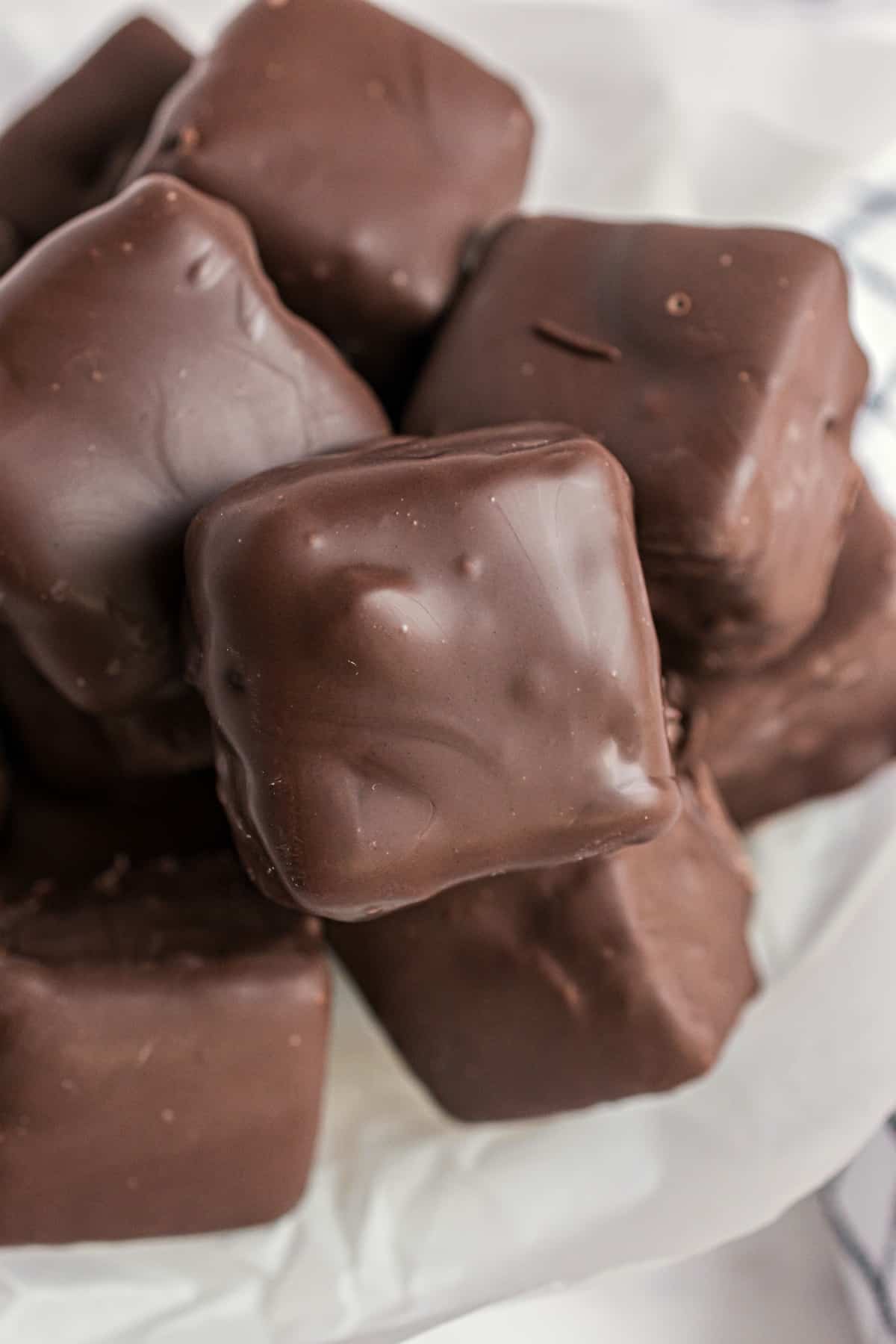 Recipe FAQs
How do you store Cool Whip Candy?
Keep the candies in freezer bags or an airtight plastic container in the freezer when you're not eating them. They taste best cold.
How long does Cool Whip Candy keep?
Cool Whip Candy can last up to 30 days in the freezer, but we can never resist eating up the whole batch before then!
Can you use real whipped cream instead of Cool Whip?
No. Cool whip (stabilized whipped cream) is very different in consistency than fresh or canned whipped cream so the two are not interchangeable for recipes like this candy.
Can I use a different kind of chocolate?
Yes, feel free to swap out the milk chocolate morsels with semi-sweet, white chocolate or dark chocolate if preferred. I happen to love the sweeter milk chocolate combined with the cool whip and then covered in dark chocolate!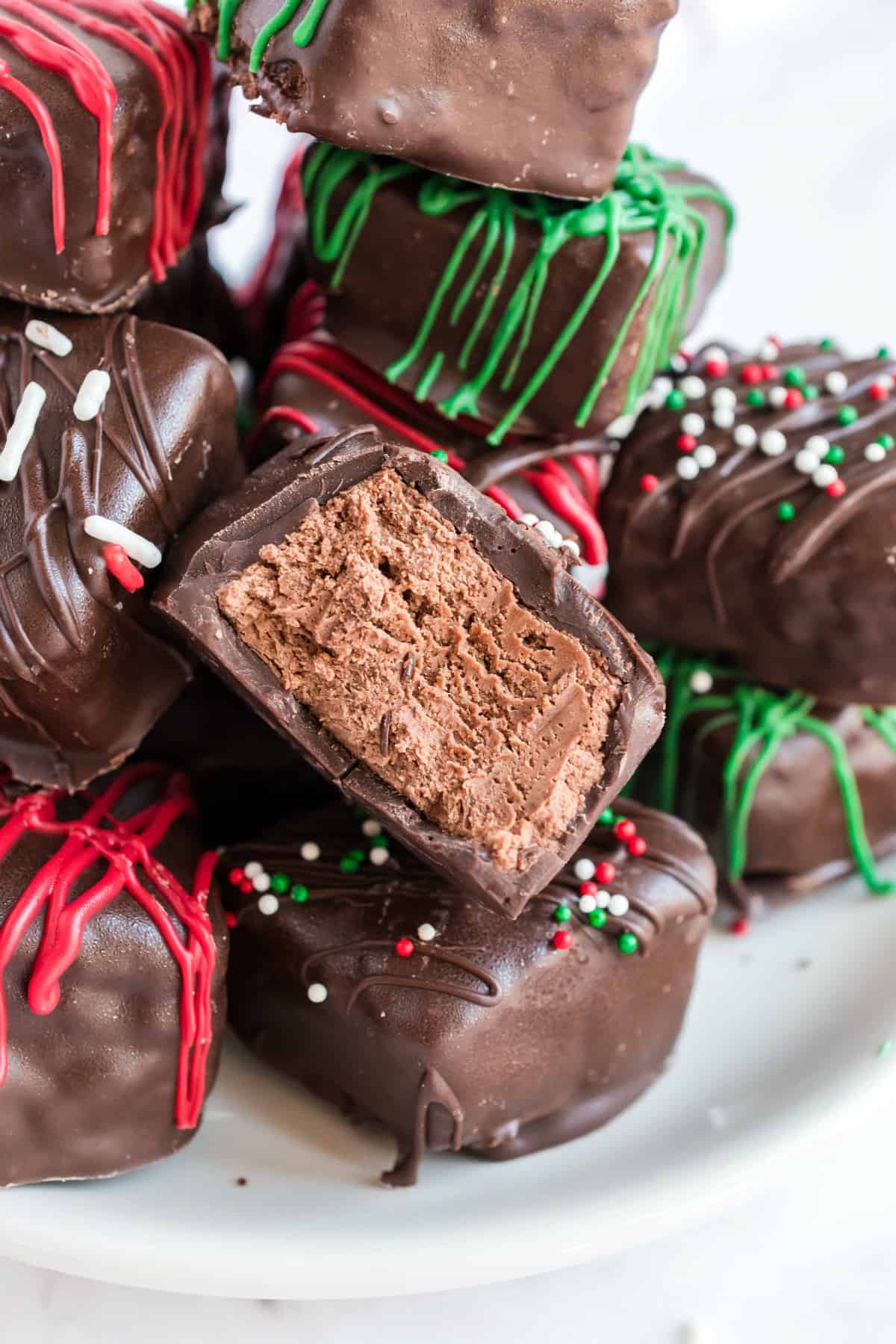 Variations
What I love about chocolate fudge as well as today's candy recipe, is that with a few sprinkles you can turn it into a holiday dessert.
Much like my Chocolate Dipped Oreos, you'll love adding festive sprinkles for a fun treat.
Christmas- add some red/green candy melts and sprinkles and serve this Cool Whip candy with your holiday plates.
Valentine's Day- who wouldn't love this dark chocolate candy with pink and red sprinkles from their loved ones?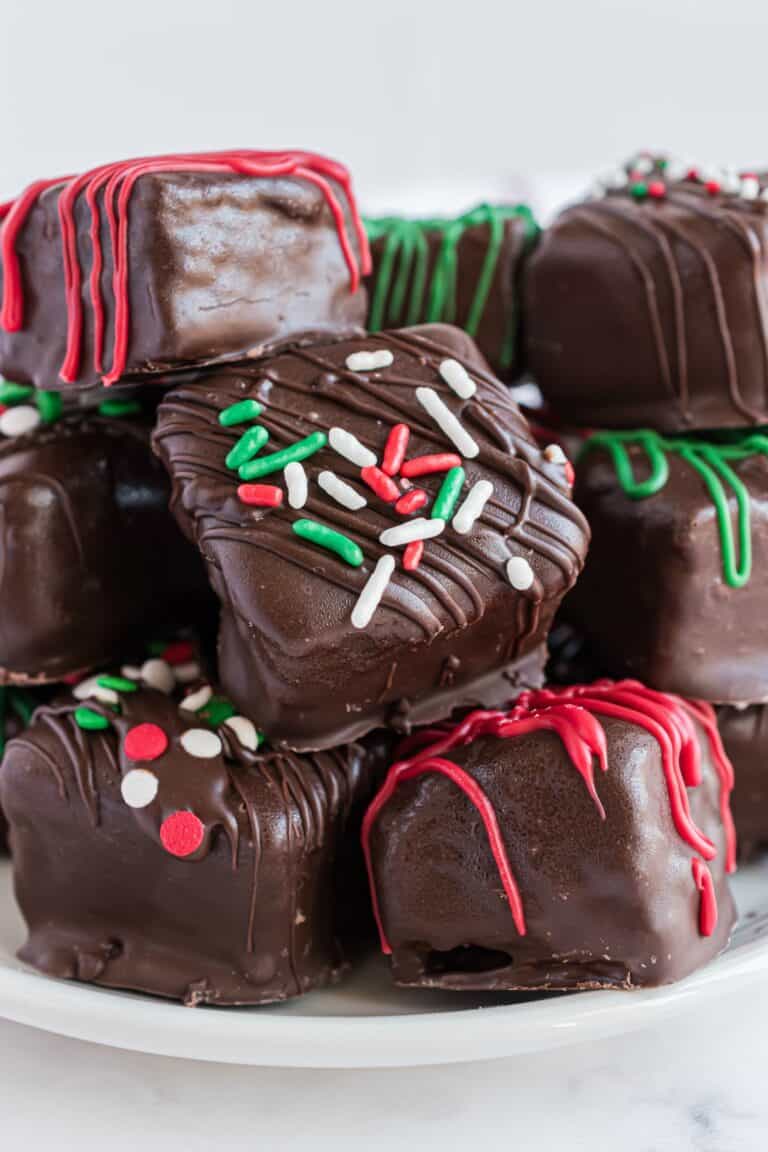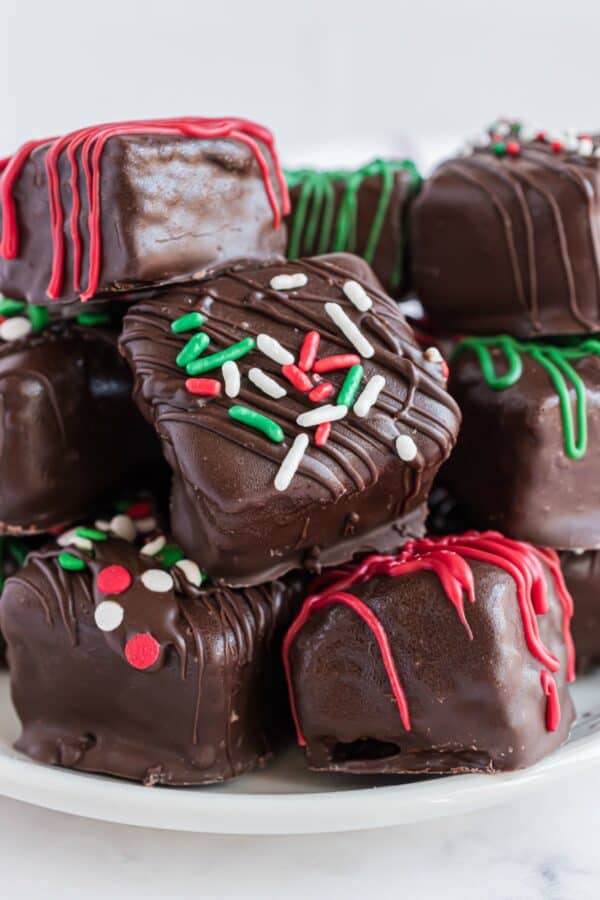 More Easy Candy Recipes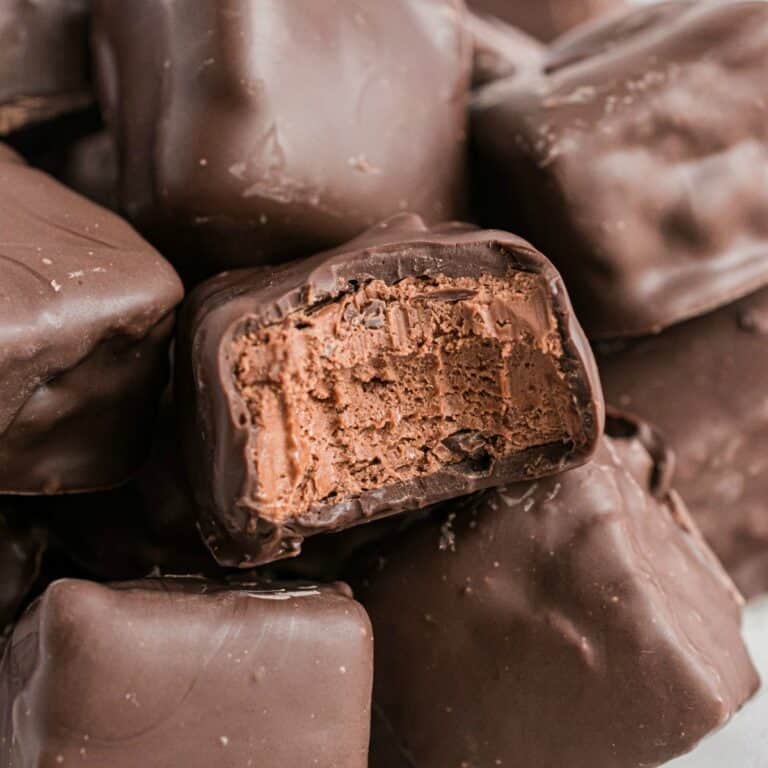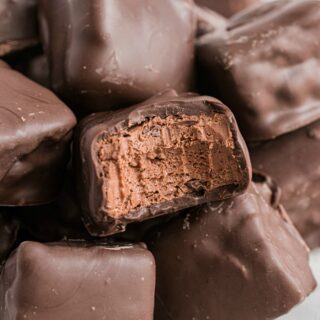 Cool Whip Candy
This three ingredient candy tastes so impressive no one will believe how easy it is to make! Whip up a batch of Cool Whip Candy for the holidays, as a gift for a friend of just to treat yourself.
Ingredients
2

packages

Milk Chocolate morsels

11 oz each

1

tub

Cool Whip, thawed

8 oz

24

oz

Ghirardelli dark chocolate melting wafers
Instructions
In a microwave safe bowl, melt chocolate chips for one minute. Stir and microwave again for another 30 seconds. Stir until smooth. (if needed, heat another 15 seconds). Allow to sit and cool to room temperature, about 20 minutes.

Line an 8-inch square baking dish with parchment paper. Set aside.

In a large bowl, fold together gently the cooled, melted chocolate with Cool Whip. As you combine them, the chocolate may harden into tiny bits. That's perfectly normal, keep gently folding until all the chocolate and Cool Whip has been combined. Pour into baking dish.

Freeze for 30 minutes. Remove from freezer and cut into 36 squares. Place candy on parchment paper lined baking sheet and return to freezer for at least 30 minutes.

Melt chocolate wafers according to package directions.

Remove candy from freezer and dip into melted chocolate. Place on parchment paper and allow to set.

Store candy in freezer until ready to serve. Best served cold. Can be stored up to 30 days!
Notes
Can also be shaped into truffles. After combining cool whip and chocolate, drop by tablespoon on parchment paper sheet. Freeze for an hour then dip into melted chocolate wafers. ENJOY.
Use good quality chocolate morsels, I choose Ghirardelli since they taste good and melt smooth.
The taste of these candies reminds me of Three Muskateers!
Nutrition
Calories:
113
kcal
,
Carbohydrates:
13
g
,
Protein:
1
g
,
Fat:
6
g
,
Saturated Fat:
4
g
,
Polyunsaturated Fat:
2
g
,
Cholesterol:
2
mg
,
Sodium:
8
mg
,
Fiber:
1
g
,
Sugar:
10
g
This three ingredient candy tastes so impressive no one will believe how easy it is to make! Whip up a batch of Cool Whip Candy for the holidays, as a gift for a friend of just to treat yourself.