This Homemade Twix Bars recipe brings your favorite candy bar home to your kitchen. A buttery shortbread cookie base with caramel and chocolate, better than the original!

Click HERE to save recipe to Pinterest!
Grocery stores are an evil place to visit when you're hungry. From the scent of bread baking in the bakery to the rows of convenience food, it's never a good idea to grocery shop on an empty stomach.
But, even knowing this, nine out of ten times I wander into the grocery store hungry. And then I wander out with ten times the amount of food I went in for! It's ridiculous really, and it's my own fault. I have no one to blame but myself. My husband and I always joke because I'll come home with hundreds of dollars worth of groceries, and yet we still tend to order out on shopping days. It's like buying all the food is exhausting enough, who want to cook it too?
Back to the shopping though, I will say those tricky managers know what they are doing when they put those candy bars in the checkout aisle. Just when you make it around the store, maybe you did REALLY well avoiding any kind of cravings, when BOOM.
There are all your favorite candies begging to be purchased. 10 for $5 is the sleaziest trick in the book too! I hate you, and your stupid deals, Mr. Grocery Man. You make me fall prey to your dumb trap!
There are two candies that call my name. Twix Bars and Skittles. Depending on my mood, I either reach for the chocolate or the fruity! Who can resist that gooey caramel bar?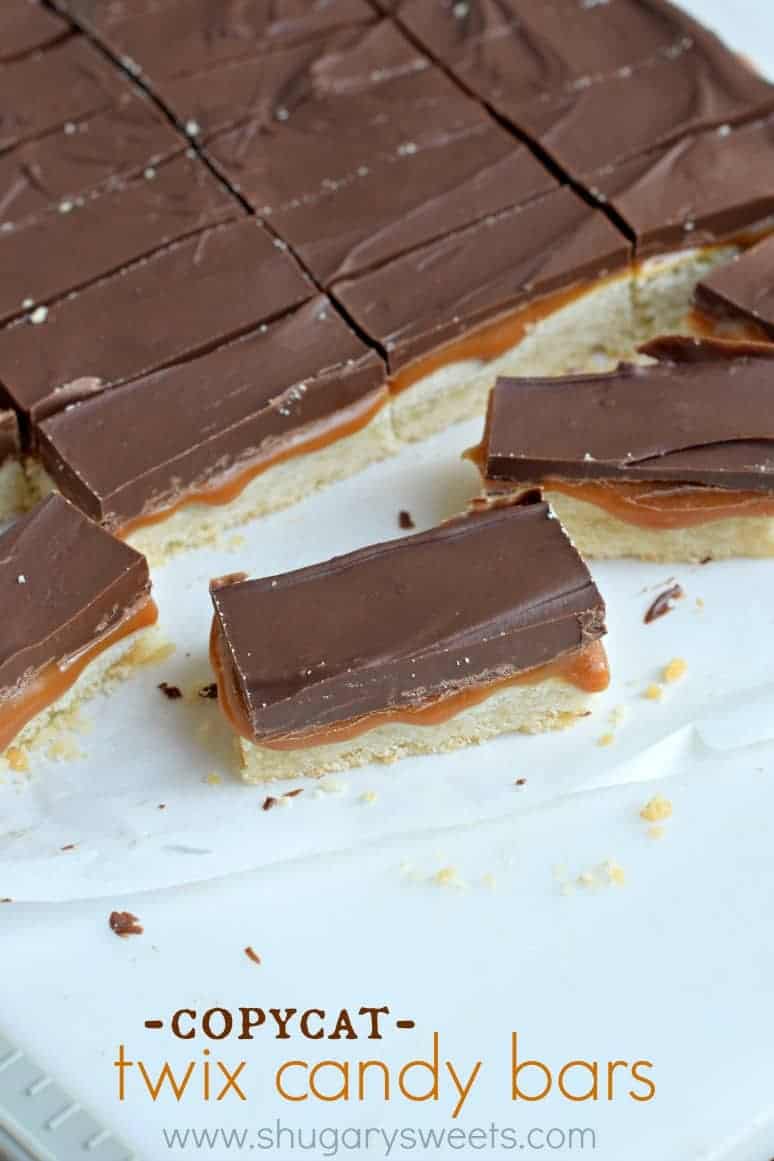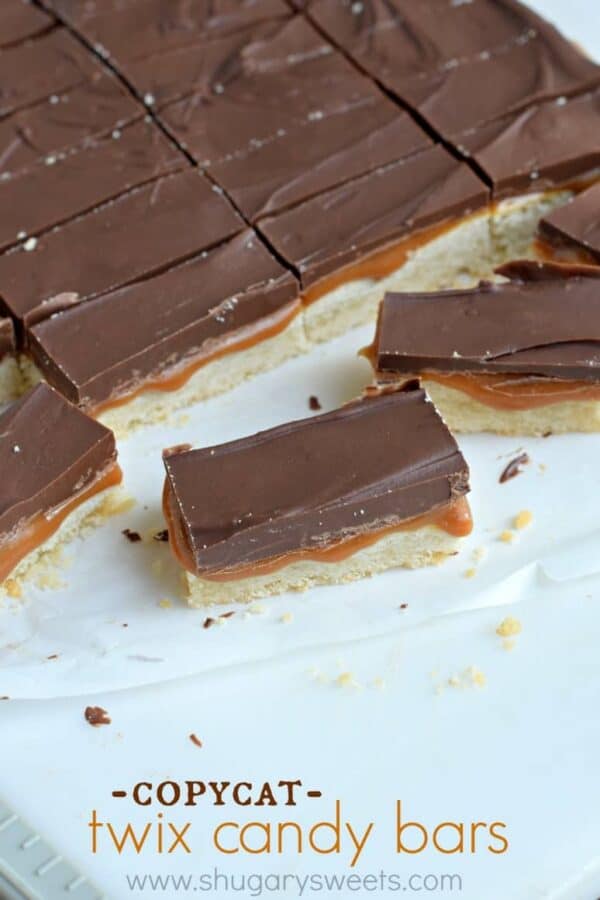 Earlier this year I made some delicious Twix Cookies. They are always a hit at bake sales and family parties! So I knew making my favorite Homemade Twix Bars would be easy! And sure enough, these bars were a hit too!
As a food enthusiast, I find it my job to re-create some of my favorite treats. You may remember these Pay Day Truffles!? So delicious!
How to make Homemade Twix:
Start by making your shortbread cookie dough base. In a large mixing bowl, beat butter and powdered sugar for several minutes until well blended. Add in flour, salt, and vanilla. Beat for 2-3 minutes until dough starts to form a ball.
Press dough into a 9-inch-square baking dish lined with parchment paper. Bake for 21-25 minutes in a 350 degree F oven, until edges become lightly browned. Remove and cool completely.
While shortbread base is cooling, add caramel bits and whipping cream to a microwave-safe bowl. Microwave for 1 minute, stir and heat again for an additional 15-30 seconds. Stir until smooth. Pour over cooled (or mostly cooled) shortbread. Spread evenly.
Melt chocolate in a microwave safe bowl for one minute. Stir and heat an additional 30 seconds. Frost the top of the caramel and allow to set (about 30 minutes). Cut into bars and enjoy.
If you love copycat recipes, here are a few of my favorites: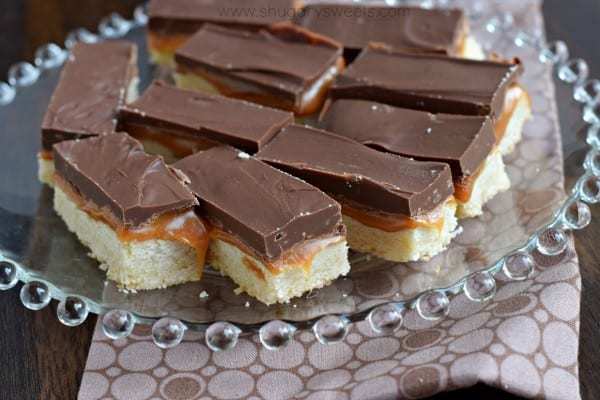 Be sure to follow me on Instagram and tag #shugarysweets so I can see all the wonderful SHUGARY SWEETS recipes YOU make!
I created a fun little group on facebook and I'd love for you to join in! It's a place where you can share YOUR favorite recipes, ask questions, and see what's new with Shugary Sweets (so that you never miss a new recipe)! If you'd like to check it out, you can request to join HERE.
Connect with Shugary Sweets! 
Be sure to follow me on my social media, so you never miss a post!
Facebook | Twitter | Pinterest | instagram 
Homemade Twix Bar recipe and video tutorial:

*Today's recipe for Homemade Twix Bars was originally published on Shugary Sweets on November 16, 2015 and has been republished in June 2018.