This Homemade Twix Bars recipe brings your favorite candy bar home to your kitchen. A buttery shortbread cookie base with caramel and chocolate, better than the original!
Copycat recipes are so fun to make. From homemade Reese's peanut butter cups, to easy kit kat candy bars, we love it all!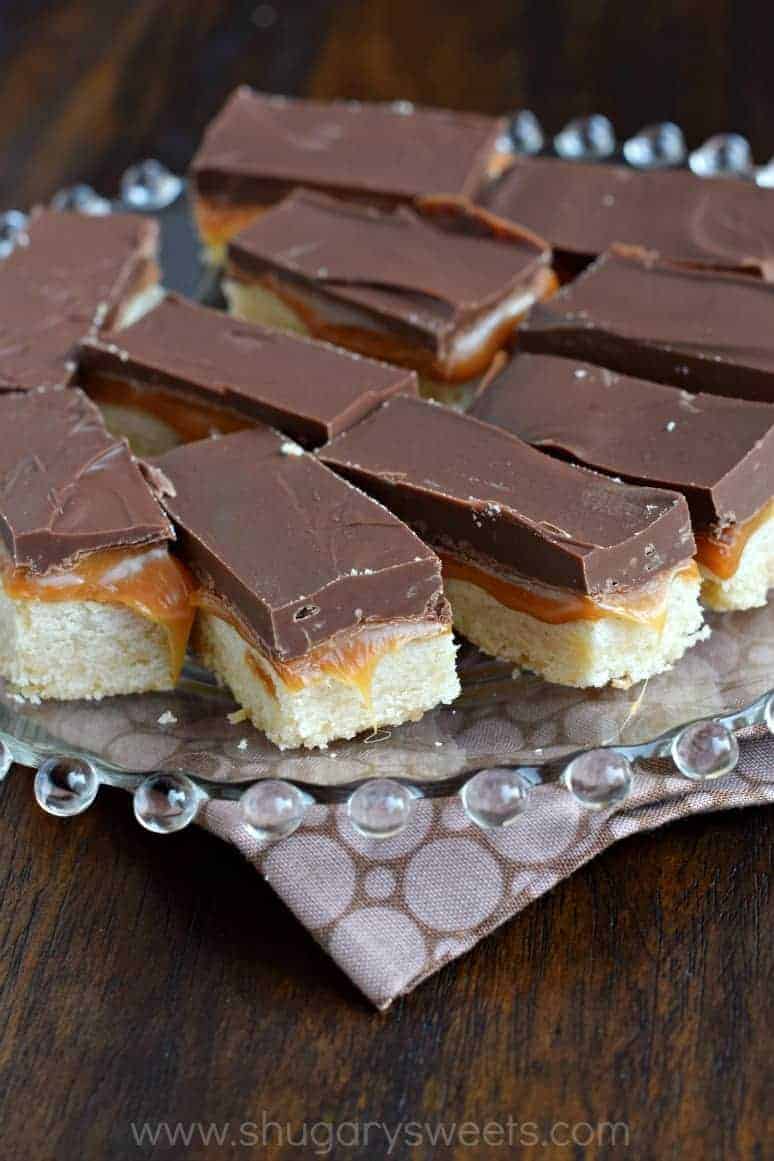 Why the Bars are the Best
It'll only take one bite of these homemade Twix bars to convert even the most devout Twix lovers. They start with a shortbread cookie crust!
Better than store-bought taste with fewer calories per serving.
Using caramel chips provides perfect taste and texture without the fuss of making homemade caramel.
With a yield of 32 bars, this is the perfect recipe for any gathering, event, or potluck.
From start to finish, this recipe takes less than an hour.
Love these bars? Try our easy twix cookies next!
Ingredient Notes
Butter – Use unsalted and softened butter to stay true to the original Twix taste.
Powdered Sugar – Don't substitute other types of sugar here. The superfine powdered sugar will give you the best shortbread texture.
Salt – Opt for Kosher salt instead of iodized table salt, so the bars aren't overly salty.
Vanilla Extract – It's worth it to pick up pure vanilla extract, the flavor is far better than the artificial stuff. Or try our homemade vanilla extract.
Kraft Caramel Bits – Find these caramel chips in the baking aisle of your grocery store. They're a key ingredient that makes this recipe so easy. Of course our homemade caramels would also be perfect!
Heavy Whipping Cream – The fat content in this ingredient makes the caramel thick, sticky, and rich. Don't swap it for lesser-fat dairy, or the texture of the caramel will be affected.
Milk Chocolate Morsels – You can use regular chocolate chips or chop up a large baking bar.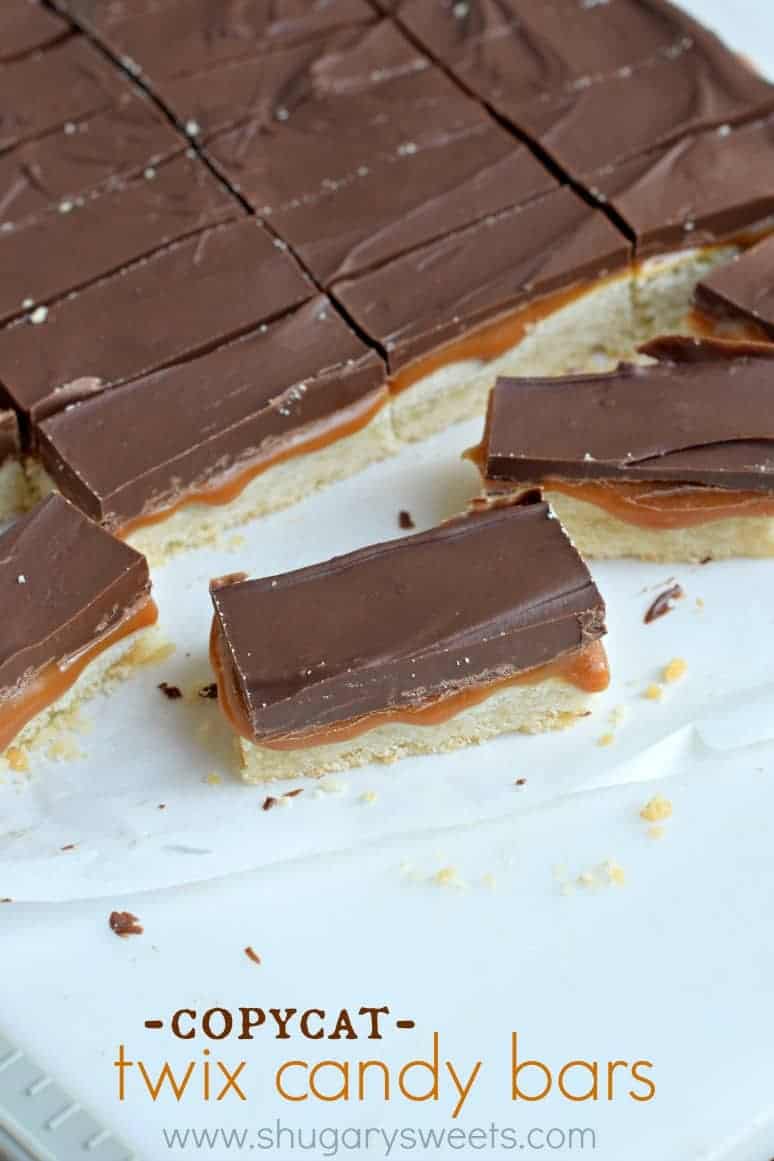 Easy Instructions
Beat Butter & Sugar –Beat the butter and powdered sugar until light, fluffy, and almost doubled in size.
Form Cookie Dough – Don't overmix the dough. Otherwise, you won't achieve the short and tender cookie texture we're going for.
Bake & Cool Shortbread – Spread the dough into an ungreased, parchment-lined 9" square baking dish.
Create Caramel Layer – While the shortbread base is cooling, combine caramels and heavy cream in a microwave-safe bowl. Microwave this mixture in increments, stirring between each cook time, until the caramel is melted and smooth. Then, while the shortbread is still warm, spread the caramel layer over the top.
Melt & Spread Chocolate Layer – Spread over the top of the caramel layer.
Set, Cut, & Enjoy – Allow the bars to set for at least 30 minutes before cutting them into bars. This recipe makes 32 Twix-sized cookie bars, so divide the shortbread accordingly. 
Tips and Tricks
If you're a fan of salted caramel, try topping these bars with a sprinkling of flaky sea salt.
Easily customize this recipe for a unique take on the classic Twix. You can add nuts to the caramel or even swirl the chocolate with peanut butter.
To help your caramel stick better, underbake the shortbread by a few minutes. Then, spread the caramel layer onto the base while the cookie is still warm (not hot) and the layers should adhere together.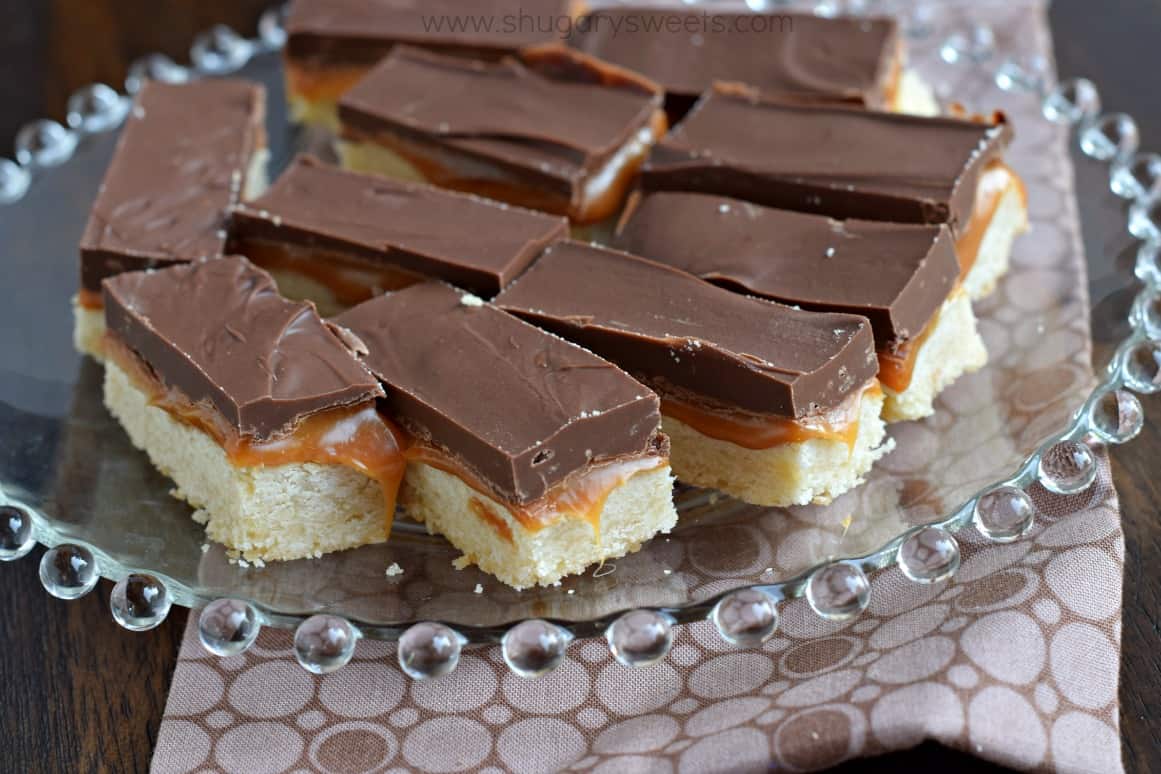 Recipe FAQs
How should I store these Homemade Twix Bars?
Store these bars in an airtight container at room temperature. They'll keep for 3-5 days.
Can I freeze leftover cookie bars?
The chocolate isn't tempered in this recipe, so it's best to keep the finished bars at room temperature. If you freeze leftover bars, the chocolate layer will bloom, causing it to discolor.
How can I make these candy bars in advance?
You can freeze the shortbread dough or bake then freeze it until you need it. Don't make the caramel or chocolate in advance. Instead, start those steps when you're ready to assemble the bars.
Can I use gluten-free flour in this recipe?
Feel free to swap out the AP flour in this recipe for 1¼ cup super fine almond flour and ¾ cup coconut flour. Or use a cup for cup gluten free flour.
More Copycat Recipes
Satisfy your sweet tooth with this Homemade Twix Bar Recipe. Buttery shortbread and sticky caramel topped with a layer of decadent chocolate make this copycat recipe one you won't want to miss.