These Twix cookies have a buttery shortbread cookie base with creamy caramel and chocolate on top! I'm not even kidding when I say they are addictive!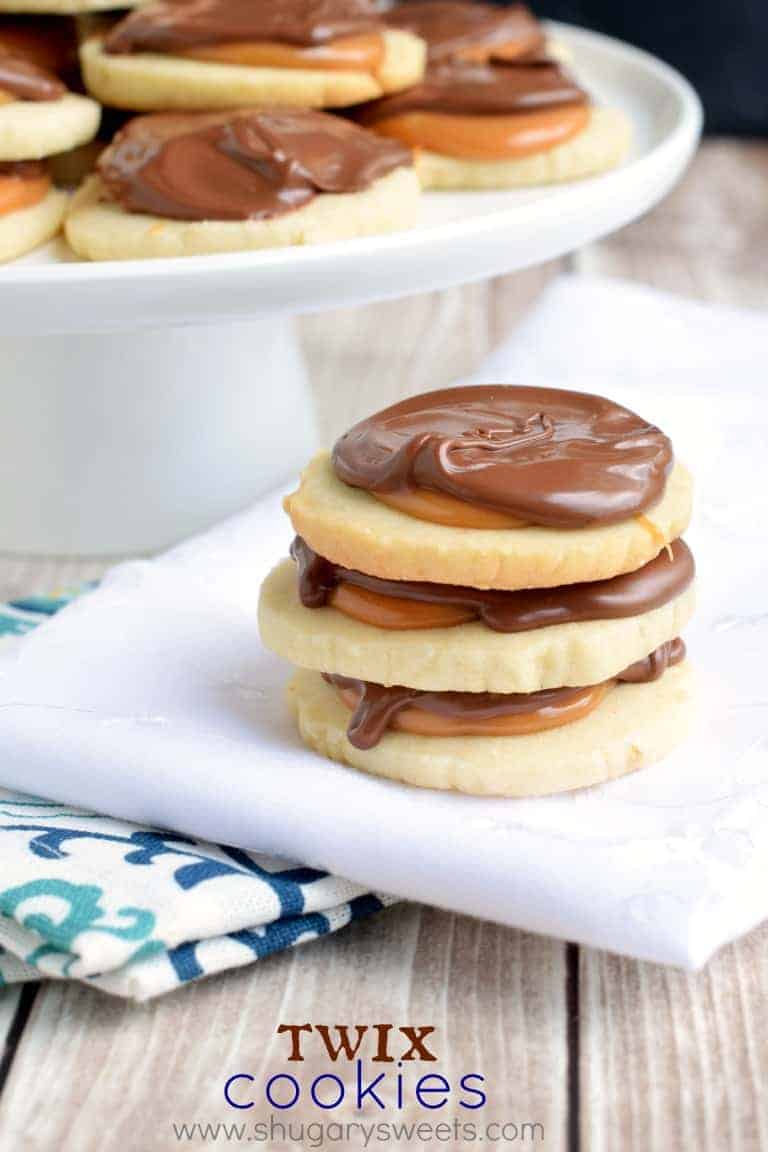 I don't make enough cookies for the blog. I make a lot of cookies at home…but the blog? Nope, not too many new recipes around here for cookies.
See, it's a #foodbloggerproblem. I spend a lot of time creating new recipes for my family to enjoy…for breakfast, dinner and dessert.
Of all the new recipe development, it's not often that you see the same recipe in my kitchen. Unless it's a family favorite.
Except for cookies. When it comes to cookie baking, I tend to repeat some of my favorite recipes.
FAVORITE COOKIES: Chocolate Chip Cookies | Peanut Butter Cookies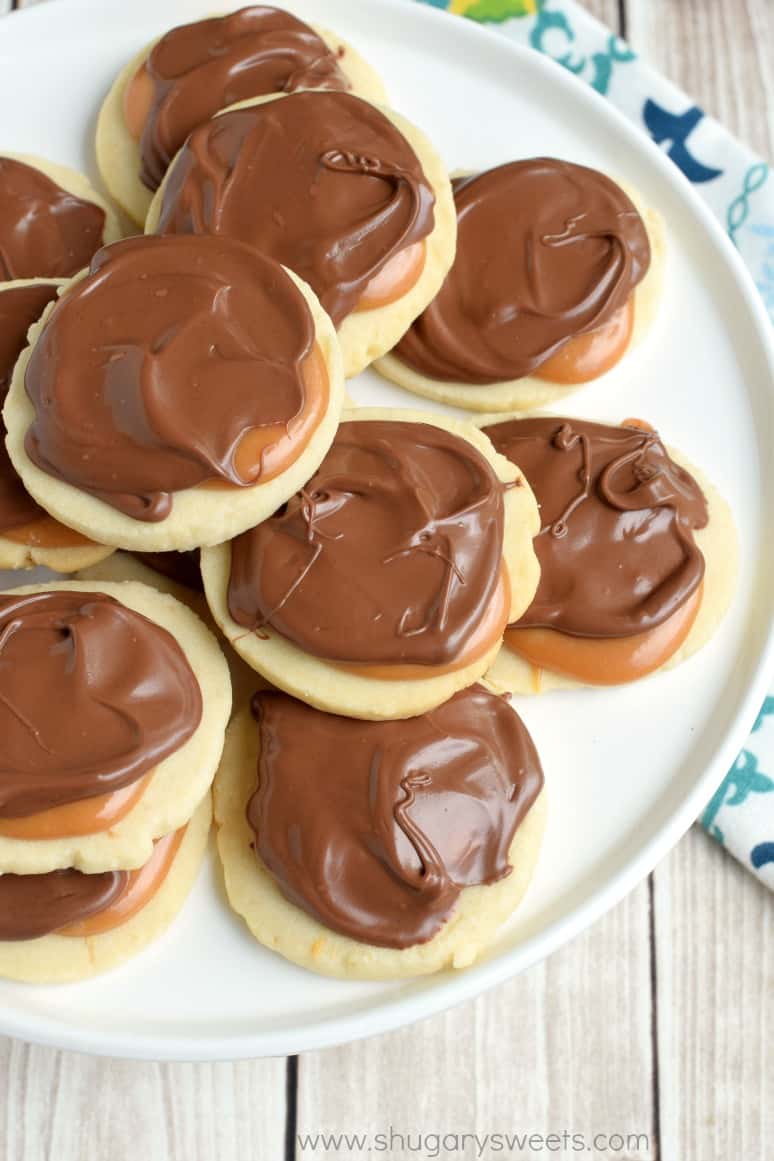 How to make Twix Cookies
STEP 1. The cookie base.
Make your shortbread dough ahead of time. Roll it into a tube shape (the size of a paper towel roll). Wrap it up in plastic wrap.
PRO TIP: I actually will cut an empty paper towel roll lengthwise, and place my plastic wrapped dough inside the tube. Then refrigerate. The paper towel tube helps the dough keep it's rounded shape.
Slice and bake your cookies. I usually cut the dough in half. Return half to the fridge until ready to use (so it doesn't come to room temperature). Baking the dough while cold is KEY to a delicious, flaky crunch.
STEP 2. Caramel layer.
I used caramel bits for this layer. They are easy to pour into a bowl and melt in the microwave.
If you can't find them, you can unwrap caramels, that works too. I used a small metal scoop to place caramel onto the cookie.
STEP 3. The Chocolate.
Use a good quality chocolate on these cookies. I tend to buy Ghirardelli milk chocolate chips for these, as they taste delicious! They also melt smooth in the microwave.
You could also use Ghirardelli dark chocolate melting wafers. Delicious and smooth melting, and they don't melt in your hands when you pick up the cookie!
Allow your cookies to set up at room temperature. If you place them in the fridge, the caramel will harden too much, and the chocolate may become discolored.
Once set up, store in an airtight container at room temp. ENJOY
I've also created these easy Twix Cookie Bars if you prefer to skip the individual cookie baking. Plus, they resemble a candy bar right?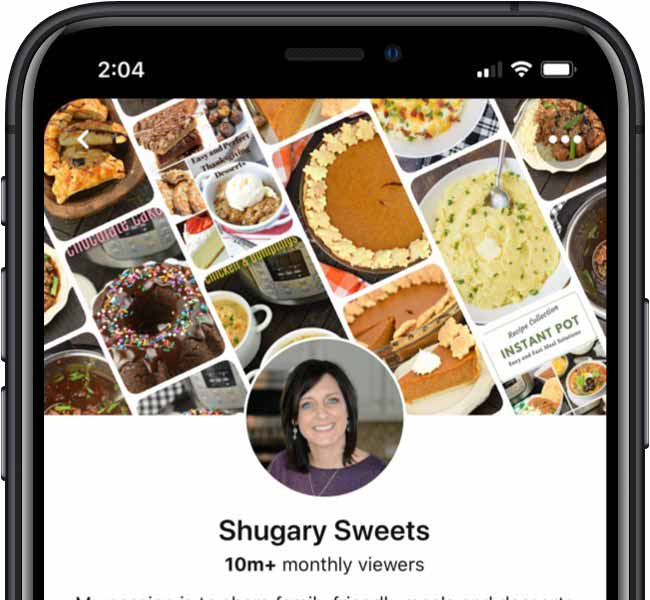 Can you freeze Twix Cookies?
I personally don't recommend freezing these cookies. The caramel may build up condensation and make your shortbread watery.
However, you can freeze the cookies after baking, and before adding the caramel and chocolate. Then thaw at room temperature, add the toppings, and enjoy!
Yield: 3-4 dozen
Twix Cookies
Flaky shortbread cookies topped with creamy caramel and rich chocolate!
Ingredients
1 cup unsalted butter, softened
1/2 cup powdered sugar
2 cup all-purpose flour
1/4 tsp kosher salt
1 tsp vanilla extract
1 package (11oz) Kraft caramel bits
1 Tbsp heavy whipping cream
1 package (11.5oz) Ghirardelli milk chocolate morsels
Instructions
In a large mixing bowl, beat butter and powdered sugar for several minutes until well blended. Add in flour, salt and vanilla. Beat for 2-3 minutes until dough starts to form a ball.
Drop dough onto a light floured surface. Using your hands, shape into a log, about the size of a paper towel tube. Wrap in plastic wrap and refrigerate at least 30 minutes.
Slice dough (about 1/5 inch thick) and bake on a parchment paper lined baking sheet. Bake in a 350 degree oven for 11-13 minutes, until edges set and begin lightly browning. Do not overbake.
While cookies are cooling, add caramel and whipping cream to a microwave safe bowl. Microwave for 1 minutes. Stir and heat again for 15-30 seconds. Stir until smooth. Using a small metal scoop, drop about 3/4 Tbsp of caramel into the center of each cookie. It will spread on it own.
Melt milk chocolate in a microwave safe bowl for 1 minute. Stir and heat an additional 15-30 seconds if needed. Frost the tops of each cookie and allow chocolate to set (about 30 minutes). Store in airtight container at room temperature. ENJOY.
Nutrition Information:
Yield:
48
Serving Size:
1 cookie
Amount Per Serving:
Calories:

67
Total Fat:

4g
Saturated Fat:

3g
Trans Fat:

0g
Unsaturated Fat:

1g
Cholesterol:

11mg
Sodium:

17mg
Carbohydrates:

6g
Fiber:

0g
Sugar:

2g
Protein:

1g
**This recipe for Twix Cookies was originally published on Shugary Sweets on May 11, 2015.