Homemade Peppermint Patties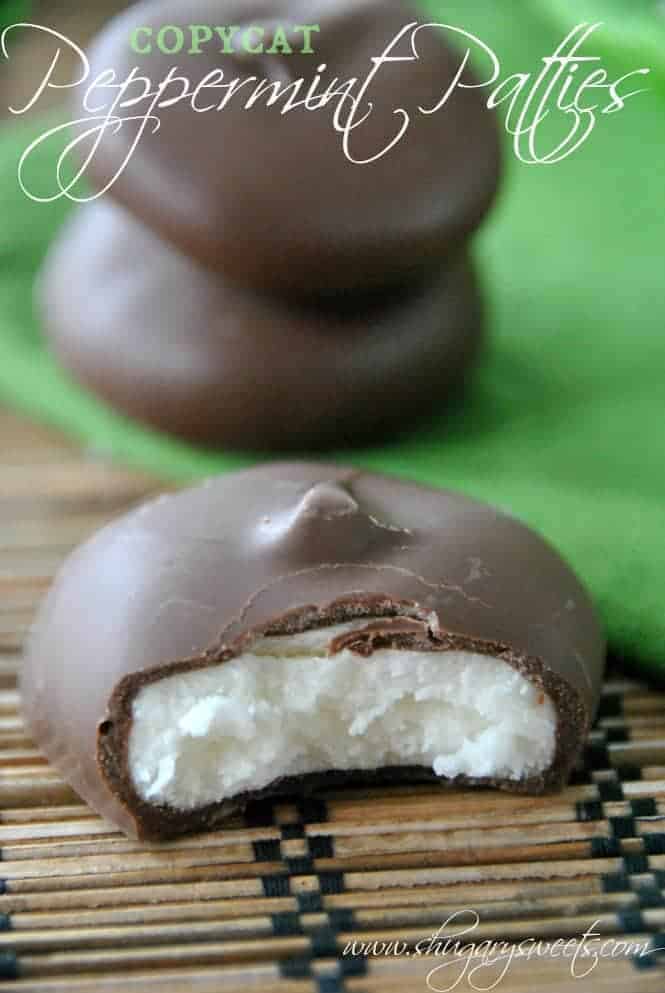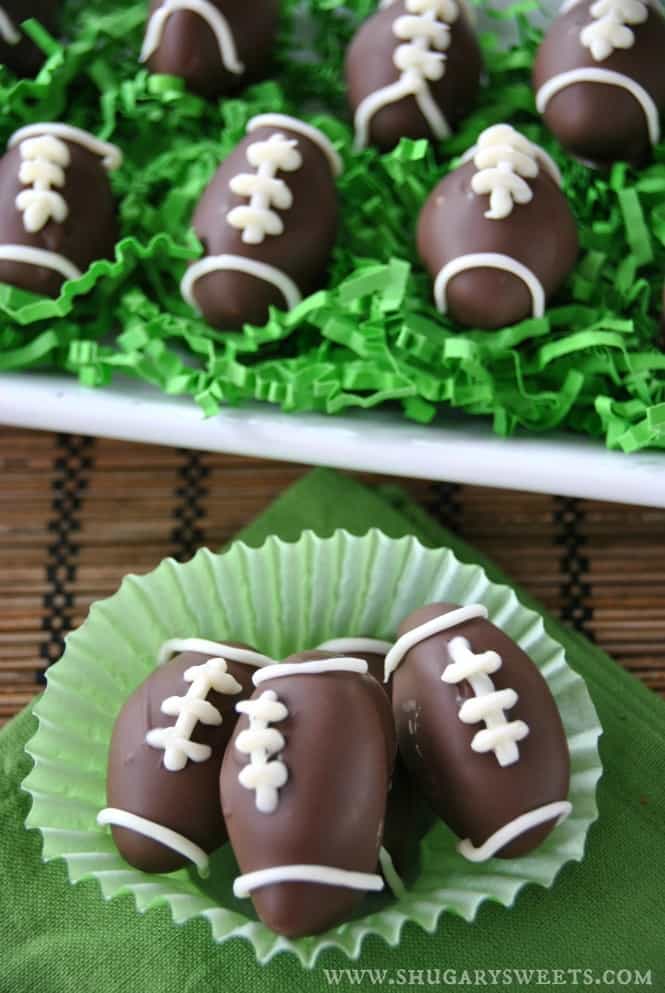 Homemade Peppermint Patties. Not just any Peppermint patties either…how about if I made them in the shape of footballs? Apparently there is a big game this weekend? Yeah, I wouldn't know much about it. I will be at a swim meet. Seriously. Some genius decided Superbowl weekend is the perfect weekend for a swim meet. We will be there from morning until around 9pm. Jealous?
Don't worry about me, and my whining. I've made up for not being able to go to a Superbowl party. I've been creating treats and snacks ALL WEEK. I've enjoyed my fair share of guacamole, chips and salsa, Reese's Dip and more! And these little football truffles? Yeah, they're almost gone too! Shhhh, don't tell, but I saved a few for the swim coaches, to thank them for all their time (I'm sure some of them would rather be sitting in front of a TV eating nachos)!
But, back to the Peppermint patties. I found this recipe to make homemade patties on Tasty Kitchen. I slightly altered some of the ingredient amounts, and changed the preparation instructions to cut out some time for you. Originally the recipe said to make the filling. Chill it for a few hours. Then shape it and chill again for a few hours. I skipped that first chilling step with NO problems.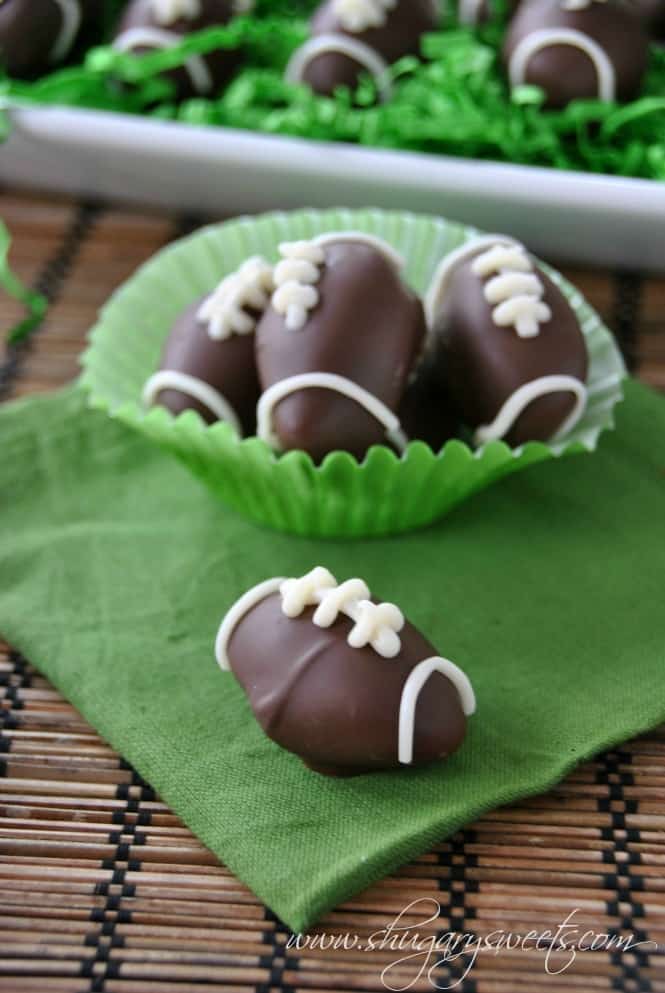 The inside of these candies are so soft, I would say the exact texture of a peppermint patty!
And who wouldn't love to see a plate of these on the dessert table this weekend? Perfect to give you fresh breath after salsa, nachos and pizza!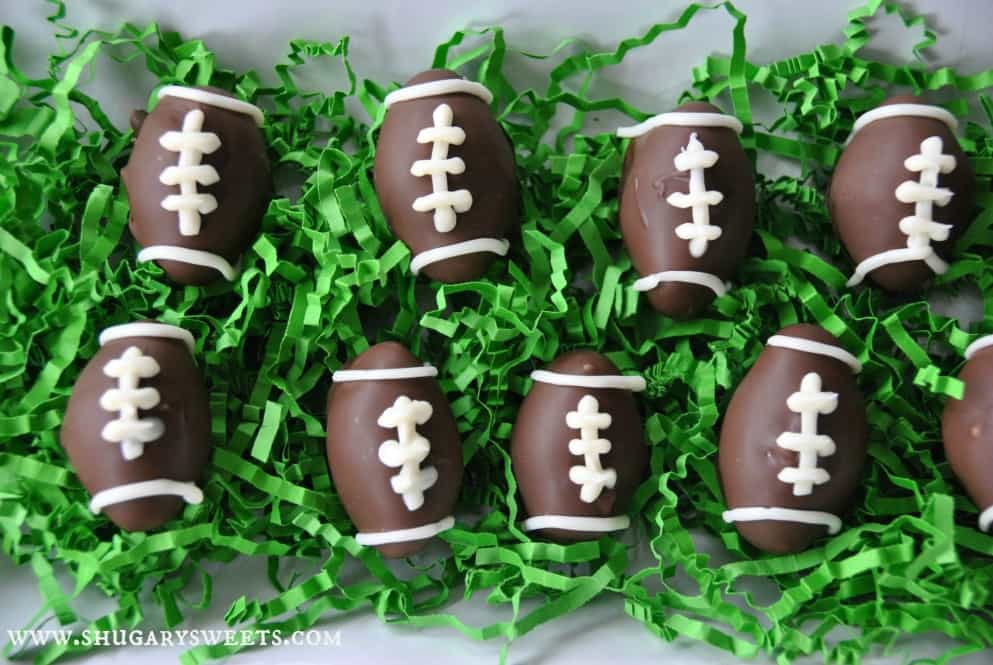 Are you following me on Pinterest yet? 
Want more candy ideas? Check out my Fudge, Truffles and candy board
Want more football snack and treat ideas? Check out my GAME DAY board
 Don't miss a single recipe: connect with Shugary Sweets!
Instagram | Facebook | Twitter | Google+ | Pinterest | Bloglovin'
Yield: 5-6 dozen
Homemade Peppermint Patties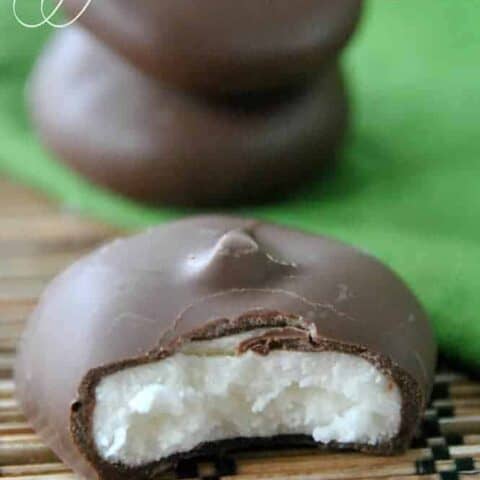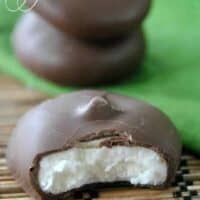 Ingredients
1 jar (7oz) marshmallow cream (Fluff)
10 Tbsp unsalted butter, softened
1 1/2 tsp vanilla extract
1 tsp peppermint extract
5 1/2 cup powdered sugar
1 pkg (16oz) chocolate Candiquik (chocolate candy coating)
1 cup vanilla Candiquik (almond bark)- optional for footballs
Instructions
In a large mixing bowl, beat cream, butter, and extracts until fully combined. Add in powdered sugar and mix on medium speed until well blended (may take a couple minutes for it to come together).
Line a large baking sheet with parchment paper. Using about 1 Tbsp of filling, shape into a ball, then flatten it for the traditional shape. If wanting to make footballs, shape into a ball and then pinch the ends. Continue until all filling is used. Cover with saran wrap and freeze for about 2 hours (or overnight).
Melt chocolate Candiquik according to package directions. Using a toothpick, dip frozen peppermints into the chocolate. Tap until all the excess has dripped off and place back on the parchment paper. Repeat until all peppermints have been coated. These should be set within minutes, because you are doing them while still cold.
Store at room temperature in a covered container!
If making footballs, melt vanilla Candiquik according to package directions. Pour into a small ziploc bag and cut the corner off. Pipe laces onto footballs. Sets within minutes! ENJOY!
Linked To: Chic and Crafty  I'm Lovin It  Wrap Up  Sundae Scoop  Talent Show  Trick or Treat