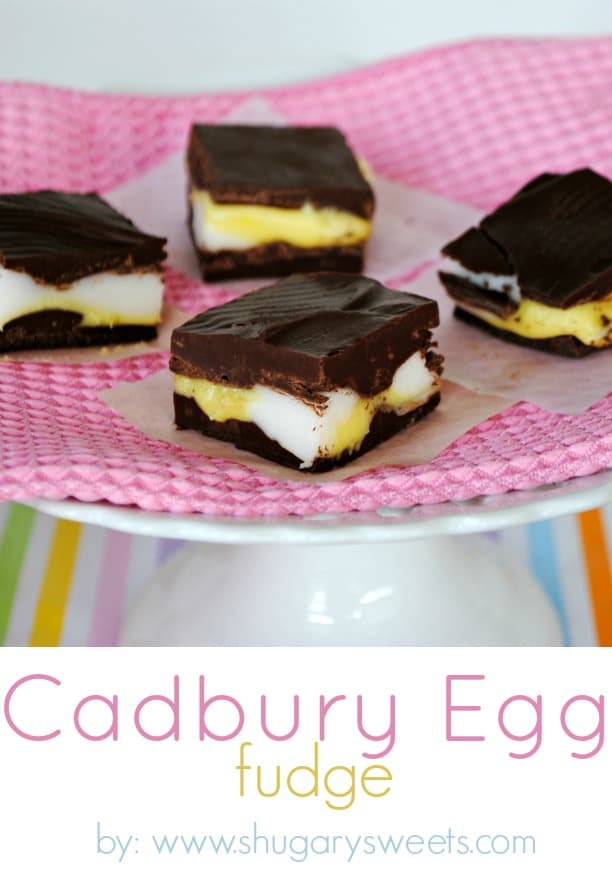 Last year around Easter I saw a recipe to make Cadbury Eggs. Oh how I love Cadbury Eggs. I usually buy myself ONE egg as a treat each holiday. But now? Now I can make my own Cadbury Egg fudge and indulge all I want (not going to help my swimsuit cause)!
Doesn't it look divine? I only added some vanilla to the recipe, but otherwise kept it the same. It's a keeper!
Cadbury Egg Fudge
Ingredients
1/2 cup corn syrup
1/4 cup butter, softened
1 tsp vanilla extract
3 cup powdered sugar
pinch of kosher salt
1 Tbsp milk
yellow food coloring
16 oz milk chocolate, melted
Instructions
In mixer, beat the butter and corn syrup together. Add vanilla, powdered sugar, salt and milk. Beat until smooth. Remove 2/3 of mixture to separate bowl, beat in several drops of yellow food coloring to remaining mixture.
Line a 9inch square baking dish with parchment paper. Melt chocolate according to package directions. Pour half of chocolate in pan to cover the bottom of dish. Spread white layer over chocolate. Drop yellow layer over the white layer, spreading gently with a knife. Pour remaining melted chocolate over, spreading evenly. Refrigerate until chocolate hardens, about 30 minutes.
Using a VERY hot knife, cut into squares, store in covered container in refrigerator. Enjoy!