It's Cadbury Egg season and there's no better way to celebrate than with this homemade fudge inspired by the classic Easter candy. A sweet cream filling sandwiched by layers of rich chocolate fudge will knock everyone's socks off!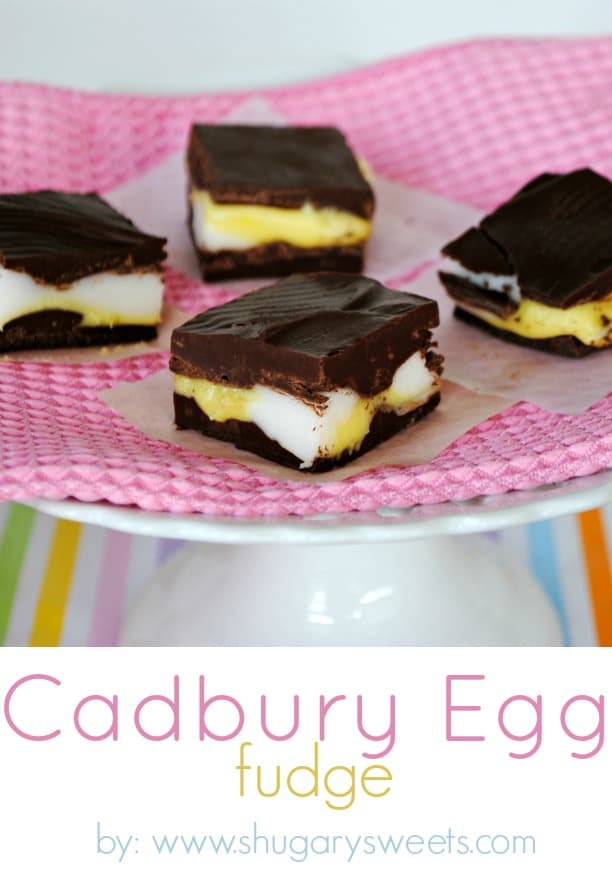 Last year around Easter I saw a recipe to make Cadbury Eggs. Oh how I love Cadbury Eggs. I usually buy myself ONE egg as a treat each holiday.
But now? Now I can make my own Cadbury Egg fudge and indulge all I want. By making the Cadbury eggs in fudge format you save yourself the hassle of having to use candy molds.
What are Cadbury Eggs
If you love Cadbury Eggs do yourself a favor and whip up a batch of this fudge. It doesn't take too long and you'll be the talk of the town when you walk into a gathering holding a plate of these treats.
One bite of this homemade fudge is enough to turn everyone into your new best friend.
All the taste of Cadbury Eggs baked into a creamy chocolate fudge.
Doesn't it look divine? I only added some vanilla to the recipe, but otherwise kept it the same. It's a keeper!
How to Make Homemade Cadbury Eggs
Unlike other homemade candy recipes, this Cadbury egg fudge requires no boiling on the stove top or checking temperatures with a candy thermometer.
You just whip the cream filling ingredients together, melt some chocolate and layer the different parts together.
There's no baking either; the fudge sets up in the fridge in about 30 minutes.
When you bite into a square of this fudge you get that classic fudge texture with amazing chocolate taste followed by a layer of creamy Cadbury egg filling.
This fudge is VERY rich so just a small square of it was enough to satisfy my sweet tooth!
What You'll Need
Here's what I used for the homemade "Cadbury Egg filling":
corn syrup
butter
vanilla
powdered sugar
milk
yellow food coloring
For the fudge layers you need:
Milk chocolate (chocolate chips, chunks or melting bars)
STEP 1. Make the white and yellow layers
Whip together the softened butter with corn syrup, vanilla, powdered sugar, milk and a pinch of kosher salt. Remove 2/3 of the mixture and place it in a separate bowl. Add a drop of yellow food coloring the the remaining white mixture and mix well to combine.
STEP 2. Melt the chocolate
Place the chocolate in a microwave safe glass bowl. Heat in the microwave for 20 – 30 second increments, stirring between each, until the chocolate is smooth and melted.
STEP 3. Layer the fudge
Line a 9-inch square baking dish with parchment paper. Pour half of chocolate in the pan to cover the bottom of dish. Spread the white layer over the chocolate. Drop yellow layer over the white layer, spreading gently with a knife. Pour the remaining melted chocolate over, spreading evenly.
Refrigerate until chocolate hardens, about 30 minutes.
When the homemade fudge is set, use a VERY hot knife to slice it into squares. Serve immediately or store fudge squares in an airtight container in the fridge until ready to serve.
Recipe Tips and Tricks
A hot knife makes it so much easier to cut fudge smoothly! I place my knife in boiling hot water for a few seconds or so before removing (just be careful to avoid burning yourself!). A knife that's just been through a hot rinse in the dishwasher will also work well.
Don't love milk chocolate? Semi-sweet chocolate chips work well here too, although the milk chocolate gives it a more authentic Cadbury Egg flavor.
The food coloring is technically optional. Your filling won't have the signature cream yellow color of a cadbury egg center but the taste won't be affected.
Cadbury Egg Recipe
This delicious homemade fudge is ideal for Easter, of course. I plan to have it on our Easter Sunday dessert table alongside these Easter Rice Krispie Treats and Easy Flower Candy
But this recipe also a great way to get your Cadbury Egg fix when the iconic candies disappear for the season.
A rich chocolate fudge with buttery cream filling is welcome in my house anytime of year! Treat yourself to this decadently delicious fudge and you'll be very happy indeed.
More Easy Desserts:
Recipe originally published March 23, 2012.